High End 2017 event in Munich is in the past already. Even though the place itself seemed very familiar, each and every time there's so much new things to see and audition, that dullness simply isn't a part of this German package, no matter how you slice it. As per usual, the show was meticulously prepared, everything worked perfectly not only from purely organizational perspective, properly musical vibe clearly was on. Heck, even the weather was dandy. Enjoy.
Foreword
Introductory words above might indicate that it was a brilliant show. It wasn't. Not for this journalist at least, though partially he's the one to blame. First of all, one doesn't go with a 50mm lens only. Never. It's not that universal, it won't cover every base there is. Doing this foolishness is like taking a very unpractical, small and blunt knife to a proper gun fight. The winning side is quite obvious. To make it more understandable, there were lots of tall and wide spaces at MOC. In order to grasp these, wide angle lens is a necessity. Here's where the problem is: I had none, only 50mm on my 6D DSLR, which severely crippled my ability to show the whole frame when needed. Again, the number of places where this could have been exploited was staggering. Hence this report is far from professional from purely photographic side. Its photos simply aren't as informative as I'd like them to be. In any case, lesson learned, next time yours truly will be properly prepared.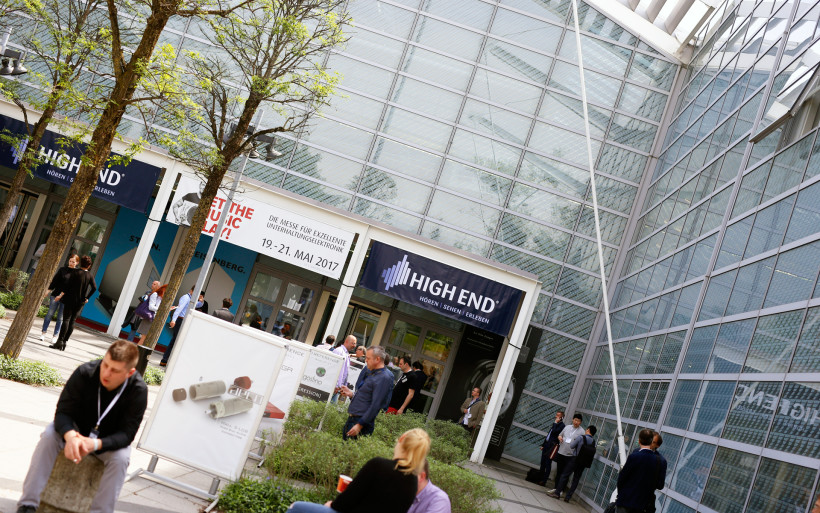 Moving on, what's the worst thing that might happen to an audio journalist abroad? Baggage loss? Flight cancelled? An accident? Probably these, yet a simple illness that severely impacts one's hearing ability will do enough damage to spoil the trip. I had cold and fever past the very first day of the High End event, hence to have a proper listen was a no-go in my case from this point onward. Only several rooms were auditioned and that's very unfortunate, yet it is what it is. On the contrary to the above-mentioned 50mm setback, that's something I simply couldn't prevent.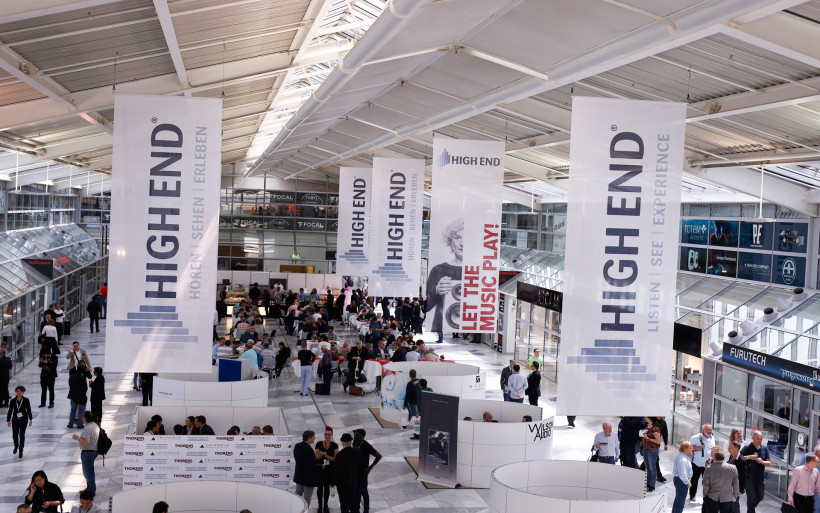 And as per usual, a proper listen in each room was undoable. Time is a luxury journalists simply don't have in Munich, hence cherry-picking was in order.  I can only hope that this report covers at least some of your personal bases. Enjoy!
Abyss / JPS Labs / Woo Audio
USA based Abyss company showed their prototype Diana on-ear planar headphones. These turned out to be very light, yet somewhat narrow headband limited the experience. Jack Wu of Woo Audio talked a lot about his latest WA33 balanced headphone (pre)amplifier. That's fully valved design of class A topology. It sounded nice. And for the very first time I had a pleasure to audition AB-1266 headphones. The outcome? Albeit nice, the sound was too thin. LampizatOr golden Gate and Aurender W20 were in the setup as well.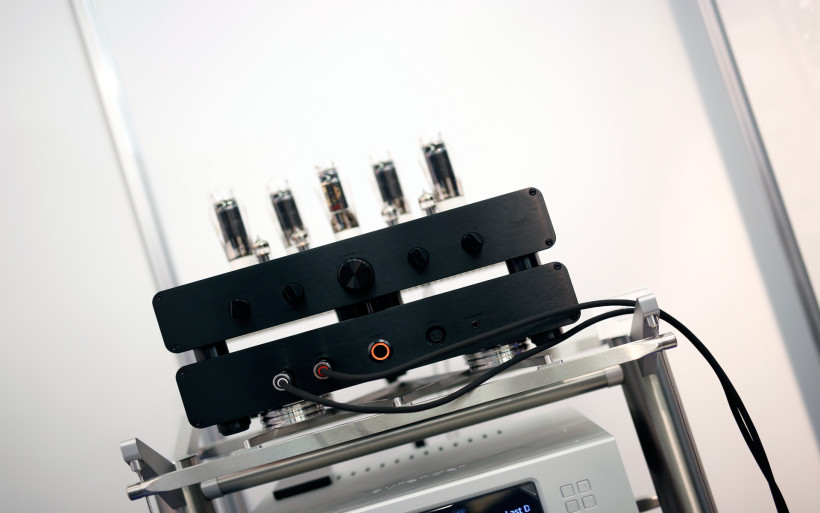 Æquo Audio / Audio Pax / Sound Galleries / TelluriumQ
Although there was no new product from Æquo Audio anywhere in sight, Ensis delivered still. One of my colleagues – Tomasz – was pointed towards a room with this model inside. Past quick audition he was shocked. The outcome? Now, three days later he's in the middle of selling every audio related product in his possession, just in order to afford a pair Ensis finished with a nice copper patina. But the most surprising part is that if it weren't for yours truly, Tomasz would've skipped said room easily. Even though he passed it several times at least. Go figure.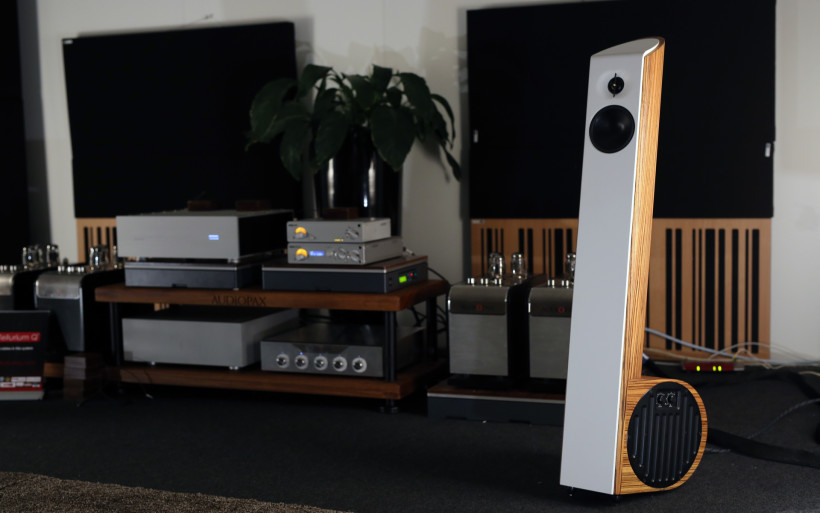 Analog Domain / Stark
Stark's Emma and Jane speakers stared at visitors gracefully enough to invite most of them to their room. That's how subtle and not quirky design draws one's attention. Beautiful speakers, what can I say. It's safe to say that Jane stole the show, electronics by Analog Domain seemed merely an addition to these floorstanders' visuals.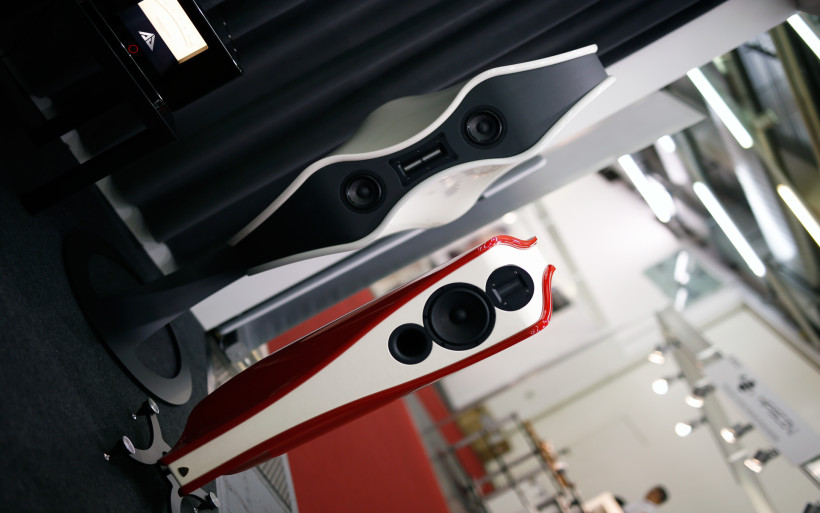 Aries Cerat
This scribe has heard many good things about Aries Cerat company, hence to at least take a closer look at its products was mandatory. And they look much better in real life than on the pictures. At this point my hearing ability was decent and the sound in said room was good; mild, clear and smooth, with nice layering and space in general.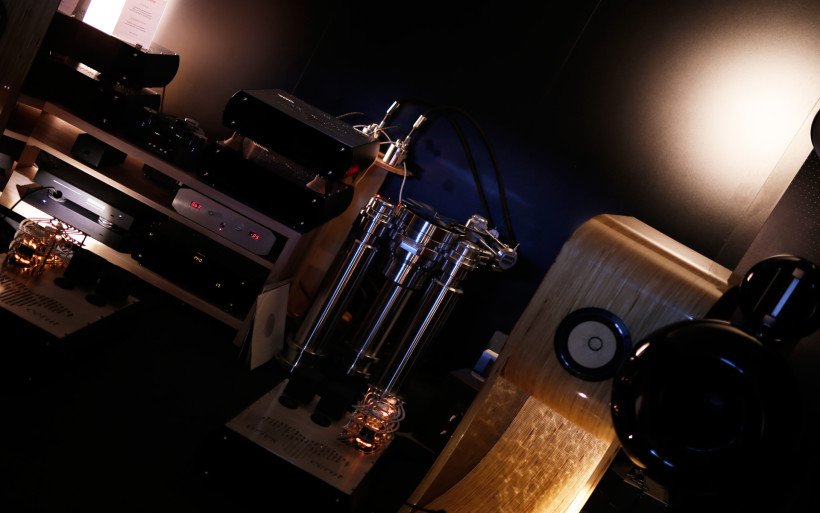 Audio Analogue
This is one of companies I've read in the past and have found its products very well-built. Since one of 'em was exposed and with top cover off, I stopped, took two shots and moved on.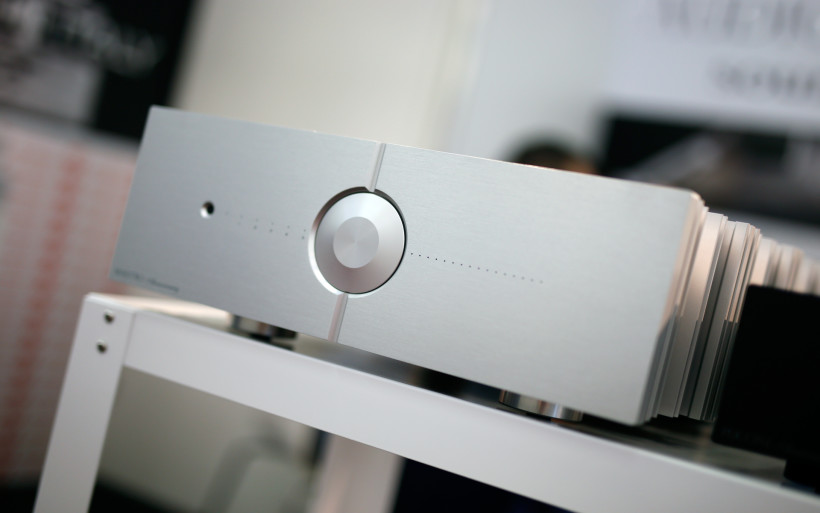 Audio Solutions
This Lithuanian room was all about the latest Vantage Concept series. Gediminas Gaidelis aims lower than with regular Vantage, yet still high. And something tells me that he might have just the right tools for the job. Vantage family consists of three products in total; floorstanders, a central speaker and monitors. Each sports the same nano/grain/orange combo finish, which is peculiar to say the least. Gediminas clearly wants to stand out of the crowd. If that's the case indeed, he succeeded already.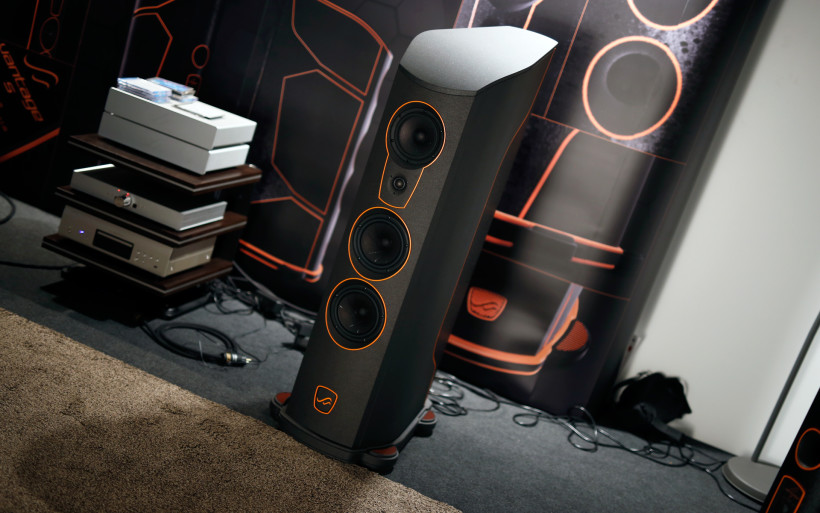 AURALiC
My visit in the AURALiC room was on mainly to see whether said company's latest G2 products look as good in real life as on the pictures in the web. In short: yes, they do.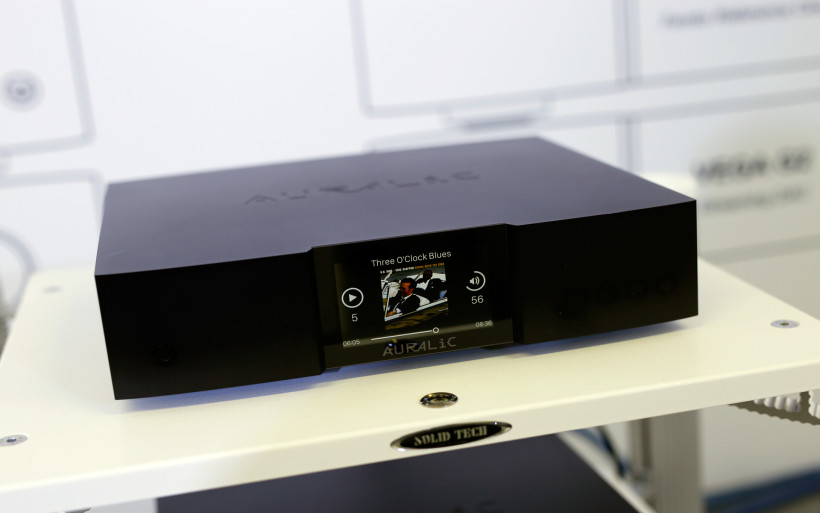 Ayon / Lumen White
Rooms of Ayon / Lumen White sort are way beyond my spectrum of interest. But this was one of the very first ones I came across, hence not crowded at all, music played there was good ("Será posible el sur?" by Mercedes Sosa when I was in) and Lumen White's CEO is a very nice man to talk to. The sound was very good; clean, yet not sterile at all, quite dense and spacious. One doesn't expect this kind of an outcome from ceramic drivers.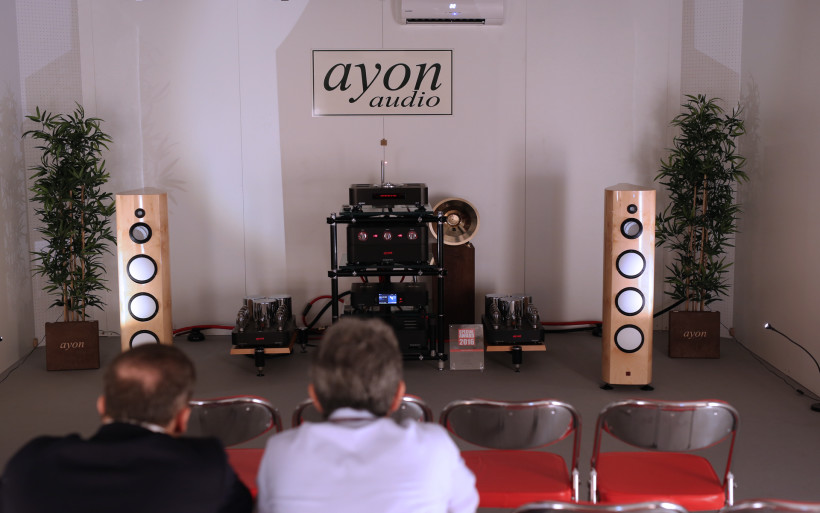 Block Audio
Czech Block Audio company is rather new and with only two products in its portfolio. Still, these goods are instant attention grabbers. First of all, they are exceptionally well-made and in terms of design offer more than meets the eye. Besides, huge class A monos? One can't go wrong with these. This simply works for people who're after music and not sound. Said company's rep talked Polish, which made things really easygoing.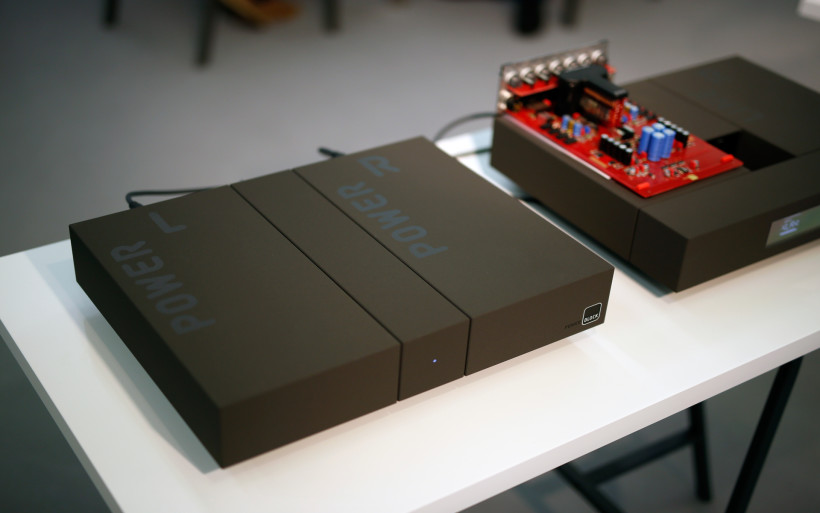 Boenicke Audio / CAD / The Chord Company
Although my hearing ability was already crippled once I got to Sven Boenicke's room, the sound inside was pleasantly familiar. Said man's W13 flagship was on. The outcome was effortless, spacious and agile, as per usual with Sven's products. This time around this Swiss engineer used his new amplifier, different from what one could find one year back in his room. 400W@8 ohms load and a fairly small chassis indicate that this might be a class D affair. Knowing Sven, presumably with more than just one twist inside. Time will tell. Cables were delivered by The Chord company and CAD electronics handled source/transport duties.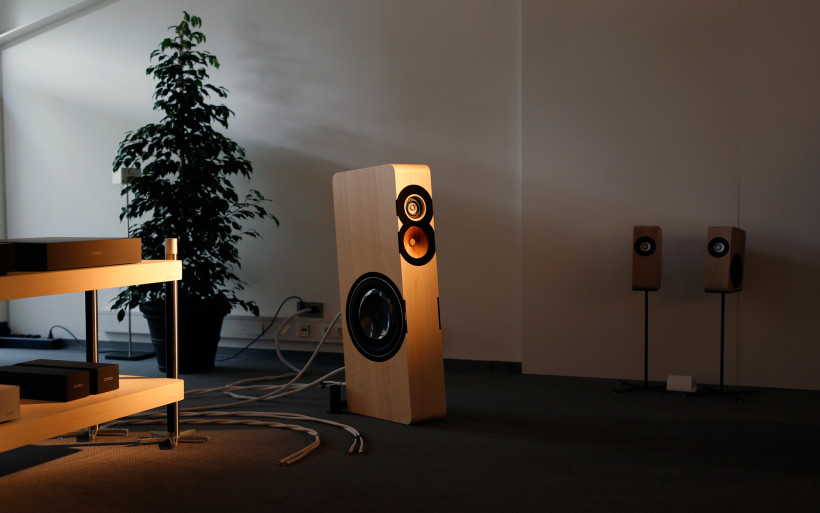 Clear Audio
This scribe is not a turntable guy. Yet. But one thing he knows already. Once vinyl time comes, Clear Audio turntables are off my list. Not because of their price, though. The looks is where it's at and having said that, this company's Statement V2 product simply doesn't cut my subjective mustard, far from it in fact. YMMV and let's leave it at that.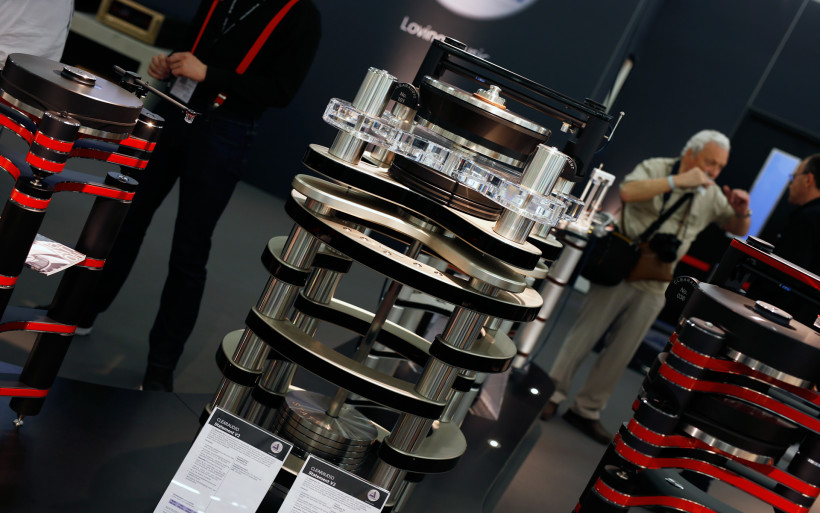 Concrete Audio
The name says it all. Speakers in concrete enclosures. This might sound quirky, yet sticks as far as inner standing waves' reduction goes. And if Scan-Speak's (presumably) Revelator threesome is a part of the package, the outcome might be interesting. Visuals are peculiar as these have to be, but fit'n'finish quality is very good.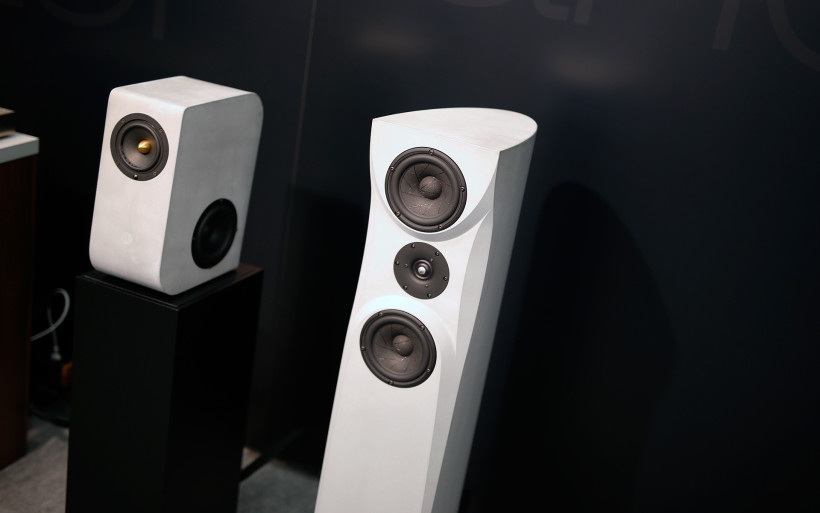 Diapason / Van Den Hul
This room was visited mainly because it wasn't overpopulated and brands inside are known to me. Van Den Hul provided not only cables but also electronics for Diapason's flagship floorstanders.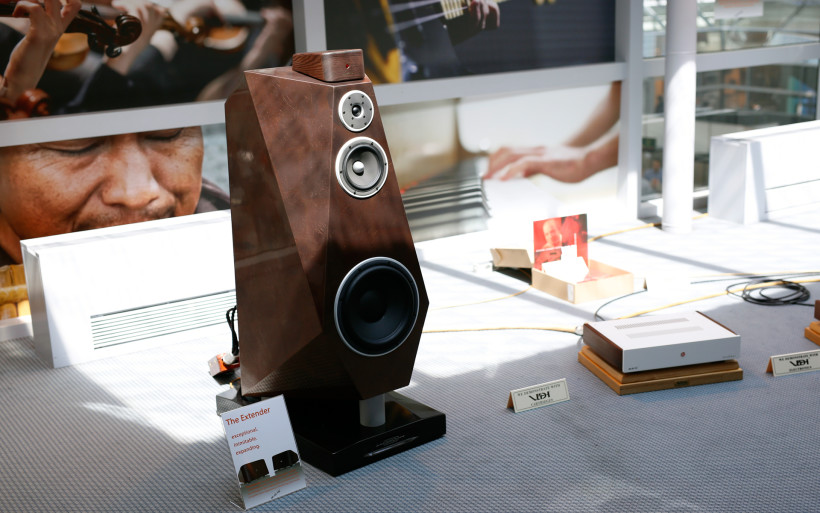 Divaldi
One year ago, the Divaldi team wandered from one MOC hall to another with their AMP-01 headphone amplifier. This time around they had a proper booth with some of their goods exposed. The very first thing noticed was a spider-alike grey and rusty creature, which turned out to be a steampunk version of AMP-01. That's a custom job done solely for shits'n'giggles, yet very nice. It came with adequately cured headphones. The big integrated amp of yet unknown name was again showed as well. This is one of those items I'd really like to place my hands at and hopefully it will eventually happen. I also keep my fingers crossed that Divaldi will gain some recognition past this year's Munich event. Their AMP-01 is great, yet unknown still.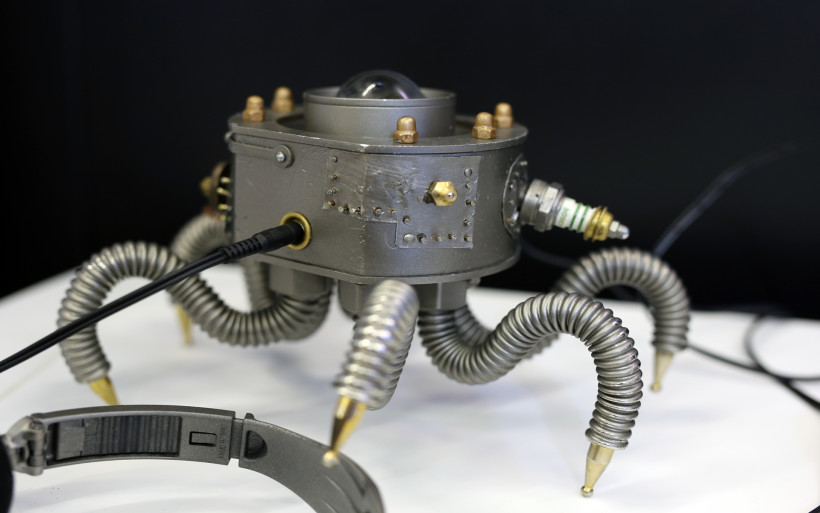 Final
Final's booth was black as per usual and filled with all of its IEMs and headphones, no matter their price. Two new concept models of their planar headphones were shown, both sounded very good. Even though these aren't yet ready, enthusiasts surely have something to look forward to. Final is into their own drivers and not OEM parts. Since they sport properly scientific approach, the outcome is usually good or very good. And as far as science goes, many journalists were invited to a hotel nearby MOC for official Final press conference/breakfast to personally check what's what. Said cameral event became a part of my regular trips to MOC and I have to say that Final team surely knows how to it this off. Well-fed journalist is a happy journalist. Chapeau bas!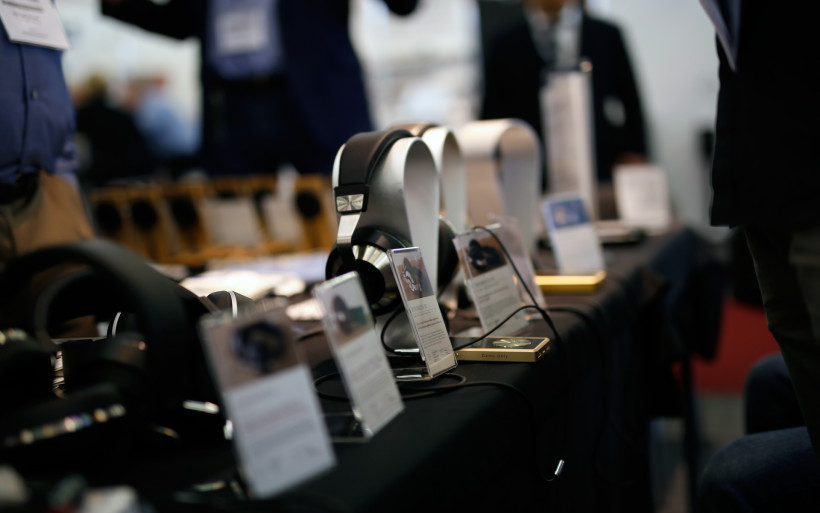 Fono Acustica
Audio cables these days can be both very expensive and visually posh. Fono Acustica is one of those manufactures which show how far things can be pushed in both regards.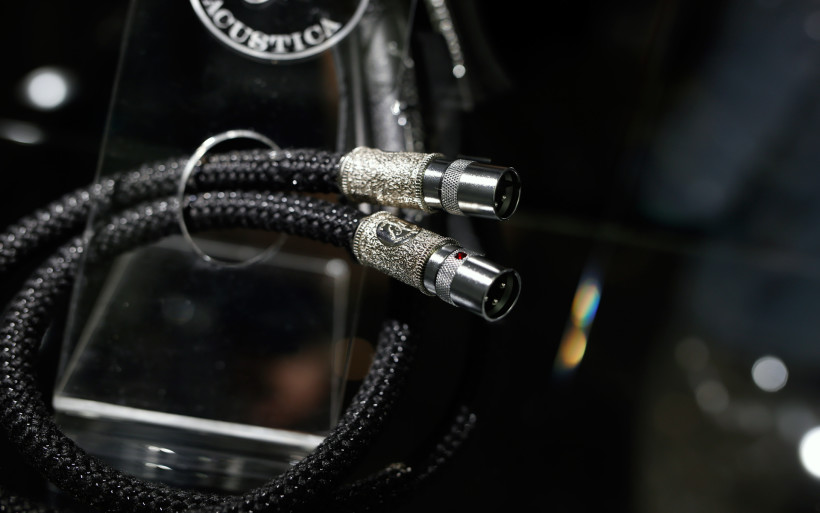 HeadAmp
When I started my audio adventure many years ago, Stax headphones and HeadAmp's Blue Hawaii combo were my personal wet dream. Said American manufacture always focused on direct sales and marketing based on naturally occurring forum reviews. It seemed that it simply doesn't need shows, at least not European ones. Hence I'm sure that not one but many enthusiasts were surprised to see HeadAmp's booth loaded with their very best Blue Hawaii and GS-X mk2 models. I surely was!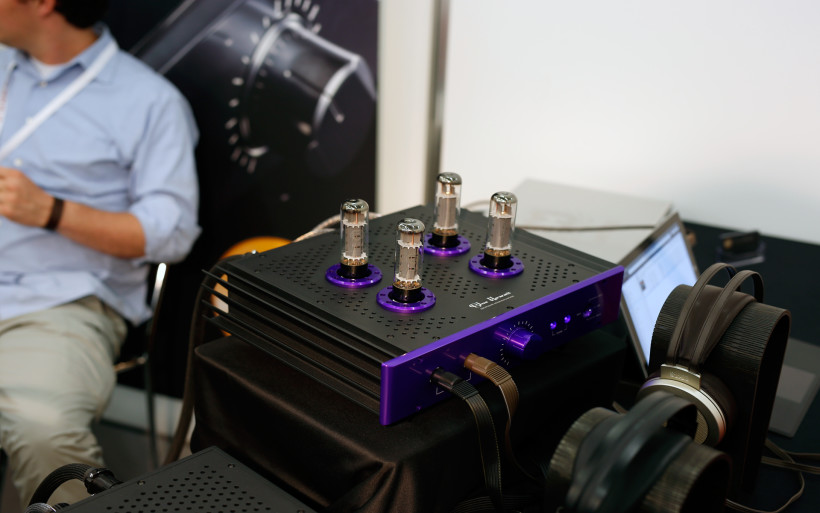 Hegel
Hegel's booth looked as per usual, namely all white and loaded with KEFs. Two new products were shown this year; Hegel H90 and Rost but served in all black. Both of these are integrated amps. Said goods aside, not much else was going on, for Hegel these days it's more about maintaining what they were able to achieve thus far, rather than anything else. They became a part of mainstream, at least that's the way I see it. It was cool to see some of their products with paint jobs different than black, silver and white.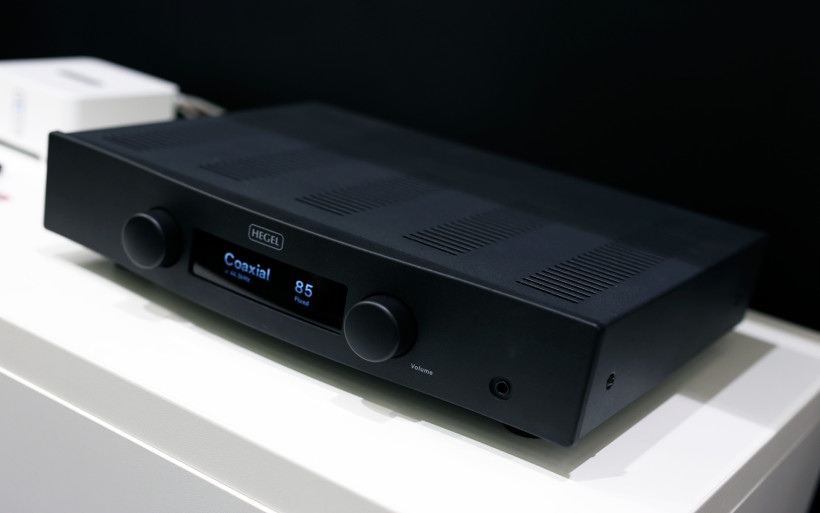 HiFiMAN
As far as an environment needed for a quiet listen goes, this time around HiFiMAN nailed it. Especially if one wanted to know what this company's $50'000 Shangri-La flagship is all about. Yes, conditions to check what's what surely were decent. HE-6 spiritual successor – Susvara – and matching EF1000 amp were already there as well. Shucks, these items I badly wanted to audition yet my ears said a big fat 'no'.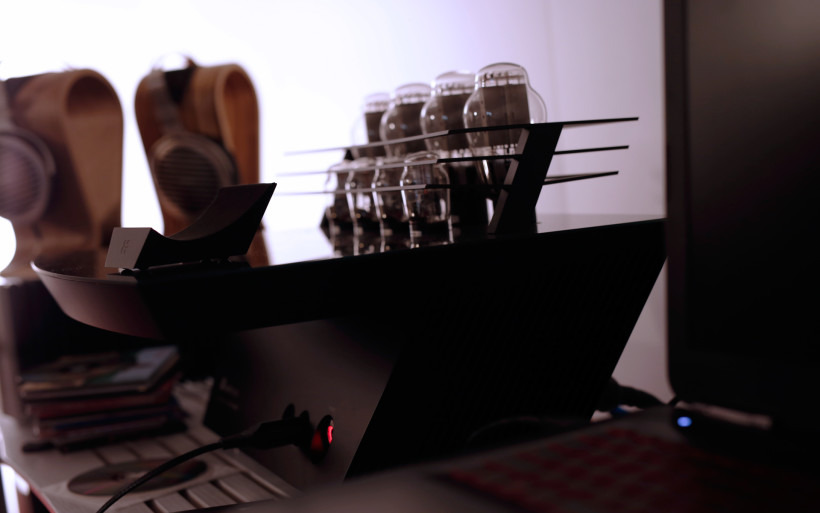 Hifistay
I stopped here mainly because of Srajan's writing, I won't lie. And one thing I have to say; Hifistay items are unbelievably well-made. That's a world class machining level right there if someone asks me. Do they work as intended? That's not for me to say. At least not at this point.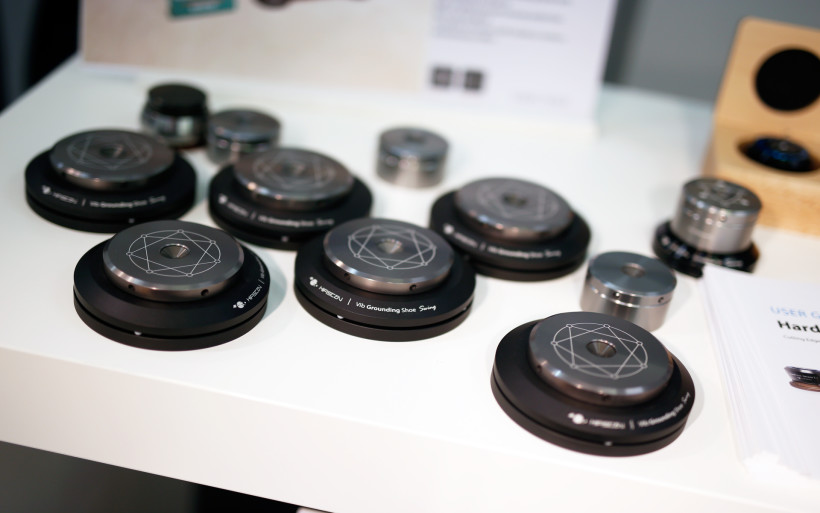 Hohner Fabrikat
I'm not entirely sure what's up with this company in general, as its portfolio consists of not only speakers and a subwoofer, but also steampunk alike camera and several room decor examples. Each looks nice, especially audio related products, yet at this point I can't say whether it's more about design and less sound quality or the other way around. But one thing is certain, Hohner Fabrikat surely knows how an interesting product should look like.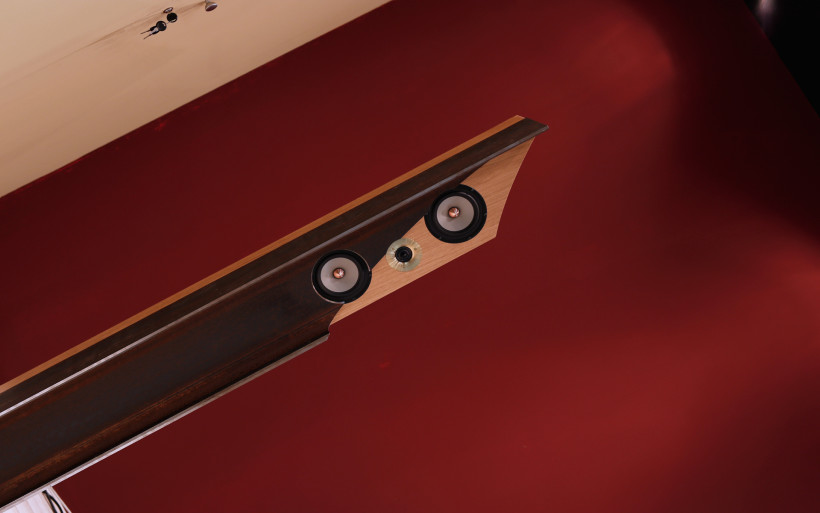 Hor Bar
This was a jolly place where one could try out various headphones. A lot of 'em in fact. A no-brainer stop for headphones' aficionados for sure!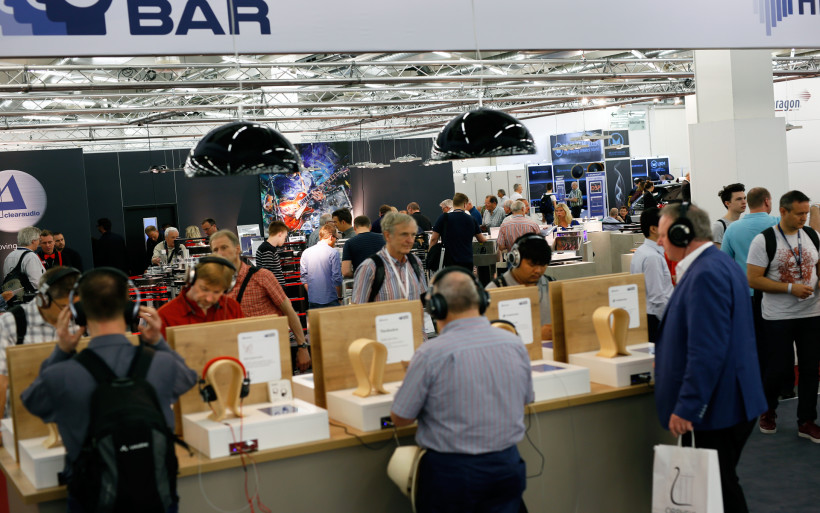 hORNS / Albedo / MySound
Polish team assembled a small yet cosy room somewhere on the atrium. Mr Grzegorz Gierszewski surely knows how to do great sounding cables. The word is that the same story is with hORNS speakers and MySound amplifiers. The outcome of this Polish effort was rather nice; smooth, effortless and easygoing in general.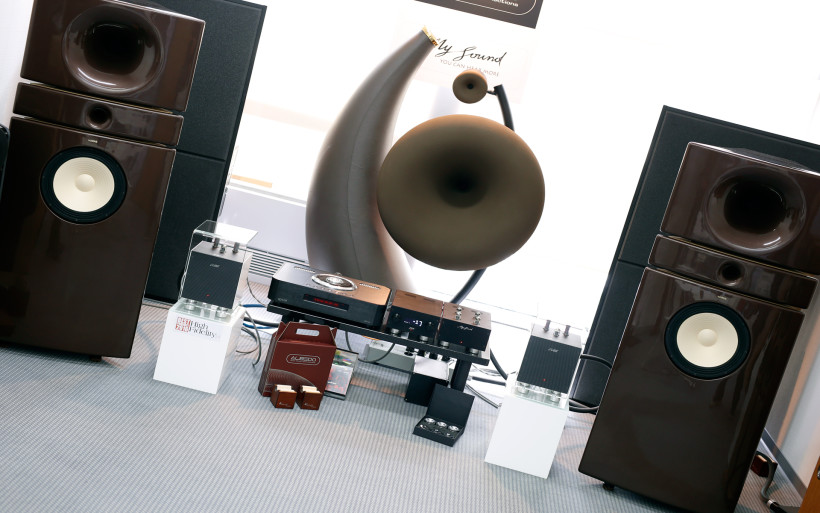 Hypex
According to many people, Hypex class D modules are the best ones on the market currently. These surely worked well in the Reflector Audio P15 case. And since said sub-parts could be seen up close, proper pictures were in order.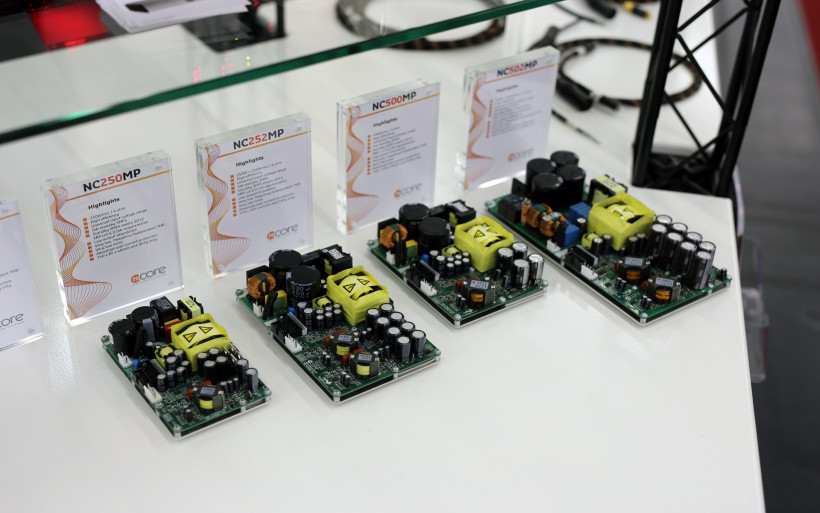 iFi Audio
iFi Audio exhibited in one of rooms to be found on the atrium. Even though said place was shared with awfully expensive setup, the iFi man named Owen did a proper job explaining what small British sound enhancers are all about. The whole iPurifier family, iEMatch, iDefender and iSilencer were there. All of these are available for some time now. The latest addition – Groundhog – was presented as well and the same story goes with the second generation of iONE. Front cover has changed and said product's wireless range increased in the process. And lastly, the iESL and the Pro iCAN duo handled a pair of Kingsound H-04 electrostatic headphones. The first product is an energizer, which has to be fed by a regular amplifier and here's where said Pro iCAN comes into play. The outcome? Oh my, this is something to look forward to. Seriously, it is.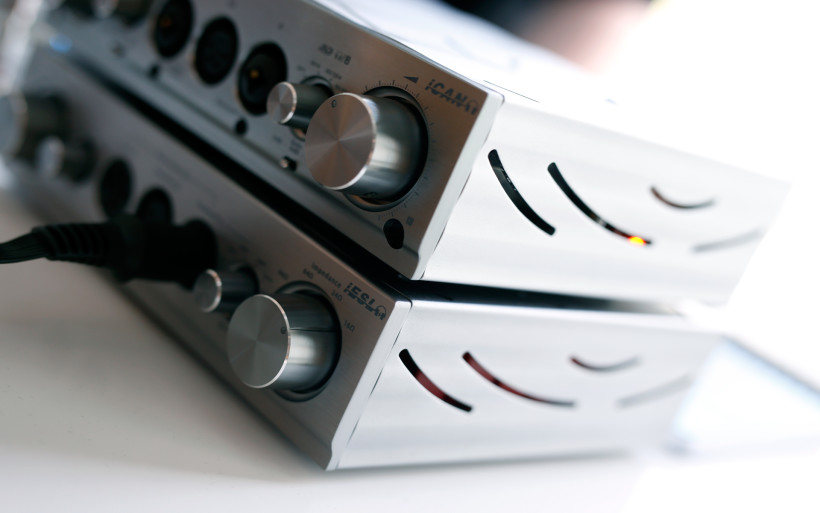 JoSound
I'm not sure why, but during High End 2017 something pulled me towards horns and widebanders. Josound room was quite empty, hence I entered. Lots of electronics inside (PS Audio, AMR, The Bespoke Audio Company etc.), yet not a single tube.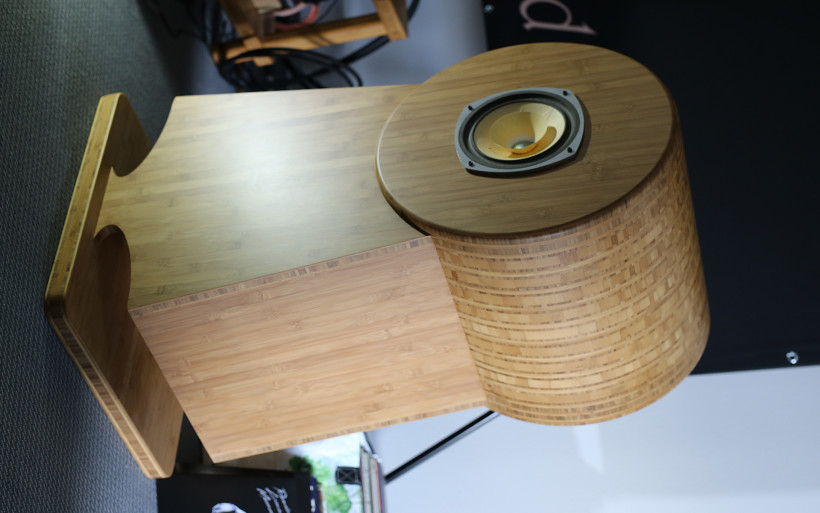 Kingsound
Kingsound is a company that specialize in affordable electrostatic headphones and energizers. The former group's representatives are light, comfortable and sound really good for the coin. At least that's the very first impression I got. iFi audio's Pro iCAN and iESL were at Kingsound's booth as well, which is not that surprising as these products seem to like each other. In any case, I got home with H-03 model in my bag, hence a review of these headphones is in order shortly.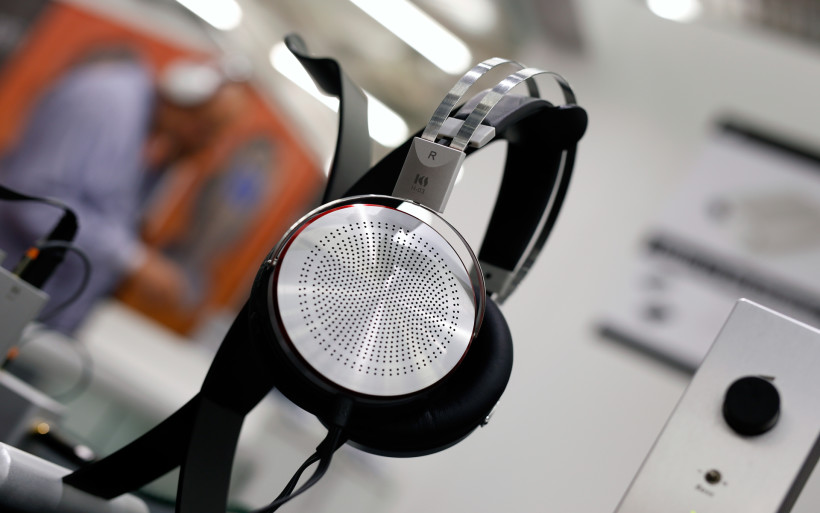 Kondo / Kaiser Acoustics / LessLoss
This was one of these pricey rooms, which I visit each year. The reason is perfectly valid, though. I come here, sit down and always enjoy the music. Plain and simple. That's what Kondo Kagura monos and Kawero Classic floorstanders did to yours truly this year. Some people say that this time around the sound was worse than one year ago, some say the exact opposite happened. Well, both were very enjoyable if someone asks me. LessLoss Laminar streamer and Kondo Overture integrated were shown near the entrance to this room, yet no music was on when I got there.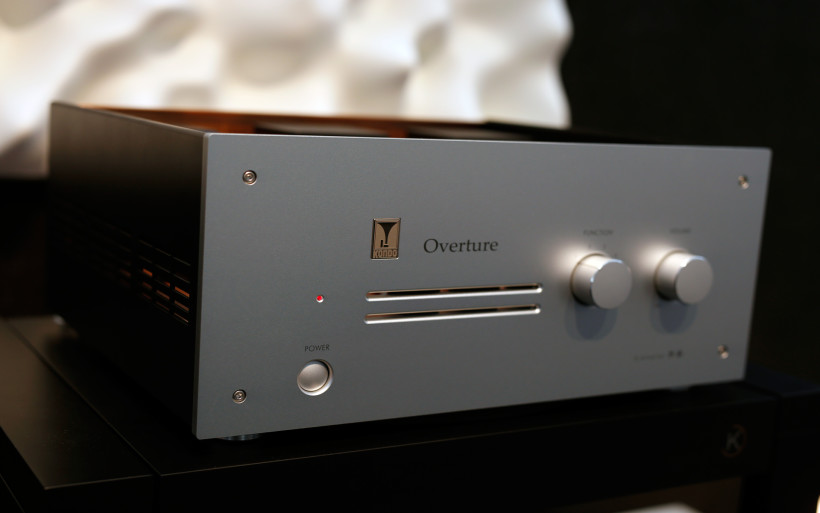 LampizatOr / RDacoustic / KR Audio
Czech RDacoustic manufacture showed their two new models; Virtuoso and Euphoria. The former was on from time to time. Still, I got the impression that Evolution stole the show anyway. Yet when I got to the place, my hearing was off, hence I can't say anything about the sound. One thing I do know, though. People were happy about the outcome. LampizatOr's Atlantic DAC and SuperKomputer served as a source and transport respectively, whereas KR Audio Kronzilla SXI amplified the signal. Just outside the room, a young man guarded KR Audio tubes exhibited on a peculiar frame. It turned out that this lad was responsible for BEST300B.com store.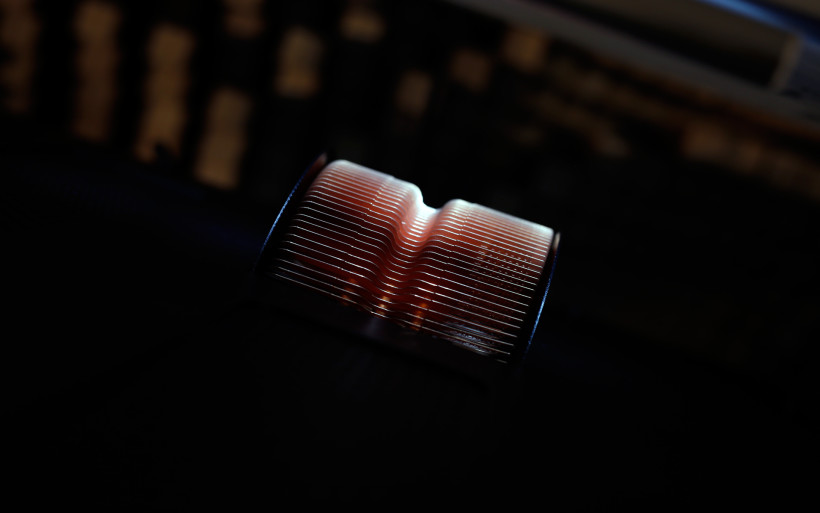 Lumin / Westminster Lab / Vivid Audio
The sound in this very room was impressive to say the least. Vivid Audio speakers sound very good and the very same thing can be easily said about nearly all of Lumin products. The question is this, though: what's the Westminster Lab Unum monos and cables input precisely? These are boutique products, very expensive. Yet if £100'000+ asking for a pair of mono amplifiers and some cable jewelry doesn't turn you off…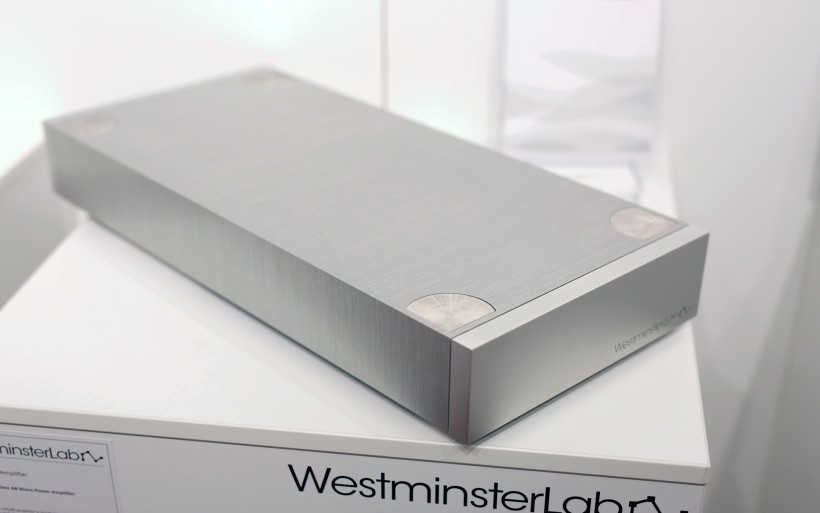 Metaxas Audio Systems
Let me put it this way: Metaxas products looked too posh to be shown in a small booth near a hall entrance. That's the official description. Unofficial one is this: said goods looked damn fine, now we'd like to witness what they can do. Metaxas CEO explained that there were no rooms left and that's a common, understandable issue. Hopefully next year as enthusiasts' attention surely is there.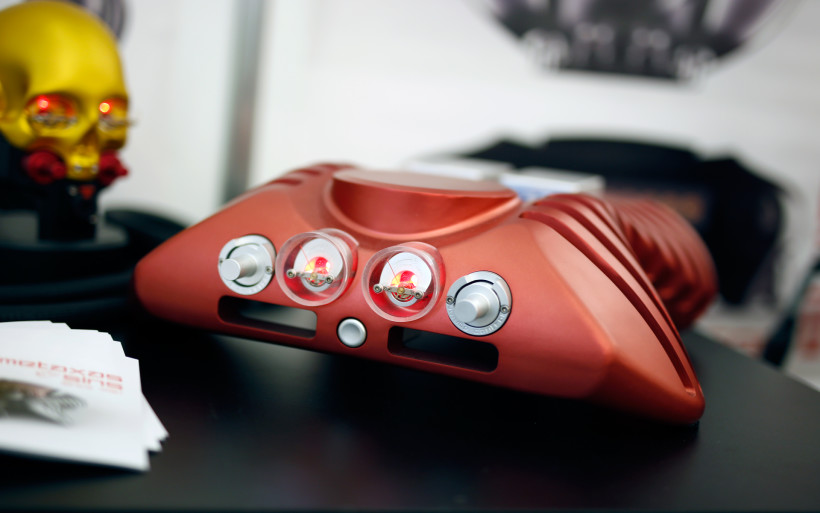 Meze
Meze showed one new product, known as Neo. It's basically a 99 Classic with different ear cups. More room inside nets slightly different, more downstairs oriented outcome as Lorand Czibere of Meze explained.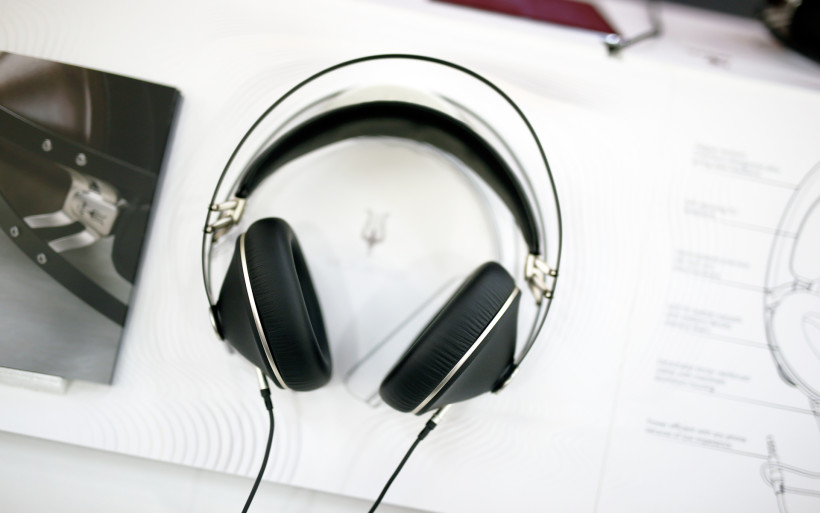 NuPrime
As a long-time NuForce equipment owner, NuPrime was a clear stop for me. A friendly chat with said brand's owner and some pictures were in order.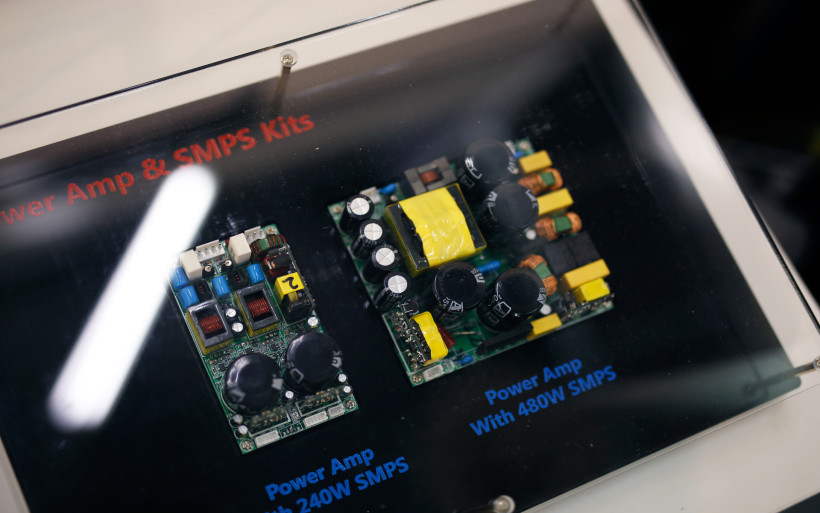 Questyle
This time around, Questyle showed two new products; a docking station for this company's DAP and a CMA400i headphone integrated. The former is made out of aluminium and looks like something one could defend himself with easily. It's very heavy. The latter all in black looks very good, but the cool part is that it can work when placed vertically. A special rubber base is included. Focal Utopia and Elear headphones were all over Questyle booth.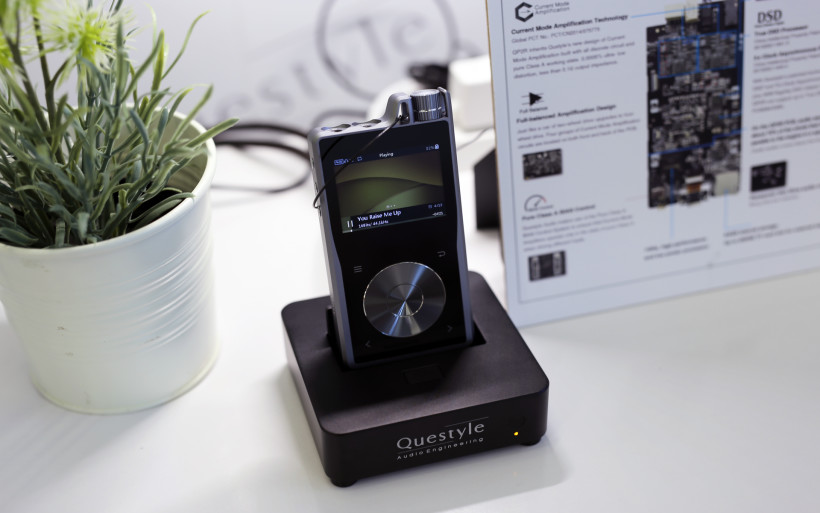 Resolution Audio
Resolution Audio's case clearly shows, that sometimes all it takes to get one properly interested is a nice enclosure. And fine ones said company's products sport, undoubtedly. Innards look decent as well, though no word about performance from this scribe.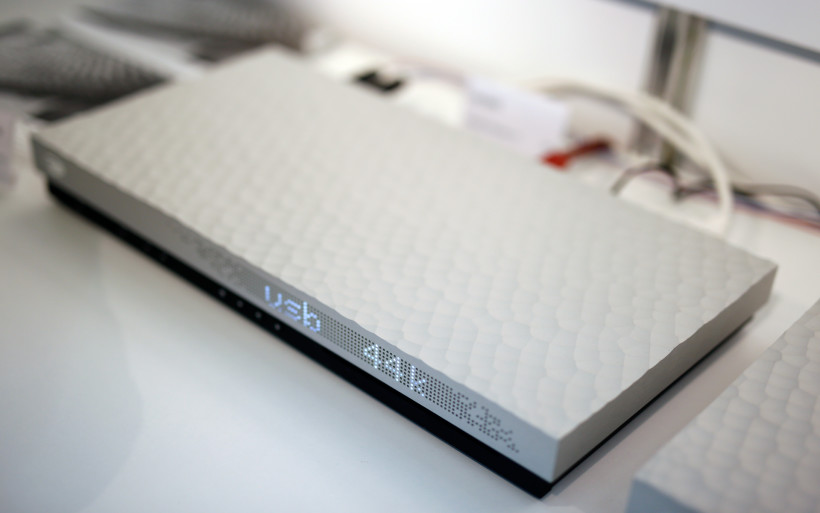 Soekris
Soekris company is well-known because of its affordable R2R DAC OEM modules and rightfully so. People say these are worth the asking. If one can't afford Vincent Brient's TotalDAC but would like to remain in this particular vein, Soekris is the viable way to go. Yet this time around, a proper desktop headphone integrated was shown. Soekris DAC1541 is intriguing to say the least.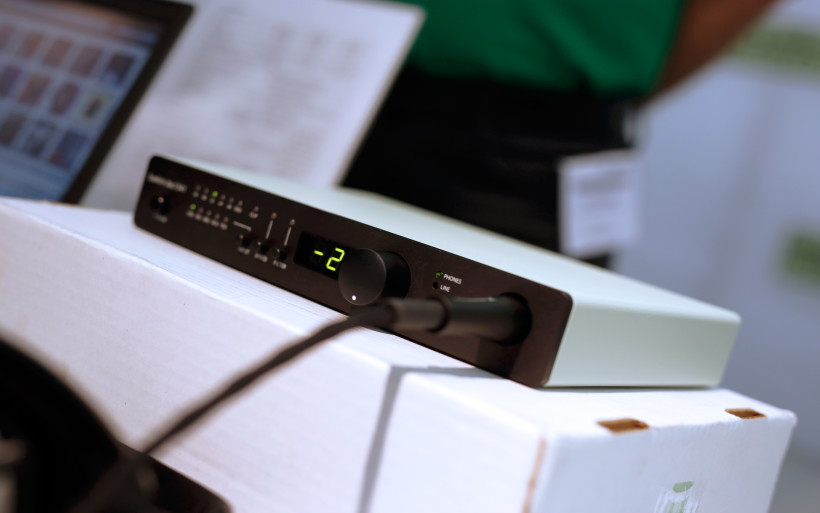 Sonoma
USA based Sonoma company exhibited their Model One system. This two-piece set consists of circumaural headphones and a headphone integrated amp. Yet it seems that this is no ordinary setup. Said headphones are based on HPEL transducers manufactured by Warwick Audio Technology, whereas the second dish is in fact a DAC and an energizer combo, hence some electrostatic alike affair is in order. In any case, both goods are marvelously made and  estimated price is $5'000 upwards for a complete set.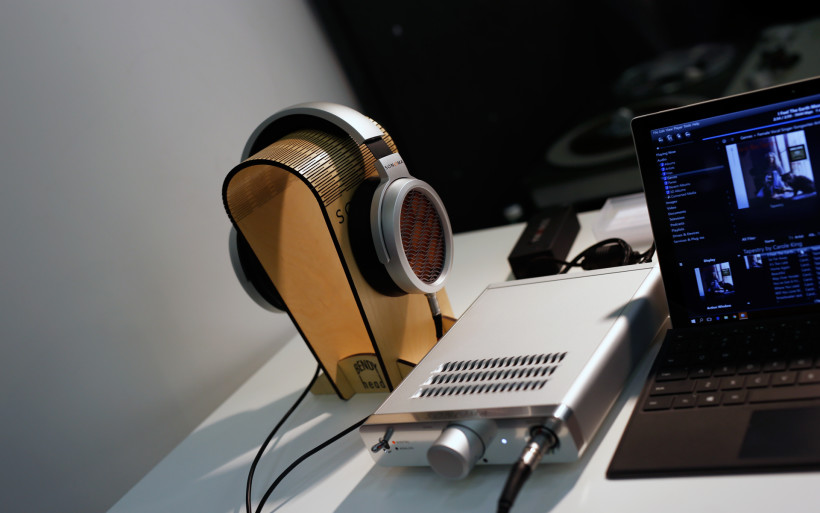 SOtM
SOtM company exhibited some new products. The sMS-200ultra network server & player and matching sPS-500 power supply  were among them.  One could also see what SOtM OEM parts look like via large acrylic glass.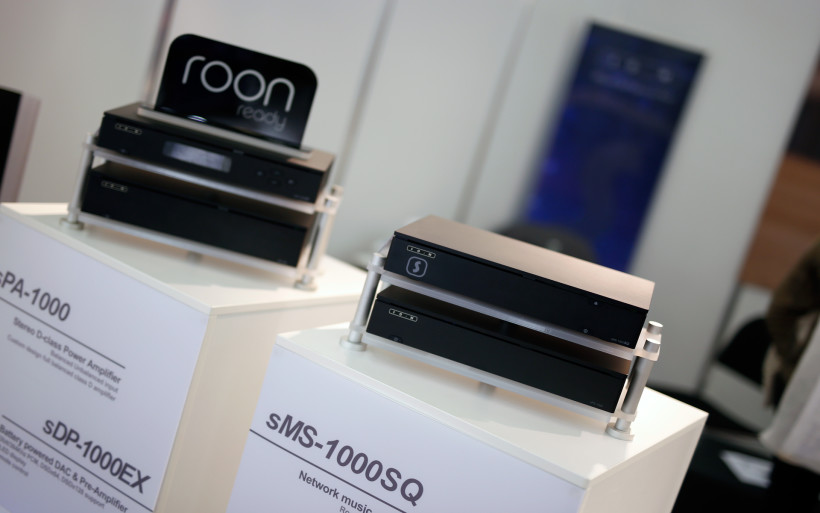 Soul Note / PureAudioProject
Soul Note electronics this scribe likes a lot and that was a reason good enough to come to this company's MOC camp. But when I was told that PureAudioProject's Trio15 Voxativ will be a part of the show, said place was a mandatory stop on my map. Ze'ev Schlik of PureAudioProject is a very nice man to talk to, hence no surprise that he had a crowd of eager listeners around him each and every time I passed his place.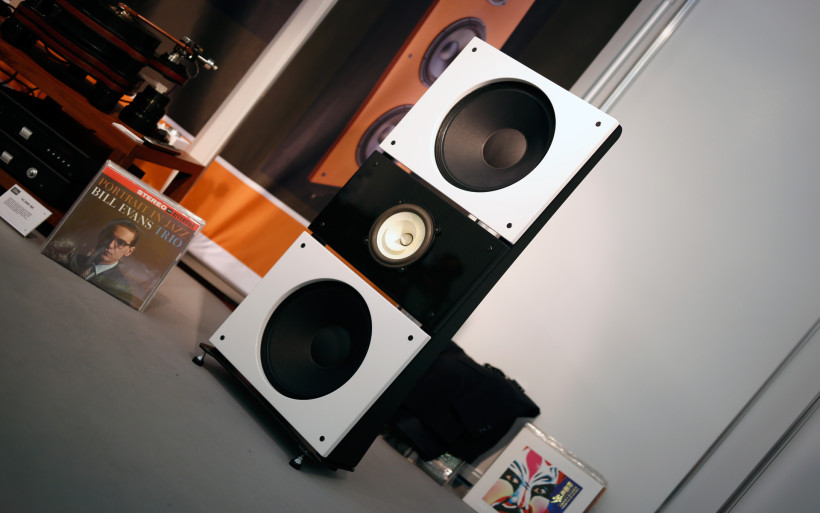 Stacore
Polish Stacore brand is a newcomer in Munich and in the newcomers' section they were to be found. Stacore sports just two products, both are audio platforms. But the engineering level behind these is enormous. Jarek Korbicz of Stacore was willing to explain on a very low level what's up with his products; why they work and in what way exactly. The 'problem' is that past some point it's very easy to get lost. That's the outcome when a random audio Joe tries to keep up with a scientist. Hey, can't blame the man himself, can you? In order to make the presentation more viable, Jarek and his crew had a very precise and specialist tools to measure vibrations with and without Stacore product. The outcome in DBs and shown via proper software should convince even the most hardheaded skeptic that it's not the audio voodoo but science at works.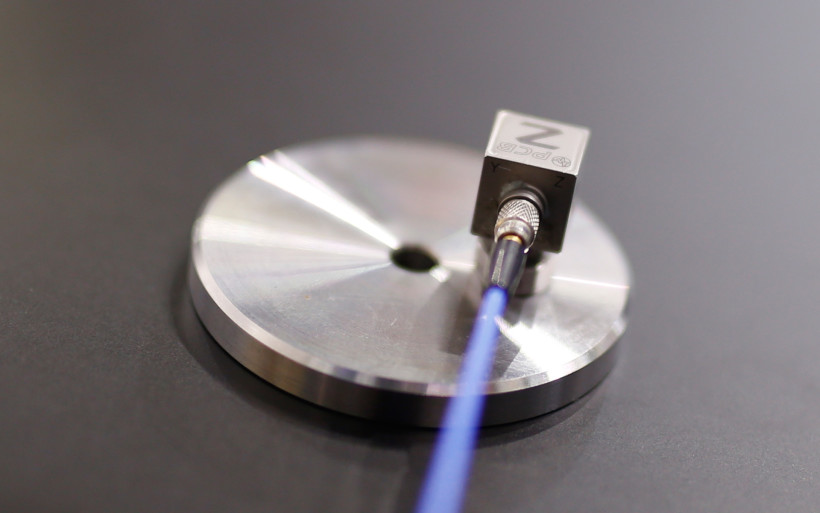 Stromtank
It's said that a decent battery is the best power source for audio. And if it's expensive and looks like it escaped Captain Nemo's ship, wouldn't you be interested? I surely was. For one picture at least and then moved on my way.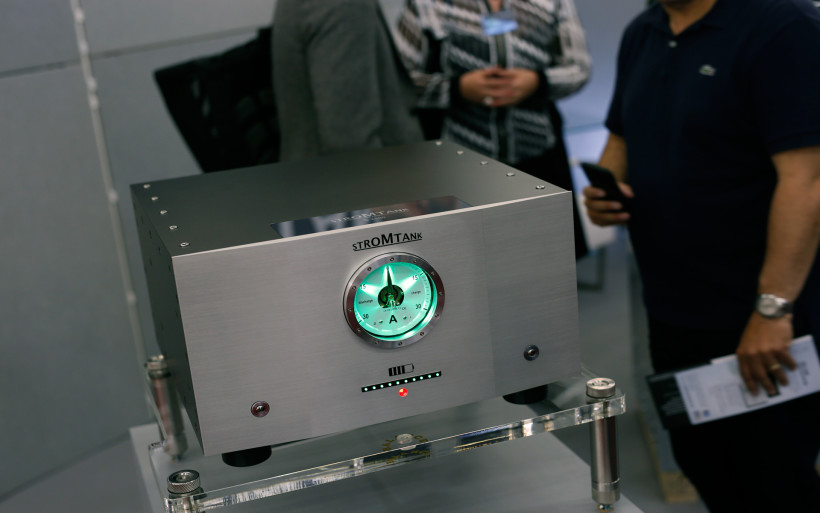 Tektron
Tektron is the Italian audio manufacture known for valve products that are wallet friendly and of quality. The goods shown in Munich looked like built by a passionate. This scribe likes to help out cases of this sort in coverages such as this one. Besides, Tektron's main man Attilio Caccamo – although not very English savvy – was a very kind and humble man.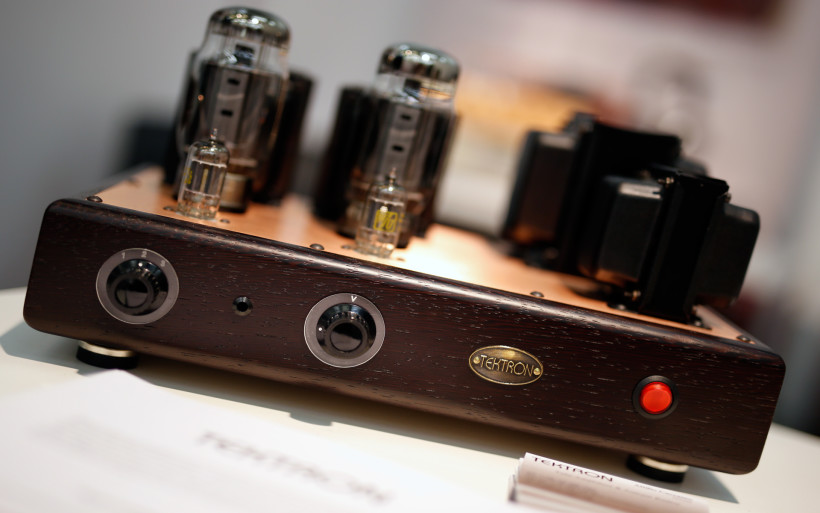 The Bespoke Audio Company
This is one of these manufacturers I know about and have always been interested in. There's a perfectly valid reason. Picture a company, which has only one product in its portfolio – a passive preamplifier. And it's built on-demand according to your preference, via the on-site customization tool. And you get notifications about the assembly progress. Ain't it grand? A review of this beast is something yours truly looks forward to.
Tune Audio / Trafomatic Audio / Skogrand / Rockna
OK, I'll admit it. I was dragged to this very room by force. The thing is that if a two meters tall Viking invites you, you don't make any ifs and buts but simply go inside. What the hell, I still had some time before my flight. You won, Knut Skogrand. Fine. Not a single person this scribe knows, which would be able to fit Tune Audio's flagship horn speakers in just one room. But the outcome? Past this year's Munich show, one or two individuals might actually think about expanding their horizon and removing a wall or two. Nucu Jitariu of Rockna Audio provided digital end, Saša Čokić of Trafomatic Audio brought Elysium monos and Mr Skogrand took care of necessary cables.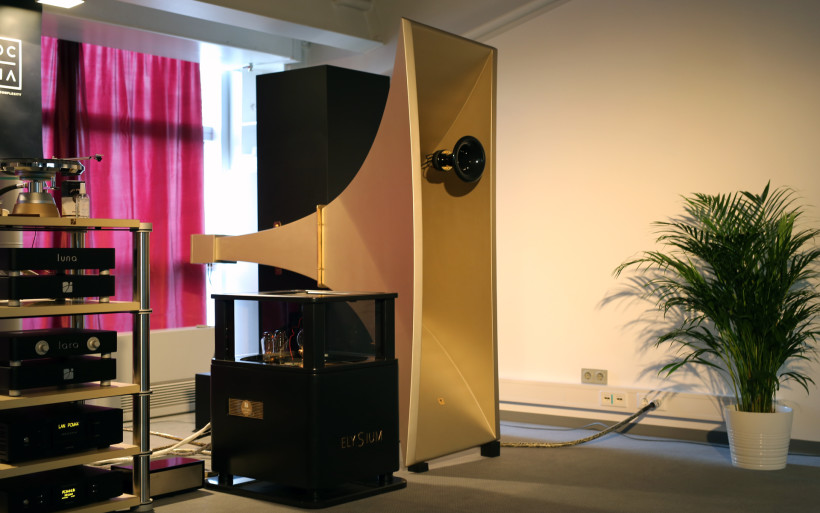 Volya
This room was on my main list. NoLimits 'speakers' were on and with Mark Levinson electronics. It all looked dandy on paper, yet I escaped past two minutes mark. The reason? Way too loud. Manufacturers should learn that this never works.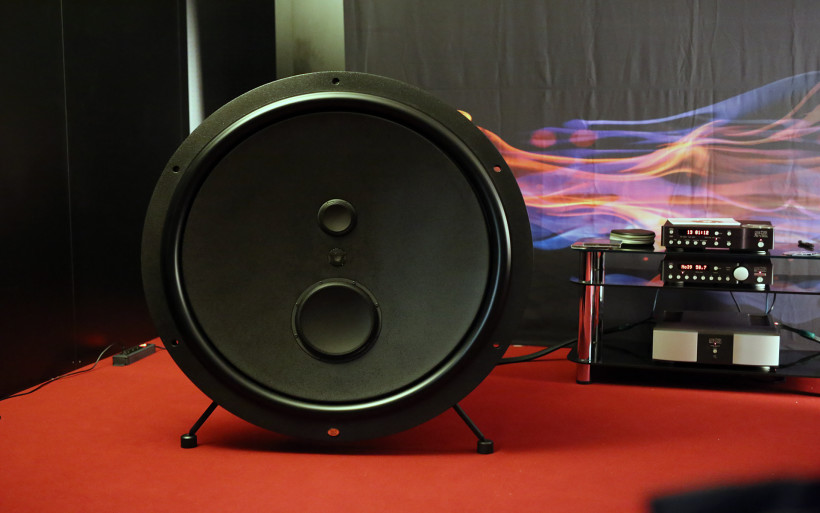 Voxativ
I visited Mr Holger Adler's room twice. At first, Zeth and matched subwoofers were on. It took me a while to get the former product going and I was simply curious how magical Mr Voxativ's touches are. They are. He knows things about his drivers I and vast majority of enthusiasts don't. Hence the outcome he was able to pull off was far better than the one I got within my own four walls. Said story is to be found here. Shortly after, much larger Ampeggio Due was on. This product never ceases to amaze me. Every performance virtue aside aside, said 'wall' has its downstairs department properly developed. And all that done by one single driver per cabinet…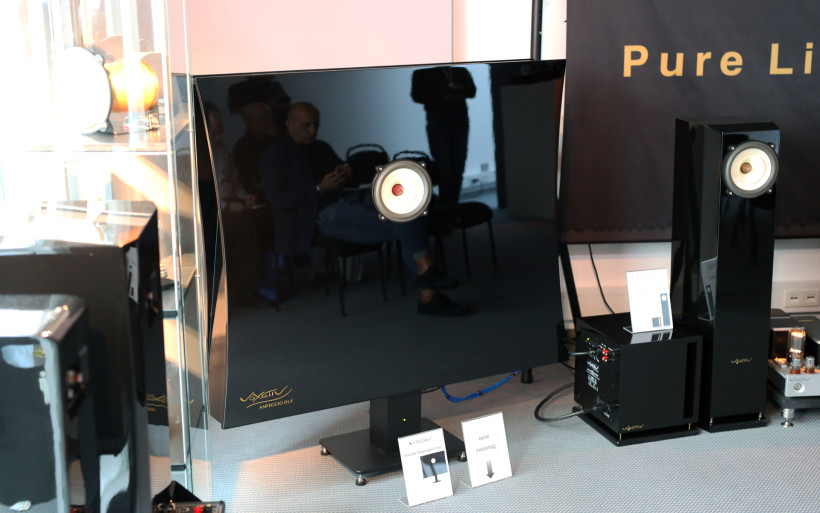 Zu Audio
This was one of those places I really looked forward to. The Zu Audio stop was as American as it gets, the gas station/route 66/dine in vibe was all over the place. Said company's CEO Sean Casey was there. Not only he's very skilled, but also exceptionally easygoing. It was obvious that in his case, to exhibit the Zu goods was all about fun and not dull duty. And his products? Very nicely finished and assembled, much better in real life than on the pictures. My crippled hearing allowed me to witness very open and effortless sound and that's it.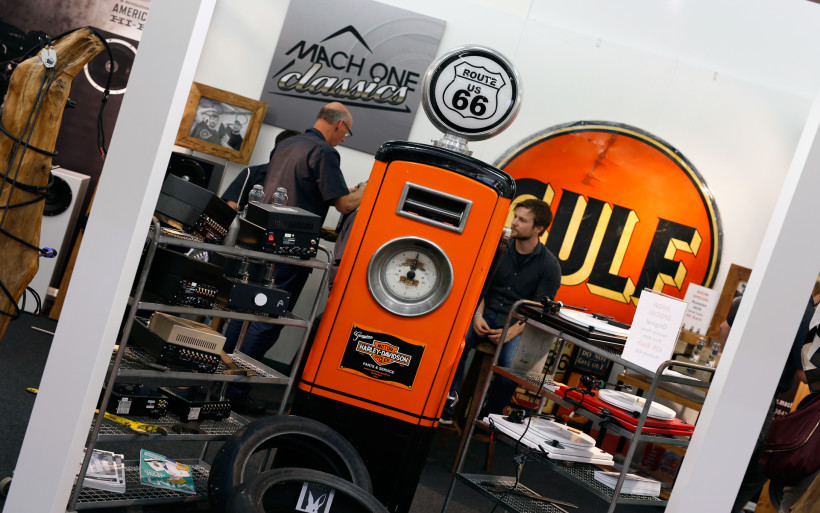 Summary
As far as logistics go, High End Society nailed it as per usual. Nothing changed from this perspective. One simply knew what to expect and this is a very good thing. A big 'thank you' goes to manufacturers. Marketing aspect aside, they made an effort and showed up, hence we – journalists – have something to write about and an enthusiast has something to read. Everyone's happy. From my subjective seat, personal interaction always was and still is above all else. I had a grand time talking to people thus far known from mails only. Again, thank you for your time.
Moving on, it might seem that there's no cherry-picking in 40+ exhibitors shown. Yet when all this year's High End had to offer is taken into consideration, that's nothing, merely a fracture of the whole picture. The initial idea was to simply show things interesting to yours truly and not necessarily the most visible/obvious/raved ones. That's about it, hopefully you've found this coverage entertaining. 'Till next time!