A newcomer's life ain't easy on the audio market. The competition is fierce and numerous, it's rather hard to break through. And probably that's what the majority of this year's High End Munich visitors thought in front of the Aequo Audio room. Said manufacture's presentation turned out to be surprisingly good. And the speakers shown there? Peculiar, in a good way though. Needless to say, Aequo Audio Ensis is what this review is all about. Enjoy.

Introduction
The audio reality is tough, that goes rather without saying. Each and every shelf, be it the most affordable or exceptionally high and available for a very small group of wealthy people, is stuffed with literally tons of equipment. It's noticeable at times, that all the cards already dealt is the outcome of generous assortment's succession. It's not that uncommon to see a situation, in which curious forum user starts a thread regarding a completely new, yet promising product made by an audio newcomer. Old-timers in such places tend to bring havoc upon such an individual: "Who needs that? You already have a well-known and reputable products by X, Y and Z brands! Why would you want new stuff if old and familiar is for the taking?". Now from a manufacturer's perspective, to start in this hobby of ours is anything but easy. No matter the angle.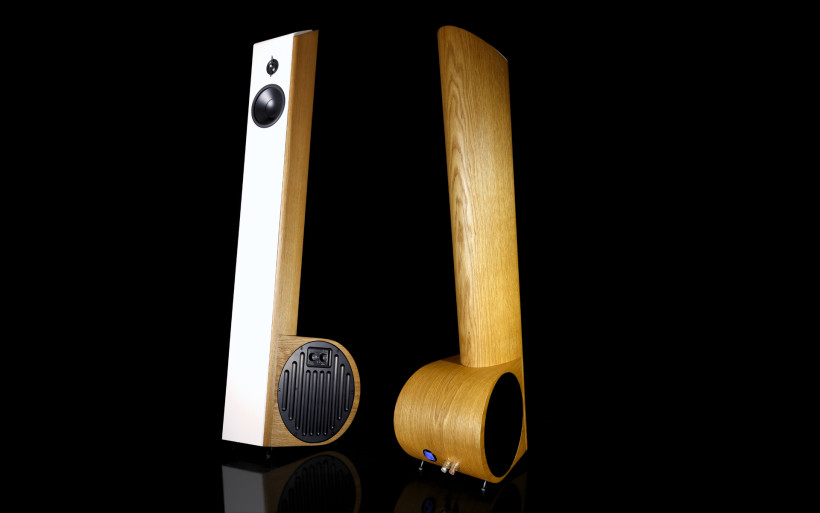 The beginning is hard because of many reasons. A good product is a must. One could even say that the better it is, the greater the chance for a success is and that proper performance will do the trick single-handed. Yes, it's hardly any news that a product has to perform, grand sound quality undoubtedly helps. Yet it isn't the only requirement that has to be met. These days lots of similar speakers are for the taking. But these which stand out of this crowd, namely address several needs at once, are appealing both sound- and design wise, interact well with various rooms, aren't too demanding in terms of company and so on… are the most successful ones. And let's not forget about the price on top of everything else, practice shows mercilessly that that's often the most important aspect. Today's hero – Dutch Aequo Audio company – doesn't give a flying fart about most of these things. A quick glimpse at their latest product – Ensis floorstanders – is more than enough. Now picture this; they don't have to, they have everything figured out already. The numbers were crunched much earlier. And what's left to do now is to execute a very well-thought plan.


My first Aequo Audio experience was in Munich. This city's High End event was the place where the Dutch PR offensive started. Inconspicuous floorstanders matched with a very mediocre NuPrime integrated amplifier performed surprisingly well back then. But the point is that Ensis model represents a very rare breed of speakers. And I'm not only about the sound here, but every other aspect as well; product's design and technical features that go along with it. Steep asking price serves as a very tasty cherry on top, of course if one pays attention solely to figures way above e.g. €15'000 per product. If so, Ensis price tag serves as a promise of something at least mildly spectacular. Yet this paragraph's takeaway is different and not that painfully obvious. Aequo Audio guys were able to pull off something of a very difficult nature, at least for vast majority of newcomers. Their product's presence was noticed, it gained both the press and visitors' attention. Or, to put it more bluntly, it caused a major commotion, which is always good for business.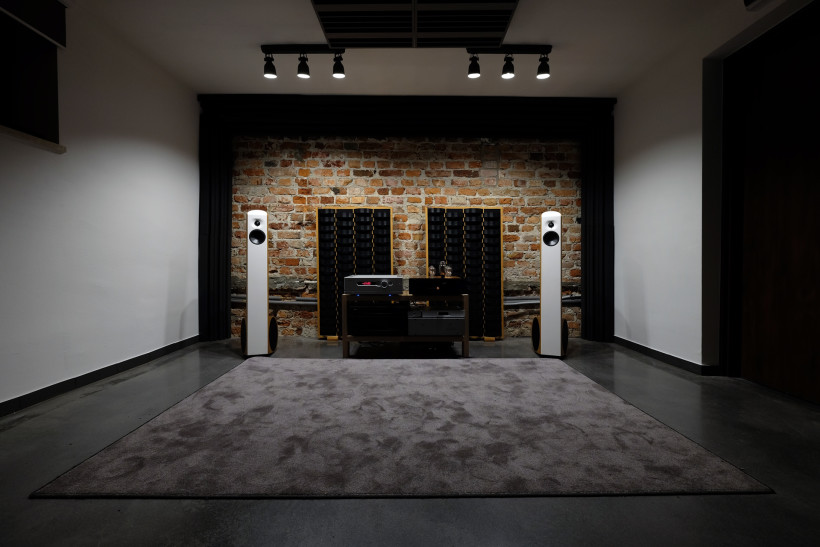 Eindhoven city is the main Dutch industrial centre, known in the whole Europe. In order not to look too far off, Phillips established its HQ there in 1891. It won't be an indiscretion to write that this very place of worldwide fame is the cradle of very skilled engineers. It's also a home for six men strong Aequo Audio company, which was formalized not more than three years ago. Though Ensis project was on since 2011, therefore two years earlier. It all started with Ivo Sparidaens. This certified engineer is the main troublemaker. His childhood buddy – Paul Rassin – handles marketing tasks, whereas the latter's brother Freek is into product's engineering. Moving on, Edvin Van Drunden is responsible for analogue part and PCB projects and Pierre Van Bree deals with semi-products, he assembles all the pieces of the puzzle altogether. Each of said individuals is a specialist in one domain and presumably this is the reason why Ensis model works, looks and sounds the way it does. According to Ivo, simply as originally intended.
Build
Ensis speakers are unusual right from the get-go. This is a semi-active and three-way design, not that popular. Low frequencies are based on 500W N-core class D modules. Everything above is passive, handled by midrange driver and tweeter. This is a rather uncommon topology, which makes things additionally interesting. Multiply this info by high price and presto, full attention is given. On a side note, it's quite known that class D based bass drivers are very likable. Fun times ahead, please read on.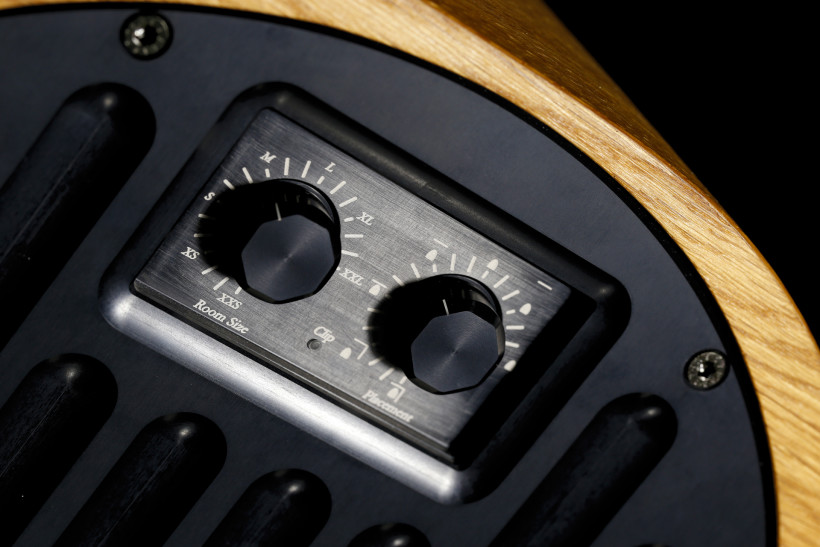 Ensis are big, yet swift floorstanders. Dimensions of (H x W x D) 116 x 31 x 29 cm and 25 kilograms of mass per speaker is quite a lot, and there are two. Dutch product is a closed design. It has 90 dB of sensitivity and eight ohms of nominal impedance. Frequency response starts at 10 Hz and ends at 40 000 Hz. Such specs are nothing out of ordinary then. And everything above bass indicates that Ensis should fly with virtually any amplifier, even tube weaklings. That's highly convenient, eh? To be honest, this reviewer isn't equipped with such machine. Yet 25 of American watts are to be found in his cave.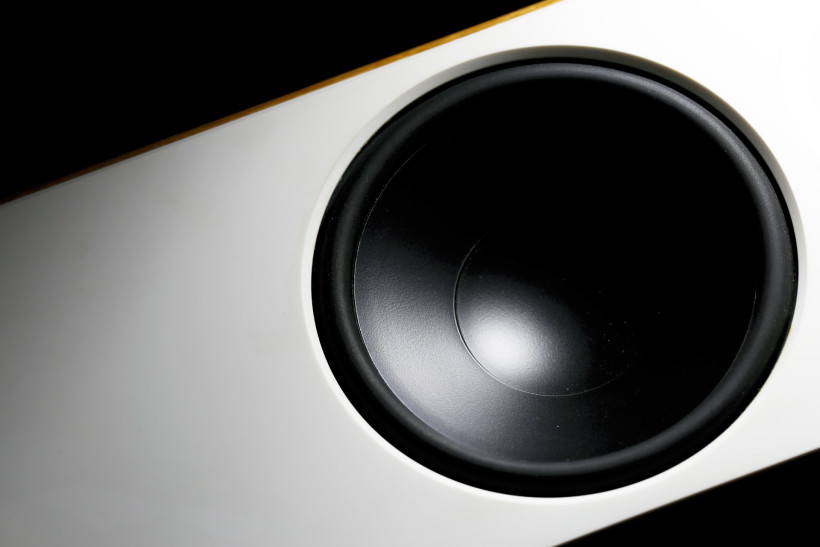 As far as abovementioned swiftness goes, it's quite difficult to describe in any other way a pair of speakers which are visually narrow, tilted and drum loaded stakes. Yet there's a purpose behind everything in Ensis case. This model's leaned back chassis isn't random as it helps to make the speakers' phase coherence in check. The product's visual similarity to note also isn't random, which makes the outcome subjectively pleasing. Not to mention it grabs one's attention in an instant and looks posh. It's safe to say that this is a case of modern, therefore highly aesthetic furniture, which will easily fit into many rooms. Now shift your attention towards unusually highly placed passive drivers. Midrange transducer is loaded with polypropylene membrane and made by Audio Technology company, which is known for Dynaudio and Scan Speak collaboration. The tweeter's soft dome is integrated with proprietary acoustic lens, which is in fact a very flat, short and rather wide waveguide. It sports a vertical rod and a phase plug attached to it. The latter slightly presses onto tweeter's membrane. Said Dutch invention's goal is to improve highs dispersion, yet in a certain fashion. To avoid problematic ceiling and floor reflections is the key, the trick is in tweeter's vertical into horizontal energy distribution and imaging improvement is the valuable outcome. Said solution is patented and known as EHDL.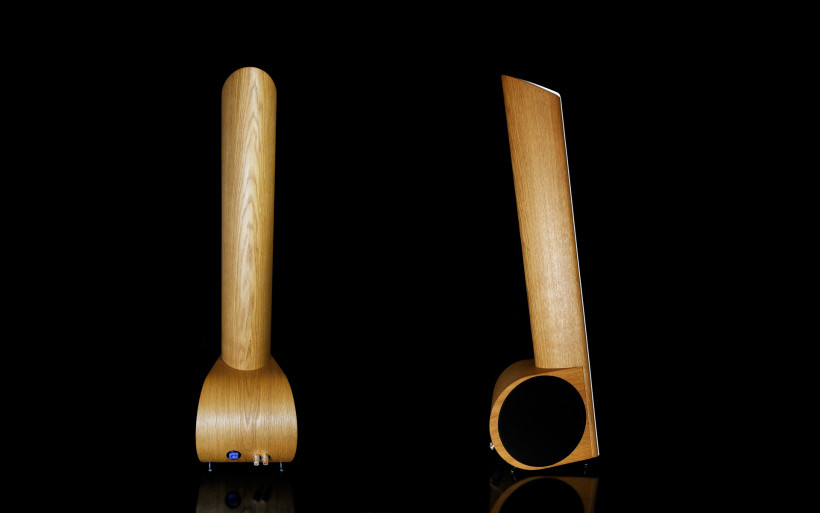 10′ bass driver is implemented in a peculiar way. It works in closed chamber, which resembles an expanding drum, and is connected to proprietary ARPEC system. It's in fact an analogue filter and completely passive mechanism, which audibly changes bass character. Resourceful Dutch crew implemented its regulation, two aluminium knobs serve this very purpose. One can adjust a room size and speaker's placement. Said elements are described with easy to read marks instead of numbers, which is nice. Now let me point out again, that said correction is done solely in the analogue domain, Ensis creators despise DSPs and are convinced that alterations of this sort make the sound worse. A large aluminium radiator and both knobs attached to it are CNC machined. Great attention to details and nothing less.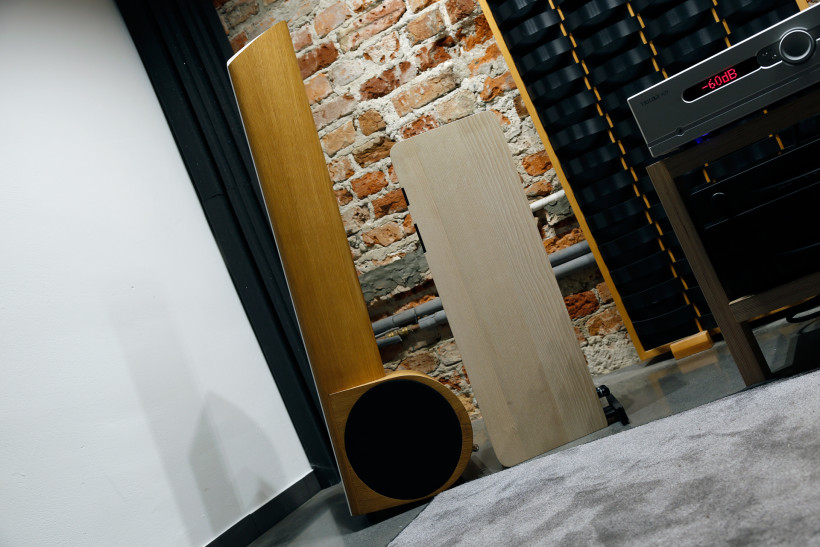 The speaker's enclosure is a sandwich design, therefore made out of several layers of bent wood. Soft material is on the outside, whereas the inside sports stiffer core. Let's add several veneering options available, here things can go really wild, yet this is also seen on the final tab. Ensis front baffle is different though, wood is only a part of this puzzle. In order to make it complete, exceptionally stiff synthetic stone alike material has been used in the process. Supposedly it's as durable as granite, yet this scribe was far from finding whether manufacturer's declarations in this regard in particular are true. In any case, it appears to be solid enough to withstand literally everything. Single WBT speaker terminals are on the product's drum alike part, with Neutrik's PowerCon socket inside. The product comes in equipped with proper power cables. By 'proper' one should understand that these are solid, quite long (3 m) and simply able to handle the initial task decently. It's seen that said cables are of non-DIY sort, which is good. Moving on, CNC milled aluminium feet make our Dutch picture complete. Though spikes are perfectly usable if one wishes to exploit these.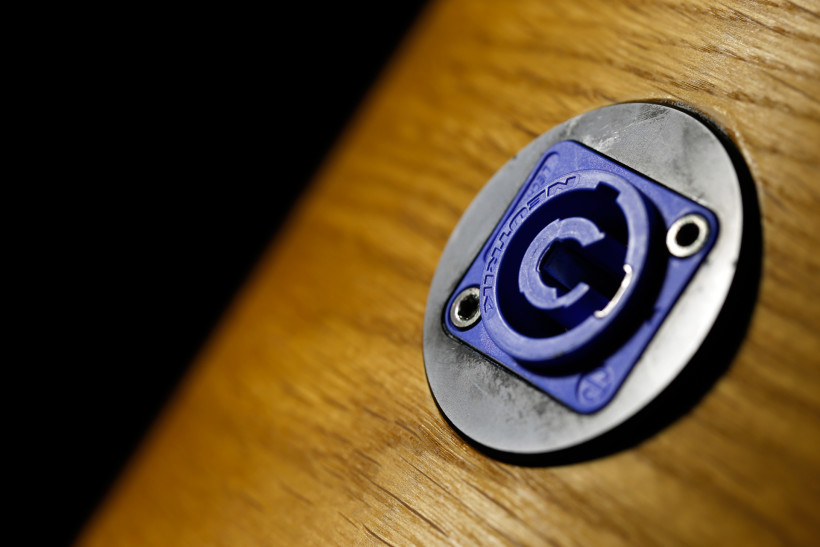 Aequo Audio philosophy is this chapter's final part. Picture an octagon, also seen in said company's logo and for a reason. Ensis speakers' shape and tech inside of 'em are implemented according to eight Dutch principles in total. And how many equal lines make an octagon? Yup, eight. Therefore we can consider this mystery happily solved and move on. Aequo Audio crew wanted to make a very universal product; highly independent from room acoustics, able to vanish from one's sight and be placed literally anywhere. Dutch team also wanted Ensis to be visually appealing piece of modern art, which is exceptionally flexible in terms of matching equipment. At this point it's safe to say that Ivo & The Gang were able to pull this off. What remains on said octagonal road map is precision, clarity and punchness of the sound. But this remains to be seen down below.
Sound
In order to properly review Dutch floorstanders, two amplifiers were used; Trilogy 925 and FirstWatt F7. LampizatOr Golden Gate (KR Audio 5U4G ltd. + 4 x Psvane WE101D-L) served as a source, whereas Lumin T1 and Asus UX305LA both handled transport duties. Trilogy 925 was used in the first place, then it was time to find out what 'mere' 25WPC of pure class A gives and takes in return. Past these introductory experiences, English 925 was used once more, yet this time with Boenicke W8 model in chain. A number of W8/Ensis swaps was conducted. €20'000 versus x2,5 times less? Heck yes. Comparisons of this sort are in order, just to find out whether pricier competition's performance is up there with the asking.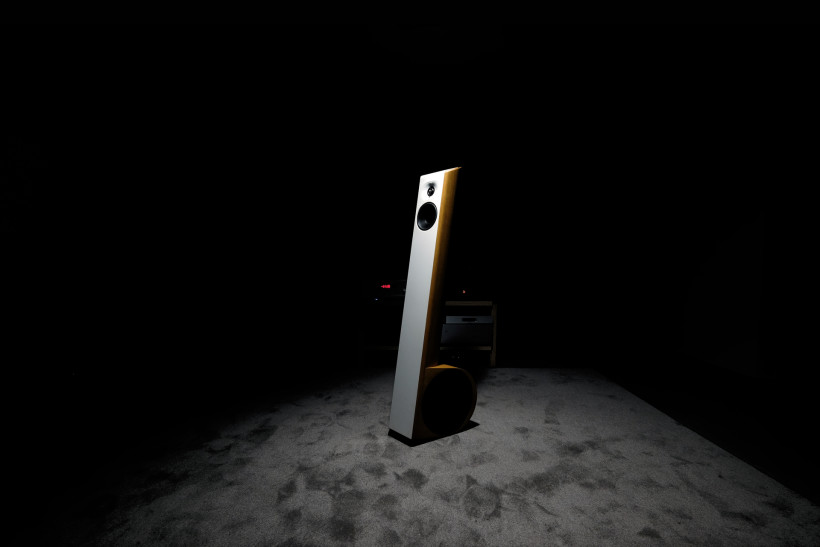 Floorstanders as unique as Ensis are always a big mystery. Yes, one can theorize a bit here and there about the sound. It is said that class D bass is jumpy, well-controlled and with a bit of luck it might have decently textured and generous body. But what can be said about ordinarily looking midrange driver mounted in Ensis? Or its tweeter placed in a rather peculiar cavity? When it's simply hard to guess what's what without a proper listen, things get even more intense. Inconspicuous, small box as a home for mid FR upwards… so maybe small, thin and shy sound will be the outcome? Here's the first surprise: not at all. Dutch performers sing big, boldly, loudly and proudly, there's nothing small or shy in their sound. The outcome is dense, marvelously textured, tonally rich and present throughout the whole audible FR. Some of you might think: "OK, but aren't things overly fuzzy?". Nope, not at all. Ensis sports a phenomenal bass and low midrange. Add clarity and lack of any kind of veiling on top of that. This product performs with a very sensible punchness, authority and organic, lifelike saturation. Said speed and power 'merely' serve as a finishing strokes on already very colorful yet clear picture. Now that's both properly entertaining and interesting.


What's striking is how coherent Ensis speakers are. During a number of days not even once I've encountered a situation where a specific FR part would stand out of the crowd. Not only these are perfectly glued together, everything is properly rhythmic. Picture a fabulously jumpy low end, which can change its pace in a jiffy; from exceptionally feisty to very subtle character on demand and without breaking a tiniest drop of sweat. But the rest is always up there in terms of temporary speed. At times it was a real treat to see the sheer force and punchness, just to be surprised by delicate and suave approach seconds later. In terms of FR bumps and holes, I'd say that Ensis is fairly even all across the board, though its low end extension and character are related to embedded ASP and one's individual usage of it. But the point is that Ensis isn't a showy product; neither it promotes boosted midrange around everything is built, nor elevated FR borders. And again, let's add clarity and the sense of presence to the mix and there you have it, the exceptionally pleasant effect to drown in for long, long hours.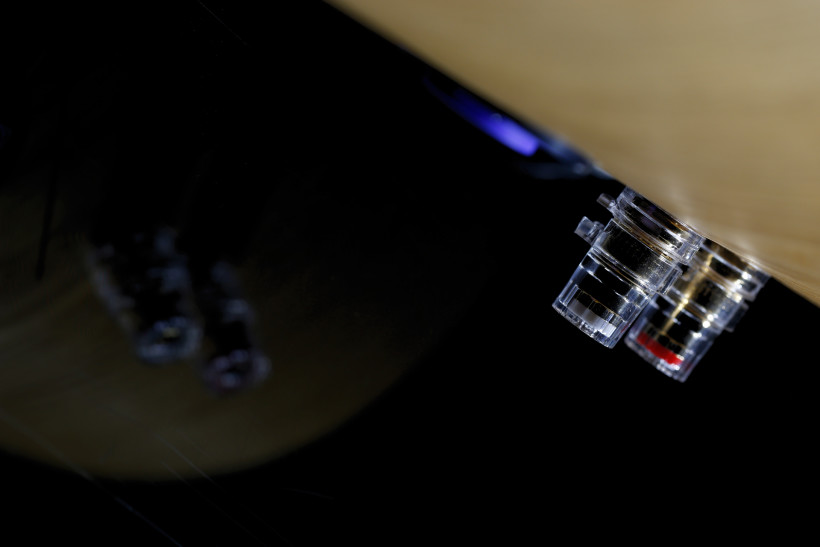 Aequo Audio Ensis also has a peculiar soundstage. The main thing happens between both speakers, which is how it supposed to be. But the point is that the sound doesn't go beyond this space much. Many individuals might say "argh" at this point, but let me reassure you that this isn't a case of underdeveloped and not properly polished imaging. Instead of focusing on making the soundstage wider, the emphasis has been put on instruments' tangibility and body, these features are the main attention grabbers. To a point where one simply admires what's painted in front of him, instead of longing after events which could have been wider. That's not the case at all. I strongly believe that this time it wouldn't work out, that things could even turn out to be slightly imbalanced. Sometimes less is simply more. And Ensis pictures a properly airy soundstage. Instead of being overly light or stuffy, subjectively it hits the right spot, which leads to highly coherent, very deep and threedimensional imaging. I tend to think that the golden middle between instruments' body, their size, placement and space among them has been found. And this makes the music just right and highly entertaining at that.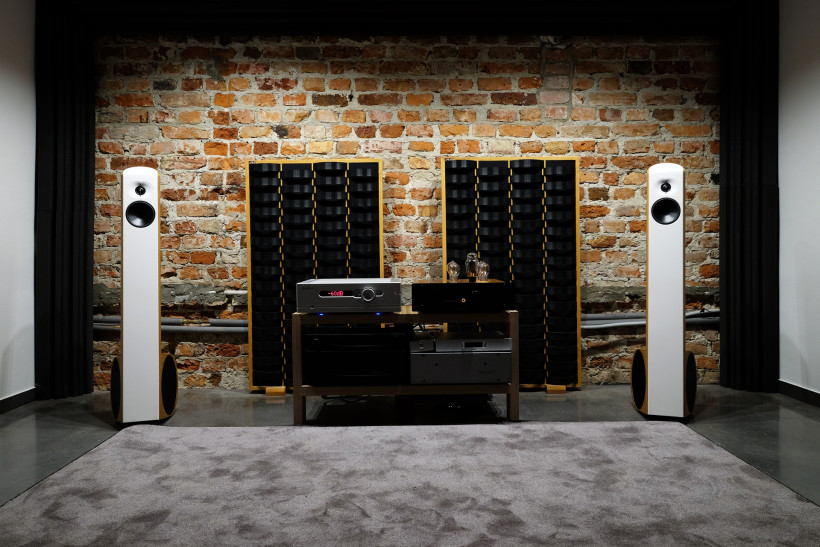 The description above indicates that we're dealing with speakers fast, dense and clear, with marvelous bass and rather uncommon, yet coherent imaging. But that's not all. What makes Ensis so good is their smoothness, organic approach, fineness and refinement. All of these features are heard easily. There's no struggle, harshness or brute force in Ensis performance. And all it takes is a quick listen to i.e. their highs. Surprisingly dense, differentiated, clear, with proper decaying and fatigue free, never sharp. Similarly generous set of traits can be said about what's below, but the gist is that Ensis isn't an oddball not really sure about what it is exactly, but a refined and coherent performer surely worth a heavy bag full of money. It's also worth to know that our Dutch floorstanders phenomenally show the scale in music, the amount of air these boxes pump so effortlessly make one helluva impression. Past first minutes in said model's presence I couldn't shake off the feeling that in terms of scale, Ensis behaves like an OB design. Thus far I've not had a pleasure to deal with speakers which would so clearly and lively show e.g. theorbo's resonance chamber on "Zefiro Torna" track from "Monteverdi – A Trace of Grace" album. In short, Ensis are a very surprising speakers. Undoubtedly.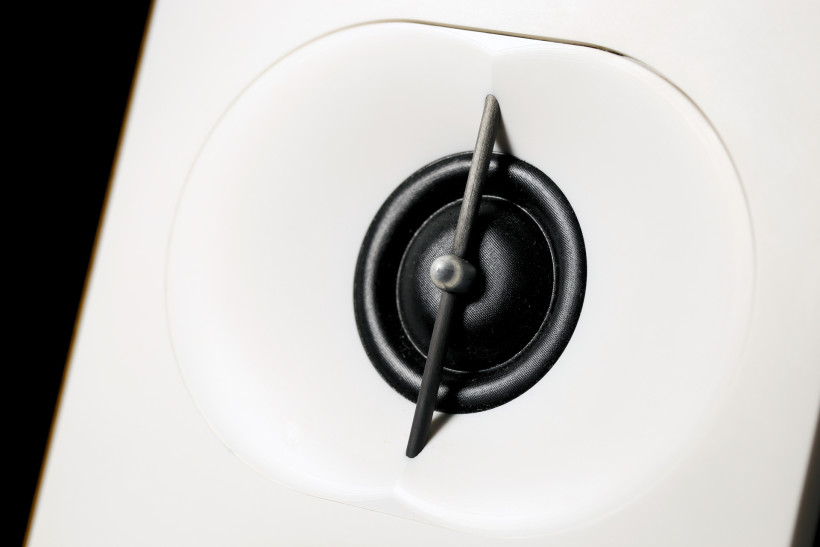 FirstWatt F7 was the next stop. This phenomenal stereo power amplifier of 25WPC should handle Ensis without any issues. Yet the practice showed that, while regulated from Golden Gate's TAIV-C03 ladder, it barely made it. -5 dB on a -63 dB scale to get about 80 dB of SPL in my listening room should be considered as 'barely'. Anyway, F7 performed with less kick and, more suave and slightly thinner approach in comparison to 925 integrated. The tonal balance was shifted a bit upwards, with highs more lit up and present. The initial assumption was that things will be the other way around. Yet it doesn't change the fact that Ensis and F7 was a perfectly happy couple. The outcome was exceptionally smooth, coherent, generously detailed, present and dense. Plainly good if someone asks me. But what's the most important is that this kind of a performance isn't tiresome at all. Let's move on.


Now was a good time to confront Ensis floorstanders with Boenicke Audio W8 model. In short, for the very first time since becoming a happy owner of the latter model, I have to admit that the former is a completely different, higher league player. A quick glimpse at both of these products' price tags indicates that this is how things should always look like. You pay more and you get more in return, yes? Yet the practice often shows something else. Not to mention that Boenicke W8 came victoriously from many very bloody battles, namely from comparisons to pricier competition. Not this time, though. Actually, from this journalist's perspective it's good that this day finally came. At least now I know exactly where the end of these floorstanders' performance is. Until one hears something much better, one doesn't really know, does he?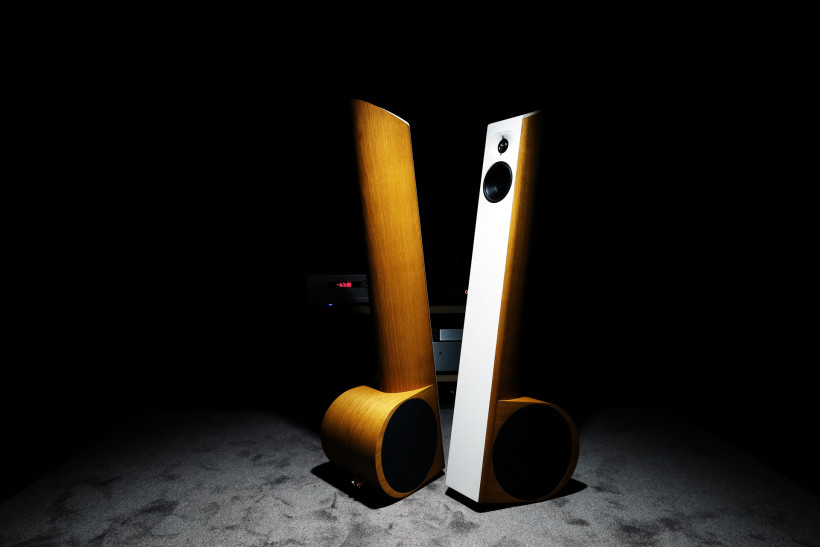 Both models represent completely different approaches. Yes, they share some features, but more things set 'em apart. Judging solely by both specimens' looks, things can't be any more different. Boenicke W8 is a semi-transmission line affair with a rather small woofer slapped on its side, midrange driver followed by a Fountek's widebander and all that further augmented by an ambient tweeter mounted on a rear baffle. Aequo Audio Ensis is more common in the sense that one driver handles one thing only, yet said speaker is loaded with class D amps. Though each Dutch driver works in a sealed chamber, no porting anywhere in sight in this product. Needless to say, two different worlds have clashed and this was not only heard intensely, but also felt.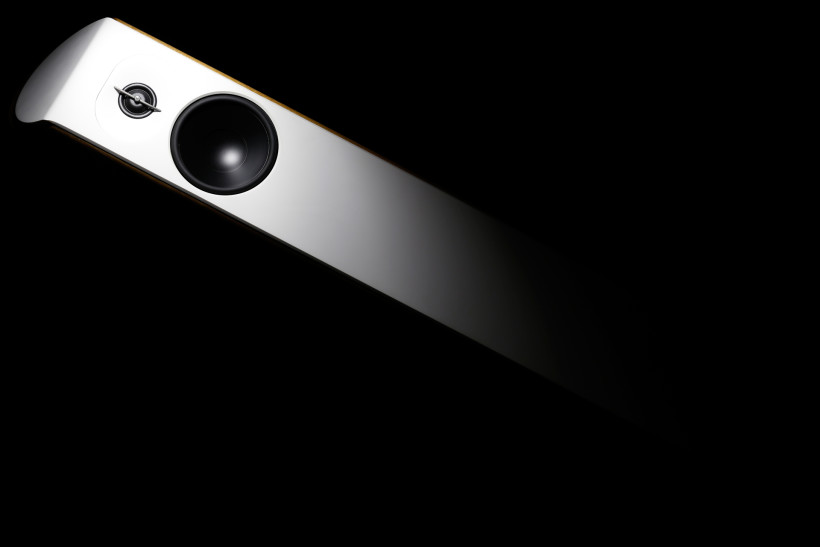 The very first thing one hears is the difference in downstairs department between compared products. Ensis sports audibly more bass, though this can be adjusted to a room size and audibly tweaked. In comparison to Boenicke W8, Dutch floorstanders have this FR part not only swifter and stronger, but also more present, fuller. Because of bass presented in such way, this model has feistier and even more expressive nature. When a specific need comes, Ensis is able to simply slap one in a face harder. It's rather undeniable that these are more powerful in the bass department, which somewhat translates to livelier and more energetic character overall. Let's add roundness and elevated differentiation to the final tab and Ensis walks away with the main prize.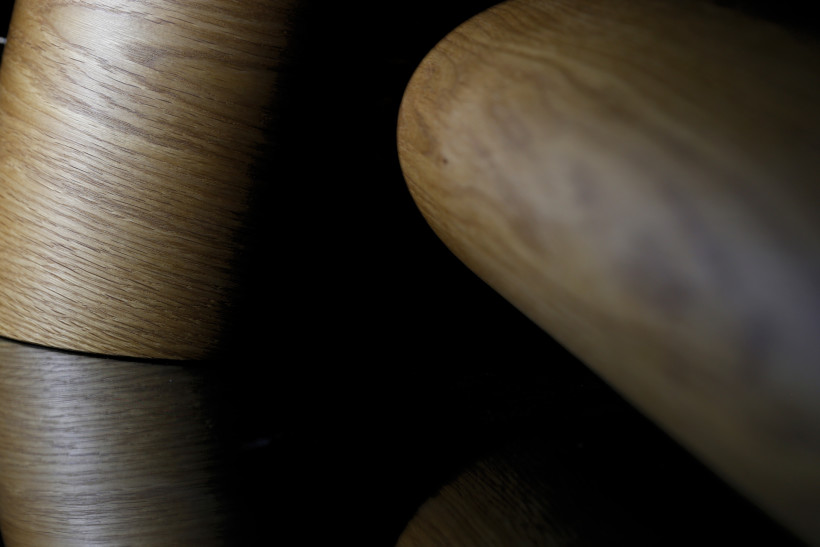 Boenicke W8 holds its ground firmly, these speakers also represent bass swift, multi-textured, punchy and properly kicking, which depends heavily on the side both woofers look at; walls nearby or themselves. But still, Swiss champ is slower and less present in the downstairs regard. It can be heard that past a certain point struggle starts, whereas Ensis always handles things as easy and effortless as it gets. Picture Monster Magnet's "Spacelord" or "Daraijin" by KODO drummers. W8 shows bass on these tracks bluntly and directly, without any unnecessary resonances, yet at the same time properly colorful, heavily and feisty. But Dutch performer does all that in even more intense and present way. And the real devil sits in scale. W8 can fancy an enormously big picture, yet Ensis makes it alive and much grander.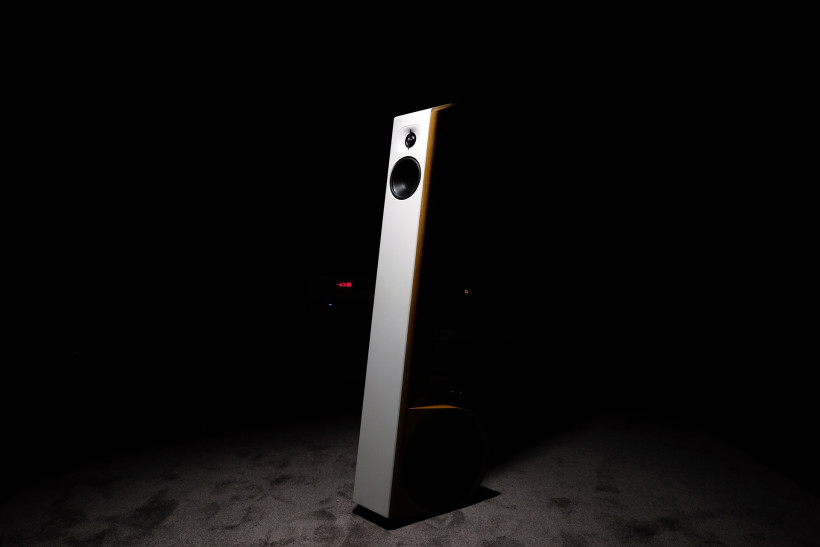 And since we're at FR dissection, let's move to midrange. Here Ensis triumphs over W8 again. The former has it more saturated and present, yet not overly complicated in a sense that it's too thick and less clear than desired. Not at all. And the ability to sport mids this organic and at the same time present and not veiled is a feature to behold. If only music is well-made, rest assured that Ensis will show beautiful, smooth and lifelike voices. And in comparison to W8, these speakers are far more forgiving. Swiss reference model has no issues with midrange clarity or presence, yet it has less body. And with poor recordings it can be slightly on the mat side. The same story happens with highs. Even though it has generously long decay in both cases, W8 has less of it and thinner. Actually, this quite fits to the overall concept of Sven's speakers, but it is what it is in confrontation with Ensis. This product has highs even more present and natural, and – subjectively – more pleasant as well.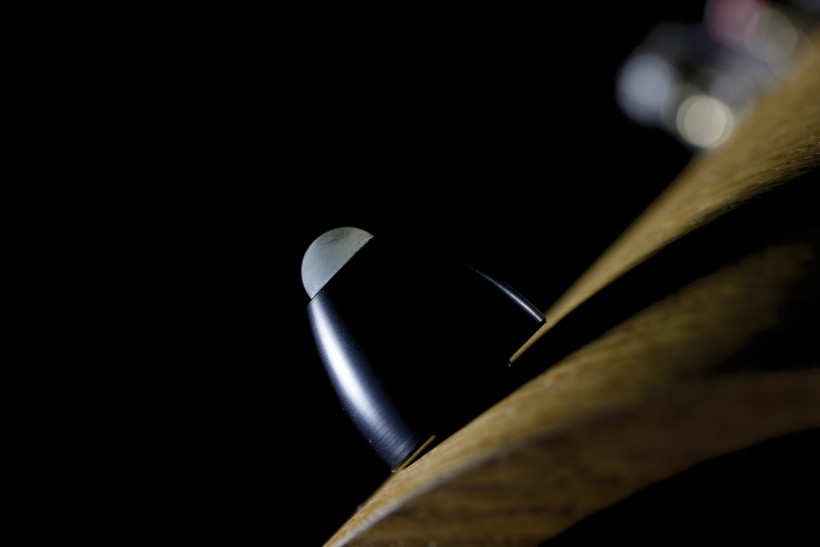 Th imaging case of two compared models is complex. Apples and oranges. Both products handle it in greatly different fashion. Boenicke W8 has the soundstage wider, Ensis – taller. The former slightly moves away the very first row from a listener, whereas the latter brings it a bit closer than usual. Sven's speakers can vanish from a room without breaking a sweat, Dutch performer couldn't, probably because of a peculiar closest row of instruments, I can't say exactly. But after giving Ensis a go in two different rooms I'm quite confident that these don't belong to completely invisible breed. Not to mention that my room is specific, as it has quite low ceiling and 'mere' 24 sq. meters, which has to have an impact on imaging as well. Moving on, Sven's boxes paint the fantastically deep picture on the wall behind these, one can literally touch it. Its Dutch competitor, though placed a bit closer to the rear wall, shows events on the line between the speakers. And it sketches bolder, marvelously separated instruments' bodies. This makes the Ensis soundstage thicker, more juicy so to speak and focusing one's attention on what's directly in front. All of this is very likable. Though the most valuable upshot of this skirmish were two completely different, yet tasty flavors. It matters not which you'd pick, both are highly addictive and of grand quality. Purely subjectively speaking, this scribe would pick W8's imaging capabilities as these represent everything he needs to be a perfectly happy man.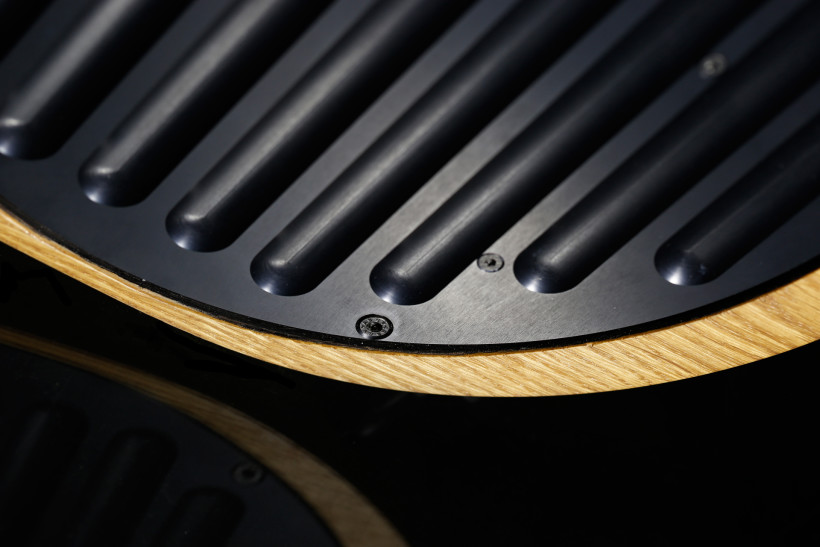 The conclusion is that W8 is thinner, cooler, airier and lighter performer in comparison to Ensis. The latter is more jolly, organic and denser. It also has much better rhythmic and – as a package – is subjectively more pleasant and easygoing. And it sings with a scale beyond Swiss reach, that's one of the most striking differences. To be perfectly honest, this feature along with Ensis attack were the reminders why I enjoy uncompressed OB sound so much. Gradient Revolution happy memories returned in an instant and with a proper bang. Ah, one last thing. In the repertoire context, Aequo Audio Ensis are helluva indiscriminate floorstanders. These will go with literally any type of music of even very lousy quality. Heck, even early Rammstein scored some heavy foot tapping. Yes, with mastering flaws, yet the outcome was very good nonetheless.
Summary
Aequo Audio Ensis floorstanders are a very positive surprise. I'd gladly swap my W8 for a pair of these without any looking back ever since. Too many factors impressed me to a degree too great to conclude this Dutch adventure in any other way. Ensis is marvelously made, visually tasty. This design isn't of course fully universal as no such thing exists. If one is into 15′ drivers loaded monolithic sarcophagus, he might say "nay" to our Dutch champ. And that's perfectly fine. Yet I'm sure that vast majority of people will find these speakers dandy enough to find a place for them in a living room. In my opinion, Ensis is visually not only different. but also not overbearing. It represents safe, aesthetic and quaint form, which will be appreciated by many females out there.
Ensis is a complete product and a spectacular performer. But what's the most striking is that it's the very first one from a newcomer, who just appeared on the market, though with a bang rarely this loud. At the very beginning there were numerous question marks. It was obvious that Dutch crew has a very strong engineering background, yet often it simply isn't enough to deliver a truly audiophile product. Luckily 'often' doesn't mean 'always' as it quickly turned out that Ensis connects engineering know-how, very modern design and grand sound in a very swift fashion. In our Dutch case, these aspects beautifully click altogether. But the effect this coherent, pleasant, effortless and impressive overall can't be done by an accident. It's way too polished to be achieved by a coincidence, way too refined. Therefore Aequo Audio people know not only how to make a fancy box, but are also perfectly capable of making it to sound really good.
Aequo Audio Ensis will set you back for hefty €20'000 per pair. And that's the price for a basic version. If one would like to have company's upper echelon cables and fancy veneers, the aforementioned asking might go up by additional 10 or 20%. Although at shelf this luxurious, this probably won't be a problem to any potential buyer, the competition both dangerous and numerous might. Yet this scribe is convinced that Ensis is universal, soundwise refined, visually intriguing and – as a package – good enough, that it should be taken into serious consideration. To pass it without giving even one shrug is a mistake to make, yet the real trick is in getting rid of any prejudices one might have. Aequo Audio Ensis stands as a very solid proof that modern design can sound like a ton of money indeed. 'Till next time.
Associated equipment:
Amplifiers: Trilogy 925, FirstWatt F7
Sources: Lampizator Golden Gate (Psvane WE101D-L + KR Audio 5U4G Ltd. Ed.)
Speakers: Boenicke Audio W8
Transports: Asus UX305LA, Lumin T1
Speaker cables: Harmonix CS-120 Improved
Interconnects: Forza AudioWorks Noir
Power supply: Gigawatt PF-2 + Gigawatt LC-2 MK2 + Forza AudioWorks Noir Concept
Rack: Lavardin K-Rak
Music: NativeDSD
Retail prices of reviewed components in EU (excl. tax):
Aequo Audio Ensis: €20'000