My adventure with Polish KBL Sound cables started with their flagship series, Himalaya. Now it's time to check out their latest addition to the lineup, the second from the top, more friendly priced, Red Eye Ultimate. As usually I decided to test the whole set of interconnects, speaker and power cables. 
Introduction
Since I elaborated on the KBL Sound company in my Himalaya series review let me skip this part this time. For those who haven't read it let me just say that this is a Polish manufacturer present on the market for several years, offering analog and digital audio cables. Their lineup includes also a power distributor and cable stands. I personally encountered KBL Sound for the first time during AudioShow in Warsaw in 2013, where they presented their Red Eye series cables. This line, at the time, was the top one. That changed less then two years ago with the introduction of the Himalaya. The company has made a lot of fuzz on the market by offering products that matched in terms of both, the performance and make & finish quality, cables made by the world's biggest tycoons. Unlike many other brands, KBL Sound entered the market offering right from the start top quality products ready to compete with well established competitors. There were quite many happy customers who bought these cables for their high end systems, but, as always, there were also some who predicted that the company might soon fail on such a competitive market.
Meanwhile, the company has been quietly, without haste developing their portfolio in both directions working on new flagship, but also on more affordable products. Today, the lineup already includes four series of cables (plus products made to order only), including the entry level Fluid Zodiac line. If I remember correctly it was last year when the new flagship was released for even more demanding customers with top-high-end systems. As I wrote in my test, one can find a few even better (and much more expensive) cables on the market, but in my opinion Himalaya are among few best out there and they shall shine even in the most advanced systems. These cables actually used the same conductors as the Red Eye ones, but their number increased and the internal topology was also altered. After creating the new flagship model a time came to introduce some improvements to the Red Eye line based on the knowledge gained while developing Himalaya. The changes were so significant that they decided to reflect this fact by changing the name of the new, improved cables to the Red Eye Ultimate.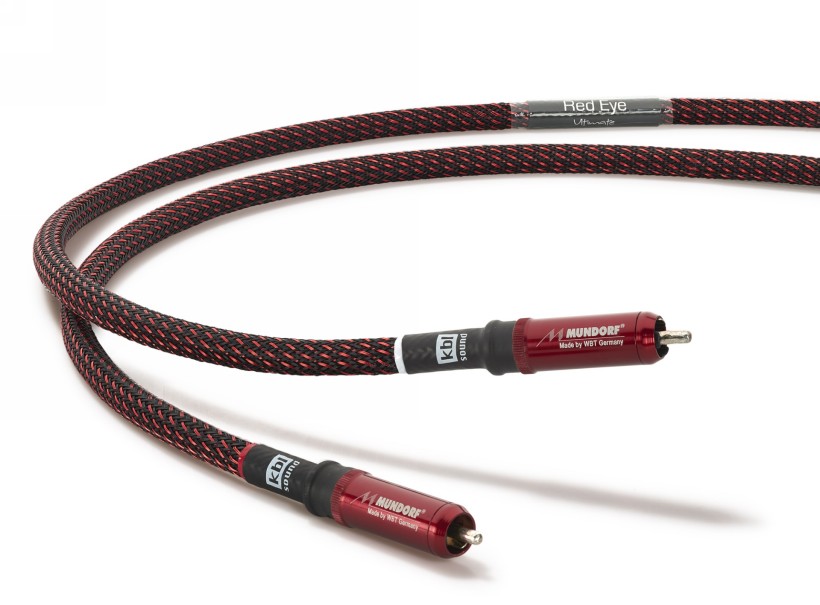 Design
Like the Himalaya, Red Eye Ultimate also feature copper and silver conductors. The interconnect is based on mono crystal silver, while the speaker cables and the power ones are made of mono crystal copper. The conductors are shielded in several ways, also vibration damping was properly taken care of. As the dielectric, manufacturer decided to use foamed Teflon – one of the best materials of this type available on the market today.
The analog RCA interconnect (a 75 Ω digital cable is also available) features WBT 0110 Ag nextgen connectors, produced by this German company according to Mundorf specification. They represent one of the main differences compared to the previous version of Red Eye. Not only their color fits perfectly the cable's, but, according to manufacturer, they make a big difference especially in terms of sound transparency. Standard lengths of interconnects are: 1, 1.5, and 2m, other lengths are available upon request.
The speaker cable is made using a mono crystal high-purity copper, but, as explained by producer, of a higher class than the one used for original Red Eye. The cable features a multi-layered insulation, although the manufacturer does not specify what exactly it is made of. Wires are terminated with CMC Swiss Cu spades or BFA banana plugs made of tellurium copper in both cases plated with a thick layer of silver. Standard lengths are: 2×2, 2×2.5 and 2x3m.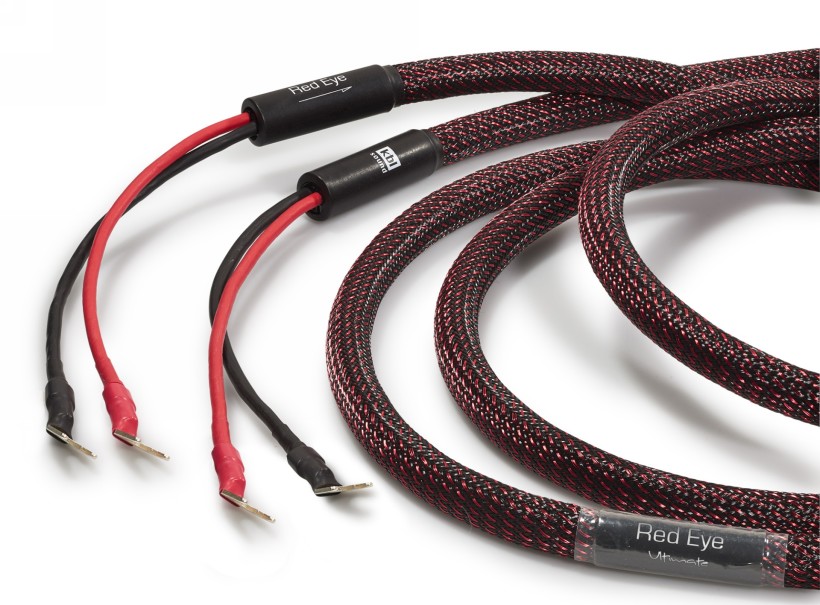 The power cables are also made of mono crystal highest purity OCC copper. According to manufacturer during its development a special attention was paid to issues of insulation and vibration damping of both, the cable as a whole as well as of individual wires. The power chord features custom-made, brass plugs. The contact areas are made of hardened tellurium copper and then rhodium plated. All metal parts of these plugs are subjected to cryogenic treatment and demagnetized. The massive body of each plug is covered with a layer of carbon fiber that provides excellent vibration absorption and shielding. Standard lengths are 1.5 and 2 m. Optionally, one can order a version with a 20A IEC connector for devices with a very high current demand.
All cables in this series are equipped with the same sleeves as the previous version of Red Eye – a red-black braided nylon with copper threads, with a clear predominance of the first color. The make and finish of all cables is impeccable – as I mentioned earlier, since its debut KBL Sound has always offered products that not only sounded but also looked great. The new Red Eye Ultimate are delivered in a simple, but quite nice cardboard boxes. Some might expect more luxurious packaging at this price level but I'd say it is a waste of money.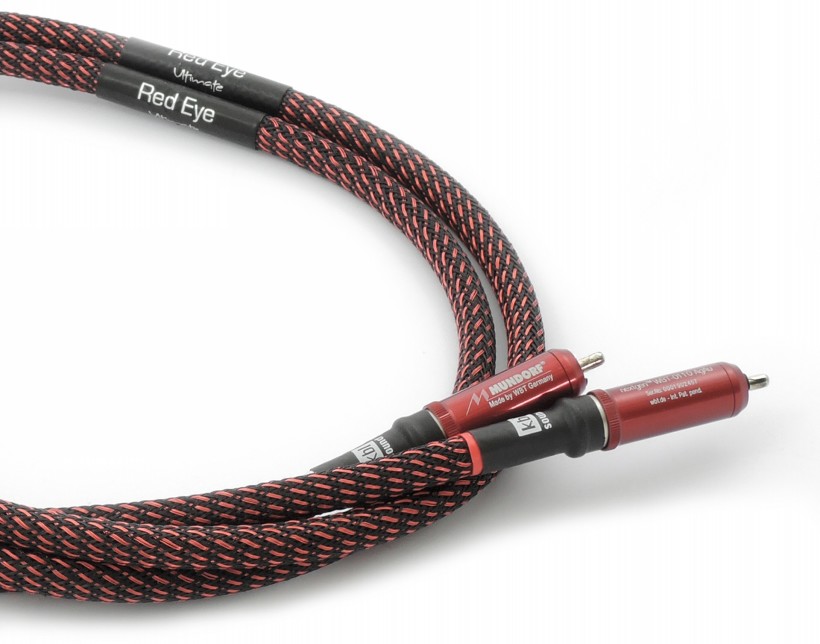 Sound
With one exception, that I'll get back to in a moment, I tested Red Eye Ultimate cables as a set. This is a test method I decided to use for cables a long time ago and I stick to it whenever possible. It is based on my experience that indicates that the use of a full set of cables made by one manufacturer offers an additional positive effect, or as some called it – a synergy effect. And yes, there are exceptions to this rule, but really only when I have no other choice (either because I do not get the whole loom for test, or simply the manufacturer doesn't offer it at all) I decide to test individual cables. This time I had the opportunity to compare Polish cables primarily with my own set of LessLoss (IC and speaker from Anchorwave line and the DFPC Signature power cables) and the tested in the same time set of Acoustic Revive Series tripleC (RCA-1.0 tripleC-FM, Speaker SPC-3.0 tripleC, Power Cable Standard -tripleC-FM). An additional element used in the test was also my favorite interconnect – the Hijiri Million. I do not have Mr. Kiuchi's power cables and speaker cables from this series haven't been even released yet. Therefor I could use only the unbalanced IC for comparison, and this is the aforementioned exception from my own rule.
For the record, let me remind you the obvious – how we perceive performance of particular cables depends, to some extent, on the system we use them in and I'm not talking only about the class of the system itself. I personally definitely prefer devices offering a musical, warm, palpable sound, that take proper care of the tone and texture of sound. And it so happened that at the time when I had these cables available for test virtually all amplifiers and sources I had at my disposal were of my favorite type. There was a great (even though relatively inexpensive) Class A amplifier (Sugden A21), there was a hybrid design with tube input section (Pathos Logos mk II), there were solid-state AB Class power amps (my own Modwright KWA100 SE and EternalArts Power Amplifier Stereo Magic Eyes), there was a CD with tube output stage and finally my trusted LampizatOr Big 7 D/A Converter (with tubes on board, of course). Some qualities of these cables fitted these devices better, some seemed perfect for a differently sounding systems. Below I shall elaborate on both a bit. Read on.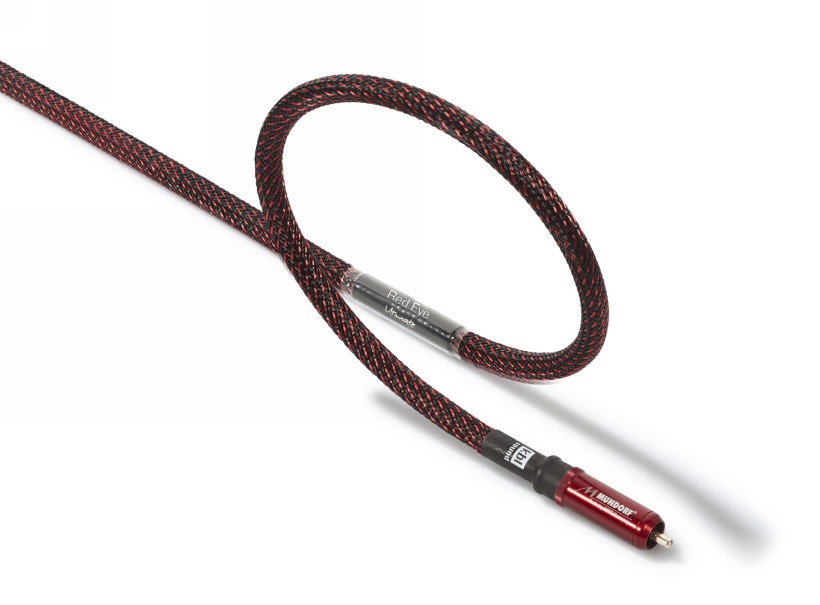 Red Eye Ultimate vs Acoustic Revive
In the previous test of Himalaya loom I compared them directly with an even more expensive counterparts made by the Swedish company Jorma. This time, Red Eye Ultimate at the beginning tackled the slightly more expensive ones (though taking into account the country of origin and the associated costs one could say both sets represented same price level) by the famous Japanese manufacturer, Acoustic Revive. After a fast (as much as possible while replacing a full set of cables with another) change-over between both looms some similarities and differences were obvious immediately. The basic, most obvious one was the presentation of spacial aspects of the sound. They were not identical, but in both cases, exceptional. In terms of width and depth of the soundstage Polish and Japanese cables went head to head. The width was often even bigger than the distance between loudspeakers (if particular recording allowed it) and also depth was impressive, to say the least. In both cases, the location of the phantom images was remarkably precise, each of them had a tangible, three-dimensional body. Also distances between them and from the listener were clearly and realistically indicated. Both presentations included a lot of "plankton" – tiny, little elements, which in real life alone actually mean almost nothing, but together they can feed the huge whale. Translating that into the audio language, together they do make a big difference, making the sound fuller, richer, more natural, because it is these tiny elements that create the feeling of realism, authenticity of the presentation, they bring performance (almost) alive. Were there any differences between these two sets? Sure. Acoustic Revive presented the front-men – musicians and singers – a bit closer to the listener. Red Eye Ultimate's presentation every time began on the line between loudspeakers' fronts, and the Japanese happened to place band's leader a half step in front of this line.
Tonal balance is set somewhat differently in both sets. With KBL Sound it is set slightly lower, hence the switch to TripleC creates an impression of a bit brighter, more open sound, although not really "leaner". The sound of Red Eye Ultimate on the other hand, seems bit richer as if it carried more weight. Both sets are perfectly capable of delivering well extended, punchy bass, but Polish cables appear to offer more profound bass foundation. The speed of the bass as well as of the attack, sustain and decay phases of the sound are similar, but Red Eye Ultimate might offer a tad tighter bass. I'm talking about the lowest sub-range, that both sets present with a lot of energy but the Polish set seems to control and define it better. And here comes the question of the setup one uses these sets with. With a rich, warm, full sounding A-class amplifier these Japanese cables added a little crispness, made the performance sounding even more open, vivid. For a change, the faster, not so rich sounding AB class solid-states benefited clearly from KBL Sound's richness, fullness, and from more palpable, intimate contact with music that these cables provided. I suspect that the characteristics of these cables could be an even better match for some very fast, neutral, transparent systems where, while supporting their advantages, they could add more 'flesh' to the sound, which should be welcomed, unless, of course, the owner prefers a clinically pure and super-fast (and usually lean) sound.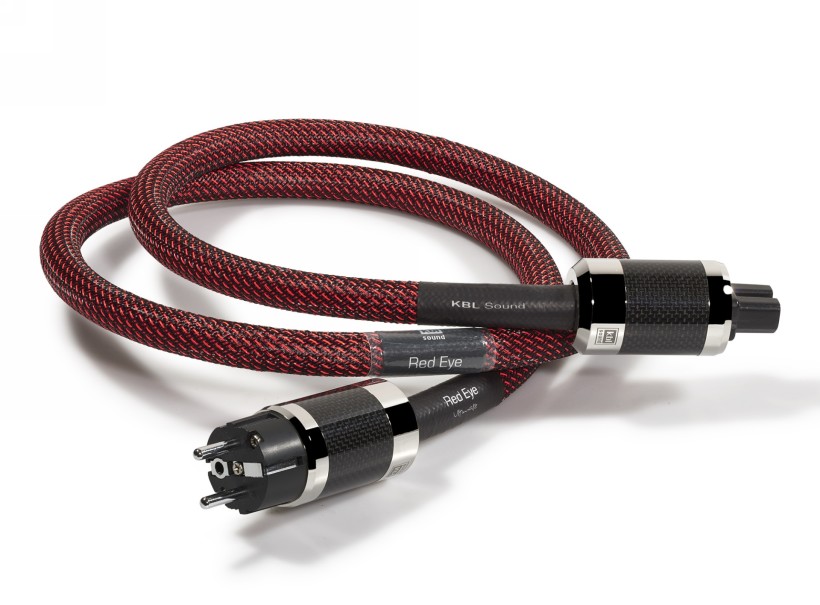 Since the Japanese cables' tonal balance is set a little higher up the band it creates an impression of a stronger, more open treble. It's just that when I simply listened to music (instead of quickly inter-change these two sets of cables back and forth) with Red Eye Ultimate in my system I never, not even for a second thought that I needed more open, more crisp treble. In good recordings sticks striking percussion cymbals delivered a wonderful, vibrant, crispy sound, and when a triangle was stroke I could feel bones in my body vibrate (which was not an unpleasant sensation, quite the contrary). Even my favorite jazz trumpet could sound properly harsh, with this natural harshness that is intrinsic to that instrument. When needed, the upper midrange and treble were rough or sharp, but always within the limits of a natural sound, that is, in a way that I never perceived as unpleasant. When listening to live recordings I enjoyed nice presentation of all reverb, the ambiance, room's acoustics if properly caught on tape was reproduced in a very convincing way thus creating a truly immersive musical experience. This presentation was very open, full of air and until I compared it directly with TripleC I didn't really feel any need for improvement in these respects. Both sets offer a similarly expressive presentation that engages listener properly in the music. For me it is one of the most important elements of music reproduction – without emotion, without a real involvement of the listener in the performance it simply remains dead or mechanical. It is just a sound, no matter how perfectly recorded and replayed, that is missing the essence of music. That's not what music, played or replayed, is about, is it?
There is one more huge advantage of both sets – timing and as a result a great pace & rhythm. These features are very important in almost every musical genre. Fans of rock or blues will be delighted because their hands and feet will be tapping the rhythm involuntarily. I caught myself tapping the rhythm while listening to the Beethoven's 9th Symphony! Which was strange as I usually just conduct it but this time I acted as if I was listening to Stevie Ray Vaughan's album which rarely allows me to sit still in my chair. And I had as much fun with Beethoven as with SRV. That aforementioned powerful and so well controlled bass foundation and high dynamics at the macro and micro served the very large classical music perfectly, giving the orchestra proper momentum and power. These are also very resolving cables which again suited this music well. I could study effortlessly each group of instruments, and even a single ones, yet at the same time they all came beautifully, harmoniously together which allowed me to enjoy the music as a whole. And that's how I like my music served.
Red Eye Ultimate vs LessLoss
I have been using my trusted, Lithuanian cables for several years now. These are not the best cables in the world, but (especially power cables) offer exceptional sound quality and price/performance ratio. With this particular comparison the differences between both sets were easy to point out. My set, compared to the other two, is the most focused on the midrange one. Bass in not as powerful and punchy as the Red Eye Ultimate's, it is also not quite as resolving and dynamic as delivered by these competitors. Although eg. in terms of bass range extension, or the energy of its middle and upper part LessLoss went head to head with Polish and Japanese counterparts. In terms of control and definition their performance was more similar to the Acoustic Revive than to the leader in this regard, which was KBL Sound.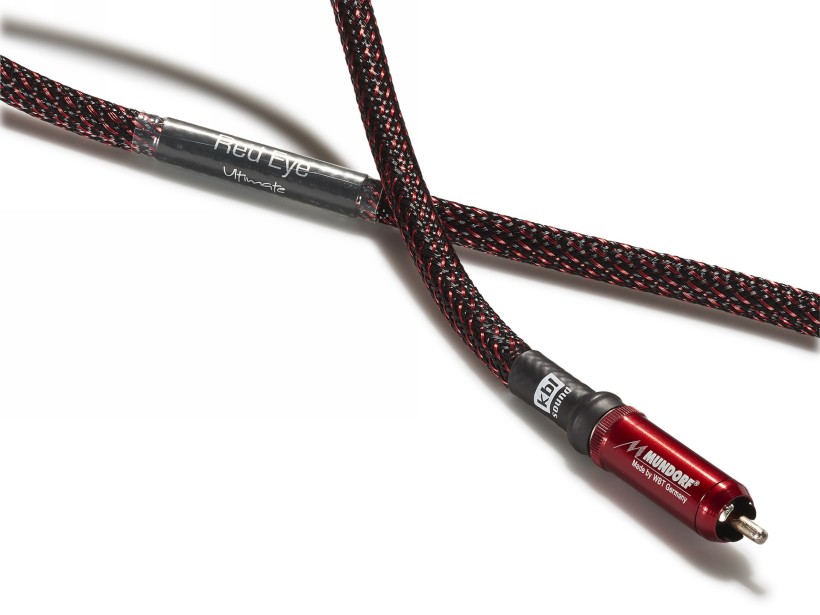 As for midrange, LessLoss did not want to give way to more expensive competitors. Dense, saturated, tangible, resolving and expressive – that's how I could describe this part of the band delivered by each of these sets. While trying to determine, for example, which electric guitar version I preferred (meaning played by which set of cables) I could not really make up my mind about it. The instrument was equally large, tangible, properly aggressive, played just as dynamically in any case. Even with fast solos every sound was equally distinctly marked by both sets. Actually, the only difference, which I could point out was a location of the same guitar on the same track, placed literally one step closer to me when played by LessLoss. When listening to acoustic guitars choosing a favorite was as difficult – I think, and I'd like to emphasize that I wasn't really sure about it, KBL Sound's loom presented bit more of wood in the sound, or maybe it was actually LessLoss that gently emphasized strings. But these were differences on a tiniest nuances level. Vocal presentation match also resulted in a draw, although maybe slightly leaning towards the Red Eye Ultimate, for a little, but still smoother, more organic presentation. Saturation, tangibility, authentic tonality and texture, and finally a great differentiation of voices – it was all on the same level, again maybe with an absolutely smallest possible advantage of KBL Sound. On one hand these differences were so small that they could seem insignificant, on the other at some level in audio all we can do is try to find a way to make even smallest steps towards unachievable perfect, live-like presentation. People spend a lot of money to improve a quality of their system's performance just a little bit. I realize that if the test had been performed in even higher class system than my own the advantage of the Red Eye Ultimate would probably have been greater.
Additional comparisons and conclusions
It so happened that when I got the set of cables for my review it turned out that there was a mistake – instead of the current model of Red Eye Ultimate interconnect I received one of the prototypes that differed from the final version. Hence, for some time rather than listening to the whole set of cables I was using the KBL Sound products separately for different tests. These listening sessions resulted also in some conclusions and I'd like to write a few words about them too. Firstly, it seems that it is power cables that are mostly responsible for such a great richness, wholeness of the sound. When used separately they introduced biggest improvement in this regard. Secondly, the interconnect, the only one in this set made of silver, makes a presentation more vivid, more lively, it adds some crispness to the sound and makes music breathe (actually I discovered these features after receiving the final version of this cable). Loudspeaker cables on the other hand seem to have the least of their own character or sonic signature – I mean when I hooked them up it changed the sound to the smallest extend. They offer nicely balanced, natural, smooth, even organic sound so that when one introduces them to the system one simply forgets about this fact immediately. Simply everything seems accurate, the way as it should be, so what's there to think or write about?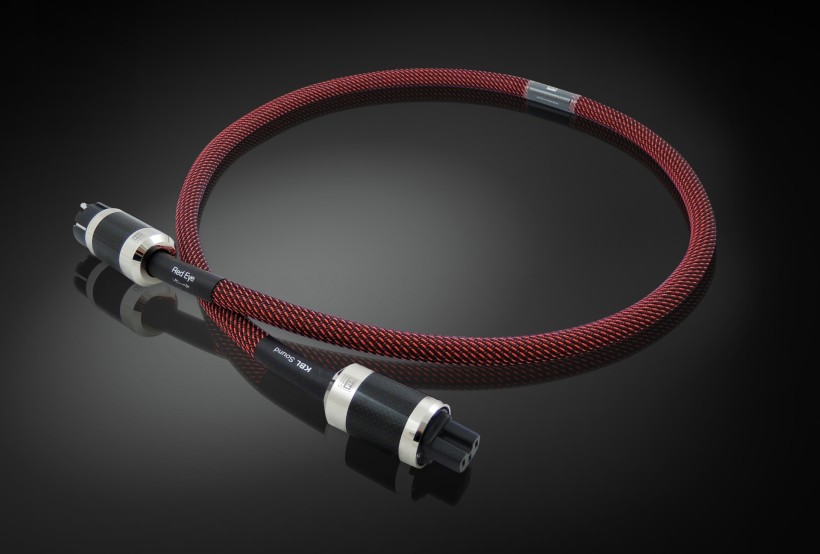 As I mentioned at the beginning of this text I performed also a quick comparison between Red Eye Ultimate RCA IC and the Japanese Hijiri Million, which I use every day. It was Hijiri that brought the presentation a bit closer to the listener, and KBL Sound delivered a slightly broader, bit more distant perspective. In both cases the pitch black background made the sound very colorful and the number of fine details in both cases was equally impressive. Surprisingly, considering how many times I mentioned this great bass foundation, saturation of the low end, and so on, it was Hijiri that delivered a bit more of wood when I played double bass recording. On the other hand, which was as surprising (considering my experience with Hijiri), the percussion cymbals sounded faster, more vibrant with the Polish cable. All these were tiny, subtle differences not dramatic ones. I could find them only by listening to the same track several times interchanging both interconnects back and forth multiple times. This test delivered results bit different from my expectations that were based on experience with these particular cables, though generally they were in line with stereotypes associated with silver (Red Eye Ultimate) and copper (Hijiri Million) wires. Although one should avoid stereotypes, this time the popular opinion about silver delivering more vivid treble and cooper being particularly good on the other end of the range has been, to some extend, confirmed.
Summary
In fact, I could at this point just copy the summary of the Himalaya test, adding only that these two lines sound quite similar although the flagship is doing everything a little better/faster/more. And it would be true. Because Red Eye Ultimate also offer a mature, complete sound with strong bass foundation, with rich, vibrant, lively treble, and a smooth, juicy, rich midrange. Because they offer great dynamics combined with perfect timing and differentiation. Because they are able to deliver amazingly resolving sound with a huge soundstage and large phantom images, although these are rendered using a little less sharp lines than with Himalaya. Because when one plugs them into a high quality hi fi system one is offered a glimpse into a higher class of performance, and if the system actually matches these cables' class a pure magic happens. And finally because with Red Eye Ultimate in the system right after one album ends one feels compelled to reach for another one just to find out how will it sound like. Having Red Eye Ultimate in one's system involves a serious danger of not having enough sleep because it is easy to loose a track of time with them. But hey! – it is worth it!
Let me, after all these praises tell you one more thing – for me, for my system I would choose Red Eye Ultimate over Himalayas (for now it seems that can actually happen sooner or later). Of course, the price itself, or the price/performance ratio, is an important factor but not the only one. I don't have a top-high-end system so it does not offer ultimate transparency nor resolution. Maybe that is why the level of performance offered by Red Eye Ultimate is absolutely sufficient and what more has the flagship still to offer, my system wouldn't be able to fully utilize. Also Himalaya deliver even richer, not to say "fatter", more saturated sound which is also better suited for more transparent and resolving systems than mine. I have no doubt, however, that people with top quality systems should give the Himalaya a try. The others, who would like to have: A – excellent cables that can push their systems' performance to the limits, B – who are not afraid to, or even want to have great Polish products should definitely check (preferably the whole set) the Red Eye Ultimate out. If they decide to purchase these it is quite likely that they will simply keep them for a long, long time.
Associated equipment:
Loudspeakers: Ubiq Audio Model One
Amplifiers: Modwright KWA100SE
Preamplifiers: Modwright LS100
Digital sources:  a passive, dedicated PC with WIN10, Roon, Fidelizer Pro 7.3, JPlay USB card with Bakoon battery power supply, Hdplex linear power supply for PC
D/A Converter: LampizatOr BIG7
Analog sources: JSikora Basic turntable with Schroeder CB tonearm and AirTight PC 3 cartridge, ESE Labs Nibiru and GrandiNote Celio phonostages
Interconnects: 聖Hijiri HGP-10R "Million", LessLoss Anchorwave
Speaker cable: LessLoss Anchorwave
Power chords: LessLoss DFPC Signature, Gigawatt LC-3
Power delivery: ISOL-8 Substation Integra, Gigawatt PF-2 mk2
Equipment racks: Base VI in main system, Rogoz Audio 3RP3-BBS in analogue system
Anti-vibration accessories: ROGOZ-AUDIO SMO40 and CPPB16  and Franc Audio Accessories Wood Block Slim platforms; ROGOZ AUDIO BW40MKII and Franc Audio Accessories Ceramic Disc Slim Foot
Retail prices of reviewed components in EUR:
IC Red Eye Ultimate Ag RCA: 1m – 2239 EUR
Digital Cable Red Eye Ultimate Ag RCA or BNC: 1m – 1299 EUR
Speaker Cable Red Eye Ultimate: 2x2m 2339 EUR; 2×2.5m 2659 EUR
Power Cable Red Eye Ultimate: 1,5m – 2509 EUR
Polska wersja testu ukazała się w magazynie HiFiChoice. Zobacz TUTAJ