A great integrated amplifier such as Circle Labs A200 can offer outstanding performance. Yet, it is a common belief in the audiophile community, that a separate preamplifier and power amplifier (or even better, two monaural ones) is necessary to achieve top performance. So while I truly appreciated A200 I couldn't wait to lay my hand (or rather ears) on Circle Labs P300 M200 set. Do they perform better than the integrated? Let's find out together.  
Introduction
I assume at least some of you have read at some point my review of the Circle Labs A200 integrated (see HERE). For those who haven't let me shortly introduce this relatively young Polish brand that has already managed to make some noise on the international market. While it was founded a while back (in 2007) it's been only 2-3 years since they started some buzz on our internal and international market. The first product they introduced was A100 integrated (now obsolete). The big break came with its bigger brother (or sister, who knows?) though, the aforementioned A200. What was quite special (even if not completely unique) was a proprietary design with tube input and solid-state output stages.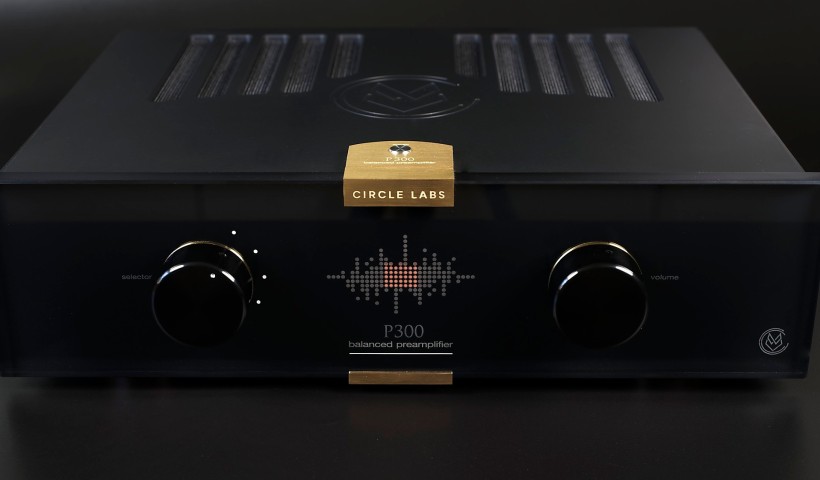 Another thing that makes Circle Labs (CL) stand out is the brand's approach to product development. Not only are they measured, listened to, and tested multiple times by the CL staff, but also the first units are always sent on a tour, so to speak, visiting systems of trusted audiophiles, but also of, let's call them, 'laymen'. The former help the manufacturer tweak their devices to achieve an even better performance, and the latter forces them to come up with new solutions that even better protect the devices and their users from various types of 'accidents'. It is a win-win situation, and the final products are simply better in every possible way due to such an approach.
The two people behind Circle Labs are Krzysztof Wilczyński – the engineer and initial founder of the company, and Krzysztof Lichoń – the design specialist and marketing guy. Both are also music lovers themselves and while the former had been designing and building audio components (tube ones at first) as a hobby, he ultimately moved on to hybrid amplifiers and joined forces with the latter who developed the original, unmistakable looks of all of the Circle Labs products. Today the lineup consists of three devices. The A200 integrated, P300 preamplifier, and M200 power amplifier. The latter was developed in such a way, that it can be bridged and used as a monoblock allowing users to expand their setups at some point adding a second amplifier. I'd call it a user-friendly approach saving potential buyers some bucks.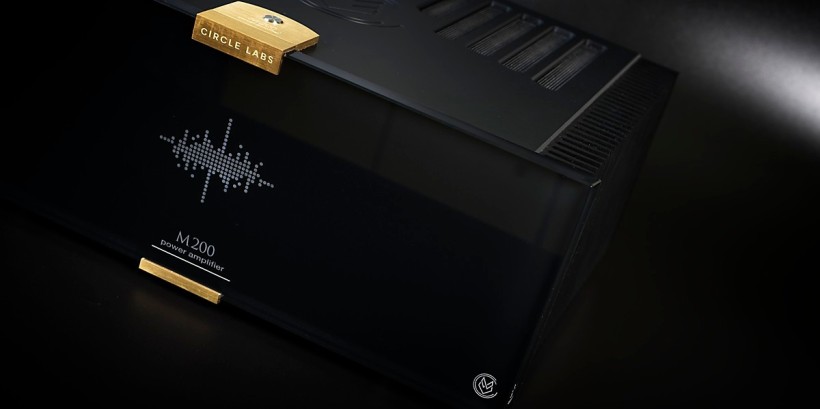 Design and features
P300
Circle Labs P300 is a purely solid-state fully balanced design. When I learn about it for the first time I am a bit surprised considering the fact, that both integrated and power amplifiers are hybrid designs with tube input and transistor output stages. What comes as no surprise is that it is actually a plain and simple preamplifier – no built-in DAC, streamer, phonostage, or headphone amplifier, or in other words no additional circuits that could, even to the smallest degree, impair the performance. It seems that this is a firm choice of the Circle Labs designer team – they make (as of today) only highly specialized devices.
As I emphasized several times in my A200 review, the external design of all CL components is unique and one of the most beautiful ones on the market (in my opinion, obviously). The metal black chassis of the P300 is quite compact, as it measures "only" 430x342x127 mm, weighing 10,6 kg. With the other two CL components, it shares the same 15mm thick, eye-catching glass front that fits perfectly with the metal chassis. Same as the integrated it features two large, metal knobs (volume control and input selector) and a LED display presenting the volume level. A side note – after turning the device on the volume level is always automatically set to '0'. That's a choice on side of caution, protecting users from previous choices, turning on with the last volume level would be more convenient.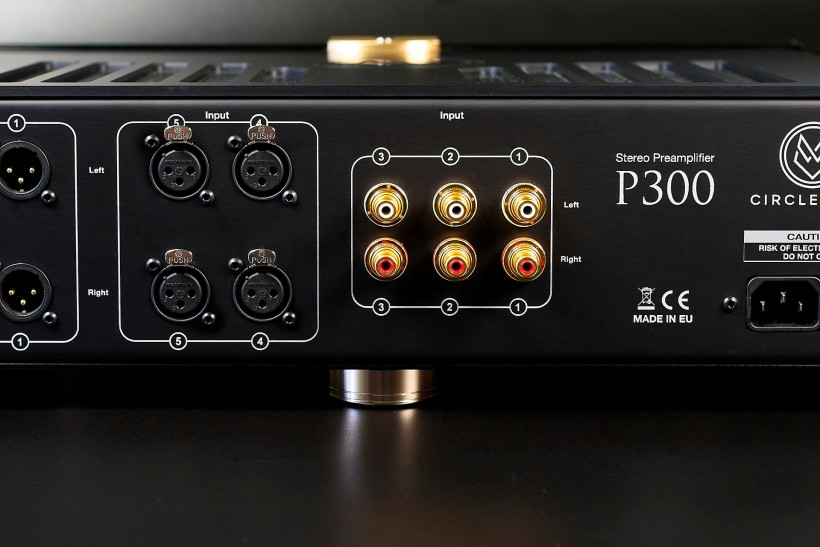 There are two brass elements, on the lower and top edges of the front that sort of "clamp" the front to the chassis. The overall deep black color of the chassis nicely composes with these gold-ish elements complementing the whole artistic design. The upper "L" shape one has its longer arm extending on the top of the amplifier and hosting a small "standby" button while the shorter one proudly displays the brand's name nicely engraved in it. The top cover sports a large engraved logo, and elongated cutouts of various lengths filled in with black metal meshes. These allow users to peek inside the chassis and provide ventilation, although the device, unlike amplifiers, doesn't really get warm.
The rear panel hosts a complement of five inputs – two balanced (XLR), and three unbalanced (RCA) ones. Next to them, one finds two outputs – since it is a fully balanced design they both are XLRs. All connectors are of top quality with RCA jacks sourced from the CMC, and XLR from Neutrik. The last elements of the rear panel are a power IEC inlet and the main switch. The whole chassis stands on three metal, nicely finished feet with rubber o-rings acting as anti-vibration elements. The P300 features a remote control – it's a very nice, small metal (!) unit that allows users to control the volume, mute it completely, and adjust the brightness of the LED display. You can't select inputs with it though.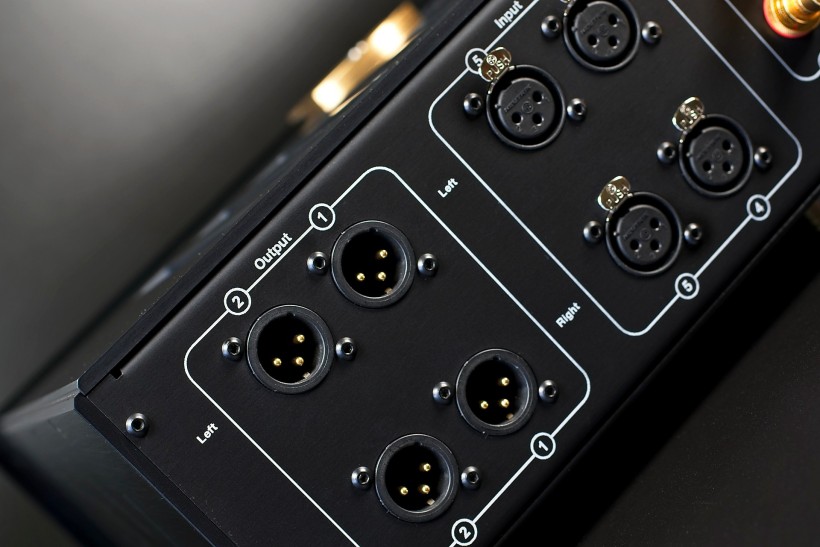 The fully balanced preamplifier circuit was designed around the newest JFET and BJT transistor types utilized in a proprietary Circle Amp topology. One of the key assumptions was the shortest possible signal path, which also limits the length of internal cabling. The volume is controlled in 63 steps by a relay-operated resistor ladder. To achieve the goal of as neutral, transparent sound as possible Circle Labs' team designed a custom low-noise power supply based on two transformers with LL cores, one for each channel, and Elma SILMIC II capacitors. The power supply features two voltage regulators operating in cascading steps. The regulators use an LED matrix as a source of the reference current which results in remarkably lower noise than with traditional Zener diodes or integrated regulators.
M200
The Circle Labs M200 power amplifier, the same as the A200 integrated, is a hybrid design. It is a true dual-mono stereo power amplifier that can optionally be used as a fully balanced monaural amp (obviously one needs two of them for a stereo system). Externally it doesn't differ much from A200 and P300 – its make&finish is equally exceptionally good and the design is just gorgeous. The main difference, obviously, is a lack of knobs or any other manipulators on the glass front, as these are redundant in a power amplifier. Same as the integrated, it does use radiators on the side baffles combined with openings in the top cover (filled in with metal meshes) to ensure proper ventilation of the electronic circuits and tubes inside. The whole design measures 430 x 355 x 178 mm and weighs 20 kg resting on three nice-looking anti-vibration feet.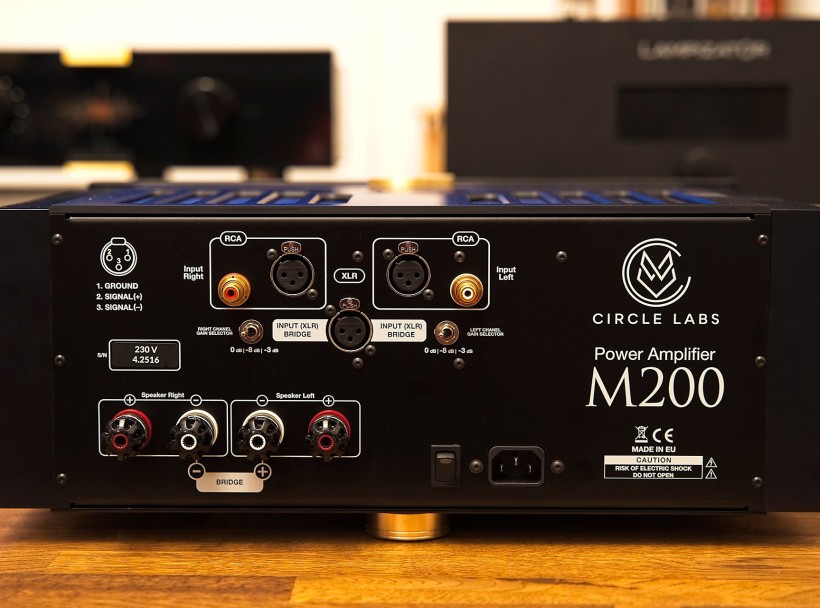 The rear panel features high-quality Nextgen speaker connectors by WBT and balanced and unbalanced (!) inputs. There is an additional single XLR input that is used when the M200 is operated in monaural mode. The key to benefiting from the increased output (600W/8Ω, 930W/4Ω in mono vs 160W/8Ω, 300W/4Ω in stereo) is feeding the M200s with a balanced signal. The P300 preamplifier does feature both balanced and unbalanced inputs and the unbalanced signal delivered to one of the latter is not symmetrized, which means that even over XLR cables power amplifier receives an unbalanced signal. As a result, it offers "only" a maximum of 160W per channel. To fully benefit from two M200s one needs a fully balanced setup starting with a balanced source and balanced connections throughout the system. The latest addition to this design is the gain switches, separate for left and right channels, that allow users to best match speakers. One can choose between 0, -3, and -8 dB settings.
The input stage of the M200 features NOS Siemens triodes from the 1960s. The unique feature of the input stage is a stable polarity achieved from a battery source, which allows designers to use only one vacuum tube, one resistor, and one premium quality Mundorf silver-gold signal capacitor. As the manufacturer claims, this solution provides a very short signal path and an important benefit in the form of the best possible parameters. The proprietary Circle Power current stages' topology is closest to those of single-ended amplifiers while retaining maximum efficiency and power. The current gain stage features the highest spec Sanken current-coupled bipolar transistors. In this dual-mono design, the separate toroidal transformers (850W in total) custom-built for the Circle Labs provide power for all channels. A separate copper-insulated EI core transformer and completely separate power supply paths are used for both channels in the vacuum tube stage. The power supply for output stages uses high-current capacitors with a combined capacitance of 200,000 µF.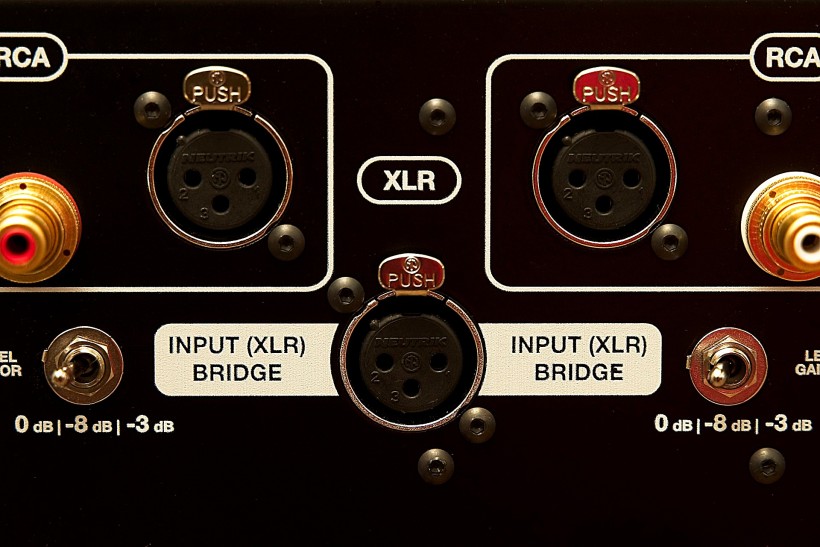 Sound
Those of you who read my review of A200 probably remember that I loved it. I even mentioned that I wanted to review a set of separates as soon as possible since based on the first Circle Labs experience I hoped I would find it worth adding to my reference system. I already have an excellent integrated amplifier, the GrandiNote Shinai, and AudiaFlight's impressive FLS1 preamplifier, but for a while now I have been missing a power amplifier in my system. It seemed to me that products of Circle Labs could fill in the gap and, possibly, also help me fulfill another dream of having a system with Made in Poland labels all over it (assuming P300 would be a worthy competitor to AudiaFlight).
Due to high demand, it took a while for the manufacturer to prepare these two devices for me, but they finally arrived at my doorstep. What's more, at some later point, the manufacturer delivered also a second power amp unit for a couple of days, which allowed me to add another paragraph to this review with a short comparison of the performance of Ubiq Audio Model One Duelund Edition loudspeakers driven by respectively one, and two M200s. I was really excited about this opportunity as the stakes (for me personally) were even higher than with any other review. I hoped that this would become 'my' set for the foreseeable future.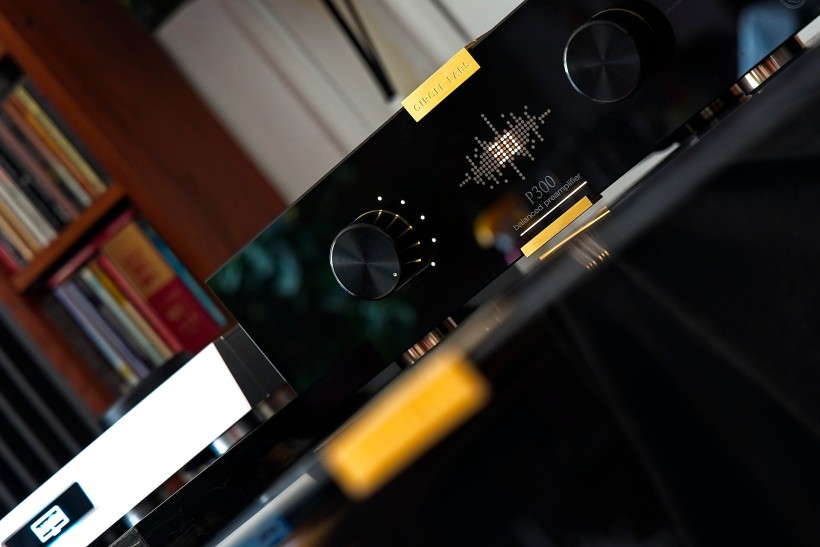 Let's start with Circle Labs P300 M200 set driving my GrandiNote MACH4. It was not my first encounter with this set. I had a chance to listen to it for a few days some months ago. At first, I wasn't even quite aware of some changes that the manufacturer introduced to both, the preamplifier and amplifier, in the meantime. While the latter was only "enhanced" with a switch that allows users to decrease the gain by -3 or -8 db (which could offer a better match for some speakers), the preamplifier's upgrades were intended to change its sonic character a bit. And, as it turns out, they do push the sound in a welcomed direction. Let me get back to that in a minute.
Despite those changes, I can still, from the very first minutes, hear the traits of common DNA of this set with the A200 integrated. The DNA comes from the designers' philosophy, I might add. What they look for is high-quality performance and exceptionally attractive aesthetics, obviously, but the ultimate goal is to turn or combine all those standard 'audiophile qualities' into an exceptionally compelling presentation of music. Hence the first thing you need to know about the Circle Labs P300 M200 set is that it offers an incredibly immersive, highly musical experience. On the other hand, it definitely does not deliver what is commonly referred to as 'highly analytical' performance, it does not sound "cold", and it's not focused on emphasizing any of those individual audiophile qualities. It rather delivers the bigger picture, so to speak, or in other words music as a whole, and in a form of a deep, intimate experience. Which reminds me of my favorite SET amplifiers. Not in that it sounds the same, mind you, but in this holistic approach to music presentation.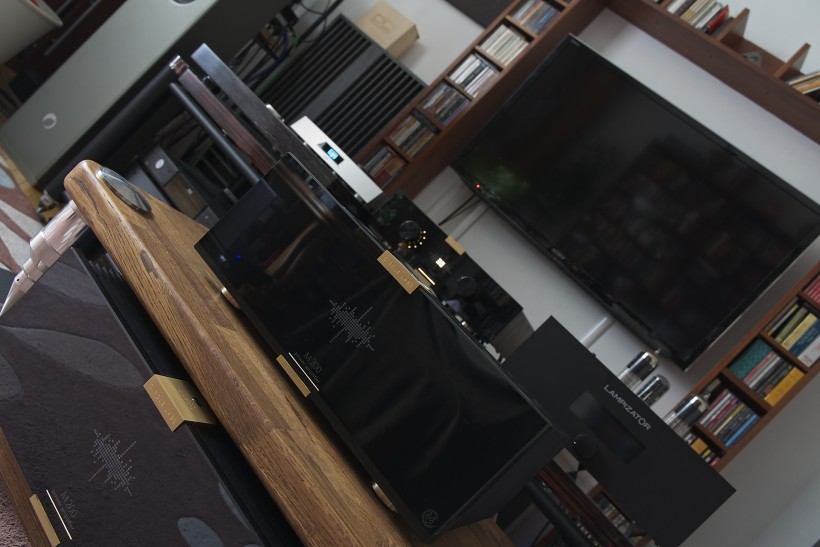 That's exactly what I hear with one of the Musica Nuda albums, my fairly recent "discovery", despite the fact that this duo started their career quite a long time ago. Their albums are first of all really well recorded from a technical standpoint. Secondly, many of them are based solely on the double bass and vocals and are musically beautiful, and intriguing, and they tend to grab the listener's attention from start to finish. Especially when played in such a convincing, "tube-like" (to some extent), P300 M200 way. By "tube-like" I mean the best qualities of my favorite single-ended amplifiers meaning an open, air-filled, pure, yet rich, coherent, natural, palpable but also particularly spacial sound, combined with more power, better drive, and grander scale of the presentation.
What's interesting is that Circle Labs' two-box amplifier presents even such intimate music spectacles in a spatial, yet sort of distant way. I mean it doesn't push the performers into the room close to the listener but rather builds a large soundstage with big, palpable phantom images all placed behind the line connecting speakers. It recreates this live performance's paradox of feeling so close to the performers while actually watching and listening to them from a distance. It's a rare quality that only quite a few amplifiers I know can pull off. Almost all of them are SETs, hence on my private list of favorite, very live-like sounding amplifiers, the P300 M200 duo already in this stage of auditions earns a spot among a very, very good company.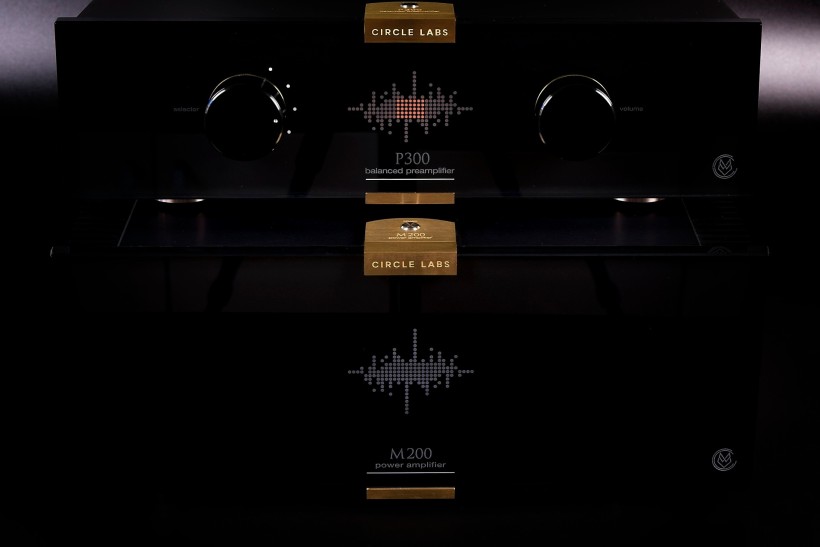 Even though there are only two sound sources on Musica Nuda album, bass, and voice, they fill my whole room with big, palpable, highly expressive sound. The double bass goes deep down sounding powerful, and weighty, but also agile when needed. Its timbre and texture are conveyed in a very convincing, natural manner, I can "see" its large size and mass, and feel the power and depth of its sound beautifully extended in its soundbox. The attack is fast and sustain and decay long, as they all should be. The beautiful voice of Petra Magoni is more than just natural, it's organic and palpable. It is presented with all its intricate details in such a convincing way that it seems as if she stands just a few meters away from me while pouring her whole heart and soul into her singing. This is an exceptional, effortless, beautifully engaging presentation that leaves me in awe of both, the performers, their talents and skills, and the Circle Labs engineers who developed this set in a way that allows it to present music in such a convincing, touching, and addictive way.
So, by now it is already clear that the general character of the presentation the reviewed set has to offer is the same as that of the excellent A200 integrated. But is the performance level also the same or there is an advantage of having the separates? It doesn't take me long to conclude that even despite the fact that the P300 M200 are paired with easy-to-drive speakers, MACH4, as was the A200 before, they seem to do an even better job. What do I mean by that? The GrandiNote speakers make fantastic partners even for low-power SET amplifiers due to their high sensitivity, and steady impedance load. Yet, they were built as partners for the Italian brand's own 37W per channel Class A Shinai solid-state, and they performed remarkably well with every amplifier I paired them with over the past several years, whether tube, solid-state or hybrid, whether low, average, or high output ones.
The 100 W output of the A200, almost 3 times the output of Shinai, was more than enough to drive them, and yet, as it turns out, the 150W M200 does an even better job. Not only is the sound, particularly in the lower end of the range, better controlled and defined, yet delivered effortlessly, but it also extends further down or at least that's how I perceive it. There is more weight to the lower end, more power, more kick, the impulses seem faster and the bass notes even tighter. It stems from even better control of the speakers and results in an even better differentiation and increased resolution (not that A200 or Shinai lack anything in this regard). The same goes for the midrange and treble – they seem better differentiated, and better defined, and while the richness of the sound is impressive and very tube-like, the clarity and transparency of the presentation seem to have also improved. The differences are not on the "heaven and hell" level, they are not that significant. Yet, it is clear that having a choice even for these speakers I would take the P300 M200 set over the A200 without even thinking twice.
At this point, I can only hypothesize that with more difficult-to-drive speakers differences between the integrated and separates would be more significant. To check out the hypothesis I decide to replace MACH4 with my 3-way, close cabinet Ubiq Audio Model One Duelund Edition featuring 12'' woofers knowing that I will also keep the latter for the last part of this review with two M200s used in a monaural mode.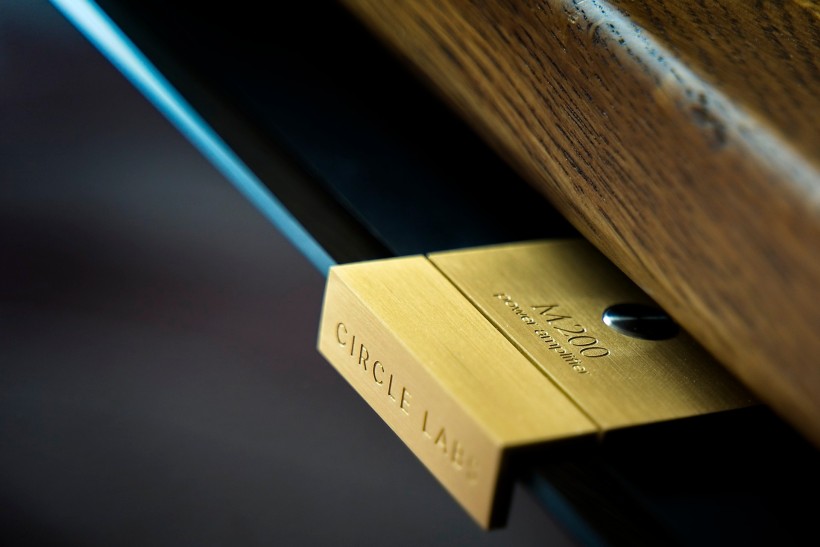 The Ubiq speakers are made for playing loud, dynamic music, and particularly energetic performances. They do their job well in all kinds of music, but they stand out among their peers when one pushes the volume up listening to rock music or large symphonic orchestras. Driven by my 37W Shinai in my (not that big) room they deliver a stunning performance, one that keeps me on the edge of my sit when listening to AC/DC, Aerosmith, or Mahler. Switching to the P300 M200 set proves that more power translates into an even better drive, more powerful kick, and even tighter bass. The hands and feet are tapping the rhythm and I find myself pushing the volume to the levels that seriously threaten my relations with neighbors. Despite being so dynamic, and so (almost) thunderous, the presentation remains well-organized and well-controlled, and the clarity and transparency are as good as the recordings of this genre allow.
I spend an afternoon listening to numerous symphonies and operas as already the first ones, Beethoven's Ninth Symphony followed by Mozart's "La Nozze di Figaro" prove to me, that the Circle Labs set combined with Model One are (almost) perfect means to an end. An end in this case is a large-scale, powerful, yet orderly and effortless presentation with beautifully conveyed voices (in opera, I mean), large soundstages, thunderous dynamics and incredible energy of large orchestras conveyed to a certain degree (no audio system is able to convey it all, and it would be very dangerous to do in a regular room). The momentum of this presentation is impressive, the dynamic swings delivered perfectly, and the flow of music impeccable. While no audio system can provide exactly the same sort of experience as a live event, the P300 M200 set gets close to inspiring only a slightly lower level of excitement in me than participation in a concert usually does.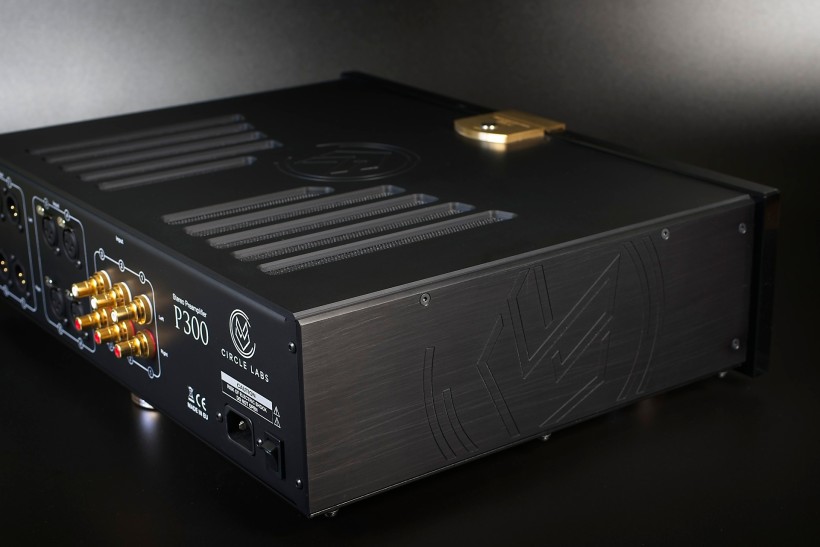 As I've mentioned before, designers made some changes to both components since I last listened to them. The M200's gain switches (separate for each channel) come in handy. With the MACH4 I prefer the -3db setting – the performance at 0 dB level feels a bit "forced" or "strained" if you know what I mean, which disappears as soon as I lower the gain. For Model One I quickly decide to return to 0 dB, or maximum gain, as this setting allows them to show the full extent of their dynamic, explosive nature. I guess with some speakers, particularly high-sensitivity vintage ones, even the -8 dB setting may come in handy. Anyway, whatever speakers you shall pair with the M200, try the gain setting and find the one that serves you best in your setup.
The original version of the P300 was one of the most transparent, pure-sounding preamplifiers I knew. It was even more impressive considering that at the time I had a chance to compare it head-to-head with the excellent and significantly more expensive Boulder 1110. On the one hand, it is a great and highly sought-after feature in any preamplifier, as in this way it barely affects the ultimate sound of the system. On the other, in some setups, it could result in a bit too bright, or too lean sound, at least for some tastes. I guess I wasn't the only one who felt this way as the designer team decided to make some changes, including replacing some resistors, that lead to a bit richer, more weighty sound – not a huge change, but still one that I welcomed with open arms.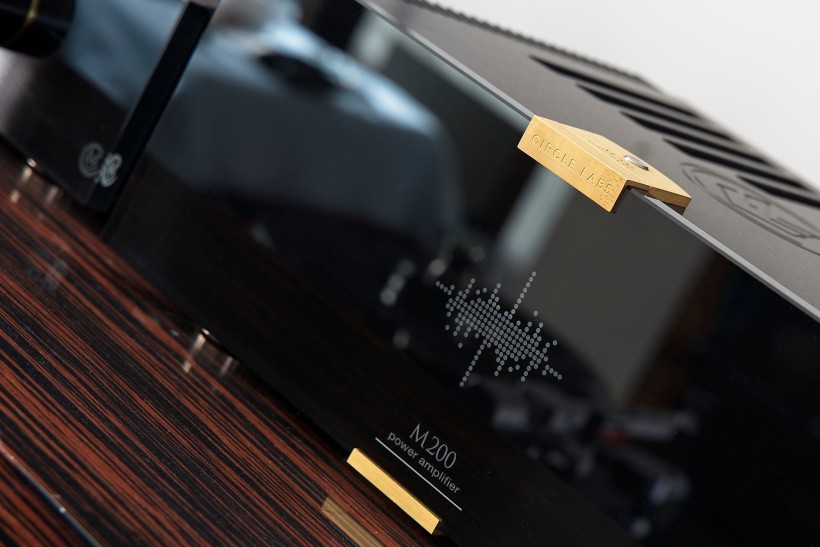 And it is one of my first impressions of this set with the new P300, which each day spent with it confirms. As already mentioned, it works great with all the 'audiophile' recordings. The sound seems smoother, touch warmer and richer, and thus even more palpable, and organic, it seems to have a better, more natural flow. And I love it whether listening to Musica Nuda, Miles Davis, the latest ECM releases, or the old Concord ones. Obviously, that's me, a fan of the rich, even lush sound of triodes, but I believe that many potential owners of the P300 will appreciate the change especially since it is still a very transparent, fast, precise-sounding device. It seems to me that the designer has found the right (or, at least from my perspective, a better) balance between richness and transparency, one that makes me feel like adding the former doesn't really affect the latter much.
It is overall better also because when I start to listen to the music from some non-audiophile recordings, such as AC/DC or Aerosmith albums, it turns out that with the new version of the Circle Labs preamplifier, I don't have to worry about some brightness or harshness in the treble and upper midrange range. These not so welcomed, yet inherent, elements of these recordings are still there but not as bluntly delivered, hence less disruptive. Now they seem to blend into the whole mix better becoming more of a feature and less of a downside. As each of the Circle Labs products is about music and the listener's experience rather than ultra-high-fidelity, this slight change in the sonic character seems to be yet another consistent step in the direction this manufacturer follows from the start.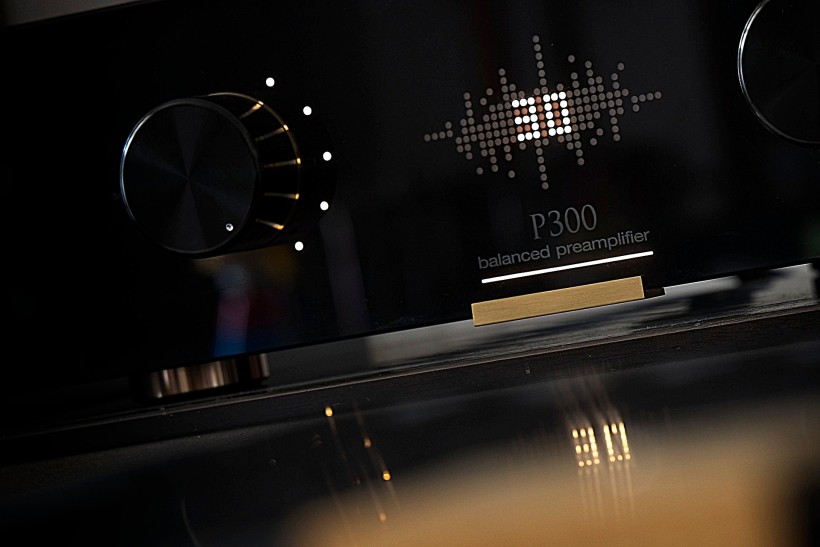 Since, as I've mentioned, to use two bridged M200S as monaural amplifiers and benefit from their full potential one has to provide them with a balanced signal and none of my sources was capable of doing that I had to look for another solution. Luckily, I was able to put my hands on the excellent Lumin T3 streamer/player, and Octave Phono Module with balanced outputs (or rather with an additional module that actually does symmetrize the output signal) and use them for the last part of the test when I compared one versus two M200s.
I listen to the P300 plus 2x M200 setup with both Ubiq Audio and GrandiNote speakers. Interestingly, in both cases driving them with two M200s in monaural modes results in again better, fuller, better-defined, and differentiated sound. The even better control even over the easy-to-drive MACH4, but also over Model One, pays off with even more palpable, more present, bigger (but no exaggeration whatsoever) phantom images. The dynamics when it comes to orchestras and rock bands seem even more explosive, and even the resolution seems to benefit from this setup. Again, these are not some revolutionary changes, the sound is definitely better due to numerous tiny little improvements, but overall the difference is definitely worth investing in the second amp. Of course, if one doesn't have balanced source(s), cables, and so on, adding a second M200 to the system will cost more. The more difficult-to-drive speakers you use the more difference will two Circle Labs amplifiers make. For me, for now, since I don't have any balanced source, a second M200 will remain on the "maybe someday" list pending an upgrade of my DAC and phonostage.
Summary
The P300 and M200 are ones of quite a few products that visited my listening room more than once over an extended period of time even before assuming their permanent position in my reference system. What I've learned over more than 15 years of my reviewer's career is that some products do impress me a lot when I assess them for a review but when I listen to them, say, a year later, having gained more experience, knowing even more other components, I sometimes perceive their performance somewhat differently. With Circle Labs products, despite some minor changes introduced in the meantime to both designs, whenever I turn this set on I feel the same joy and excitement. It's almost like getting back home to something familiar, something I like and truly appreciate.
The changes the manufacturer introduced to the P300 since I listened to it for the first time seem to be designed to please me. No, I am not that vain, I don't believe they did it for me. I rather think that more customers have expectations similar to mine and were willing to trade a tiny little bit of this incredible transparency of the previous version for a bit richer, more saturated sound of the new, reviewed one. The conclusion of my assessment is simple – this is a top quality, truly high-end set Made in Poland, that will please those who favor and pleasure of listening to the music over technical perfection of sound and ultimate high fidelity. Those who crave emotions, who need to feel the music, who love coherence, flow, smoothness and even some sweetness of the presentation effortlessly backed up with a lot of power, great drive and dynamics, high resolution, and still impressive transparency and clarity over brutal truth of many recordings.
That is exactly what I look for in my system so yes (!), I am keeping the Circle Labs P300 M200 set as my new reference two-box amplifier. It's not the best 2-box amplifier money can buy, but definitely one of the best in its class. One day, maybe I'll get the second M200 as such an "upgrade" does offer clear benefits, but that's a future. For now, Circle Labs P300 M200 become a highly recommended set for all those who need a lot of power but love the rich, slightly warm, smooth, palpable, and spatial sound of tubes. The reviewed components will give you that, and more so if you are on the market for a pair of separates give these two a try. I can't promise they will meet all your expectations to the point you'll buy them, but it will surely be an interesting and exciting experience for you!
Technical specifications (according to the manufacturer):
Circle Labs P300
Line inputs: 2 x XLR, 3 x RCA
Line outputs: 2 x XLR
Input impedance: 33 kΩ RCA, 66 kΩ XLR
Output impedance: 15 Ω
Gain: 8 dB
Frequency response: 2Hz-500kHz (-3db)
Dimensions (W x D x H): 430 x 342 x 127 mm
Net weight: 10.6 kg
Shipping weight: 12 kg
Circle Labs M200
Output power stereo mode: 160W/8Ω, 300W/4Ω
Output power monoblock mode: 600W/8Ω, 930W/4Ω
Frequency response: 2 Hz-1 MHz (- 3dB)
Input sensitivity: 0,85V (full power)
Amplification: 35 dB
Input impedance: 100 kΩ
Dimensions (W x D x H): 430 x 355 x 178 mm
Net weight: 20 kg
Shipping weight: 28,5 kg
Power consumption Stand by: < 0,1W; ON Const: 90W; ON max: 950W
Prices (when reviewed):
CIRCLE LABS p300: 4540 EUR net (plus local VAT)
CIRCLE LABS M200: 6780 EUR net (plus local VAT)
Manufacturer: CIRCLE LABS
Polish Distributor: NAUTILUS DYSTRYBUCJA
Associated equipment:
Digital source:  a custom passive server with WIN10, Roon, Fidelizer Pro 7.10, JCAT NET XE, and JCAT USB XE cards with FERRUM HYPSOS Signature power supply, KECES P8 (mono) linear power supply for the server, JCAT USB Isolator
D/A Converter: LampizatOr Pacific +Ideon Audio 3R Master Time (USB signal regenerator)
Analog front end: J.Sikora Standard MAX turntable, J.Sikora KV12 tonearm, AirTight PC-3, phono stages: Grandinote Celio MK IV, ESE Lab Nibiru V 5.
Power amplifiers: GrandiNote Shinai
Preamplifier: Audia Flight FLS1
Loudspeakers: GrandiNote MACH4, Ubiq Audio Model ONE Duelund Edition.
Interconnects: Bastanis Imperial x2, Soyaton Benchmark, Hijiri Million, Hijiri HCI-20, TelluriumQ Ultra Black, KBL Sound Zodiac XLR, David Laboga Expression Emerald USB, David Laboga Digital Sound Wave Sapphire Ethernet
Speaker cables: Soyaton Benchmark
Power cables: LessLoss DFPC Signature, Gigawatt LC-3
Power: Gigawatt PF-2 MK2 and Gigawatt PC-3 SE Evo+; a custom power line with Gigawatt LC-Y in-wall cable; Gigawatt G-044 Schuko and Furutech FT-SWS-D (R)
Network: Silent Angel Bonn N8 + Silent Angel Forester F1 + optical LAN isolator
Racks: Base VI, Rogoz Audio 3RP3/BBS
Anti-vibration accessories: ROGOZ-AUDIO SMO40 and CPPB16 platforms and ROGOZ AUDIO BW40MKII feet, Franc Accessories Ceramic Disc Slim Feet and Wood Block Platform, Graphite Audio CIS-35 and IC-35