A provocative name, original, elegant looks, top level make and finish – these are all advantages of the Closer Acoustics Provocateur Signature integrated SET amplifier featuring the magical 300B tubes. It seems a real deal provided, of course, that its performance matches its looks. Let's find out.
Introduction
It was back in 2017 when I heard for the first time about a new product of the Polish brand Closer Acoustics. It had been on the market since 2013 offering high-efficiency loudspeakers with most of them featuring single full-range drivers. Although I'd never had an opportunity to listen to any of the latter models in my system, they made a huge impression on me while performing at various audio shows. The aforementioned amplifier by Closer Acoustics built to drive said speakers belongs to my beloved type – it's a SET, or a single-ended triode integrated amplifier. In this particular case, it features the magic 300B triodes. I love these tubes, when properly applied that is, even though my personal choice "to die for" is the Kondo Souga, a 2A3 PSE (parallel single ended).
Already back then, in 2017, after the Warsaw AVS, we exchanged first few emails with Mr. Jacek Grodecki, who runs the company with his brother. I volunteered to test their products and we agreed that this would happen whenever they would be ready to present their lineup to a wider group of music lovers. It took a while as you can see, with one of the reasons being that Mr. Jacek wanted to have his own place where he could present his system. Today, brand's showroom is finally ready in Jastrzębie Zdrój (so as you can see, by the way, it is another company from my home Silesia). Judging by the photos, the Closer Acoustics headquarters looks great and has a certain vibe to it – after all, it's an old railway station building. I plan to visit it and write about it for you at some point. But that's a plan for still undefined future when the pandemic will have become a history.
You can follow the story of the development of the reviewed device in the manufacturer's blog, starting from the entry from almost exactly seven years ago (see HERE). Although it was only the first take on the subject at that time, the 0.0 working version of the amplifier auditioned with several Closer Acoustics' own loudspeakers, it proved to its creators that the project was worth pursuing. Half a year later, a group of experienced music lovers listened to the next version, that at the time was named Korba 300Bi (see HERE) and although since then the external design of the amplifier has changed almost completely, one internal solution has remained unchanged until final version I got for this review – the separation of audio circuits from the power supply section.
Finally, in 2017, the Provocateur in a version similar to the current one made its debut at Mr. Jacek's favorite audiophile event, i.e. Lencoheaven in Beauvechain, Belgium (see HERE), where its performance was warmly received, and one of special guests highly appreciating the potential of this device was the famous designer, Mr. Jean Hiraga. Later the same year the Provocateur was presented during the Audio Video Show in Warsaw driving Closer Acoustics loudspeakers.
Let me take a moment to point out, that the Provocateur is not the work of just one man, but of a small team of professionals in their respective fields, true enthusiasts and music lovers. The amplifier circuit was designed by Mr. Robert Rolof. The name can be familiar to many audiophiles, especially vinyl records aficionados. Mr. Rolof offers some of his designs under his own brand (Rolof Audio), but he has also done some work for other manufacturers. One of his creations well- known not only here, in Poland, but also in many countries around the world, is the ridiculously good for the money RCM Sensor Prelude phonostage. This time he partnered with Grodecki brothers to develop Closer Acoustics amplifier and phonostage. The external design, in turn, is the work of Mr. Jacek Grodecki – the above-mentioned entries from the company's blog will show the evolution of the design. The chassis as well as transport cases were made by Mr. Andrzej Grodecki.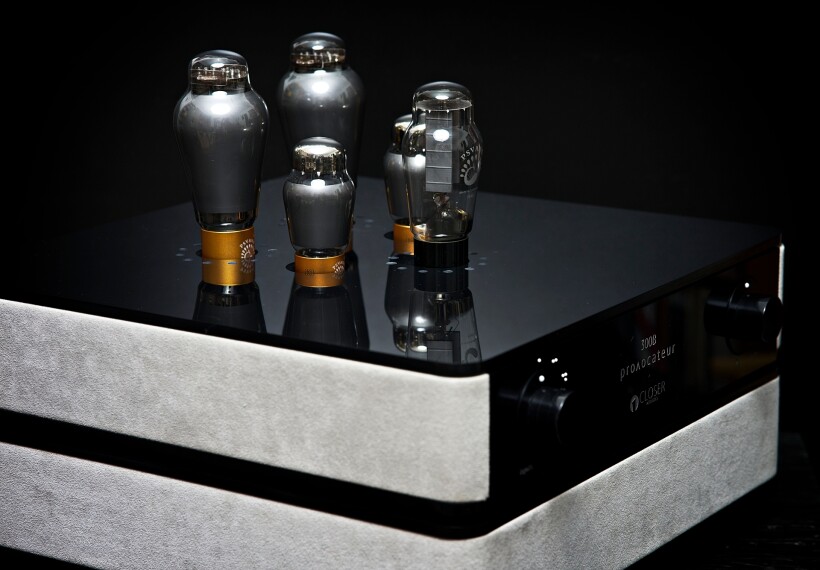 I waited patiently a while but it was worth it and finally I was able to kick off my adventure with Closer Acoustics products. We agreed that the best way to do it would be the latest, special version of the original amplifier model presented three years ago, a 300B SET integrated tellingly named: the Provocateur. Let me remind you that not that long ago I reviewed another Polish amplifier of this type, the ARIOSO 300B by Feliks-Audio. It turned out to be a great and quite reasonably priced proposal definitely worth attention of those who love SET-type sound but can't spend a fortune on it. It is clear that Mr. Jacek Grodecki aims at a higher, even top shelf, targeting the most demanding customers, hence the price may no longer seem so attractive at first, although compared to other 300B SETs from other renown manufacturers, the price tag on the Provocateur seems quite attractive. As long as, obviously, the performance matches that of potential competitors. Which is exactly what I hoped to find out assessing the Provocateur.
There is one more significant element of company's strategy that may give them an edge over competition. Namely the Polish company's ability to offer not only individual devices, but also almost complete systems. This approach should suit both sides. By offering a source component – the new Flō phono preamplifier (review is coming soon), the Provocateur integrated amplifier and a choice of brand's own high-efficiency loudspeakers (currently there are six models in the lineup) – one can be sure that every user with a good turntable and possibly also with a digital source, will enjoy a performance of the class and character intended by the Closer Acoustics designers.
Prospective customers should be satisfied for the same reason. After all, today, when the market offers one thousands of components to choose from, setting up a good-sounding system is quite a challenge. It's not only about the financial aspect of building a high end system but also in having to spend a lot of time to select individual components, which not only offer proper sonic qualities and performance level by themselves, but also combine well with others to deliver a coherent, top class performance. Many people who fall in love with the sound of a low-power SET amplifier find building a system around them to be an uphill battle since the range of truly suitable speakers available on the market is quite small. People behind Closer Acoustics who at some point fought the same battle realize how hard it may be so they decided to make it much easier for their customers and offer them an almost complete solution (almost, as they do not offer cables or digital sources). One can be sure that all components offered by one brand will work perfectly together.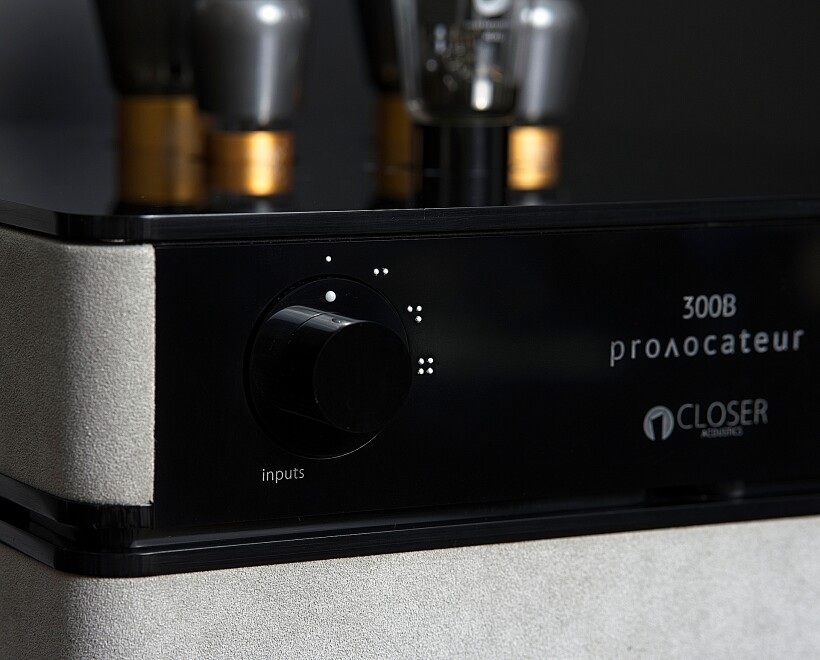 As Mr. Jacek, who brought his device personally to my place, told me the company is and intends to stay a boutique manufacturer, preferably offering complete sets combined from source, amplifier, loudspeakers to demanding customers. A "boutique" one because the goal is by no means mass production. Each unit of each product delivered to the customer anywhere in the world is and is always to be refined down to the smallest details, perfectly made, finished and, which is equally important whenever a company plans to sell their products around the world, properly packed (!) so that it always arrives safely. Here's an interesting fact – the Closer Acoustics makes its own transport cases. This allows them to lower the costs while having a complete control over build quality. It should be obvious, that it takes time and top-class specialists to achieve such effects and to do that each and every time with every single unit of any product. Offering whole sets allows manufacturer to match individual components perfectly not only in terms of technical parameters and sonic character, but visually or aesthetically. The times when only the sonic performance of audio components mattered are over. Today, demanding fans of good sound expect that their audio system will caress not only their ears, but also their eyes.
After examining the Provocateur and Flō phonostage delivered for the tests, but also all the Closer Acoustics loudspeakers that I saw at various presentations, I can testify to the fact, that the external design, as well as the quality of workmanship and finish, are top class and on pair with almost any competitor I can think of. If you ever saw products of this brand, you probably know that the amplifier's external shell combines black acrylic and wood elements, and loudspeakers feature beautiful wooden cabinets, and the wood finish may be the same in both cases. The new, Signature version of the Provocateur, that I received for this review had the wood covered with the original Italian Alcantara, which blends beautifully with black acrylic. I am not sure which finish version I would choose for myself, although as a fan of wood, probably the original one, but even if I am a bit biased I have to admit that both finishes look great. All these beautiful materials and outstanding craftsmanship ensure that the Provocateur (and the Flō, for that matter) will look great whether you put them in a dedicated listening or a regular living room.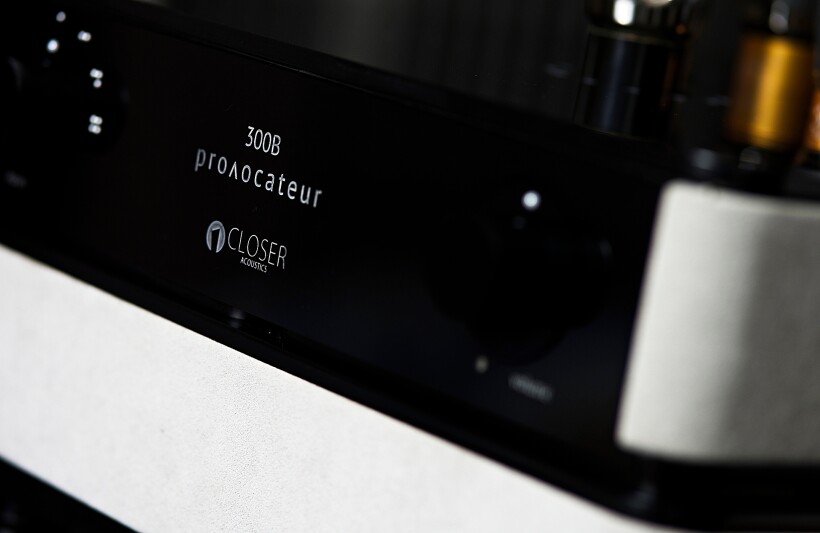 Design & Features
The Provocateur is a classic SET (single ended triode) integrated amplifier design featuring the legendary 300B tubes in the output stage, one per channel. Like most designs of this type, it offers an output of 8W per channel. I should refrain myself from repeating the whole argument again (as I used it in many reviews before), but just shortly I have to emphasize that such an output is absolutely sufficient to fill in most typical rooms with the sound, provided that one selects appropriate speakers! By appropriate I mean ones with relatively high efficiency, but even more importantly with a "tube-friendly", meaning quite flat, impedance curve. The Closer Acoustics, as I have already mentioned, offers a whole lineup of suitable speakers, which makes them an obvious choice. It, obviously, doesn't mean it is the only choice, though. For this review I paired the Provocateur Signature with my trusted, excellent GrandiNote MACH4, that match perfectly with low power SETs, as well as, actually, any other amplifier I ever tried them with.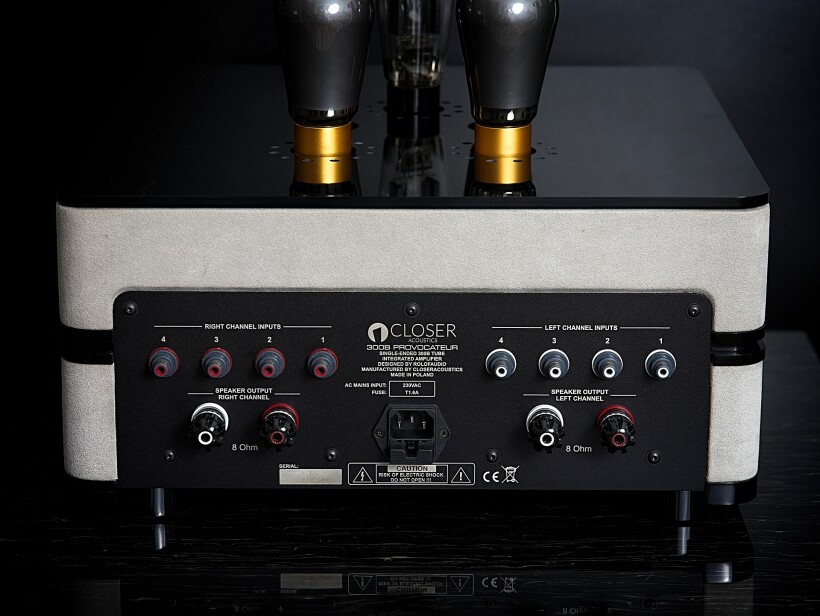 As you can see in a few archival photos, it took Mr. Jacek Grodecki, the author of the Provocateur's looks, a while to find "his" design and refine it to the form that is offered currently. At the first glance the amplifier may look as if it consists of two separate components stacked on top of each other. This is not really the case, although there is a certain functional division into the upper and lower part of the chassis. The outer shell of the chassis is made of plywood (sides), while the top plate, front and a large part of the back are made of black acrylic. The latest Signature version, delivered for the test, features plywood covered with an Italian Alcantara. One can choose the color of the latter from a wide range of available option and thus match it to, for example, particular room's decor. Another element that quickly catches an eye are particular knobs sitting on the front panel and accompanying markings. The former are made of the same material as the amplifier's feet – from Corian (DuPont's proprietary name, a type of conglomerate). The latter are made using tiny stones glued into the front – these are cubic zirconias. Inputs 1 through 4 were marked, respectively, using 1, 2, 3 or 4 stones. It looks really elegant and original at the same time – a testament to designers creativity and taste.
The upper part of the chassis contains audio circuits. The top cover, held in place by magnets (which facilitates an easy access to the interior), features cut-outs hosting high-quality tube sockets. For this particular design the manufacturer decided to use top quality Psvane tubes – a pair of the 300B in the output stage, two CV-181 (i.e. the equivalent of 6SN7) in the input stage, and a 5U4G rectifier in the power supply. All these are excellent tubes, but the choice of these specific models means that any user can change the sound of this integrated (to a point) by tube rolling. Not only one can choose the same types of tubes from other series and manufacturers but, at least in the case of the CV-181 and 5U4G, replace them with other (matching!) types. This is one of the advantages of most tube designs – the possibility of tuning, to some extent, their sound .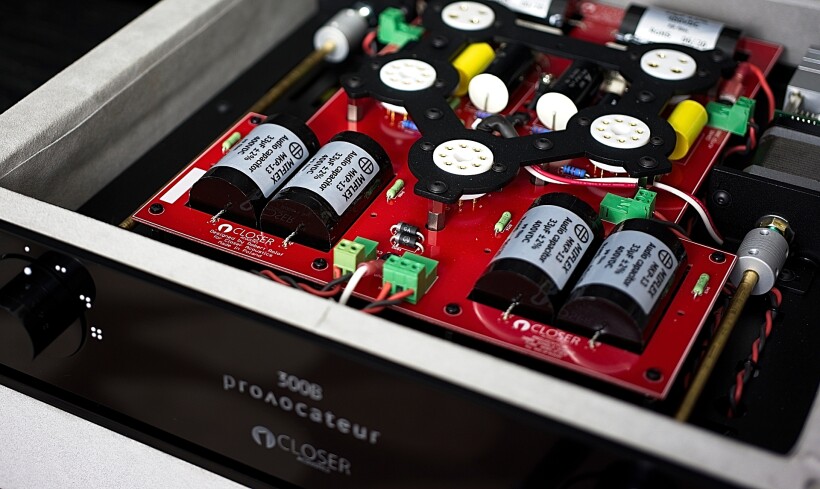 The lower "half" of the chassis hosts an advanced power supply section and high quality output transformers. A glance under the top cover of the amplifier reveals, among others, a number of large polypropylene capacitors sourced from the Polish brand Miflex. They are gaining more and more deserved recognition among manufacturers around the world, so it is good to see that Closer Acoustics uses high-class domestic components. Volume control is handled using a fantastic Khozmo resistor ladder, and since it does feature a motor, users can benefit from remote control – the set includes a neat remote control. On the rear panel one finds four line inputs (RCA) and speaker outputs, all the connectors are high quality ones from WBT nextGEN series, plus a classic IEC power socket. Photos may not do it full justice, but the Closer Acoustics Provocateur looks great and different from most competitors.
Follow THIS link for a short video presenting detailed images of the Provocateur's interior – it's worth watching it to fully appreciate its design.
Sound
As it happened, the very beginning of my listening sessions with the Provocateur coincided with my LampizatOr Pacific return from an upgrade (that included replacing the whole USB circuit and adding, finally!, a LAN input). So actually the first day I skipped the critical listening and instead I created a long list of albums to play in Roon. The idea was that, on the one hand, to give my DAC a chance to break and settle back in after the upgrade, but also so that the amplifier would properly accommodate into my system. On the other hand, I needed to give myself a chance to identify and adjust to, so to speak, any changes this upgrade would have introduced into the well-known performance of my reference DAC. Therefore, the playlist included, among others a long list of … soundtracks. Mainly the powerful, big, some even monumental ones. The list included anything from Star Wars, to Avengers, Man of Steel, Kingdom of Heaven, Gladiator, The Abyss, Inception and Predator, to name some. In a word – a repertoire that does not necessarily come to mind first as a choice for listening to a 300B SET. Indeed, the Provocateur offered a performance in some ways as expected from this type of a design. The sound was rich, smooth, saturated, highly resolved, and, when necessary, also amazingly spacious.
It's only that most of the selected soundtracks consist of tracks in which the power, momentum and scale of the performance play a significant role, which are typically not the strongest qualities of SET amplifiers, especially the low-output ones. And it was exactly in these aspects of the sound that the Provocateur surprised almost from the start. Just to make it clear – I do not intend to claim that it played this music in the same way (in this respect) as, say, the mighty Marton Opusculum Reference 3 or the Tenor Audio 175S, or the Boulder's set consisting of 1110 preamplifier and 1160 power amplifier, or any other powerful solid-state amp, for that matter, but … But so what, one may ask? The MACH 4's range does not extend down to 20 Hz, so they are not able to reproduce the lowest electronic hums anyway. On the other hand, starting from, say, 35 Hz up that they are capable of delivering, paired with the Provocateur Signature they served a dense, saturated, well-differentiated bass notes, that built a solid, strong foundation for everything that was happening in the frequency range above. The bass delivered by the reviewed amplifier set the pace and rhythm and built the whole atmosphere of almost each of these movie scores. Again to be absolutely clear, a great orchestral tutti, or the lowest punches of an electronic bass, although powerful, punchy and reproduced effortlessly, were not as powerful and punchy, as strongly physically felt as with the aforementioned powerful solid-states (the Tenor, to be precise, is a hybrid design). And yet, even though I knew very well what to expect from each of these albums, the lack of a strongly marked lowest bass notes did not bother me at all, I did not miss them even for a second. Having no comparison, I would have said that this was how these tracks were supposed to sound like, as the performance was highly enjoyable and nicely reproducing individual atmosphere of each of these impressive soundtracks.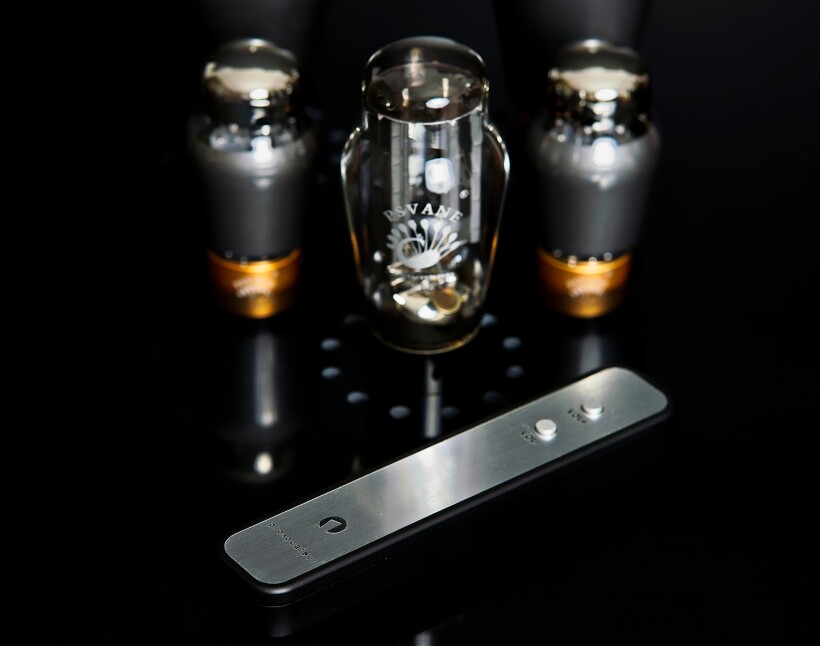 I enjoyed them so much also because when you add to the already described qualities the, expected – it's 300B after all, ability to render huge spaces, locate sounds almost anywhere in the room when needed, or present phantom images, which are large and firmly placed on the stage, an exceptional tangibility, even if the individual images were not precisely contoured, the presentation of the whole simply felt… right, real. The Provocateur was able to extremely faithfully reproduce, and actually create in my room even the most amazing atmosphere of the recording and provide me with a very intimate insight into anything that the creators of said movie and its soundtrack came up with. All of these elements combined together made up a so engaging, emotional spectacle that more than once I felt shivers going down my spine and goose bumps on my arms. It may come as a surprise for some (not for me, because if there is one thing I learned from my experience with these outstanding Italian speakers is that they probably will never stop surprising me), in combination with the MACH 4s, the Closer Acoustics integrated brilliantly managed all the large shifts in dynamics or changes of pace which allowed it to build the right atmosphere. In the "Predator" soundtrack, for example, the dynamics shifts must be absolutely instant to set the mood of a constant treat. The Polish amplifier is not only perfectly and convincingly rendered a proper climate of each of these recordings, but it also equally impressively differentiated them. After all, without this feature (among others, obviously), there is no truly high-end device. Hence, already at this stage of the listening session, it became quite clear to me that I was dealing with one belonging to this category.
There is one more feature that characterizes all (at least those known to me) high-end components. Its something I've been calling an inner calm, or in other words a lack of even traces of any nervousness in the presentation. Sometimes, when describing this feature, I tend to anthropomorphize a given product and describe it as its self-confidence. It's when a component seems confident that no matter the challenge, how big / dynamic / complex / refined the music it has to play, it will be able to do it effortlessly, freely, with the ease of a high-class specialists who simply knows what's expected of him and how to do his job. The longer I listened to the Closer Acoustics Provocateur Signature, to more I pushed it to imaginary limits, the more confident I became it would not fail me no matter what. I've already mentioned that it was perfectly capable of conveying all the dynamics shifts as needed, that it sounded powerful, with authority, energetic which was surprising as the 8W output should have limited its capabilities more significantly. I guess developing an amplifier with such aptitude must have been a true challenge for its creators, but the Provocateur itself simply did it job effortlessly each and every time. It allowed me, while listening to any music, to focus solely on it, and to choose tracks/albums to play that I wanted to, not ones "suited" for this type of amplifier. My confidence that this would be the case grew with each track I played.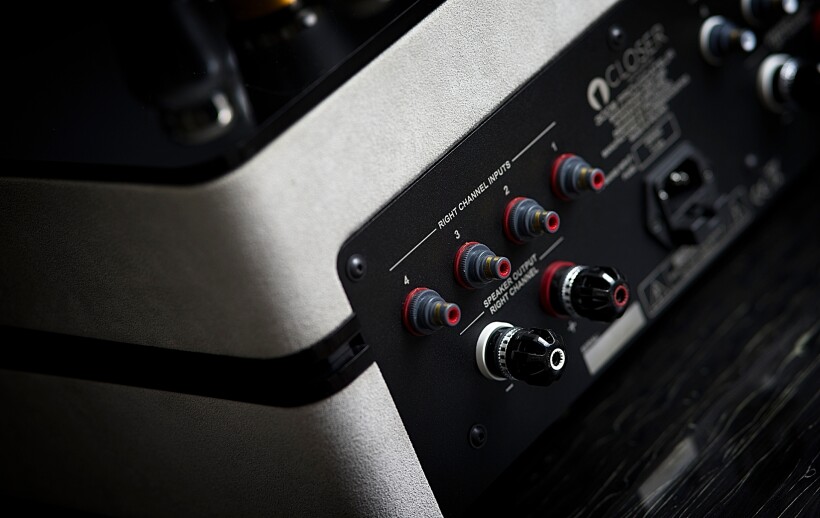 I couldn't resist the urge to listen to a few albums still the same evening, which usually sound unique when played using SETs, particularly those featuring 300B tubes (that is, the good ones – the very use of such a circuit and/or 300B valves is by no means a guarantee of a success). Ones such as the Renaud Garcia-Fons album with music written for the movie "The adventures of Prince Ahmad". The first thing to notice with purely acoustic music how incredibly organic it sounded. For me, this term (organic, that is) means something even more than "natural". The difference is not that easy to describe in words, because it is more about feelings, about perception than quantifiable characteristics of sound. To give you a hint let me put it this way. If I turn on the music and I don't think for a moment whether it sounds right or not, when I feel it, when it engages me, evokes true emotions – that's when I think of it as of a an organic sound. When this occurs, which for me, admittedly, happens more often with tube-based components, particularly with SET amplifiers, my mind and the sensitivity of a music lover accepts without reservation whatever reaches me through my ears. For that to happen a recording I play has to offer certain quality too. The Provocateur turned out to be one of these, not so common, organic sounding amplifiers. But you should also know, that it, by no means, is one of these amplifiers make every recording sound well. That is usually obtained by averaging the better and worse quality ones to make them all sound alike. The reviewed component though, differentiated them, as I have already mentioned, brilliantly. That is why the best and very good recordings with Closer Acoustics SET sounded … organic, the good ones sounded natural, and (almost) all the rest acceptable, still listenable, although obviously they did not evoke such emotional response nor were they immersive as the better ones.
The Provocateur, when playing non-audiophile, but decent-quality recordings, being a highly resolving device delivering a clean, transparent sound, indicated flaws in the production process, but it didn't focus on the bad sides but still almost always found a way to direct my attention towards the music itself or to great performance. In this way, it pushed weaknesses of such recordings to a back corner of the room, and while there were still there I was able to focus entirely on the music and emotions and enjoy them. Like, for example, some albums by Dżem from the genius Rysio Riedel period that definitely do not meet the criteria of "audiophile" recordings. And yet, the tested amplifier was able to present them in a way that captivated my attention, immersed me into the performance from the very first till the very last note. The Provocateur not only confidently served the pace& rhythm, which is the absolute must for blues, but also remarkably convincingly conveyed the highly emotional vocal, perfectly showcasing its characteristic features – timbre, texture, manners. Also the guitars were properly "fleshy" and even faster pieces were played at a good pace and with impressive drive. And all these qualities were what mattered and not the slightly flattened dynamics, a shallow sound stage, sometimes a bit bright, or a harsh treble, even though they were still there. This is how I want to listen to music in my system – completely focused on music and performance. The sound should be natural, real, tangible, it should let me appreciate the skills and artistry of musicians and singers, the real sound of instruments and trigger an honest emotional response. Even if the recording from the technical standpoint is not perfect. And that's what the Provocateur was able to offer.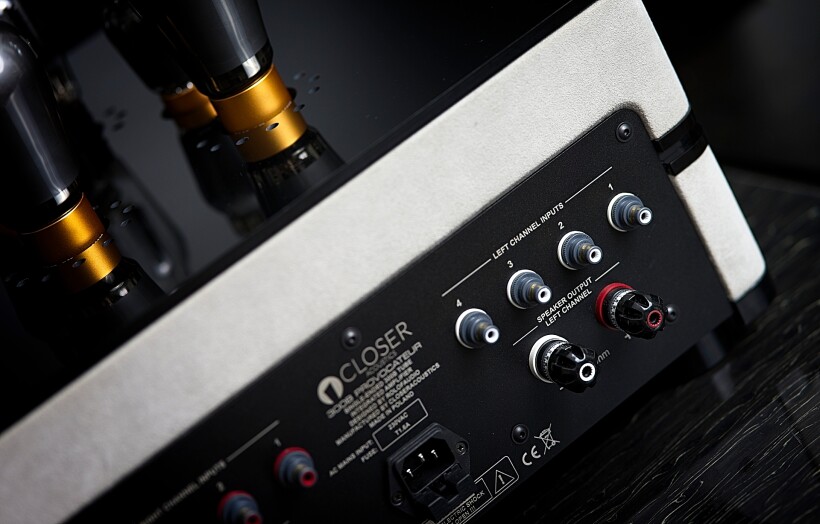 Everything I wrote about so far was to show you that the Polish SET is a surprisingly versatile device and, if combined with appropriate speakers, it will allow users to listen to virtually any music. Its specialty, however, and there is no surprise here, are acoustic and vocal recordings, although electric jazz and blues sound exceptionally well with it too. Therefore, later I reached for, among others, Michael Hedges and his "Oracle". I often mention in my reviews that acoustic and classical guitars are especially close to me, because it is the only instrument I have ever played (barely, but still). It gives a good knowledge of a real, live sound of a guitar, better than of any other instrument. Whenever I hear an exceptionally real-sounding guitar sound flowing from the speakers, I pull out and tune my own and try to play along to compare its sound with the recorded (as simple as possible) one. Michael was a true virtuoso of this instrument so "playing along" was not a real option, but that was not the point.
When the first sounds came out of the speakers, I sank even deeper into the armchair and closed my eyes, but at the same time the fingers of my left hand quickly began to move along the imaginary fretboard, and of the right one were plucking the strings. The Provocateur immediately proved its capability to convincingly convey every aspect of this instrument's sound – how each string was plucked, at times slower, softer, but when needed faster, harder, how they vibrated with their sound being properly supported by the soundboard. The intricate details of fingers moving along strings were beautifully shown as well. The sound was clean, transparent, perfectly differentiated, there was a great micro-dynamics, and at the same time the instrument sounded rich, complete, fluid and so damn natural. All these elements combined together painted an extremely refined and … organic musical picture. The one in front of which one sits either with one's jaw dropped to the floor or with a full smile on the face, simply enjoying an amazing experience and forgetting about the whole world. It was then that I reached for my instrument just to make absolutely sure that I wasn't just enchanted by the Provocateur and it immediately became clear that I was right, that the Polish SET was exceptionally faithful to the nature of the sound of this instrument so beautifully recorded on this album.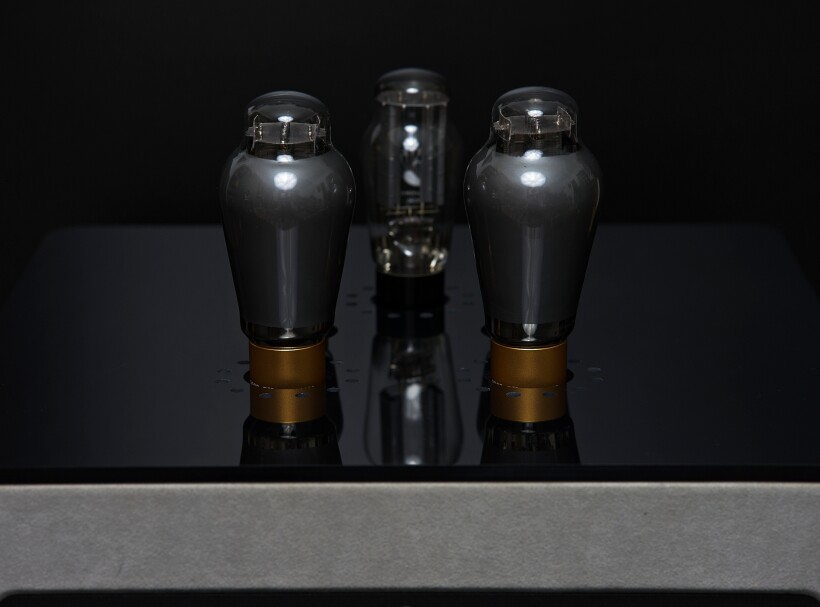 Several piano recordings, although without direct comparisons with the live sound, of both Keith Jarett and Leszek Możdżer left me with similar conviction of a very real sound of this instrument. The sound was powerful, full, crisp and vibrant. The high dynamics and beautiful flow of both performances complemented the presentation, as one has every right to expect from a high class SET, confirming Provocateur's place among the best devices of this kind I know. On the other hand, I spent a whole afternoon in owe listening to the New Orleans jazz, highly enjoying brass instruments. They sounded lively when needed, sharp, their sound was open, full of air, free, sparkling with energy. Many years ago, the legendary Kondo-san in one of the interviews said, that the transfer of the energy of live instruments is one of the weakest points of both recording and music reproduction equipment. One of his main goals was to develop devices that would extract the maximum energy that producers were able to capture on a tape in the studio. My absolute favorite, Souga, did it phenomenally well. The Provocateur does not quite reach the Kondo level in this respect, but it does not fall behind that much either. This particular feature gives it an edge over many competitors and confirms its class.
Finally, let me bring up one more quality that is not necessarily associated with refined low-output SETs. You should know that the Provocateur likes and can play music loud. This is a feature expected from powerful solid-states. Yet, the eight-watt Closer Acoustics 300B SET behaves similarly. When Mr. Jacek delivered it to my place, we connected it a played some music to make sure nothing happened during transport. I noticed right away that to achieve volume level that I am used to (which is very loud, according to my wonderful wife, or reasonably loud by my standards) I had to push the volume knob quite hard, which seems a bit odd to me. Mr. Grodecki encouraged me right away to push the volume as high as necessary to achieve satisfying level. He claimed that the amplifier is made in such a way that even operating in the upper volume level range is not a problem, and that the sound should stay clean, uncompressed, without any hint of distortion. And it was actually so. I quickly got used to seeing the white dot indicating the position of the volume located at 2, sometimes even 3 o'clock (the scale starts at 6, so it meant I pushed the volume way beyond half the scale, which usually doesn't happen). The sound coming from the speakers remained pure, transparent, effortless, without any symptoms of the amplifier being pushed to its limits.
Summary
Until now, when asked about the best 300B SET that I listened to in my system, the answer was simple – AirTight ATM-300R, a brilliant performer from a renown Japanese manufacturer. This is the latest, third version of this legendary amplifier and by far the best. From now on, the answer will not be so unambiguous. In terms of sound quality the Closer Acoustics Provocateur Signature, as I hear it, offers a similar, top level performance. So from now on there are two favorites occupying the position of the best ones I know. It's just that the same level of performance does not mean that these two brilliant amplifiers sound the same. I believe that anyone who will audition both of them will be able to quite easily choose their favorite. The Polish Provocateur offers a slightly warmer, more saturated sound than AirTight, it builds tangibility with richness or mass of the sound and presence of phantom images, and not with high precision imaging, as is the case with the Japanese competitor. It is also a bit, not much, but still more focused on the midrange, but I would like to emphasize once again that the both range extremes, that are often perceived as lacking in SETs presentation, are not missing anything. With well-chosen speakers, the Closer Acoustics integrated will be able to properly present all its strengths. It will deliver the pace and rhythm in a way that will cause your hands and feet tapping along. It is capable of delivering a powerful, fast and surprisingly tight bass while beautifully reproducing and differentiating its timbre. Treble, a bit sweet, but also very clean and fast, when needed, saturated with high energy, vibrant, crisp open and again – brilliantly differentiated. The midrange, which is by design a supreme advantage of this type of amplifier over any other, with the Provocateur delights with how organic, rich smooth and fabulously fluid it is. Most importantly, all these feature come smoothly together to create a coherent, extremely yummy (so to speak), effortless and extremely engaging whole. The Closer Acoustics Provocateur Signature is a one hell of a 300B Single Ended Triode integrated amplifier! And let me add proudly – it has been designed and made in Poland!
Features & Specifications (according to the manufacturer):
Rated output power: 8W / 8 Ω, class A
Frequency response: 18-23.000Hz (+/- 2 dB)
Channel separation:> 70 dB
THD: 0.3% (1 W)
Input sensitivity: 200 mV
Input impedance: 100 kΩ
Dimensions (W x H x D): 400 x 198 x 455 mm (height incl. tubes: 325 mm)
Weight: 28 kg
Prices (when reviewed):
Closer Acoustics Provocateur: 7 467 EUR
Closer Acoustics Provocateur Signature: 9 778 EUR
Manufacturer: CLOSER ACOUSTICS
Associated equipment:
Analogue front end: J.Sikora Standard MAX turntable, J.Sikora KV12 tonearm, AirTight PC-3, phonostages: Grandinote Celio mk IV, ESE Lab Nibiru V 5.
Digital source:  a passive, custom PC with WIN10, Roon, Fidelizer Pro 7.10, JCat USB Femto card with iFi power supply, Hdplex linear power supply for PC, JCAT USB Isolator
D/A Converter: LampizatOr Pacific +Ideon Audio 3R Master Time (USB signal regenerator)
Power amplifier: GrandiNote Shinai, LampizatOr Metamorphosis, Art Audio Symphony II (modified)
Preamplifier: Audia Flight FLS1
Loudspeakers: GrandiNote MACH4, Ubiq Audio Model ONE Duelund Edition.
Interconnects: Hijiri Million, Hijiri HCI-20, TelluriumQ Ultra Black, KBL Sound Zodiac XLR, David Laboga Expression Emerald USB, TelluriumQ Silver USB
Speaker cables: LessLoss Anchorwave
Power cables: LessLoss DFPC Signature, Gigawatt LC-3
Power: Gigawatt PF-2 MK2 and Gigawatt PC-3 SE Evo+; a custom power line with Gigawatt LC-Y in-wall cable; Gigawatt G-044 Schuko and Furutech FT-SWS-D (R)
Racks: Base VI, Rogoz Audio 3RP3/BBS
Anti-vibration accessories: ROGOZ-AUDIO SMO40 and CPPB16 platforms and ROGOZ AUDIO BW40MKII feet, Franc Accessories Ceramic Disc Slim Feet and Wood Block Platform