It's been already 20 years since the first Audio Show in Poland took place! And boy! was the 20th anniversary special?! The Show was bigger then ever. There is still no official data but according to those sent to the press before the event by the organizer, Adam Mokrzycki, the number of exhibitors grew to over 150. They presented products of over 500 brands in more than 165 rooms (while two years ago there were "only" 104 rooms – that's a 50% increase!). Judging by the crowd I saw in all three locations, and I should add – increasingly (comparing to previous years) international one – another record of the number of attendees was surely set, too.
On one hand I am really happy to see that not only is the Audio Video Show the second biggest and most important audio show in Europe, but that in many respects it really catches up to the High End in Munich. On the other, though, it is really getting harder and harder every year to at least once visit each and every room, not to mention to sit and listen for at least few minutes and to talk to all interesting people who come to Warsaw. So I guess I didn't see everything there was to see this year and thus you won't find pictures from every presentation that took place in each of the three locations. And yet, even considering only the places I did visit one coverage for all of them would be simply much too long to read in one session. So I decided to split it into… well, at least two parts (not really sure yet – there might be more). I'd like to start with a presentation of so many so interesting Polish products and brands that attendees had a chance to encounter during AVS. I decided to start with Polish products also because it is my personal dream to have, one day, my own complete Polish high-end reference system. I already use some fantastic components made in our country and with every year my dream comes closer to realization simply because there more and more brilliant, made in Poland products available. To be perfectly honest, I didn't make any huge discoveries (maybe except for one or two) during the Show simply because I always try to get my hands on all interesting Polish products as soon as they pop up on the market. And yet, for me, seeing during a single event proof of such a huge progress in terms of design, make&finish and last but not least – performance quality of audio made in Poland is something definitely worth witnessing every year, something that makes me proud! So let me share that with you first.
OK, without any further ado let me present you with several photos from the Show. I am not really going to write about the sound – I simply realize how hard it is to get something even close to optimum performance of an audio system in the Show environment. Let me just point out many interesting products that are worth getting familiar with.
I simply have to start with this room. Just before the Show I wrote a review of a new, entry level turntable by Mr Janusz Sikora, called Starter (English name is actually the Initial; English version of the review is coming soon – for Polish one see HERE). As you may know I've been using this brand's Basic model for almost a year now and I simply love it! The new deck, although at half the price, offers yet again stunning performance and an absolutely amazing value for the money. During the AVS 2016  (Audio Video Show) it was presented along the top of the line Reference turntable with Kuzma 4 Point 14" tonearm and the new fantastic MC cartridge by Japanese Audio Technica, AT-ART1000, with Janusz Sikora reference phonostage, linestage and mono amplifiers (all tube devices). Some might have not even noticed but the system featured fantastic cables from Skogrand, the Beethoven set (that should arrive for a review shortly).
Yet another brand, that I'm well familiar with and whose product I use in my reference system – LampizatOr. That's one of these Polish brands that made already quite a name for themselves and actually are even more successful abroad than in our own country. The Big 7 that I use is, maybe apart from the top of the line model, Golden Gate, the best DSD DAC that I know. Obviously many manufacturers and distributors agree with me since they chose Łukasz Fikus' products to be part of their systems for AVS presentations. It was one of the most most encountered Polish brands that one could find in many rooms and not only their DACs but power amplifiers too. It was used, among others, by RDacoustic whose loudspeakers Dawid reviewed just before the Show (see HERE), or by Sveda Audio.
I also use quite a few product of Franc Audio Accessories. They make mostly anti-vibration accessories, although a while back that added also power distributors to their range. I use their anti-vibration platform and ceramic feet. Make and finish is of highest quality and they simply do their job perfectly. For the Show Paweł "Franc" Skulimowski prepared a new line of more affordable racks. An interesting idea about them is a possibility of starting even with one platform and later, when needed or when funds become available, one can add more modules building it up even to quite a big rack. Another interesting product was a power distributor in a gold color – that was custom made upon order for some customers.
Below you will find a few photos that you might find familiar simply because these three Polish brands have been exhibiting together in the past few years also in Munich's High End Show. hORNS loudspeakers, My Sound tube amplifiers (and finally a preamplifier too) and JRAudio turntables. The latter is run by Mr Józef Radzimski, who's been living in Sweden for several years, but is a Pole, born and raised. Not only their products simply fit together very well delivering stunning performance but also these are all amazingly looking and made products and that is why they combined make such a great Polish "export" system.
Yet another successful cooperation between Polish audio manufacturers (actually, not only manufacturers but that's something for another, interesting, story), called Polski Klaster Audio. For the moment 12 Polish brands combined their efforts to promote their products and to simply prove to those, who still do not believe, that "Made in Poland" means: a good, original design, high quality make&finish and equally great performance. They prepared a few systems with components from different price levels and, in my opinion, they did a really good job. Brands presented during the Show included: Bodnar Audio (loudspeakers), Encore Seven (tube amplifiers), AudioMica Laboratory (audio cables), Pre-Audio (turntables), hORNS (horn loudspeakers), Shape of Sound (turntables), and probably even more that I could have missed. Anyway – that's an interesting initiative that should popularize Polish brands really worth knowing.
Two other, relatively young, Polish brands also combined their efforts for this Show. I've been watching the first of them, Pylon Audio, from the very beginning, which was just a few years back (which seems hard to believe considering the progress they've already made). They started with loudspeakers that, considering their price, had to be call "cheap", but they offered a sound quality of 2-3 times more expensive competitors. Since then they have been slowly and very reasonably developing their portfolio adding new models, developing their own drivers, and promoting also abroad, as this year you could have seen during the High End Show in Munich. They still keep very attractive pricing, although there are some bit more expensive models too. They develop interesting designs, as you can see on one of the pictures, they offer fantastic make and finish, and yes, their speakers still sound as good as 2-3 times more expensive competitors. Seeing that their business is constantly growing (they just moved to much larger facilities to be able to increase production to satisfy demand) one can be sure, that they are simply doing things the right way.
The second brand is even younger – it is the Fezz Audio, a manufacturer of the Silver Luna Prestige tube amplifier, that we reviewed as the first magazine in the world (see HERE). They actually debuted just a year ago during Audio Video Show and since then they built up a portfolio of five amplifier models and cables. All of them offer fantastic price/performance ratio. All are very well made and finished and despite (relatively) low prices are true joy to listen to. During this year's Show they presented the latest model, that I already mentioned in my review as an upcoming one, the Mira Ceti. That's my kind of amplifier – a 300B SET using, as all Fez Audio models, in-house custom made toroidal output (!) transformers. As it sounded really, really good so I hope to get my hands on it soon for a review.
Another brand that's been growing lately offering more and more interesting amplifiers is Haiku Audio. I have already reviewed few of their products, one of them for HiFiKnights, the class A/AB amplifier, SOL III (see HERE). Mr Wiktor Krzak's  devices are yet another example of well made and great sounding audio components made in our country. The designer is an active musician which gives him one of the best possible perspectives at how the instruments really sound like, and that's what he's trying to achieve with his devices. I must say that he does a really good job. For the AVS he combined his effort with another new Polish brand – Wigg-Art, a loudspeaker manufacturer. I haven't heard these speakers before but after this presentation I have to admit that I'm intrigued so hopefully in the future I'll get my hand on a pair or two.
 I've known Dariusz Gryglewski, the owner of JAG Electronics for years. He's one of our Polish "tube" guys and one of those who focus their efforts on making tube amps, including SET ones, affordable for as big number of people as possible. He builds 300B amps, 2A3, but also ECL86 – so most of them low output ones. Few years ago Dariusz decided that it was also time to offer loudspeakers matching his amplifiers to make life easier for potential customers. Today he offers four models of them, all easy to drive, bookshelves and floorstanding so anyone interested in his amplifiers can walk out of his workshop with an amp, a pair of matching speakers and even with cables, power conditioner and… a Tube Blue Tooth Streamer. Yes, that's right. He brought it to me maybe two years ago so I could listen to it in my system playing music from my phone (which I never do) and, to my surprise, it sounded really good which was quite an achievement considering its price tag of around 3000 PLN. This year JAG presented new speakers based on a Audio Nirvana 10" wideband drivers and he drove it with 2W amp. It sounded really good again so I asked for a pair for review, which will come in the near future. Anyway – JAG Electronic proves again and again the even a SET based system doesn't have to cost crazy money to sound good. It is not, of course, a match for top tube amplifiers, but it makes it much more affordable for wider audience to enjoy at home the magic of tube sound and glow.
Another interesting, from a tube geek perspective, room was the one of Destination Audio. Actually it looked a lot like one of these Japanese aficionados rooms with huge horn speakers driven by a set of tube devices including monoblocks, preamplifiers and even DAC. Yes, these speakers need a much bigger space around them to offer their optimal performance but even during the Show one could feel a large potential. I talked to the designer, Mr Włodek Wiśniewski, and since it would not be possible to bring this system to my room I will probably visit him to listen to the system in his room. If that happens I will report my findings to you.
As always it was a great pleasure to visit the room of Mr Andrzej Zawada of ESA, one of the most esteemed loudspeaker designers in our country. He combined his effort with Intrada, Polish distributor of Avid Audio, Mastersound, Nagra, EMT and so on, to present this year a, relatively, not that expensive system (unlike last year). Mr Andrzej brought with him a new, anniversary stand-mounted model but it turned out it was too small for the room, so after all he went with floorstanding Credo III Illuminator instead. It was one of these rooms where one could simply sit, relax and enjoy beautiful music.
As a fan of turntables I couldn't miss Zontek products that were presented in (at least) two rooms. The designer, Paweł Zontek, who not only made his own deck but also the 14" wooden tonearm, offers also a tube phonostage – a great match to the deck in both, looks and performance. That's another example of Polish high end – perfectly made and great sounding, I had a chance to review the turntable a few years back for HighFidelity.pl magazine, now after conversation with Paweł I hope that in the near future I'll get my hand on his phonostage too. On the last picture you can see Zontek turntable in a top-high-end system with Tenor Audio electronics (placed on Franc Audio Accessories platform and rack) and Hansen Audio loudspeakers and it sounded astonishingly well.
Below yet another fantastic system sitting on Polish rack by Rogoz Audio. I use the same model, different size, for my analog system and don't plan to replace it with any other – that's the only recommendation you'll get from me.
Amare Musica is yet another Polish brand that already made a name for themselves not only locally but in many countries around the world. They make fantastic tube amplifiers and preamp, and recently added a DSD DAC and phonostage to their lineup. Beautifully made products offering amazing performance.
You might be familiar with the gentleman on the picture below – that's Mr Jarek Waszczyszyn, the man behind famous Ancient Audio brand, whose CD Players and tube amplifiers are considered among the best there are. Recently though he decided to make some much more affordable products for a wider group of customers. He went solid-state offering, for example, small, but wonderful sounding A3 integrated. This year he presented another brand called Fram, created especially for affordable products. Short presentation proved that lowering price did not mean letting quality sound go. Hopefully in the near future there will be a chance to assess that in my own system.
Another Polish brand that's been on the market for many years offering high quality, reasonably priced solid-state amplifiers is Baltlab. During the AVS this time they paired their Endo 2 amplifier with wonderful Trenner&Friedl Osiris loudspeakers and Exogal DAC. Rich, relaxing, smooth sound encouraged (not only me) to spend some time in the room just listening to whatever music Andreas Friedl played. He, by the way, seemed to enjoy the sound a lot too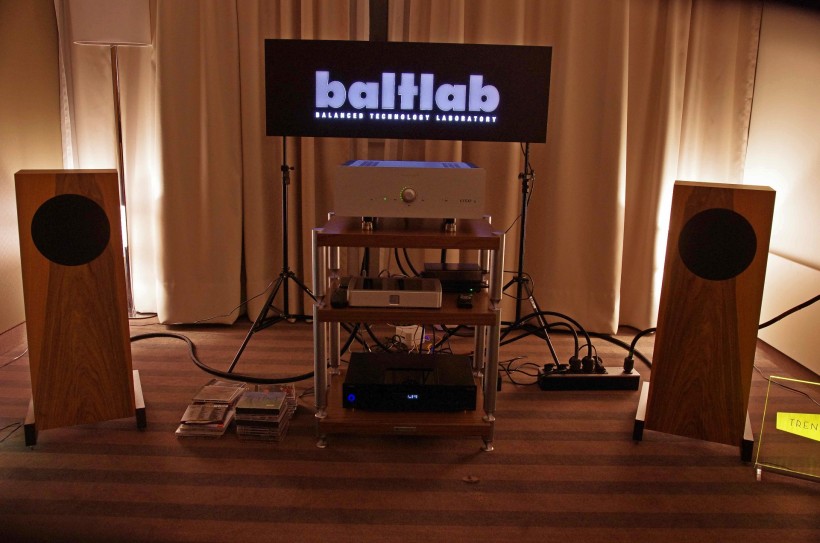 This product you might know from previous AVS or High End in Munich – huge monitors from AVCON. Interesting design, great make and finish and the sound… well, you should listen for yourself, it is worth it. They also make interesting and not so expensive, nicely looking and very practical acoustic pannels.
Nope, despite the fact the Gerhard Hirt comes to Poland so often that he's half Polish by now, Ayon Audio is not a Polish brand. But the exquisite rack Ayon components are placed on is. In fact the Polish distributor of Ayon, Krakow based Nautilus, is also a manufacturer of racks and power distributors. You can see both of them in action on photos below. I should add that my main system sits on Base VI rack too…
Below yet another beautifully made, reasonably priced, and great sounding amplifier made in our country – G LAB Design Fidelity Block.
AudioThlon is a Polish company manufacturing loudspeakers and cables under Equilibrium brand and power product under Enerr. I've never had a chance to listen to any of their products in my system but the presentation during AVS 2016 was really good.
Another young but interesting company is Muarah. They make great looking tube amplifiers, phonostage and turntable.
We do have digital amplifier in Poland too. One of the best examples are the ones made by elinsAudio.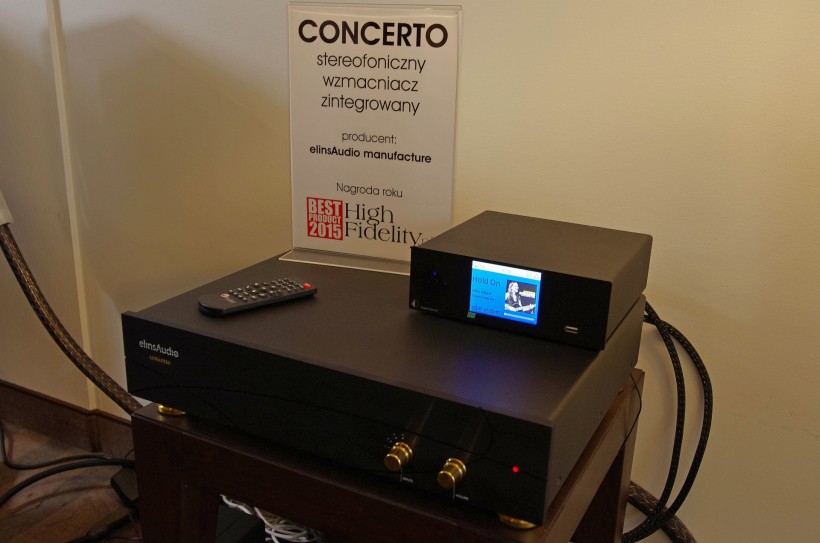 Some of you might recognize this gentleman… If you don't you're simply not a headphone aficionado but the banner behind gives his identity away.
One of the names that probably many of you know is Gigawatt – well established Polish manufacturer of power conditioners, power strips and cables. Their products can often be found in many systems not only during Audio Video Show but also during High End in Munich – many distributors and manufacturers have already recognized the true value of Gigawatt products. I'm a proud owner of power strip, power cables, wall sockets and in-wall power cable, too.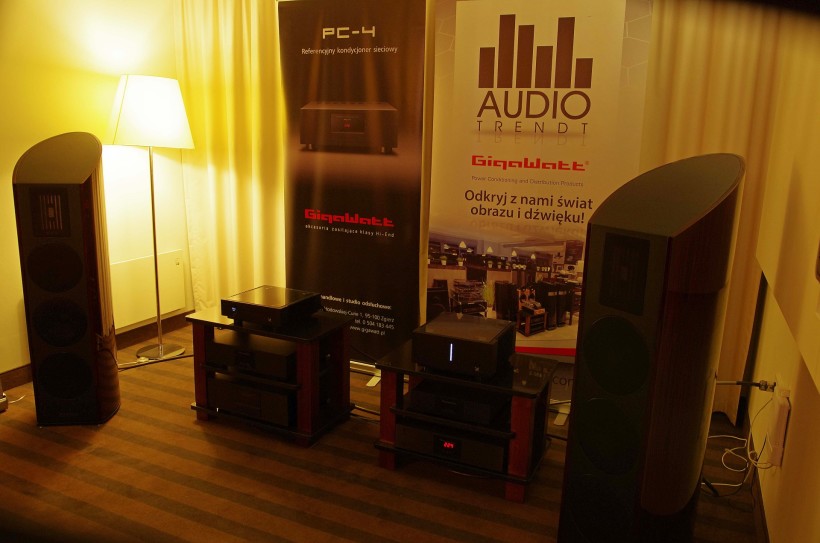 And here some more high efficiency speakers – Holophony by Avatar-Audio. These use original drivers from 1950′ and 1960′. So if you need speakers for you low power tube amplifier these might be an option to consider.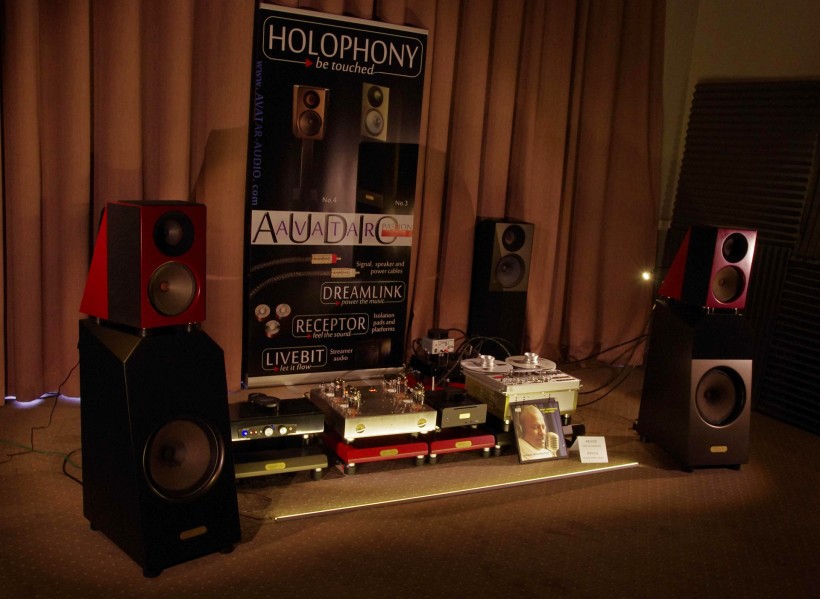 Did you know that Mytek products are actually made in Poland? Now you know.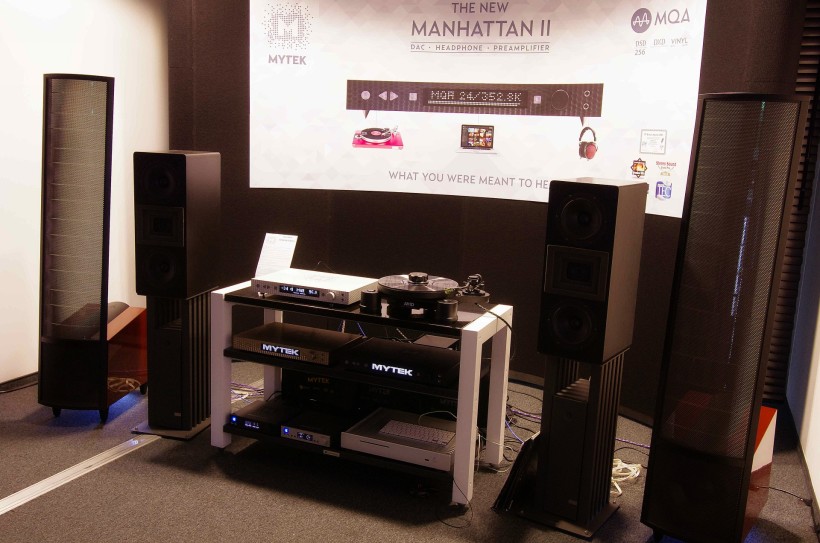 Nomos, on the other hand, is a Polish brand that renovates and upgrades, among others, vintage Lenco turntable. They turn them into small pieces of art. If you're looking for a classic record player you can send them an email.
These guys, Pracownia Wzmacniaczy Lampowych, build tube amplifiers upon order. Someone obviously ordered these huge beasts…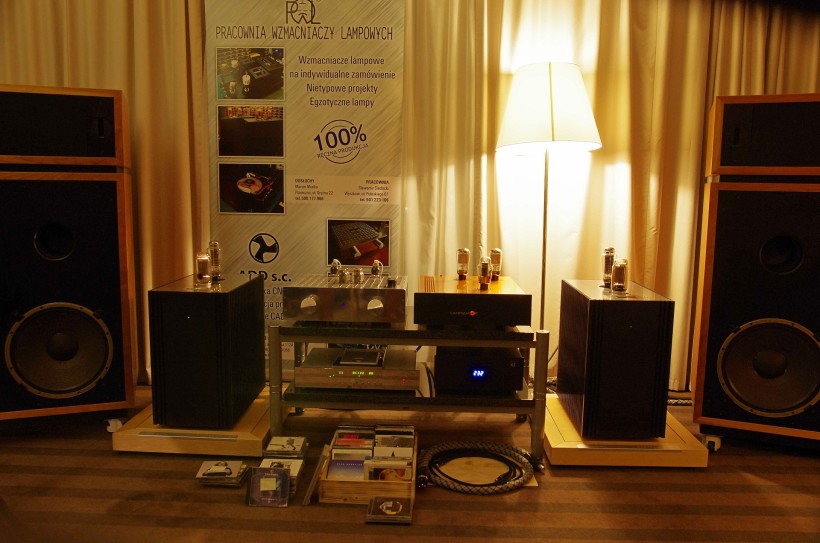 Below another Polish loudspeakers manufacturer STX.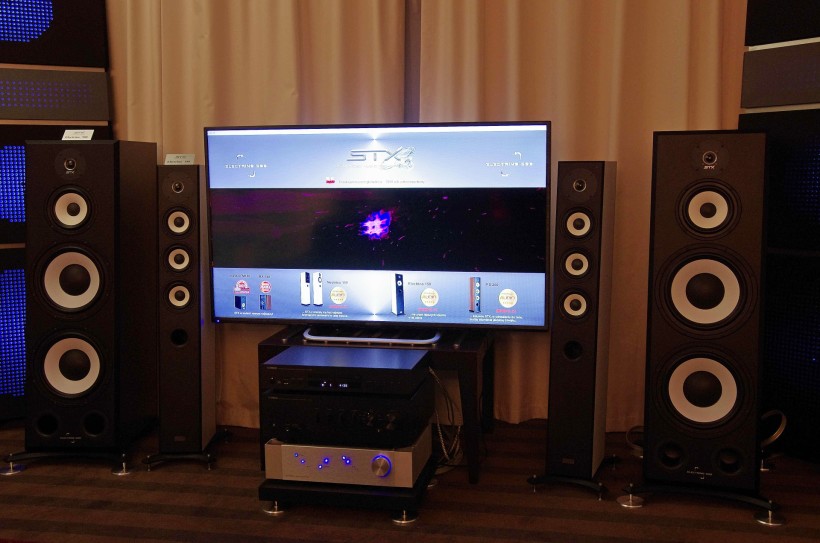 I had a pleasure of reviewing a whole set of Sulek Audio cables and these surely offer a great value for money. This time they prepared a nice presentation with electronics and loudspeakers upgraded by Mr Sulek. Unfortunately room was quite dark so the picture is of rather poor quality.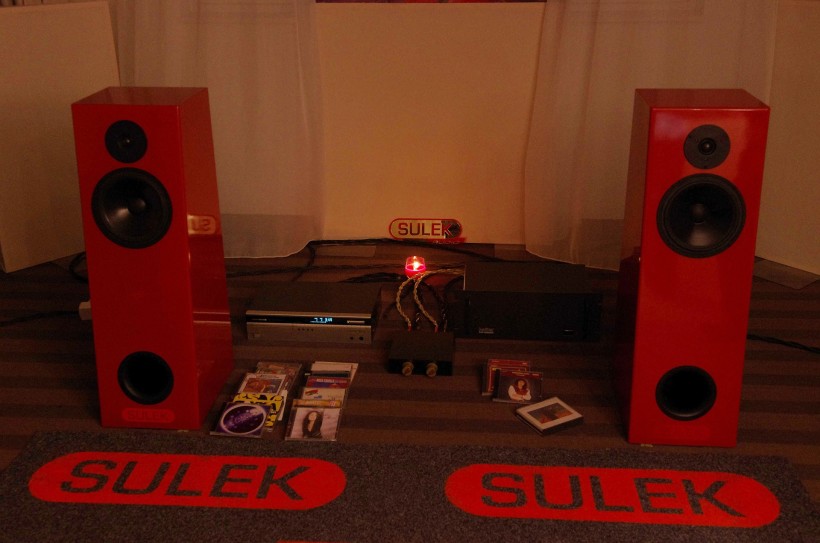 Arek Szweda of Sveda Audio, prepared a presentation of his studio monitors. A very good one I must add and surely most of audiophiles could easily live with these loudspeakers in their home systems and be happy about it.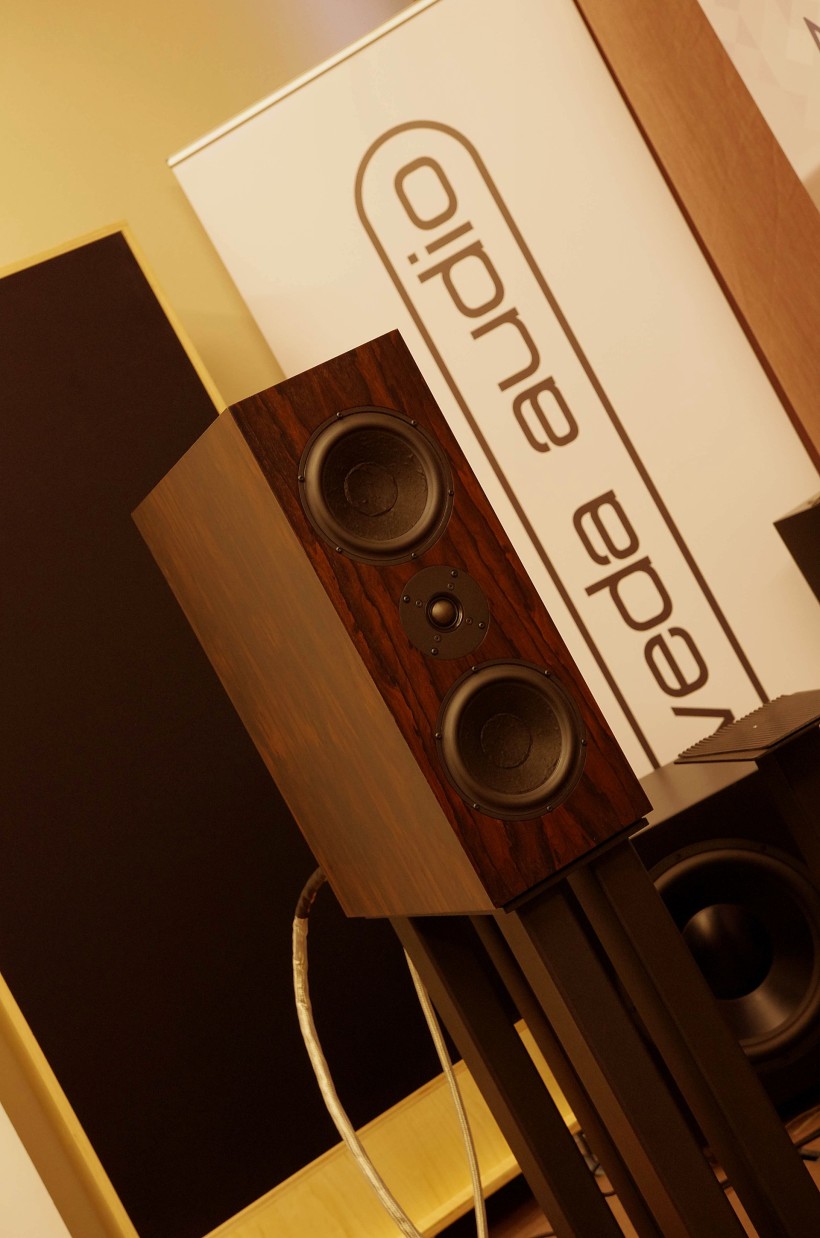 Yet another very dark room with great electronics and cables by Wile, formerly known as SoundArt. I never heard any of their cables but as for amplifiers I had some very good experience with them some of my reviewer friends use their racks and amplifiers in their reference systems. And that's a really good recommendation, I'd say.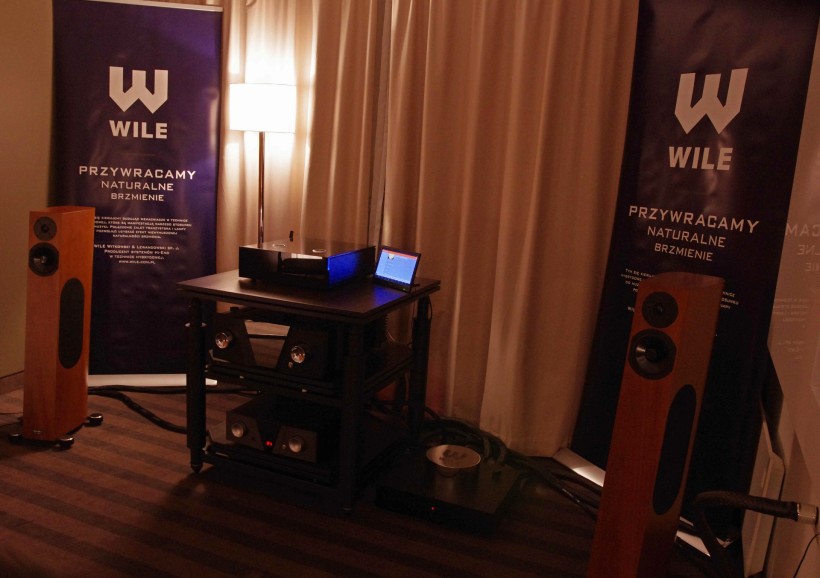 And last but not least two surprises of the Show. First small, studio monitors prepared by guys from MJ Audio Lab – a distributor of Bryston and PMC, a company that sell both, home and studio audio equipment. These little active monitors took me by surprise as I didn't even know that they'd been developed. Now I have to wait for final version to learn more about them.
And another surprise – a company called Yayuma Audio that created a device featuring their Pure Original Natural Audio Sound technology. It is based on mathematical equations developed by them that aims to improve sound quality played by any loudspeaker. I participated in a presentation and the differences between sound played with and without it were obvious. That short session was surely not enough (at least not for me) to unambiguously claim that improvement is worth the steep price, but it was enough to get my attention. I don't know whether it will actually change audio industry in near future, but it might, so it is surely worth following.
That's it regarding Polish brands and product presented during Audio Video Show 2016. I guess I might have missed some but the Show became so big that is really hard to cover it all. Another part of the coverage will follow this one soon, this time with products made OUT of Poland