Audio Video Show 2018 is in the past. Divided into three locations it did the trick for regular visitors and the industry people yet again. Although this event grew over the years to finally become quite overwhelming, it felt good nonetheless. Here's my take on it. Enjoy!
Foreword
A good while ago Audio Video Show expanded enough to be the second biggest European audio event and one of the biggest ones on this very planet. But interestingly it escalated very rapidly over the last three years in particular and – as far as all important numbers go – its 22nd edition ended up with 200 exhibitors, 174 rooms and 50 booths spread across three usual locations. Even open door hours got stretched a bit in 2018. The main man himself – Adam Mokrzycki – said out loud at the official press conference that Audio Video Show shouldn't be any bigger than it currently is and for a reason. To see it all, one would have to devote mere minutes per each room/booth and this data doesn't even include numerous seminars and presentations, logistics from one location or floor to another, standing in lines or a proper coffee break. Impressive, isn't it?
As an enthusiast, I wholeheartedly would like to simply have a casual sit-down in each room I deemed fit and just listen to music for an hour or so. In 2017 I've learnt that this can net very rewarding results, even in spite of show conditions said to be anything but friendly. Nonetheless, as a self-styled reporter/reviewer into audio for a living, I couldn't. And this time around my usual event tactic was purposely adjusted. Extensive cherry-picking prior to the show followed as per usual, but was additionally amplified via set of rules more strict than before and a different mindset on top of that.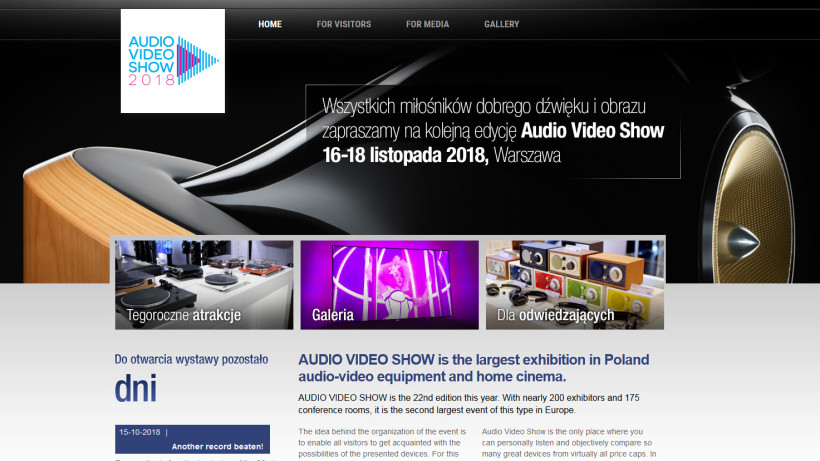 Rooms filled with the biggest and the most luxurious hardware were crossed off the list right away. I simply don't have expertise to evaluate or comment on such items in any meaningful way, my humble HQ won't fit vast majority of them hence the odds of me reviewing any are very unlikely. Neither was I interested in seeing who broke the price tag record this year, nor in goods I can't evaluate within my own four walls. The idea of working with mass measured not in dozens but hundreds of kilograms per one product from the upper five figures realm or higher is no fun in my book. Since the PGE Narodowy was loaded with such exotics, minimal coverage from said location reflects my attitude towards these. If you're into attractions of the sort, many reports already published online have your back. The initial agenda was to return to the stadium for the second round if time would allow, yet it didn't.
Places crowded to a point where taking one decent picture seemed impossible were avoided as well. At times the incentive to go inside was there, but in most cases neither I waited nor returned later. Also, locations with people who revealed themselves over the years to be all talk at a show and no action afterwards, were also off this reporter's menu. Rest assured that every reviewer has at least several blacklisted because of this very reason. To counterbalance, I visited many rooms with familiar electronics and individuals with whom I had the pleasure to work in the past. My privy go-to list also included several newcomers. It's utmost interesting and oftentimes intriguing to discover operations with professional attitude, clear goals and products fully ready to see daylight. Knowing people behind them and their stories allows one to grasp the big picture. This naturally involves less walk and more talk and that was my very goal this year. Without further ado, here's what I saw.
---
Golden Tulip Hotel
---
Avatar Audio
This was the first room I visited in Golden Tulip. One year ago it delivered a bit dreamy and agile though too syrupy sound for my taste. This time around everything checked out, yet was less condensed and a notch faster, hence better to my ears. Bamboo enclosures, vintage paper drivers and high efficiency all met in Holophony Numer Dwa speakers fed via hardware I wasn't familiar with.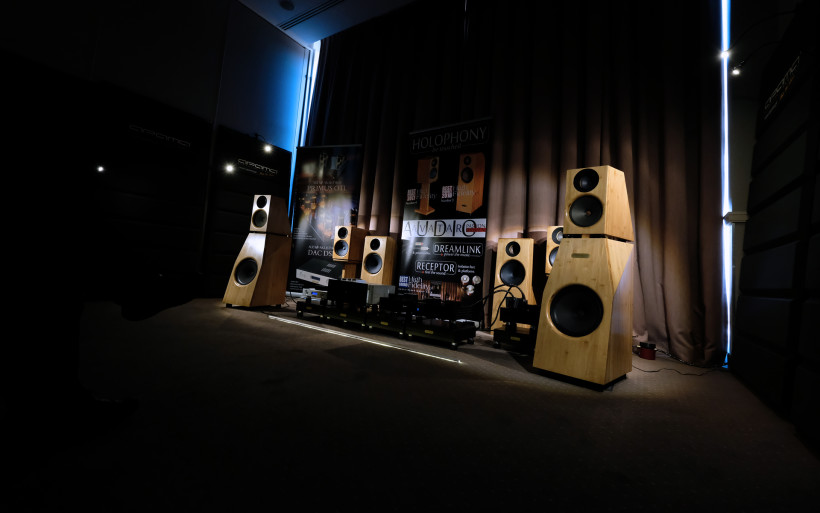 Camey Studio Cable / LampizatOr / Sveda Audio
This was one of rooms I looked forward to. This time around Łukasz Fikus decided to showcase three different Pacific DACs, each loaded with different glass, whereas Arek Szweda brought his Blipo Home U22 Edition monitors supported via Chupacabra subs. The outcome? Very direct, insightful, smooth, open and effortless sound without a hint of boom. The place was constantly packed with visitors. No wonder, on sonics count the room was very good and many seminars with the industry people additionally fueled this wholly Polish fire. Ah, all hardware was connected via cable loom by local Camey Studio Cable. This one is a newcomer on paper, but the man behind this operation has been around for many years and his very interesting story I'll gladly tell soon.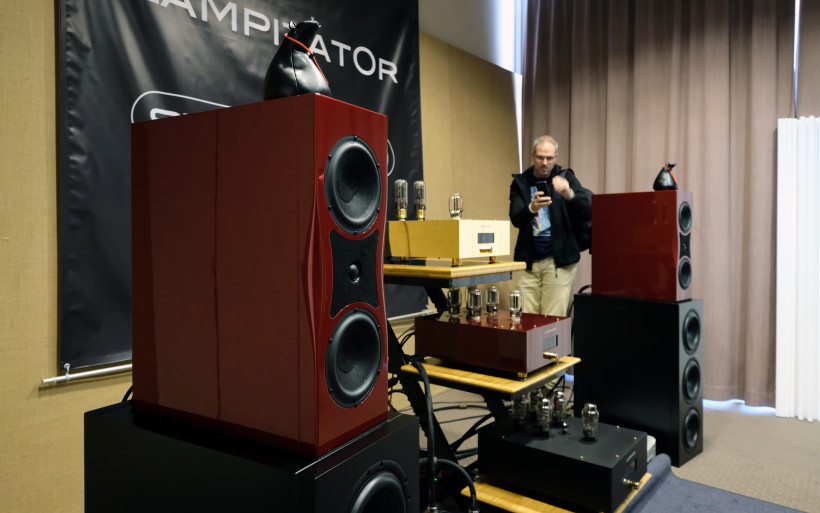 Natural Sound – Audio Tekne / SoulSonic / MSB
I went into this room because I was told that the other knight – Marek – was inside. When I got in, the man was on his knees in front of a shrine of sorts and resembled someone very much into deep prayer. Fun fact: Marek likes Audio Tekne a lot. It quickly turned out that he wasn't praying but was in the middle of photo session of a product placed on typically low anti-vibration platform instead. One thing I have to say, though: to see Audio Tekne's products on pictures and in real life… the difference is there. Gorgeous machines, built like tanks. When I came, large and quite glassy SoulSonic Hologramm-X speakers efficiently overshadowed everything else in the room, though far smaller Natural Sound Samurai were on duty. Still, instead of listening I admired exquisite Japanese hardware.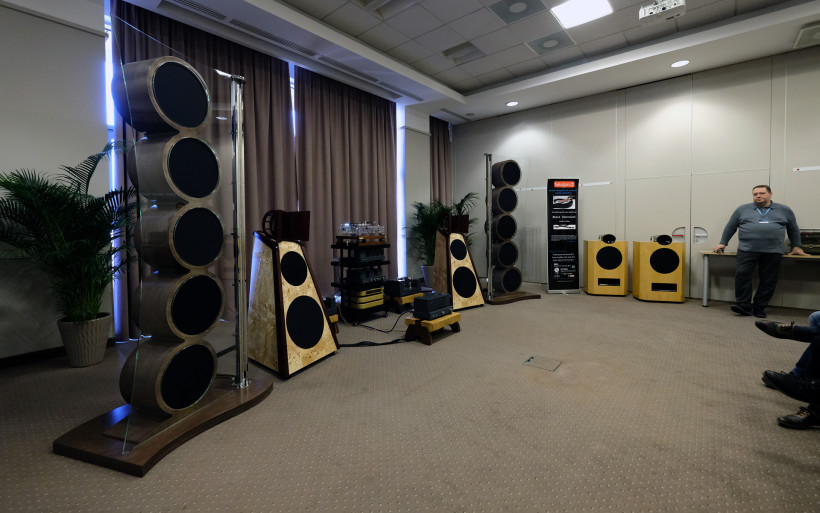 Nautilus – Ayon Audio / Siltech
It matters not whether it's Warsaw or Munich, rooms occupied by Ayon Audio I always enjoy. Setups assembled by Gerhard Hirt constantly uphold very high sound quality level and specific voicing. Knowing this, I do wondered whether in 2018 things were any different. Instead of Lumen White floorstanders, the man showcased his latest speakers – Black Crane – also loaded with ceramic drivers. This presumably costly affair of high efficiency sported two crossovers inside. The reason? Each is tailored to handle either valve amps or transistor hardware. This product was fed via TOTL Ayon machines which communicated via Siltech loom, highly likely even pricier. The effect was as per usual; open, spacious, airy, quick, clear yet utmost smooth, a spot on texturally moist and vivid in general. Nice work. Interestingly, Ayon's local rep – Robert Szklarz – showcased a very unique table designed to be acoustically transparent.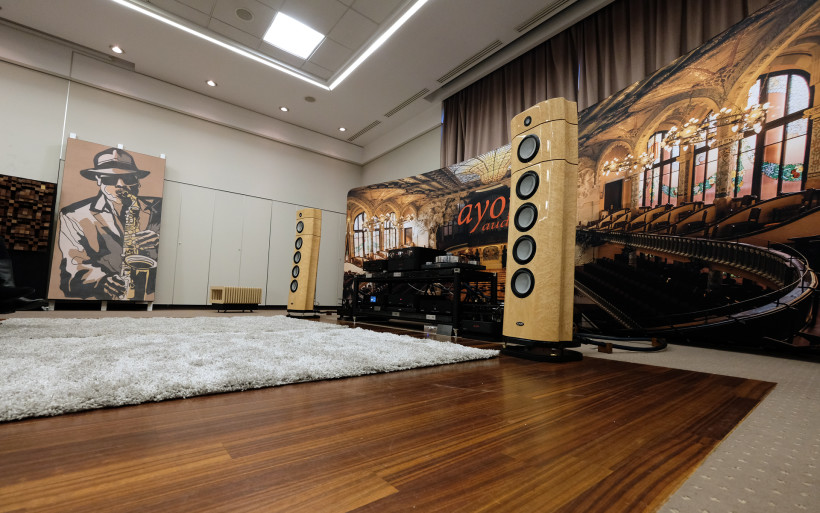 Nautilus – Boenicke Audio
The poker-faced Swiss – Sven Boenicke – this time around occupied one of the largest rooms in Golden Tulip. Why wouldn't he? His W13 floorstanders were on. Let me clarify: years back his very much compact W8 speakers (my daily driver btw.) sang in the same ~100 sq. meters space and behaved quite well. After acknowledging which place the man was assigned to host, it wasn't any surprise what artillery he'll roll with. Bass was handled via active circuitry inside of each speaker, whereas Accuphase A250 monos took care of everything above and Ayon S10 sealed the deal. This time around Sven showcased his own power strip with familiarly looking cables… purposely fixed to the base. Mark my words, this thing ain't going to be cheap. As for sound, it's interesting. I visited the place two times; shortly past the show's start and just before its end. In short, these were two different performances. The former was boomy as hell, nervous and a bit piercing, whereas the latter got bass down pat and everything else sounded just the way I personally like; enormously spaciously, effortlessly, with proper crack, pleasantly hydrated and very enjoyably in general. The man himself sat with his eyes closed and seemed to be not here but in a world of music he created. Even burned in, upper echelon Boenicke floorstanders have to be constantly on duty for days to fully flourish and having said this, I'll take an educated guess that Sven's W13 didn't say its last word on quality count at the AVS. Nonetheless, what this product did that last day was impressive.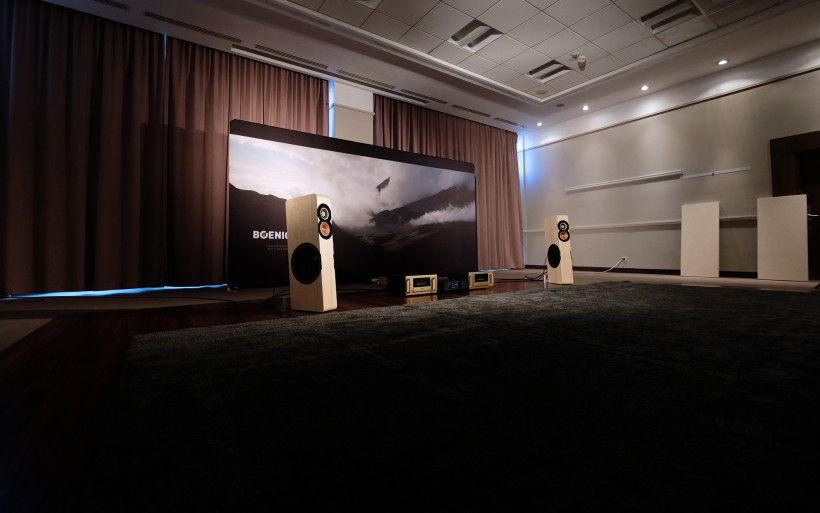 RCM – Fink Team / SME / Tech Das / Thrax Audio
This room was suspiciously crowded for a reason. Borg speakers by Fink Team had their worldwide premiere inside. I skipped the official presentation led by Kerl-Heinz Fink, it was difficult to get in. Later on I've learnt that this man is the brain behind Fink Audio Consulting, a – surprise – consulting company into speaker designs for other brands; i.e.  Tannoy, Mission and Q Acoustics. In any case, I couldn't secure a seat 'comfy' enough to listen to the Borg and I wasn't familiar with all associated hardware, thus several photos will have to do. Nonetheless, interestingly looking speakers.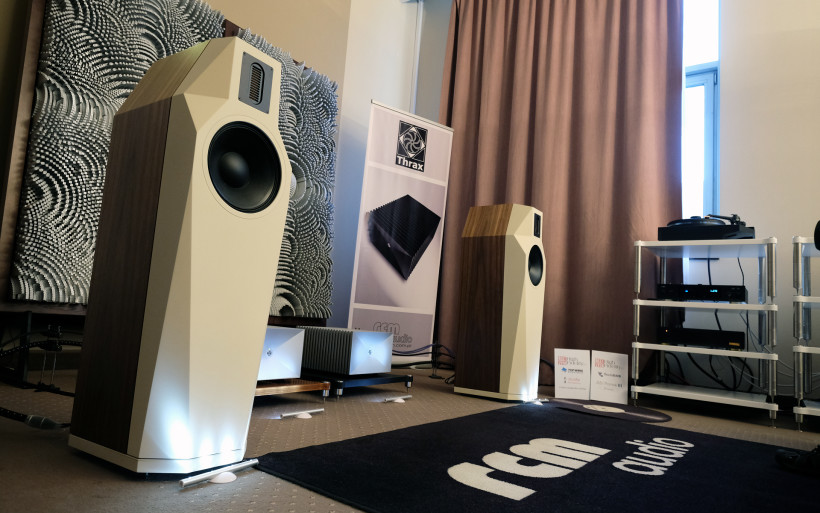 RCM – Gauder Acoustic / Vitus Audio
When I came to this room, no music was on and a number of visitors gathered near TechDAC turntables. Instead of following the flock, I took several pictures of Gauder Acoustic DARC 100 speakers and was on my way.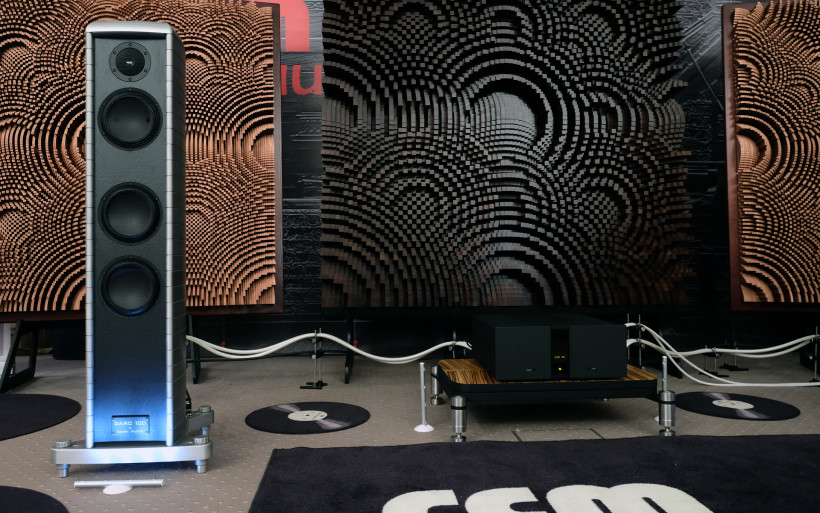 ---
PGE Narodowy
---
Chord
The Chord booth was on my way out, I stopped for a second and took several shots of petite silver Brits; Hugo and Hugo TT 2.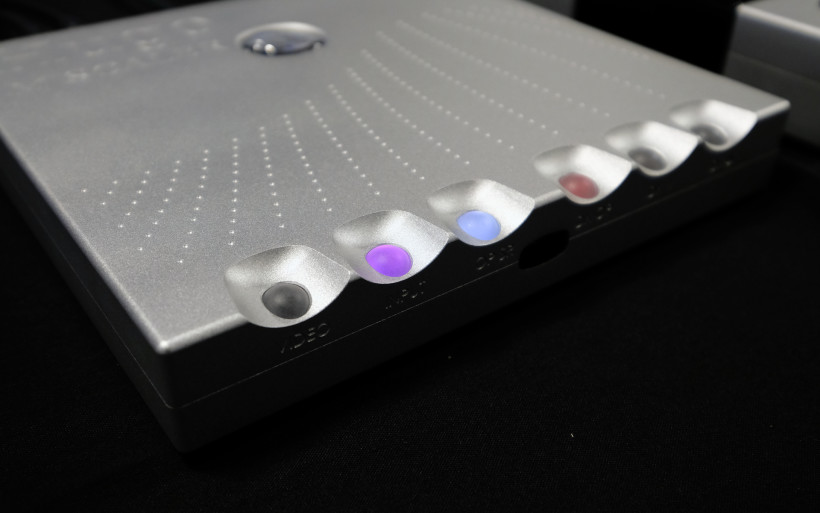 Final
The Final booth was yet another place I stopped by because of people behind the counter. Local rep wasn't there, so after a short chat with his wife I took a quick goodbye look at the D8000 model and was on my way. Not putting it on my head seemed to be the smart play, fond memories could've returned. This time around the risk of jumping on-board was very real.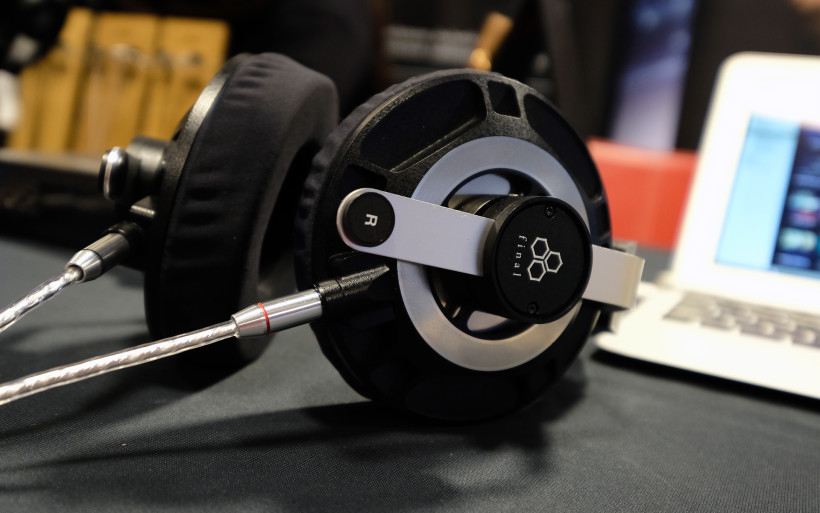 iFi audio
The iFi audio booth I had to visit to drop some things for Matt of Forza AudioWorks as the two operations exhibited together as per usual. Their place was nice one year ago, but this time around the British threesome upped their own game significantly via a lovely booth, which only shows how important the AVS show is to them. On display there was one micro and one Pro stack, each showcased in their respective acrylic racks. But the latest hot stuff proved to be two portable machines: xDSD and xCAN. The former is a wireless DAC with additional HP amp, whereas the also BT capable latter is a balanced amp with a DAC built-in. Although function wise quite similar, these are not the same decks and it all comes down to different design priorities, but that's a story for another time. I took the xCAN for a spin and was very much surprised to learn that difference between wireless and USB modes was minimal at best if any at all. Unusually implemented BT module got me into thinking like so. The iFi people have always been very marketing savvy, thus one designated individual stood nearby and handed quality cotton bags to visitors, of course with iFi logo on these…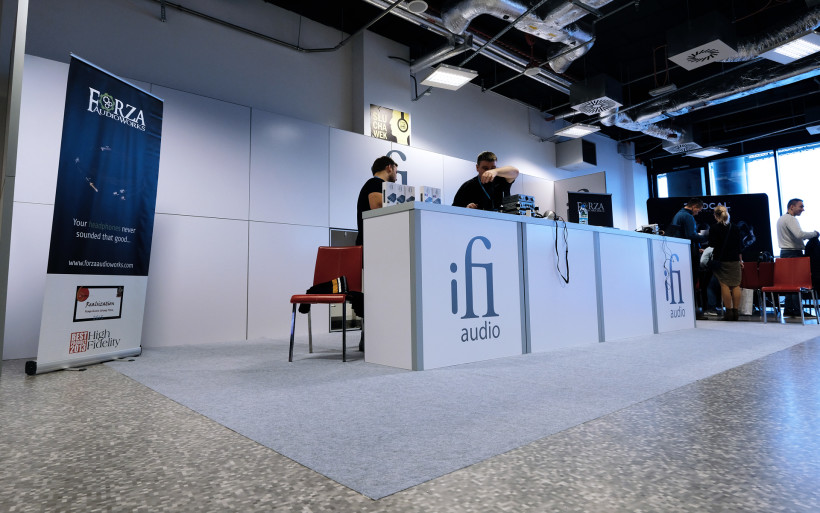 MAG-LEV Audio
MAG-LEV audio stirred the industry pot quite efficiently. Having something as unusual as a turntable with a fully functional platter able to levitate with no magic but science involved, who wouldn't? Highly likely that was the hottest thing showcased at the stadium's hallways this year.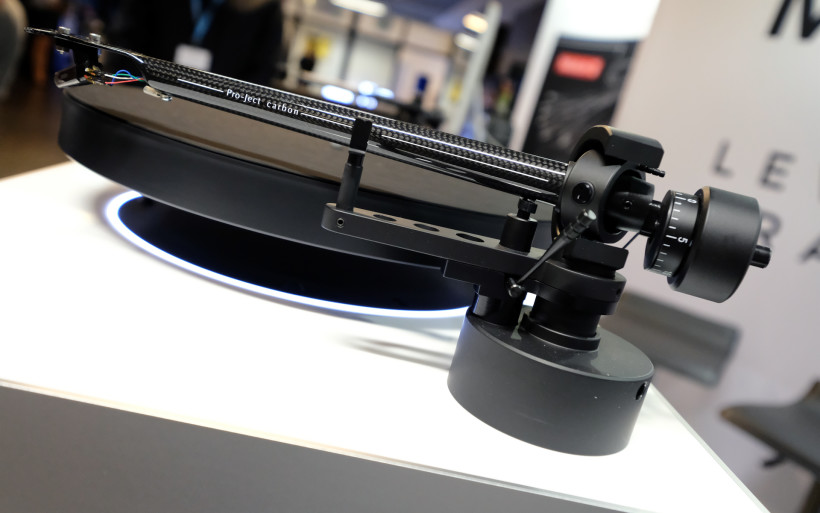 Meze
Although I visited PGE Narodowy early with high hopes of seeing/auditioning a thing or two, the very much anticipated Empyrean planar cans displayed at the Meze booth were already occupied by an individual in no rush apparently. No wonder, with headphones as pricey as these he had to thread carefully. Planar and dynamic competition in the same ballpark is nothing short but fierce these days, thus all good, sir. One shot of this product's driver by Rinaro, then Meze IEMs and said visitor with exceptionally well-made Empyrean on his head was all I could do.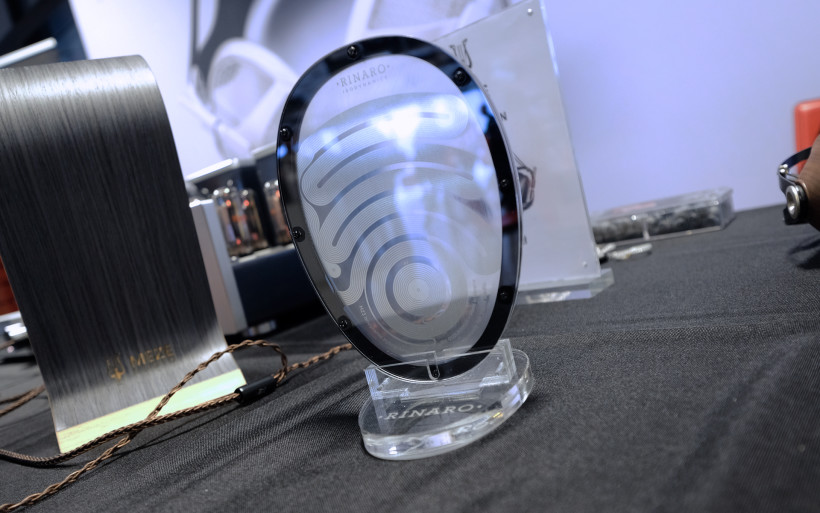 ---
Radisson Blu Sobieski
---
8mm Audiolab
8mm Audiolab Piu speakers I reviewed months ago but was utmost interested to witness what this company's owner – Donatas – pulled off this year. And he did, the outcome was fabulously open, saturated, easygoing and not congested at all. This room sounded far better in comparison to the previous year and associated hardware by LampizatOr – two 211-based monos and balanced Atlantic DAC – surely helped to achieve this.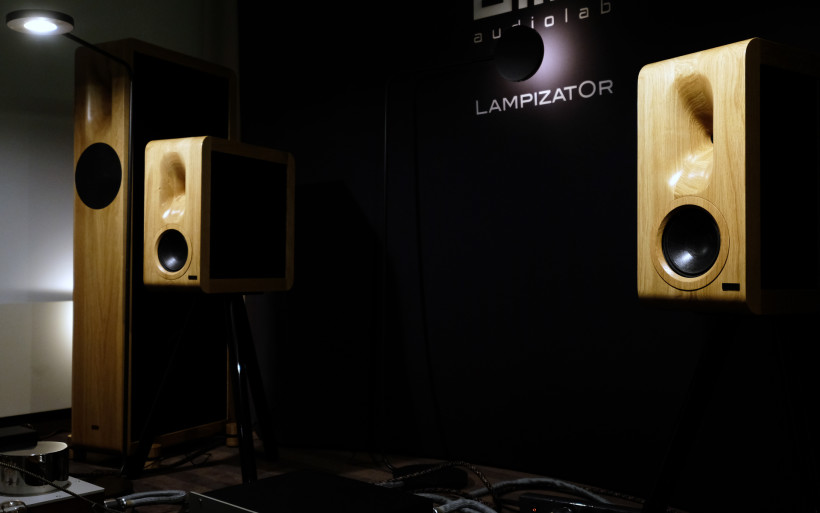 Audio Alto
Two thin yet high arrays of dipole widebanders – one per channel – married to their respective isobaric ripole woofers was a sight one doesn't see every day. This product is called LA17 OB MkII and available in two versions; either fully active or with only its downstairs section powered. The sound was big, informative, with proper crack and my ears were pleased.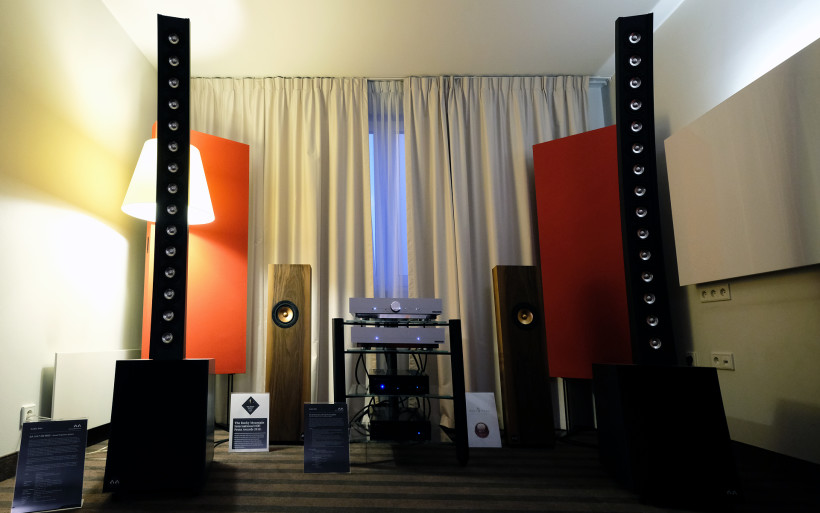 Audioform / Wile
This room I visited to see how Tomasz Kursa of Audioform – the operation responsible for my QRD diffusers –  handled himself this time around. The man teamed with local Wile manufacture and used reel-to-reel deck yet again to net quite the performance for reasonable coin. His speakers have come a long way since the very first time I'd heard them and have been steadily getting better and better ever since.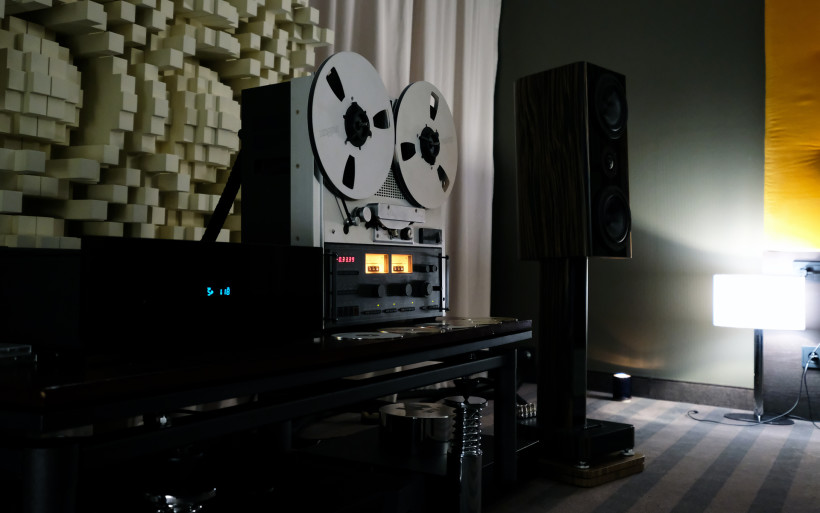 Cube Audio
After familiarizing myself with Srajan's latest Cube Audio review, this room was my top priority. This audio house's top of the line speakers were married to a LampizatOr DAC and Italian Tektron Audio valve integrated deck. The outcome was impressive to say the least, I'm glad I came by and highly likely I'll have my time with Nenuphar in the not-so-distant future. The Cube team also showcased their latest transducer prototype. Full-range affair of course, but exceptionally big. Interesting…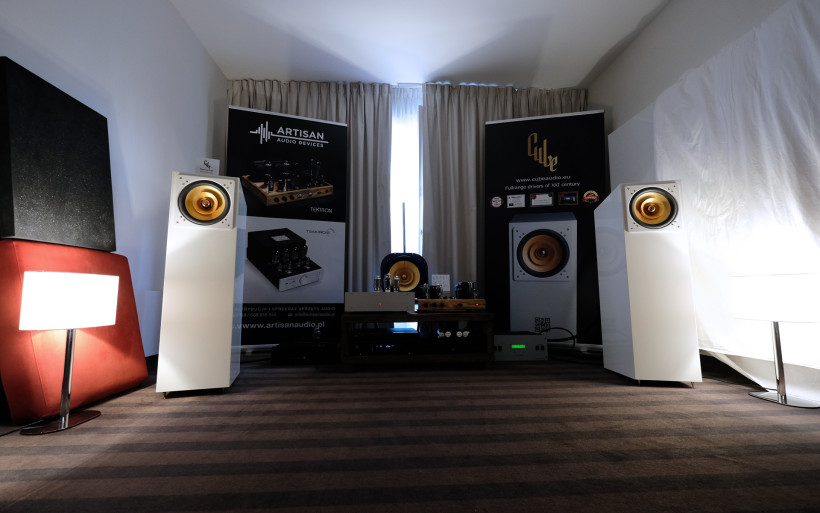 Eryk S Concept
This place I hadn't had in my schedule, but audible party level SPL and suitable repertoire very different from the usual show music was too inviting to not investigate. So I did and Eryk Smólski of Eryk S Concept was the man behind such interesting result. He showcased his very narrow, deep and tall Wind floorstanders. These big speakers loaded with large woofers on their sides were married to a petite Fire integrated amp with class D circuitry inside. The outcome was quick, easygoing, properly engaging and enjoyable overall. Bass slam in utmost control and vividness upstairs got my attention, whereas WiFi module additionally spiced things up to make Wind and Fire a complete and sexy setup. Nice work, sir.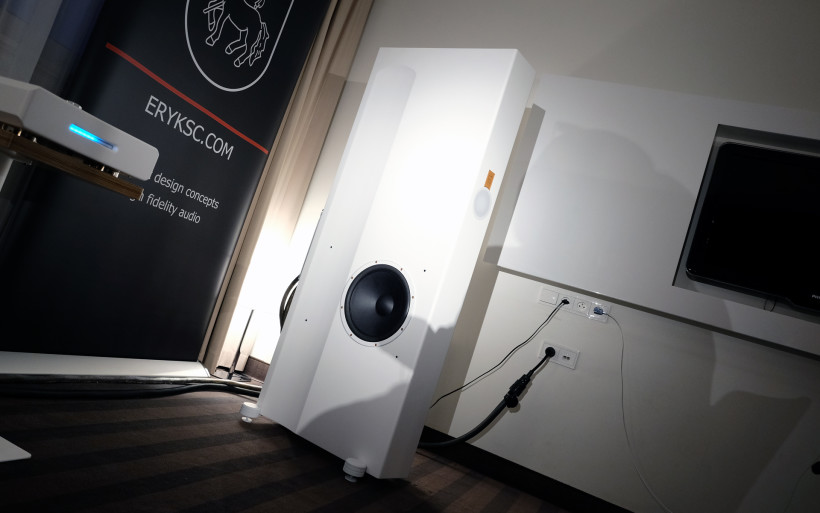 GigaWatt / Marton
This place was on my go-to list for several reasons. The most important one was Adam Shubert's presence inside. The GigaWatt man is always fun to talk to and this time around my goal was to convince him that he should ditch DSLRs in favour of mirrorless systems in November 2019 I should know whether I succeeded. Adam's company took under its wings and reanimated the well-known local Marton operation and this was in fact one of the most significant highlights of this year's AVS. The effect – Opusculum Reference – was as intimidating as it was professionally assembled. Nothing short but a world-class fit'n'finish league, from Poland with love. This big, heavy and very costly integrated amp looked like something only GigaWatt people could pull off, the visual resemblance between their power related products and Marton's beast of a machine is rather obvious. Although this item is way beyond my scope, I was told that its smaller and more affordable versions are in the pipeline. I've also found on display the very first GigaWatt PowerPrime deck, which will occupy the the shelf somewhere in-between this company's full-sized hardware and power strips.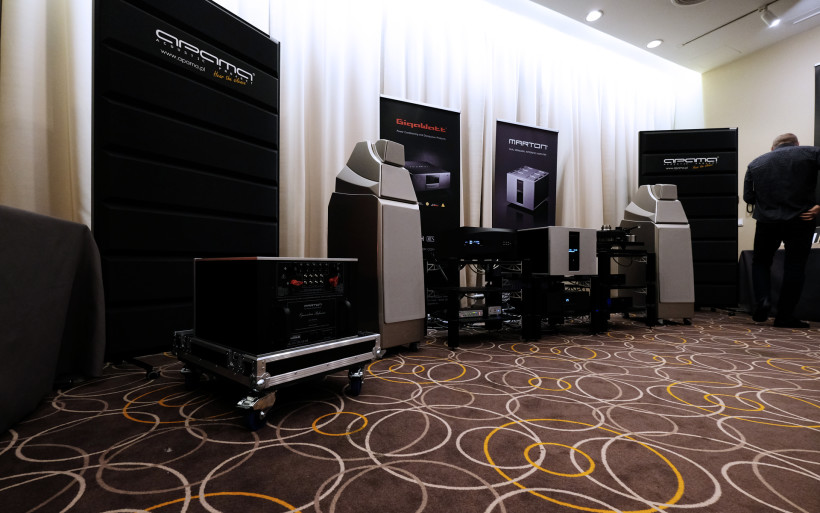 Gravelli Bespoke Audio
The sound in this room was surprising; unusually big, promising and interestingly propagated via two heavy compact Czech two-ways. Polymer/concrete enclosures, BMR drivers up front, one side-mounted 5" woofer + 7" passive radiator on each speaker's sides, Hypex modules on-board, various finish options and minimal needs as far as associated electronics went coloured me very much interested. Performance and fit'n'finish wise someone did the concrete homework just right and lower five figures on the product's price tag clearly indicated that the company is into building distribution network. I wish the young Czech team all the best. Subjectively one of the most exciting finds this year.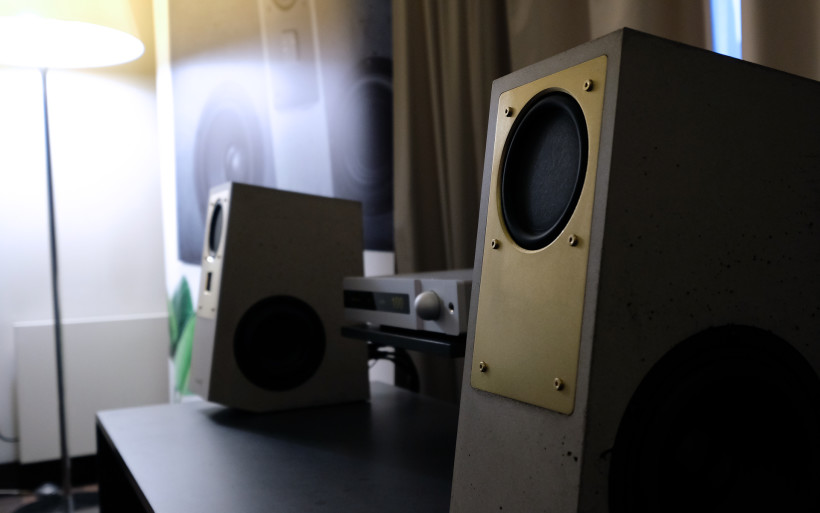 Hypostatic
What I've found in this room puzzled me at first, then caught off-guard and intrigued in the end. Hypostatic speakers are, well, what they are; bass modules based on composite enclosures loaded with passive membranes plus 11" woofers and married to rather tall, very light and curved magnetostatic mid/high FR drivers. The outcome was open, airy, smooth and speedy. Interestingly, Hypostatic Indigenum pulled this off with sanely priced hardware by BlueSound and Roksan on the job. The main course seems to be anything but though.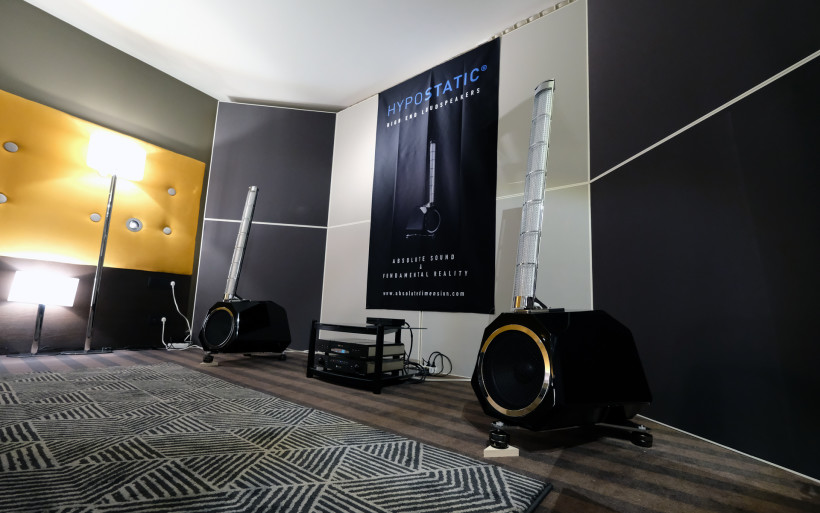 Materics Audio
Italian Materics Audio was yet another newcomer this year. In a small room free from acoustic panels, two nicely looking Alba two-way monitors along with the same company's integrated amp of 50W class A output were on duty. These products had their enclosures made of proprietary artificial material known as Azanite A+, which the Materics main man described as revolutionary. The effect was promising to say the least and I'd happily investigate the Italian case further. Nicely rounded and sealed stone alike Alba boxes netted very interesting visual effect and the same story was with a bit translucent amp's chassis.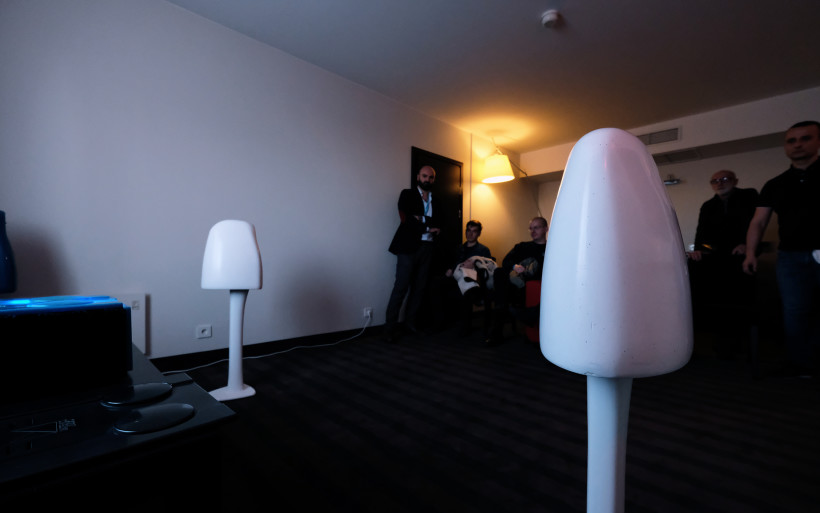 Moje Audio – Fidata / Gradient / Lumin / Norma Audio / Reimyo
This room I couldn't skip, simply because I was aware how good some of components of the setup displayed inside were. Fidata HFAS-XS20U fed Lumin X1, which then passed signal to the Revo SC-2 LN pre and Revo PA150 power amp by Italian Norma Audio and further to Gradient 1.4 floorstanders, whereas products by Luna Cables connected all these and Acoustic Manufacture handled room acoustics. This sound had everything; openness, clarity, saturation, textural richness, speed, pinpoint accuracy and plain fun factor. One of very few places I allowed myself to return to.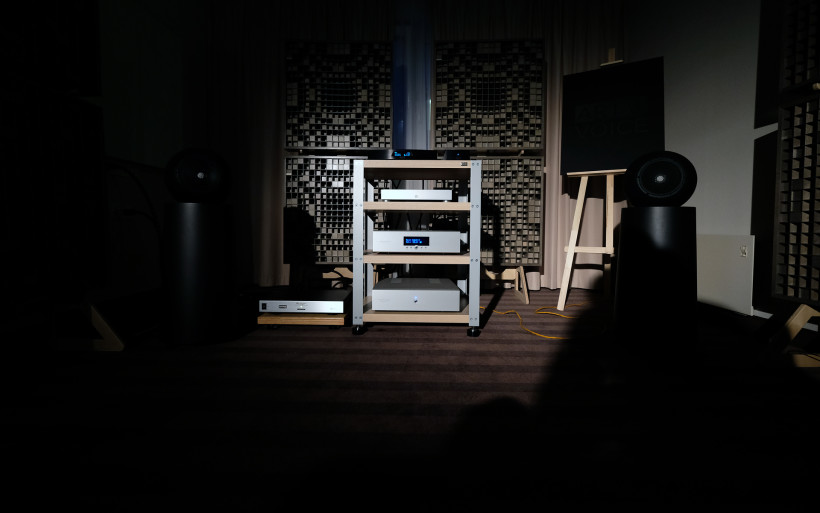 Portento Audio
When I got into this space, I didn't have much time to listen to music and my senses were already overloaded, but build quality and styling of items on display got me interested. It turned out that Italian Portento Audio manufacture located in Turin is into cables above all else and that fancy Harmonya looker on the picture below is still a case of work in progress. Nonetheless, many items showcased, i.e. power strips, conditioners and filters plus various connective snakes were finished goods. The kind man who handled the place – Pier Paolo Prospero – clearly was in the engineering know and had his goals clear. He favoured a degree of honesty instead of marketing fluff, which is always a plus.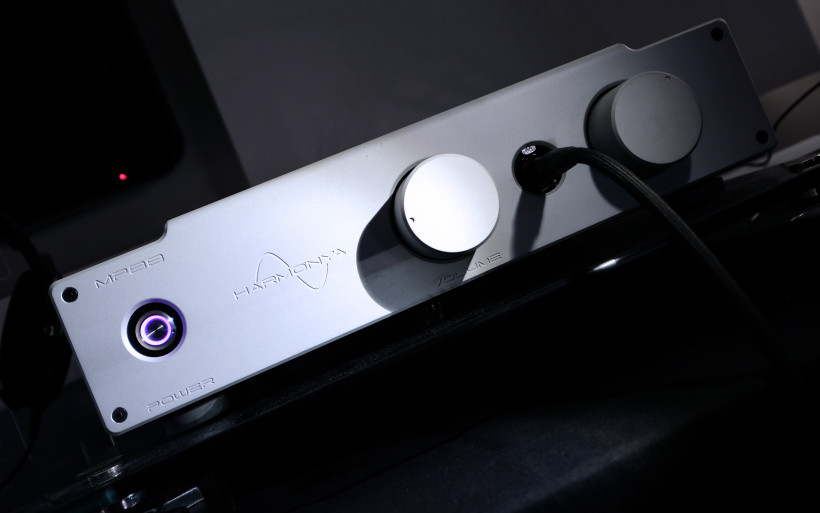 Sottovoce
Two side-mounted woofers married to a coaxial driver per one visually speedy enclosure and lack of any other associated hardware netted quite the result in a room occupied by Spanish Sottovoce company. The fully active three-way Stereo 3 floorstanders sounded promising to say the least and looked appealing. At first it was odd to see two proper speakers yet no rack full full of hardware in-between, but after a short while this seemed appealing to me. Who knows, perhaps this is how the future of our hobby looks like and Sottovoce is ahead of the curve already?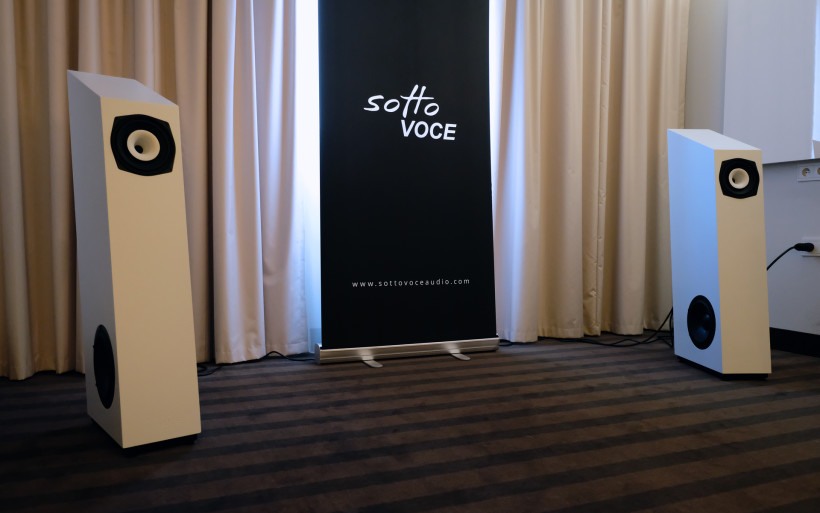 Soundaware
It's very likely that this place I'd skip if it weren't for Srajan's work published at his place far earlier. He wrote a number of interesting articles about Soundwarae's items and this was the reason why I came to say hi and introduce myself. Although I hadn't had a listen to any of this company's products, visual inspection indicated nice work and the lady responsible for PR – Lesley – had an answer ready to every question this overly investigative reporter had. Long story's short, the regular HFK take on some of Soundaware's machines should happen in the future.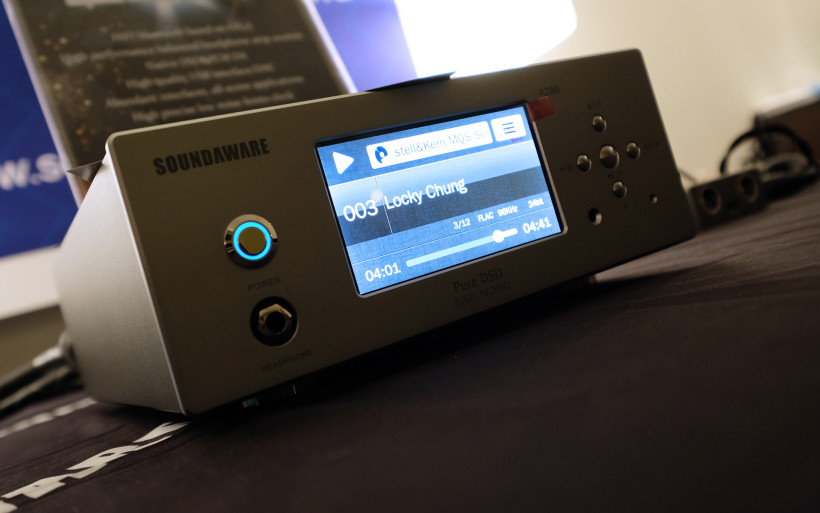 soundkaos / Bakoon
This room I looked forward to. Martin Gateley of soundkaos showcased his unusual Libération floorstanders matched with Bakoon compact AMP-13R fed via Denafrips Terminator DAC connected to an unknown streamer via I2S. Interestingly, the same integrated deck by Bakoon was married to Martin's far smaller Vox 3 boxes and the Swiss engineer could easily switch between the two. In short, this hardware provided one of the most captivating and the very best experiences this year for me. These monitors reminded me of what my Boenicke W5 have been pulling off at my flat daily for years now, but Martin's creation sounded even more organically, tangibly and openly, highly likely due to all associated hardware, that's my guess. In any case, Vox 3 is almost finished thus was off the menu for now, yet Bakoon AMP-13R and Libération are already at my place.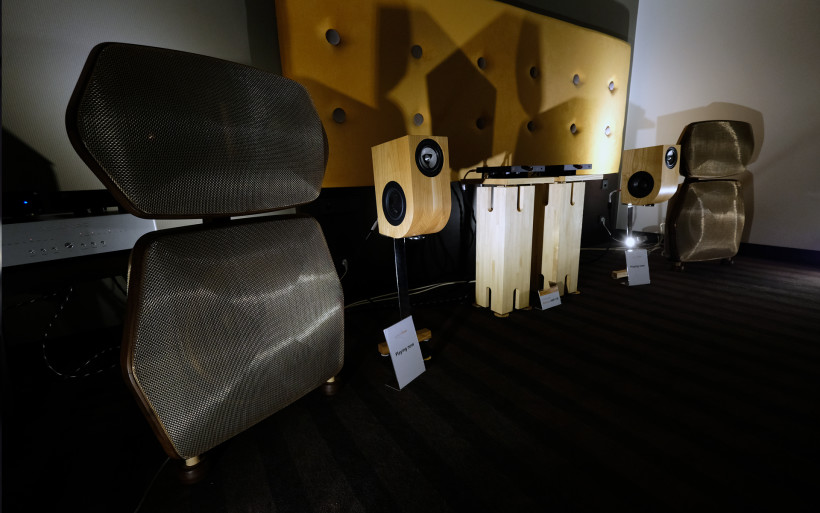 Sparkler Audio
This room I visited intrigued by petite full-range monitors visible from the hotel's hallway. Since I'm into such products, in an instant inconspicuous bells rang in my head. The setup inside indicated pure passion more than aim to sell a truckload of hardware. All goods looked very much DIY but there was something captivating about them and the result was utmost pleasant to my ears. Sparkler Audio is a small Japanese manufacture ran by Kazutoshi Tsukahara. This man worked for more than a decade for Sony as a software developer focused on CD/SACD and DVD playback. Mentally he has to be a huge fan of music and an old school designer, at least his hardware indicated so loudly and clearly. Organic tissue, joy, mid-centric voicing and in general mood related measures and potential were on the pedestal, but additionally sprinkled with a dose of openness, air and clarity. All items were priced attractively as it turned out.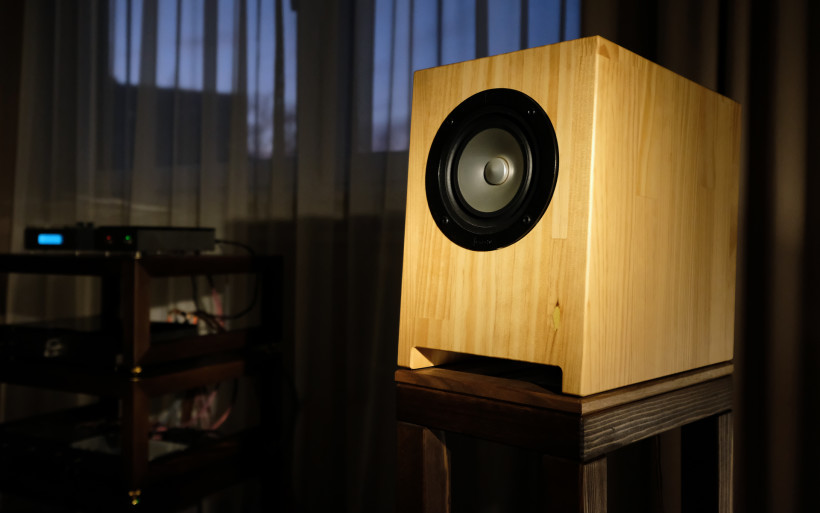 Szemis Audio Konsultant
Once more Wojtek Szemis – our local Kondo/Audio Note distributor – showcased his costly take on Snell Type A speakers, simply known as Type A-II. As per usual, Kondo On-Gaku was on duty and this time around loaded with valves by Elrog. The effect was enjoyable as per usual.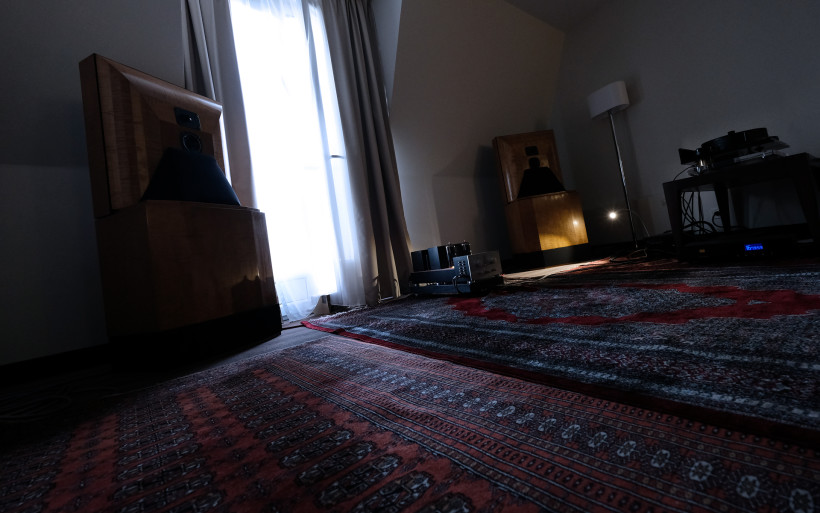 ---
Final words
And that's a wrap. Audio Video Show has always delivered a grand social experience, though in my case it has bonded naturally with business in recent years and my priorities shifted accordingly. About 80% of my total show time was spent on introductory talk or/and simply shooting the breeze with the industry people, thus in effect very little was left to wander from one room to another just to make this report any longer. That's why in spite of 170+ places reduced down to less than one third on my go-to list, not every single one previously cherry-picked I was able to visit still.
Nonetheless, that's a small price to pay for the self-imposed and very much liberating freedom from the usual show pressure. Less pictures and walk in favour of more talk filled my review timetable for several months in the process and – due to local hence utmost easy logistics – a generous number of products was delivered from the show to my place directly. That's why in the upcoming weeks you'll see a lot of the usual hard content this site is based on instead of yet another lengthy report up above. This is the most valuable upshot of my attitude this time around and – after taking into account how effective it proved to be – I strongly think that it's here to stay. 'Till next time!