High End Munich 2018 is in the past already. The event was as enjoyable as per usual, although for yours truly this year's edition was more of a social ride than anything else. Still, I was able to see a thing or two and the outcome – albeit crippled to a degree – is in front of you. Enjoy.
Foreword
This year's trip to Munich didn't go the way I hoped it would. Several not really helpful things happened, which impacted this report. First of all, this time around my annual stay in this city was shorter than it should. Mere two days long visit turned out to be far from enough to see and hear everything scheduled. The event clock was far more merciless than in previous years. This site grows nicely and so does interest in what both me and Marek do here, hence one day longer Munich trip in 2019 sounds like a solid plan. I've never been to Marriott to see the other show – HiFi Deluxe – and that's something on my bucket list too. But that's not all of it.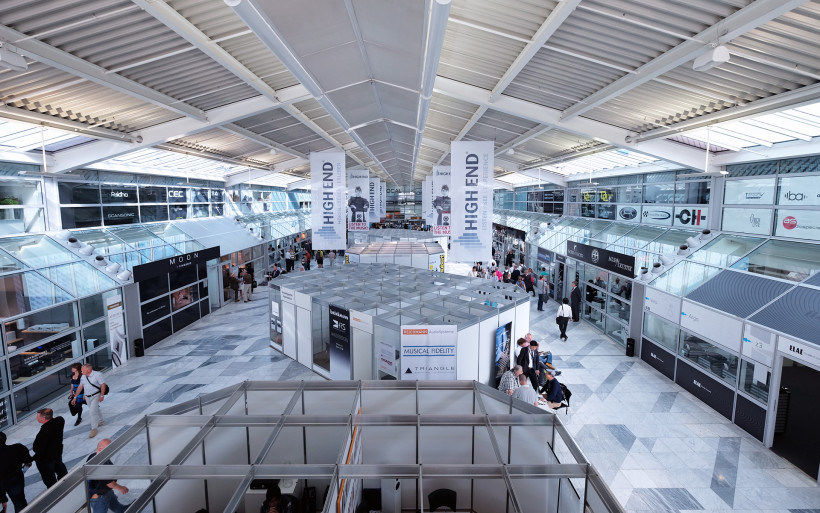 The biggest issue this year turned out to be hardware related, one of my SD cards with 300+ pictures died suddenly. Once home, the small bugger by Sandisk gave me a middle finger, which was truly unexpected. Several atrium's rooms aside, the rest is gone and there's nothing I could do about it, no recovery scheme I've tried was able to solve this issue. Still, the glass is half-full as they say, hence the decision was made to roll with content on the other card. Yes, I'm fully aware that things down below look incomplete at times, apologies. But it is what it is, some sad events are simply beyond our control. As for the show itself, it was organized to the highest standards, thus predictably pleasant. There was not a single reason to complain. Kudos to organizers – High End Society Service GmbH – for pulling it off once more. I had a blast, thank you!
Aequo Audio / LinnenberG
Aequo Audio exhibited with LinnenberG, though on the spot there were products by other manufacturers too. The former company's Stilla newcomer wasn't on, thus once more I've had a chance to listen to fabulous Ensis floorstanders instead. Ivo Linnenberg's Widor power amp is obviously more powerful and bigger in comparison to his usual and rather petite creations and it surely piqued my interest. The sound inside was very good, but then again, I suspected nothing else. Ensis is a remarkable product after all.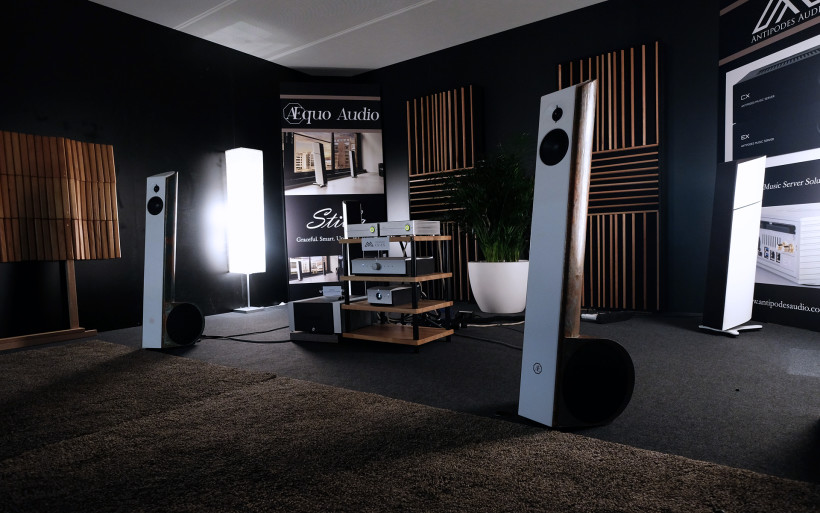 Atlas Cables
A fair bit of Atlas Cables portfolio is priced sanely and looks honest. This plus solid looking cables clad in leather, every connection hot-welded and many years in the audio game are – to me at least – reasons good enough to be interested in working with these people in the future.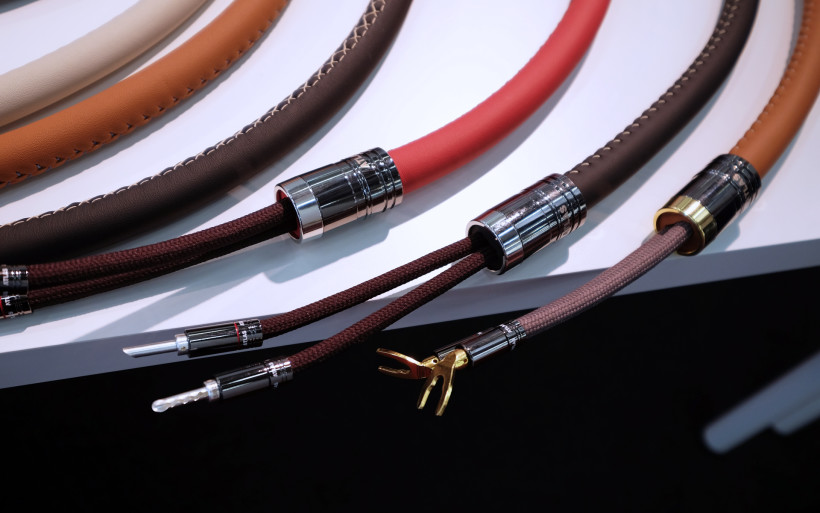 Audioplus Laboratories
Italian Audioplus Laboratories company had its own booth and the A100K mosfet power amp with very much glass alike faceplate was on when I came inside. Vintage Sonus faber monitors completed the picture.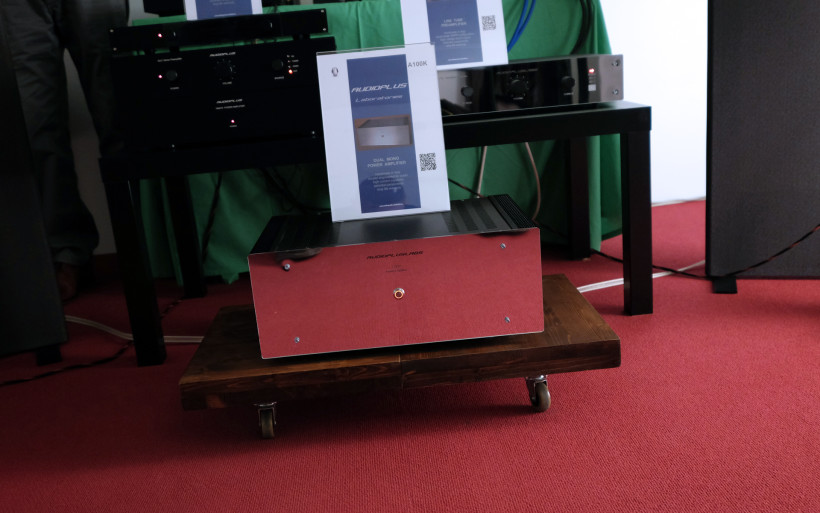 Ayon / Lumen White
One of the better rooms I've familiarized myself with this year. There's some odd and very synergistic connection between Lumen White speakers and Ayon electronics. The sound this set provides is always very open, detailed, smooth and refined with not a hint of boom or lit up attitude. A job well done, as per usual. But then again, for the coin it really should, right?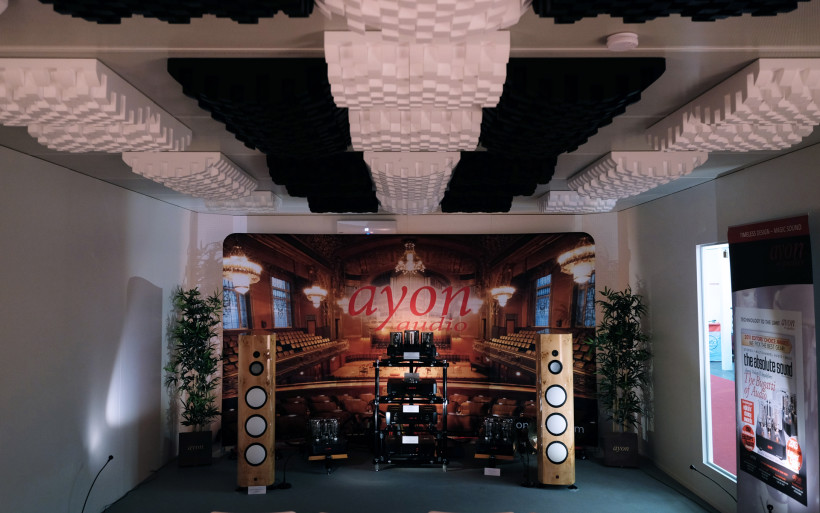 B.audio
I was told that this manufacturer exhibited one year ago in the newcomers section. This year the B.audio team decided to rent a proper booth to showcase their goods and my oh my, what a stunning lookers these are. If this company's power amp and DAC finished to the highest standards perform at least half as good as they look, we'll have a treat. Even though these machines were silent, I'd gladly have 'em at my place for a test drive.
Bayz Audio / SB Acoustics
That odd shape on the picture down below is not a part of a bathroom, but a rather unusual omnidirectional floorstander known as Courante by company Bayz Audio. It's based on SB Acoustics drivers and very expensive, though Srajan already wrote that it sounded very promising.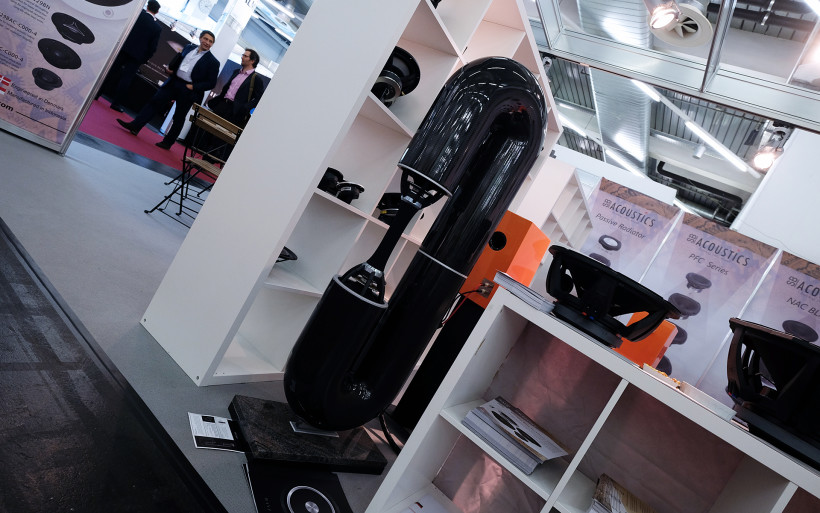 Black Cat Cables
Chris Sommovigo himself exhibited in a booth somewhere between M.O.C.'s halls 2nd and 3rd. He showcased his affordable Black Cat Cables loom. These ordinarily looking leashes are said to be great performers. No surprise there, Chris is a very well-known and respected cable maker. Time will tell whether I'll have an opportunity to find out what's what for myself.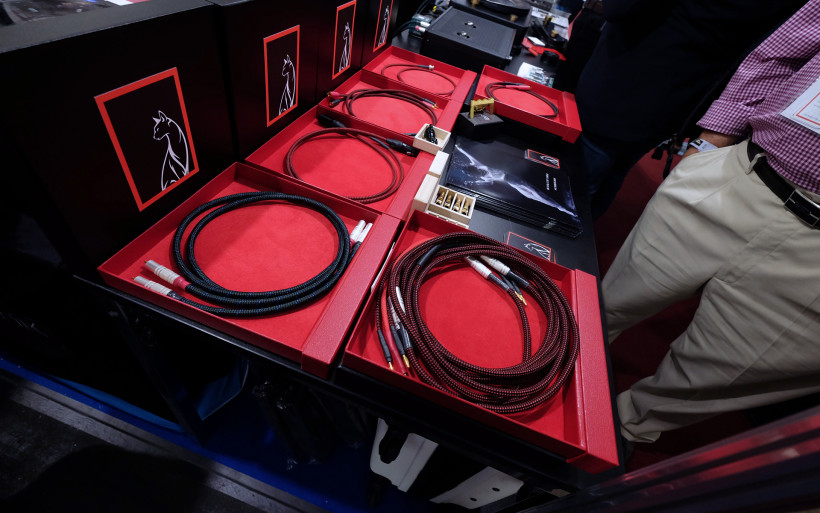 Boenicke Audio
Although nothing new I've seen at Sven Boenicke's room this year, I always like to visit him, kick back and relax. At his place the smallest W5 monitors and the biggest W13 floorstanders sang alternately and this kind of performance is something I'll probably never have enough of. Plus, the word is that one Swiss package is heading my way.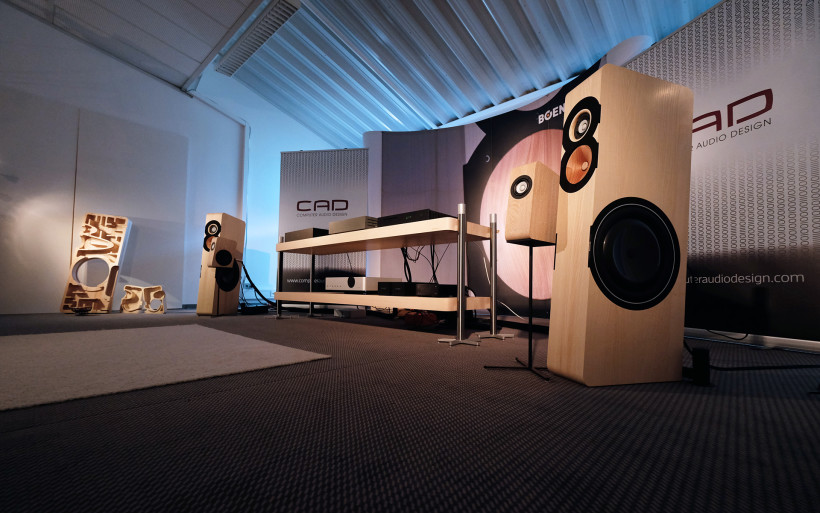 COS Engineering / Lu Kang Audio
Stephen Gong of COS Engineering showcased this company's complete portfolio. I was happy to see him as I honestly think that those fantastic small boxes manufactured to the highest standards should be far more known than they currently are. Also, interesting Lu Kang Audio Spoey200 bookshelf monitors were exhibited and I look forward to hearing these at my place. Mortal Kombat, anyone?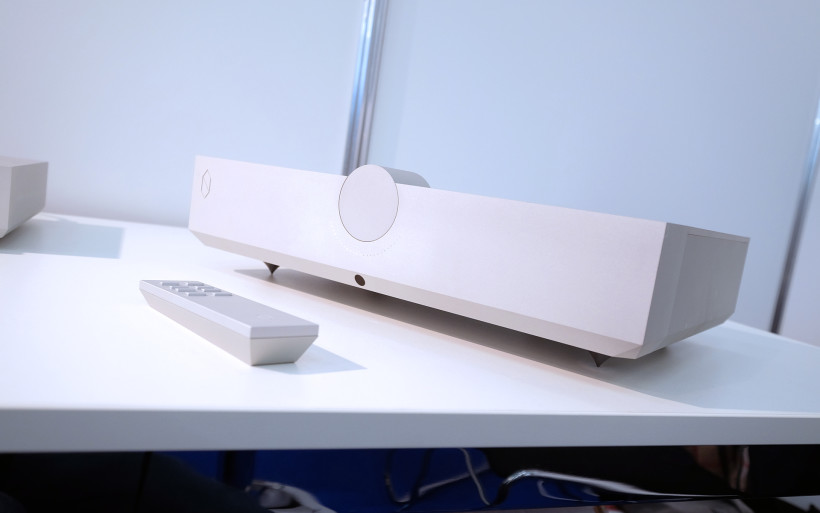 Crystal Cable
The Crystal Cable room was a very short stop for me, just prior to leaving M.O.C. for good. Still, I was able to capture finely looking Minissimo monitors in their natural habitat, namely at work with the usual cable suspects by the same manufacturer. Onto my personal bucket list all these go.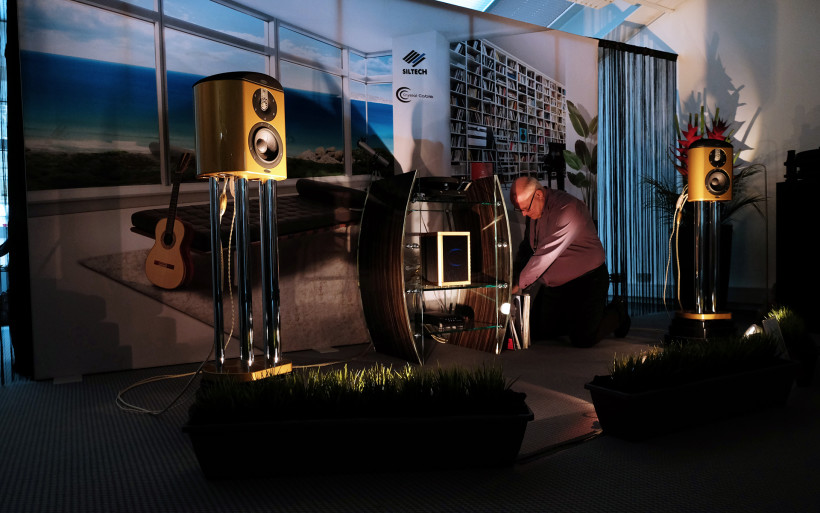 Ecobox
High End Munich 2018 was the very first German rodeo for Ecobox from Bulgaria. I've reviewed its A Priori floorstanders and liked 'em, thus was happy to see these again out in the open as this company's main man – Svetoslav – decided to roll with a rather large area somewhere in hall three. A very big Amethist full-range hybrid speakers were showcased and so was Svetoslav's matching Revox revival project – a vintage reel-to-reel deck fitted into a nicely curved wooden stand.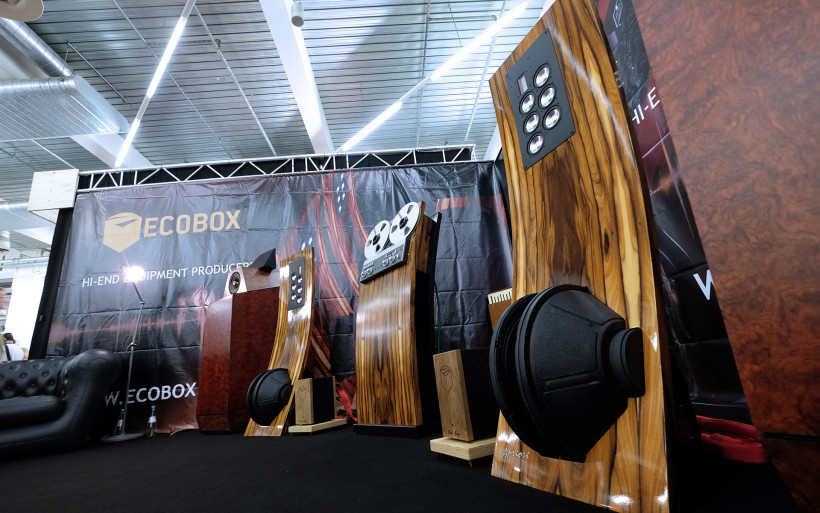 Fidata / Re · Leaf
Fidata exhibited in Munich for the very first time, but with a very nicely looking booth. This company's servers/streamers were showcased and so was its CD ripper. But what piqued my utmost interest was a current driven headphone amp known as E1R by Japanese Re · Leaf company. This 10 kg brick looked very posh, though its price of $50'000 sounded like an insult. After a short chat with Iwahashi-San, it quickly turned out that this product is meant for people very much into collecting expensive stuff. Is there anything else to it? I can't say, though highly doubt it and am in no rush to find out. Let me stress this again: $50'000. For a headphone amp. That's not even remotely funny.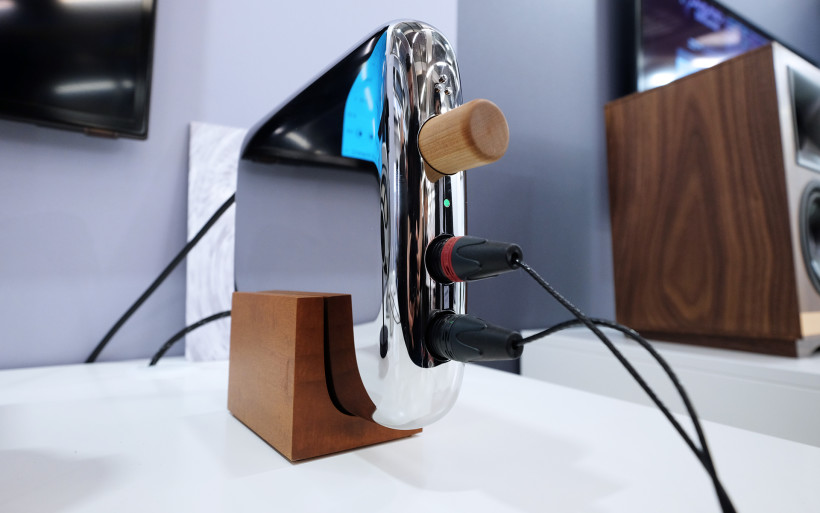 Franco Serblin
I've never heard any of Franco Serblin's products in well known environment, though I'm a sucker for their looks. This is how high end should look like and gorgeous Lignea petites are something I'd like to have just for the sake of admiring their visuals. Incredible form and asking price on the sane level. When I came by, Ktema floorstanders married to Accuphase were on, though Ligneas were all that mattered to me in this room.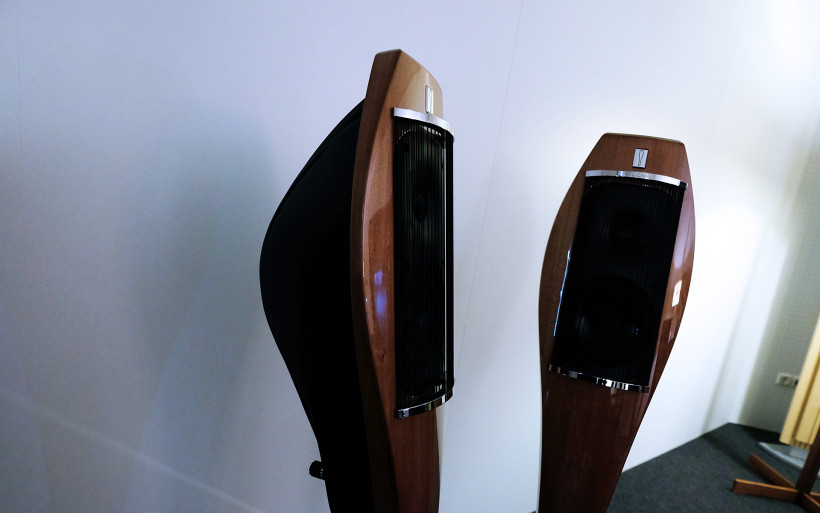 Goldmund
To pass by Goldmund's booth and not to take at least one photo of this manufacture's floorstanders is a crime. Just take a look at 'em. Visuals of this unique sort were to be found only at this Swiss place somewhere in hall four. This surely isn't a 'me too' product. I keep my fingers crossed that next year I'll be able to meet Goldmund's main designer. She was there.
Grimm Audio
Grimm Audio marked its presence in the audio realm via LS1be speakers. I've read about this unusual performer a good while ago, I've heard it once or twice yet this time around I stopped by for a proper listen. It was not wasted at all. When I came, Rammstein was on and the sound was top notch; open, vivid, punchy, smooth and very present. For the coin it should (€29'750/pr), that's one thing. But, along with i.e. Aequo Audio Ensis, LS1be represents a very well-done and exceptional alternative for regular setups. This peculiar product showed me that someone meant serious business and knew how to execute it. There was no coincidence in there, at least I honestly didn't think so. Needless to say, I left the place very impressed.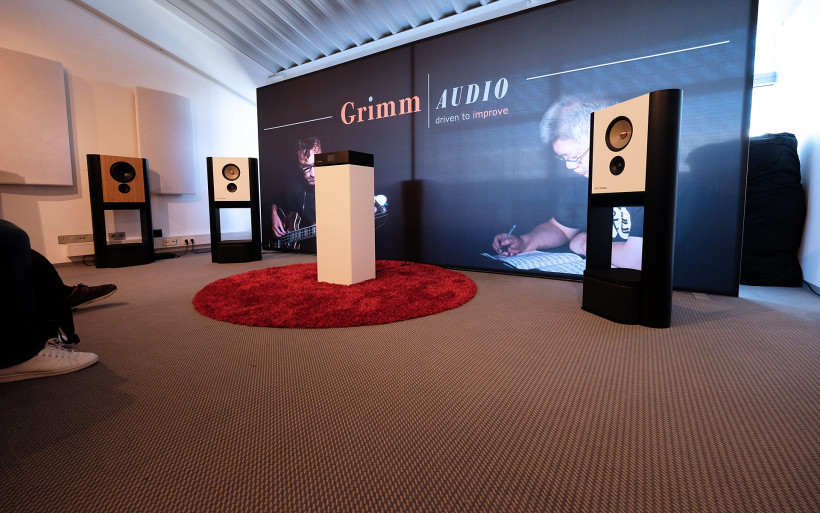 Hegel / KEF
Whenever I see KEF Blade, I always stop for a second. There are several things in these speakers I thoroughly enjoy. Their performance is always at least respectable, visuals are very much unique and the sensation of being different is always there as well. Blades married to Hegel's upcoming H590 super integrated sounded openly, feisty and enjoyably in general. KEFs very popular LS50 finished in cyberpunk alike fashion looked great too.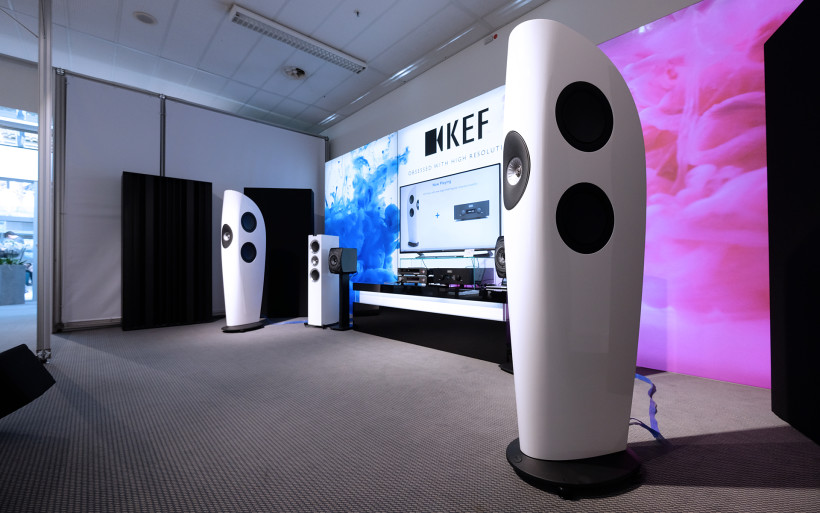 HiBy
I've read about HiBy R6 many times as there's a substantial group of reviewers very much into this DAP. Hence when I saw HiBy booth at M.O.C. the decision was made to go and check the product for myself. Well, initial observations were very positive. The product turned out to be very fast, built to the highest standards and in general outgrew my limited expectations. If Astell&Kern would've developed a DAP like this, its ask would've been far heavier. Yes, R6 is affordable, $649 seems to be justified in 100%. HiBy's R3 was showcased as well and this crowd-funded petite critter also looks very promising. Needless to say, I left my card very interested.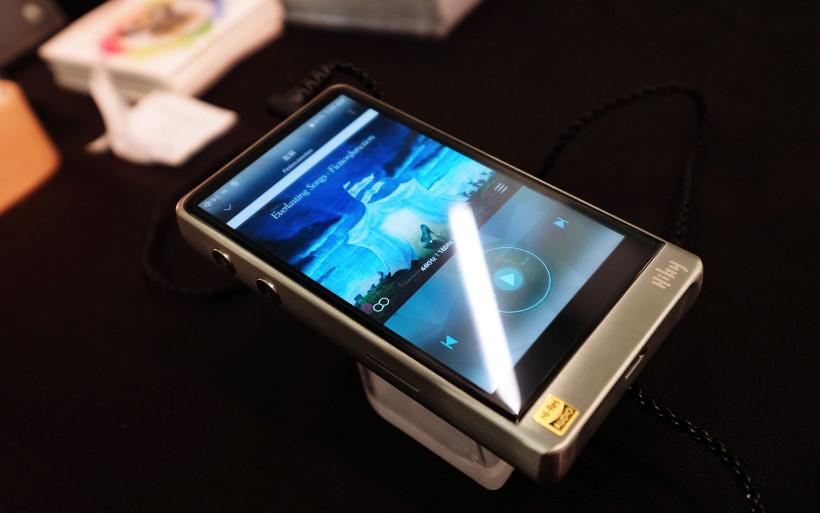 Höffner
Höffner Audiosysteme booth was empty when I passed by, thus it was a perfect opportunity to witness goods inside uninterrupted. Speakers found there were a three-way affair in sealed enclosure made of Corian. The sound was fast, open and spacious, though it was hard to tell whether it was worth mid five figures ask. Markus Höffner turned out to be a nice man with his heart in the right place, thus I gave the man several advices, wished him all the best and moved on.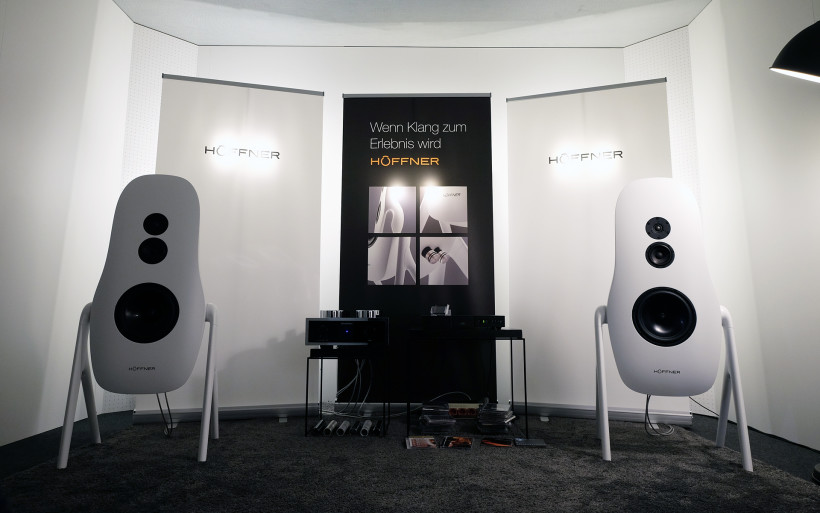 iFi audio
iFi audio booth was to be found in the usual place, namely inside its German distributor's room – WOD Audio. iFi audio showcased the full Pro stack; Pro iESL, Pro iCAN and upcoming Pro iDSD. This tower of power fed Final's D8000 planars and the outcome was very impressive. A bit further to the right, iFi 's upcoming no-compromise speaker was on display as well, but English reps kept their mouths shut. Fair enough. Later on, at this manufacturer's dinner it turned out that said product will have some innards from Pro iDSD and in general is going to be a statement item.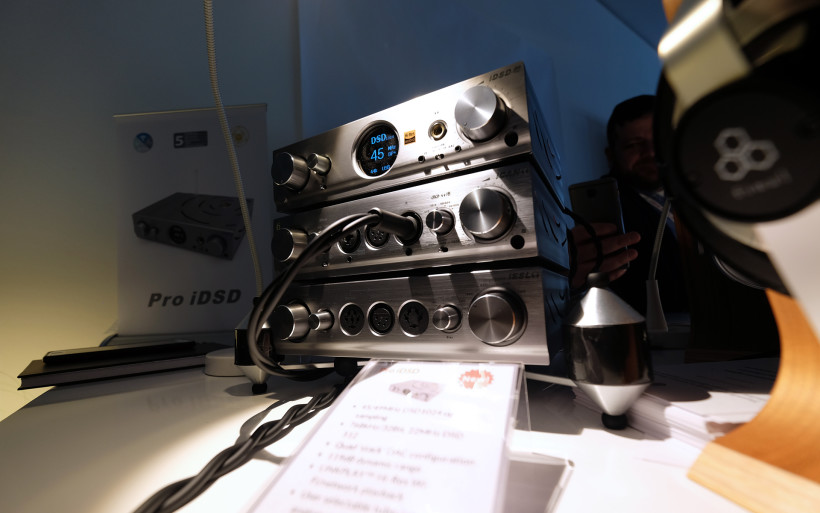 Kii Audio
I went to Kii Audio room prepared to be blown away by its Kii 3 monitors augmented by bass modules, yet it didn't happen. The sound was perfectly fine, though seemed to be on the analytical and cold side. Too much in fact for this reporter. I sat in there for a number of songs, this attitude didn't change, several shots of exceptionally nicely looking product were taken and once all this was done, I was on my way.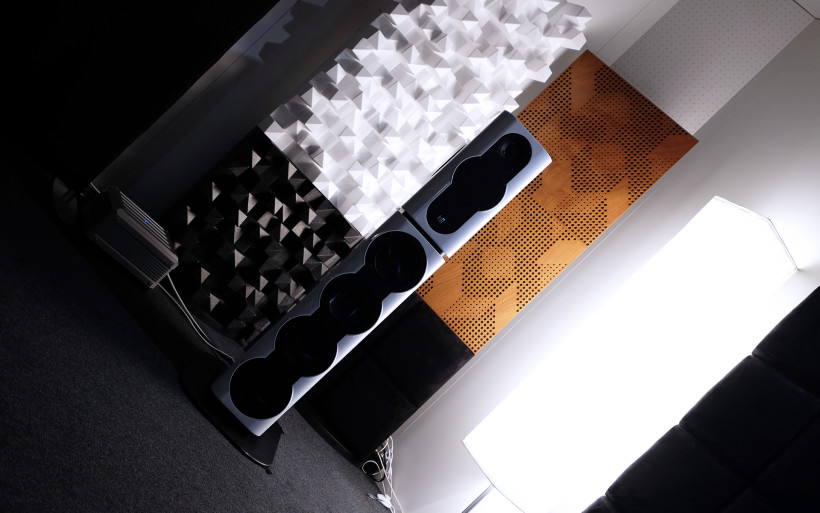 Little Zoe
The LittleZoe team was found in the newcomers section at M.O.C. Sylvia Ritsoni and Dimitris Karayiannis were on duty to explain what their very much alive and curvaceous amplifier – LittleZoe – really is. Dimitris surely knew how to introduce his amp in the right way. The angle here was the marriage of quality components and clever EL84 based circuitry to a very rigid enclosure, which took this man two years to develop. I was informed that he found a very promising resin, though had to learn the hard way how to master it in order to manufacture an enclosure exceptionally resilient to vibrations, which then morphed into the screws-free affair. First 20 units of LittleZoe will be sold for introductory price of €9'000 to then get back to €14'000 ask. Although beyond my scope, this white beauty seems to be a very interesting product.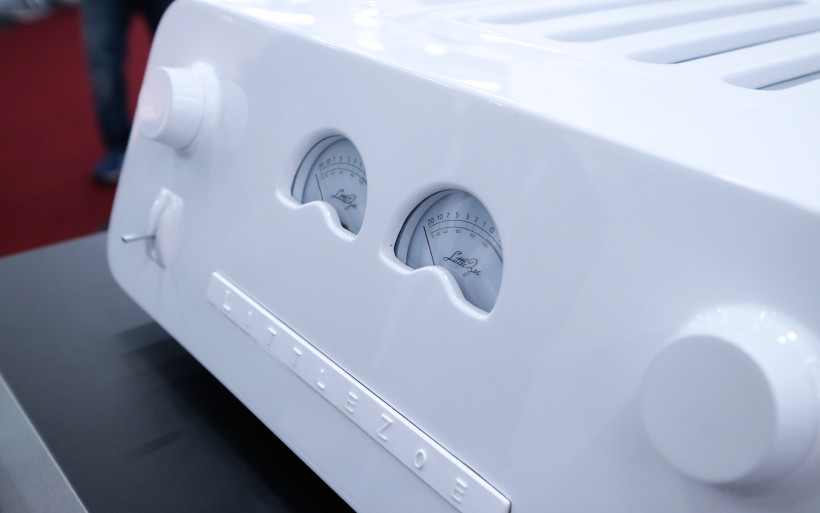 Lumin / Westminster Lab
This year Lumin exhibited with the usual suspect – Vivid Audio. I came to the place to take a look at the former company's top of the line Lumin X1 network streamer and a new power amplifier. The pair was at work together, looked very nicely and the outcome with said speakers was impressive. I wondered back then how much very pricey Westminster Lab cables contributed to this effect… Alright, I admit it, this wasn't even funny.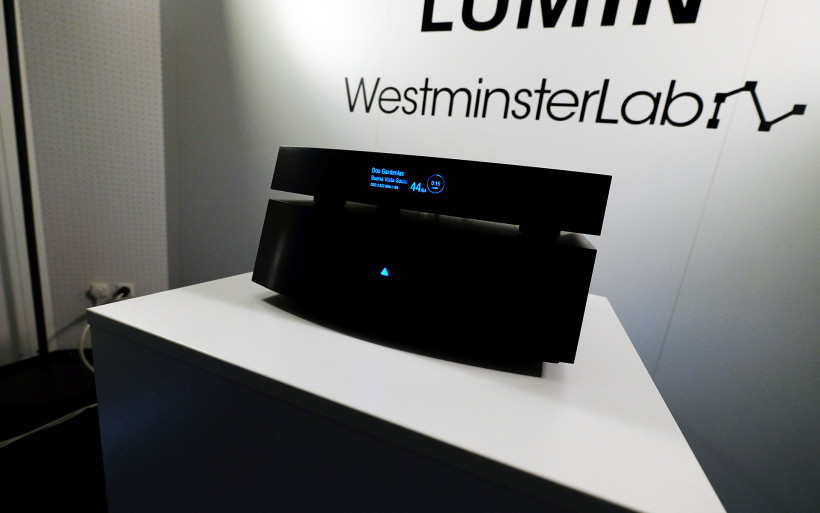 Luna Cables
Reinhard Thöress pointed me towards Luna Cables as he found them very good. If it wasn't for his input, these Canadian products would've probably remained beyond my scope. Sanely priced, nicely looking orange performers used in said German gent's rig are something I'd like to try in my setup. Who knows, perhaps it'll happen in the not-so-distant future.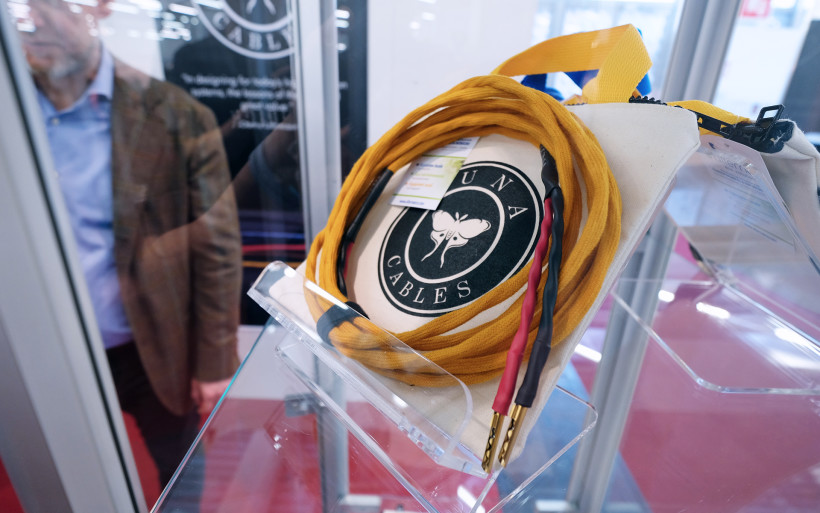 Metrum Acoustic
Even though there's virtually no chance that any Metrum Acoustic review will happen at this very site, to take at least two pictures of this company's products is something I simply had to do. Once this was sorted, I moved on.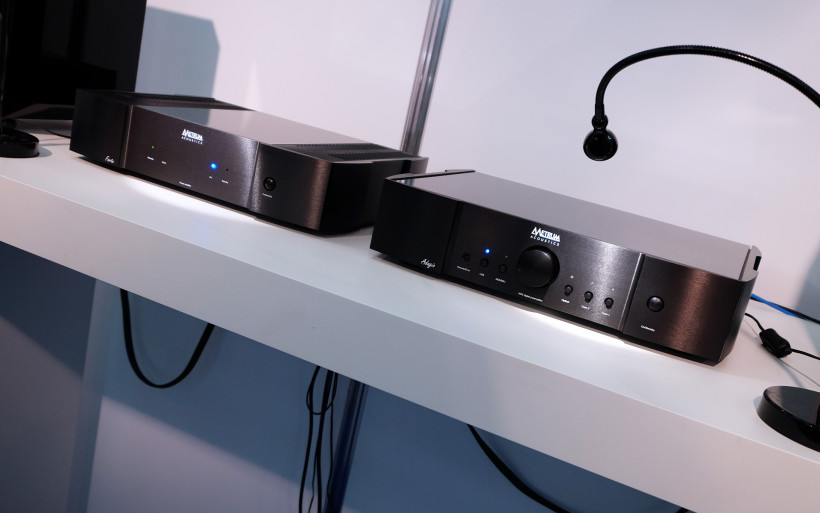 Meze
When I visited the Meze room eager to listen to this company's new flagship, all seats were taken. The rush mode was on, one of listeners inside kindly allowed me to take several shots and shortly after I was on my way.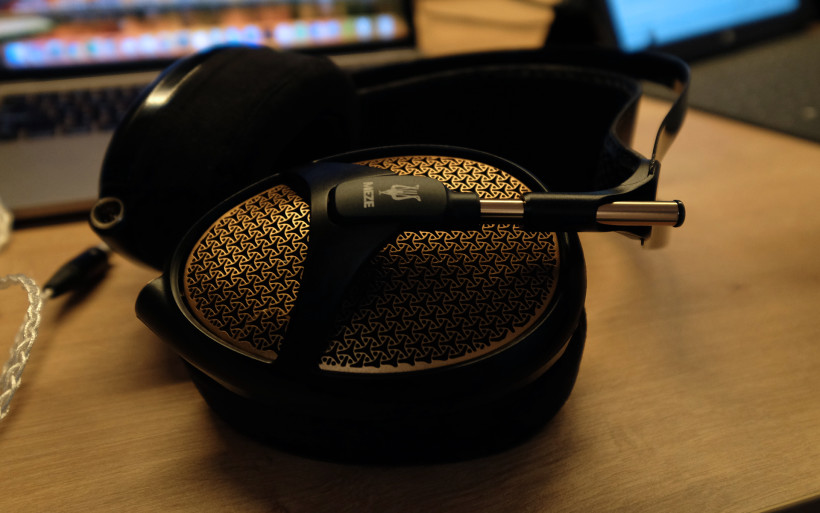 Norma Audio
Italian Norma Audio is one of those brands that – to me at least – crafts very impressive hardware. Not shy of their machines' innards, the Norma guys showcased 'em proudly and rightfully so, please take a look down below.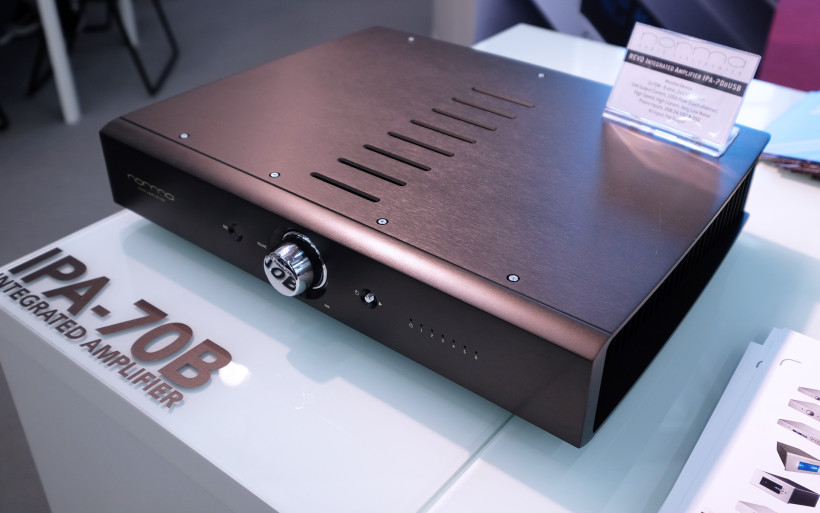 Pass Labs
Pass Labs hardware I've seen in a number of rooms, i.e. with Magico and Paradigm speakers. But the most impressive out of all these was the one with Emm Labs, Shunyata Research and Wilson Audio. Free from any acoustic treatment, it delivered very respectable performance. I'm not sure how many people would agree with me here, but there's something very honest and direct about Pass Labs hardware. On a side note, this company will guest at HFK soon, stay tuned.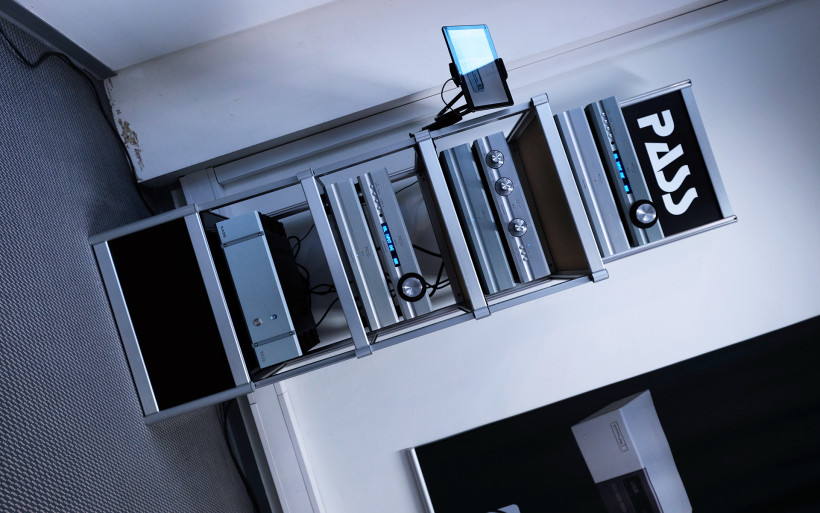 Riviera Audio Lab
Srajan's review pointed me towards the Riviera Audio Lab booth. And since this company exhibited out in the open in one of four M.O.C.'s halls, it was very convenient to come by, say hello, talk and take some shots of its exceptionally finely assembled devices. I was told that these 30wpc+ amps can handle my Boenicke W8. Well, can they? This remains to be seen, my card was left in hands of a very nice Italian.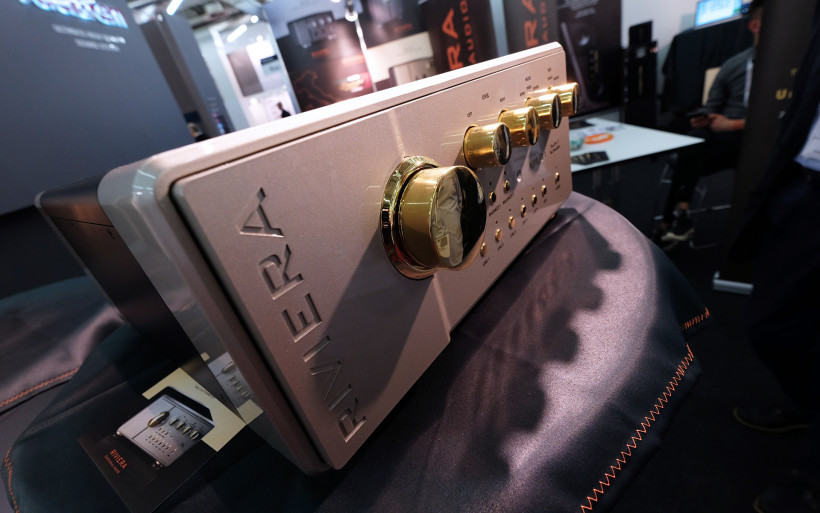 Sveda Audio / LampizatOr / Acoustic Manufacture
The Sveda Audio / LampizatOr open space was more of a place for social meetings than anything else, which is perfectly fine if someone asks me. Eunice Kron didn't make it, hence the KR Audio space was left empty. As for Pacific DAC, I'm torn apart. When all clean and dust free, this machine looks awesome, true that. Though it goes rather without saying that its enclosure is a finger magnet, very potent in displaying even tiniest scratches. Soon I'll know what's what as my unit is almost ready. And I'm familiar with no other hardware which would look like this. Łukasz surely knows how to distinguish his stuff. As for Sveda Audio's pimped white Blipo, these are scheduled and honestly I can't wait. This company's basic no-frills version blew me away and Arek Szweda told me that his newcomer is far better.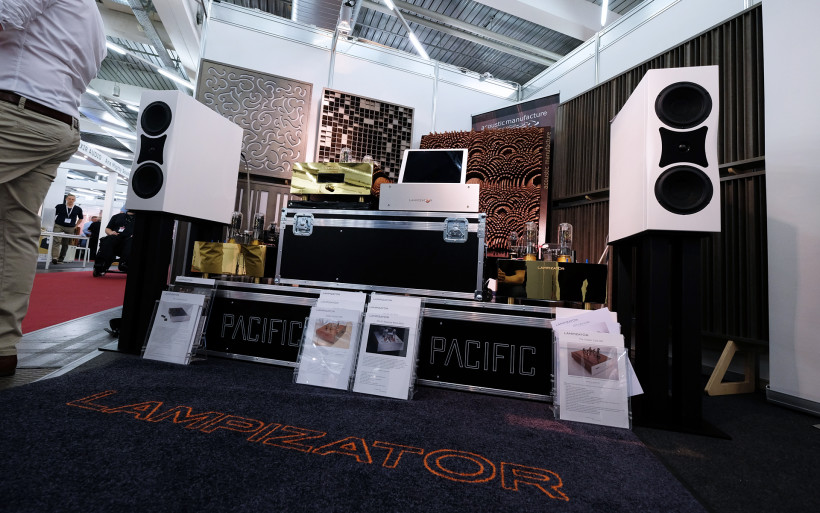 Telos
Telos is one of those brands I always visit because of two reasons; exceptionally nicely made enclosures and lots of Duelund capacitors inside. Yup, this will do it for me. Now the only thing that remains to be seen is these machines' input. Needless to say, my card was left at Telos booth.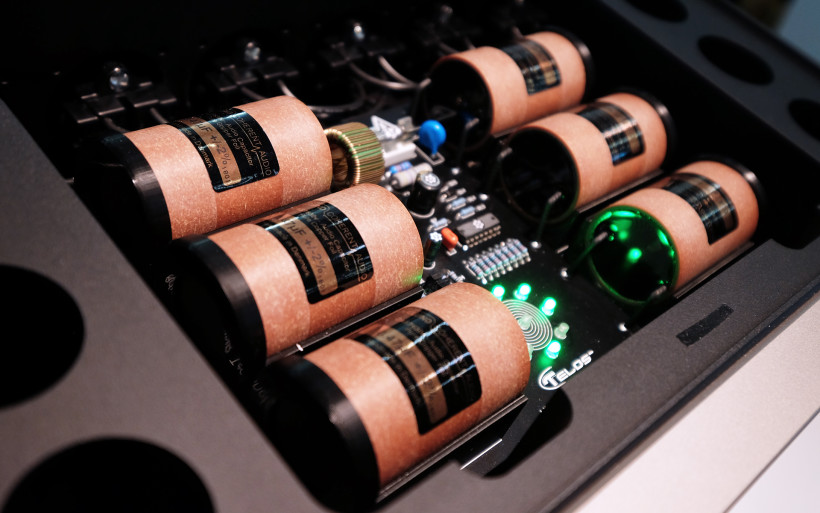 The Bit
The Bit is a company well-known in the head-fi realm exclusively because of its affordable DAPs said to have generous price-to-performance ratio. I'm not saying 'no', though fit'n'finish seemed a bit tacky. But then again, maybe my expectations were too high past what I've seen at HiBy booth?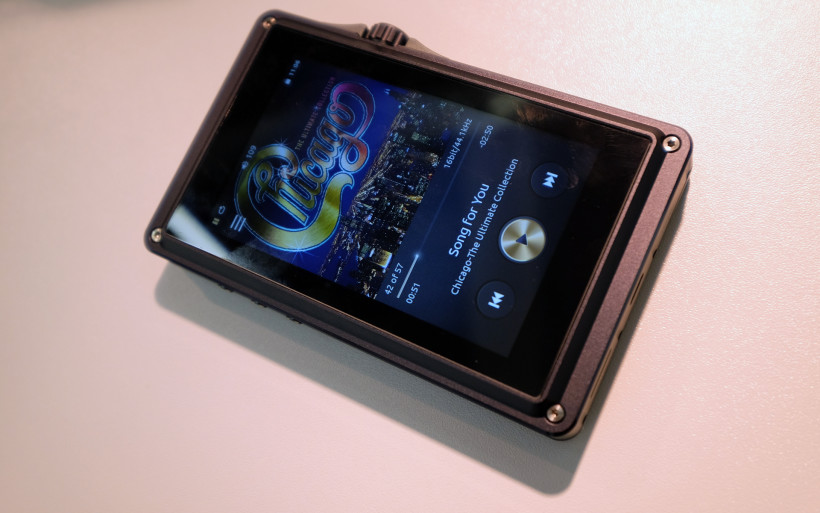 Thöress/ Ictra
I've expressed more than once that what Reinhard Thöress does rings all my subjective bells in the right way and this time around it was no different. The setup inside of a small yet pleasant booth consisted of his hardware and speakers, a rack by Ictra manufacture, Luna Audio Orange cables and a turntable I'm not familiar with netted an outcome open, spacious, vivid, dynamic and exceptionally present with no boom or sharpness at all. If I had to name my top picks of this year's High End event, this room would've easily been one of them. Ah, I almost forgot, Polish Acoustic Manufacture's room treatment surely helped too.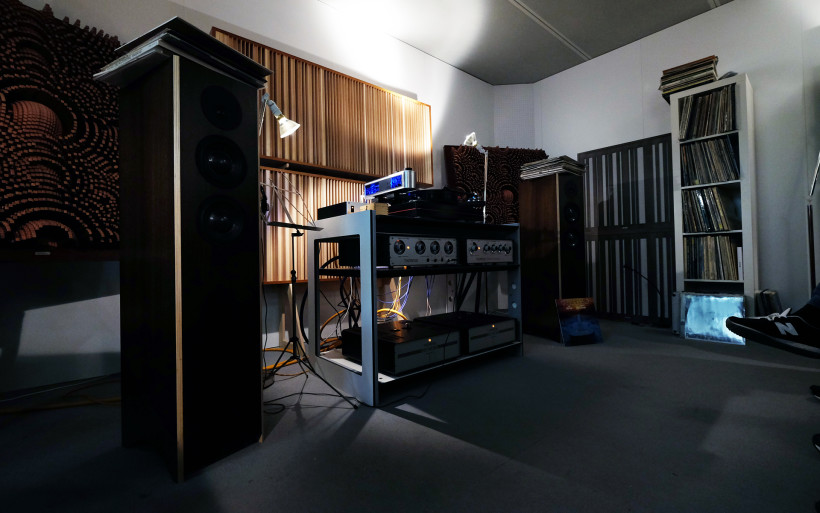 TotalDac
Vincent Brient of TotalDac took a lot of hardware with him to Munich. To name just crucial components, his d1-server and reclocker fed d1-twelve DAC, which passed signal to the man's d1-driver preamp. Then Absolare 845 monos loaded with Elrog tubes took over and handled Vincent's d150 horns supported via subs. The outcome was impressive to say the least and the TotalDac's main man was fortunate enough to secure a room adjusted for audio purposes, which surely elevated the experience. Nicely done, sir. Really nicely done.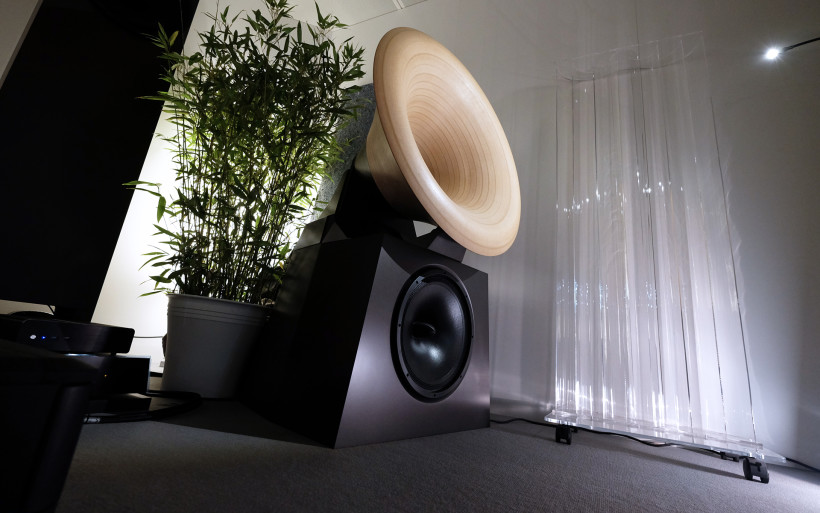 Vision Ears
Vision Ears is one of my favourite CIEM (custom in-ear monitor) brands, I've been using their VE5 model for several years with not a single issue. Potential customers could have their ear impressions made on the spot in order to speed up the manufacturing process, which became the industry standard. But the most interesting product to yours truly was an universal monitor with 13 drivers per side and of €4'200 ask. Now that's a statement product I'd gladly listen to.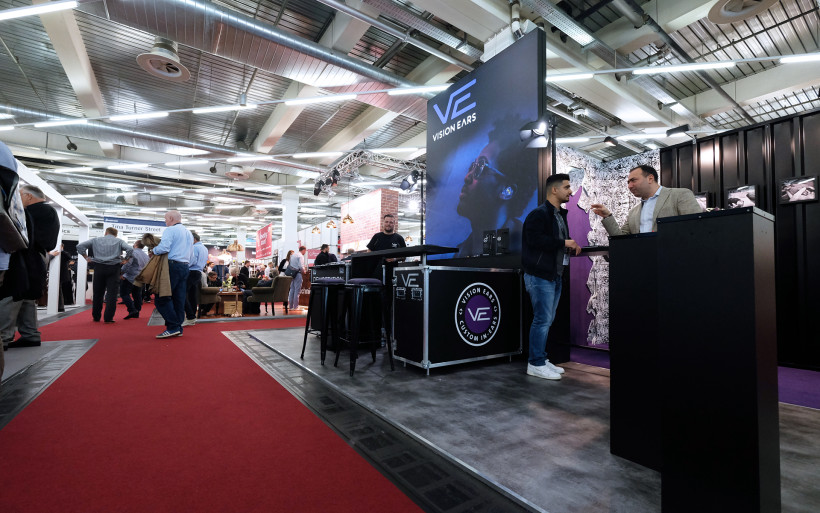 Voxativ
The Voxativ room looked and sounded as per usual, to my ears very good. I was in rush, hence able to listen only for several minutes but this was sufficient enough to say that sound lively, open and smooth was on. I couldn't say whether new Ampeggio X was singing or one of my all time favourite speakers – the 9.87. It doesn't matter, on the contrary to the fact that Voxativ people know how to assemble a setup capable of such an outcome. Nicely done.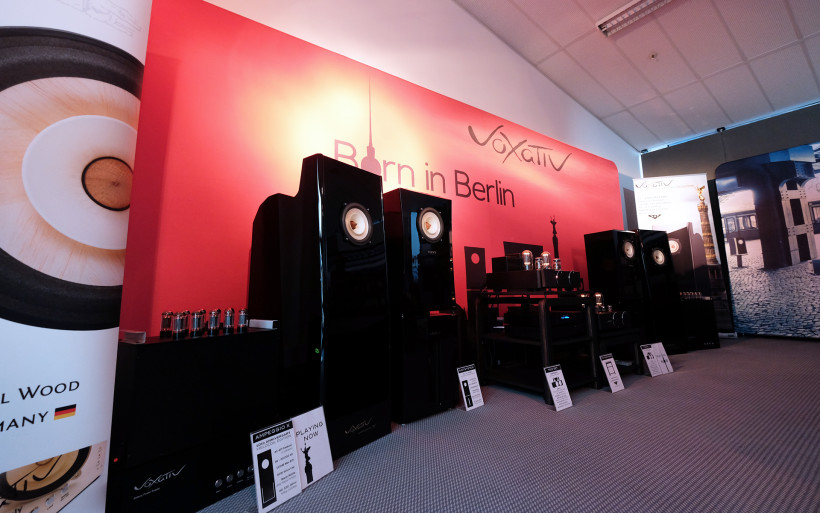 Summary
And that's a wrap. Apologies to all manufacturers I visited yet wasn't able to showcase in this report. As I've explained, some things were above me this year. See you in 2019 or in Warsaw in November. 'Till next time!