High End Munich 2019 is in the past already. It was as enjoyable as per usual and now's the time to show what interested me the most. Enjoy!
Acoustic Manufacture
Cezary Woś of Acoustic Manufacture showcased his goods in several locations this year. Among other items, the biggest of his diffusers – Skyscrapper – is always a sight to be seen and hopefully photos in this material show it in full glory properly. Reinhard Thöress told me that Cezary's items solved many problems in their room. Knowing the former, he wouldn't incorporate them if they weren't effective.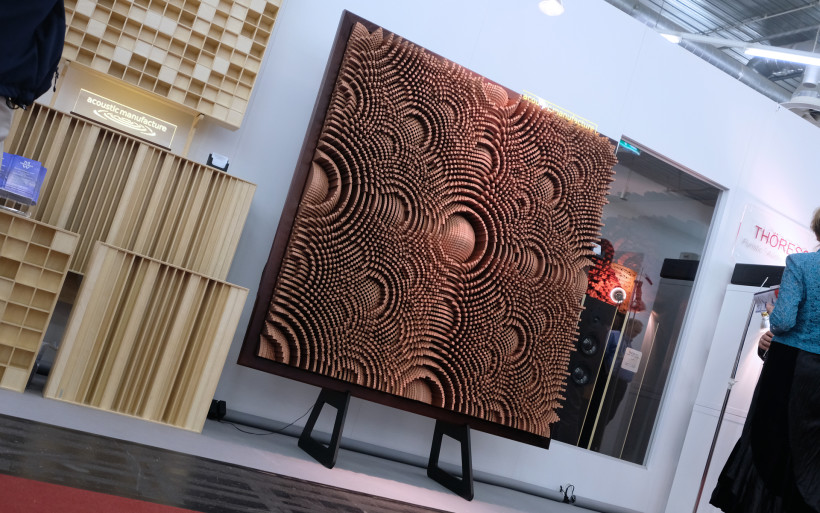 Aretai Audio
This year's Munich trip allowed me to visit the HifiDeluxe venue for the very first time. Even though my schedule was tight, I was able to see several rooms and the one occupied by young Aretai audio house was the first one. Its Contra statement floorstanders on duty inside ticked two mandatory checkboxes; neither they were boomy nor shouty, but that's all I have. The product's ask is mid five figures and its 130kg weight doesn't make things any easier.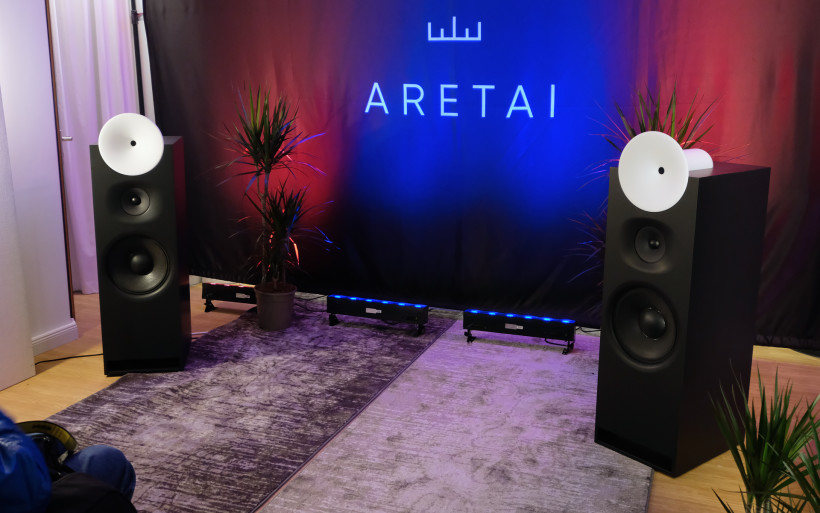 Audiodinamica
Small form factor? Check. Reasonable price? Check. Quality finish? Different colour schemes available? Check and check. Two petite mono amps and a suitable line stage found in the Audiodinamica booth were what truly sold me on the Italian way. This modern minimalistic threesome looked really good and felt simply right. The company's representative also had every info I was after at that time. The man swiftly stripped it from marketing fluff, which I've heard far more times than I'd like to, so good for the Italian team.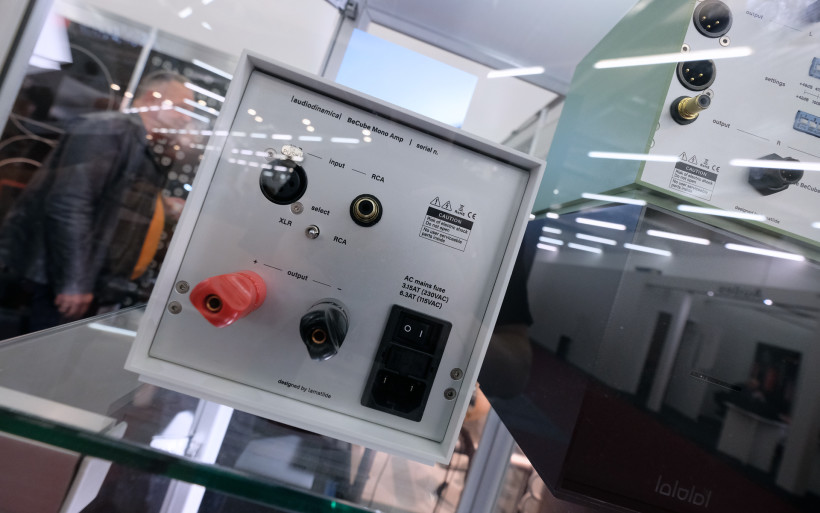 Ayon / Lumen White
As per usual, Gerhard Hirt of Ayon was found on duty in the same exact location as one year ago and seeing him there made my life this much easier. Conditions at MOC's halls are challenging to say the least, but the man proved me yet again that he knows how to make the best out of this space. Ayon's room was of top quality on mood, visual and performance counts. Lumen White Kyara sported remarkably deep and perfectly controlled bass, which repertoire based on cellos extracted potently enough to remember it very well. Everything above was very enjoyable as well.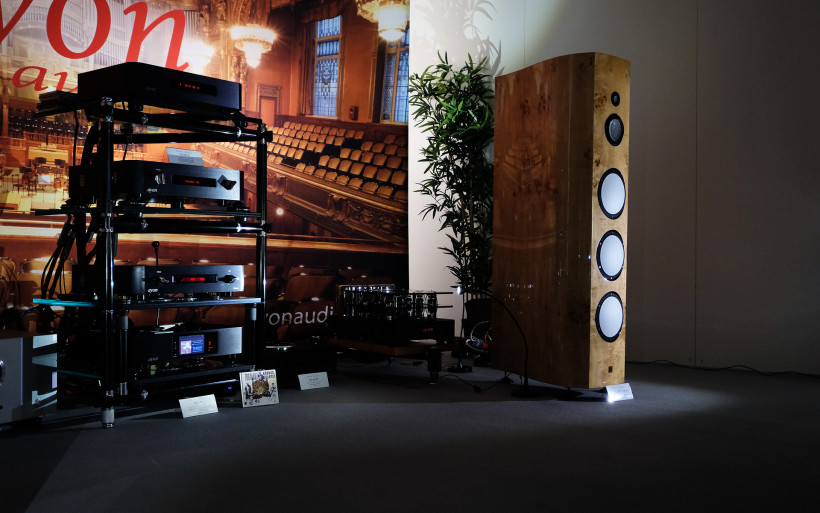 B.audio
The French operation exhibited for the third time this year. All three Bermann gents were there; brothers Sébastien and Cédric and their father Gérard. I was informed that B.audio's power amp is nearly ready and I look forward to it, but most importantly this company's B.dac got a substantially more affordable sibling. The new machine looked identical, all changes happened inside. To scale down like so and not up I consider as a smart marketing decision.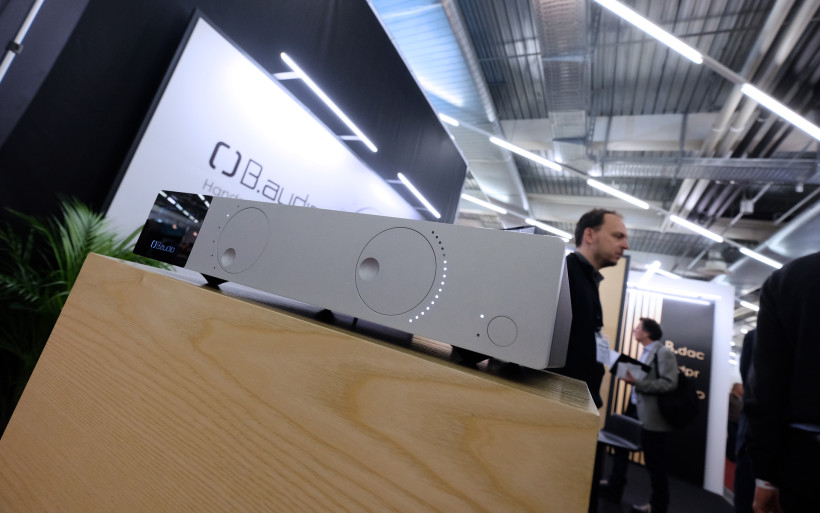 Bayz Audio
This particular company was on my radar since the early 2018. Back then Srajan's writing already covered who Zoltán Bay is, what he does and why is it so unique. The Bayz Audio room at HifiDeluxe was one of the two reasons why I visited this place in the first place and it didn't disappoint, on the contrary. Although my stay in there was very short, I collected enough sonic and visual evidence to be now very interested in the smaller Courante model. Such a unique sight one doesn't see every other day, that's for sure.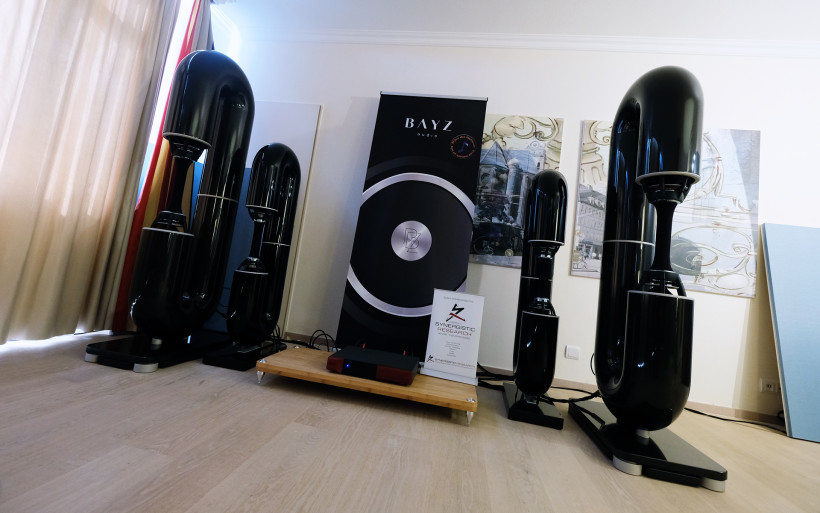 Boenicke Audio
This time around Sven Boenicke concocted a setup almost exclusively based on his goods. W11SE floorstanders fed via the man's latest integrated amp and the C2 dac netted result which to my ears was sonically the best one of all Boenicke presentations I auditioned. That's not the most interesting bit though, his d/a machine ran entirely on LiFePo batteries, namely off the grid. The poker-faced Swiss explained that this NOS affair draws about 1W and can go without recharge… for four weeks. Ain't that something? All items which needed power were connected to Sven's new power line strip with a number of cords fixed to it. This wooden block, interconnects and speaker cables were all based on Louis Motek's LessLoss tech, the two gents have known each other for years. I'll let you in on a little secret, one of Boenicke Audio's latest portfolio additions traveled to Poland right after the show and is already at my place. It's far too early to reveal which one is it exactly, however it behaves itself very nicely.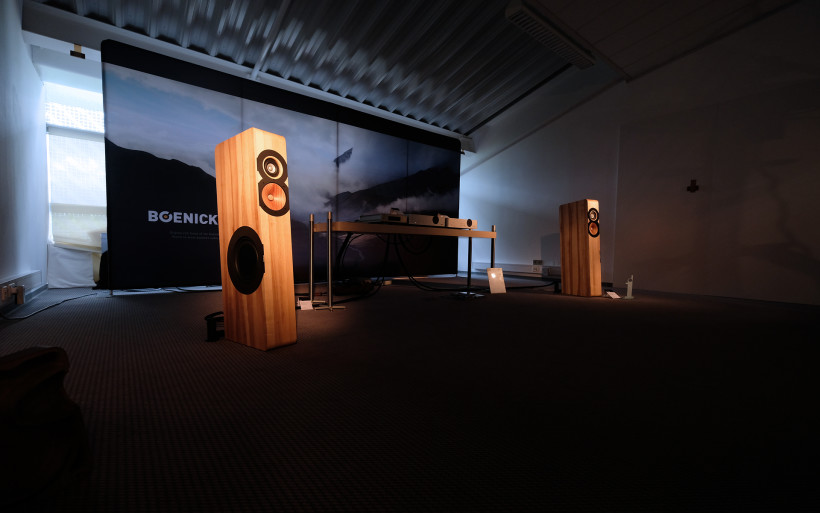 CAD / Franc Audio Accessories / Verity Audio
This room was on my go-to list due to several reasons. Scott Berry and his wife usually were found in Sven Boenicke's room, but this time around they secured their own space. CAD's DAC and transport were on duty and so were Scott's grounding boxes plus one grounding conditioner known as GC-R Reference. Engström Arno was the amp on duty. Paweł Skulimowski of Franc Audio Accesories provided his golden power line filter and 3+1 wood block rack finished in chrome. I've been using furniture of the same sort at my own place and couldn't be any happier. Bibacord cables connected all listed hardware. And lastly, Verity Audio Sarastro IIS floorstanders. One British engineer I respect encouraged me to audition this company's products in more than one location and talk to its vice president Julien Pelchat, which I did later on.
Cube Audio
All I could see shortly past visiting this room were faces of people in disbelief; "shocking!", "stupid good!", "how is it possible?!?"… and so on so forth. Cube Audio's Grzegorz Rulka clearly had the time of his life in there and so did I. We both knew what was on, on the contrary to enthusiasts into full-range drivers and various transmission line alike plots. Simply put, most of them aren't quite used to what the  Nenuphar model of this specific breed did, and married to hardware by Tektron and LampizatOr, it did pretty much everything. Of all rooms I auditioned, this was one of the very best ones.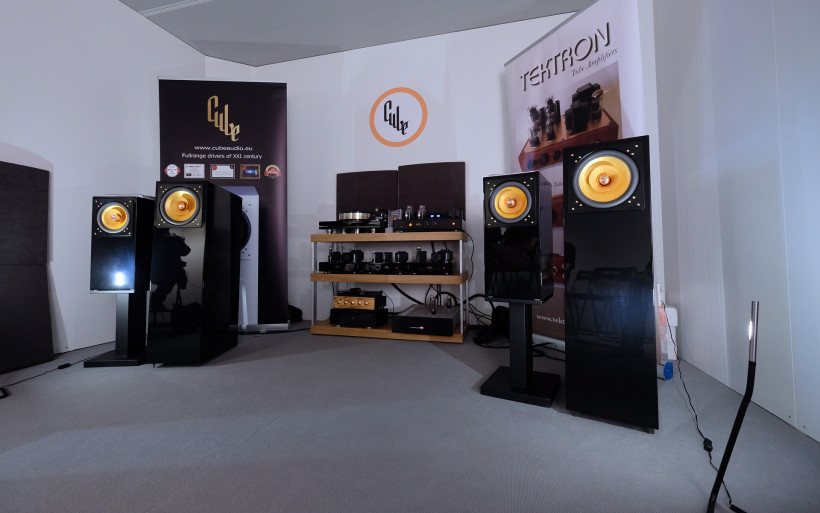 Deeptime Ltd
I omitted the Deeptime Ltd room in Warsaw due to significant crowd in there in November 2018. The Czech team proudly presented their snail alike sand affair at the MOC's newcomers section, but this time around there was some space left for me to squeeze in. The Ionic Sound System showcased there looked fabulous and its ask of €2'200 seemed highly competitive. My card was left and that's it for now.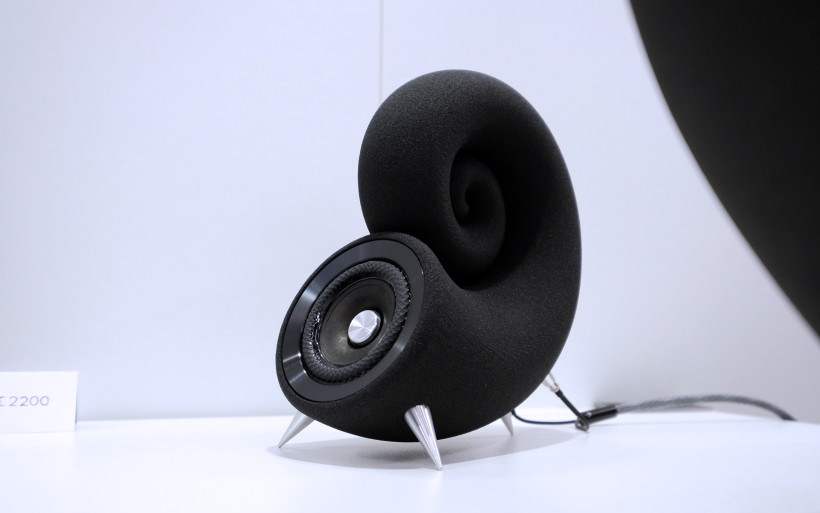 Eera
The French Eera company was located in the corner of MOC's Hall 1 and as such was my very first stop. Three tiers of DAC's were showcased, each based on top of the line Sabre silicon and proprietary software. But the most interesting product of them all was a class A integrated amp. It looked and felt great, was priced to sell and as such piqued my interest. Truth told, all Eera hardware on display was finished superbly for the coin, many manufacturers would charge far more. Proudly made in France? You betcha!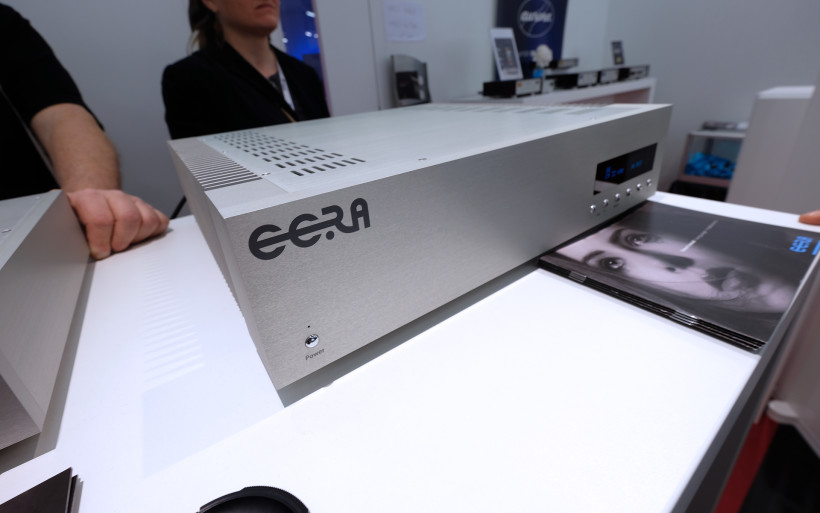 fidata
The fidata team had the HFAS-XS20U server/storage top of the line machine on display. Its HFAS-S10U sibling a bit lower in the Japanese hierarchy is what I've been rolling for months now and I've found it exceptionally good. The new fidata app had Tidal support added, though we need to wait until Q3/4 of 2019 for it to be released. The fidata labeled milk&coffee beverage kept me alive, thank you Sugimori-san.
Gauder Akustik
This room located somewhere in MOC's atrium was my last stop before heading to the airport. All I was able to do in there was this one picture of mirror-alike Gauder Akustik speakers alongside one of strategically placed Skyscrappers by Cezary Woś of Acoustic Manufacture. On the upside, Dr Roland Gauder had a brief opening in his tight schedule, which I gladly filled. He was familiar with what was on my card and turned out to be one of the most polite individuals I've met at MOC. Sir, it was a pleasure.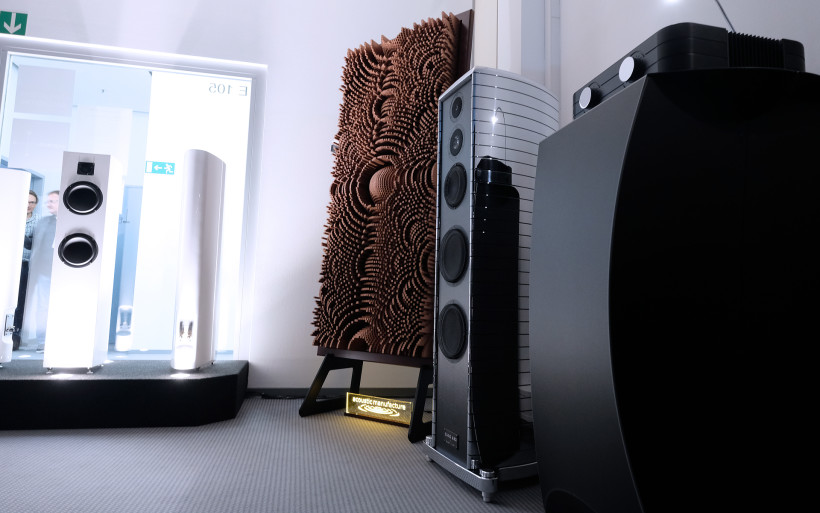 iFi audio
I've been visiting WOD Audio's room for years for a reason. iFi audio always has a booth inside and stacks of quality desktop hardware on it, plus headphones suitable for the job. This time however I came in to take a look at iFi's latest product known as Aurora. Class D, valves, abundance of connective options, multiple speakers on-board and proprietary room correction system, all dressed into quality bamboo enclosure and reasonable ask on top of that truly worked like a charm. The product looked fantastic and sounded plainly big, which its engineer Thorsten Loesch gladly showcased.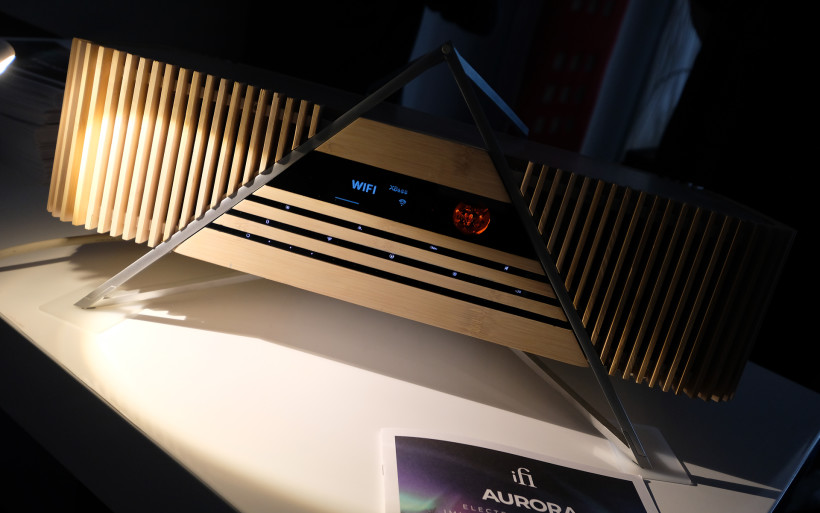 JPLAY
Marcin Ostapowicz exhibited for the very first time in Munich. I consider him as the best file based playback specialist in Poland. Heck, many people would argue that he's one of the finest individuals in this digital know on the planet. At his booth Marcin showcased his upcoming audio PC, which – as the man put it – incorporates all his knowledge and components he views as the very best ones for the job. A prototype linear PSU was nearby, several cables and… one of fidata's machines. The man clearly knows what's good, I'll give him that.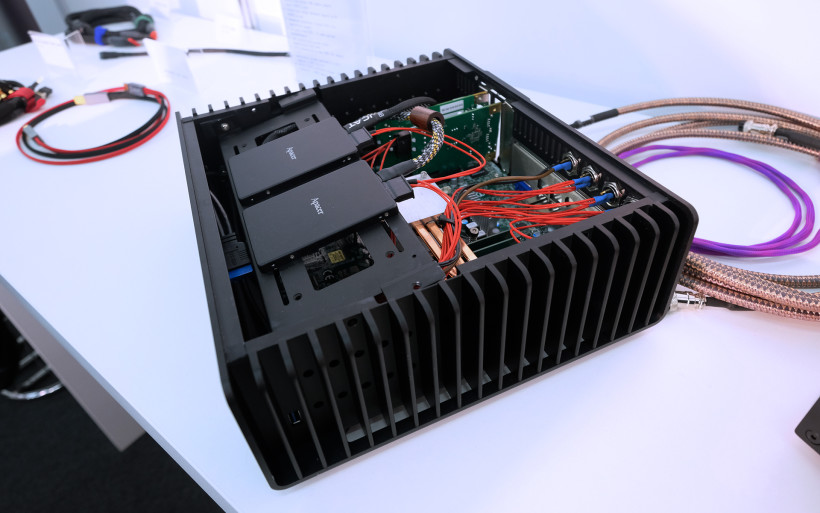 LampizatOr / AudioNec
Łukasz Fikus told me about AudioNec products a good while ago. Not only he quite accurately described them as his wet dream, but over the years also provided me with enough evidence to simply trust his judgement. I came in, sat down, listened to the Evo 1 and in an instant I witnessed quality he was on about. The room Herr LampizatOr shared with AudioNec's crew sounded remarkably well. I won't go into details, that's a story for another time, but many people inside at that time would probably agree with me here. AudioNec's co-founder Hervé Brasebin was a very kind gent. He expressed interest in what I do, so a follow-up of this report might happen one day.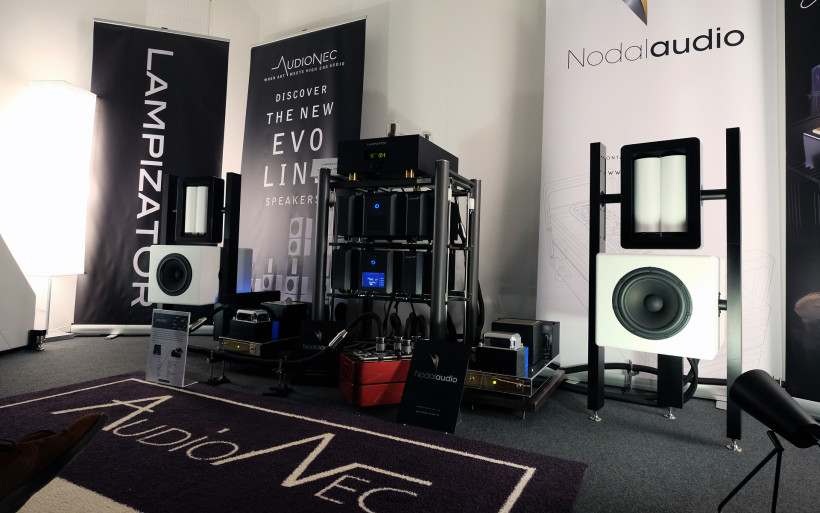 Live Act Audio
I haven't got the faintest what this company is all about, but its floorstanders easily won this year's beauty contest to me. Rough wood married to patina alike finishing touches and front grills loaded with rubber lines a'la sonus faber looked nothing short of gorgeous.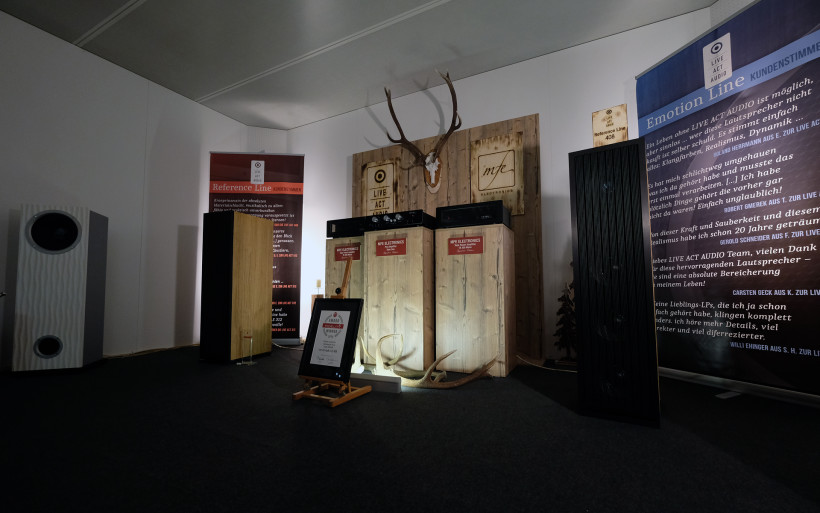 Lumin
The Lumin room was nicely styled, pleasantly cool and comfortable, whereas speakers by Tidal/Vimberg married to the full Lumin setup both looked and sounded good.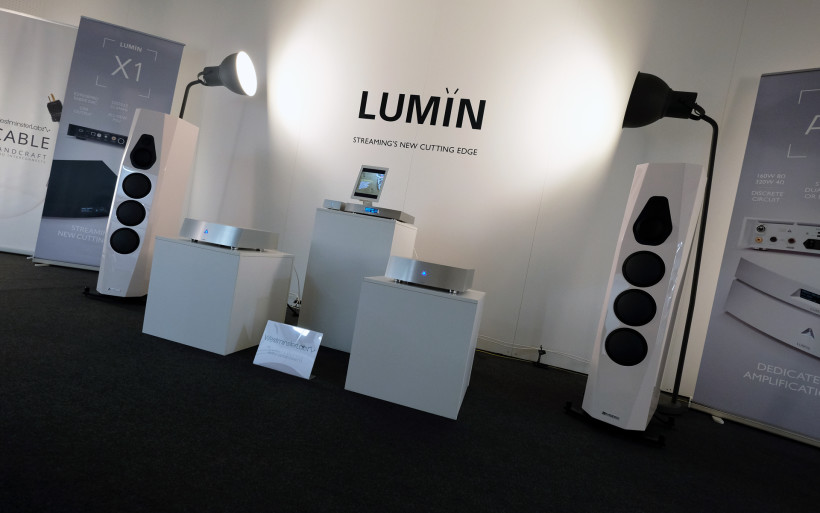 Meze
I visited the Meze booth just to let this company's marketing manager know that I still have the Empyrean model at my place. The Meze location seemed perfectly suitable for listening to headphones, many separate setups were on duty each time I passed by.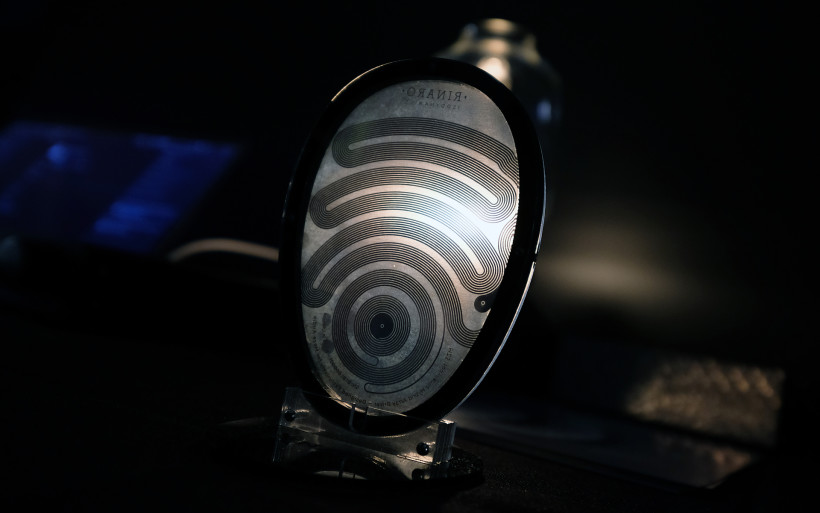 Pass Labs / Martin Logan
This room occupied by majestic Pass Labs mono amps and Martin Logan's Neolith speakers sounded impressively when I came in, which was rather easily seen also on visitors' faces. My next stop was a separate Pass Labs room, however one lady in front of it advised me to come back later after the ongoing presentation, which I didn't due to tight schedule. It's a pity though, I wanted to take a closer look at Pass Labs INT-25.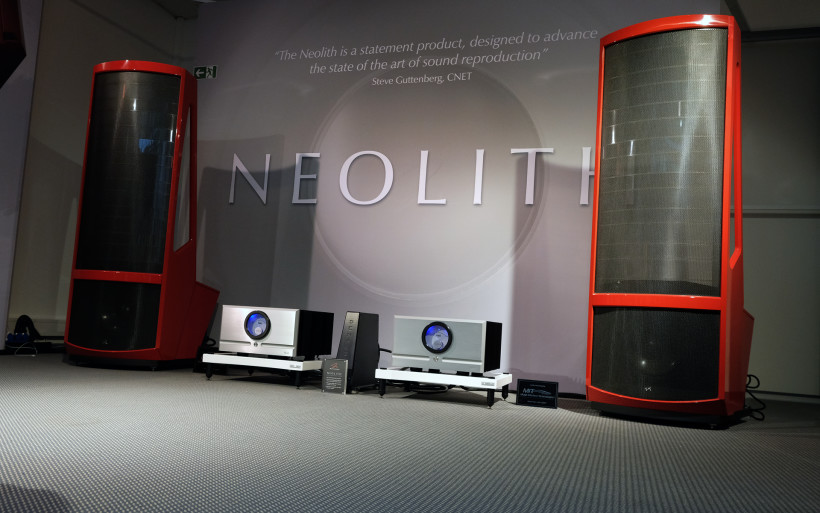 SOtM
SOtM's room was on list due to this company's extensive network accessories and products. SOtM sMS-200ultra gave me a valid reason to think that people behind it know what they're doing, whereas their mT-1000 I recently reviewed additionally fueled the fire. Munich's MOC was a perfect place to ask SOtM's representative May Park about items in the future and a firm plan shaped up in a jiffy. In the not so distant future you'll see more of this operation's goods at HFK.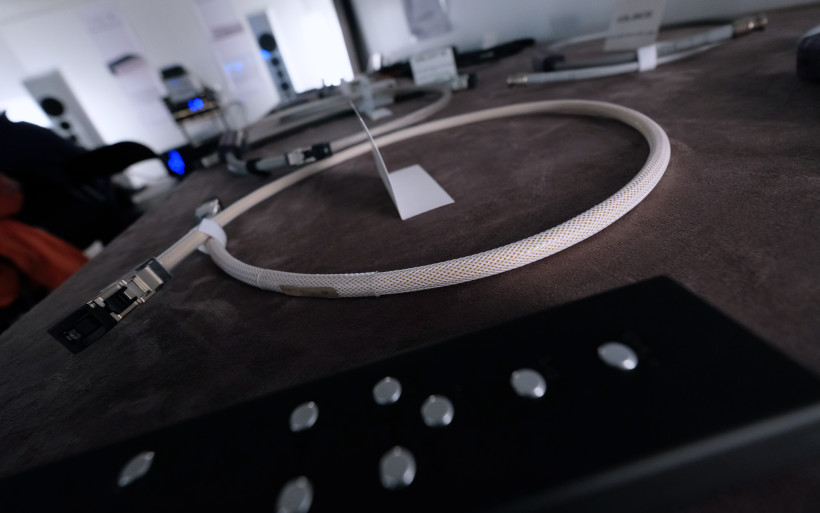 Soulution / Magico
For a reason I've been avoiding locations filled with expensive and big hardware. Pursuing products beyond my room's reach simply doesn't make much sense. However, the Soulution/Magico place at MOC's atrium had a free seat when I passed by. Mild cello music was on past entering inside and the result left me very impressed. For the money it really should, the two listed audio operations aren't exactly affordable, hence their mid tiered goods and upwards highly likely will remain beyond my scope. In any case, let me stress again: the result was nothing short of spectacular. Perhaps one day, who knows.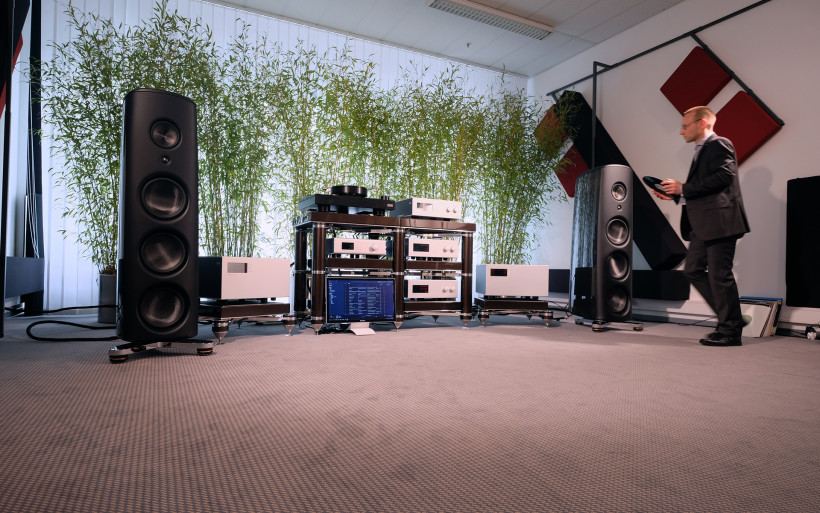 soundgil
About this company I've learnt from one of Srajan's writings. At first glance soundgil Cube one could be easily labeled as a lifestyle looker and that's it. My own investigation however led me to high performance attitude of this particular product. It had everything needed to ask for a review loaner. The room itself was utmost pleasant to sit in and the soundgil crew was very kind.
sound|kaos / Bakoon
This particular place was my main target at HifiDeluxe for a number of reasons. Martin Gateley proved me more than once that he surely knows how to prepare a very nicely sounding domestic room and this time wasn't any different. Not only it was as relaxing and enjoyable as per usual, but felt almost like it didn't quite fit to the venue. I could sit in there the whole day without a hint of fatigue. The latest pre-production sound|kaos dipoles performed very promisingly; vividly, openly and intriguingly densely. Soo-In of Bakoon was on duty too and so were all his goods. We had a quick chat and one of his machines should visit my place soon. The location the two engineers prepared for visitors won my privy award for the best visuals. That huge elephant was the only one in the room indeed, it made my day alright.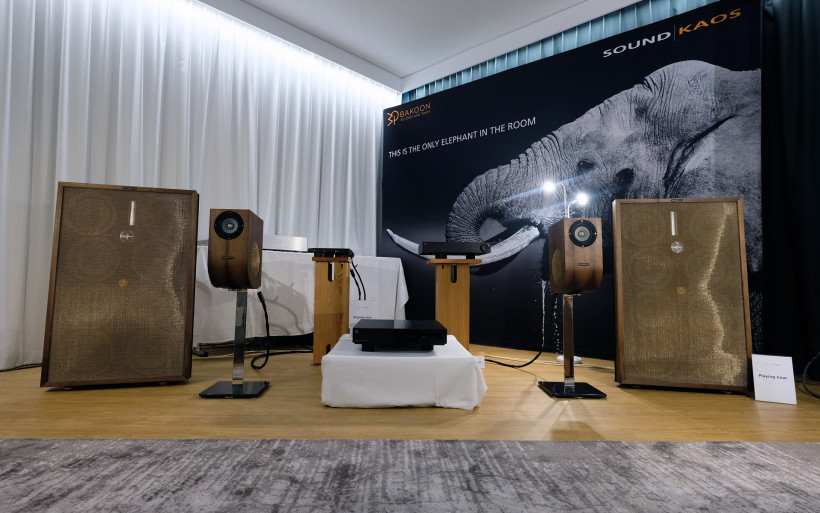 SPEC / Leben
I've been tracking SPEC's hardware for years, whereas Marja&Henk's recent review of this company's top of the line monos sealed the deal for me. DHT magic merged with not puny but properly muscular power output? Now that was something I couldn't ignore. The result in the SPEC / Leben room was enjoyable, even though I knew nada about speakers or anything else in the setup showcased. The SPEC team recognized what was on my card and I do look forward to auditioning their products at my place.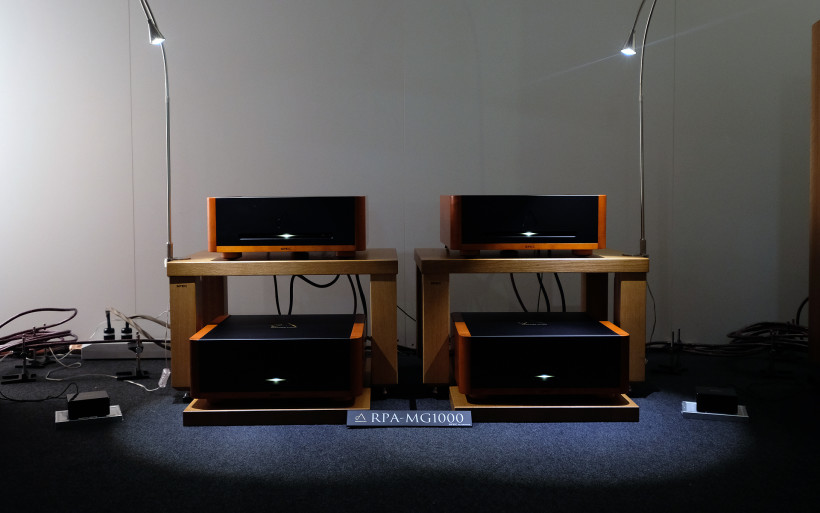 Stacore
The Stacore team – Jarek Korbicz and Bogdan Stasiak – this time around showcased something truly respectable and painfully heavy. The two gents came up with a full-sized modular rack based on high mass, viscoelastic inner material and a lot of slate, steel and bolts. Their latest product also incorporated fully functional Basic and Basic+ platforms. It weighs 450 kilograms and with €26'800 on its price tag is very costly, yet surely looks accordingly. My own Stacore investigation left no room for guesswork as well, the loaner sent to me proved to be very effective and highly likely this operation's latest item isn't any different.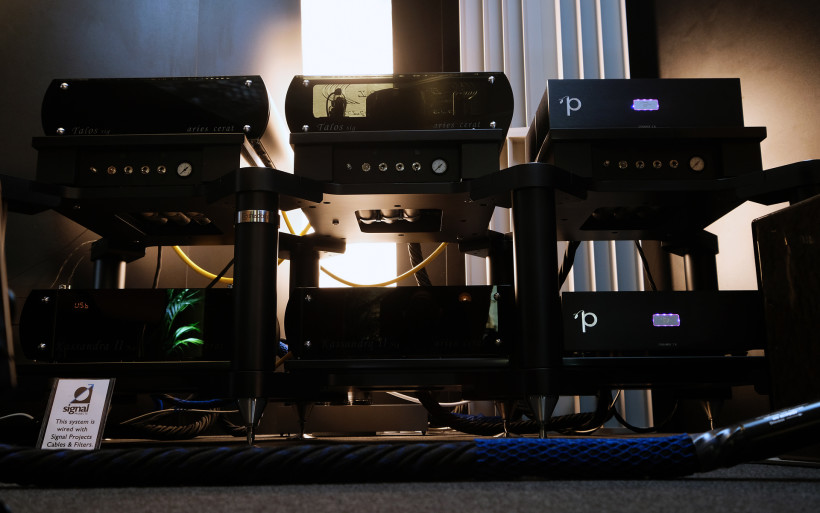 Stenheim / Merging Technologies / Nimbus Audio
This room I visited deeply interested if Stenheim's goods were as fabulous lookers in real life as their pictures have been implying for years. Well, they are. And they sounded very good to, however the most interesting hardware in this room was Swiss-made Arcus integrated amp by Nimbus Audio. Engineer Robert Sandru told me about his fabulously made two-box deck passionately and interestingly enough to ask for contact after the event. His machine was a true labour of love case, easily up there on quality with Merging Technologies stack nearby.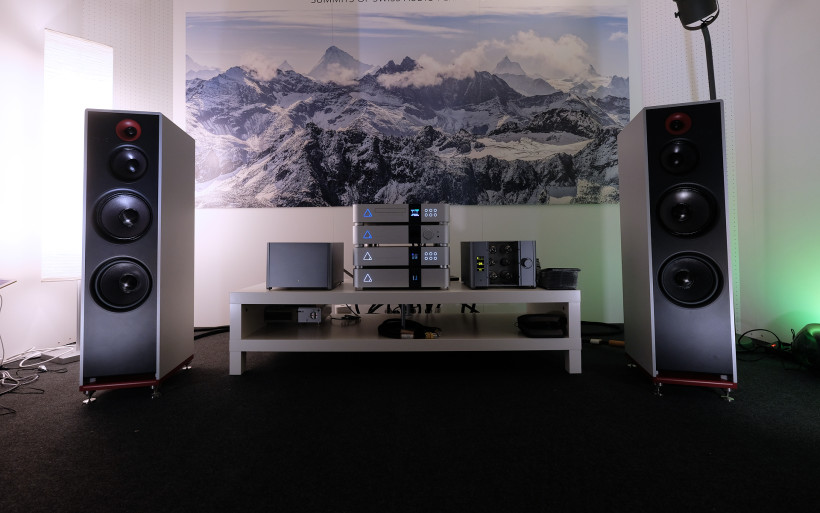 Thöress / Tedeska / Ictra Design / Luna Cables
This place is always a treat to visit. Not only it looked and sounded truly great, but also felt simply right. The effect heard this year I can safely label as one of the very best ones to my ears. After getting familiar with some of Reinhard's items and at least partially grasping what he's after, it's far easier for me to appreciate what he's been doing in Munich. But most importantly, all manufacturers met in this particular place are very much into the wacky audio thing because they enjoy it as much as I do. Thoroughly.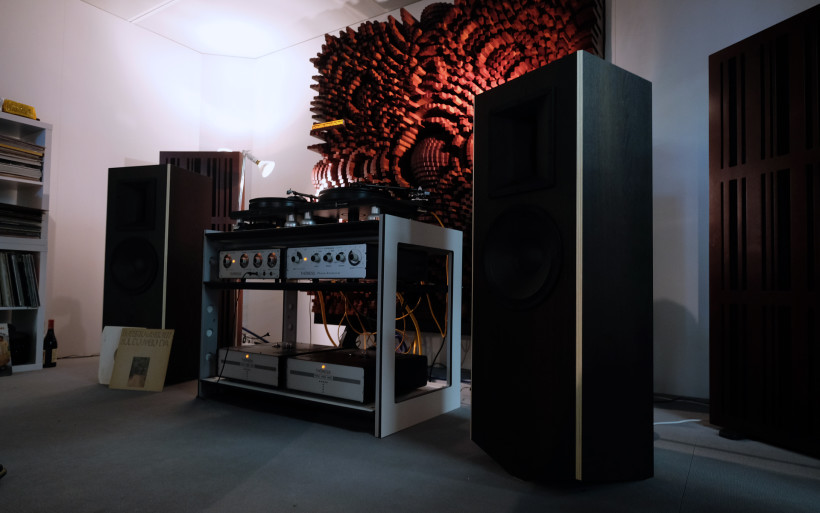 Trenner&Friedl / Jeff Rowland
This was one of those rooms which proved in a jiffy that high performance audio doesn't have to be big and costly. The latest incarnation of Trenner&Friedl Art monitors married to Jeff Rowland's hardware resulted in audible grandeur, volume and sophistication. Both Andreas and Peter were on duty and it was a true pleasure to finally meet Jeff Rowland himself as well. Good times, truly.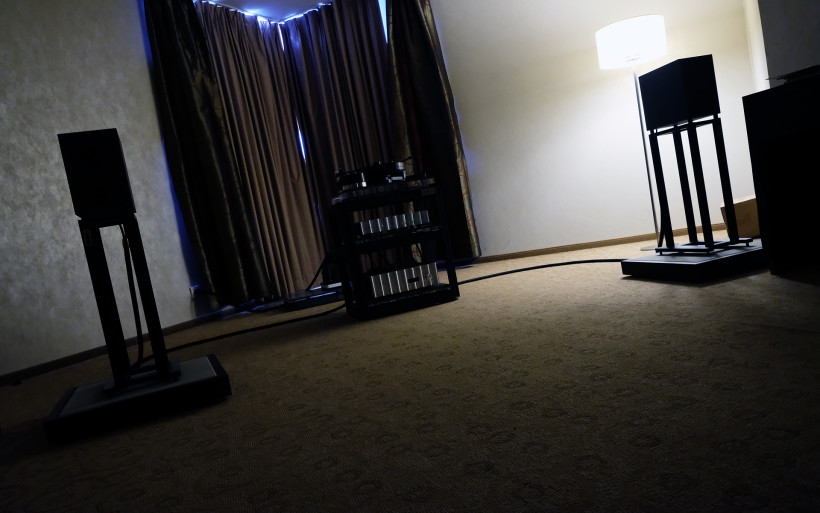 Verity Audio
The main Verity Audio room was occupied by this company's own amps and Lohengrin IIS floorstanders. The result didn't disappoint, I enjoyed it as much as visuals of everything in this specific location, but utmost pleasant conversation with Julien Pelchat was the true highlight for me. Thank you!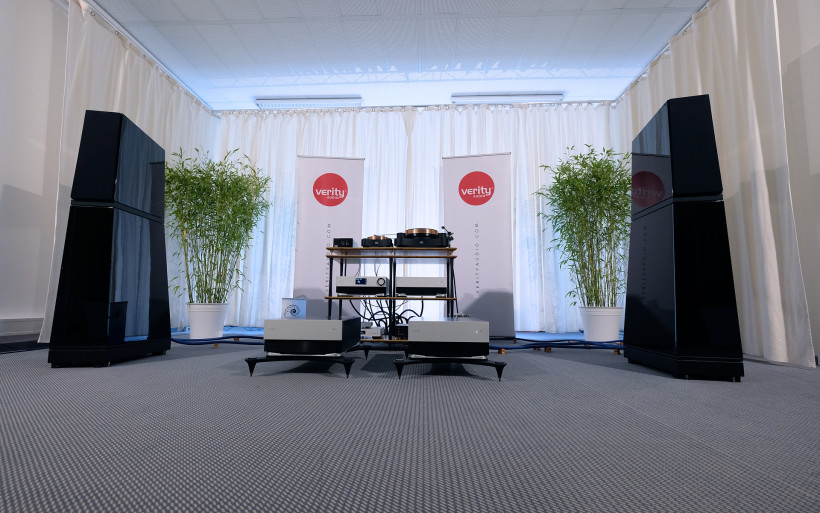 Summary
And that's a wrap. The show was buttoned up as per usual; everything worked like a charm and I wouldn't change a single thing in it. However, my own work requires some adjustments. About 80% of my time in Munich was spent on nothing else but talks with manufacturers to possibly secure some review samples later on. Reports from auditions in an unknown environment, with repertoire usually far beyond my scope and hardware I'm not familiar with simply don't cut it any longer from my perspective. That's why this lengthy report is the very last one of its kind. 'Til next time!