Reasonably priced, compact cousin of the acclaimed PH-1000 and PH-10, or the latest addition to the phono stage lineup that will have its premiere at the Audio Video Show 2022 in Warsaw, the Gold Note PH-5 is way more than meets the eye.
Introduction
One of the most often discussed reasonably (I mean relatively) priced phono stages in recent years has been the Gold Note PH-10. I've read a number of very positive reviews and talked to many fellow vinyl enthusiasts who confirmed its class. Priced (currently) at roughly 1800 EUR it's not cheap, but as we all know today one has to dig deeper into one's pockets to buy a quality phono stage than, say, 10 years ago. The PH-10 not only delivered a highly praised performance but also borrowed quite a few features from its bigger brother, the top-of-the-line PH-1000, which made it a highly versatile device suitable not only for a wide range of cartridges but also for various record releases.
It just that… it so somehow happened, that I've never had a chance to either audition or review this particular model from the renowned Italian manufacturer. A while back, however, I spent some time with the Gold Note's top model, the PH-1000. Courtesy of the Polish distributor, it came together with an external high-quality power supply, the PSU-1000, and an external tube output stage, the TUBE-1006. These two types of devices are sort of specialty of the Italian manufacturer and can be used with several of their components, not just phono stages.
It was a joy to go through my vinyl collection with this set! The PH-1000 alone, but even more so with the accompanying components, turned out to be one of the best phono stages I'd ever reviewed, alongside those from Thoeress or Brinkmann, giving way to only a very few, best of the best ones from such brands as Japanese Kondo, and Audio Tekne or Canadian Tenor Audio. Although these three are way, way more expensive.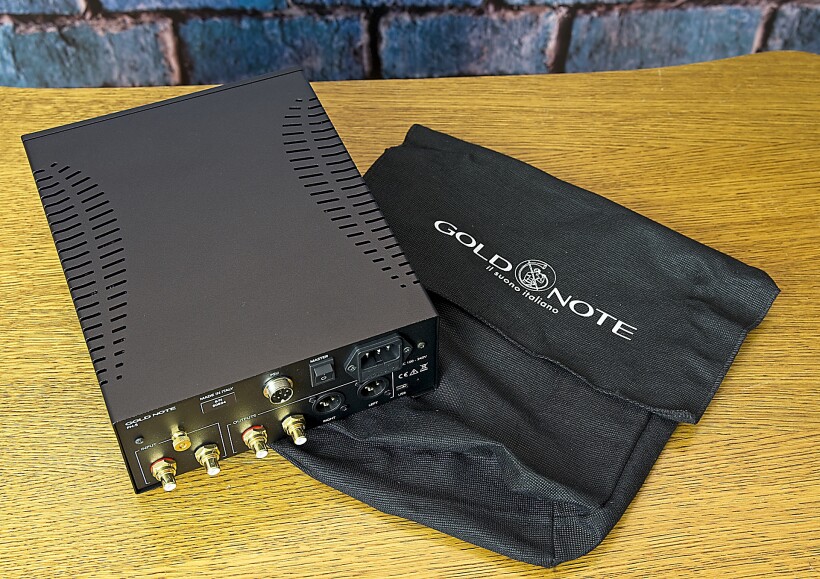 The Gold Note PH-1000 managed to leave quite an impression on me not only with its performance and class but also with its versatility. It features three inputs, headphone output, and a huge number of selectable options and settings, including over forty (!) EQ curves. Plus, one can choose to further enhance its performance with one of the available external power supplies and/or tube output stages. I described this encounter in detail in my HighFidelity.pl magazine review. You can find it in Polish HERE. I even chose it for the High Fidelity Best Sound 2021 Award.
Considering my memorable experience with the top model it should come as no surprise when I tell you, that when I was contacted by both, the Polish Gold Note distributor, Delta-Audio from Częstochowa, and the manufacturer, who asked me if I wanted to prepare an (I believe) world premiere review of the latest addition to the phono stage family, the PH-5, I agreed without any hesitation. While the PH-1000 is a remarkable feature-rich performer and a dream addition to many top audio systems its price makes it affordable only for those with rather deep pockets. There are many vinyl aficionados though, who look for way more friendly priced, yet still great-sounding phono stages.
One option proposed by the Gold Note is the aforementioned highly acclaimed PH-10. The 8,5 kPLN price point may still be too much for some though. Hence the introduction of the latest proposal, the 890 EUR or 4.299 PLN (when I am writing these words – things change fast these days, including exchange rates) PH-5. While to cut the price manufacturer had to let go of some of the features of the bigger brothers, it is still a versatile, nicely made device. Let's check out what the Gold Note PH-5 has to offer in terms of features and performance.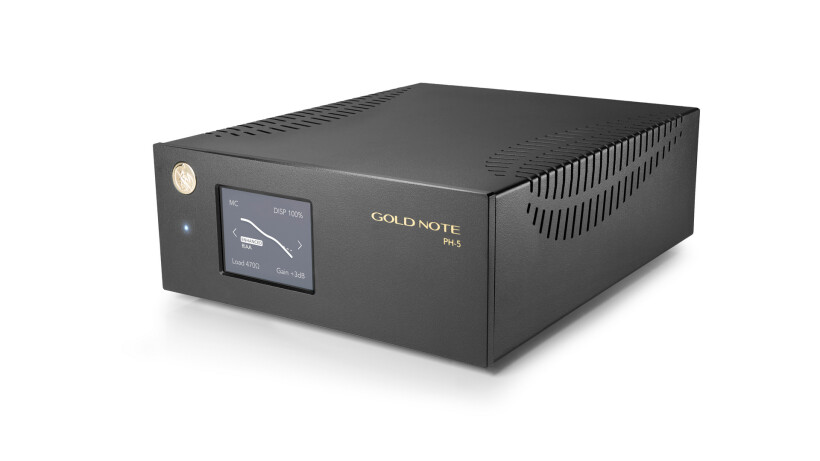 Design and features
The PH-5 is an interesting species even among other Gold Note siblings. Why? Have a look at the photo – there are no buttons, or knobs, just a display on its front. So how does one operate it? you may ask. Unless you read this one or some other review, you will most likely start your adventure with the PH-5 by reading its manual. This way you will learn that the secret is in a touchscreen on the front panel. It allows you to select all options and change all settings. It will also help you turn the device on, and later off. We will get back to the operation in a moment but let's finish with the build quality and features first.
The chassis is almost as big as that of the PH-10, the only difference being the width which is a mere 2 cm smaller. Other dimensions are the same hence the PH-5 measures 200 x 80 x 260 mm (W x H x D), it weighs significantly less though. It's 1.2 kg versus 4 kg of the bigger brother. The front is all about the not-that-big touchscreen. The only other elements are a nice logo and a single LED, red when the device is off and blue when it is on. Plus the name of the brand and model. On the rear panel, you will find a single RCA input – one connects either MM or MC cartridge to it (via RCA interconnect) – with a ground post next to it. There are two outputs though, one RCA and one XLR, available for the user's convenience.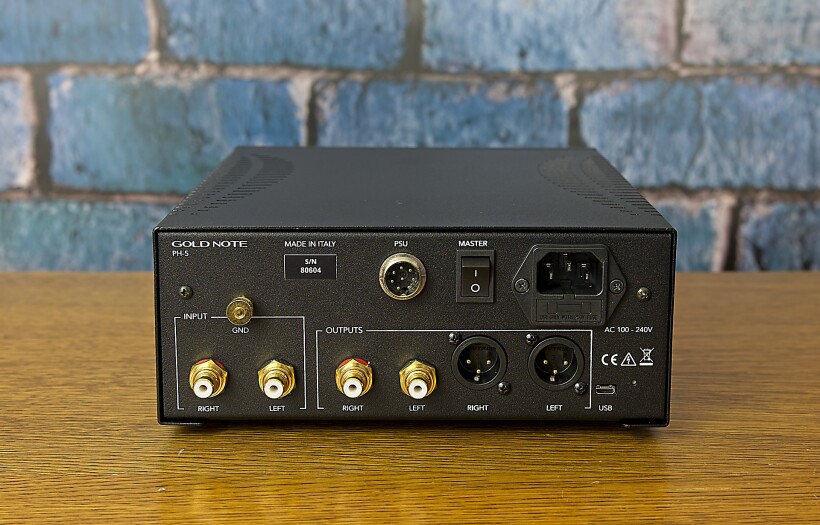 You will also find back there a regular IEC power inlet, that allows you to connect the phono stage directly to an electric outlet using a power cable of your choosing accompanied by the main switch. You will surely notice one more socket there, a multi-pin power inlet. As with other Gold Note components, you can upgrade the PH-5 using an external power supply. For the moment you could use the PSU-10 originally intended for the PH-10 phono stage. A bespoke PSU for the smallest model in the line is in the works so in the nearest future it should be also available. I am guessing that it will be priced accordingly, as the PSU-10 mentioned above costs a bit more than the PH-5 itself which may deter some customers. Just remember, that while an external PSU is and always will be a worthy upgrade option, all Gold Note phono stages deliver excellent performance without it too. One more socket you don't often see in phono stages is a small USB port. It is there for potential future firmware updates.
Now, let's get back to the touchscreen. It allows you to turn the phono stage on and off. All you have to do is touch it (don't let go) until it turns on/off (it takes 2-3 seconds). The next choice it allows you to make is between MM and MC cartridges – you need to 'inform' the device which one is connected to the only input. After making that choice you will have a chance to select gain – for MM pickups it is set at 40dB and for the MCs at 60dB. In both cases you still have four options to fine-tune it with -6dB, 0dB, + 3dB, and + 6dB settings. To further optimize performance you have to select a proper impedance loading for your cartridge with nine settings to choose from, namely: 10Ω, 22Ω, 47Ω, 100Ω, 220Ω, 470Ω, 1000Ω, 22kΩ, and 47kΩ.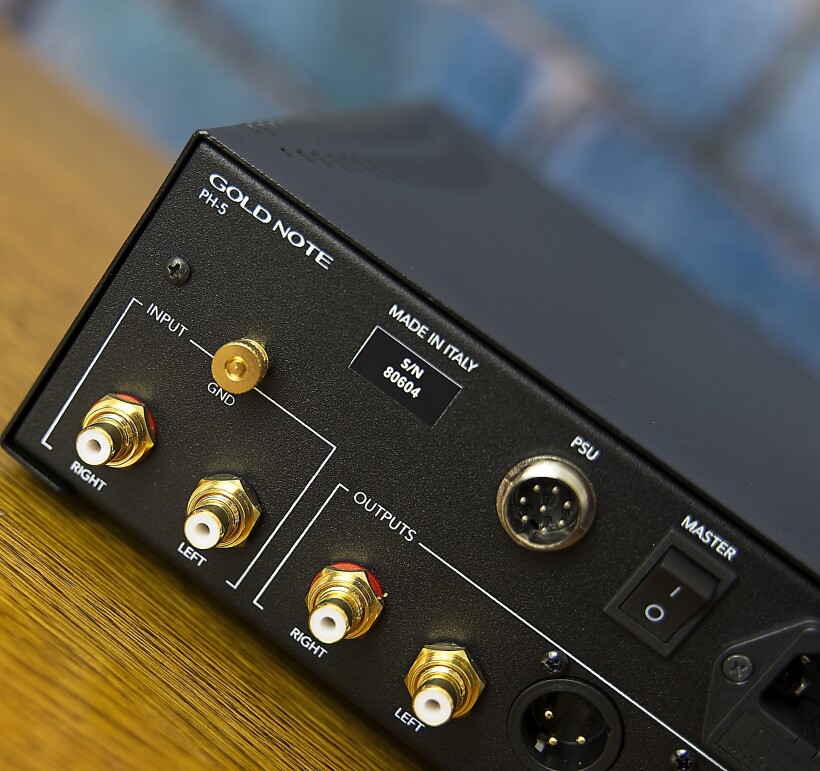 Finally, you can use one of three basic, and three "enhanced" EQ curves to select the one best fitting a record you want to play. For most of them, particularly those released after 1954, the RIAA or RIAA Enhanced curves will be the optimal choice as this has been a standard ever since. Yet, if you have older Decca London or American Colombia records you will be able to choose appropriate curves (also in the "Enhanced" version) for them as well. Obviously, the PH-1000 offers way more options – more than 40 EQ curve presets, and 4 custom EQ curves that are manually adjustable, but remember – it's a much more expensive, top-of-the-line model.
As for what is hidden inside – to be honest it didn't pry the chassis open. Hence I know what the manufacturer shares on his website. The Gold Note PH-5 is a solid-state design and the digital interface described above is combined in it with a fully analog heart, as the manufacturer calls it. The signal path leads through discrete audio-grade components and sealed single switches. It has been optimized to shorten the distance and minimize possible interference. Every setting selected through the touchscreen is applied to the audio signal switching its path using relays. Let me add that the build quality and finish (available in black) are very good – it's a good-looking fellow that you can proudly place on your rack front and center.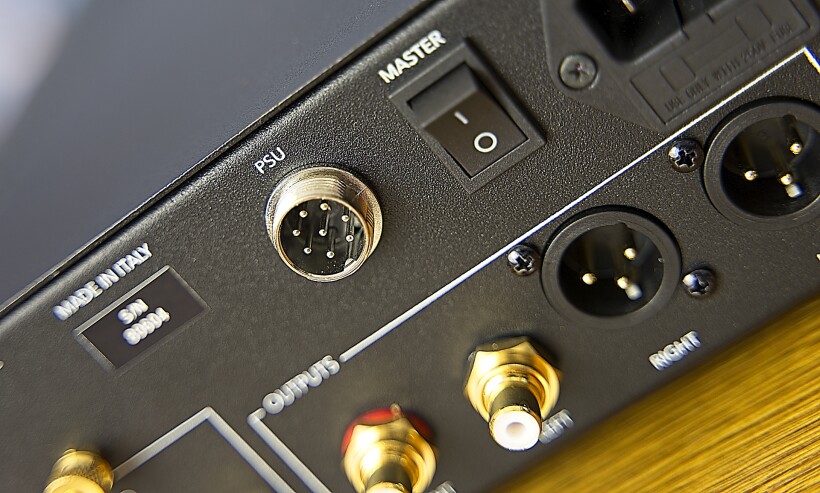 Sound
I started my Gold Note PH-5 listening sessions atypically. Instead of using my trusted reference JSikora Standard Max deck with their own KV12 tonearm and Air Tight PC3 cartridge at first, I used the reviewed phono stage in another review. It actually was an inexpensive Rega Planar 1 with their Carbon MM cartridge. I realized the PH-5 deserved a more advanced partner to fully shine, but since I don't own any MM cartridges, the Rega was my only chance to check PH-5's capabilities in this regard. I also thought I was doing Rega a favor by combining it with this promising Italian new phono stage. And it seemed I did as this entry-level record player sounded surprisingly good.
The sound was quite smooth, well-balanced, and rather impressive in terms of dynamics. The so-called PRAT (pace, rhythm, and timing) was really good and I found myself tapping the rhythm almost involuntarily. Comparing the performance of the same turntable using it with the old iFi Phono 1 I found Gold Note PH-5 to be able to push the setup's performance to a higher, more refined level. Obviously, it was still a cheap turntable and cartridge, but it seemed that the PH-5 allowed it to perform better than one usually expects from a product at this price level.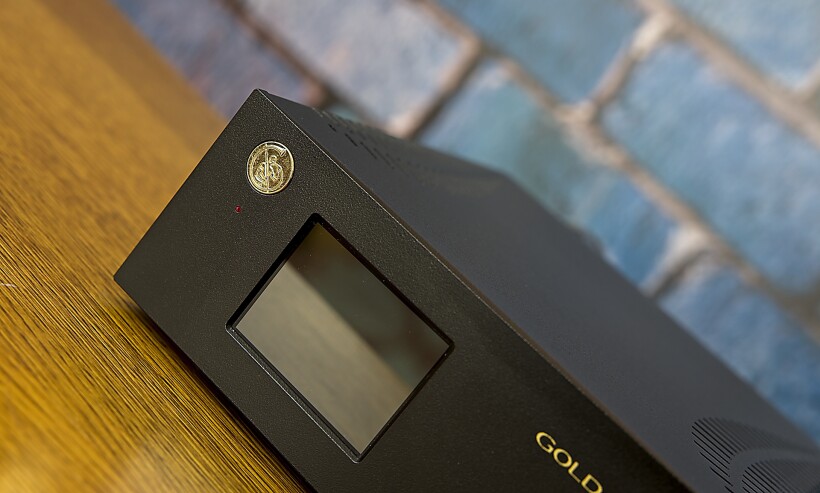 Even such features as clarity of the sound, ability to present maybe not the biggest, but a decent and well-organized sound stage, and quite convincing imaging, were evident and easily attributed in part to the Italian phono stage pushing this turntable to its limits or, which sounds even better, allowing it to spread its wings fully. All in all, if I were to describe the sound of Rega paired with the PH-5 the first words that come to mind would probably be: musical, smooth, and listener-friendly but also dynamic, energetic, and engaging. What a promising start to the actual assessment that was to follow with my own analog rig!
So let's move on to the actual test. This time it was the Gold Note PH-5 that got the chance to spread its wings as it was fed with a signal from a way more expensive deck/arm/cartridge combo, and then send it to a much pricier amplifier and speakers. This time I compared it to my two trusted phono stages, the ESE Lab Nibiru (see HERE) and GrandiNote Celio MK IV (see HERE). The former is almost three times more expensive than PH-5, the latter almost seven times more. Despite the significant price difference between these two, both offer quite similar, really high levels of performance although are a bit different in terms of the sonic character.
The first conclusion that popped out at me after only a few records were played with the PH-5 was that in terms of character it was closer to the Celio than Nibiru, which meant it belonged to the bit richer, smoother, more saturated ones. At the same time, the latter is more about speed, precision, and transparency. The general similarity to GrandiNote's product probably should not have been that surprising, as both are Italian brands. One of the almost inherent features of audio products from this country is how musical they usually sound. It is a term that on the one hand is hard to precisely define, on the other most people know exactly what it means. And what it means is that the presentation is first of all natural, fluid, coherent, smooth, and friendly if you will. There are no, or very few, aggressive, harsh, bright, or any other irritating elements in the sound. It just flows smoothly to the listener's ears offering the sort of comfort of listening to any music. And it was very clear from the start, that the Gold Note PH-5 belongs to the 'very musical' audio devices category.
Now, what I have just described can be achieved in many ways. High-quality audio devices such as, for example, the GrandiNote Celio or even better, the Gold Note's own PH-1000, base it on high resolution and precision, but also above-average coherence. Some cheap counterparts sort of cheat by smoothing or rolling off the band's extremes, emphasizing and warming up the midrange, and so on. The Gold Note PH-5 while being a relatively inexpensive device was derived from its older, more expensive brothers in more ways than one. And as such, it bases its performance on trickled-down quality rather than cheap tricks.
Sure, it is not as resolving as the PH-1000 or Celio, nor as transparent or as precise as them, but it doesn't mean it's lacking in any of these qualities. They are just not quite as good as with much more expensive phono stages. Still, it is important for you to know, that the PH-5 does offer a good resolution, decent precision, clarity, transparency, and richness that translate into a pretty dense, smooth, natural, hence 'friendly' and highly enjoyable sound. Also, one that causes absolutely no fatigue whatsoever even after several hours of listening.
As a result, many of you, myself included, will probably describe the Gold Note PH-5 as a warm-sounding device. It's fine as long as you remember that it is not a result of sound coloration in this case. It comes from the good resolution, lots of tiny details and subtleties that are smoothly combined together into this dense, yet pure and open whole. And it is the density or richness of the sound that is the key to the perceived warmth. By the way, it's one of the features of the best audio components that often sound 'warm', even 'dark'.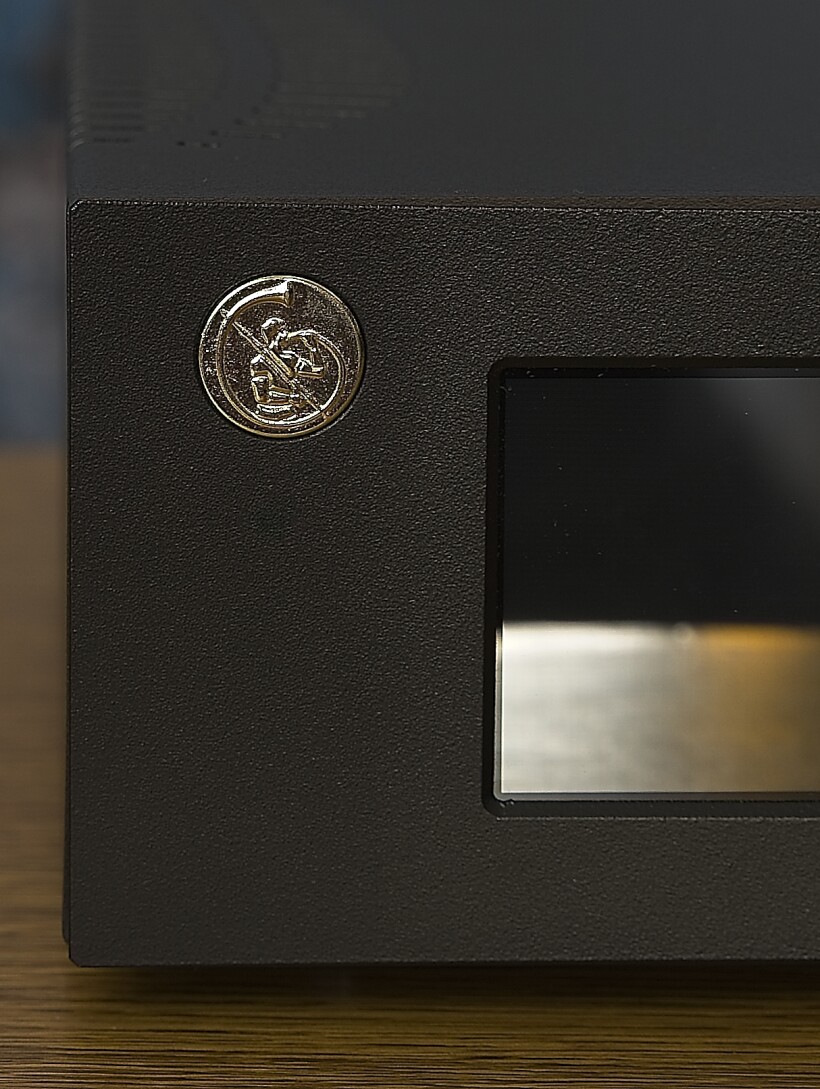 I truly appreciated all these PH-5 qualities when listening to, for example, Peter Gabriel's "New Blood". On the one hand, his voice sounded very natural, and warm but also expressive and open immediately grabbing my attention. On the other, the Italian phono stage benefited from the seemingly unlimited dynamic capabilities of my turntable. Whenever needed it delivered a powerful, highly energetic, rich sound in a truly effortless way, which is a challenge for many relatively inexpensive competitors especially when it comes to presenting a powerful orchestra. The Gold Note clearly placed vocalists in the front of the stage and maintained proper clarity and distinctiveness of their vocals regardless of how powerful was the music supporting them.
Switching gears took me from rock to jazz from 1950ties, specifically to John Coltrane's "Blue Train". And again the warm, rich, and natural-sounding PH-5 did a very good job presenting one the most famous jazz albums of all time, a so-called classic. Both, maestro's saxophone, Lee Morgan's trumpet, and Curtis Fuller's trombone sounded just right – a bit aggressive, even sharp when needed, or smooth and dense in other fragments. All the information wasn't so clearly presented as with more expensive phono stages, yet I could hear a lot of intricate details of their play and the instrument's timbre and texture. Each instrument was a nicely separated entity on the stage but it was also a part of a bigger, coherent whole. And it was the 'whole' that was more important in this presentation than the analysis of individual performances even if I still had a chance to study the latter if I really wanted to. This is not an easy feat to present in this recording as the soundstage is not particularly big, and the instruments are placed close together. In other words – good job PH-5!
Despite its price, the reviewed phono stage was able to convey not only a surprising amount of details and subtleties, but also a natural timbre and texture of these instruments, the dynamics of the whole performance, and again, deliver it all as a coherent, immersive experience that left me with a smile on my face. Sure, it wasn't quite as good, as refined as with Celio, or PH-1000, but it didn't really matter at this particular moment because I was completely immersed in the uniquely intense, yet non-fatigue, and immersive musical experience.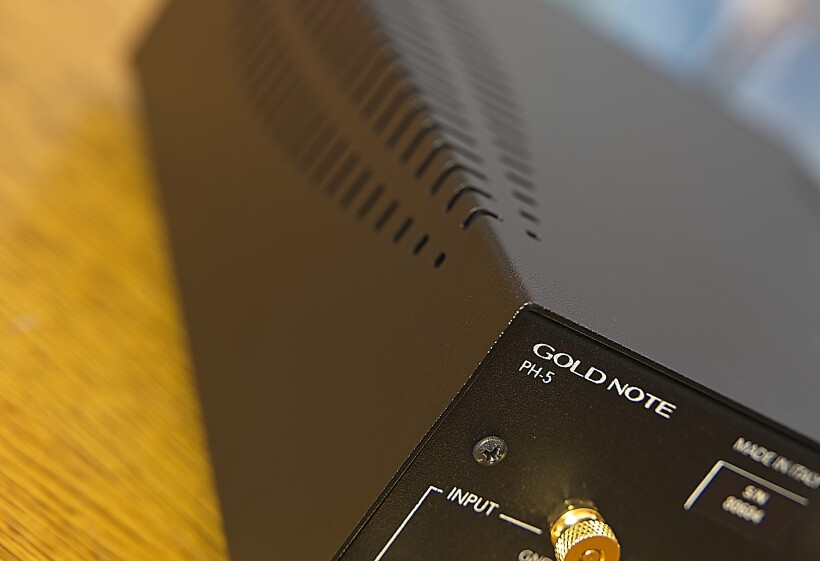 After this experience I had no choice but to reach for Miles Davis' "Kind of Blue" and again, the trumpet was not only the leading but also a particularly true sounding instrument along with Adderley's and Coltrane's saxophones. There was something special about how the brass and woodwind instruments sounded like with the PH-5, particularly on those classic jazz albums. Yes, when the analytic part of my brain kicked in I could hear that the more expensive competitors allowed me to peek deeper into the recording and intricate details of Miles' play. They were also more precise and presented the timbre and texture of each instrument in an even better way. Still, the inexpensive PH-5 did a really good job rendering the unique atmosphere of this album beautifully turning also this listening session into a very special and truly satisfying experience.
One of the last albums I listened to with the Gold Note PH-5 was also one of my favorites. It was recorded by the Oleś brothers and titled "Spirit of Nadir". It's the only proof you need that with just two instruments, in this case, double bass and drums, it is possible to create a whole musical world. There are a few keys to reproducing this album in a convincing way and PH-5 had them all. It is a studio album, yet it seems as if it were recorded in a huge open space, judging by the music, in the desert somewhere in the Middle East. The soundstage is so open, so filled with air, and there is so much reverb that the impression is irresistible. At least if the system is able to keep up with the intentions of the people behind this album.
Gold Note did not fail my already higher than at the beginning of this test expectations and did a really good job in terms of presenting all this space, as well as developing this unique, beautiful, incredibly immersive atmosphere. While doing it also took care of a proper presentation of both instruments played by these two, so talented, brothers. The double bass was colorful, and naturally soft, yet sounded deep, and powerful. Various drums and percussion instruments were nicely differentiated, and delivered in a properly dynamic, fast, and intense way.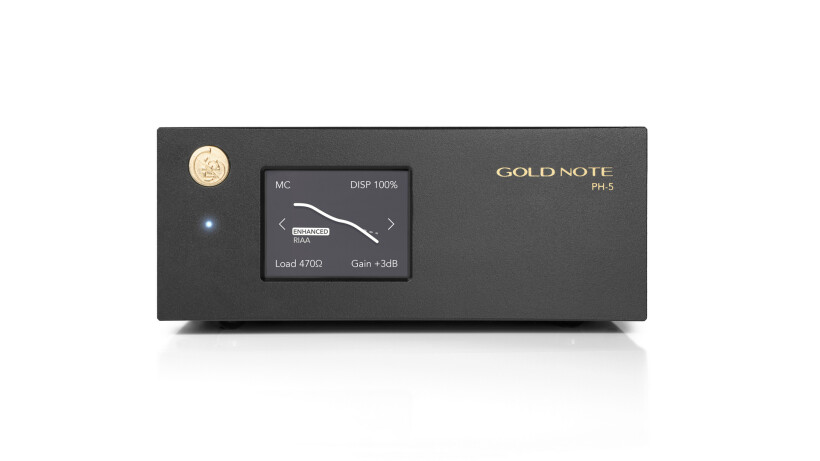 Last but not least let me emphasize that the Gold Note PH-5 did a really good job differentiating various records. I mean the high-quality recordings sounded significantly better than, say, rock ones, which are usually of lower quality. Hence Hank Theessink from "Live at Jazzland", a beautiful album recorded and released by Sommelier du Son label, sounded clearly way, way better than, say Bon Jovi's "Slippery when wet". There were way more details, clearer more transparent sound, and better dynamics – it was all there presented clearly as a day. And that's not something one can expect from entry-level, which PH-5 is for Gold Note, phono stages!
Summary
Is the Gold Note PH-5 the best phono stage in the world? No, it was never meant to be one. But it is definitely one of the best and quite likely (I can't honestly say that I know them all) the most versatile product of its class. And a worthy descendent of the more advanced brothers. For less than 1 kEUR it offers support for both, MM and MC cartridges. Using a nice touchscreen you will be able to choose among a sufficient number of settings (for gain and impedance loading) to optimize the performance of almost any cartridge you may want to use. If you have a collection of older records you may be in for a treat when you finally hear some of them as they were recorded using the appropriate EQ curve, as the RIAA is only one of six curves available for your pleasure.
Ultimately, what really matters about the PH-5 is its performance and its character. It does follow the footsteps of its older brothers offering a truly musical, smooth, coherent, warm but also dynamic and resolving performance supported by a very good PRAT. Its sound is best described by the terms 'immersive' and 'musical'. It's easy to get lost in beautiful musical stories, regardless of music genre, even though it is not the best phono stage in the world. If you are on the market and don't plan to spend thousands of Euros give the Gold Note a try – it does have more to offer than meets the eye.
Technical specifications (according to the manufacturer):
EQUALISATION CURVE CONTROL: 3 EQ curves (RIAA, Decca London, American Columbia) all with Enhanced option
INFRASONIC FILTER: 10Hz/36dB octave
FREQUENCY RESPONSE: 20Hz -20kHz ± 0.3dB; Enhanced 20Hz-50kHz ± 0.3dB
THD (Total Harmonic Distortion): <0.05% @ 1kHz
SIGNAL TO NOISE RATIO: 89dB
DYNAMIC RANGE: 105dB
ANALOGUE INPUT: 1x RCA stereo MM/MC
INPUT SENSITIVITY: 0.1mV MC up to 10.0mV MM
INPUT IMPEDANCE: 9 options [10Ω, 22Ω, 47Ω, 100Ω, 220Ω, 470Ω, 1000Ω, 22kΩ, 47kΩ]
GAIN: MM= 40dB; MC= 60dB; with 4 options [0dB, + 3dB, ± 6dB]
CAPACITANCE (MM ONLY): 220pF
AUDIO OUTPUTS: 1x unbalanced RCA; 1x balanced XLR
OUTPUT IMPEDANCE: 50Ω
POWER CONSUMPTION: 10W; < 0,5W (STANDBY)
DIMENSIONS: 200W | 80H | 260D mm
WEIGHT: 1.2 kg – net
Price (when reviewed):
Manufacturer: Gold Note
Polish Distributor: Delta-Audio
Associated equipment:
Digital source:  a custom passive server with WIN10, Roon, Fidelizer Pro 7.10, JCAT NET XE, and JCAT USB XE cards with FERRUM HYPSOS Signature power supply, KECES P8 (mono) linear power supply for the server, JCAT USB Isolator
D/A Converter: LampizatOr Pacific +Ideon Audio 3R Master Time (USB signal regenerator)
Analog front end: J.Sikora Standard MAX turntable, J.Sikora KV12 tonearm, AirTight PC-3, phonostages: Grandinote Celio MK IV, ESE Lab Nibiru V 5.
Power amplifiers: GrandiNote Shinai
Preamplifier: Audia Flight FLS1
Loudspeakers: GrandiNote MACH4, Ubiq Audio Model ONE Duelund Edition.
Interconnects: Bastanis Imperial, Hijiri Million, Hijiri HCI-20, TelluriumQ Ultra Black, KBL Sound Zodiac XLR, David Laboga Expression Emerald USB, David Laboga Digital Sound Wave Sapphire Ethernet
Speaker cables: LessLoss Anchorwave
Power cables: LessLoss DFPC Signature, Gigawatt LC-3
Power: Gigawatt PF-2 MK2 and Gigawatt PC-3 SE Evo+; a custom power line with Gigawatt LC-Y in-wall cable; Gigawatt G-044 Schuko and Furutech FT-SWS-D (R)
Network: Silent Angel Bonn N8 + Silent Angel Forester F1 + optical LAN isolator
Racks: Base VI, Rogoz Audio 3RP3/BBS
Anti-vibration accessories: ROGOZ-AUDIO SMO40 and CPPB16 platforms and ROGOZ AUDIO BW40MKII feet, Franc Accessories Ceramic Disc Slim Feet and Wood Block Platform, Graphite Audio CIS-35 and IC-35