It's always exciting to learn about new interesting audio brands or even better, to experience them first hand. Despite the situation being what it is, I was invited by friends from J.Sikora to participate in a special event in the beautiful Roma, the unveiling of a new Italian brand called UNICOSUONO.
It's good to have friends! I guess it is an universal truth. Two of them, Janusz and Robert Sikora of the J.Sikora, invited me to tag along to beautiful Rome for a kick off event of a completely new Italian brand call UNICOSUONO. Why would they do it? Because the event was organized by the said brand in cooperation with Napoli-based distributor, Cinema e Sound. So? you can still ask. The men behind that company, Nando Iervolino and Antonio Guarino seem to be fans of (good!) Polish audio brands and successfully, from what I hear, represent not only the J.Sikora, but also another highly acclaimed Polish high end brand, the LampizatOr, in Italy. Long story short – gentlemen Sikora, Łukasz Fikus, but also guys from the Slovakian Canor Audio were invited to participate in the said event to present their brands along the UNICOSUONO. The Slovakian company actually used the occasion for a big premiere – let's put a pin in to that for a moment.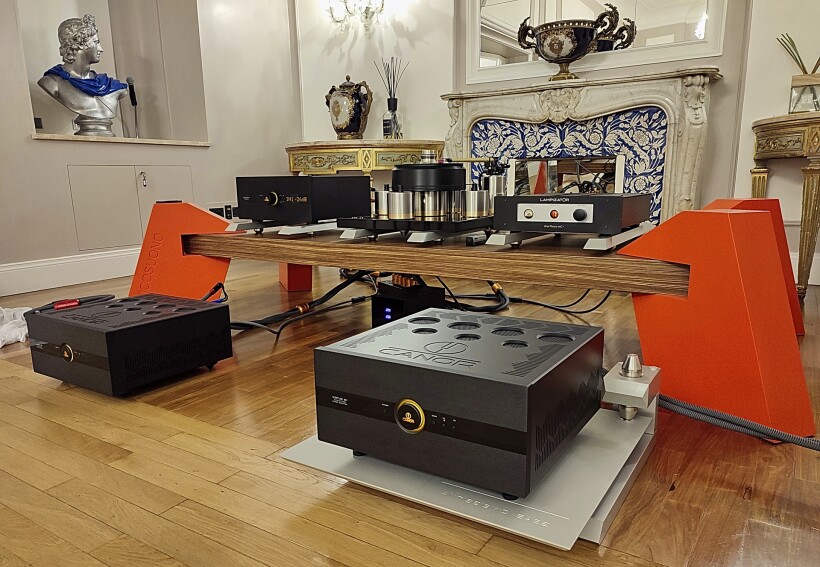 The setup – J.Sikora Reference turntable, LampizatOr Vinyl One MC phono, Canor Audio Hyperion P preamplifier and Vitrus M monoblocks all connected and powered using Unicosuono Extreme cables and placed on same brand's rack and platforms
The event took place in beautiful interiors of the Hotel Savoy close to historical center of Rome. The organizers of the event invited a few dozen selected guest, including many Italian journalist, to present their lineup and to reveal some new products as well. The UNICOSUONO's offer is currently divided into two groups or levels: the High End Series and Extreme Series. As it says on company's website, both were developed to satisfy needs and expectations of the most demanding audiophiles. The event in Savoy was organized to present to the audience new audio cables: interconnects, speaker and power cables, as well as anti-vibration products: rack and platforms. As the man behind the brand, Mr. Claudio Petucco, admitted himself, a presentation such as this one doesn't really allow for proper assessment of the performance of whole setup or individual components. Nevertheless, it did offer participants, yours truly included, a chance for a hands-on experience. After taking a really close look (some touching was involved as well) I must say, that the UNICOSUONO products with their looks, design and feel for sure gave off a truly high-end vibe.
The Vitrus M (on the right) was placed on the Antiseismic Base
The system presented in the Hotel Savoy featured cables from the Extreme Series as well as the other type of products from the UNICOSUONO portfolio, namely the aforementioned anti-vibration platforms and rack. The main rack in the system, one you can see on photos, is a fine example of unique Italian design, combining practical, science-based anti-vibration qualities with exclusive looks. It seemed to me also sort of visually refreshing, as most racks look somewhat similar to each other, but the one used for the event definitely stood out from the pack with an elegant, eye-catching design. Additionally, all components, amplifiers, preamplifier, phonostage and even the turntable, were placed on UNICOSUONO platforms including the latest model premiered at Savoy, the Antiseismic Base. Two of those were used under power amplifiers. Again – it was hard to assess the influence of those products on the performance of the whole system or individual components. Yet the design seemed interesting and ingenious as it included, among other features, an option of adjusting the Antiseismic Base to particular components weight, as well a system efficiently eliminating vibrations. Let me add one more, pretty obvious comment (considering the fact that it's an Italian brand) – make and finish of all UNICOSOUNO products presented in the Hotel Savoy was, simply put, exquisite. It seems to me, that they should satisfy refine tastes of many owners of high end audio systems.
Łukasz Fikus and Janusz Sikora relaxing before the event, Claudio Petucco presenting his brand, Robert Sikora passionately talking about their turntable and a Canor Audio engineer revealing new top preamp and power amps 
As I've already mentioned, the Cinema e Sound, a Napoli-based distributor, was another contributor to the event. It wouldn't make much sense to present cables, racks and platforms without other audio components that could be connected with the former and placed on top of the latter. Gentlemen Nando Iervolino and Antonio Guarino chose for the event three brands from their portfolio, all from our part of Europe, two from Poland and one from Slovakia. You know the former two from numerous reviews and reports published by the HiFiKnights, as well as from many others you could have read in other renown magazines around the world. In case you don't know, I should say that I am a proud owner of the J.Sikora Standard Max turntable and the KV12 tonearm as well as LampizatOr Pacific digital-to-analogue converter. As for the Canor Audio – so far I haven't had a pleasure to experience any of their products in my system, but I've heard a lot of good things about them, so my expectations towards new, top-of-the-line products to be presented in Rome were quite high.
The beautifully designed, unique Unicosuono rack and Antiseismic Base
For the UNICOSUONO kick off event the Sikora's brought their top mass-loader deck, the Reference (see my review of the Initial model HERE), complimented with their own unique Kevlar uni-pivot 12 inch tonearm, the KV12 (see a review HERE) and one of the best cartridges I know, the Murasakino Sumile (see HERE). In my humble opinion, it is one of the best sounding analogue rigs one can find, and the perfection of the deck's make & finish is simply uncanny. Łukasz Fikus on the other hand, a man famous first and foremost for his digital-to-analogue tube converters with the remarkable Pacific at the top of the current lineup, presented his very special "child", the Vinyl Phono MC1 phonostage. It is huge and heavy, as one expects from LampizatOr, it's feature rich with several inputs and user-friendly settings' adjustments and last but not least, it does live up to the highest sound quality standards set by previous award winning LampizatOr products. You will find my thoughts on the Vinyl Phono MC 1  HERE.
Yet another Polish accent – the Gigawatt power strip (on the left)
The Slovakian Canor Audio decided to use this particular opportunity for a grand premiere of their brand new amplification system with the Hyperion P linestage and Vitrus M monaural amplifiers. The former is Class-A design with tubes on board and a circuit designed to avoid any global feedback. Weighing whooping 35 (!) kg, with its nine inputs ( 4 x XLR and 5 x RCA, one of each type can be used as pre out), with galvanically isolated (via optical drivers), placed inside a metal (isolating) box attenuator, solid aluminum chassis, custom power transformer, and solutions allowing for near perfect vibration control, it seems to take a promising, bold charge at the high end world and, I believe, it is about to make some noise on the market in the near future. Same goes for the Vitrus M monaural amplifiers. These are also huge and heavy, tube-based, class A beasts featuring four KT150s (per channel), offering enough output to drive almost any loudspeakers with proper authority. From what I saw and heard from Canor Audio engineers it seems I should finally find a way to get to know the brand and its lineup better and from up close. They are definitely worth it.
On the right the top power supply for J.Sikora decks
Let me thank the hosts of the event, Claudio Petucco from UNICOSUONO, Nando Iervolino and Antonio Guarino from Cinema e Sound, as well as Janusz and Robert Sikora and Łukasz Fikus, for the invitation and Canor Audio guys for the company. It was a well organized, very interesting event held in at a beautiful venue and it was my pleasure to participate in it. The more so, it was the first event outside Poland I attended in more than a year! It was good to get out even if just for two days :). Thank you gentlemen! I hope to see you soon again and good luck with your new (and old) products!
On the left the whole group of people behind the event, on the right Gregor Rothensee with Antonio Guarino
PS. I had some time for two short but exciting walks around Rome so I hope you don't mind me posting some photos of a few beautiful places I visited, even if taken with a simple phone. I know now that I need to go back to the "eternal city" and dive much deeper into its unique ambiance.