High End 2016 exhibition in Munich is already in the past. It was similar to previous one, which is a good thing of course. The people behind this German event surely know how to pull it off as from technical side of things it's always very meticulously prepared. Both me and Marek were able to be there, yet each on his own. So much things to see but so little time to do so, hence the split. We saw and heard a thing or two and it's high time to share with my findings. Enjoy.
Foreword
To visit every exhibitor during High End event in Munich is an impossible task to accomplish in four days. It might seem as a lot of time, but practice shows that it passes way too fast. One needs to be prepared and organized. Wandering here and there without a plan isn't a good idea. My schedule was both tidy and heavily loaded yet in the end I wasn't able to have a listen to every rig I wanted. Instead of walking, running from one room to another could net some additional coverage, so very true. Yet because HiFiKnights is a newborn, lots of time passed on an introductory chatter. This year it was rather unavoidable but next time things should go much smoother hopefully.
My plan included a lot of personal-fi, namely headphones. In comparison to previous years I had a notion of these devices being literally everywhere, which naturally led to ears full of work. Happy times as not so long ago such products were my primary focus. On top of that, several stereo equipped rooms I wanted to visit no matter what and I'm glad that I was able to achieve that. Without further ado, let's move to the juicy part.
Abyss Headphones
Abyss booth was shared with Czech KR Audio company and dr Eunice Kron herself was there too. I'm not sure but it seemed that Abyss headphones were somehow connected to KR Audio VA355i's speaker terminals and the rest of the setup consisted of Aqua HiFi La Diva transport and La Scala MKII served as a dandy source. Both headphones and environment were open and rather unkind listening conditions was the outcome. But all things considered, the Czech/Italian/American setup had a potential.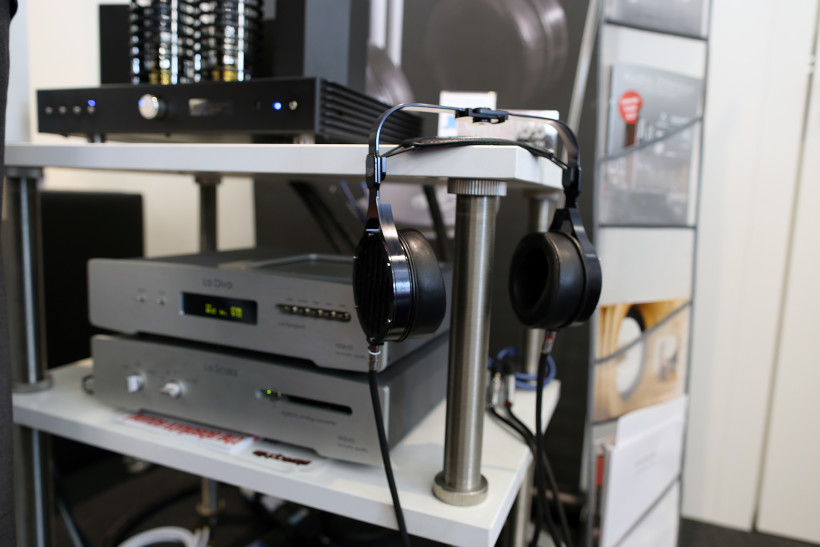 Aequo Audio
Aequo Audio room was mandatory. Not often one sees floorstanders bass driver handled by inner amplifier, not to mention peculiar shape of the product itself. It is called Ensis and is priced around €10'000 per unit btw. One needs two for obvious, stereo related reasons. NuPrime stereo power amplifier handled everything above bass which is odd in my book as a pair of NuForce REF 9 V3SE is still a part of my audio flock and it has some obvious weaknesses. The guys wanted to show that this kind of class D operation has what it takes and to a degree this is about correct. Yet the real question is how Dutch and a note shaped performer gets along with different amplification. For now I can only say that its bass had admirable authority, density and speed. It was memorable and of quality as expected. In the upper parts of the FR things could be more vivid, yet my guess is that this is NuPrime's input. In any case I'm curious as hell and hopefully review possibility will reveal itself soon.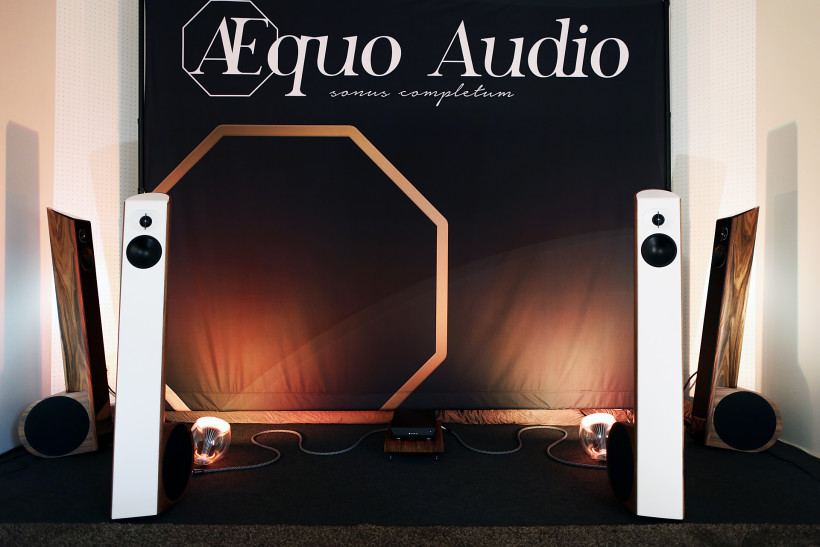 Albedo
Polish Albedo company is a rarity in audio world and the reasoning behind that is a simple one: these guys have their own furnace. Yes, they do their own wires. I'm not sure how many audio manufacturers make  these in-house but my guess is that in EU no more than a handful. Therefore CEO/owner  Grzegorz Gierszewski undoubtedly has a very good reason to be one proud gent. In the Albedo booth visitors could see how a rod of high purity silver looks like before melting process. Now that's a rare sight to be seen. Silver bars aside, lots of finished cable jewelry was exposed nearby and latest monocrystal Monolith and Metamorphosis flagships were there too. Nothing stood in a way of taking the products in hands and seeing how well these are made. The latter's review is in the pipeline.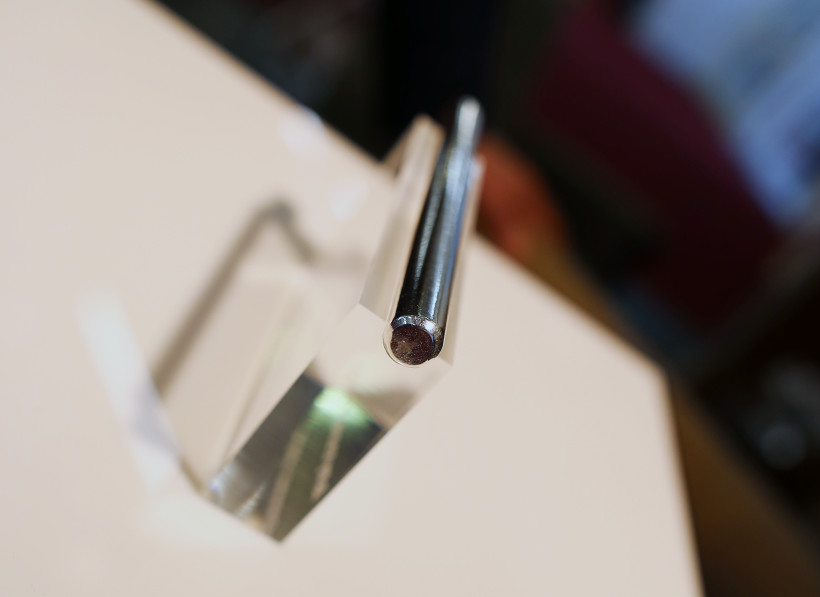 Angstrom Research and Diesis Audio
Italians surely know how to build a very nice looking audio related products. There's no doubt about it whereas Angstrom Research and Diesis Audio stand as additional proofs. Unless one isn't into horn loaded open baffles finished in various wood veneers because that's what the latter is all about. Even though listening conditions were far from optimal, this kind of fashion constantly grabbed visitors attention and surely mine. Moving on, Angstrom Research isn't new to High End Munich game, last year its products could be seen in the atrium along with Music Tools furniture and Albedo transmission line based speakers. I enjoyed what I've heard back then and this was a reason good enough for me to make some early review arrangements with Roberto Garlashi, aka. Mr Angstrom.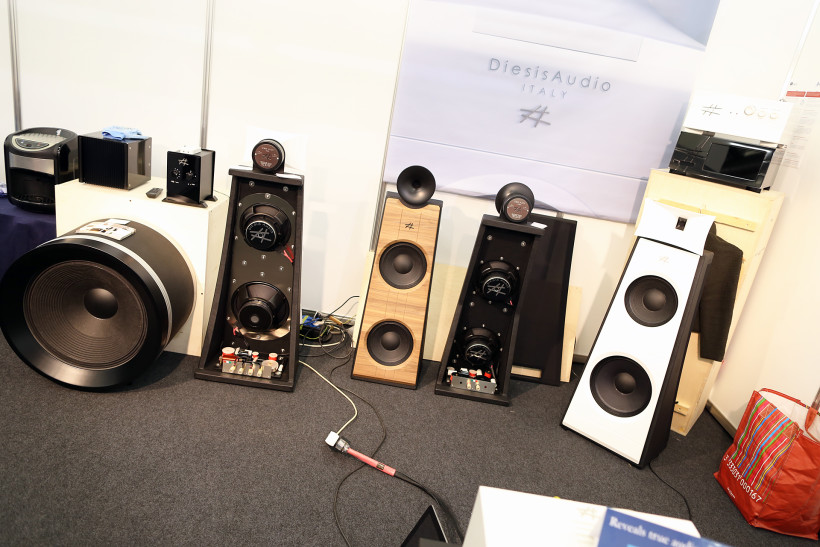 Astell&Kern
More affordable AK240 DAP? Yes, please, but that's not the whole story. Astell&Kern tends to have bold booths and the one presented this year was no exception. Big and open space with lots of equipment and an impressive headphones line-up were there to every mobile audio afficionado's heart's content. On top of that, a very professionally looking AK Recorder addition was presented as well. That's a recording module equipped with two microphones. Rather big and loaded with foams carrying case a'la Pelican is included. AK300's retail price should be around $899 though I have no intel about additive module. How does it sound? Well, AK'ish, which is natural, mildly dense and detailed. At least with a transparent and midrange/treble oriented pair of Vision Ears VE5 CIEM-s I had with me in Munich.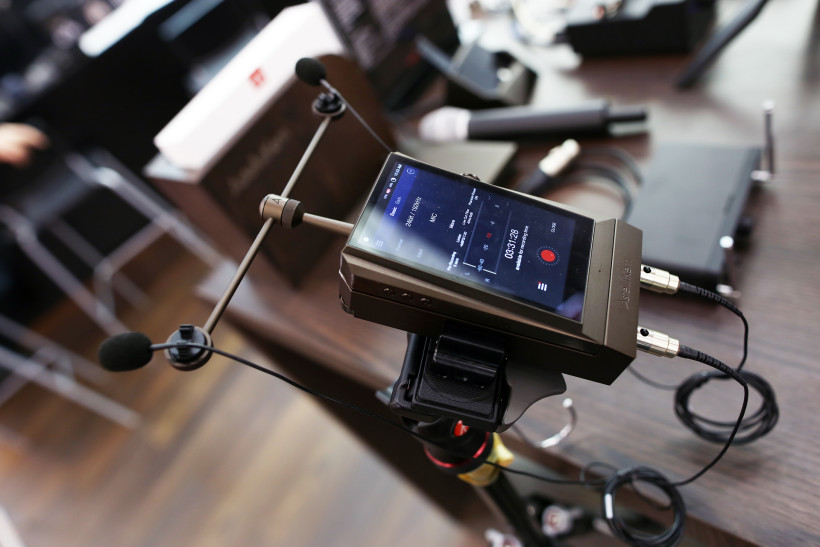 AudioSolutions
Now that's a sight to behold! Yes, this beautiful lady in the white dress came to Munich with Gediminas Gaidelis (AudioSolutions CEO/owner). Undoubtedly in that kind of a quality company his flagship – Vantage – was shown with well deserved love. As per usual, Gediminas knew that a booth capable of handling said floorstanders was unavailable hence off the table, so he decided to show these from as most aesthetic side as possible instead. There is nothing wrong in shifting visitors focus towards the looks if one isn't happy about the outcome soundwise. Smart move then, Mr Gaidelis, very smart. Of course the product was connected to some integrated amplifier. But based on conditions in AudioSolutions space, any kind of commentary wouldn't be informative in any way, therefore I'll restrain myself from doing so. Despite Vantage stealing the view, some other Lithuanian speakers were also shown.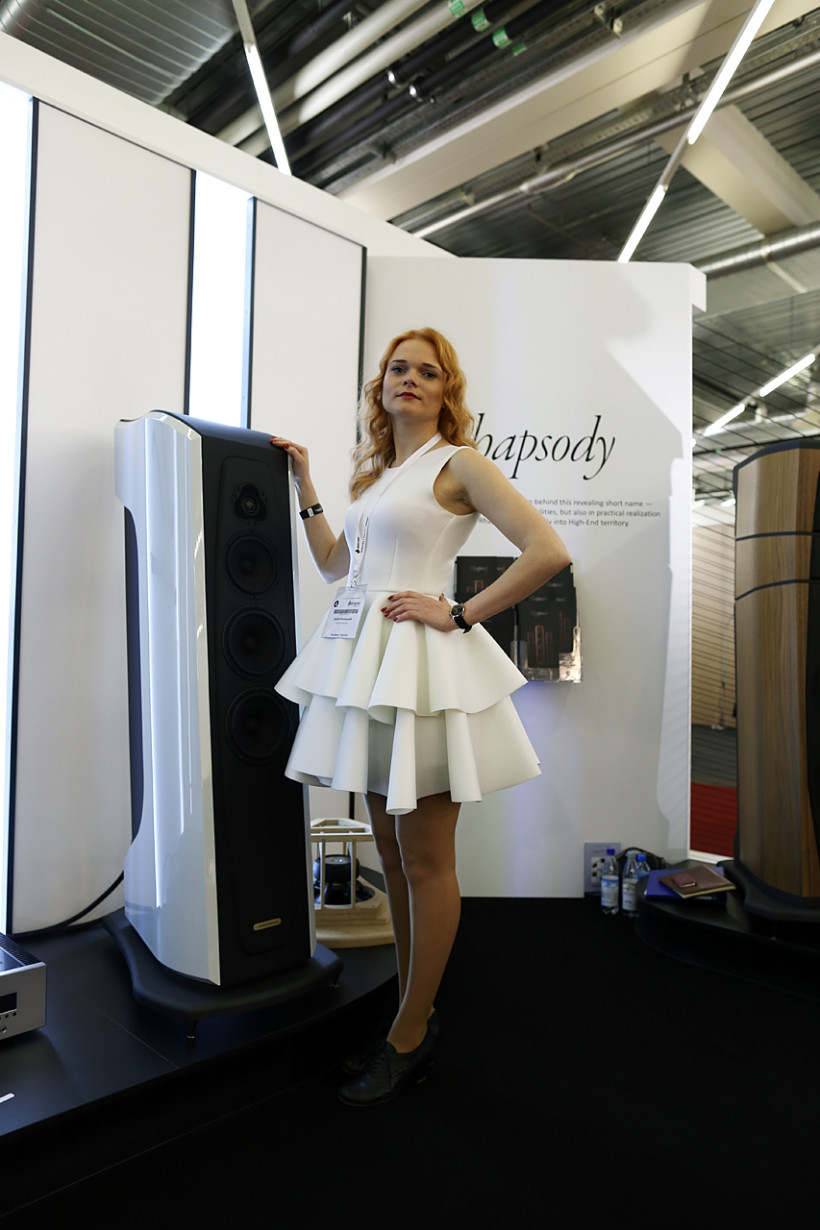 AVCON, Audio Philar and DiDiT High-End
This booth was a Polish cooperation with a "bit" of Dutch element added to the mix. This happy camp was another one of those rather hard to judge soundwise merely looking on what's shown outside the actual listening room. To be perfectly honest I had no time to go in and do this the right way since airport shuttle was almost ready to leave. But I had a fair glimpse on the products outside. And each looked at least promising. There are several AVCON Avalanche Reference monitors in Polish press. Polish floorstander alike three-way monitors are very decently built, layers of ply are the real deal, no veneers in this case. Not to mention that journalists from Poland like said €5'000 behemoths. AVCON is also known for its acoustic panels of various sort whereas vacuum tube amplifiers and an audio furniture close the offering. Audio Philar platforms and racks are already quite known in Europe and were a part of the exhibition in at least several places including HiFiDeluxe event going on at the same time as the one in MOC . Audio Philar is a very decent and appealing work. DiDiT High-End showed their DAC both inside and out. Sigma-delta loaded, fully symmetrical and with a fine grade CNC milled enclosure? Yes, it indeed picked press interest. Some of aforementioned products are also scheduled.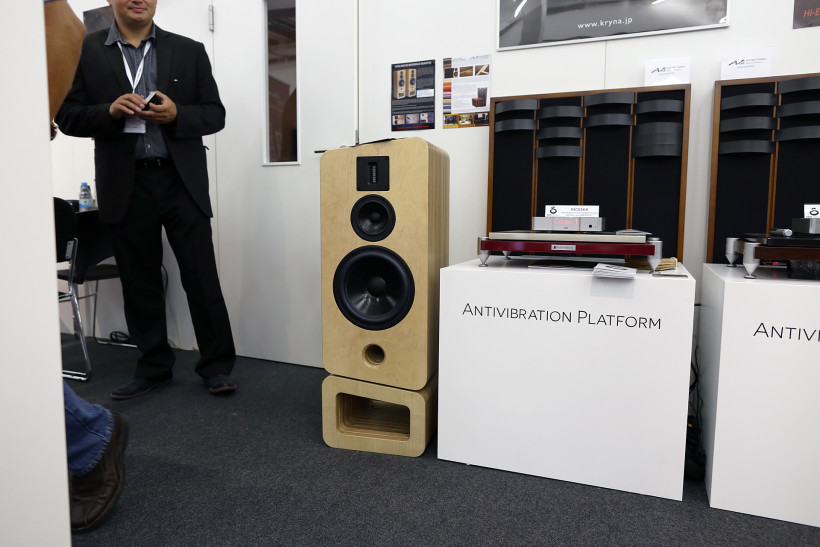 Blumenhofer Acoustics
One year ago I had no idea who Thomas Blumenhofer is. This changed once an opportunity to review Genuin FS3 MK2 model appeared on the horizon. These horn loaded coffins were the real deal, namely rather uncoloured yet fast and able to move substantial amounts of air which led to grand scale of events shown extremely effortlessly. I hadn't had spectacle this big yet at the same time also as coherent thus far. Needless to say Genuin FS3 MK2 left me utterly impressed, so once I stumbled upon Blumenhofer room I had to check the performance in a space far larger than my own 25 square meters audio cave. To make it short, memories were back and kicking. Again an effortless, easygoing, vivid and fast sound was the case, though delivered by Genuin FS1 MK2. I believe that I could live quite happy life with these. Even though their appearance is rather debatable. But Thomas Blumenhofer's room was soundwise one of the best ones in my book. Cheers.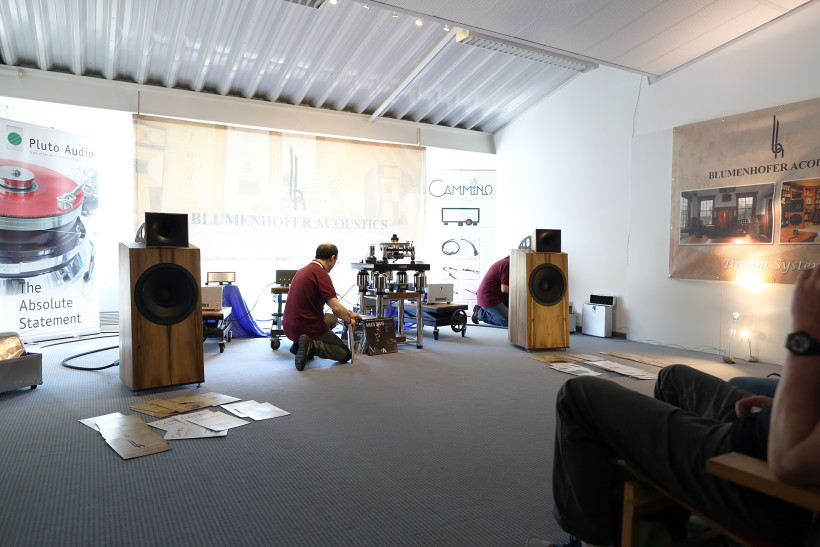 Boenicke Audio
I thoroughly enjoyed every Sven Boenicke room for many yet similar reasons. But one of the most fun giving ones are the impressions of people not yet familiar with what this Swiss gent does. I tend to chuckle when during the performance this kind of audience has a puzzle about how is it even possible that box so small can deliver sound this big. Picture Sven's W8 model in nearly 90 sq. meters space and handling it no questions asked. Yes, it's rather hard to believe it but as a happy W8 owner I assure you this is no trickery. OK, maybe a bit, Sven Boenicke has more than just one ace up in his sleeve yet he knows exactly what he's doing. This year he got two new products. W11 is bigger, bolder and more expensive W8's brother. Conceptually this is a similar design, yet with completely different midrange and bass driver. The former has a wooden membrane and a phase plug, the latter is a side firing 10″ flat diaphragm Dayton woofer. Fountek's wideband tweeter is Sven's trademark, though this time it sits in a waveguide alike area. Monacor silk dome tweeter responsible for ambience goes on the back as usual. I can't recall W11's price in its basic version, though SE+ will be somewhere around €25'000. Basic model for half of that is my rough guess. But the latest addition to Swiss family is an integrated amplifier simply known as E2. I have no details about it yet, though it's probably class AB affair with lots of twists inside. It looks very nice, that's Boenicke Audio designer's doing. CNC milled wood and aluminium? Now that's an impressive sight. The performance was familiar. Not sure how much better/different in comparison to Trilogy 925 and W8 combo shown previously, but the outcome sound wise rang many bells nonetheless. It was spacious, full, with great low end, detailed and smooth, overall very impressive. Even for a happy W8 and W5 owner. Subjectively one of the best rooms, I came there to gather strengths for further escapades. Ah, E2 should go for about €12'000 and transport/source duties were handled by CAD as usual.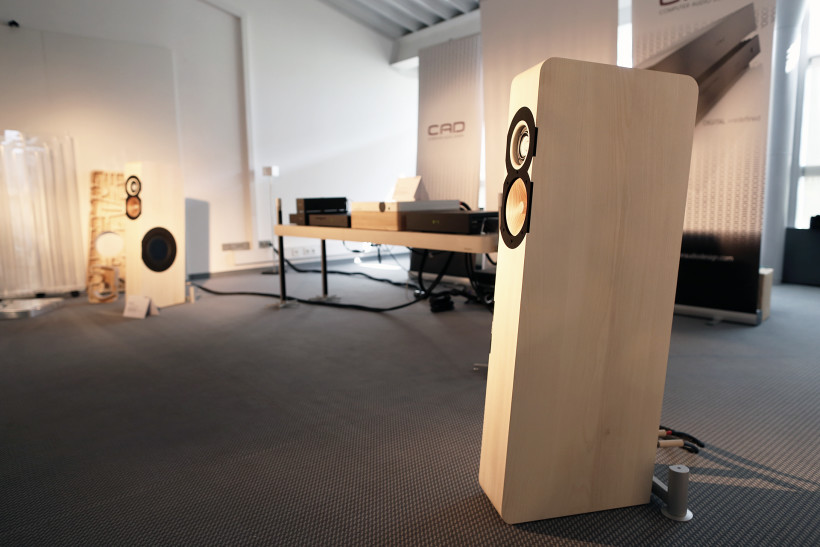 Chord
A visit to Chord was another quick one. The main rig consisted of Dave DAC, B&W floorstanders and some new stereo amplifier, I can't recall its name sadly. The sound was decent to say the least; full, resolving and smooth. But the latest addition to Chord's offer was a compact power amp known as TToby. It was designed to match Hugo TT's quite small form factor. Though the latest product wasn't turned on, it could be viewed from every side.
Divaldi
This was one of those memorable and random encounters. During hall four exploration I've stumbled upon three Divaldi (Polish brand) gents. At first they said that wandering around is their goal. Though in a bag they held something special. Their class A headphone amp known as AMP 01 got upgraded, separate power supply appeared and it is a visually matching one. That is one very appealing product right there. And it sounds awesome, Polish press dealt with it several months back.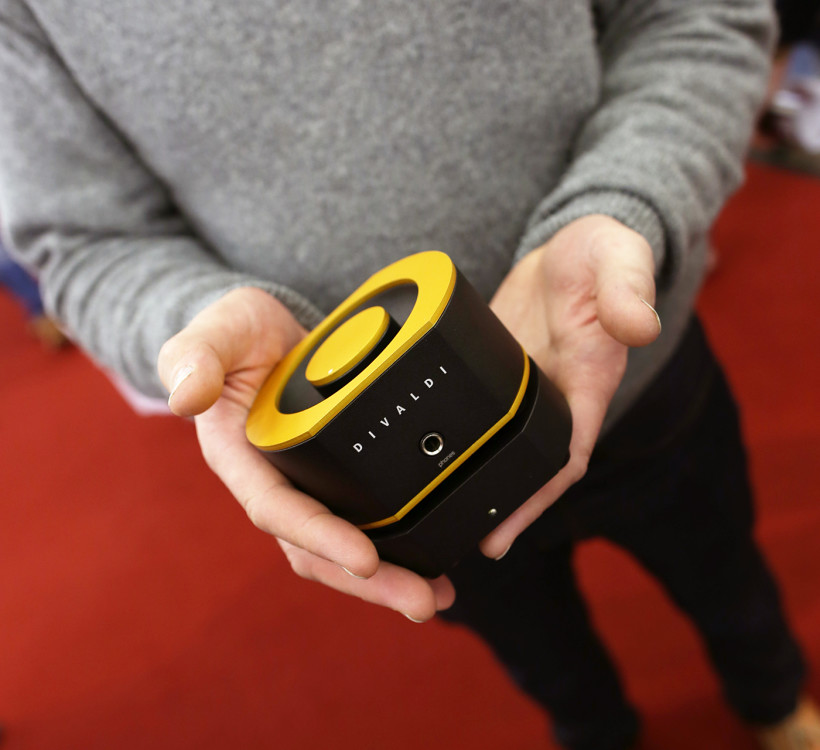 Deluxe Acoustics, Kennerton and Viva Audio
This was one of those booths with interesting things going on, yet environment made any listening rather difficult. Kennerton is a fairly new headphones brand, all of its models were shown. Some of the products are pricey, Odin flagship in a so-called old wood finish runs for $2'450. Still that's pennies in comparison to Viva Audio Egoista 845 amplifier with $10'000 on its price tag. And a Numerico DAC, let's not forget about that one, therefore another $10'000 to spend. This setup had a crazy potential, yet unexplored by yours truly. Deluxe Acoustics is the one to blame, a gent in a yellow shirt handled these and tended to play it big, bold, loud and proud. At least every time I was nearby. Maybe next year things will be a bit different.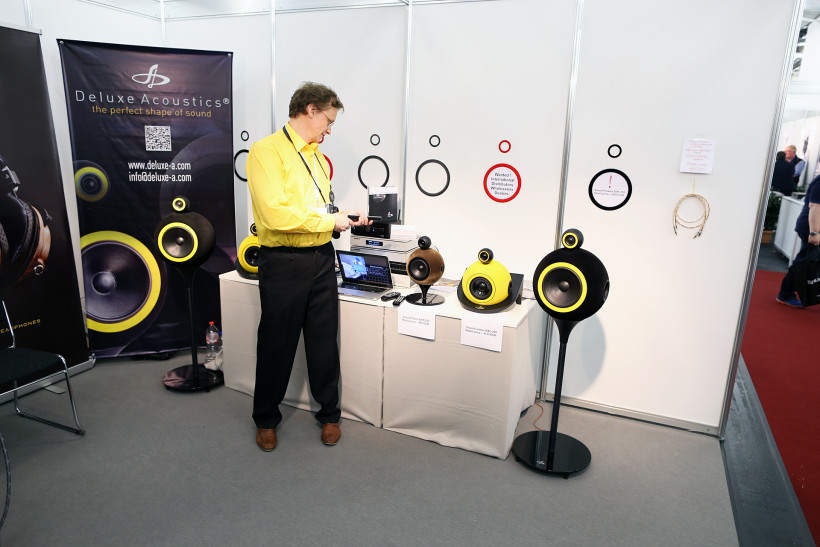 EMMESpeakers, LampizatOr, Skogrand Cables and Stacore
LampizatOr's booth was on my roadmap from the very beginning. Łukasz Fikus was a newcomer in Munich, yet the effect he got with other exhibitors in their room was good to say the least. And what's more important, they had a proper room, which equals at least decent listening conditions. The whole setup consisted of a balanced Golden Gate DAC equipped with four WE101D-L replicas, aka. tennis balls and loaded with TAIV VC-03 volume module. As far as I know, Łukasz used his own transport and Golden Gate source fed Analogue Domain Isis amplifier which handled Italian EMMESpeakers GALILEO Diamond floorstanders. All of aforementioned pieces of the puzzle were wired with Knut Skogrand's cables. Have you ever seen this gent? He's HUGE. Moving on, Polish STACORE Advanced pneumatic platform was sitting below Golden Gate. That is one serious brick, it weighs 94 kilograms. The sound in a room was big and rather bassy, presumably because of the speakers. I got the impression that these were an overkill for not so big exhibition space after all. But as the owner of Golden Gate loaded with the very same tubes I could easily hear some of it's features, namely big and complex soundstage, density and first row quite close to the listener. And knowing that Psvane replicas are fast yet not as thick as 300B's, my bet is that bold low end was due to the speakers and not a source. Though this particular room sounded enjoyable overall.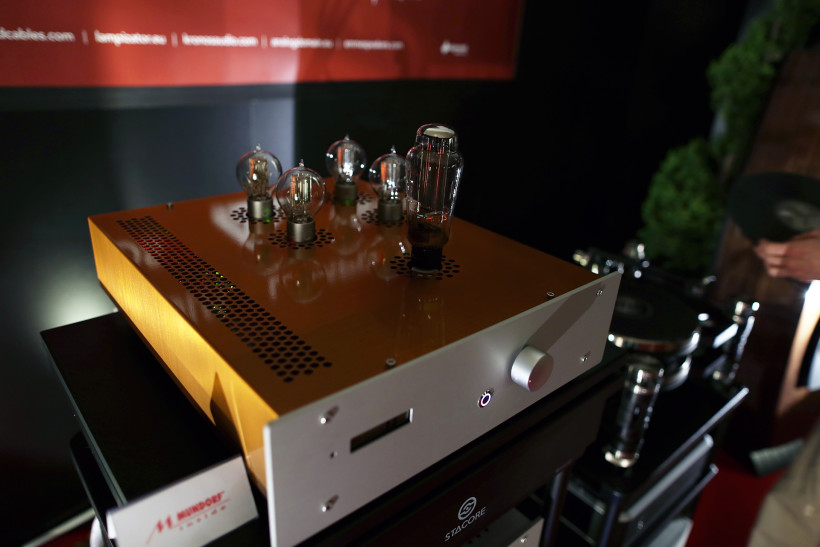 ENIGMAcoustics
It was nice to see ENIGMAcoustic people again. Their Dharma D1000 gained lots of attention and rightfully so as this is one great set of cans to have. Last year it was shown with Athene A1 class A tube amplifier in a lovely glass chassis. This time said product was absent but several others appeared instead; Questyle CMA800R current based amp, Woo Audio WA8 Eclipse mobile integrated solution and Lotoo PAW Gold DAP. To my ears D1000 performed nice with all of prepared setups yet if I had to pick one, I'd go either with Questyle's device or the one made by Jack Wu. But that wasn't the whole story. ENIGMAcoustic booth had a room prepared and marvelously looking Mythology M1 monitors were there. Great, easygoing, fairly light, yet smooth, detailed and refined sound. I enjoyed this one a lot.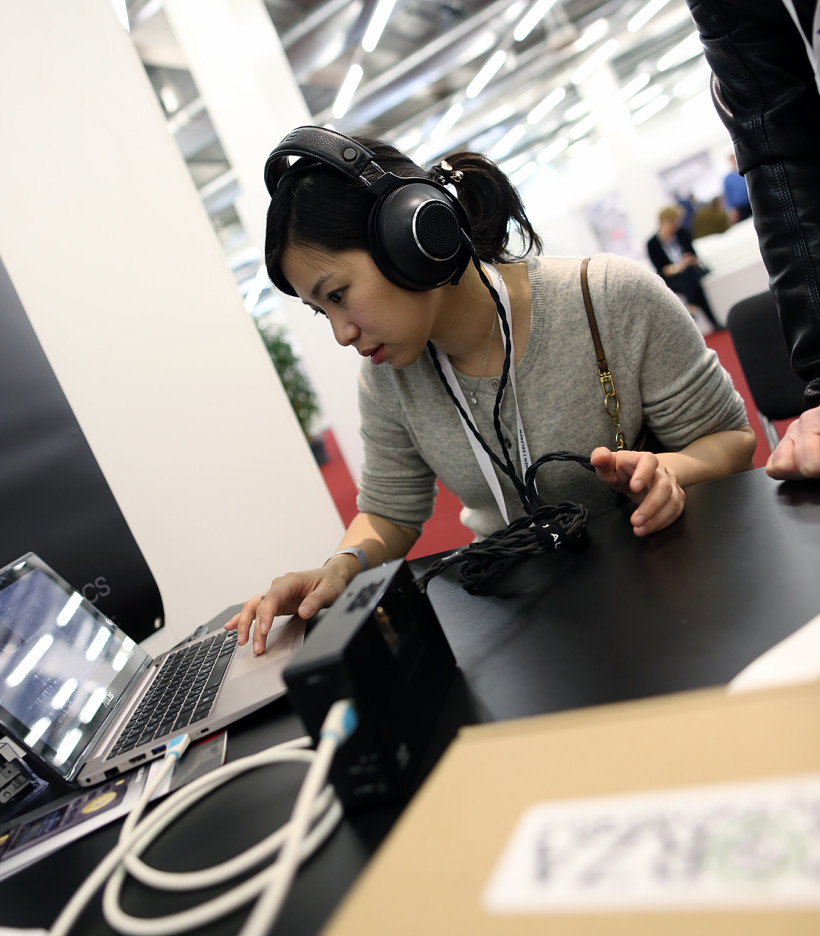 Final
Final's booth was organized as per usual, literally every model could be heard and touched which is always a good thing. This was another place where Lotoo PAW Gold was used extensively and since it's a very fine DAP, no misalliance happened. Two new products were shown and from two totally different shelves. F3100, F4100 and F7200 will be available for $180, $280 and $480 respectively. These IEM-s were developed in order for Heaven VII to go to EOL resting land finally. The feedback was that VII was not so lucky overall as people had issues with the size of the drivers enclosure and weigh. These were plainly big and uncomfortable. Maybe Final is all about extremes as new F models are the tiniest IEM-s on the market. Think JAYS q-JAYS but after heavy liposuction. And finally, detachable cables are here. Finally. This should have been done a long time ago. The other new model from Final's IEM domain is called LAB II and is priced at whopping $4'000. Why? Well, its enclosure is a 3D printed shell whereas the material used in said process is a titanium powder this time. F3100 sounded OK for their price, quite natural and the expensive one's sound lacked body. Though the misfit might be the cause as this pair of IEM-s is the first one finished with heavily polished titanium tubes and nothing else. It means that silicone, foam or any other tips are a no go. One has to go vanilla with this pricey looker.
Gato Audio
Gato Audio wasn't in my schedule yet I have to confess that I am a sucker for this kind of looks. Danish electronics are subjectively a sight to be seen if someone asks me. Since the opportunity of taking PWR-222 mono amp innards pictures appeared, I simply couldn't resist. Gato Audio folks had a room prepared. It was filled with their top shelf stuff and a new set of presumably expensive floorstanders. Sadly I can't say anything about the performance as I rushed in, took several photos and rushed out.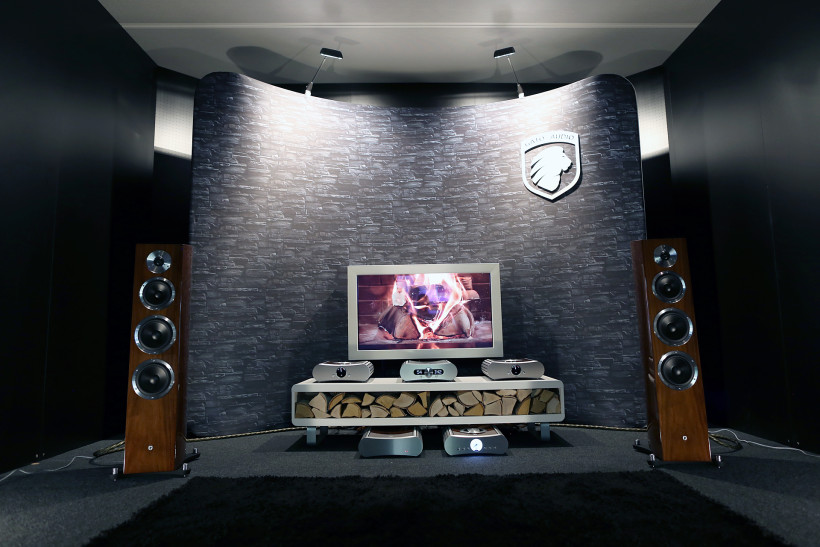 Hegel
Hegel's place was organized as per usual. It was big and filled with every goodies this Norvegian manufacture has to offer. White KEF Blade speakers screamed "now look at me!" and so I did for longer than I should. After a while it paid off as I could easily miss Hegel's latest portfolio addition, namely Mohican CD player with its €4'500 price tag. "The Last of the Mohicans" flick with Daniel Day-Lewis in main man's shoes sounds familiar? CDP2A and CDP2A MK2 will soon perish and Mohican CD spinner will be the last one standing. Perhaps even the last CD player Hegel does, who knows? In the light of these facts this particular naming makes a perfect sense really. Another addition is the famous H160 integrated amplifier but in white. And it looks damn good. Though its front isn't metal but some kind of an artificial composite. Though with white tablets it visually clicks. Moose's ply head as a Hegel's booth ornament made at least several individuals chuckle. And the company's manager – Anders Ertzeid – was a bit surprised once he saw yours truly. I'd gladly visit Hegel's booth for his priceless face expression alone, just take a look in the gallery (apologies for misplaced bokeh). Now that's a one individual scared to death for no reason at all!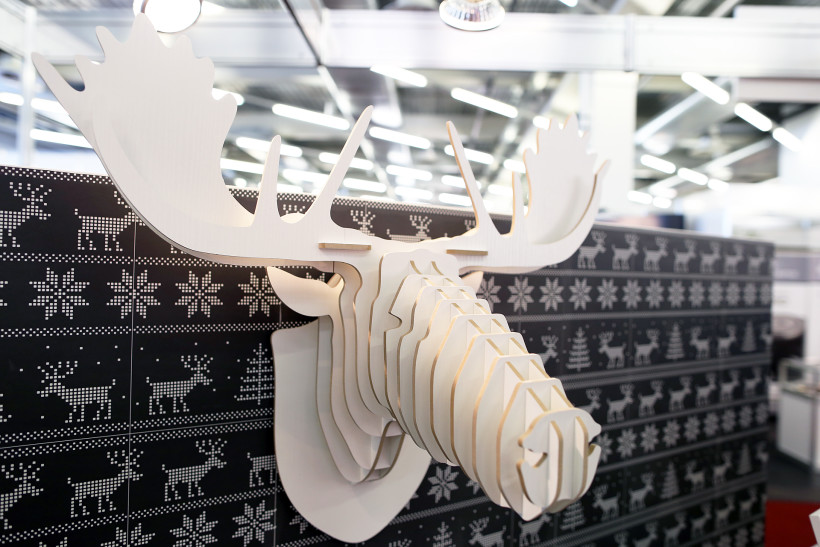 HiFiMAN
At HiFiMAN's booth the temperature was high to an extreme level. Exposition full of headphones aside, there was a tiny room with Shangri-La electrostatic setup to listen to. And by that I mean a pair of visually HE-1000 alike headphones yet of electrostatic sort and a tube amplifier loaded with four 300B bulbs. The sound was smooth, fast and resolving, to some it might seem as fairly light. Though for me this kind of a performance comes directly from the electrostatic camp. Therefore it's unique in many ways. It's hard to evaluate how good the sound was as even despite the door closed all the time, the noise outside spoiled my listening pleasure. Crowded and loud place, what can you do? Dr Fang Bian was happily talking to visitors, always with latest Edition S portable headphones on hand. On a side note I got those and a HM-901S loaded with MiniBox Gold amplifier module. The reviews are already scheduled.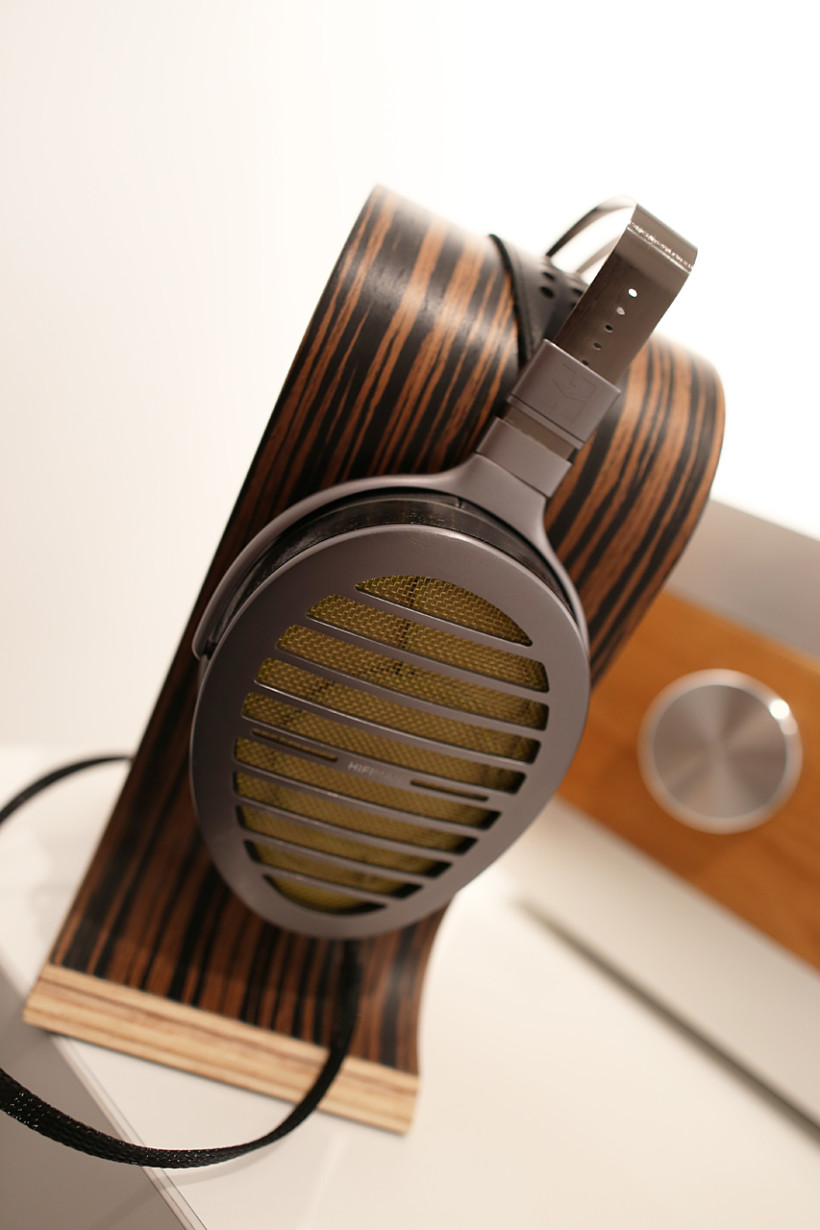 iFi Audio
iFi Audio crew showed their products in a regular fashion, which means four of these stacked on an iFi Rack acrylic/metal tower with a laptop nearby and some headphones. Though the visitors are always encouraged to use their own cans which they happily did. Retro Stereo 50 integrated amp paired with a LS3/5 passive bookshelf monitors were also there yet not operational. No surprise as iFi Audio shared a room with a floorstander setup of high caliber. But the most important device thus far this year in a headphones world is undoubtedly a $1'700 priced iCAN PRO. This isn't any regular amplifier. It has both NOS tubes and transistors inside yet it's not a hybrid. The juicy part is that the user can switch on the fly whether he'd like the signal to be handled in one fashion or the other separately and in an instant. I haven't seen something like that yet and am curious as hell. The review will happen soon. Yet I was told that iCAN PRO is also an excellent preamplifier which is something I'll gladly check within my own four walls once the package arrives. Even despite the fact that iFi room was noisy, I was able to get a glimpse of that PRO goodness and this kind of authority, vividness and fatigue-free presentation is a rarely heard thing in this hobby.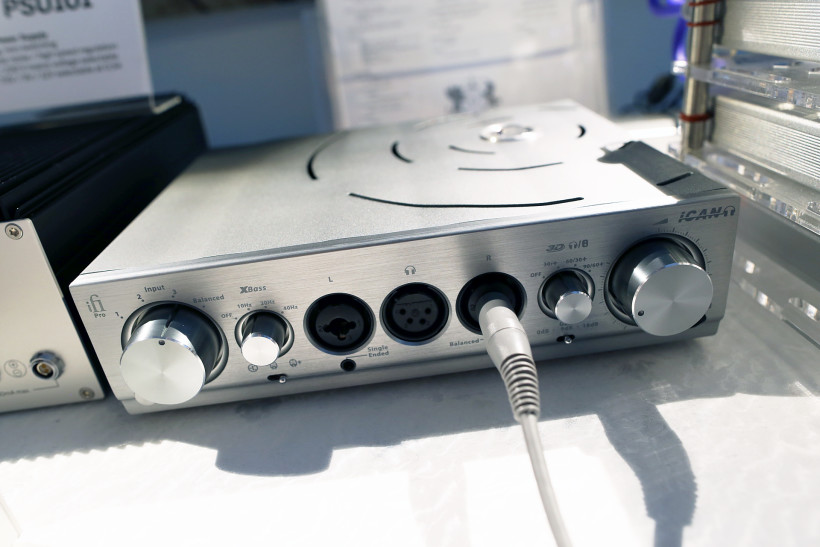 King Sound
Are you looking for an electrostatic headphone experience for less coin than Stax? If "yes" is the answer then KingSound is your stop, at least in theory. Practice shows than the real nature of things is much more complex. The environment wasn't generous so again I'll restrain myself from making any detailed comments. Subjectively this sound lacked refinement, was rather forceful and fairly light. If one is after this kind of electrostatic experience, he now knows what to search for. To make it short, I wasn't impressed.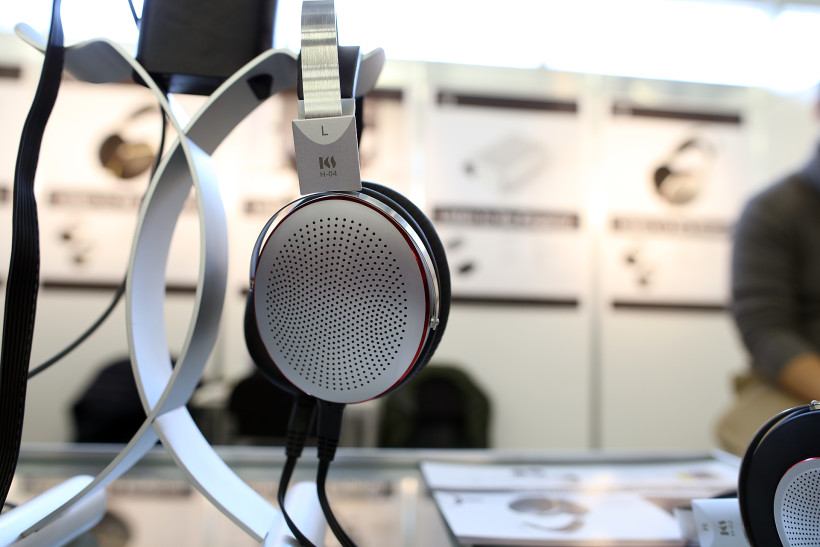 Kondo and Kaiser Acoustics
I promised myself that this year's expensive rooms are off my radar yet Kondo and Kaiser Acoustics setup I had to listen to. And subjectively it was very good. The sound was involving, spacious and delicate. I believe that I could listen to it for hours and that wouldn't be enough. I can't say whether this performance was worth the asking price as such rigs are way above my comfort zone. Yet a fairly short visit left me impressed nonetheless.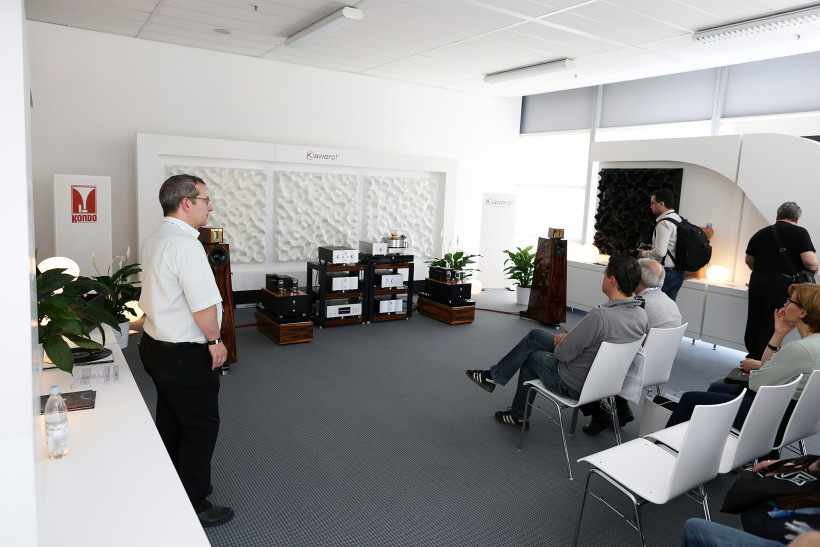 Meze
To a point Meze company was hardly known. And it all suddenly changed after 99 Classic model. This particular set of cans turned out to be amazingly built and surprisingly good sounding overall . When we factor the retail price of €309 the winner is clearly visible. Yes, 99 Classic is a product which I wholeheartedly recommend to everyone who's after an above average all-rounder on the go. And this model was properly shown in Munich this year as Meze had a very nice, spacious booth. It turns out that these guys know exactly what they want and know how to pull this off. Therefore we have a bang for buck winner, 99 Classic that is.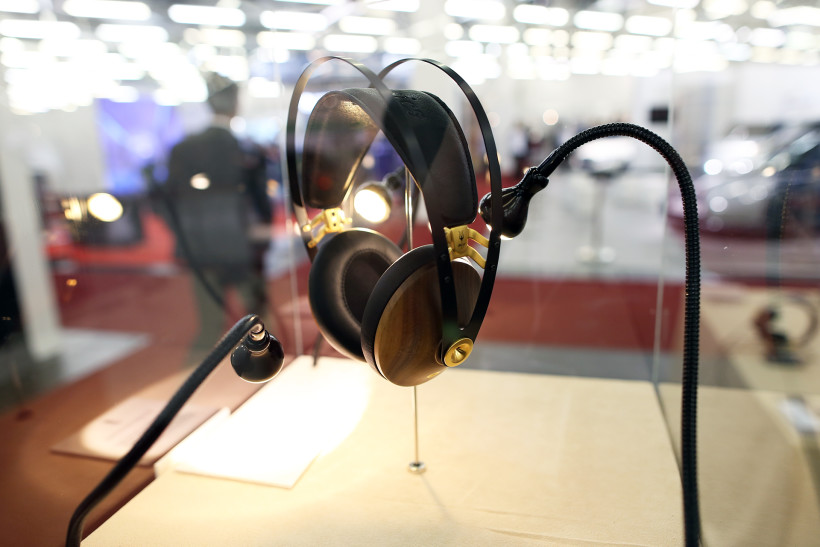 Norma Audio
Even though Italian Norma Audio manufacture had only an HE-1000 based headphone system one could listen to, with the rest of the portfolio these guys performed something similar to what Gediminas Gaidelis did. Showing the most impressive side of their devices – innards –  instead of trying to make it work sound wise with the speakers in an open booth was a very good idea. People familiar with a thing or two in audio electronics department could instantly recognize Italian craftsmanship and take interest in the product itself. And that's a win-win situation in such undesirable acoustic conditions. Needless to say, Norma HS-DA1 VAR DAC I've reviewed a while ago is a very fine machine to have. It has that vintage, mellow and vivid R2R character lots of audiophiles enjoy. Hopefully soon enough I'll find if that's the case with the rest of Norma Audio portfolio.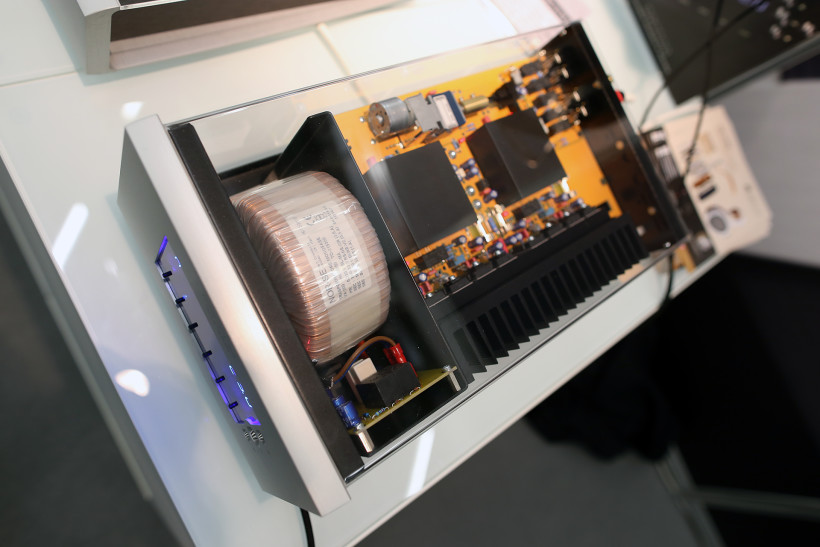 Philharmonia by Jean Nouvel
Philharmonia speakers nearly instantly grabbed attention of each individual nearby and for a good reason. High End exhibition is a tidy place overall, yet it's safe to say that the most prestigious part is in the atrium where the most luxurious and expensive setups are shown. Therefore minimalistic and quite posh Philharmonia space looked a bit odd among typical booths. That aside, the product itself looks good, pricey to say the least. Yet not a single word of commentary from this journalist as listening conditions were rather poor.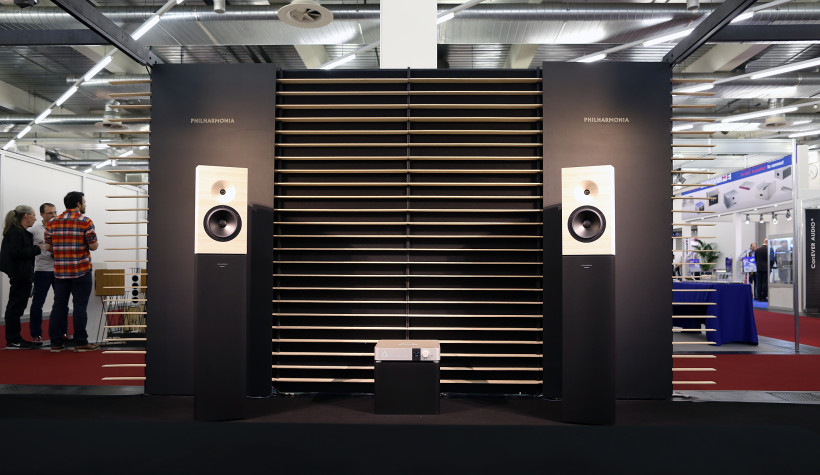 Pylon Audio
Polish Pylon Audio manufacture had a rather nice room. Once the door closed one could have a listen to Diamond 25 (€1'473/pr) and Diamond 28 (€1'654/pr) floorstanders supplemented by Fezz Audio KT88 and push-pull based Titania amplifier (around €1'899). For the price this sound was rather impressive. Quite even frequency range yet with some safe density amount is something unique in an affordable audio class (every speaker set below €1'500 I consider as such). Usually for the coin one gets either greatly boosted bass or overly lean one yet with elevated highs to make the performance more detail oriented and airier. So once the golden middle between these two approaches is found in a quite inexpensive product it makes things interesting, refined. I believe that's what I've heard in Pylon Audio room exactly.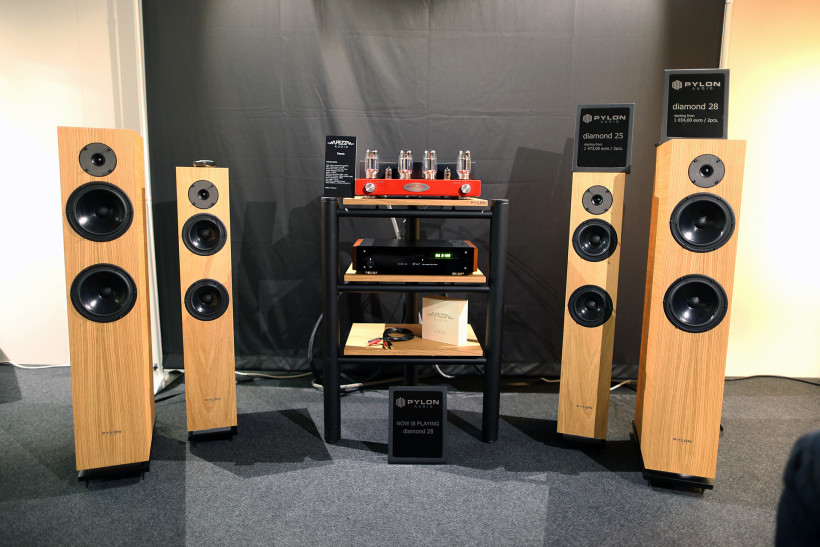 Questyle
Questyle's booth was more modest in comparison to previous year, yet some of new products were shown. This time Questyle's presentation was less silvery, gold appeared instead. CAS192D d/a converter in Golden version fed the signal to CMA800P Golden preamp which passed it to two CMA800R Golden amplifiers (each in mono mode) and Audeze LCD-3 headphones. All environmental things considered this was a very good sound; full, dense, resolving and interesting overall. Yet to properly evaluate this oh so very golden stack, time and silence around are badly needed. Therefore for now colour this journalist intrigued. Of course silver and full-sized products were shown as well, yet not in the same configuration as Gold series and with completely different set of cans – Sennheiser's HD800.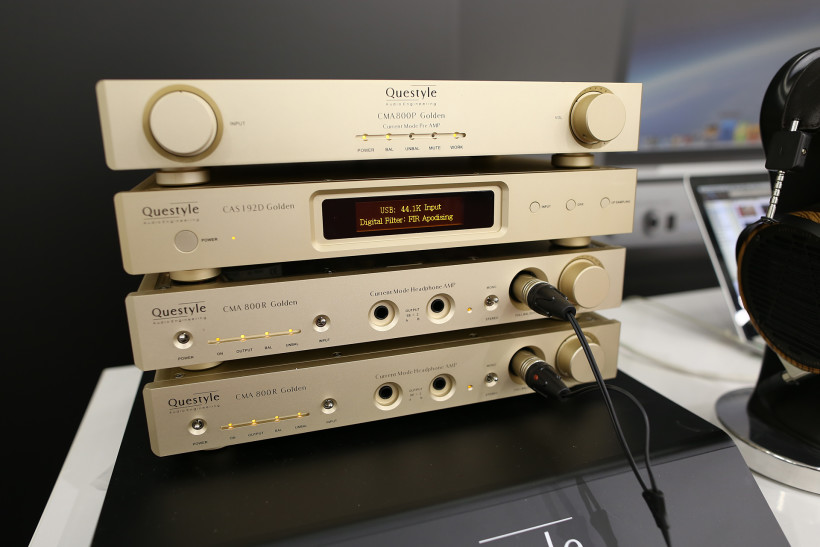 Sennheiser
Sennheiser's exhibitions are for some time all about Orpheus. In order to spend 15 minutes with it one had to make an appointment one day before and that's what I did. This $55'000 electrostatic, tube based, headphone integrated system sounds and looks very, very good. It should. So a statement product actually worth this kind of dough? I have no idea as an audio expense of this sort is way above my point of interest. YMMV though and I'll leave it at that. Cheers.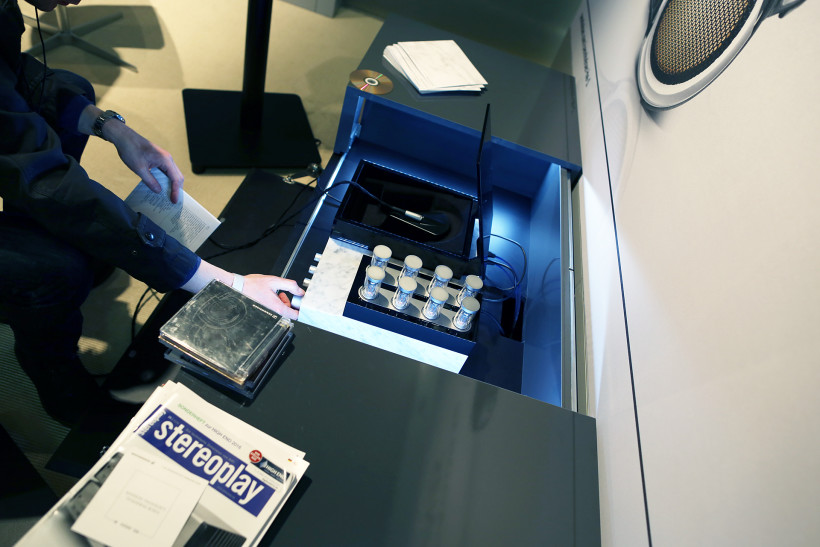 Shure
At Shure booth there was one yet exceptionally interesting product. Electrostatic IEM-s known as KSE1500 with matching amp to make these work is something unseen thus far. And a reason good enough for every mobile sound enthusiast to get very excited. $2'999 is a lot. With a price-tag this high, the product should perform at least exceptionally. And in fact it does to my ears as it sounds effortlessly as electrostats tend to. Yet with a nice low end addition, that's probably due to different seal than in regular, circumaural headphones. Now ain't that something? Well, for this kind of dough one can get himself any CIEM product on the planet. Though I think that KSE1500 brings something special to the mobile audio table and for some of you it might be worth the asking price.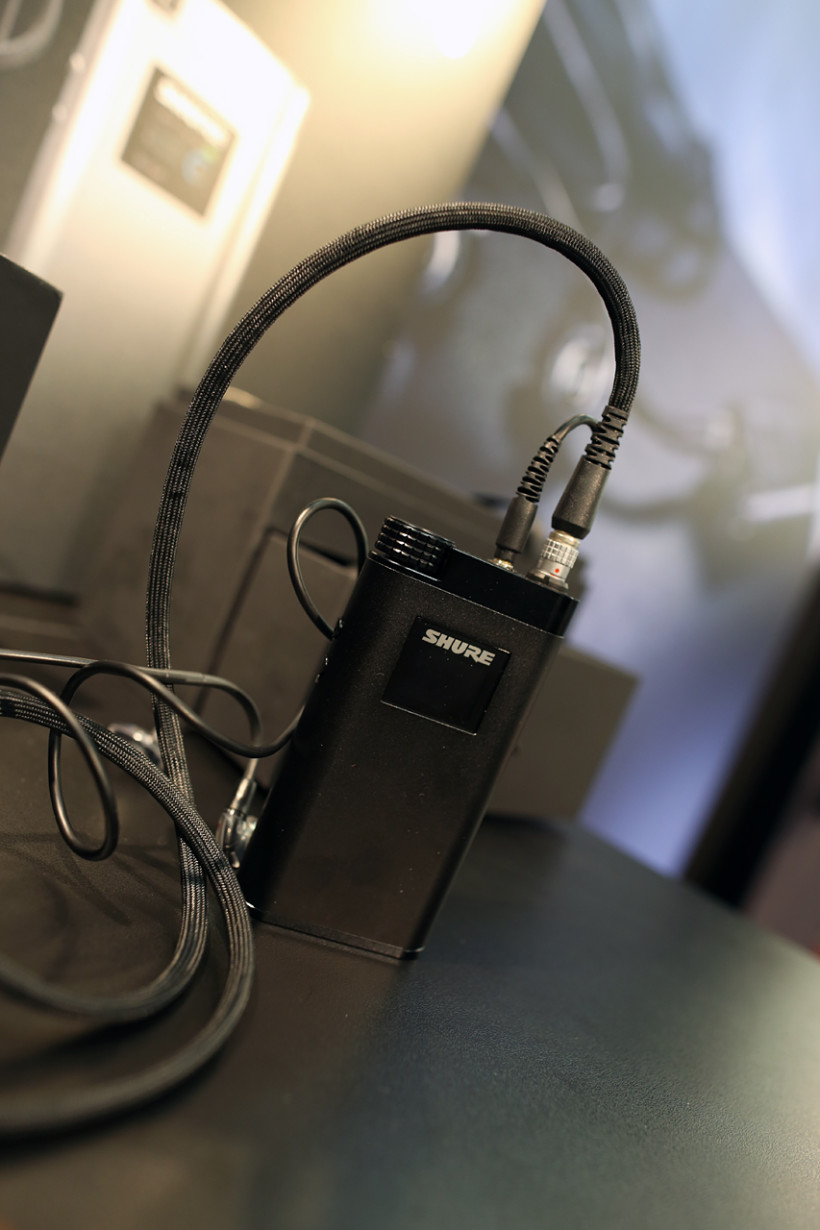 soundkaos
What Martin Getelay – soundkaos CEO/owner – showed this year has made everyone rather shocked. At least half of visitors was dismayed and the other half seemed extremely interested. Why? Because of said gent's latest speakers known as LIBéRATION. This is one oddly looking open baffle affair, yet not because of a rather unique design which includes no box at all or the speakers used. To some LIBéRATION looks like an owl, other think it resembles human being. But shape associations aside, it offered very interesting, easygoing, detailed and fast sound with decent amount of subtlety and smoothness. LIBéRATION is equipped with two widebanders, a Raal ribbon tweeter and a 15″ woofer. This model also is a new flagship in soundkaos offering and will be sold for €22'680. Its walnut frame is fixed. The mesh can be bronze or anthracite yet  the price remains the same regardless of version. As for the sound, Swiss product performed with a SOtM class D amplifier and the effect was rather bass light. Yet from what my colleagues have told me, this model's performance with Grandinote electronic during Hifi Deluxe was considered as one of the most positively surprising ones. I believe that after tinkering with the  setup (Class A amplification, a DAC with tube based output stage) great things can be achieved with Mr Getelay's latest product as it sounds VERY promising. Hopefully I'll have a pleasure to know what's what soon enough.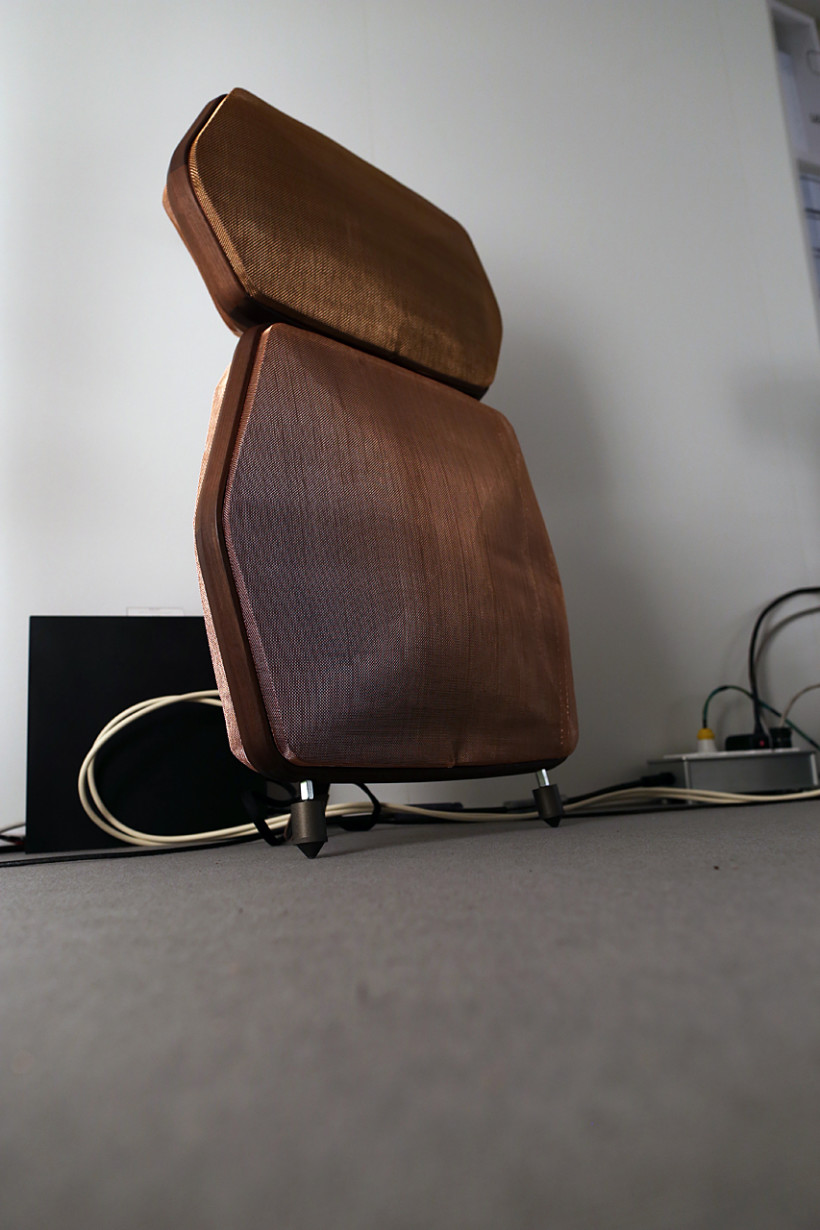 Stromtank
To make it short, I haven't seen a bigger battery pack for audio and that's what Stromtank is exactly. The whole concept probably works decently as battery based power supplies tend to. Yet at the same time it looks obscenely expensive!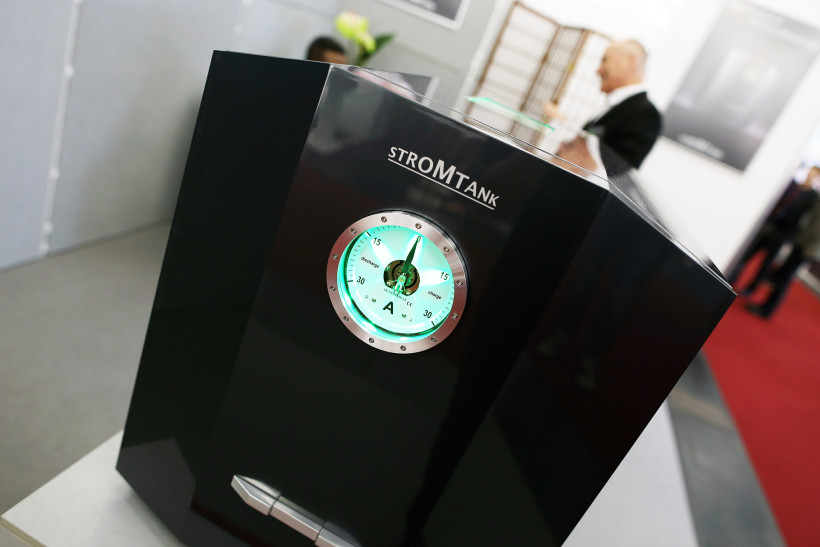 Telos and StillPoints
If one's heart beats faster once Duelund capacitors are in sight, it's highly probable that at Telos booth he'd be a victim of a severe heart attack. This company had several cable and cap related tweaks in its portfolio, yet in Munich signal and power tweaking devices were shown, namely grounding noise reducer and quantum noise resonator. The chassis quality was striking in each CNC milled aluminium case, just take a look at the pictures. WBT speaker terminals and Duelund capacitors were used in these too. Telos shared its booth space with the American StillPoints company and I have to say that its products look as good on hand as in the web.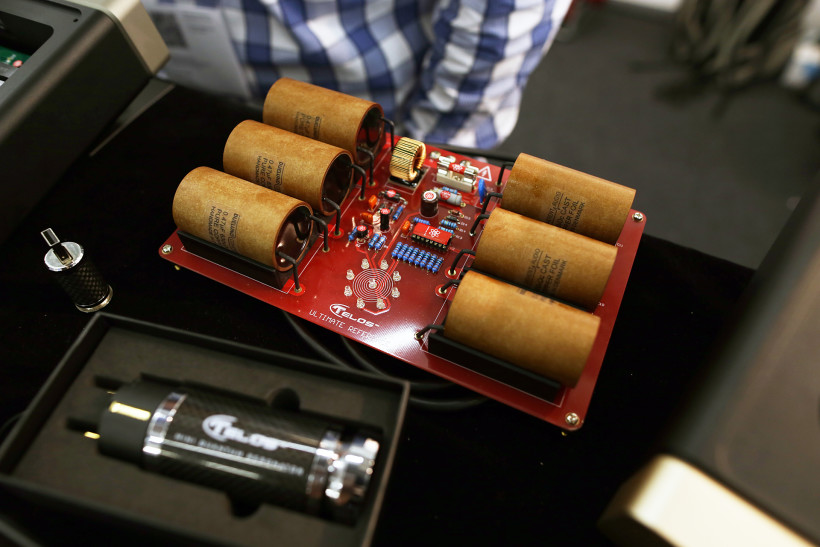 Trilogy Audio and ISOL-8
Nic Poulson's Trilogy 925 integrated amplifier fed Sven Boenicke's W8 speakers one year ago in Munich and it was a marvelous sound if someone asks me. This time the former English gent moved downstairs to a hall four and prepared a nice yet soundless booth with ISOL-8/Trilogy products only. The upshot was much more interaction with visitors as these could not only talk about technical stuff with Mr Poulson, but also touch the goods from close distance. Nic's 925 integrated's top cover was open all the time for everyone to see its innards and this was a sight to be seen. Beautiful device to look at, I assure you. But the most important part of said English booth was a 993 hybrid stereo power amplifier and a 903 valve preamplifier, these were shown for the first time in Munich, therefore a premiere had its place. The products look serious and very mature to say the least. Each is about £5'000. Both Nic Poulson and me are very happy after this year's High End exhibition as he always had some enthusiast to talk to and his products made visitors interested. And me? Well, I got home with 925…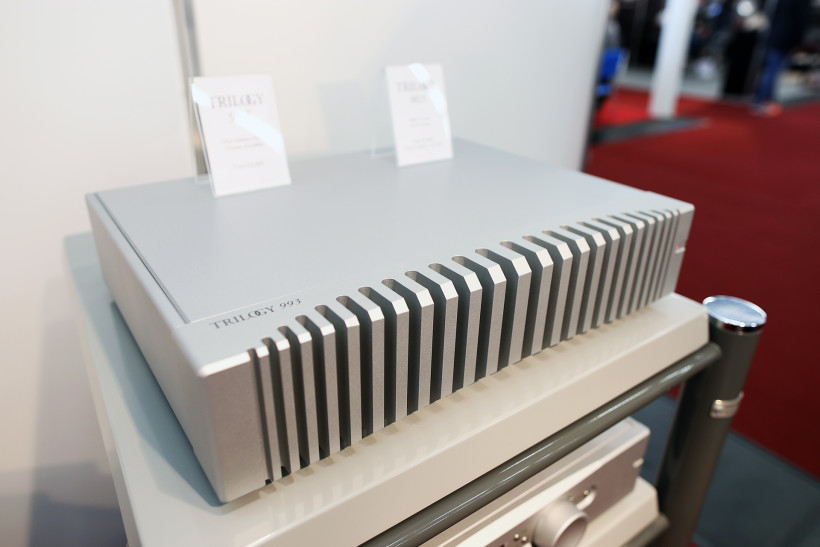 Vivid Audio
Srajan Ebaen pointed out G4 model in his The No-Show Report. I went to the right booth and took the needed pictures for your enjoyment. I have to admit though that subjectively I prefer the matte finish on these speakers instead of typical glossy one.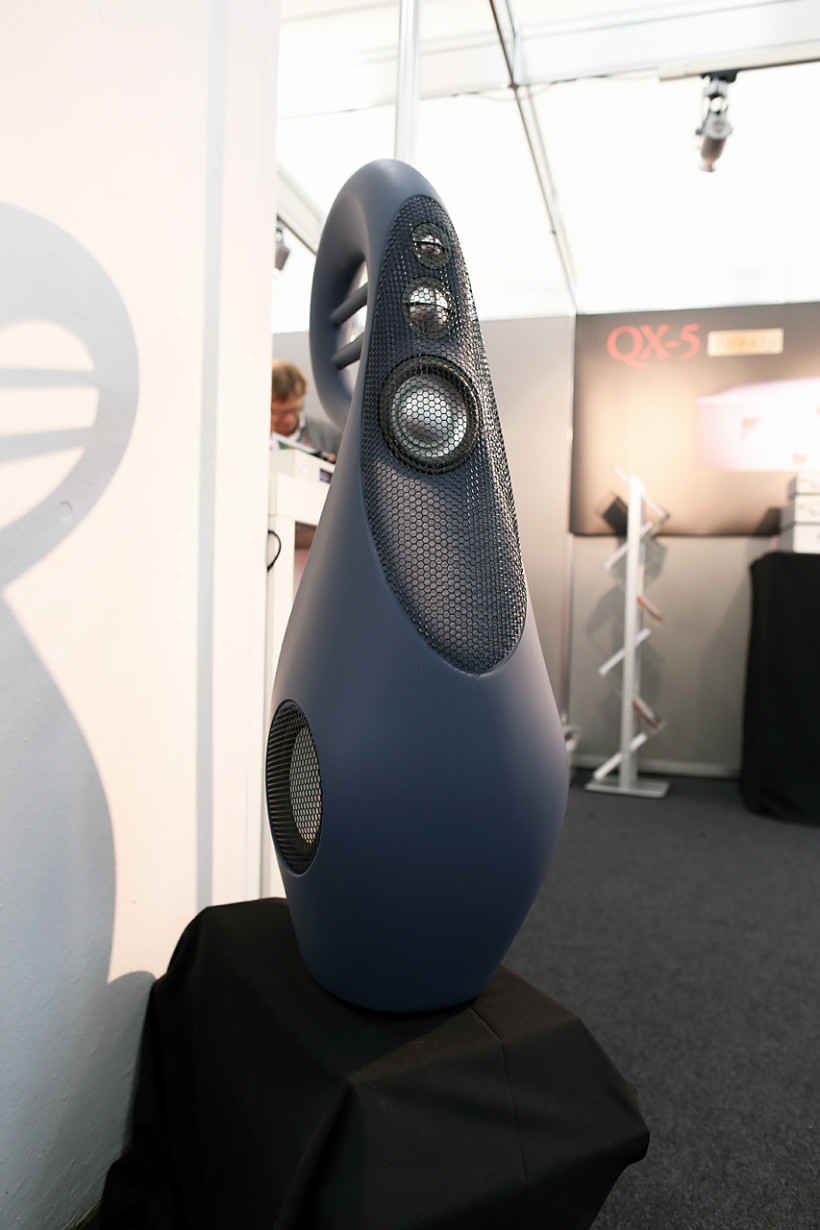 Voxativ and TotalDAC
And lastly, Voxativ/TotalDAC room was the most important for me this year. I had a very high hopes regarding the sound I might hear there. For a perfectly understandable reason though. After getting myself familiarized with several very positive reviews it couldn't have been any different. 6moons.com recommendations tend to build expectations and knowing that Holger Adler will show new goods – Zeth floorstanders and Hagen monitors  – things got even more interesting. When I got to the room, the latter model was in the spotlight yet supported by active bass modules which with Pi monitors create 9.87 model. To some people this might be seen as a trickery as this combination is highly unlikely in real life. If someone is after said dipole woofers and is able to do so financially ($19'900/pr), he'll probably get Pi ($23'800/pr) at some point to complete 9.87 eventually. Yet Hagen puppies are really small in comparison to the rest of Voxativ's offering. Therefore some help in lower octaves was in order as the room was rather large for these all alone. At least that was my assumption. What I've heard was an amazing bass no questions asked. I wouldn't change a single thing in it as it was fast, thick, extremely well textured and very finely differentiated. Not to mention that it could go very deep yet surprisingly effortlessly. As for the rest, subjectively it was my kind of a performance. The sound was precise yet not clinical. The soundstage was a spot on though I expected nothing less from a widebander. The texturing was impressive as well with no dryness at all. Vividness and detailing were there but the music was presented in a curious way. It wasn't squeaky clean, some grain was a part of the whole but not to a point in which this would cause any fatigue. Picture film grain in a mild amount. It's visible, yet instead of spoiling the view it elevates the cinematic experience. Sound wise things were slightly on the soft though heavily involving side. The outcome was it simply made my day. Even though I'm not familiar with neither Vincent Brient's d/a converters, nor Voxativ's bass boxes, tube based amplification or latest monitors. Still a mystery to this journalist, that's true. Yet it was a very interesting experience nonetheless and certainly the most enjoyable and memorable one. Hopefully something along these German/French lines will happen in the not so distant future. As for TotalDAC, cogs are already on the move, shipping address has been provided… Besides, Vincent's products shown in the web look great yet this elevates once one has a pleasure to judge these with his/hers own eyes. It's rather difficult not to get interested.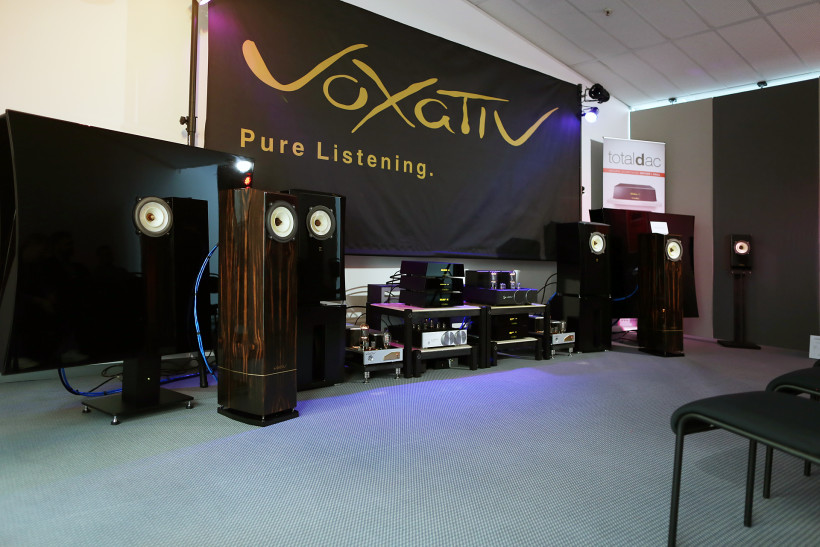 Summary
High End isn't getting neither smaller nor less interesting, on the contrary. From this journalist's perspective the organization was top notch as usual and the place wasn't overpopulated. Some say it's because of such a nice weather we got this year. Whatever the reason might be, no complaints on my end as everything went smooth. Rather sooner than later everyone could have a listen to almost every setup without awkward awaiting times, subscriptions one day earlier  or standing in lines. It simply worked. The most valuable upshot of this year's High End event for this very site though is the amount of work on both knights horizon. Even if a small fracture of scheduled reviews will become the real thing, we'll have hands full of work for quite a while. Therefore stay tuned as things will happen very soon and 'till next time.