In late 2019 I visited Denmark's city of Aalborg to learn about Audio Group Denmark and its brands Aavik, Ansuz and Børresen. Fast forward to early 2023 when I was invited to the company's main facility again. Over the years it had flourished into a behemoth that deserves a second story. Enjoy!
The maze
A lot has happened since 2019. Although the pandemic outbreak had a major impact on us all, my conclusion is that most audio manufacturers asked about that subject had no reasons to complain. Quite the contrary. During that time enthusiasts locked at their homes spent money on goods to enjoy there. This highly profitable period for the audio biz allowed many companies to grow. That said, my contact at Audio Group Denmark – Morten – invited me to fly over to their Aalborg HQ and see for myself how much it expanded. Time didn't stand still there, that's for sure.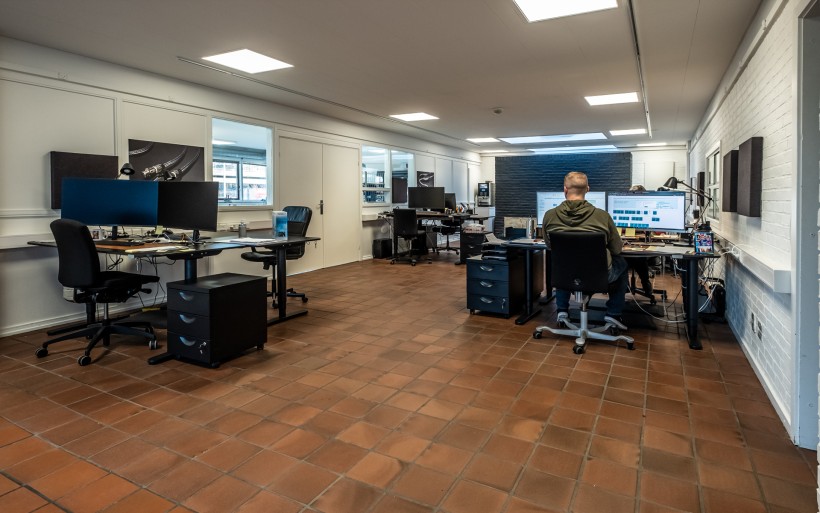 The first stop
Prior to moving forward, I encourage you to take a look at this material about my previous trip to the Danish soil. Back then Audio Group Denmark operated under the name UpperLevel ApS, while its founders Lars Kristensen and Michael Børresen were the CEO and CTO respectively. In 2021 Gryphon's founder Flemming Rasmussen joined their ranks to contribute with his design ideas. One year later Kent Sørensen of Vækst-Invest stepped in as the CFO. In 2022 Lars and Michael sold 45% of their shares to this private capital fund and Kent became the new CEO. Past these structural changes it's the business as usual for Michael who still holds the position of the CTO, while Lars oversees marketing and handles individuals such as myself as the new CMO/CSO. Since he immensely enjoys taking good care of the company's guests and making demos for them, he's exactly where he wants to be and as passionate about his work as ever.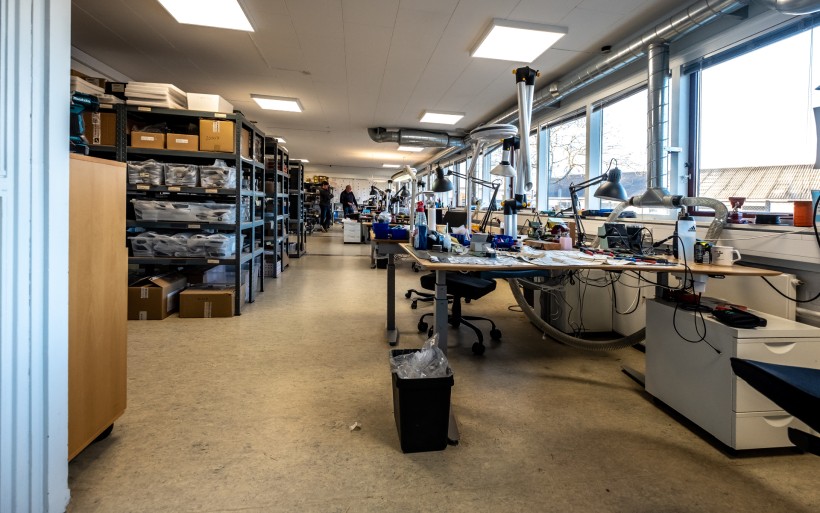 One of many production lines
In 2019 Audio Group Denmark hired 16 staff members and its 1000m2 Aalborg facility took a while to explore. Back then it already struck me as a fully blown industrial operation focused on taking the industry by storm. Now this audio house accommodates 40+ employees on roughly thrice as large floor space. One can easily get lost in that maze of corridors, halls and rooms. Really. To put this into perspective, three years ago one day sufficed to know how to get from point A to B on my own in that building. This time around I had a verbal VIP pass to wander wherever I pleased without any escort just as before, yet still had to ask for directions. Although the Aalborg plant is massive as is, there are already plans how to make it even larger and hire extra staff to control more manufacturing processes in house. During my stay there it was quite apparent that executing even tiniest things internally was the motto.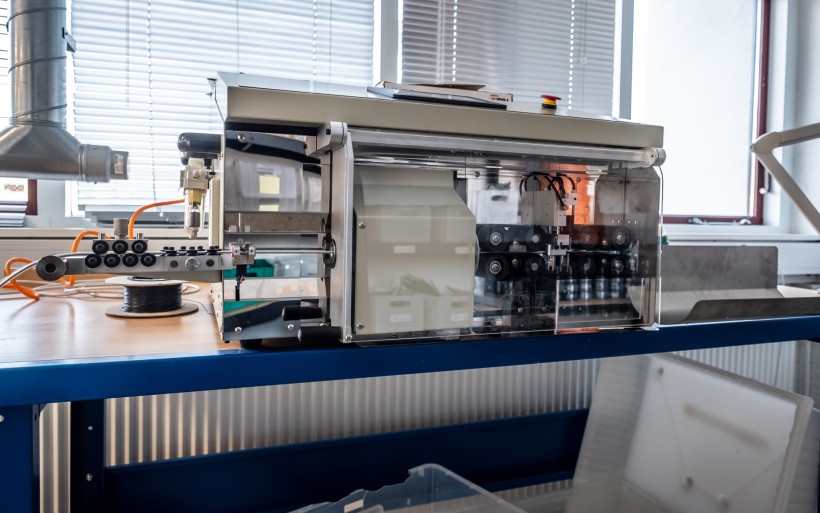 The wire processing machine
My tour started from entering the main room that housed desks occupied by the logistics team, one individual responsible for R&D and the CEO himself. Just as Lars before him, Kent works not above but among staff. From there we went to the large assembly hall to the left, where several employees were busy with putting together various cables and power distributors. The room on the very end of that area featured an interesting machine Lars was very happy about. As it turned out, this unapologetically costly device was designed to straighten a wire, cut it within crazy tolerances and remove outer insulation whilst leaving the conductor in perfect shape. My tour guide pointed at the nearby spool of a very costly solid-core gold-plated ingredient that eventually forms the company's latest Gold Signature range. If its conductive area develops even tiniest mechanical imperfections, a product's performance takes a hit, hence the investment.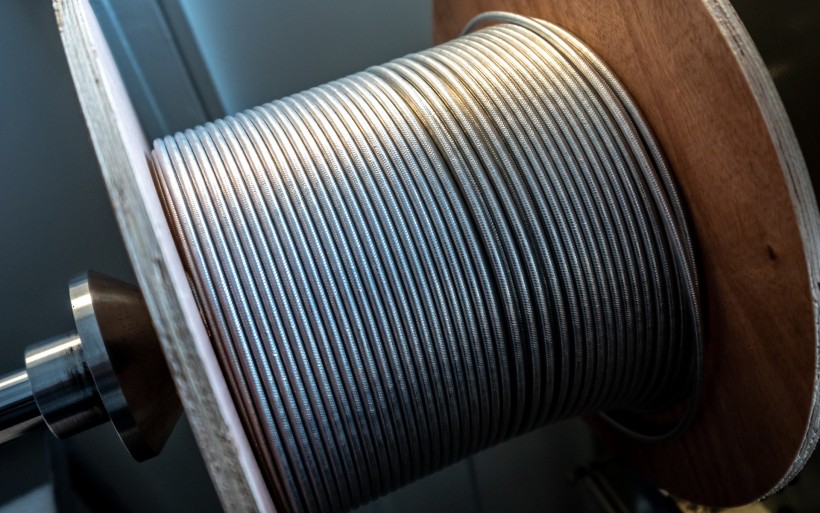 Gold Signature products are based on the wire from this spool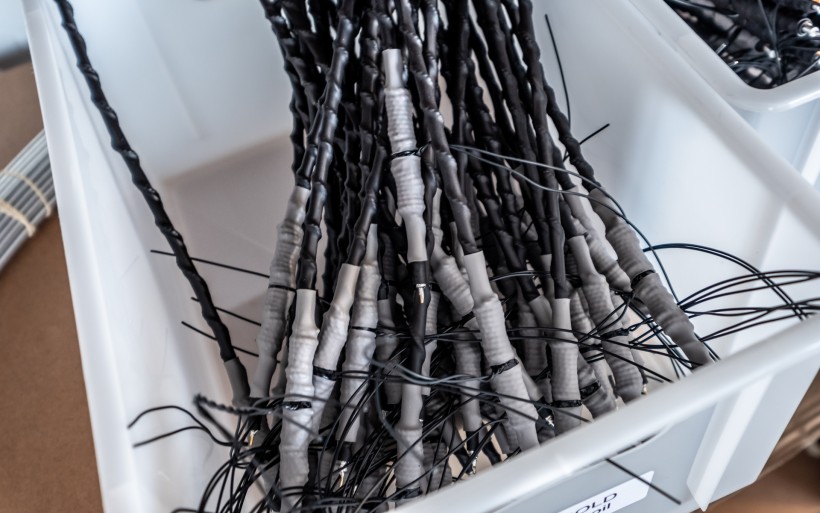 Internal wiring made to mechanically limit incoming noise
On our way to the driver assembly area Lars took a detour to a large warehouse with the company's latest speaker baskets on display. If you find that topic boring, these alien-like objects didn't resemble any other counterpart I've ever seen. At the Aalborg plant significant sums are spent on R&D and exotic materials with desirable mechanical and electrical properties. Aluminium and steel get a hard pass, while silver, gold, titanium and zirconium are cherished. Each basket was 3d-printed from zirconium and optimized by AI to perform, be utmost rigid and incorporate as little of this precious material as possible. Just so you know, zirconium in its commercially available form is 11x more expensive than the already costly titanium. Half a dozen of these zirconium baskets will buy you a middle-class car from a dealer, which is quite bonkers. Then again, Børresen M1 monitor set with these and many other dear parts on board demands €100'000/pr.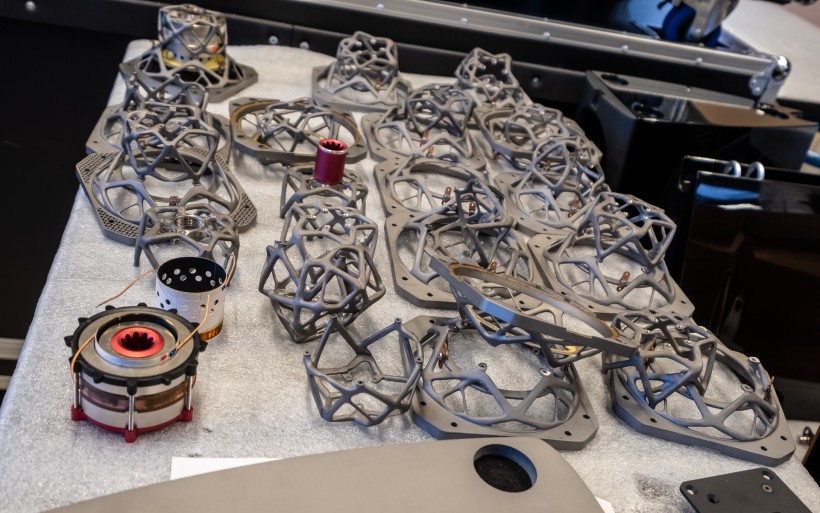 Zirconium baskets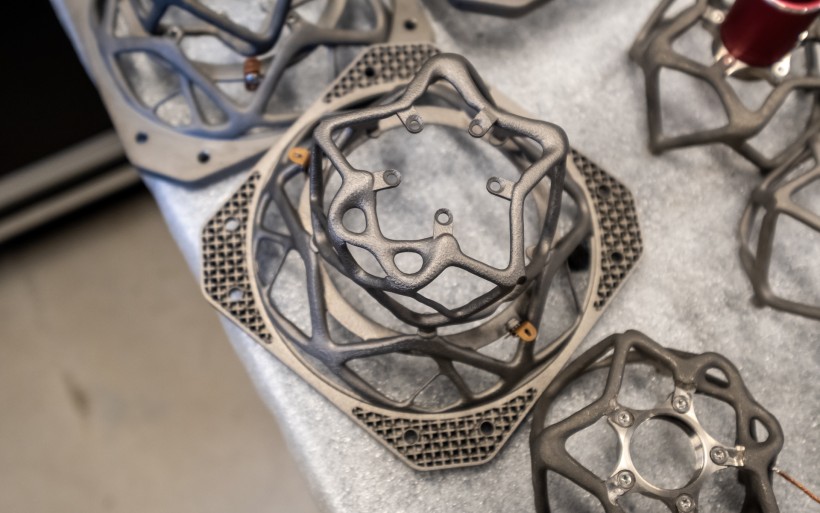 Each basket comprises three parts connected via bolts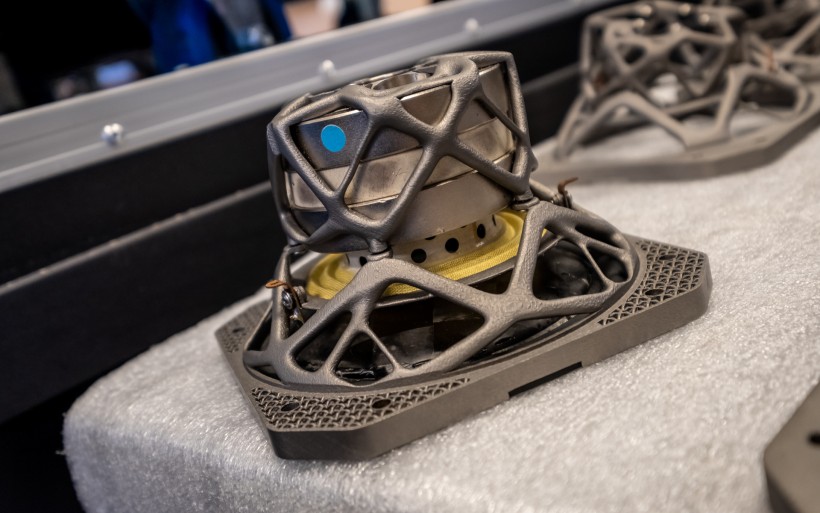 Let me say what we all think: these baskets look dope!

The room just next to the warehouse stored two large cryo containers and chamber where components gently go from the deep-freeze state into room temperature and like so acquire their target properties without developing cracks. Speaking of, I was told that a part submerged inside one of these cryo vats for 72 hours has its inductance lowered by 8-10%, which further reduces noise. My hosts are quite fanatical about decreasing it as much as possible. In fact, all their tech serves that specific purpose in one way or another. In the past Audio Group Denmark outsourced the cryo service, but these days qualified staff fully executes it on the spot. Blue stickers on motor magnets tell us which driver underwent the procedure.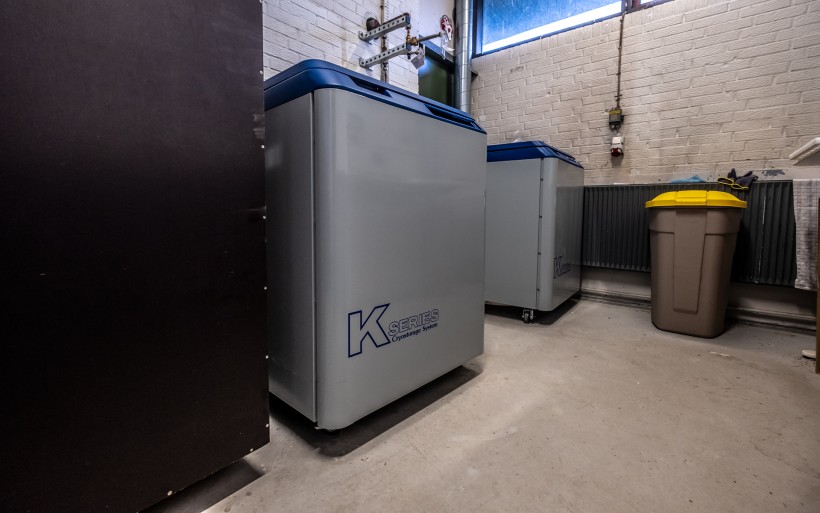 Two cryo vats just next to the chamber where parts rest after their bath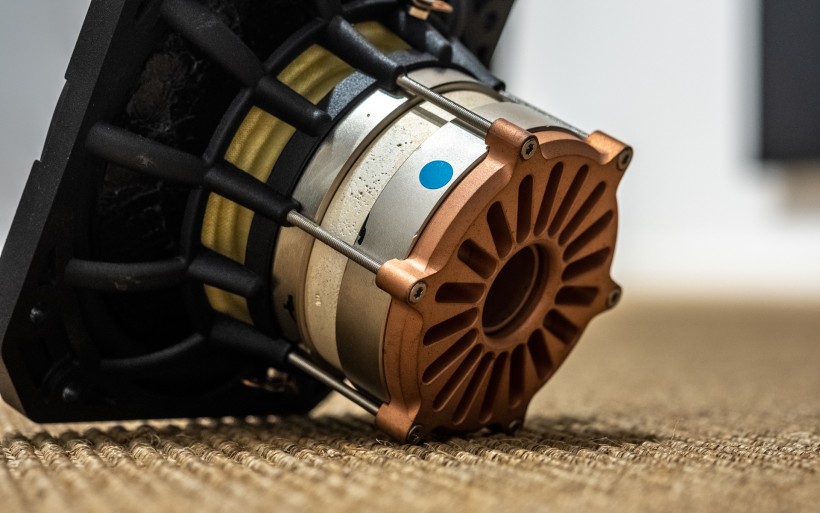 A Silver Supreme driver…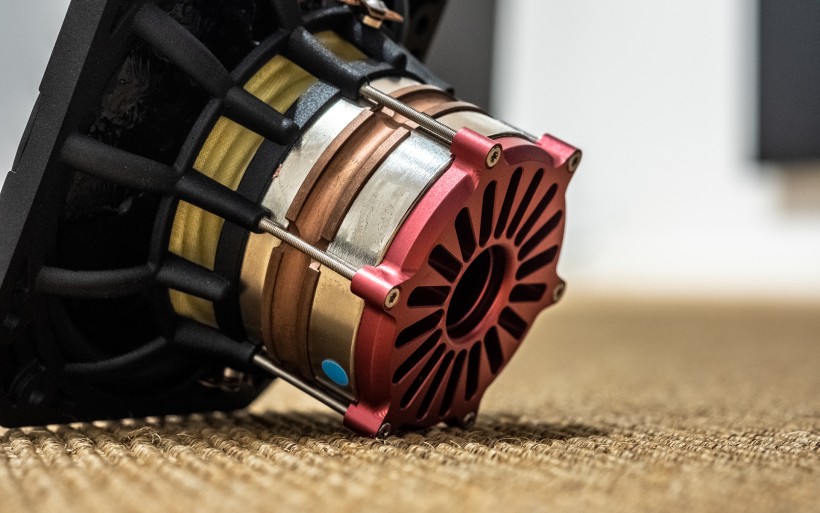 …and its regular copper version that also underwent the company's cryo treatment
The next room that Lars showed me was the company's vault/foundry unit. Børresen iron-less driver motors feature either copper or silver pole pieces. Interestingly, each such a ring is cast from raw material in house and then processed by a large lathe to fit inside a basket. Kilograms of small pellets to make these donuts were hidden from prying eyes inside a massive safe. No, I won't show you how it looks like.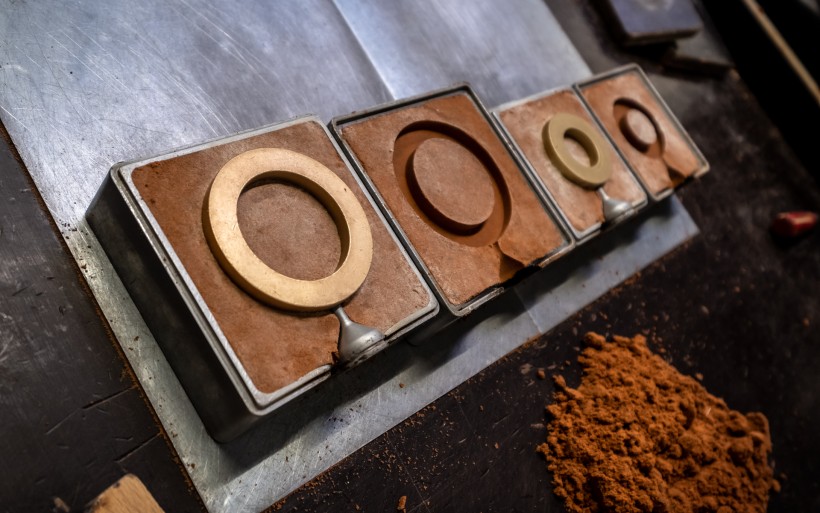 Cast copper poles ready for extraction from their tombs and further processing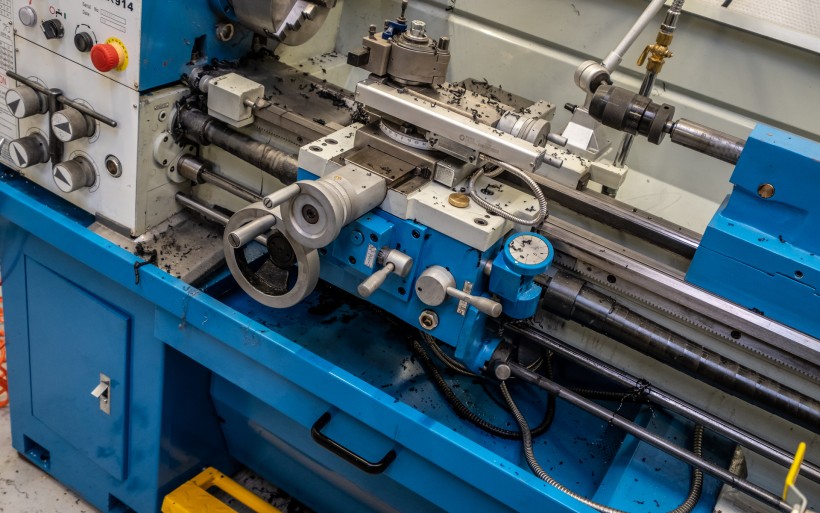 Every workshop needs a lathe
After all the above stops Lars finally introduced me to the place where separate components turn into finished drivers. Flemming Rasmussen is often seen in that room. Titanium voice coils, baskets, motors and spiders were a familiar sight, but not three new membrane types. This in fact was the same cone at its three evolution stages. In its basic form as found in the upcoming X-series speaker range it incorporates two thin external spread tow carbon fiber skins, in-between a lightweight aramid honeycomb core. Then silver titanium layers applied atop these surfaces undergo hours-long treatment inside a Hi-PIMS (High Power Impulse Magnetron Sputtering) machine to develop coats of zirconium, tungsten and aluminium chrome nitride. The resulting visually darkish membrane is extremely light and uniformly stiff in all directions, while its resonances are pushed two octaves outside a driver's effective frequency range. I didn't even dare asking how much coin just a single such cone swallows, but probably a lot. Then again, these round parts go into drivers for Børresen M1 speakers, assembled from the very best ingredients its makers currently have at their disposal.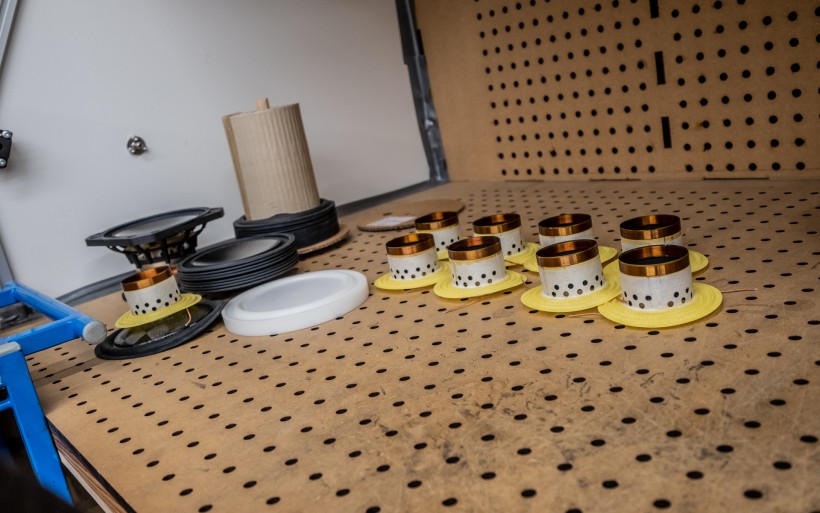 The driver assembly station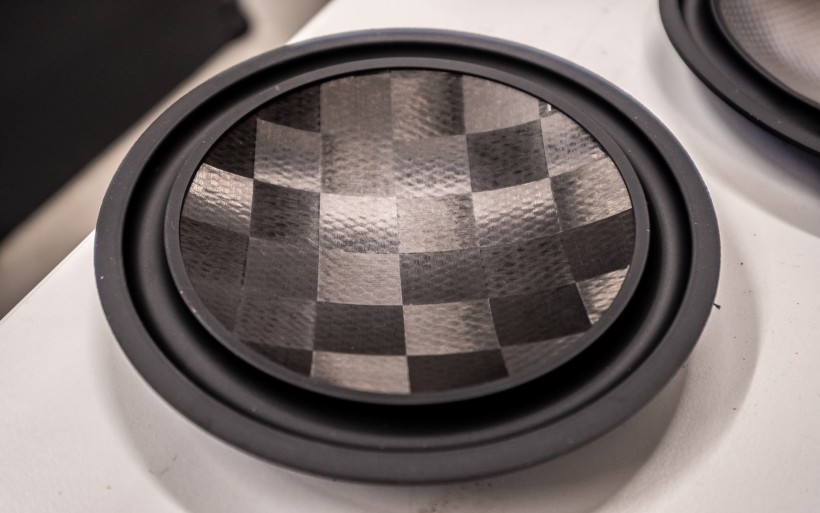 The standard cone for Børresen X speakers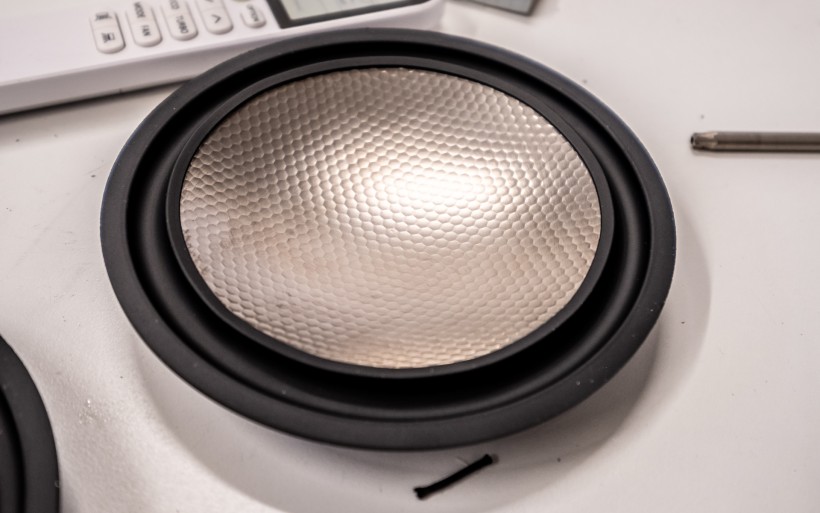 The same cone with titanium skin applied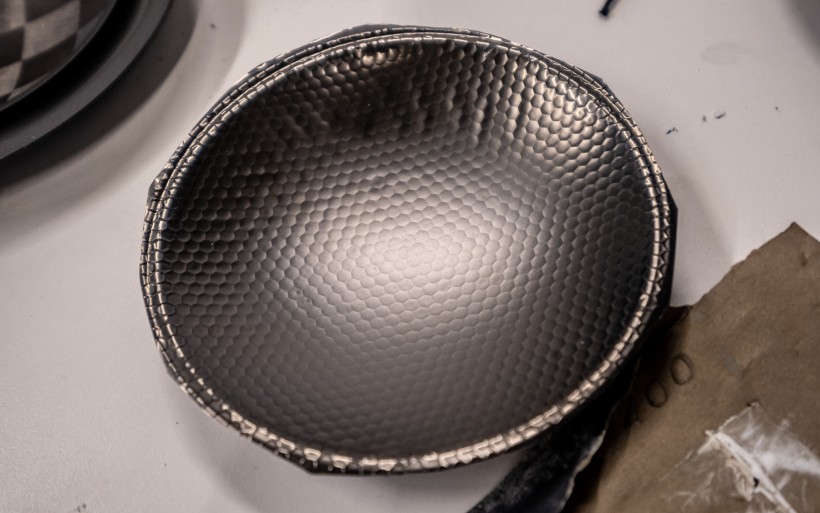 A titanium cone after many hours inside a particle accelerator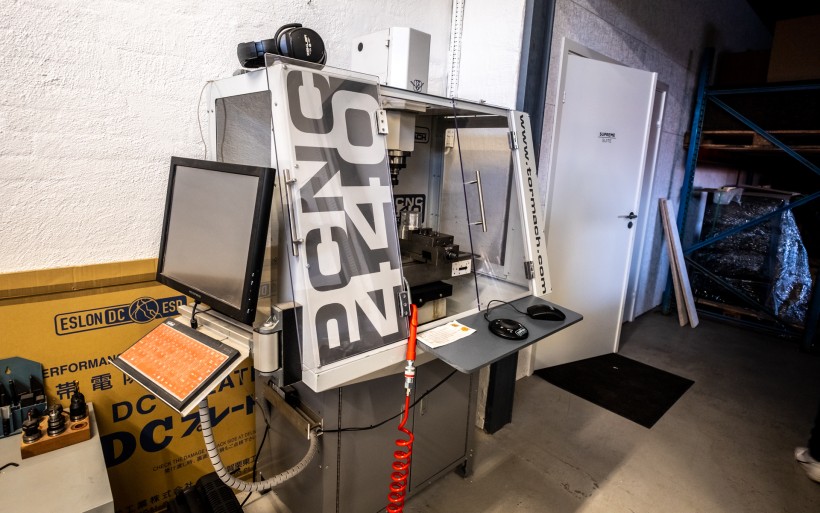 This compact CNC machine was just one of several I've seen
On our way to the lounge area we took a peek inside one of speaker assembly rooms, where empty Børresen Z5 enclosures awaited their x-overs, internal wiring and drivers.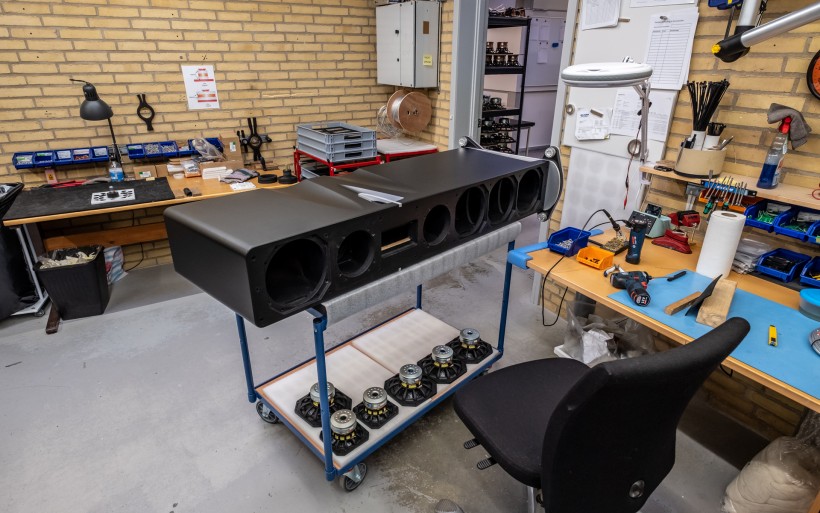 Børresen Z5 speaker enclosure ready for its key components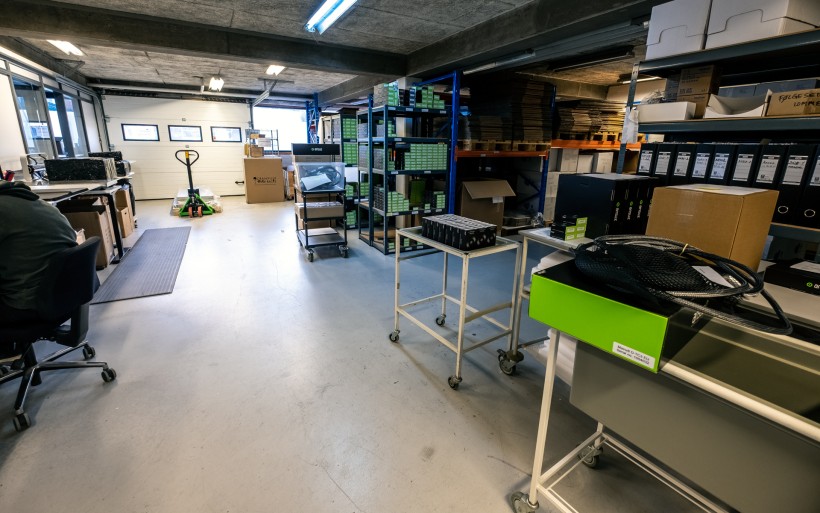 Shelfs full of boxes to send out tell us that business is booming
Then we've gone through yet another large long hall busy with extra soldering/assembly stations, the graphic designer's desk and marketing office where its residents – Jesper Beyer Lindhard and Bent Nielsen – plotted how to take over the audio world. What was supposed to be just a quick 'hello, it's nice to finally meet you in person' talk eventually turned out a… nope, it's too soon to tell. A long corridor just outside the marketing department had multiple racks with largely finished Aavik I-880 integrated amps just before their QC. These intriguing decks are the result of Flemming's and Michael's conjoined effort. They're also a subject way too complex to tackle it here. However, after hearing one of these monsters in action the next day, I'd gladly accommodate it within my own four walls and find out how it fares there. A 200wpc class A act that packs Aavik's very best largely homebrewed tech? Yes, please!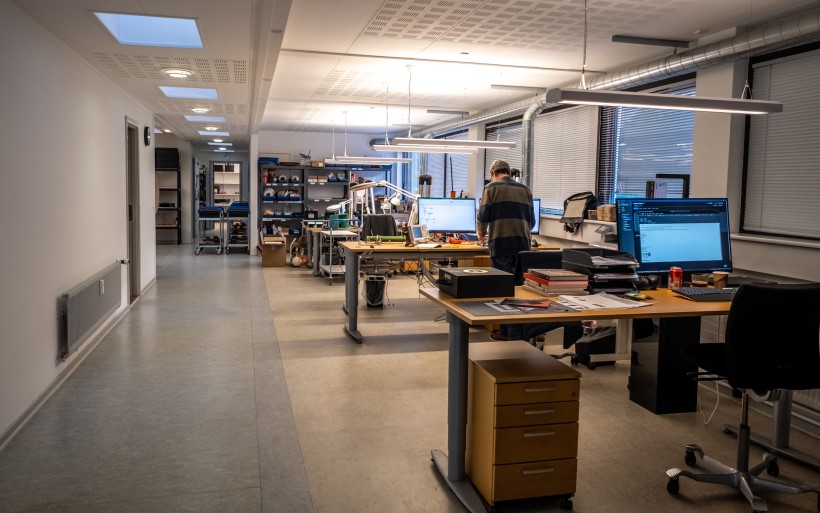 The second assembly line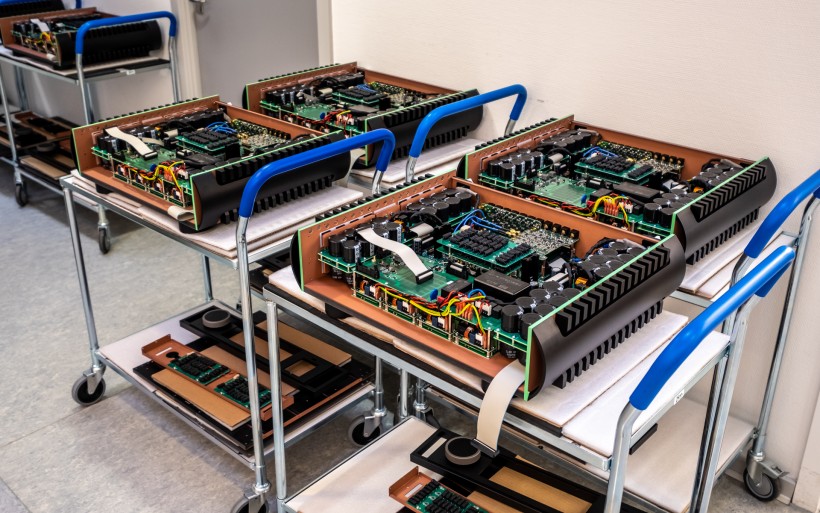 Aavik I-880 models in the nearly-there state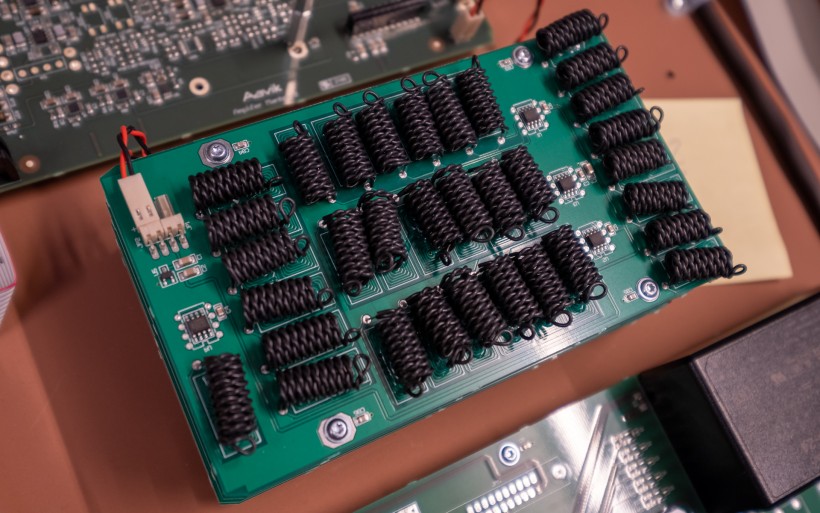 Aavik's third gen. Tesla coils
I was curious how the facility's upper floor changed over the years, so I sneaked there. In short, it didn't. All the work is done on the ground level, while the canteen upstairs is a lovely place for staff to take a break and eat lunch. The neighboring room just next to it featured a simple cost-effective setup and was the one where three years ago Lars did his first demo for me. This time around sitting there wasn't in the cards, the man had far bolder plans. Upon going downstairs, in Emil Kristensen's and Morten Thyrrestrup's office I spotted a rather substantial new product from the Gold Signature range. It combined the company's top shelf LAN switch and PowerBox inside one rather large enclosure bolted atop a massive composite sandwich board. Morten only smiled and clearly was up to something. The next day I found out what that was exactly. Suffice it to say, Danes know more than well that streaming has been a very hot topic in the industry.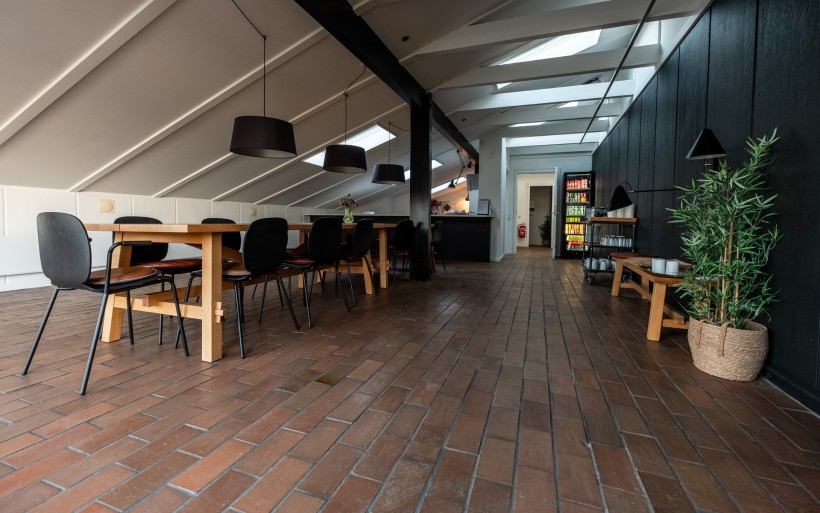 The canteen
Here's where it all started for me in 2019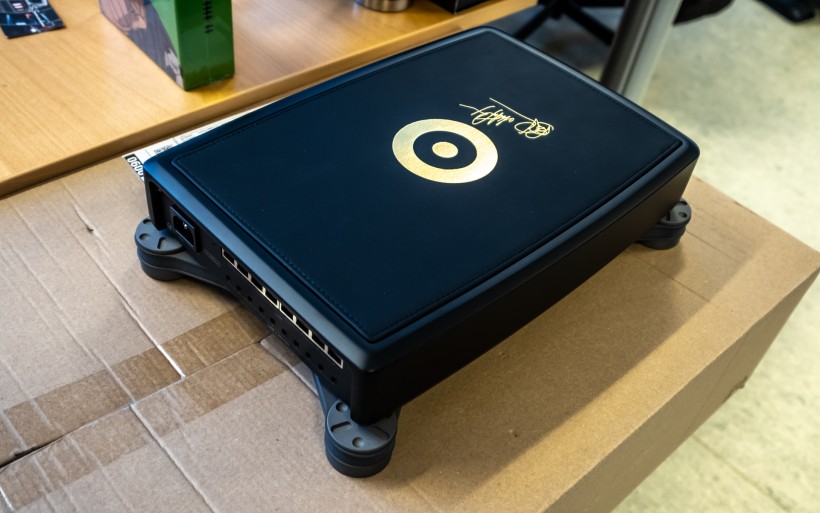 If you've been wondering how a €20'000 network switch looks like, the above photo is the answer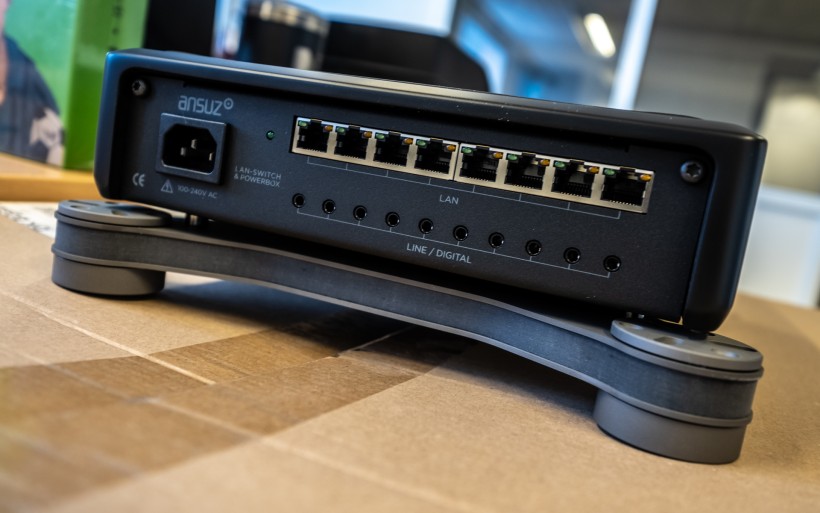 Ansuz PowerSwitch D-TC Gold Signature is massive to say the least
Older products on display
The lounge area was a nice cosy place for business meetings and just the spot where I had a chat with the company's CTO. For about an hour or so Michael explained what they've been up to recently. He also told me how him and Flemming work together and refine their ideas to find common ground and eventually arrive at a point where everyone's happy with the outcome. They've been friends for a long time, while Aavik I-880 integrated amp with both gents' signatures on top is their firstborn product. This visually brilliant kit struck me as a sculpture only Gryphon's founder could've come up with, while clever circuits, unusual materials, internal noise suppression and resonance control measures were all Michael's job. Teamwork makes the dream work, no?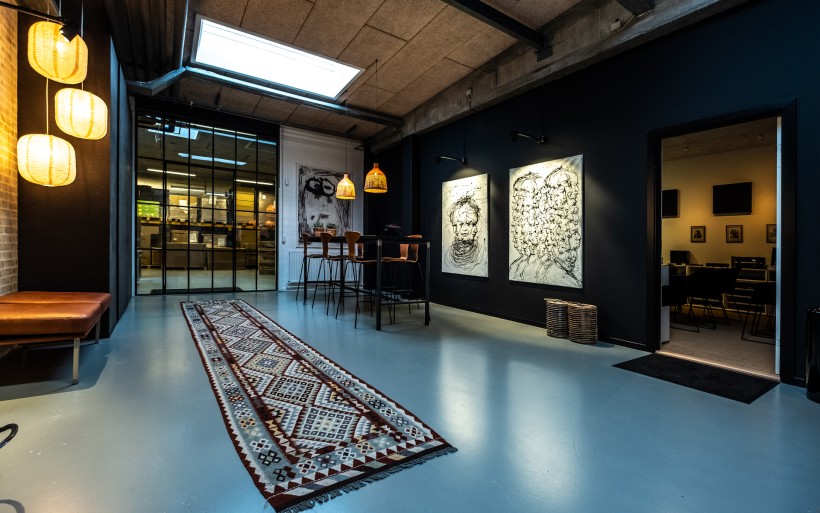 The meeting lounge
After the meeting with Michael it was time for a break at the nearby Irish pub. Considering where I was, I assumed that driving to the destination place somewhere in the city had to be the move. It wasn't. My hosts had their very own Irish pub just next to their largest listening room. Let that sink in. Just to clarify, this place was as authentic as they get, while the fact of it located inside the facility I've found as hilarious as it was surreal. The audio system installed there (Børresen Z-range monitors and Aavik mid-tier electronics) was no usual noisemaker rig typical for such establishments either…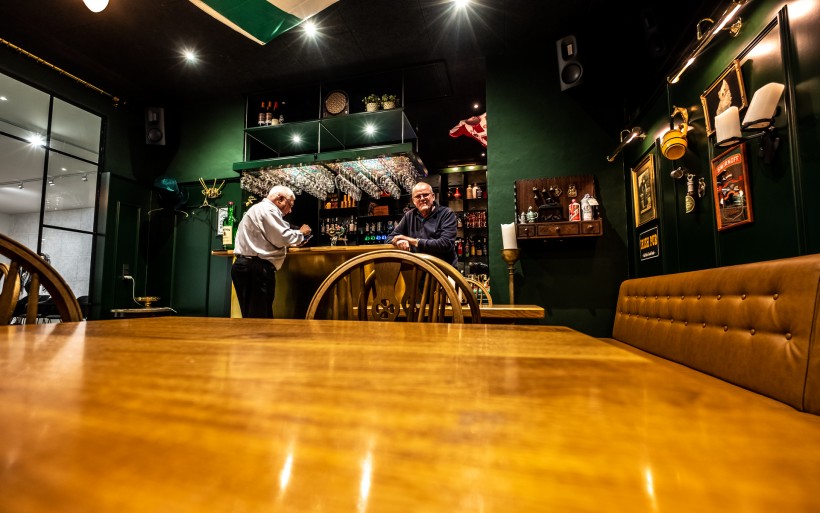 The very real Irish pub inside a Danish audio factory with Lars (right) just next to Greg Weaver
The core
Audio Group Denmark expanded its three separate rosters just as floor space and crew. Multiple Gold Signature products under the Ansuz banner, Aavik I-880 integrated amplifier and Børresen M1 monitors were all clearly designed to push the company's already very high ceiling even deeper into the stratosphere both financially and performance wise. Although that realm had my utmost attention, I was also introduced to several intriguing budget-friendly products. The upcoming X-range speaker series is the closest we'll see commercially available. On top of that, there's one superb development brewing along those affordable lines and I've heard it already, but I can't say a single word about it… yet. For what it's worth, past the initial experience with this upcoming product I'm confident that it'll blow away hats from many audiophile heads, just the way it did that with mine.
Prior to flying over to the Aalborg HQ I knew that seeing how much things have changed there since 2019 was all just a part of a far grander plan. My hosts are well-known for their expertly executed presentations and they had a lot to show. Just to get basics out of the way, their entire portfolio spread across three brands comprises enough building blocks to assemble fully loaded setups without even thinking about spending money elsewhere. This approach secures mutual compatibility of all these products and gives their makers total control over the outcome. Then they often narrow the scope to just one component type to clearly present what it does, just so visitors such as myself can have a firm reference point how that actually feels like in the best conditions there are. It truly matters naught what's on the menu at the Aalborg house. There entry-level goods are as relevant as top shelf stuff, while changes from one performance tier to another result in audible differences so profound at times that even a hardcore skeptic would rapidly turn into a believer. Since I've already experienced that in the past and have several Audio Group Denmark reviews under my belt, I had a rough idea of what to expect. This however didn't stop me from fully enjoying the upcoming ride.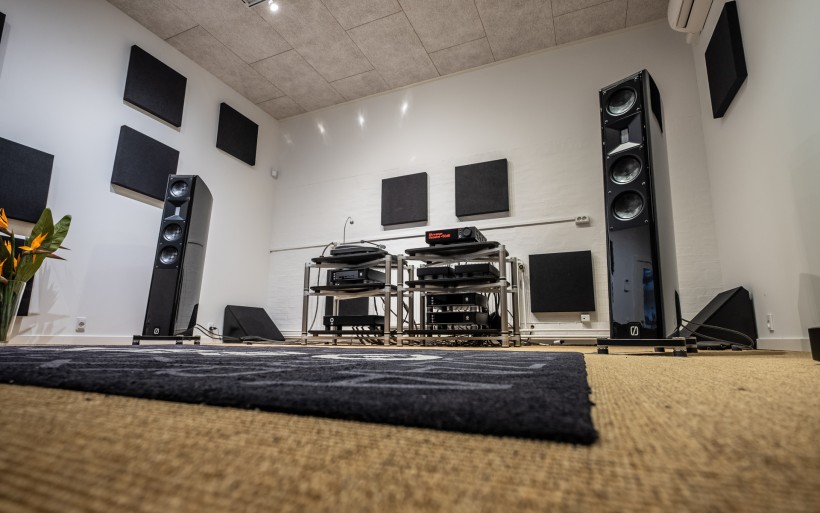 The room handled by Frits
My second day started from visiting the Ansuz suite, where Frits Dalmose had in store several demonstrations based on Mainz8 power distributors and Mainz cords for them. The setup in that room comprised mid-tier Aavik electronics (a DAC, streamer, pre and power amp) plus Børresen X-series floorstanding speakers. Considering my track record with Ansuz products, Frits had it easy with me. He simply knew that explaining changes after each back and forth, or quite frankly anything else, was not necessary. Instead we could kick back, relax, listen to music and exchange unsurprisingly alike observations afterwards. Noise reduction is a powerful tool that makes sound primarily round, complex, texturally juicy and all in all tangible. When low inductance goes on top of all that, the result also becomes sensibly powerful, dynamically wide, spatially grand and instantaneous among other things. Although these two trait groups don't overlap, in most instances our ears detect more of one or the other.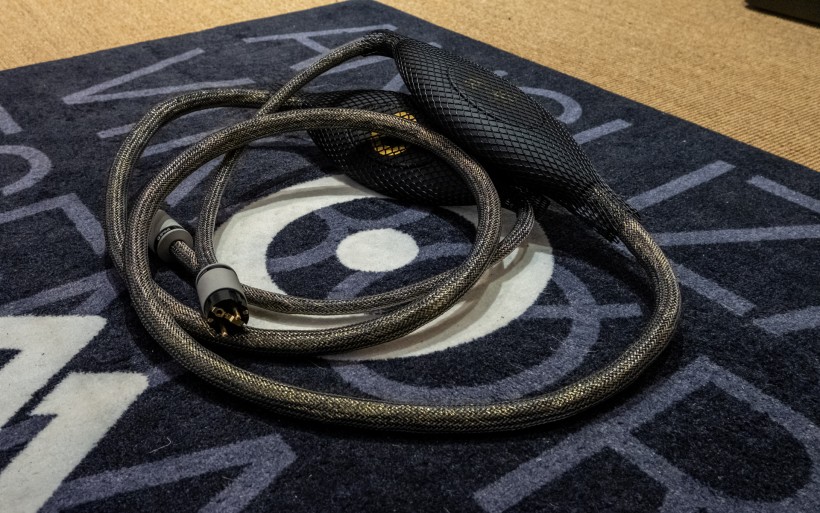 Ansuz Mainz Gold Signature cord ready for its turn
With that in mind, lower-tiered Ansuz Mainz8 outlet multipliers are predominantly quick lean smooth open types, while those from the C3 bracket and upwards are inherently infused with all that plus copious amounts of color, muscle tissue and background blackness, so qualities that boost tone. Here Ansuz Mainz8 D3 evenly pushed these seemingly opposite envelopes further by having a noticeably greater impact on the setup without any downsides or trade-offs whatsoever. Mainz D-TC3 Supreme that shortly after replaced the D3 specimen stressed quickly how much grander, bolder, more palpable, vivid and finer pronounced the entire landscape in front of me could still become. That change was no less than drastic in its magnitude, but I can't say that I was surprised. At the Alborg facility the most noticeable performance hikes always occur on the very top of its all three rosters. Small improvements are forbidden there and that's how Danes purposely scale performance at this level. Frits didn't even go to the D-TC Gold Signature distributor. Instead he mischievously grinned and went all the way back to the entry-level Ansuz box, just to show me that swapping this one critical component sufficed to pretty much collapse the entire setup's performance. That rig was still perfectly listenable of course, just nowhere near as spectacular. Then the man repeated the entire routine with several power cables and the very same observations followed. To add salt to injury, at the end he'd used the quite unforgettable Ansuz Mains Gold Signature newcomer, just to unplug it one song later and effectively leave yours truly even more baffled than before. Hey, I thought we were friends…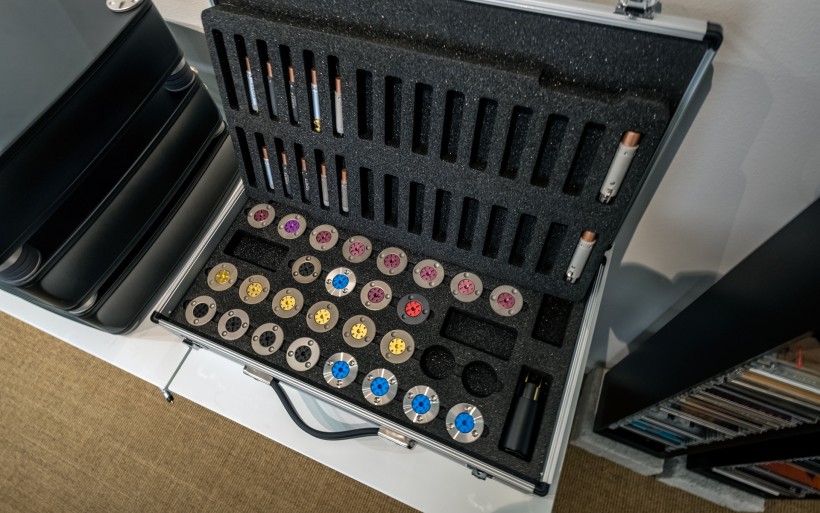 The case above is Frits' Wunderwaffe

The takeaway from the above was clear. Although going just one notch up the Ansuz ladder demands substantial coin, a commensurably higher performance boost always follows. Just to clarify, this doesn't mean a slightly different sound but one that's plainly better in every regard there is. The performance gap that formed between the €36'000 Ansuz Mainz D-TC Supreme cord I've reviewed here and its nearly twice as costly Mainz Gold Signature sibling was large to put it mildly. However, when you reach for Audio Group Denmark's very best accessories, it's quite silly how much of a difference a single such product can make no matter what it is. That remark nicely sets the stage for the next presentation conducted by Morten at the Aavik/Børresen Suite. The setup found there mirrored the one used by Frits, albeit with Børresen Z3 speakers on the job.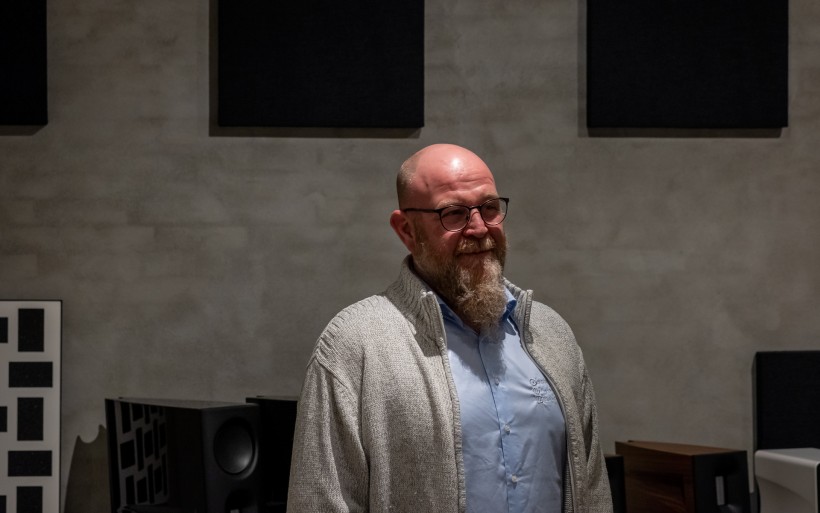 Morten
Morten's program was very similar in its form to presentations done by Frits. He also improved the system one component at a time; from the least to most expensive. The difference was in his means of choice to make it so. The entire gig revolved around Ansuz network switches and RJ45 cables, so product types which cause heated debates on forums these days. Some enthusiasts deem such devices as incapable of doing anything audible and won't ever give them a try, while many who did have positive experiences and say otherwise. Each to his/hers own as they say. Audio Group Denmark's stance on the subject is rather unusual, though. These Vikings quite obsessed about noise rejection consider regular routers as major offenders. To them no streamer will perform at its very best without the barrier network switches and associated RJ45 cables provide, which at the Aalborg facility makes these accessories even more important than streaming devices themselves. Consecutive hardware changes executed by Morten stressed that point very well. Although not all transitions from one tier to another were equally pronounced, each made a detectable difference still. To finish with a bang, the man removed Ansuz Digitalz D-TC Gold Signature cable from the system in use, which resulted in an instant easily traceable performance dive. I'm confident that its sheer degree would've left even die-hard naysayers puzzled if not shocked.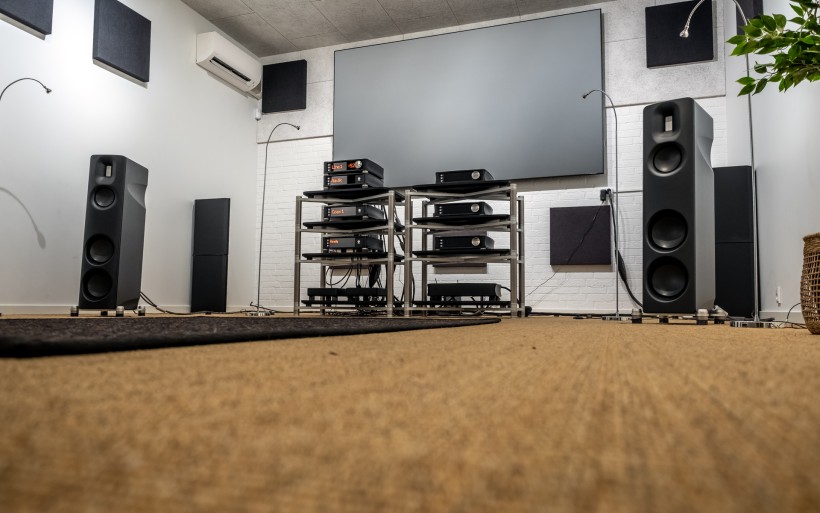 The largest room three springs ago is nowhere near as big as Audio Group Denmark's Supreme suite
The last set of demonstrations was conducted by Lars in the Supreme suite. The name of the place was very much in line with all the hardware set up in there; the very best Aavik, Ansuz and Børresen products currently manufactured. We didn't get there right away of course. First we had a listen to the system with regular Børresen 01 monitors, then replaced by their Silver Supreme version. That way Lars showed me what happens upon lowering the same speaker's inductance via replacing its copper pole pieces with their cryo-treated silver counterparts. This one change alone had, again, a drastic impact on sound in the room. Greater precision, higher torque, weightier upstairs and larger soundstage busy with sensibly more voluminous heftier sound sources were the impressive upshots. I truly hadn't seen that coming. Little did I know, the man had more aces up his sleeve.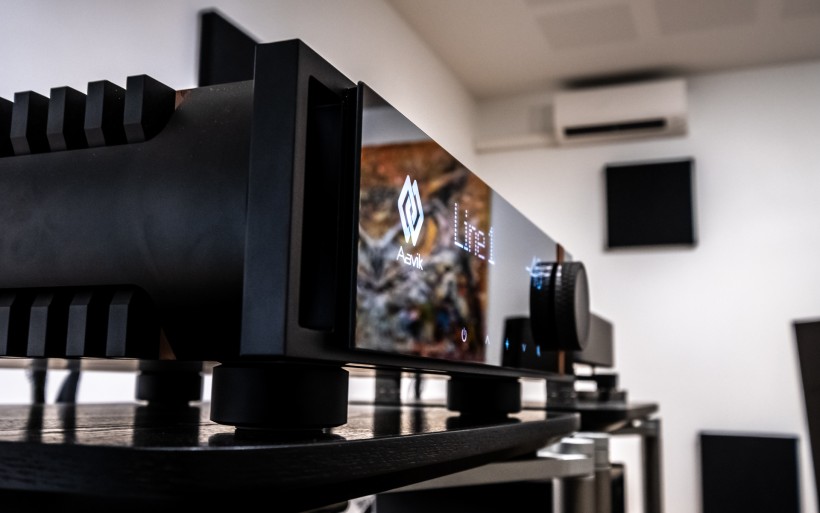 Aavik I-880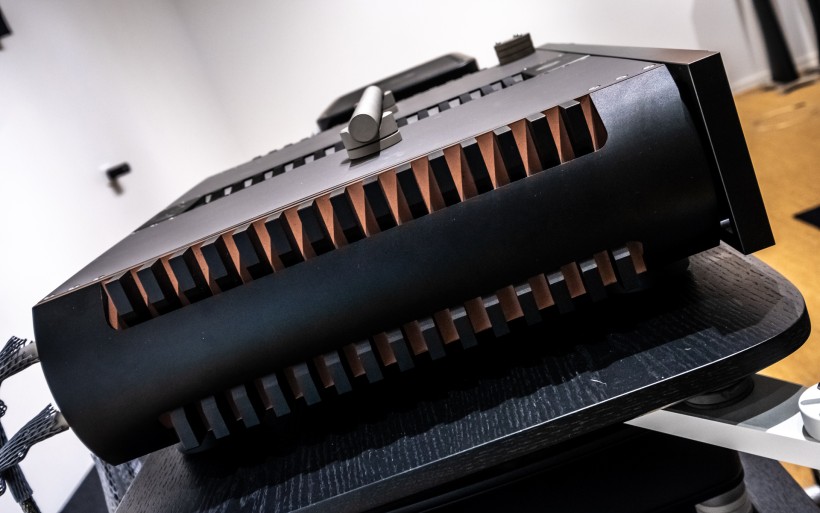 Flemming wanted I-880 cheeks sharp, while Michael wanted them round, so they met in the middle
Here I should mention that in the suite managed by Lars I've listened to Børresen M1, but this prohibitively expensive insanity deserves its own story. For now all I can say is that it didn't behave like the similarly sized already remarkable Silver Supreme 01 type. The M1 was something else entirely and unlike any other monitor set I've ever experienced. It didn't sound like a compact stand-mount warrior to begin with, as if it had means to go where its breed doesn't, and pull stunts it honestly shouldn't in 100m2 spaces. Then again, expecting the unusual from a compact speaker set priced at €100'000/pr seems justified. I'm sure that this very ambitious high-performance high-tech project will break quite a few rules.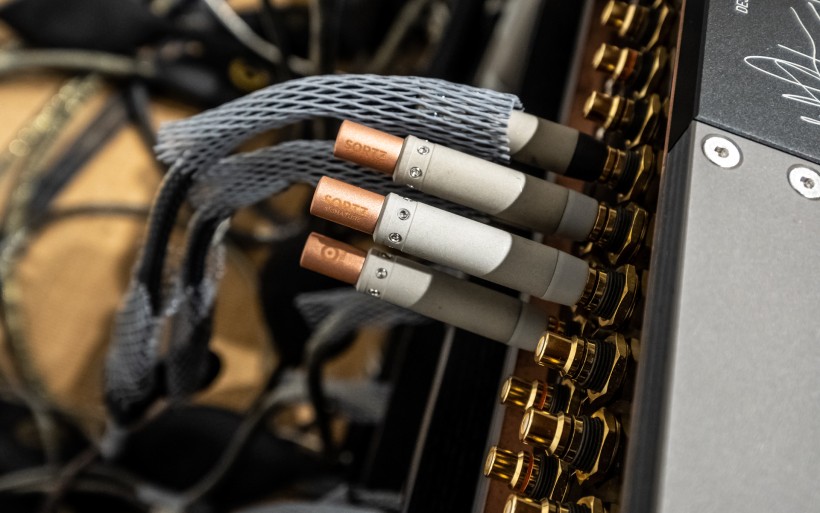 Every system I've auditioned had at least one Sortz installed
Once the monitor base was covered, Lars detoured towards the largest-caliber artillery in form of Børresen 05. Since this full-sized monster is the largest most expensive speaker set they got, I had no idea where the CSO/SMO wanted to go from there. It quickly turned out that the 05 model was used to introduce me to various tiers of Ansuz Sortz and Sparkz noise killers. The man connected several these critters, one at a time of course, into free Ethernet, USB, RCA and XLR sockets of electronics on duty. That was his method of showing what happens upon closing these physical gates for airborne noise that otherwise seeps into that system. Each used accessory made an audibly positive change though not as meaningful as power products the other day. The thing is, variously tiered Ansuz Sortz cylinders weren't all alike. Signature types did more versus their lower-tiered regular siblings, just as their price tags suggested. Not all products respond to them the same way and socket types matter. The same Sortz used on XLR and RCA was audibly more efficacious on the former input. I was told that balanced ports feature more mechanical points that act as antennas, so XLR Sortz with more anti-aerial noise-trimming circuits inside to cover them naturally do noticeably more. Then Lars connected one Sparkz harmonizer to the wall outlet far away from the system, we had a listen and then he unplugged it. That one back and forth sufficed to track an audible change, but at this stage I wasn't surprised at all. Everything I'd heard up to this point made a difference to my ears.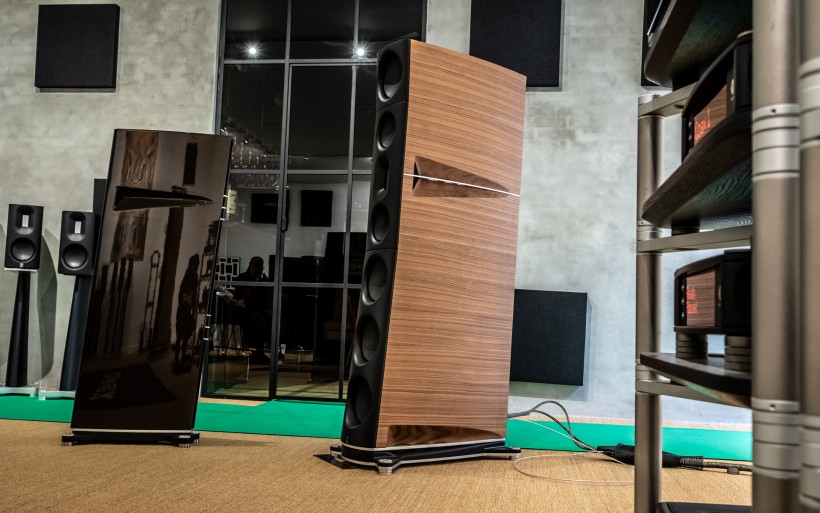 Børresen 05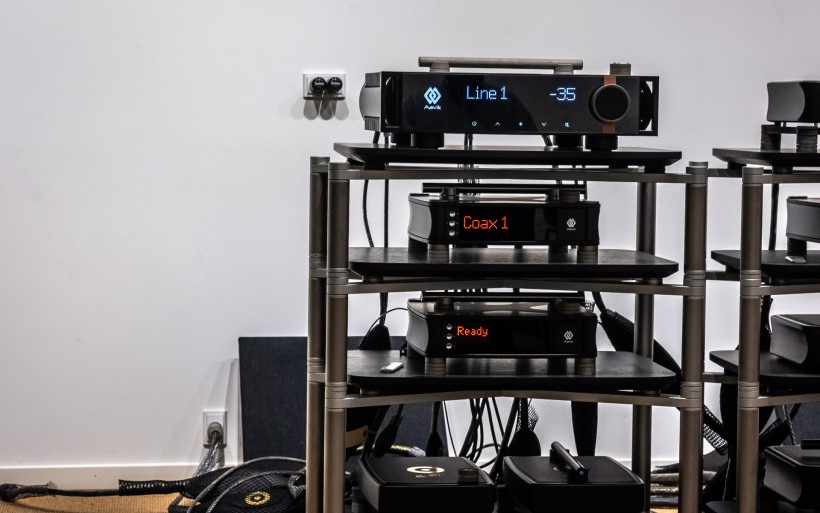 Audio Group Denmark makes everything an audio afficionado may need, including racks
The next thing my host showed me was as surprising as it was unusual. At some point he paused playback, took two Darkz Z2S decoupler pucks from the nearby accessory box and then placed one atop each 05 speaker just near the edge. Sound changed. Then in concaved areas of these decouplers he placed small titanium balls to invoke yet another subtle though still audible shift. Clearly puzzled I had to ask about what I've just heard. Lars explained that by doing these things he added mass to each speaker and mechanically changed their resonance on the fly. If you do that with just the right material, you'll notice the difference. Properties of zirconium make this material particularly useful in showing that and titanium fits this profile, too. Moving on, some two hours into the session I've made a remark about how acoustically excellent all listening rooms at the Aalborg HQ were, even though several compact acoustic bits here and there in each didn't communicate that. I was then told that measures to damp and diffuse sound waves contribute in these spaces, but the focus is primarily on airflow there and careful speaker positioning. Lars said that putting any objects in corners is pretty much the worst acoustic decision to him as far as the facility's listening premises are concerned. To make that point he paused playback and disappeared for a second inside the nearby warehouse. He then returned with a two-wheeled handcart the crew uses to transport finished speakers. Next he resumed music, after a minute there was a pause and then he positioned that handy carriage in the suite's right corner a fair bit behind one speaker. When the play button hit, the entire sonic landscape was radically narrower, less organized, with shaky bass and not as alive. The man then removed the culprit and everything instantly got back to normal. Now, what would you say after witnessing that? I honestly thought that a bloody handcart shouldn't make an ounce of a difference in a room this large, until it did. By all means color me deranged, I won't take it personally.
Although some bits from today's story may read like fantasy tales, this reporter isn't any concerned. Audio Group Denmark is no regular company. These Danes aren't any interested in marching to a drummer that's not their own. They're out-of-the-box thinkers who in wild pursuit of even craziest ideas are willing to burn cash with no remorse. Then they buy whatever means necessary to execute them, launch remarkable products and keep raising their own bar. From what I've seen during three utmost memorable days spent at their Aalborg facility, this MO clearly works like a charm and I'm thoroughly impressed. My sincere thanks to Audio Group Denmark for inviting me and hospitality. Now it's time to wait for some packages from that address, so stay tuned…