I bet many of you remember brand called Audio Aero, right? This French company based in Toulouse was famous since 1998 for their CD Players. Names such as Capitole Reference and Classic, or their latest products, highly acclaimed La Fontaine and La Source should definitely ring some bells. Even though the company doesn't exist anymore there are still music lovers (I know a few) who keep these components in their systems and wouldn't even think about replacing them, not because of some sentiment but based purely on their performance. It was a sad day for many audiophiles when the news broke of Audio Aero going out of business. Fortunately it didn't take long before we learned that another, Lyon-based French company, Vermeer Audio, acquired Audio Aero in the late 2014. The owners of La Fontaine and La Source were happy because the latter company took over service of those devices. Others who missed they chance to buy one of those outstanding digital sources received another chance. Well, obviously Vermeer Audio does not sell neither La Fontaine nor La Source, but based on these products they created their own, intended to deliver even better performance. The first model introduced to the public is called simply the Vermer Audio TWO. There are two more models coming on the near future – the top-of-the-line ONE, and more affordable THREE. 
Introduction
Let me start with a "thank you" that is due to Mr Marc Loubeau of Prestige Audio Diffusion. He is a French distributor that I've been exchanging emails with for a few years now, and we also met personally during High End Show in Munich. We've been sharing information on interesting brands and products – I recommended some (mostly Polish ones) to him, and he did the same for me. As you might have guessed by now, it was him who suggested (and I also supported me by contacting Mr Bruno Ginard of Vermeer Audio) this review.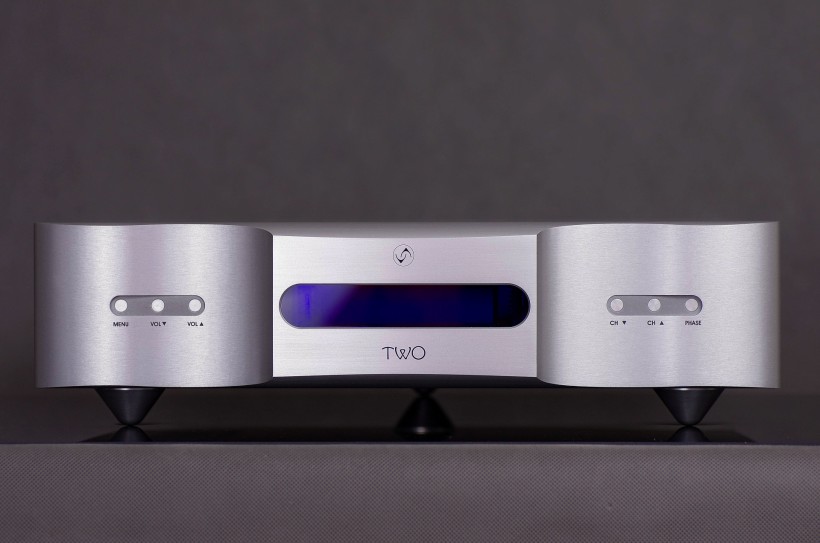 There has been a lot of interest among my audiophile friends in the only, so far available Model TWO. Manufacturer's bold claim that they took the best elements of Audio Aero products and further improved them achieving even higher level of performance sounded very promising especially for those who knew how good La Fontaine and La Source were. Since there has been, at least until now, no distributor in our country, there was little chance to audition this product and to verify the claim. But now, due to courtesy of the manufacturer I've had a chance to do that and to share my findings for you.
The Vermeer Audio took up a difficult task of improving what many believed already offered amazing sound quality. In order to achieve that they created a team of various specialist but also music fans. The latter quality is, believe me, very important. I've had, during my reviewer's carrier, a chance to review lots of different components. The best ones are usually created by people who build devices as if they were making them for themselves. It's not an easy approach – it's often most difficult to satisfy one's own expectations. Technical knowledge and designer's skills are necessary, of course, but simply not enough in this business (despite the fact some think it is). Only true music lovers are capable of building the best sounding audio components.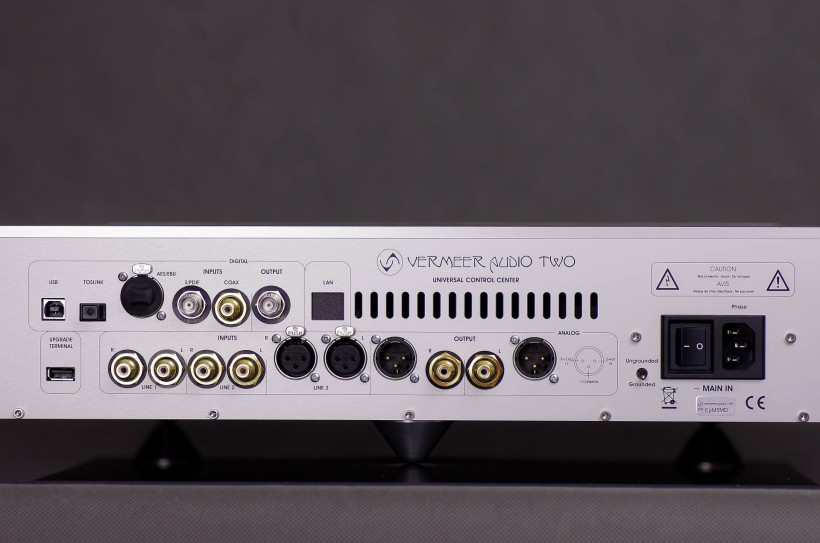 Another important feature of each audio product is its reliability. To achieve that not only the producer has to perform endless tests, keep the highest standards of production, but he also has to find reliable suppliers. As already mentioned Vermeer Audio is based in a beautiful Lyon, that I had a chance to visit a while ago during my trip to Focal headquarters (expect a coverage soon). All the suppliers reside within 300km range from Vermeer's HQ, which makes cooperation with them and hence quality control surely much easier. PCBs and chassis are made in Switzerland, most other elements in France. I'll get into the details a bit more in a moment in the "Design" section, but let me tell you already that Model TWO is a stunning looking device. Also make&finish quality is simply outstanding, so all it takes is just one look at this device to realize that it must be a high-end product. With audio products it is the performance that is the most important feature, but such a fantastic first impression that TWO makes will surely be appreciated by all those who value aesthetics and beauty.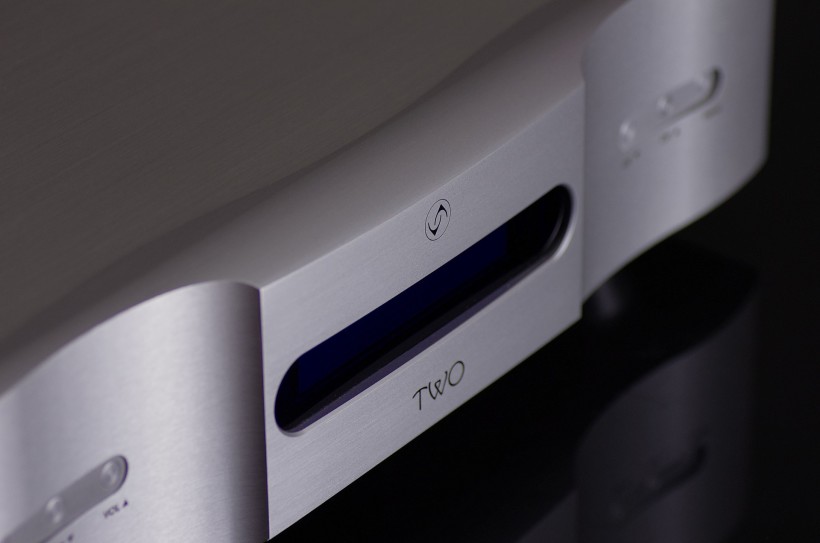 Design
I am not sure if Vermeer Audio always deliver their product this way, but despite Model TWO being not so big, nor that heavy a device, it was delivered inside a solid, cartoon box reinforced with pieces of wood (which is surely a standard) that was placed on top of a small pallet (that's the part I'm not 100% sure is standard). When you ship electronics, especially internationally, you don't want anything happen to your product in transit. So the packaging is very important and the French company did a great job with that. Unpacking might take a bit longer than usually but I'm sure each owner will appreciate his new beautiful "toy" being delivered in perfect condition.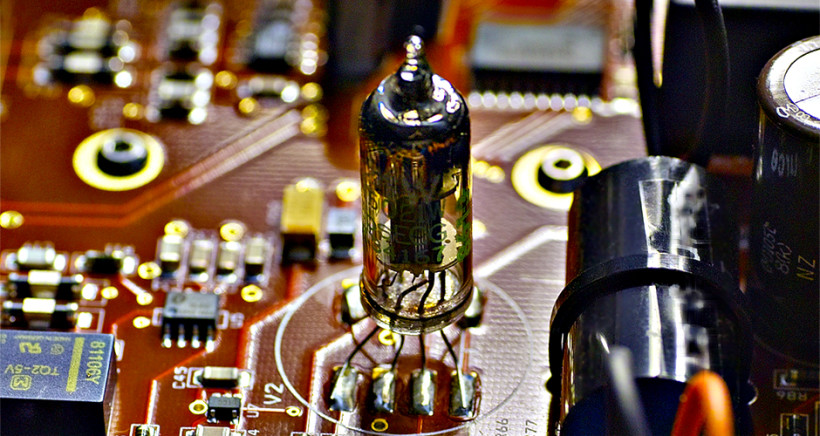 Let's start with explaining what the manufacturer means by Universal Control Center. Model TWO is actually two-in-one sort of device. It is a D/A Converter but it is also an analogue preamplifier. Which translates into it being a Universal Control Center as it will accept signals from digital and analogue sources and due to adjustable output signal is able to drive a power amplifier directly without involving a separate linestage. If one treats it exclusively as a DAC it might seem quite a big one and heavy one (25kg!). But considering its double function its size and weight is not so surprising anymore.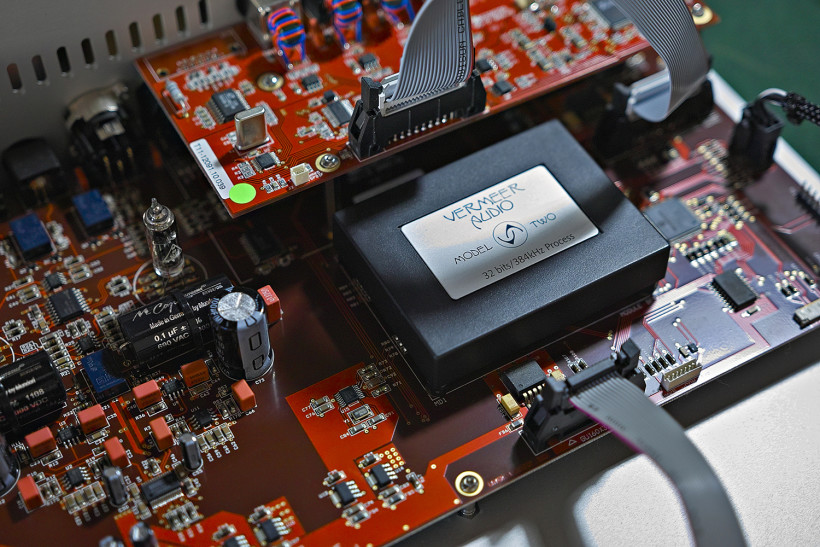 After taking the device out of the box one sees a rigid, sturdy and yet aesthetically pleasing design – something one shall be willing to place in the most prominent place of one's listening room and proudly present it to family and friends. Chassis is made of a high-grade aluminum. It rests on three rounded conical metal feet. After playing a bit with the device I decided to use additionally Franc Audio Accessories Ceramic Disc Slim feet that further improved clarity and focus of the sound (not that without them there was something wrong with the performance but simply with them it sounded even better).
The front panel in its middle part is at least 30mm thick, while on sides its more like 15mm. Its shape reminded me of a wave, hence the non-uniform thickness. The thickest, roughly flat, part in the middle features a very nice, blue display that I was easily able to read from my chair (that's roughly a 3m distance and mind you, I'm not 20 anymore, so it's quite an achievement). On both "thinner" sides there are small recesses featuring three metal push-buttons each (on the left they control: "MENU," "VOL" (down) and "VOL" (up) and on the right "CH" (down), "CH" (up) and "PHASE"), These buttons allow user to operate the device manually, although surely using an elegant, solid remote control makes things more convenient.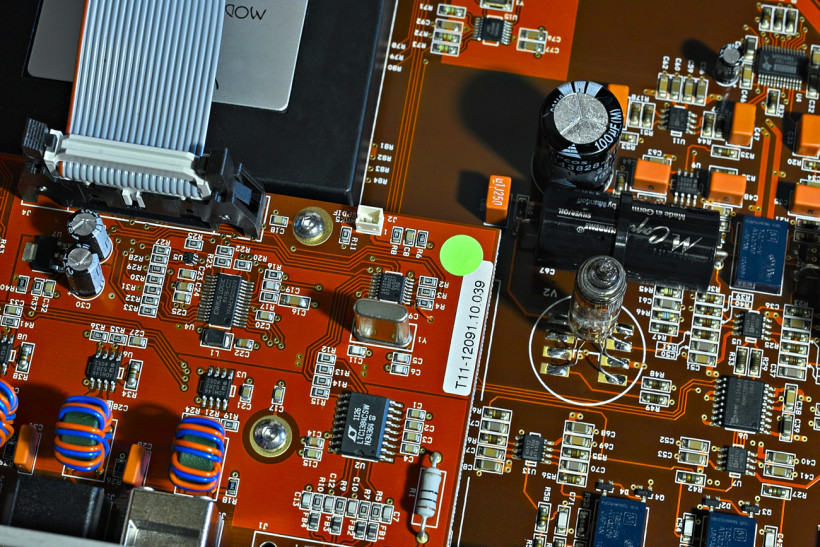 The rear panel features an abundance of inputs and outputs. Let's start with the former. There are three analogue ones, including one balanced XLR and two RCAs. There are also five digital inputs: USB, optical Toslink, AES/EBU, coaxial RCA and BNC, plus optionally a sixth one – LAN. The latter will be offered soon for additional fee. The USB, AES/EBU and coaxial inputs accept the PCM signal up to 24 bits and 192 kHz and DSD64. The LAN (not featured in the review unit) adds functionality of playing native DSD files up to 11,28 MHz and PCM up to 32/384 thus utilizing the full potential of the DAC circuit. As for outputs, there are both balanced and unbalanced analogue ones, but also a digital BNC that allows usage of an external digital processor (DSP, room correction) in the system. There is also one more USB port that is to be used only for upgrading TWO's own software. On the right side there is a small ground switch, IEC socket and the main on/off switch.
The circuit design was based largely on the Audio Aero La Fontaine simply because it was a newer design than this brand's top-of-the-line La Source. Guys from Vermeer Audio wanted to offer a more up-to-date solution, including USB and LAN inputs capable of playing hi-res files, both PCM and DSD.
The Model TWO uses 32bit/384kHz conversion circuits, a major evolution of the S.T.A.R.S module used previously. Device also features an ultra-low jitter master clock that incorporates a high grade natural quartz crystal. Vermeer Audio says that it allowed them to achieve a new level of noise and digital artefact reduction (including Jitter) with less than 1µs of RMS Jitter. Power supplies of hybrid design have been re-engineered for maximum efficiency and reliability with different circuits for the analog and digital circuit boards. All modules feature their own voltage regulators with specific voltage required for each of them. Both analog and digital stages have their own dedicated power supplies, this eliminates all residual noise and interference between the digital and analog domain. Vermeer also implements the latest generation of Mos-Fet integrated circuitry to lower the noise in the signal path. They use top quality boards with 24K gold- plated contacts and 70 ppm copper circuits that allow for perfect data flow. The analog output section uses a cryogenically treated Thomson 6021 N.O.S. subminiature tube in each channel in cathode-follower mode with a Mundorf Silver & Oil coupling capacitor. Tubes can not be easily replaced as they are soldered directly to the board but their life expectancy is really long so one doesn't need to worry about it.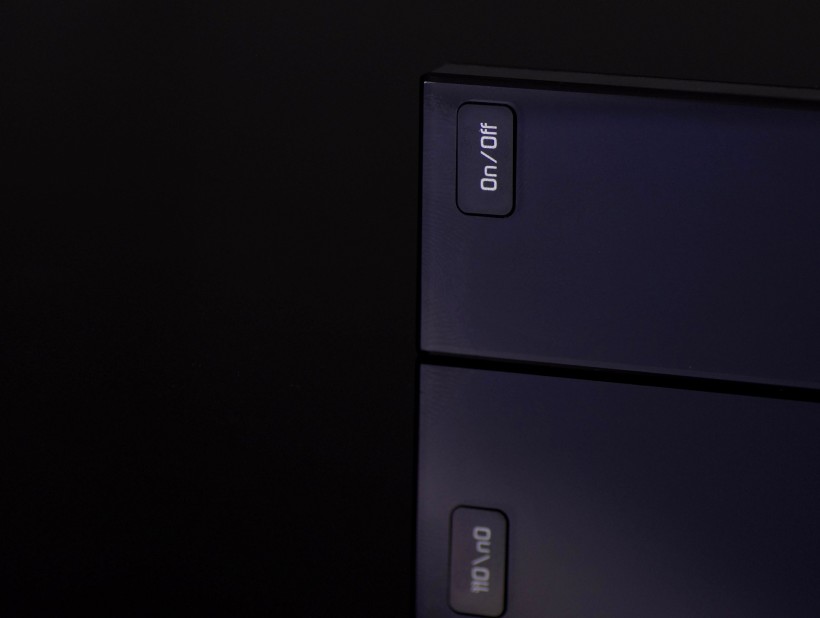 Sound
Before I get to my impression of the TWO performance I'd like to encourage you to read a short interview with Bruno Ginard, the CEO of Vermeer Audio.
MD (Marek Dyba)
BG (Bruno Ginard, CEO of Vermeer Audio)
Georges Noblet (on the left) and Bruno Ginard (on the right)
MD: Can you tell me about key people behind Vermeer Audio and what exactly each of them does?
BG: Vermeer Audio team is compound of people from various backgrounds, all of them are passionate and add value to our business.
Georges is 65 years old, he has been a hifi professional for many years (1980/2000) but has many other skills. He is also a Professional photographer, a painter that has received the UNESCO price in 1986 and an art restorer. He participates at all listening tests of our systems, prototypes and components and is one of our units designer.
Henri is 60 years old, he is a business man and used to be Executive Manager and fonder of nearly a dozen companies specializing in mechanical engineering and in sheet metal work. He is also passionate with arts and music. He takes an active role in the technical and industrial development of Vermeer Audio and in our sub-contractors relationship.
Sabine is 45 years old is our back office manager and can easily exchange with our distributors as she is trilingual and has worked before for Audio Aero, she is also a good moderator for listening test and for upcoming projects.
Boris is 30 years old, the young one of the team, he is webmaster for our website and for all our future connected products.
I am for my part 50 years old, I have always been a music-lover/audiophile as far as I remember. I am a private banker who has decided to live its passion by establishing a Hi-Fi company. I am in charge of the technical development and the management of Vermeer Audio
Our firm outsources moreover most of its research and its production to quality sub-contractors with whom we have a long-standing relationship.
MD: How did it happen that you took over technologies from Audio Aero and why did you even do it? Most designers prefer to make their own product from a scratch.
BG: It all started with Audio Aero as I was one of the shareholders before its cessation of activity. The Audio Aero products were amazing and the firm was visionary, capable to develop at its time a remarkable CD player (Capitole), one of the first DAC that was on the same time an analog and digital pre amp and the last two models LaSource et LaFontaine whose success has been universally acknowledged as one of the best CD Player and Dac of the market.
When Audio Aero went bankrupt, we decided with my associates to take it over what was left of the firm in 2015. The success of an audio product is a difficult challenge and we could not take the risk to start from nothing.
MD: I know that you offer some services to the owners of Audio Aero devices, what kind exactly?
BG: We assure the after sales service of the LaSource and the LaFontaine with some of the compatible parts apart from the CD Esoteric base that has to be followed by the technical service of the brand.
MD: How much of Audio Aero is there in Vermeer Audio TWO's design? It looks like this model has a lot to do with La Fontain?
BG: It is absolutely correct we have wished to launch our first product on a LaFontaine basis as this unit had been an undeniable success. We have chosen the LaFontaine as it was much more scalable than the LaSource. The TWO has the circuit board basis of the LaFontaine and in particular the analog output stage with the 6021 tubes.
We have developed on a completely new basis a new power board and mainly the N/A chip and circuit, including the digital clock. Our goal was to design a new DAC starting from the LaFontaine to obtain a sonic result as close to the former LaSource sound as possible.
Regarding the external enclosure the TWO is based on the LaFontaine design as a wink to the former model. The future Vermeer Audio range shall be different. Finally we have wished to work with subcontractors on the first rank to assure high quality and reliability of our products.
MD: I already have my own opinion on TWO but could you tell me what sort of audiophiles should be interested in your product? What are its strongest qualities in your opinion?
BG: The TWO has been designed to be a 21th century DAC/preamplifier and is intended for audiophiles and demanding music lovers. In my opinion The TWO main quality is to be able to extract the maximum of «musical emotion» from any digital data file whatever its origin. During the last Munich High End show, we were delighted to see the public taping their feet on most of the music played by our system rather than sitting stoically on their chair tempting to detail the highs and the bass. During our demonstration it was for us the best return we could get from the public that did not know our model.
MD: Do you see any features, elements of this design you already know could be further improved?
BG: We consider the model TWO as a completed model to 98%. We still work on the 2% left and mainly on the output capacitors and on the internal digital cables between the different boards only to improve it.
MD: What can you tell our Readers about products that are coming in the near future – ONE and THREE? When do they come and what should we expect from them?
BG: The model THREE is under development and will be launched in 2018. It will be the entry level model positioned at half the price of the TWO. Regarding the model ONE we are reflecting this next model as an uncompromised state of the art model that will be positioned above the Audio Aero LaSource
MD: The review sample did not include LAN input. When will it be available and what will be its specification? Which files formats will it be compatible with? With what kind of servers will it work?
BG: The LAN version will be available in a couple of months. It is a great improvement for the TWO considering that the future market is on the digital network, streaming and the HDD stocking. The LAN will transform the TWO in a streamer, able to read most of the digital files located on a hard disk drive in the domestical network, a personal computer or also internet Radios. We use the UPnP protocol that will allow to use every Apple or Android application made for this. The LAN input could theoretically accept most of the digital formats, DSD or PCM; up to 384 KHz/32 bits in PCM and 11,2 MHz for DSD , but our goal is not to be in the "oversampling race ", our processor is already a 32/384 for listening reasons.
MD: What's your opinion on the future of audio? Will CD format survive or sooner or later we will all play our music from music files?
BG: CD format is not an end but one of the many ways to read and store digital files like in the analog period the LP, FM radio or reel to reel tape. The CD will stay for all audiophiles or music lovers with a huge collection of CD, but the close future will be the streaming and HDD storage, even if sometimes we have astonishing results on a CD! In terms of quality, I think that we can retrieve a lot of information in both format, but I believe that the more you are close to the HDD and the data, the more accuracy you have.
MD: Do you have your own preference between PCM and DSD files? Your TWO can play both.
BG: That's an interesting debate in audiophiles discussions! My point of view is that the most important is the quality of the recording session, the microphones, and so on. We have sometime fantastic results with a PCM 44.1 KHz file and sometime with DSD or PCM up sampled files, a sad result without relief. So far I have never fallen in love with a recording because it was a DSD!
MD: What music is your personal favorite?
BG: I listen to all type of music, from baroque to AC/DC, but I admit that I have great sympathy for jazz music, and the wallpaper of my cell phone is the record cover of Dark Side of the Moon 😊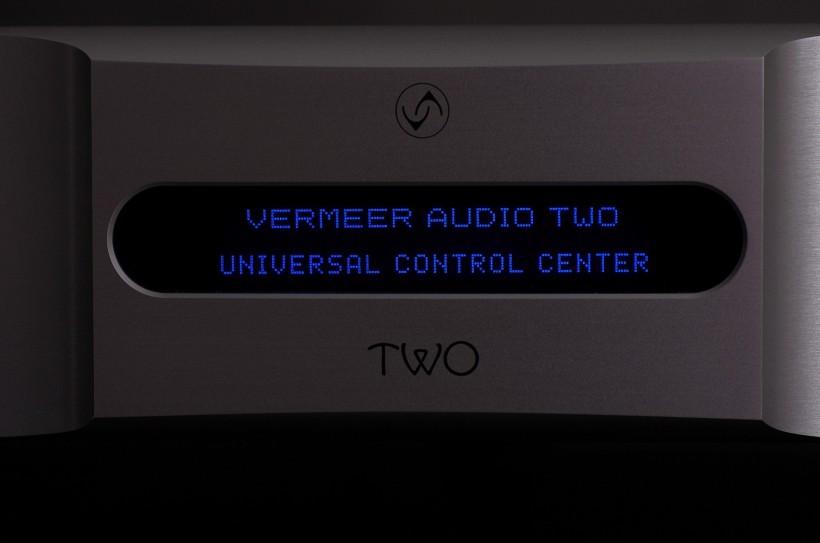 Since the TWO is called a Universal Control Center I decided to start my test using it as such. My dedicated PC with JCAT Femto USB card fed signal via JCAT USB Isolator to USB input of the reviewed device, as well as via Berkeley Audio Design Alpha USB Converter to BNC and AES/EBU inputs. The TWO during this first phase of the test worked as both, a D/A Converter and preamplifier followed by fantastic Audia Flight FLS-4 power amplifier driving my trusted Ubiq Audio Model One Duelund Edition speakers. To give you a full picture of the system let's add that I also used my J.Sikora Standard turntable with brilliant Tenor Audio phonostage as an analogue frontend. The components were connected using Skogrand Beethoven speaker cable, my trusted Hijiri Million RCA and TelluriumQ Black interconnects, TelluriumQ USB cable, and LessLoss DFPC Reference power cables supported by Firewall Modules. Wow! Now, when I think about it, that was one really impressive and quite pricey setup.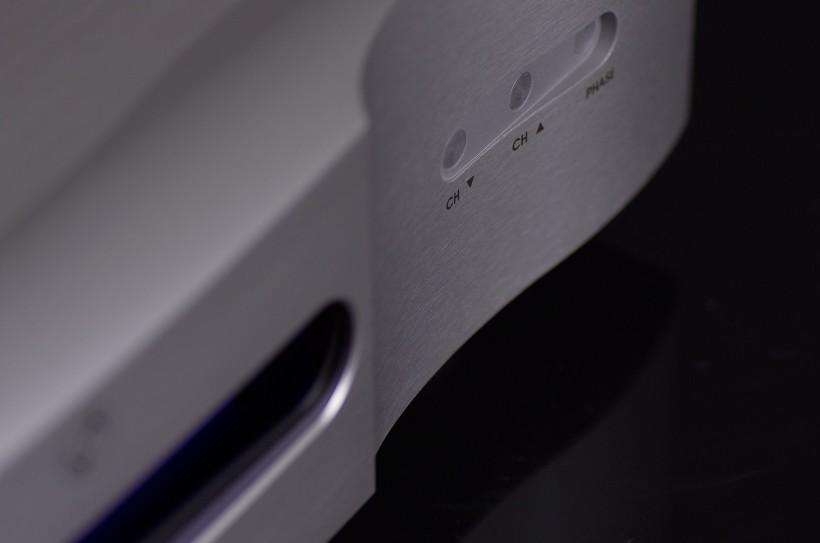 To the point. Over they years of reviewing hundreds of components I've learned that assessing the best ones often proves quite difficult. Why? Because after I press "Play" I get sucked into the world of music totally forgetting the job I'm supposed to be doing. It's not about some jaw-dropping, breathtaking experience from the very first second of the listening session because these (except for a few absolutely top devices) usually mean nothing good in a long run. It is rather about a performance so accurate, so… "normal" that nothing, apart from music, matters. Everything is where it is supposed to, everything sounds as it should – it is just right. After all I am a music lover first and the audiophile part comes only second for me, so any audio system/component is only a means to an end. What I look for is an experience as close to a live performance or to a natural sound of instruments (in case of studio recordings) as it only gets. In fact in this case I let the system play for 2-3 hours before I sat down and start listening but once I did, I was immediately just gone. Gone to the land of a wonderful music. We agreed with Bruno that I would keep the TWO for around 3 weeks, which usually is enough to evaluate most products, but after two weeks I realized I hadn't written a word thus far as I was too busy listening to each and every favorite recording in my collection and even some of those I didn't like so much.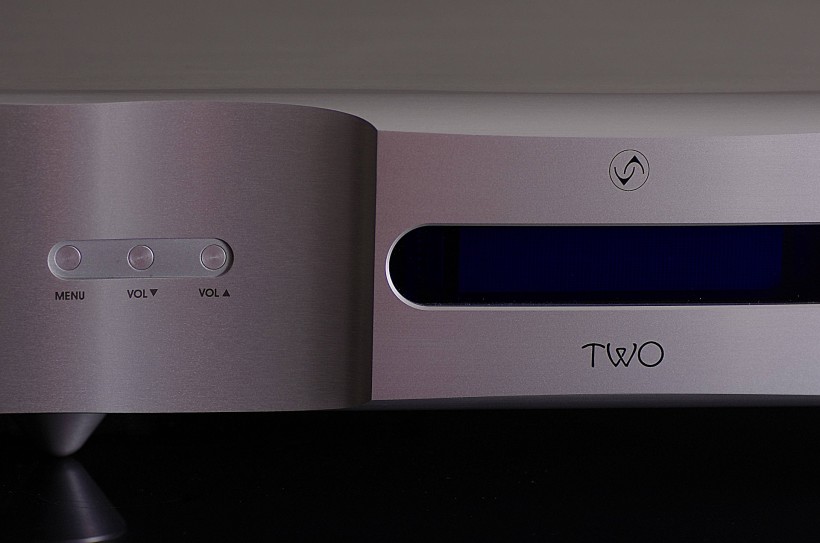 Finally, I got around to start not only listening to but also assessing TWO's performance. From the start of the actual analysis the Vermeer's device stroke me as a very clean, transparent sounding unit. I guess you have experienced something like that more than once when experimenting with some audio components. Some offer nice sound that you perceive as detailed and transparent but than you switch to a different one and it seems as if a veil was lifted. It feels much clearer, more open, with more air filling the space between instruments, with more details and so on. When you experience something like that, as I did with the TWO, one of two things is usually happening. Either the tonal balance shifts up and sound becomes "lighter" and that's what creates the above mentioned impression, or the performance is actually particularly pure and transparent while the sound is still very rich and tonal balance stays neutral. Vermeer Audio's product belongs to the latter category which is a strong hint that it's actually a damn good source.
Other feature that stands out is this rare combination of neutrality and naturalness of the sound. My own LampizatOr BIG7 is bit more natural than neutral sounding device, which is to be expected considering triodes in its output. That's actually one of the features I love about it, but I can be objective enough to admit that the Vermeer Audio TWO offers a better balance between these two qualities of presentation. That combined with above mentioned transparency and purity of the sound might suggest that it is a more analytical sounding source than BIG7. It is true but it's definitely not one of those sources that focus listener's attention on details instead of on the music. It's using its ability to retrieve smallest, tiniest bits of information from every track (no matter its resolution), present them is a naturally clear way and use that to create an amazing, immersive experience for a listener. Hence the first two "lost" weeks, I mentioned above.
As I said, the tonal balance is very neutral. And yet the TWO builds the whole presentation on a very solid bass foundation. Whether it's acoustic or electric bass, it sounds impressive – fast, agile, tight. When needed it goes really deep and even lowest notes carry proper weight and energy. The latter is even more important for electric and electronic bass so when it came to, for example, one of Marcus Miller's albums – yeah! this was a jaw-dropping experience. I still have this vivid memory of his fantastic concert in Warsaw and while this presentation was not equally dynamic nor energetic, it got close enough to bring back this memory and let me have almost as much fun as back then. My Ubiq Audio Model One loudspeakers are capable of delivering very low, tight bass but rarely with such a remarkable combination of slam and very good definition. Yes, it is the amplifier that mostly takes credit for that but it can deliver only as good performance as the signal it receives from source/preamplifier. In this case it was obviously fed a signal of remarkable quality. Also albums with acoustic bass – Christian McBride's, Renaud Garcia-Fons' and so on – sounded amazing due to a proper balance between wood and strings, nice long decay and impressive differentiation that allowed me to fully appreciate the power and an astonishingly wide range of sounds this fantastic instrument is able to play while in capable hands.
I focused on bass because it was a bit unexpected which doesn't mean that the rest of the band isn't equally impressive. The big strength of this device is a coherent performance across the whole band. This impressive bass never dominated presentation unless such was an intention of people behind particular recording. In most cases it was, as it should be, the midrange that played the most important part in the presentation. It was rich, smooth, well-differentiated, colorful but never colored, present and palpable. There was also this one feature that is usually an advantage of tube devices (yes, I do remember that there are two miniature tubes inside the TWO but it doesn't make it a "fully tube" device) – it's what I like to call a fluidity of the sound. It's something more than just smoothness and it is always (in my case) a highly appreciated feature. I stated already before that the sound of the reviewed component was natural and at the same time neutral. So is it possible to call it also warm? Well, it is. But it's this natural warmth that sound of each and every acoustic instruments has in it. That's one of the elements that makes this presentation so seamless, so easy-to-listen and so accurate. All that leads to it being so immersive that one easily looses a track of time. This tonal accuracy concerns equally the sound of instruments as well as of human voices. The latter impressed me not only because their timbre and texture were rendered so well but also because they were so present, so emotional or expressive, if you will. I spent entire evening looking through my collection for particularly charismatic vocals. From Louis Armstrong to Janis Joplin, from Etta James to Marek Dyjak, from Luciano Pavarotti to Steven Tyler, I listened to several of them and was impressed each and every time. Different genres, styles, times when these albums were recorded but the same incredible passion and energy expressed using just their voices. I was simply enchanted and wanted more and more again loosing a track of time…
For the second part of the test I used my BIG7 as a DAC and Vermeer Audio TWO worked exclusively as a preamplifier that I compared to my own Modwright LS100 preamplifier. To be honest this comparison turned mostly expected results. I mean expected based on my deep knowledge of the LS100 that I've been using for 4-5 years now and on what I already heard from the TWO. The latter is more neutral sounding device than Modwright which is a tube preamp, hence sounding bit on a warm, lush side of the spectrum. The Vermeer delivered purer, more transparent performance but equally rich, tuneful and natural as the LS100. This French device, obviously also as a preamp, not only a DAC, offers something that not that many audio components do, a combination of neutral and yet natural sound. Most devices are either one or the other, but the best ones combine these two features as their performance get closer to a live sound.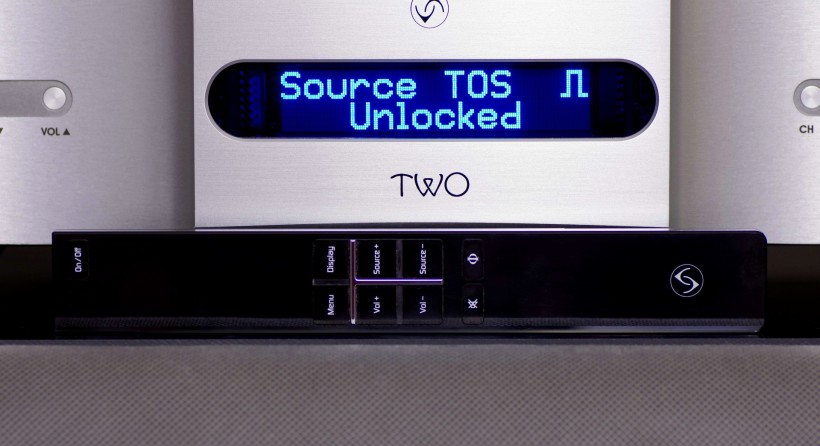 There was one area that I thought LS100 had a little advantage in, and again it was expected. The treble and upper midrange of a tube preamplifier, unless it is muffled or closed-in which happens with some lesser model, usually fits my preferences better. It's more airy, more delicate, sweeter in a good sense of this word. Don't get me wrong – the TWO does all that too and there is absolutely nothing to complain about. It's smooth and crisp and open and I think even better extended than Modwright's. Yet, for me (!), LS100 seemed to a have a minimal advantage in this area due to this hint of tube sweetness and delicacy. I guess some (maybe even most) might find this more crisp, slightly more direct, stronger presentation of the Vermeer product more attractive and I wouldn't blame them. That's simply a matter of individual preference between two (in this part of the range) equally brilliant devices.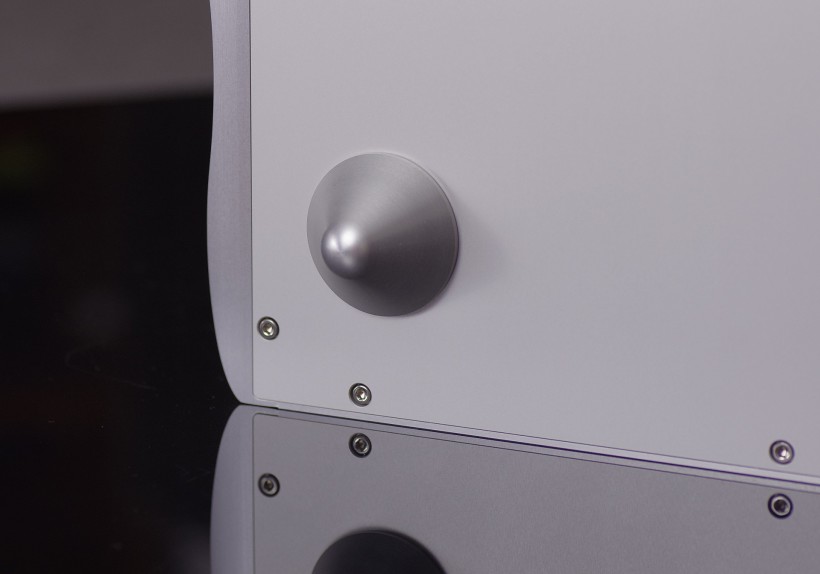 Surprisingly, both did equally good job creating a wide, deep and nicely layered soundstage. In both cases it spread beyond speakers to the left and right and went far, far not only behind the line connecting them but even behind the wall, to the next room. Both precisely placed large, palpable phantom images on that stage although the TWO seemed to be more precise in that, delivering images that were better defined, more focused. My listening session included some live recordings (it always does as I love them) that let me assess not only sounstaging and imaging but also another important factor – the way an acoustic environment or ambience, if you will, was conveyed by these two preamplifiers. While listening to, for example, Arne Domnerus' "Jazz at the Pawnshop" or Patricia Barber's "Companion" I had a problem to choose my preference. The TWO seemed more precise, with better definition and separation of instruments, but LS100 was able to slightly better recreate the sensation of being in the acoustic environment where the concert happened. Mind you, the differences between these two were subtle but noticeable and the perfect preamplifier would combine features of these two devices. Yes, I know there are no perfect audio components nor is there a perfect sound reproduction. I liked both equally for slightly different reasons without being able to name a clear preference.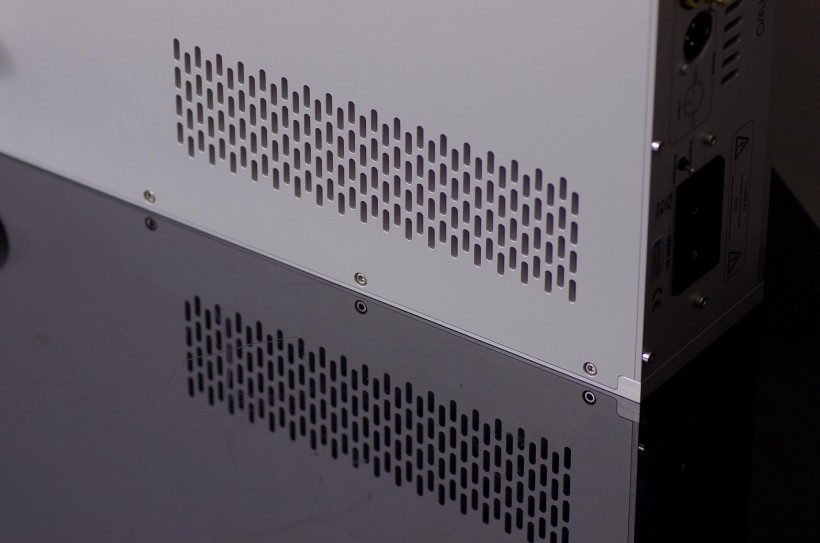 The choice was easier when I played some tracks with heavy bass presence. Both contenders delivered nicely extended, deep, powerful bass but there was no doubt that the Vermeer offered better control and definition in the lower and mid-bass area. Whether acoustic or electric or electronic, its bass was tighter, bit faster, delivered with more energy in it. Listening to Ray Brown's double bass I appreciated proper proportions between strings and wood, a fast attack, good sustain and a long, very natural sounding decay. While playing some soundtracks from "Inception" or "The Dark Knight rises" I could feel these deepest, seismic notes in my bones. Also the dark, ominous vibe in these OSTs was conveyed in a very convincing and immersive way. That pushed me to play another album with music from the "Predator". Whatever you think about the film (I admit I like it!) you should listen to the music. Not only it is a great piece of Alan Silvestri's work, but a good test for audio system too. It pushes its dynamics abilities to the limits abruptly shifting from a calm, quiet moments to sudden ruptures of energy that so perfectly interpret the invents in the actual movie. The TWO seemed to deliver an unconstrained dynamics and energy, clearly loved those immediate changes of pace and volume hence delivering one of the best interpretations of this music I'd ever heard.
While the Vermeer Audio TWO might not be a whole class or two superior to my Modwright LS100 but overall it does offer a better performance and it allows user to get rid of one component from the system. The only reason for heaving a separate preamplifier, I can come up with, would be an abundance of sources in the system that would exceed the number of inputs of the reviewed unit. Other than that there is absolutely no reason to even consider a linestage from that price level. I guess in the top-high-end systems one could make use of some top-quality preamplifier, but considering how many analogue and digital inputs the TWO has to offer, and the quality of its volume control, in most systems a separate preamplifier will be redundant. As a linestage Vermeer Audio offers a well-balanced, nicely extended on both ends, smooth, fluid, coherent, refined sound that is also particularly pure, detailed, fast and transparent. Let's add a great soundstaging and imaging and ability to convey recordings' ambience on top of that and just say that Universal Control Center name is simply accurate.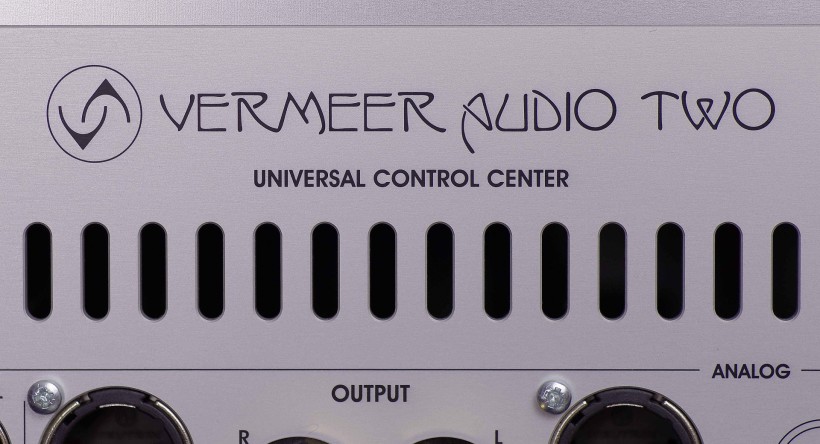 Summary
I had high expectations before this test because of the reputation Audio Aero built over the years. It was not a simple task for guys from Vermeer Audio to fill in these shoes but I gladly report they did a great job. Not having any of AA products on hand for a head-to-head comparison I can only base my findings on what I remember but I do dare to claim that Bruno Ginard and his friends actually managed to prepare a product of astonishing build and finish quality that easily lived up to my high performance expectations. Bruno boldly claimed in the interview that they took the design of the LaFontaine, put a lot of time and effort to make it sound like the top of the line LaSource. Well, it seems to me it is more than just a bold claim – it is simply a fact.
What stroke me first when listening to the TWO was this, inherent to true high-end devices, combination of natural and yet neutral sound. It delivered highest quality and yet incredibly immersive performance no matter the music genre, or resolution of the source material. Yes, one needs to take care for the quality music played via Vermeer Audio's device because the TWO does differentiate recordings extremely well and plays them back very accurately. It means that when one plays a wonderful recording it delivers it in an absolutely remarkable, musically engaging and tonally accurate performance that causes one to easily lose a track of time. But when you choose a poor quality recording or simply one that is not musically and/or emotionally involving Vermeer Audio's product will not sugar-coat it and you simply won't be willing to lose time listening to it knowing, how much wonderful music of better quality is waiting for you to be re-discovered using the TWO. Any good recording will be a very special experience with the TWO playing it whether just as a DAC or as both, Converter and preamplifier. It does both jobs in an excellent way so unless one has a top-high-end system or a myriad of sources one could spare some money by not having a separate linestage – there is simply no need for it. Now I finally know for sure why those who bought Audio Aero products have kept them for years and don't intent to get rid of them. I guess that anybody who decides to acquire the TWO won't be willing to part with it any time soon as well. It's simply too well-built, great-looking and remarkably-sounding device!
Associated equipment:
Digital sources: a dedicated, passive PC with WIN10, Roon, Fidelizer Pro 7.3, JPlay Femto USB card with Bakoon battery power supply, JCat USB Isolator, Hdplex linear power supply
D/A Converter: LampizatOr BIG7
Analogue source: J.Sikora Standard turntable with Schroeder CB tonearm and AirTight PC-3 cartridge, Tenor Audio Phono1
Power amplifiers: Musical Fidelity NuVista-600 integrated, Modwright KWA100SE power amp
Preamplifier: Modwright LS100
Loudspeakers: Ubiq Audio Model ONE Duelund Edition
Interconnects: Hijiri Million, Less Loss Anchorwave, TelluriumQ Silver Diamond USB
Speaker cables: Skogrand Beethoven, LessLoss Anchorwave
Power cables: LessLoss DFPC Signature, Gigawatt LC-3
Power: Gigawatt PF-2 MK2 and ISOL-8 Substation Integra; a dedicated power line with Gigawatt LC-Y in-wall cable; Gigawatt G-044 Schuko and Furutech FT-SWS-D (R)
Racks: Base VI, Rogoz Audio 3RP3/BBS
Antyvibration accessories: ROGOZ-AUDIO SMO40 and CPPB16 platforms and ROGOZ AUDIO BW40MKII feet, Franc Accessories Ceramic Disc Slim Feet and Wood Block Platform
Specifications (according to manufacturer):
32/384 Vermeer Audio Re sampling module
Output tube with volume control
Asynchronous USB inputs
Analog and digital inputs
DSD 64 /2.8 MHz by USB input , AES/EBU or Spdif
Analog outputs: Single-ended RCA; Balanced XLR
Digital output: BNC
Analog inputs: Single-ended RCA; Balanced XLR
Digital inputs: BNC; USB; TOSLINK; AES/EBU; S/PDIF; COAX
Frequency range: 3Hz–48 kHz (-1dB) with DSD or 24/96 kHz input
Output voltage: 2,3 or 4V RMS in fixed output mode; Up to 7V RMS in variable output mode
Output impedance: 100 Ohms
Signal to noise ratio: 129 dB
Total harmonic distortion: < 0.1%
Power supply: 100–240 VAC, 50/60 Hz
Weight: app. 25 kg
Dimensions (WxDxH): 450 x440 x130 mm
Retail prices:
Model TWO : 17.900 €
Model TWO LAN : 19.900 €