Not that long ago if you wanted to play music from audio files in your audio system you had to use your computer. Today, you can choose among dozens, if not hundreds of specialized transports and servers developed with this purpose in mind. There are few leading brands and the prices of the top models reach dozens, maybe even hundreds of thousands of euros. One of them aspiring to be one of the best is XACT S1 Digital Transport and Music Server. Let's check how good it really is.
Introduction
While I was a bit too young (and my access to novelties was very limited) to observe firsthand the previous huge revolution in the world of music mediums, I mean when Compact Disc took over from vinyl records, I had a chance to watch closely the latest one. This time, the CD format had to give way to music files. Yes, the CD still does quite well, and so does vinyl, and SACD. Yet, due to the development of proper technologies and solutions, as well as streaming services that offer simple and inexpensive access to gigantic music libraries, audio files took over as the leading music carrier today. Yet many, if not most audiophiles, yours truly included, still love their physical music media, and they (we) love them so much that not only black records but also reel-to-reel and cassette tapes made their comeback.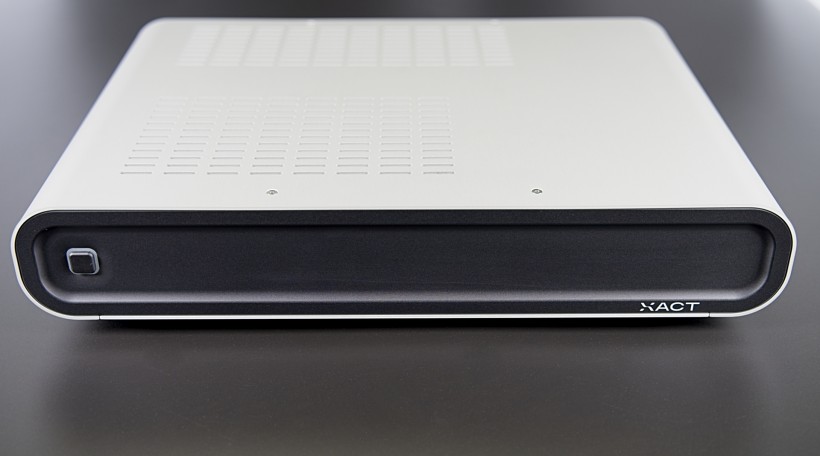 Having said that, it is fair to say that even in the audiophile world music files have been gaining more and more traction, so to speak, and while they are not always the single or even the main music carrier for many demanding music lovers, they do play a significant and ever-growing role. It has been obvious for years now for the industry, hence many audio manufacturers focused on developing the best possible D/A Converters, music servers, network transports, streamers, USB and Ethernet cables, and all other products and accessories that may improve the sound quality of a system based on files.
One such company comes from Wrocław, Poland. One company but three brands and two of them have made a name for themselves around the world – JPLAY and JCAT. The former developed a software music player of the same name and it's been on the market for more than 10 years. The latter was introduced a few years later, and it offers several components intended to improve the sound quality of audio file-based audio systems. I used JPLAY in the past and really liked the sonic results, although its interface, or lack thereof, was a bit of a deterrent. Some years ago, even before music servers became widely available on the market, the man behind both brands, Marcin Ostapowicz advised me on how to build my first music server, and already back then it featured a specialized JCAT USB card that significantly improved the performance of the said server.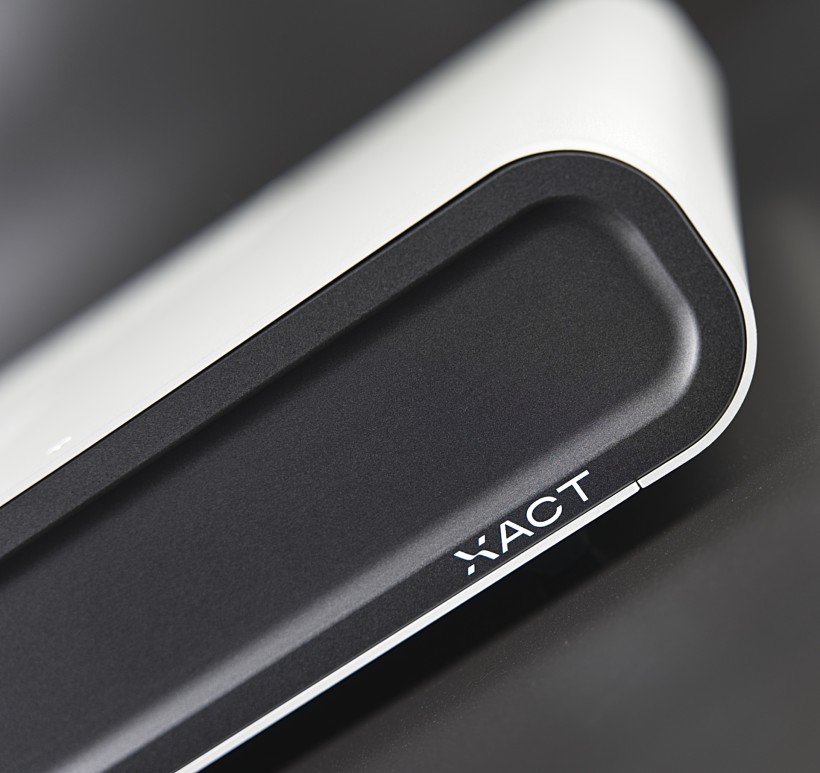 The USB Card mentioned above was, if memory serves, the first product of JCAT. Later came USB and Ethernet cables, linear power supplies, more advanced versions of USB and LAN cards, and other accessories. In 2021 I reviewed the latest (at the time) versions of both cards together with the INITIO 3 linear power supply  (see HERE). After the test, I acquired both cards for my server, and I also added USB + LAN Ground Conditioner to my rig. The improvement in my server's performance was significant and I was happy about the sound quality it offered. At least until Marcin contacted me again a while ago asking if I wanted to review the latest additions to his lineup – Master OCXO Clock upgrade for USB and LAN XE cards and his complete digital network transport and music server, XACT S1. The latter, by the way, starts a new, third brand, XACT. How could I have said no after all the previous experiences with products from his brands?
The first one delivered for assessment is XACT S1 which was introduced last year at the Warsaw Audio Video Show. It is currently the only product in XACT's lineup and a crown achievement benefiting from all the hardware (JCAT) and software (JPLAY) related knowledge and experience gathered over a dozen years when developing products for both brands. If you already have at least some experience in computer-based audio playback you probably realize that both software and hardware play an important role and only together they can offer an ultimate performance. Marcin Ostapowicz, or his two brands, JPLAY and JCAT, put him in a unique position as a developer and manufacturer who has already mastered both these key elements. Even knowing that Roon became very popular among demanding users, he kept developing his JPLAY software player to the point, when it could become a competitive solution. So what we get with XACT S1 is a device featuring proprietary hardware solutions and proprietary software, both designed and developed but the same people, hence working, according to Marcin Ostapowicz, perfectly together.
Before starting my assessment I asked Marcin several questions and below you will find the whole Q&A.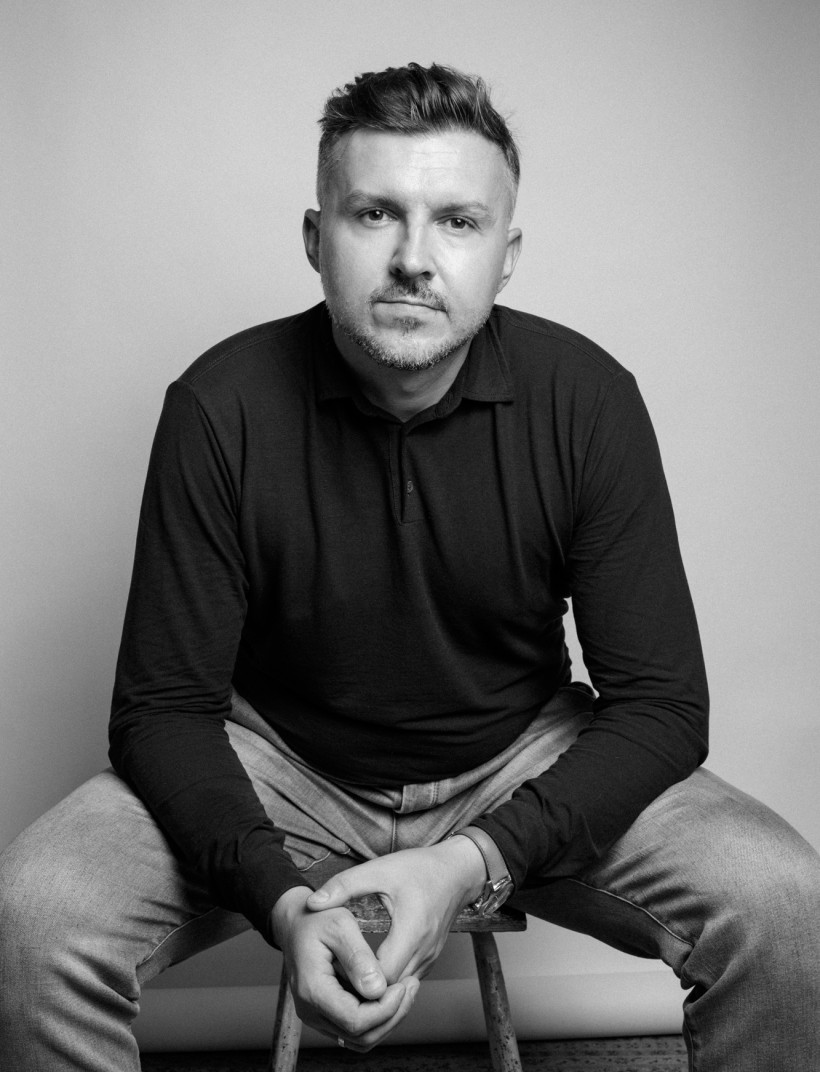 Marek Dyba (MD): Let's start with some history. Could you tell our readers how or why did you become interested in computer audio in the first place? And how did it turn into business?
Marcin Ostapowicz (MO): I first became interested in computer audio in high school. I had my first USB DAC at the time based on Texas Instruments DIY KIT and I've been experimenting with foobar2000 software player and various plugins. I knew back then that digital transports do not sound the same and decided to pursue this field, first as a hobbyist and then, a few years later, founded JPLAY.
MD: I remember the first (and a few following) versions of JPLAY. It was interface-less software focused on sound quality and not user's convenience. What changed your approach, because today's version reminded me right from the start more of, say, Roon, than the "old" JPLAY?
MO: Sound quality has always been my top priority and with JPLAY on Windows I tried to 'fix' the sound. Now with the new JPLAY iOS app, it was time to add ease of use to the mix.
MD: JCAT brand – when exactly was it founded and am I right about USB card being the first product it offered?
MO: JCAT, the hardware division of JPLAY, was founded in 2013 (2 years after JPLAY). The USB Card was one of the first products, yes. Now we have its 3rd iteration, USB Card XE.
MD: How did making components intended to improve the quality of, in most cases, home-made or custom servers and transports, turn into developing a complete solution for audio file playback?
MO: I always wanted to offer a complete music server product. I could have done it years ago using available components, but I wanted to make it my way, without compromise.  The S1 synthesizes all my audio research findings and experience in developing innovative audiophile hardware (JCAT) and software (JPLAY). Every product I've developed over the years has made an important contribution to the creation of the XACT S1 music server.
MD: Which is harder, optimizing hardware or software for audio playback?
MO: Software is definitely more difficult as it is much more complex. There are many more variables involved than with hardware.
MD: Was it hard to integrate hardware with software? Any particular issues you had to resolve and can share with our readers?
MO: This is the device I've worked on the most in my entire life. After more than 10 years of developing JPLAY, I've learned firsthand that the software has as much impact on the sound quality as the hardware platform itself. Through meticulous testing, I've explored all possible optimizations of the operating system and player's code, ultimately identifying the most harmonious combination for the S1's hardware. And I hope this obsessive fine-tuning can be appreciated in the final product.
MD: What prompted using OS from an SD card instead of installing it on a hard drive?
MO: There are a few reasons, but the most important one is that a proper SD card offers better sound quality. The S1 uses industrial-grade SD card based on highly reliable SLC NAND. The card was selected by me by ear.
MD: How did the idea of the external design come about? It is quite unusual, to say the least.
MO: It was the designer's idea. I wanted something that looked modern and sleek. I have to say that I like the design a lot.
MD: At some point, you sent me a new OS version, so I guess you keep working on it constantly. What the improvements are about? I don't mean a very specific answer, just a general one, what areas of the software can be still improved?
MO: I'm constantly working on improvements. It's just who I am. Reducing overhead is something that usually brings improvement and it was the case with the update you received. I expect that most updates will be through the app because the XACT OS/player is already very well-optimized. I'd like to add a CD-ripping feature at some point.
MD: So now, when you already have what seems to be one of the best servers/transports on the market, what are the plans for the future? Do you see room for improvement for S1, or the only way forward will be (is) to develop a new device from scratch?
MO:  I am planning an upgrade for the S1 for next year's High End Show in Munich. The upgrade will include the Master OCXO Clock board that we've just launched for JCAT and a few other improvements that are currently in the R&D phase. All S1 units are future-proof and can be upgraded.
Design and features
The form of XACT S1 stands out among all the other servers I dealt with before. The latter either use "standard" computer chassis or custom ones designed to look similar to other components offered by the manufacturer of such server. S1 (for now) is the first and only product in XACT's line and since the sister brand, JCAT, offers components for music servers, there were no products to model the chassis after. I don't know who came up with the design you can see in the photos, but it is original and elegant. Maybe it is just me, but I got some sort of a vintage vibe from it. I mean, I remember some radios, and amplifiers from, say 40, 50 years ago, that featured such rounded sides and rubber feet, hence the association that popped up in my mind. I liked it from the start and the longer it stayed with me the more it grew on me.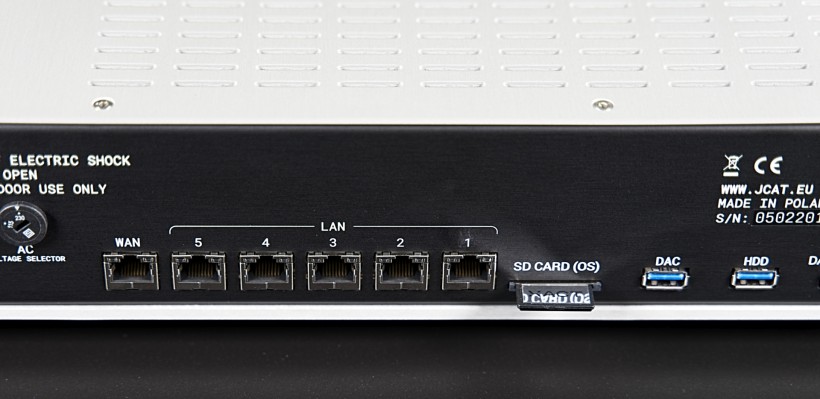 The whole fan-less (!) design, in terms of make and finish, is very modern though. I said it was elegant, and I stand by it, but it is also quite a modest design, so to speak, with no flashy, or luxurious elements. The chassis is made of aluminum with a black front featuring a single button. That's the power button and when you turn the device on an orange glowing frame comes alive around it, first blinking while the device is booting, then emitting a solid light. The back panel features a power inlet – a solid Furutech IEC socket, followed by three USB ports, each with its own designation. One should be used as an output for a DAC, one as an input for an external drive, and the last one is another output for a DAC, one that does not include the 5V power bus.
In most cases, the latter should be the one to offer the best performance (assuming one uses a DAC that does not require 5V on USB input), yet Marcin told me to use the other one for the best sound. After some tests, I tend to agree with him yet feel free to check it out for yourselves. Next to the USB ports, there is a slot for the memory card reader – that's where one inputs the SLC SD card with OS provided with the device or another one that turns the device into a high-end audiophile-grade switch.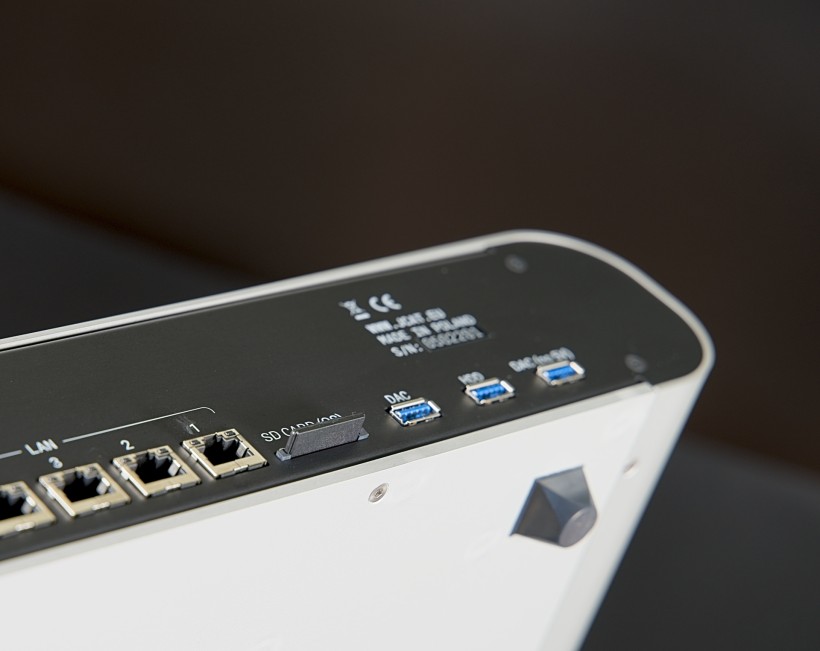 Then come as many as six Gigabit Ethernet ports. These are gold-plated high durability EMI shielded RJ-45 connectors with built-in 12-core transformers for improved isolation. One can also switch off LEDs accompanying the ports to eliminate the noise they introduce. When using XACT S1 as a server you only need one LAN port (No. 1) to connect it to a router or switch. Only if you use it as a switch you will utilize all six LAN ports. They, same as the USB ports, are reasonably spaced so you shouldn't have any problems while connecting "audiophile" USB plugs that sometimes feature larger bodies than regular ones.
Inside one finds Marcin's pride and joy or the proprietary ZeNA (Zero-Noise-Architecture) motherboard. As he says, to achieve the ultimate level of performance he intended from the start for XACT S1 he needed a new motherboard designed exclusively with audio use in mind. That is why S1 does not rely on switching DC-DC converters but rather on super-low-noise linear regulators. Combined with the company's own advanced power supply section based on JCAT's renowned OPTIMO linear PSU featuring a large toroidal transformer, as well as 140 000 uF total capacitance bank with Nichicon's flagship Muse and Fine Gold capacitors, it makes the XACT S1 run exclusively on linear power. The manufacturer claims it is the first and only music server in the world using only linear power which resulted in the intended top level of performance.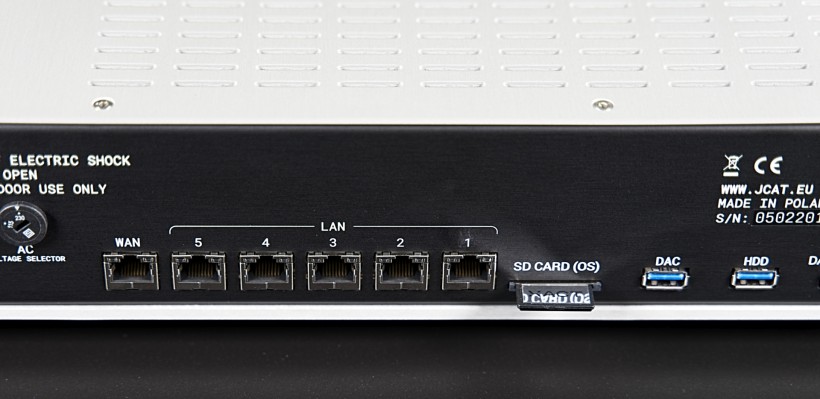 XACT S1 features also an extremely low-jitter Emerald OCXO clock with ±5 ppb frequency stability. It is the same one as used in JCAT's XE USB and NET cards. Based on extended listening tests the designer decided that files stored on an in-build SSD drive sound better than ones played from a local network. Standard SDD capacity is 4 TB but at extra cost, one may order one with as big as 16TB capacity. The internal cable connecting the disc with the motherboard is the top product of that type offered by JCAT.
The whole operation of the XACT S1 is conducted using JPLAY playback software that you get a lifetime license for when you buy the device. Its interface is user-friendly, and operation is smooth and fast. The only feature (for now, as it may change in the future) that is a bit annoying for a Roon user is the necessity to synch data with XACT each time one adds new music to it. Roon does that automatically, here it requires manual action. Not a big issue, unless you constantly keep adding new files. While the sonic results are best when playing high-quality files from a local disc, one can stream them from servers in a local network using UPnP/DLNA protocols. JPLAY also integrates TIDAL & Qobuz streaming services but you need your subscriptions to these services obviously.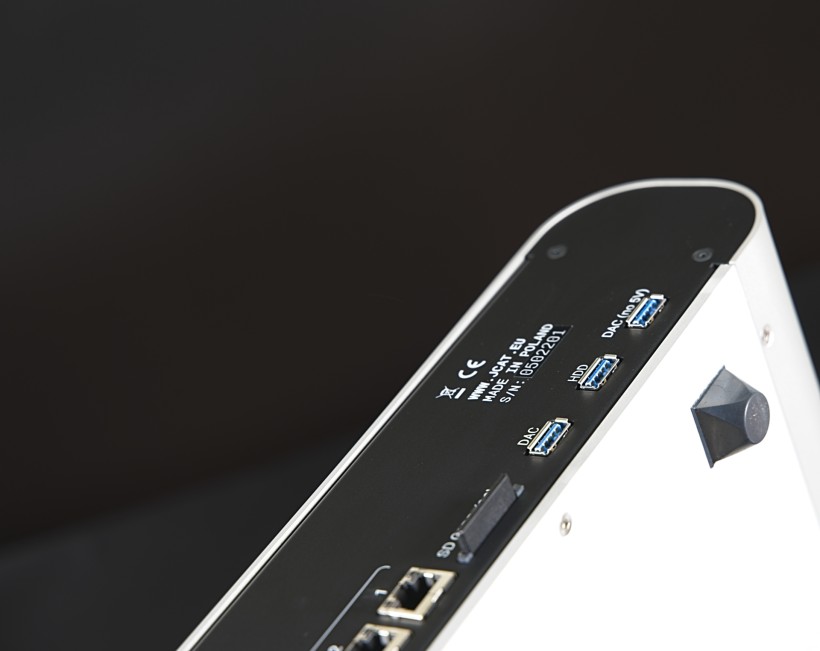 XACT S1 offers native bit-perfect playback of DSD files up to DSD512 and PCM ones up to 768 kHz, 16-32 bits resolution. Supported file types include DSD: DSF, DFF, PCM: FLAC, Apple Lossless (ALAC), WAV, AIFF; and Lossy formats such as MP3, AAC (M4A); and MQA (pass-through). While in the app you can filter the albums in your libraries (all or selected ones) in many different ways using audio formats, sampling frequencies, bit depths, genres, artists, and so on. You can also choose your favorites, and check the most played albums/tracks. It is a truly advanced app and using it, unlike many others, turned out to be a pleasant experience. I could get used to it

Sound
I had a chance to spend a few weeks with XACT S1 which in turn gave me an opportunity to partner it not only with my trusted reference LampizatOr Pacific 2, but also with two other high-end D/A Converters, namely Playback Design MPD-6 supported with MPD-X (digital interface), and Weiss Helios. By the way, the latter is "JPLAY certified", which means that the software was thoroughly tested by the Weiss crew and they found it working perfectly with Helios. So did I.
I have been using my custom Roon server for quite some years upgrading it from time to time and I believe it offers a really good performance (in part due to JCAT's components I mentioned before). Yet switching to XACT S1, and what it entailed was unplugging DL Custom Audio Emerald mk 2 USB cable from JCAT's XE USB card powered using Ferrum Audio HYPSOS Signature installed in my server and plugging it into DAC USB port in S1, proved almost immediately, that the quality of a signal (data actually but I'll use the term "signal" to simplify things) sent to USB input of a top DAC can still be (significantly!) improved.
It was sort of an eye-opener in terms of how much room there is still for improvement compared to my server's performance. I realize though, that since XACT S1 features several custom components unavailable for individuals like me, plus custom software, it is unlikely that I will be ever able to achieve similar results with my machine. The difference, or improvement, was undeniable but it still took me some time to figure out why I liked what I heard with JCAT's server so much more, and why it engaged me as a music lover more deeply.
The first impression generally was somewhat similar – both, my server and XACT S1 deliver signal translated by Pacific 2 (and other DACs) into astoundingly analog, or non-digital, non-fatiguing, natural sound. As far as I know, Marcin is a digital guy through and through, yet each component of his brand, at least in my opinion, delivers performance that is best summed up as analog-like. No wonder that expecting this type of sound I started listening to (mostly) acoustic albums, such as, for example, Jacques Loussier's "Pulsion" (from 1979).  Maestro's piano in this recording is accompanied by drums (Luc Heller's). I love the album for its pure, raw energy, and I like to use it when assessing components for my reviews.
It sounds crazy good with my server every time I play it. It's fast, dynamic, explosive even, and it just keeps me smiling each time I listen to it. Yet, with XACT S1 replacing my server I heard even more music in music, so to speak, even though only two instruments were engaged there and I'd thought my server presented them in the best possible way. The sound of the piano with the tested server was even more vibrant on the one hand, and deeper, more mighty, or even majestic on the other. The reverb seemed a bit longer too, which added to the impression of experiencing "more" music than before. While the instrument was properly big and I could feel its mass when played by both servers, with XACT S1 it seemed even more present due to its mighty, rich, saturated, tuneful, and beautifully fluid sound.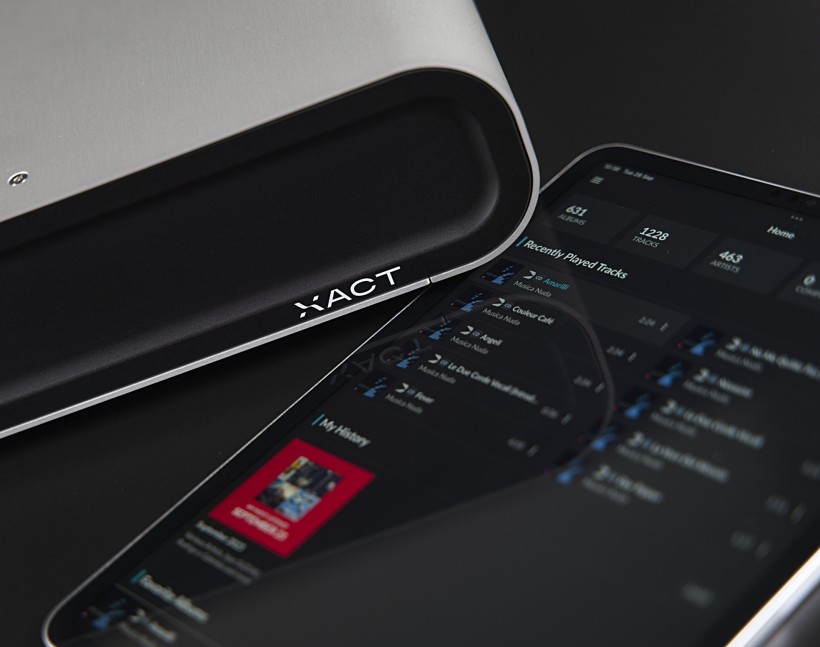 While my server and its components benefit from a few power supplies (linear for the server as a whole, another for a switch, and NAS, and a hybrid design for JCAT's XE USB card) it was the XACT S1 that seemed to suffer less from all the noise coming from both, power grid and home network, as the background, pretty black with my server, became even blackier (or devoid of noise) and velvety. It may seem like not much, but once you hear it you realize that it directly translates into more deeper tone, into perceived higher resolution due to the clarity that even the tiniest details and subtleties are presented with.
The latter in turn, enriched the whole presentation, completed it, and made it more exciting, more attention-grabbing. While there was even more information delivered via speakers in a clearer, more distinct manner, the whole seemed smoother, and more coherent as if all those pieces fitted together even better than before. That's what made the flow of music so smooth, so natural, that it reminded me, even if it is hard for me to admit, of what my excellent analog setup has to offer. Interestingly, the XACT S1 paired with either of the three DACs (LampizatOr, Playback Design, and Weiss), all similar in this regard, reminded me of my J.Sikora turntable also in terms of how dynamic, focused, and energetic it sounded.
Yet, when comparing directly (by directly I mean that I played the same album using the same preamplifier, amplifier, and speakers), for example, Peter Gabriel's "So", or Dire Straits' "Love Over Gold", or "Ray Brown Trio's "Soular Energy" I realized, that my analog rig offers an even more focused and more precise sound, and particularly a tighter, deeper, and more powerful bass. Still, I stand by my initial assessment – both analog and digital front ends shared a lot of high-end DNA which explained very well why I liked what I heard using XACT S1 so much. Even more so because the class and refinement of the performance reached a similar level.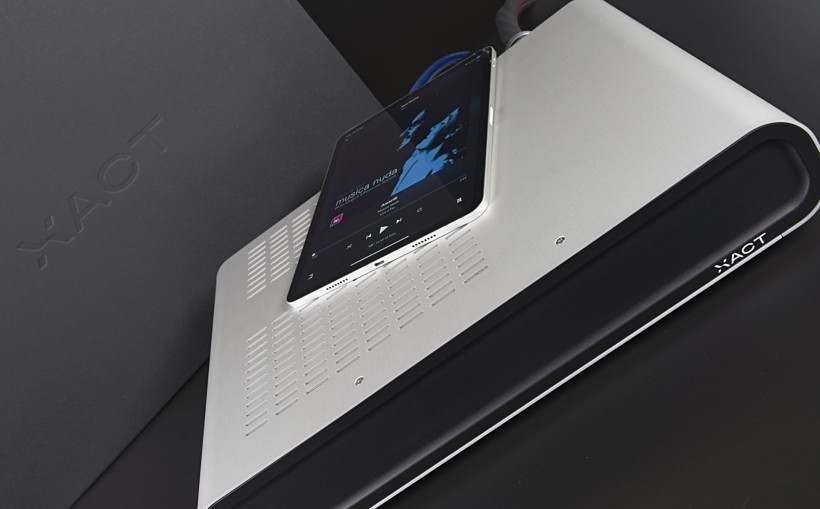 XACT S1 seemed to widen the stage even further to both sides which combined with the abundance of information, and the amazing richness of the sound, created a uniquely immersive musical experience. And while it seemed to me, that one of the "stars" of this album, the incredibly fast, dynamic, and powerful kick drum was a touch softer than with my server, I was still under the impression that it "kicked" even more powerfully. Also, the impressive energy of the whole performance was higher. It wasn't quite the same as it would have been were I in the room with those two instruments, but when I cranked up the volume, it got pretty close.
Listening to a recording of a live performance known as "Saturday Night In San Francisco" I also felt just a little bit more involved, closer (not in terms of physical distance, but emotionally) to the three ingenious guitar players but also the quite loud and highly invested audience. My server is really good at differentiating all guitars, musicians' styles, and their positioning on the stage, separating each instrument in a way that allows me to follow whichever of them I choose at any time. XACT S1 did it all too, just better, in a more live-like, more convincing way. It was about the intensity of the sound, or its internal energy, as well as, the already mentioned, ability to deliver an abundance of details in a more precise, clearer way without turning the presentation into one I would call (over)analytical.
Any information available in the recording was easily accessible, yet only if I chose to. Otherwise, it all came together as a beautifully coherent, musical, totally immersive whole that kept me on the edge of my seat during most heated moments, and deeply relaxed, comfortably leaning back when things cooled down on the stage. Another important aspect of many live recordings, this one included, space, and acoustics of the venue, XACT S1 conveyed in a particularly convincing way, clearly better than my server.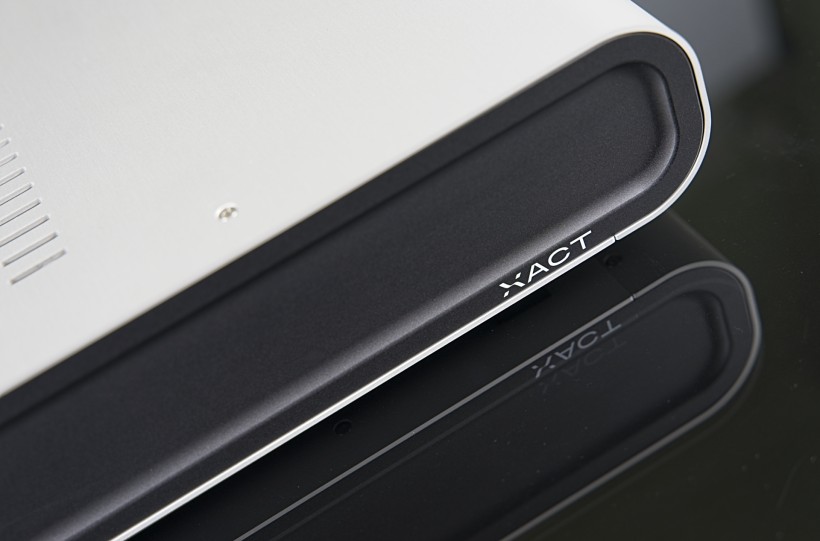 Since the spatial aspects of (particularly all the live) recordings are ones that I always turn my attention to and simply put, like a lot, I played several albums recorded in various venues, such as Blue Note in Tokyo, Jassmine in Warsaw, Green Mill, and others to find out how well the Polish server differentiates them. XACT S1 did not disappoint. I knew only some of these venues from actual experience, yet I was ready to bet that the way the tested server presented them was as good, as realistic, as it gets.
I had no doubts that it also differentiated the spatial aspects of all these albums really well. Each was different in terms of size, depth, distance the performers were placed away from me, the reverb of the venue's walls, and so on. While it is the performance itself that we pay most attention to when attending a concert, the same band can sound quite different depending on the venue and XACT S1 proved it was fully capable of conveying such differences assuming they were caught on tape which was obvious after listening to a few compilations with recordings from different venues and times.
Listening to Whitesnake's "Starkers in Tokyo", Steven Tyler's "We're All Somebody From Somewhere" or Patricia Barber's "Monday Night Live At The Green Mill" I couldn't help but think that not only was every of these unique, phenomenal vocals presented in an exquisite, live-like, highly expressive way but also in an even more present, palpable, "here and now" way than with my server. It was particularly clear with the first of those albums, with just David Coverdale's vocals and accompanying guitar. XACT S1 again accurately delivered not only the timbre and texture of both, voice and guitar, the ambiance, but also all the tiny details such as fingers moving along the strings, vocalist breathing, and so on. The key quality from my perspective was that it did not push all these elements forward, it didn't try to focus my attention on them, but rather clearly presented them "behind" the vocalist in the foreground so that they became building blocks of the credibility of the whole performance.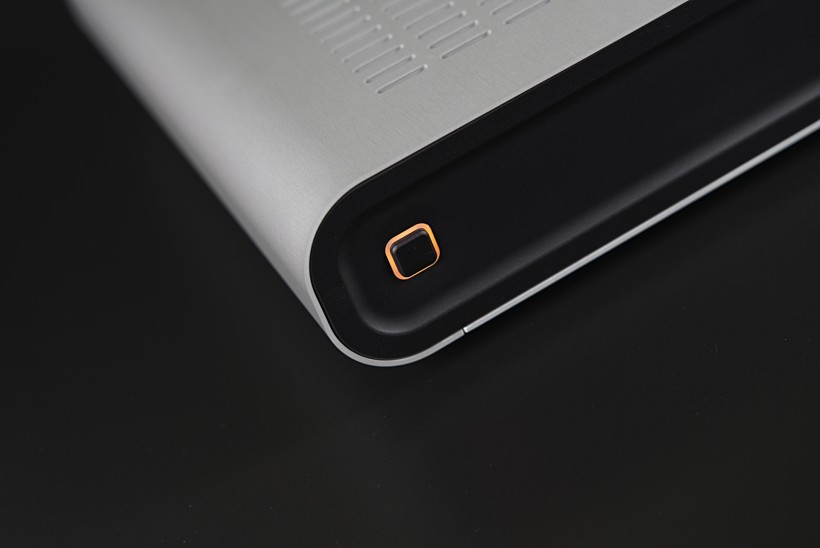 XACT S1 as an audiophile switch
As I've mentioned before, the XACT S1 is not just a piece of (very good!) hardware. There are two, or actually three more features that make it quite a unique proposition. From a hardware standpoint, since the OS is loaded from a card, you can use a different one if you want to. With the device, you'll get a card with a proprietary OS suggested by the manufacturer and a lifetime license for the JPLAY software player. I also received for the purpose of this test another card that turns S1 into… an audiophile switch.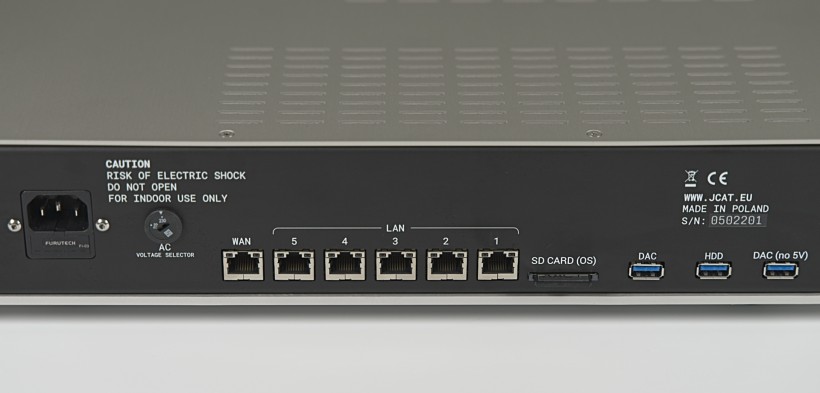 Yes, I do realize, that considering the price of this device using it as a switch is not for everyone but Marcin Ostapowicz told me that in his private setup (which is also a tool for testing new ideas and products) he uses two X1s, one as a switch and another one as transport/server. For the time being (meaning until he comes up with some even better, more advanced solutions), he considers it the ultimate setup he can offer to his customers. I did give it a try, although having only one XACT S1 at my disposal, I had to test it with my own setup. It did an excellent job, probably (it is hard to be certain without direct comparison) the best among any audiophile switches I tested maybe except for the combined efforts of Silent Angel Bonn NX and their external Genesis GX clock. I'd have to put them side by side to be sure which one is actually better, but for sure either option is among the best available on the market.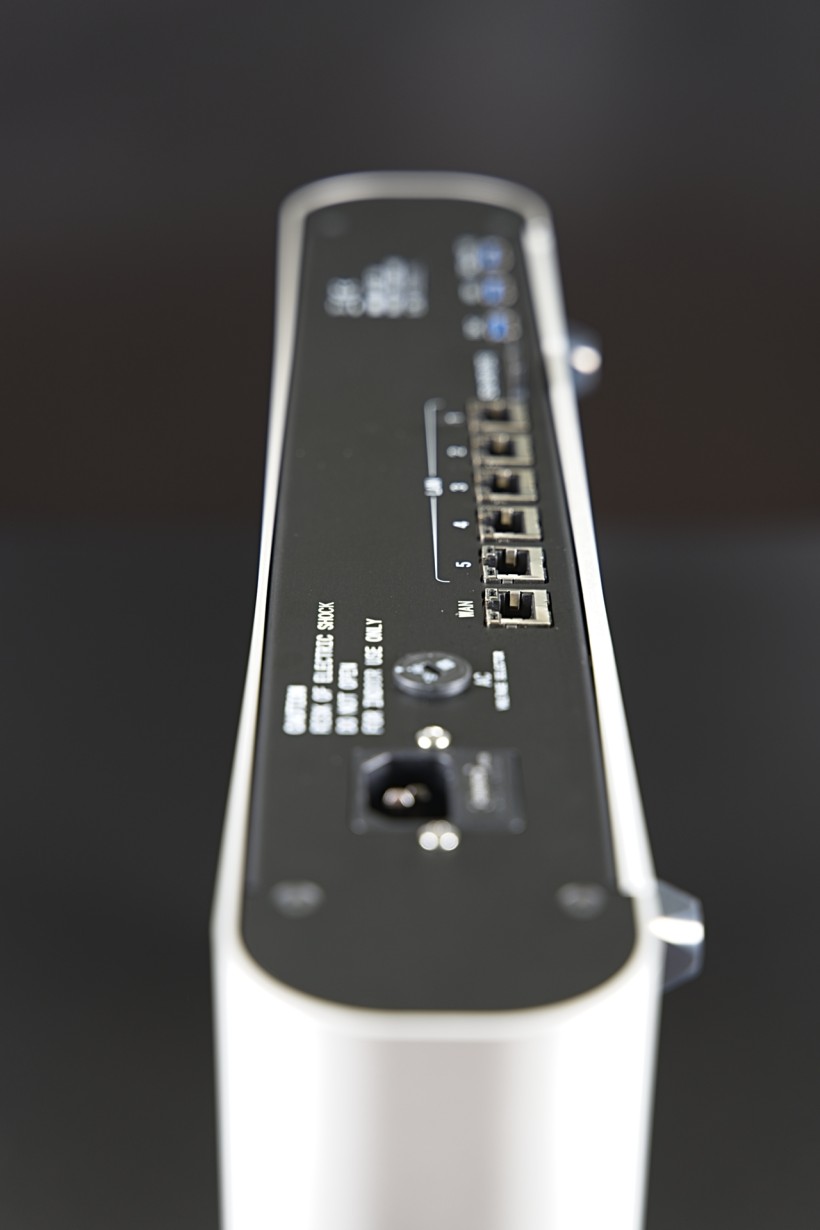 JPLAY
Let's get back to the medium XACT S1's OS is booting from, a flash card, and the whole operation is executed using JPLAY. Even if you are a Roon fan, as I am, you should definitely check out the latest version of Marcin Ostapowicz software player. Not only do you get a lifetime license for it with your device, but also it is a completely different software than the one some, me included, may remember from 10 years ago. Back then it had to improve on or work around the Windows OS it was intended for. As I already mentioned, it featured no real interface, and one had to use commands to load and play music. In other words, it was a minimalist solution focused on delivering the best possible sonic performance. It wasn't very convenient to use though, which was a deterrent for some users.
The JPLAY you get to use with XACT S1 is a completely different beast, at least in terms of interface,  and convenience of use. It was designed for iOS though, which, from my perspective as an Android user is its only flaw. I pointed out a similar approach to Lumin many times over the years until they finally developed an app for Android devices so I should do it also when talking about XACT. I talked to Marcin about it and he didn't give me a clear answer as to whether we can expect the Android version of JPLAY any time soon (if ever). It means, that if you find the XACT S1 as good as I did and want it to become part of your setup, and you already own an iPad or iPhone you're good to go. Otherwise, you need to buy not only XACT but also one of Apple's devices. Considering the price of S1 it won't be a huge additional expense, but an obligatory one.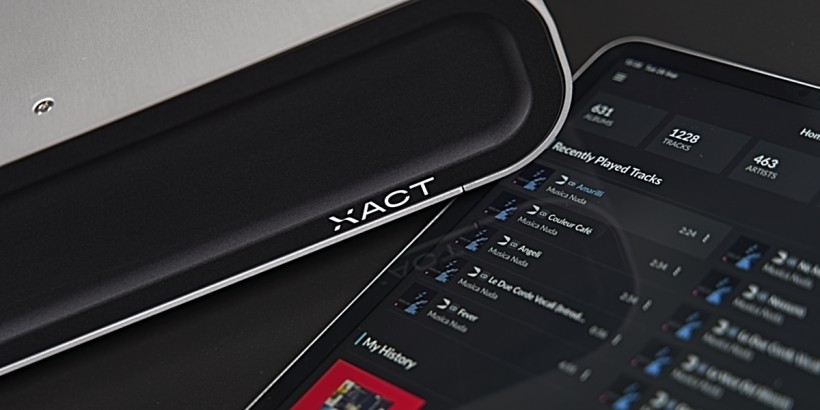 If that is the case it will be up to you to decide. What I can tell you is that while it was hard or actually impossible for me to compare the sound quality achieved with Roon and JPLAY, as I used these two players working on different servers, in terms of ease, convenience, smoothness, and reliability of operation both offer similar if not the same excellent experience. And it comes from a long-time, very happy Roon user. Sure, Roon offers more features, more information on music in your library, some presets, and so on, yet the question is whether you actually need/use them. JPLAY I used had already Qobuz and Tidal services integrated and they worked as smoothly, and trouble-free as the playback of files from the in-build SSD. And the sound quality, as you've already read, was remarkably good!
Software development for XACT S1
Importantly, both the OS for XACT S1 and JPLAY are being constantly developed. Some changes target sound quality, some add new features. Actually, just a few days before I wrapped up this text Marcin contacted me regarding the newly released version of the OS, one that even further improved its performance in terms of sound quality. He asked me if I wanted him to send another card or try out the detailed instructions on how to download the new software and flash it onto the existing card. I chose the latter and went through the process. It proved simple, relatively quick (flashing the card takes a while), and it worked perfectly which I found out after installing the card with the new software in XACT. It worked as smoothly and reliably as before without even the smallest hiccup (to which, as a Windows user, I am used to).
As for the improvement in sound quality, which was the targeted outcome of the upgrade, the comparison wasn't easy. After the fact, I realized that having two cards with two versions of the software would make it easier to find out the differences. Yet, even if my assessment couldn't be based on as direct comparisons as I wished, I still thought that there was something to Marcin's claim.  He didn't tell me anything specific about what to expect, only that "the sound quality got even better".
That seemed to be also my first impression. The change wasn't dramatic, it was not a day or night kind of difference. It seemed better because it was denser and more coherent, and the flow of music further improved even though it was exceptional even before the upgrade. At the same time, the clarity and transparency of the presentation seemed to improve, which suggested lowering the already very low noise level, allowing for an even deeper insight into every recording. Yet, the presentation did not become analytical, did not encourage a deep dive in search of some sound engineer's mistakes, but rather allowed for a richer, fuller, even more immersive, very natural experience. So yes, it got better. Not by much, but at this, top level, any, even tiny improvement is highly appreciated. Knowing Marcin he will keep working on both, hardware and software so while XACT S1 for now is his statement product, it is likely to get even better in the future.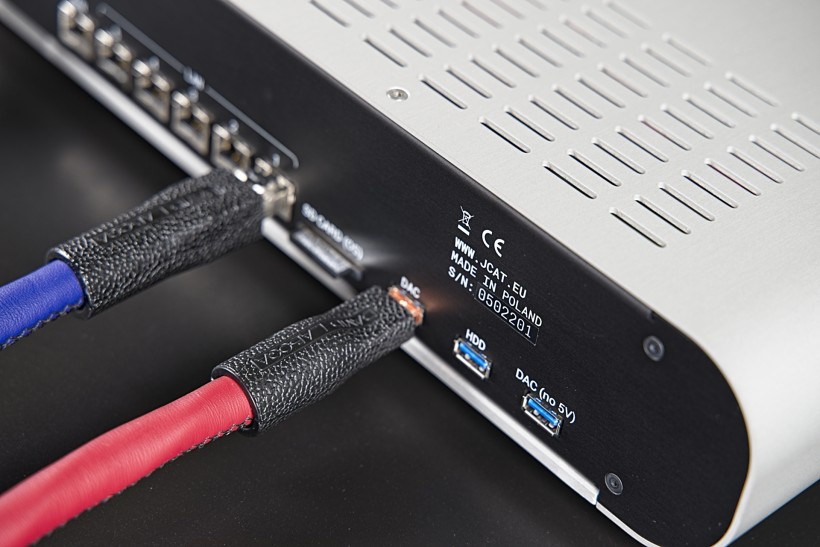 Summary
I've reviewed a lot of various components over the years, some reasonably priced, some extremely expensive. And yet, it happens not as often as you may think that I am so impressed and delighted (which is not the same thing – the former is based on an objective assessment, the latter is purely subjective) with the reviewed component that I wish I could add it to my rig. Unfortunately, in most cases, they are beyond my reach and XACT S1 is one of them. I'd replace my server with it in a heartbeat if I could afford it because it is not only one of the best music servers I know, but it also sounds as analog, as natural as it gets, and remember, that it comes from me, a vinyl record aficionado.
How good a signal (data) XACT S1 delivers to a D/A Converter was obvious after pairing it with three top-performance devices of that kind from LampizatOr, Playback Design, and Weiss. Each of them kept its inherent sonic character when fed by XACT S1 and seemed to perform at its best. The sonic results differed in character but ultimately the performance was just remarkable, immersive, and addictive. Surprisingly, or not really, because since I've been using JCAT XE cards in my custom server they did the trick too, the quality of music streamed from Qobuz and even Tidal was close enough to that played from a hard drive, so that it (almost) didn't make a difference. Yes, the built-in drive ensures the top quality, but streaming came so close that I stopped paying attention.  That is why you didn't see me discerning music played from the disc and streamed.
The JPLAY software player used with XACT S1 turned out very different, way more advanced, and convenient to use than its previous versions I'd known before. You will find a lot of similarities between it and Roon so if you're a user of the latter you will find the former as easy and pleasant to use. So a great job on that front as well. It is one of the best music servers and transports money can buy and while it is expensive it still costs less than most worthy competitors. I believe it fully deserves our award.

Price (when reviewed):
Technical specifications (according to the manufacturer):
Proprietary ZeNA (Zero-Noise-Architecture) motherboard (world's first 100% linear powered motherboard)
OPTIMO linear power supply section delivering 140 000 uF
State-of-the-art ±0.005 (±5 ppb) stability Emerald OCXO (oven-controlled oscillator) delivers the most stable timing in the presence of environmental stressors such as airflow, temperature perturbation, vibration, shock, and electromagnetic interference (EMI)
Digital outputs: 2x USB Audio 2.0 (main and without 5V power bus) via gold plated high durability EMI shielded USB connectors
4TB of internal storage from an industrial grade SSD connected via Reference SATA cable
LAN inputs: 6x Gigabit Ethernet (for future network switch & router capabilities; available later in 2023)
Gold plated high durability EMI shielded RJ-45 connectors with built-in 12-core transformers for improved isolation
LED-off feature for LAN ports to counteract noise
Chassis made of aluminum; fanless design
Custom-made JPLAY real-time OS loaded from an SLC SD card
JPLAY playback software supporting TIDAL & Qobuz streaming services and local files (from internal SSD and using UPnP/DLNA servers in a local network)
Native bit-perfect playback for DSD up to DSD512 & PCM up to 768 kHz, 16-32 bits
Supported file types: DSD: DSF, DFF,  PCM: FLAC, Apple Lossless (ALAC), WAV, AIFF; Lossy: MP3, AAC (M4A); MQA (pass-through)
Remote control: JPLAY iOS app  (lifetime license included)
Dimensions (W x D x H): 439 x 315 x 86 mm
Weight: 9 kg
Associated equipment:
Digital source:  a custom passive server with WIN10, Roon, Fidelizer Pro 7.10, JCAT NET XE, and JCAT USB XE cards with FERRUM HYPSOS Signature power supply, KECES P8 (mono) linear power supply for the server, JCAT USB Isolator
D/A Converter: LampizatOr Pacific 2 +Ideon Audio 3R Master Time (USB signal regenerator)
Analog front end: J.Sikora Standard MAX turntable, J.Sikora KV12 tonearm, J.Sikora KV12 MAX tonearm, AirTight PC-3, phono stages: Grandinote Celio MK IV, ESE Lab Nibiru V 5.
Power amplifiers: GrandiNote Shinai, Circle Labs M200, Art Audio Symphony II (modified)
Preamplifier: Circle Labs P300
Loudspeakers: GrandiNote MACH4, Ubiq Audio Model ONE Duelund Edition.
Interconnects: Bastanis Imperial x2, Soyaton Benchmark, Hijiri Million, Hijiri HCI-20, TelluriumQ Ultra Black, KBL Sound Zodiac XLR, David Laboga Expression Emerald USB, David Laboga Digital Sound Wave Sapphire Ethernet
Speaker cables: Soyaton Benchmark
Power cables: LessLoss DFPC Signature, Gigawatt LC-3
Power: Gigawatt PF-2 MK2 and Gigawatt PC-3 SE Evo+; a custom power line with Gigawatt LC-Y in-wall cable; Gigawatt G-044 Schuko and Furutech FT-SWS-D (R)
Network: Silent Angel Bonn N8 + Silent Angel Forester F1 + optical LAN isolator
Racks: Base VI, Rogoz Audio 3RP3/BBS
Anti-vibration accessories: ROGOZ-AUDIO SMO40 and CPPB16 platforms and ROGOZ AUDIO BW40MKII feet, Franc Accessories Ceramic Disc Slim Feet and Wood Block Platform, Graphite Audio CIS-35 and IC-35