Established in late 2017, Lithuanian 8MM audiolab is a relatively new operation, yet doesn't look like one. Its English homepage and photo work found there indicate a professional business. It seems that everything's teed up, two already available products are ready for some action and the smaller one – 8MM audiolab Piu mini – is this review's hero. Enjoy!
Introduction
Europe's major audio events are quite predictable on many counts. The same vibe, places and rooms occupied by the same manufacturers/distributors from one year to another are nothing out of ordinary. Although in minority, new audio houses ready to field-test their products bring an element of uniqueness to every show. Their presence is highly appreciated as without them things would've been plainly boring. Newcomers spice things up nicely, press has something to write about and that's a win-win scenario. Not every manufacturer is able to pique visitors' curiosity to equal degree, though. Many rooms/booths colour them merely mildly impressed. Luckily, once in a while one can stumble upon a product far above the average, incentive to get properly interested is there and that's the story with 8MM audiolab.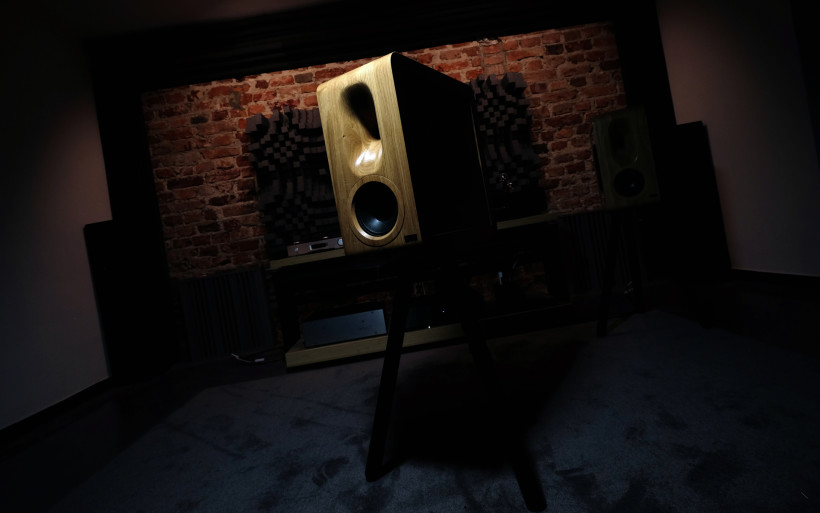 Let's travel in time to November 2017. Back then, during Warsaw's Audio Video Show, inside 710 room located on the 7th floor of the Radisson Blu Sobieski hotel, the 8MM audiolab manufacture officially launched. Srajan's preview, slight resemblance to Sven Boenicke's work and the urge to ease my own curiosity were the reasons why I went there. A young man on duty inside – Donatas Tamošiūnas – turned out to be the founder and the chief engineer of 8MM audiolab, whereas his wife is the chief designer. A family business then. The host was very calm, polite, responsive and this professional attitude hasn't changed even one bit during our later interaction. A quick glimpse at this Lithuanian's products indicated that he's very much into the audio game and – as practice showed later on – has what it takes to play it properly.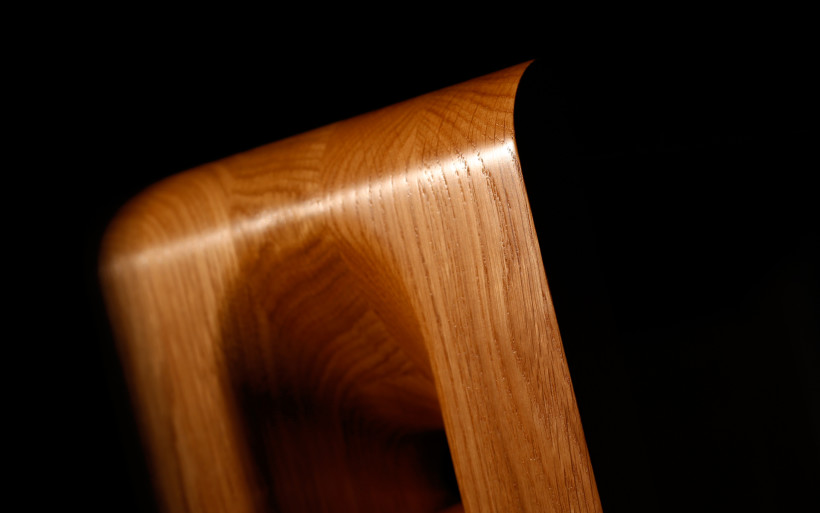 When asked about how his audio adventure started, Donatas explained that his musician father introduced him to lots of rock tunes very early on, which led to fondness of Pink Floyd and Roger Waters. Shortly after obtaining a university degree in Mass Media Technologies Engineering, our man got into DIY. He explored amplification, sources and speakers related realms for more than a decade, whereas all knowledge came from books and audio forums. Now he's convinced that theoretical background is crucial in case of a serious audio device, yet if not backed by love for music and wild imagination, it won't sound good.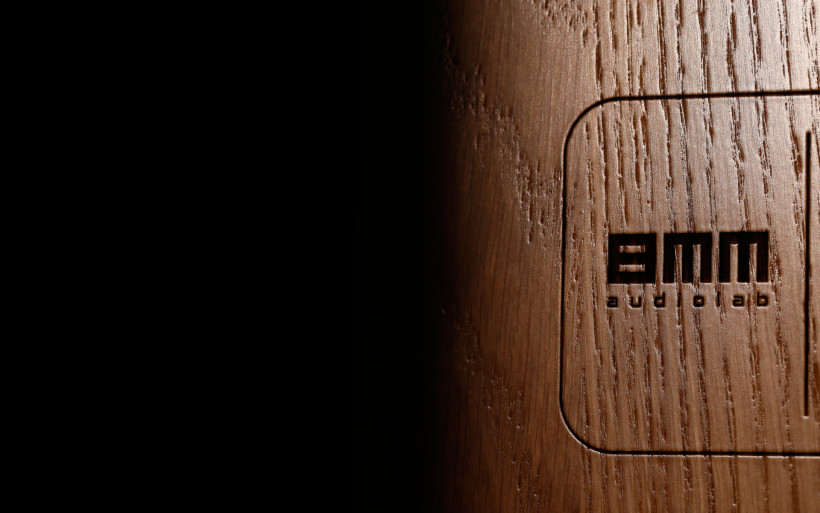 Though 8MM audiolab is not the only activity of Donatas, he's very serious about it nonetheless. I was told that at this point it's far from just a hobby and lots of dedication, time and resources have been put to make it happen. Two years of R&D were needed to deliver the final Piu model. It usually takes about six weeks to build a pair. At this point all assembly and final QC happens in the 8MM audiolab HQ, though wooden and steel parts are outsourced. In his work Donatas uses Mogami cables, a music optimized PC, a custom LynxD47V3 DAC made by Dmitryj Andronnikov and two amps: 160wpc dual mono solid-state DIY based on the Lazycat "Firstone" Mosfet module and a 18wpc SET integrated Valkyrie deck by Lithuanian Rada Electronics. When asked about his company's name, Donatas explained that the '8' and MM (milimeters) symbols represent balance and precision respectively, whereas the 'audiolab' part is self-explanatory.
Build
Four boxes in total were delivered to my doorstep from Lithuania directly. To handle each was a one man job, though the total cargo weight was 120 kilograms. Ouch. Each monitor and stand was snug via foam filler on the inside and a regular cardboard on the outside. At first glance this sight was nothing out of ordinary. The complete Piu mini package includes a pair of speakers and matched tripods, not sold separately. Monitors were clad in soft fabric perfumed beforehand. This I haven't yet experienced with an audio product, the element of surprise was there. Hard on my nostrils at first, this scent turned out to be quite pleasant shortly after.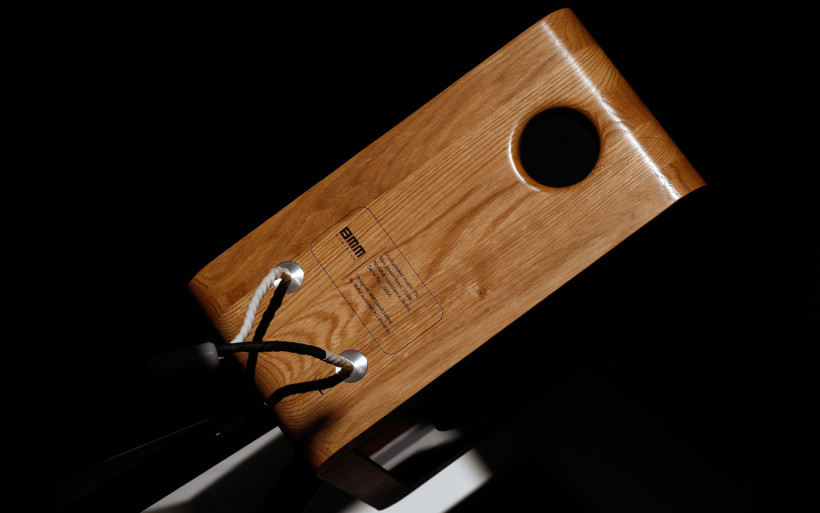 The assembly process of each Piu tripod was straightforward and took just several minutes; three legs connected to a plate via six hex screws in total and this flat element was then married to a speaker's bottom wall via additional two. If it wasn't for hefty weight, the whole procedure would've been a breeze. Each tripod was stored in a fancy wooden chest with perfectly cut foam forms inside. Necessary tools, a manual and a pair of woolen gloves was found in each. The overall packaging quality was top notch and the sensation of a product luxurious was the outcome. Nice work!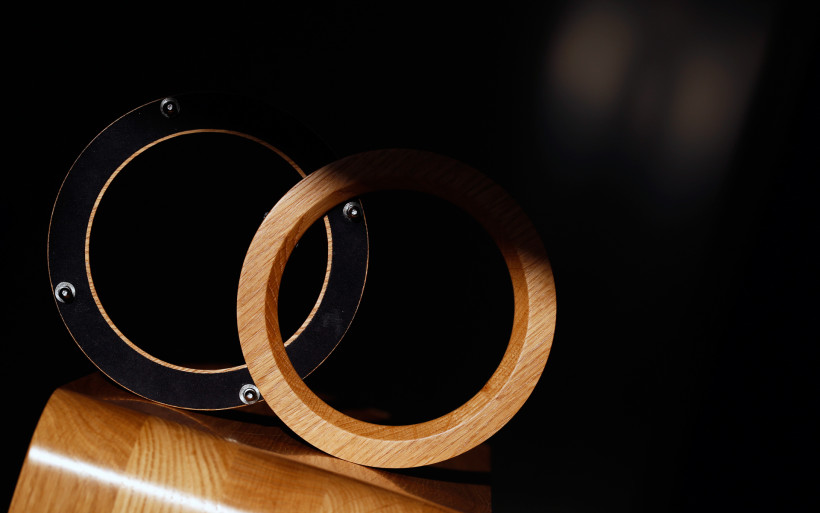 Each Piu mini measures (WxHxD) 21×43.5×43.5cm. With exceptionally firm and finely made steel tripod stand underneath, it's 100cm high and the whole thing weights 57,5 kilograms. That's a lot, to a point where lifting it becomes problematic even for an adult male albeit still is doable. Piu mini tripods are very rigid and heavy as they should be, their on-site description indicates that generous mass contributes to bass performance and imaging, which is reasonable. Three connection points make Piu mini very stable regardless of a surface type underneath. Each leg is finished with black glossy coating and since no washers were provided (presumably because of aesthetics), a soft carpet in my listening room was the destined place for Lithuanian product. Mildly polished concrete floor would surely do some damage, hence was off the table. Heck, even my rug left marks, though very mild and present only on the tip of each leg, thus normally unseen.
Piu mini is a bass-reflex vented three-way. Sensitivity of 90dB with nominal impedance of 8Ω (5Ω min.) indicate that it was designed to be easy on amplifiers and – as far as I remember – back in November its creator used a low power deck to prove the point. Power rating is 150-watt long-term and each speaker is loaded with one 8″ sidefiring woofer, a 5.5″ mid-bass transducer and a 1″ compression driver hid inside of a 10cm deep vertical horn. X-over frequencies are set at 250 & 3000 Hz, internal wiring is made by Mogami and custom made double-baked copper coils, premium grade capacitors and resistors are all mounted on a silver-traced PCB. Donatas explained that he was after specific sound characteristic and parameters and a quality compression driver married to a horn met these criteria. Waveguides present in Piu mini provide more directivity control but also help to keep wall reflections in check. Transducers found in this product were selected from about 100 candidates. Most were rejected either via software or ears and promising ones were further modified in-house.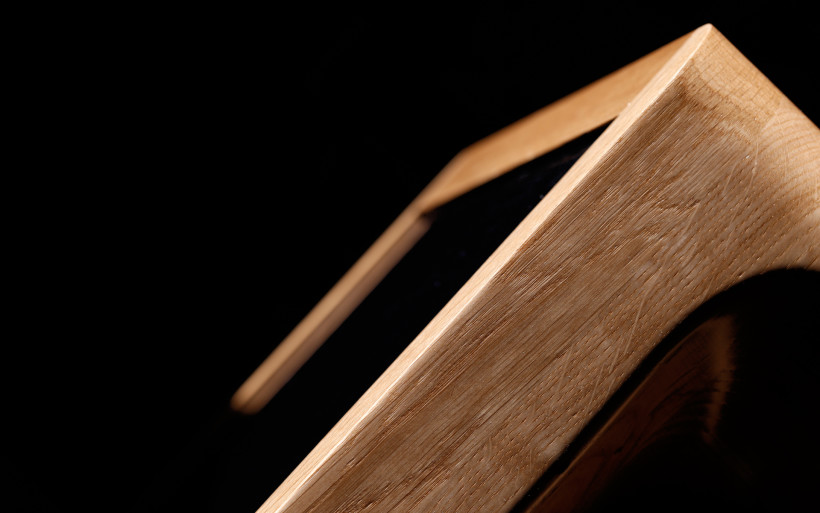 The loaner sent to me was the standard one, whereas its premium version gets silver capacitors and coils, silver-plated internal wiring, higher tier bass and treble transducers, external tweeter level adjustment, additional oak coating and extensive paint alternatives for side walls. These additions elevate the base price tag of €8'190 by €2'350 extra, hence fully upgraded version will set one back for hefty €10'540. That's a lot of money.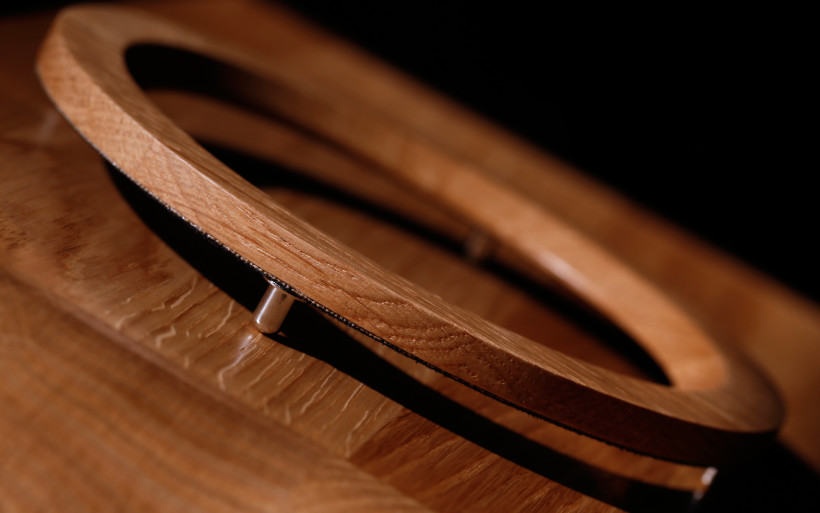 Donatas decided to go with Lithuanian oak wood finished in semi-gloss and very natural fashion and his visually quite minimalist Piu mini looks and feels very luxurious. No corner was cut, the quality is literally omnipresent. The man himself explained that the goal was to have all screws hidden and vertical waveguides blended with front baffles seamlessly and presented as a whole, which was challenging and expensive to pull off. The outcome is very impressive. Horizontal ledges on the front and back were curved to make Piu mini very much Art Deco alike as this inter-war architecture served as an inspiration for Donatas and his wife. There's no veneering anywhere in sight, each wall is made from solid oaken wood except side surfaces. Those sport ecological multi-layered composite plates available in glossy white/black finishes and are said to be exceptionally scratch and heat resistant.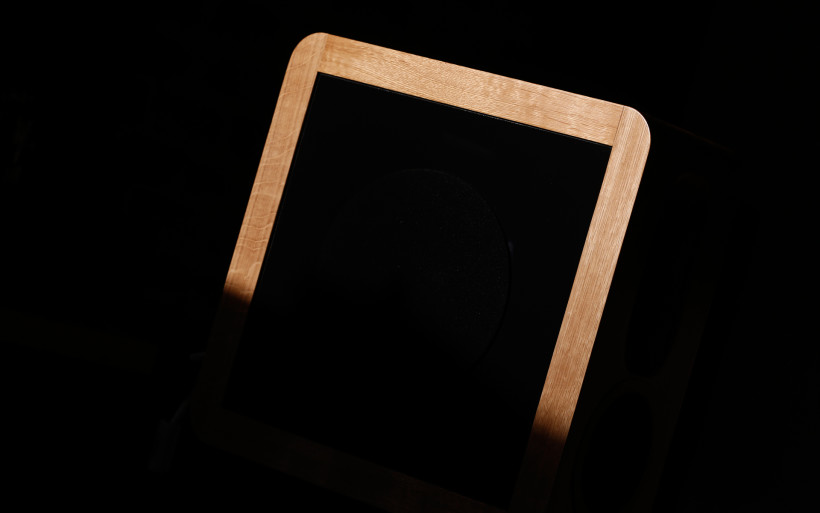 With its oaken enclosures, black cheeks and tripods combined, Piu mini looks majestic and – subjectively speaking – gorgeously, yet there's more. Very thick wooden walls make the product visually substantial and massive tripods amplify this effect further, though quite narrow and tall Lithuanian performer is far from being overly bulky still. Membranes of mid-bass drivers below finely carved vertical horns are surrounded via easily removable wooden rings. Fabric circles included in boxes with tripods can be used to cover these cones instead and Piu mini will transform into even more minimalist looker in the process. One of two mirror alike side walls of each speaker is loaded with a woofer covered via non-removable fabric grill.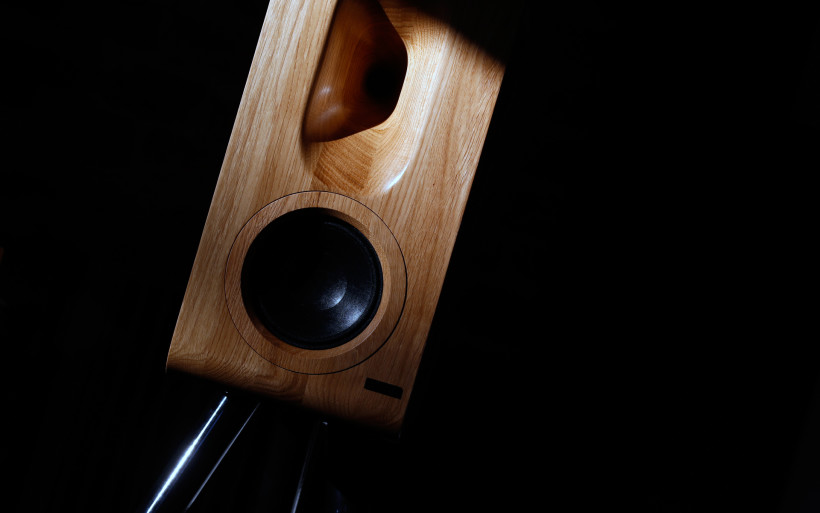 According to Donatas, sidefiring 8″ transducers elevate his product's ability to perform the so-called disappearing act and sort some crossover slope issues. Woofers aligned in such a way in my reference W8 floorstanders by Sven Boenicke allow me to tweak bass level and character to my needs and something similar happens with Piu mini. This product's rear is also interesting. Bass-reflex covered via fabric seen elsewhere is yet another proof that Donatas pays attention to small usually unseen things and wants to have his work visually coherent. Instead of a regular aluminium nameplate, all key technical details are finely engraved on Piu's enclosure directly and the outcome looks great. Custom-made SHVC (Silver High Velocity Connector) speaker terminals turned out to be the biggest surprise. These are cut from 1.5″ copper bars, silver-plated in order to increase conductivity and aligned seamlessly with rear baffles. A solution this minimalist I haven't yet seen. 8MM audiolab's proprietary connectors look very good, though can only handle cables terminated with BFA/banana plugs. Luckily useful adapters are included in the package, albeit will work with bare wire only. And lastly, Piu in Italian means 'more'.
Sound
In order to review 8MM audiolab Piu mini, Swiss Boenicke W8 speakers were used and so were Trilogy 925 integrated, JOB 225 and FirstWatt F7 stereo power amps. As per usual, LampizatOr Golden Gate (Psvane WE-101D + KR Audio 5U4G Ltd. Ed.) handled the D/A conversion task (…and volume control when needed) and was fed via Asus UX305LA. Here's the story.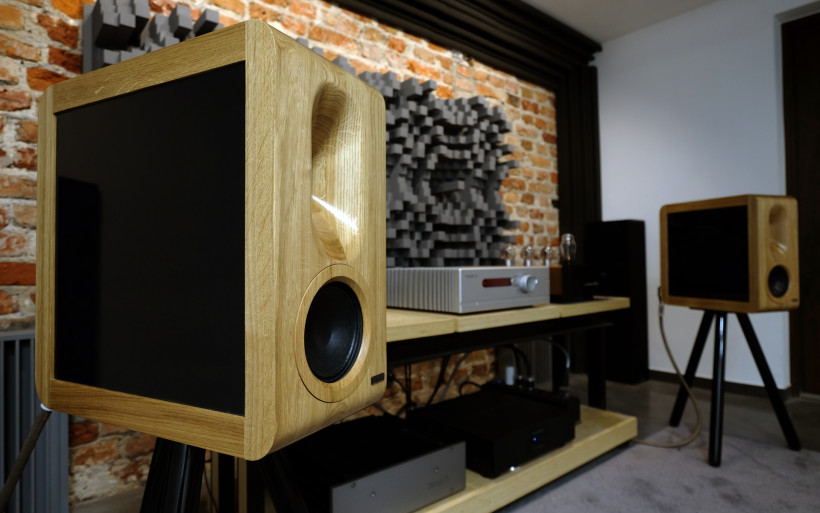 Back in November 2017, after a good while spent in the 8MM audiolab room, I concluded that this company's Piu mini was all about coziness, elevated temperature and highly saturated attitude in general. With generous bass and dimmed top, I've found it to be very much listening pleasure oriented. Still, without knowing neither this place's kinks and advantages nor electronics Donatas used, I couldn't say anything else. The 8MM audiolab room revealed itself as good yet not spectacular one, though certain features singled-out back then were interesting enough to investigate further. Hence I investigated and it led me to a situation quite complicated, unexpected and odd shortly past Piu mini's arrival.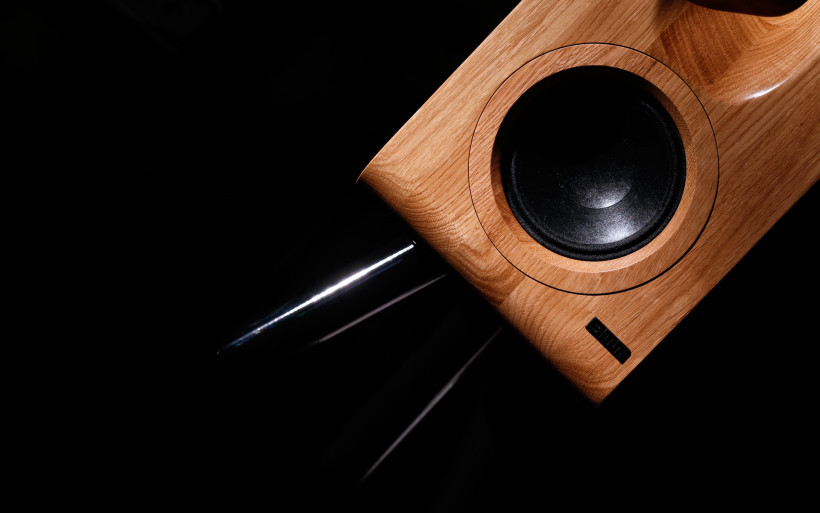 The initial agenda was very simple. Trilogy 925 integrated was and still is my daily driver and as such it was the first one to say 'hello' to Lithuanian speakers. My English deck surely was fit for the job on paper, yet the initial outcome turned out to be far from great. The main issue was very wobbly, slow and bloated bass response, whereas thick veil covered everything above and treble was quite recessed on top of that. In order to combat suffocating, constrictive and excessively syrupy attitude, several adjustments were performed. Woofers fired inside and out, space around both speakers was limited and then expanded, the hot seat was placed closely and then moved much further, yet to no avail. It mattered not what was done, the end result got marginally better at most. Piu mini during its premiere introduced itself as rich and very musical albeit somewhat dark performer and at my place this characteristic was amplified to a point of being excessive, hence a rather poor result for the coin was the outcome early on. Something clearly was off. Case closed then? Not.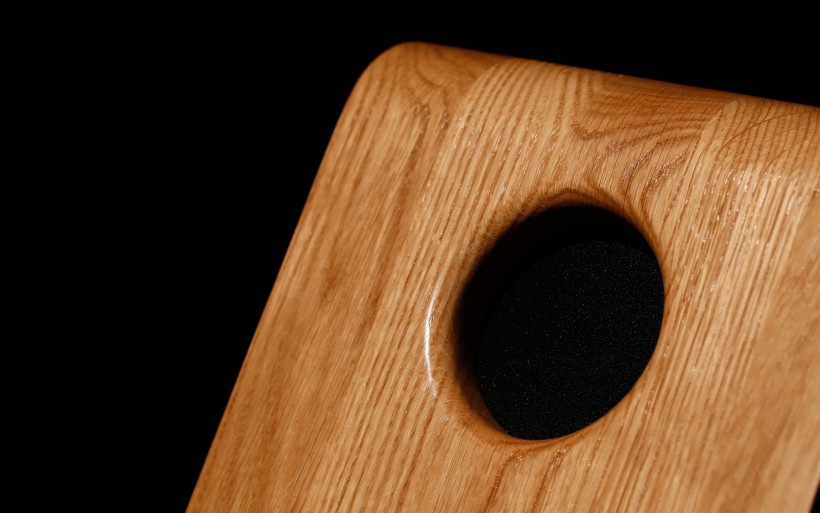 Muscular, vivid, a bit warm and not fast but exceptionally authoritative, my reference Trilogy 925 integrated amp for some reason it didn't get along with Piu mini at all. A mismatch this severe thus far was 'bested' only by Voxativ Zeth. Non-existent control and omnipresent veil were the two main culprits, which hinted that to move the 925 aside and to make a room for an amp more agile and leaner should be the next logical step and I acted accordingly. Among devices nearby at that time, my Job 225 loaner seemed to be the safest bet. In order to have the sound texturally even more economical than usually, this Swiss champ was handled via my reference Golden Gate's built-in TAIV VC-03 volume module. Not only this relays based circuitry lowers temperature, but also injects some agility and decreases density. To get to desired SPL, -35dB (in 0 to -63dB scale) on its display was the safe spot most of the time. Long story's short, with the Job deck things turned upside down.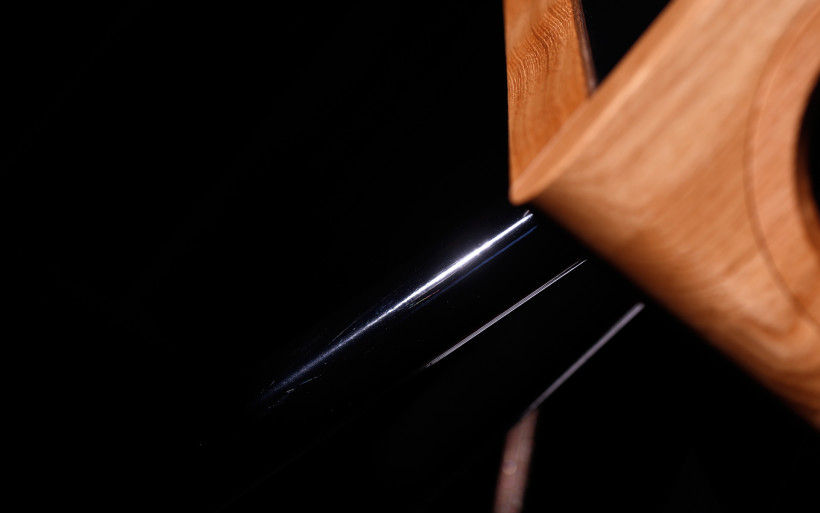 With Swiss companion in the chain, 8MM audiolab's bass monster morphed into far more agile and slimmer performer. That unpleasantly wobbly attitude was no more, whereas everything else was in check. Boom and fat tissue decreased significantly yet vividness remained on a very respectable level, which indicated that Piu mini elevates this feature all by itself. Trilogy 925 reached deeper in comparison to the Swiss, with the latter machine the sound was far less weighty but still pleasantly substantial and smooth. It also became faster and more authoritative in the process. Everything above low FR opened up, the suffocation danger was no more and veil – although still present – became far thinner. Not three blankets covered everything but one at most.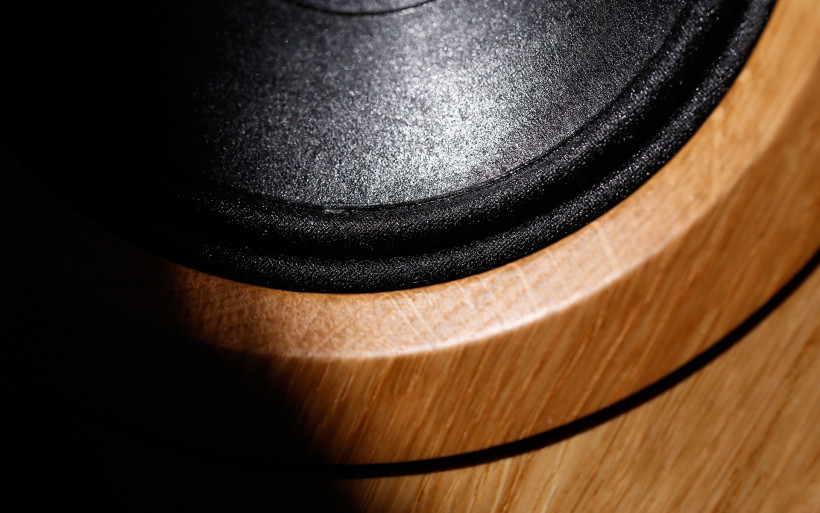 That subtle veil mentioned up above relates to Piu mini's general sound characteristic. In comparison to i.e. M8audio Sweet Maxwell reviewed here, this writing's hero was to be found at the opposite side of the same audio scale. Generous saturation, a bit trimmed top and substantial bass as the key focal points indicated that several steps below the contractual centre was our Lithuanian's place. It revealed itself as a very potent mood maker tuned to please via texturing, richness, overall charm and suaveness instead of elevated detailing, stingy saturation and ethereal approach. Still, to assume that it'll go only with tight, slim and fast decks along the lines of Job 225 would be wrong and – to my great surprise – here FirstWatt F7 proved the point brilliantly.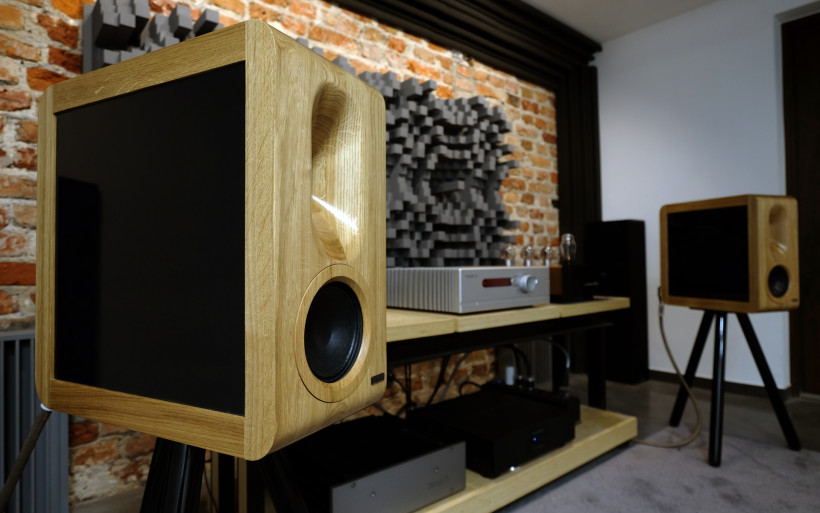 Both Trilogy 925 and Job 225 with their 135 and 125wpc respectively were able to deliver far more juice than needed to get Piu mini going. The former amp turned out to be a complete mismatch, whereas the latter was a spot on choice and something yours truly enjoyed thoroughly. But once FirstWatt F7 came into play, it became very obvious very quickly what Donatas did. I understood. With Piu mini, Nelson's machine wasn't nowhere near as muscular as my English reference, yet it sounded as agile as the Job 225 and easily surpassed it on tangibility and openness counts. The Swiss is far leaner in comparison to F7 by nature. Not this time around though and that was truly unexpected, rather shocking. The American deck didn't reach as low as my integrated amp and was closer to the Swiss in this regard, yet it kept low FR in check with ease. The outcome wasn't exceptionally feisty or contour, but very coherent and enjoyably fast nonetheless. That's what happens when bass generous in terms of layering and amount is grasped tightly and reaches deep enough when needed. Ah, when FirstWatt F7 was on, Golden Gate's volume control module operated in the -3 to -10dB range.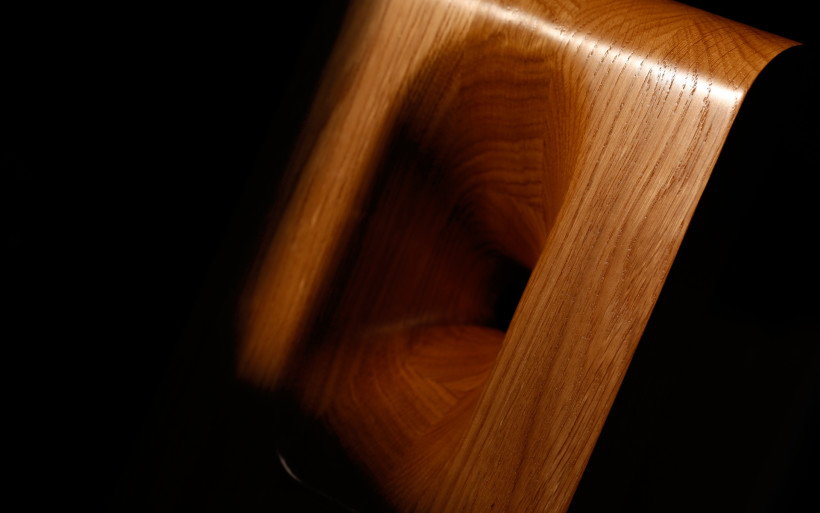 FirstWatt F7 had an obvious edge over two other machines especially when real instruments were heard. The difference in this department was nothing short but substantial. Not only Piu mini was able to brilliantly show these, but revealed itself as picky as far as repertoire goes. A good while ago I've discovered tribal folk band Danheim. This is a solo project of an artist who clearly aims at very much Wardruna alike effect, hence various drums, long forgotten string instruments, ambience, tone and environment itself are the usual suspects. If present at all, vocals serve as an additive measure and usually are located somewhere in the background. Piu mini along with FirstWatt F7 was able to grasp what this folk genre is all about brilliantly. Difference in size and tension of drums used was meticulously showcased and so was space and general vividness, there was no question about it. The amount of information about each individual instrument was very generous and to hear such music served this convincingly and hauntingly is a rare thing. Additionally backed via grand tear-jerking potential, the overall experience was simply beautiful.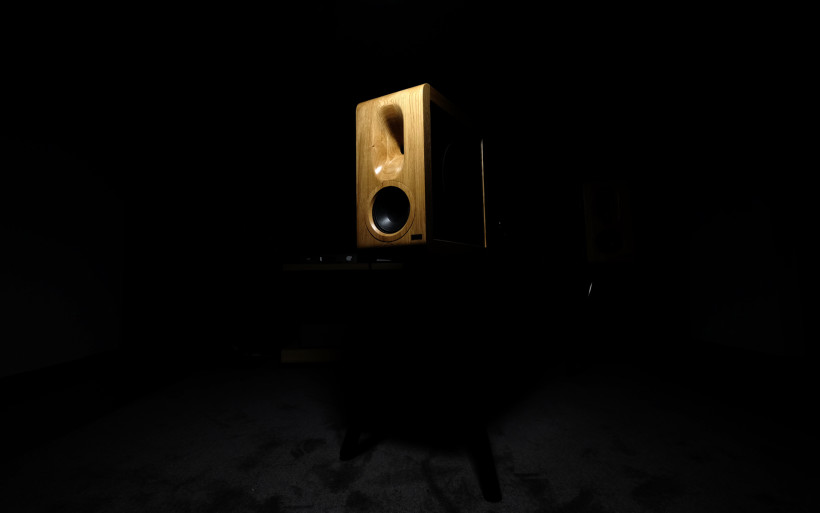 When asked about Piu mini's sound characteristic, Donatas followed with the 'natural, precise, energetic and involving' reply. When this product was at work with either of the two synergistic companions (F7 and 225), I could agree with the 'natural' and 'involving' words easily, partially with the 'precise' part and less so with the 'energetic' bit. My point is that – to my ears at least and with devices I had nearby – Piu mini clearly put mood, tangibility and vividness on the pedestal. It sounded energetic when needed, but this feature was in the spotlight occasionally, it operated in shadows and revealed itself only when necessary. How so? Generous bass, that's one thing, but also partially because of treble. Although pleasantly weighty and with very much horn alike decay and tangibility, it was toned down a bit. Piu mini didn't play the lit-up and shouty game at all and the more hours with music passed by, the more I was keen to think that suaveness of this sort is what its designer aimed for.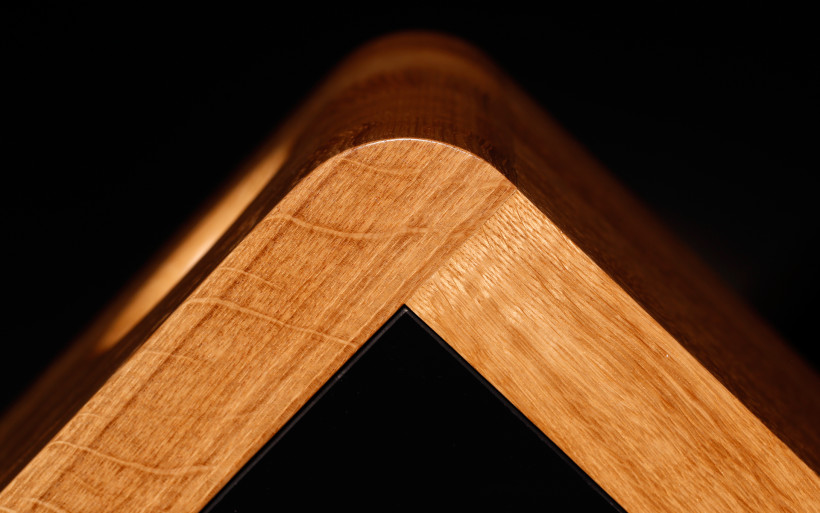 When paired with FirstWatt F7, rather calm, very smooth, quite gutsy and in general well-seasoned Piu mini didn't sound flashy at all but majestic instead. It potently painted grand images; very expansive, immersive, properly orderly and highly convincing, with all instruments finely separated, substantial, marvelously displayed and at work together in one organic space. Yet in order to hear this very pleasant, lively and satisfying outcome, not only carefully matched amplifier turned out to be a must, but – as I've mentioned up above – also repertoire. Mediocre recordings were a struggle to listen to, even lossless. Rock/metal and alike genres (picture AC/DC, Soundgarden, Therion, In Extremo and many more) were off the table, whereas playlist loaded with tracks by The Acid, Battles, Wardruna, Heilung, Danheim, A Challenge oh Honour, Mari Boine, Smadj, Of the Wand & the Moon, Einstürzende Neubauten and KODO was thoroughly enjoyable. On this count similarly priced Boenicke W8 is a far more forgiving product, which also sings in bigger, bolder, yet also less romantic and a bit more distant fashion. This Swiss also needs far more space and power to fully shine. It's a different product to begin with, aimed at enthusiasts after different things. Let's summarize.
Summary
It was quite the roller-coaster with 8MM audiolab Piu mini. Early encounter with it within my four walls was very troublesome to say the least. Back then nothing indicated that things will get any better, yet they did with a bang and it's a rare thing to witness transformation this grand. The Lithuanian loaner turned out to be very good indeed and oftentimes simply spectacular, yet above-the-average demanding and quite unpredictable.
Though very expensive, Piu mini looks and feels like a costly piece of very meticulously crafted and subjectively appealing Art Deco alike audio furniture. As a newcomer, Donatas Tamošiūnas was perfectly aware that he had to go an extra mile on every count possible and with proprietary terminals, quality stands, exchangeable grills/rings, packaging and top notch execution in general he did just that. Oaken wood instead of veneered MDF was a smart choice. To a degree it justifies steep asking price and so do quality tripods. If purchased separately, these unusually heavy critters would've been probably far from affordable.
This review's hero interacted quite unexpectedly with limited amplification choices nearby,  hence remains mysterious to me even at this point. Surely not one of those 'me too' products, I've found it thoroughly enjoyable and rewarding in the long run. Voiced to sound pleasantly, substantially, spaciously and texturally generously, 8MM audiolab Piu mini is a very captivating performer, especially fond of real instruments, minimalism and atmosphere in music. Focused on the beautiful side of it and not utmost clarity, it has a charming and involving personality. 'Till next time!
Associated equipment:
Amplifiers: Trilogy 925, Job 225, FirstWatt F7
Sources: Lampizator Golden Gate (Psvane WE101D-L + KR Audio 5U4G Ltd. Ed.)
Speakers: Boenicke Audio W8
Transports: Asus UX305LA
Speaker cable: Forza AudioWorks Noir Concept, Audiomica Laboratory Celes Excellence
Interconnects: Forza AudioWorks Noir, Audiomica Laboratory Erys Excellence
Power supply: Gigawatt PF-2 + Gigawatt LC-2 MK2 + Forza AudioWorks Noir Concept/Audiomica Laboratory Ness Excellence
Rack: Franc Audio Accesories Wood Block Rack
Music: NativeDSD
Retail prices of reviewed components in EU (excl. VAT):
8MM audiolab Piu mini – standard: €8'190
8MM audiolab Piu mini – premium: €10'540