Let's see… bass-reflex vented two-ways? Dealt with lots of these, check. Sealed boxes? Check, done those too. Open baffles? Yup, showed up several times alright. Rear horn-loaded widebanders fitted into large coffins? Concentric drivers supported by passive membranes? Check and check. But what about five transducers on a stick, driven by a dedicated class D amps? Che…no, wait. Hell, come again? Five drivers, you say? On a stick? Now that's properly interesting… Reflector Audio Bespoke P15 is this review's main course. And of three Michelin stars sort and no less, you've been warned. Enjoy!
Introduction
Every grand operation starts from an innocent idea and Reflector Audio story is no different. This four people strong Latvian audio manufacture has been established in 2014. But the very first concept, around which vast majority of its portfolio revolves, was tested five years earlier, in 2009. Why not sooner? Reflector Audio crew is also involved in other and somewhat similar activities, namely Russian Tarim Audio and Latvian Square Audio. The former is known for amplifiers, whereas the latter is into professional studio monitors.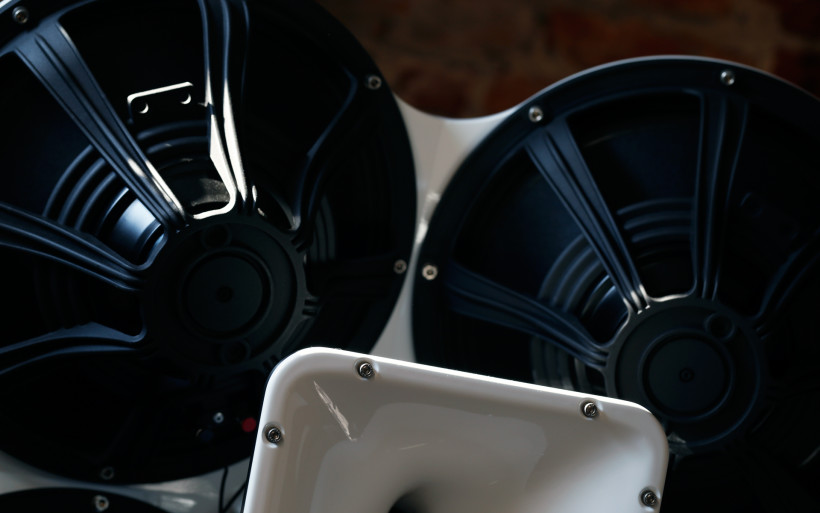 Meet Roland Janevich, age 56. This gent is an acoustic engineer by trade. His education is radio engineering and in free time he invents. If this activity is your hobby and a way to be fiscally viable, it simply makes sense to devote yourself to this task and that's what Roland does. He's the brain behind very unusual Bespoke series from Reflector Audio offer. Past witnessing what his baffle-free idea is all about, the rest of the gang knew that it's too good to be kept a secret. Yet things shouldn't be rushed, as presumably back in 2009 it was already known that they are going to aim very high with Roland's work. They simply needed to join forces in order to make it happen. Several years later, the time has finally came to focus on the Reflector case, five very unusual models are the outcome and this review's hero – Bespoke P15 – is one of them. The name of said company is connected to the concept of Bespoke series itself. Marketing director Vladimir Chernyakov explained that he and his co-workers believe that a loudspeaker system is – as he puts it – a 'reflector' of sound sources reproduced in 'real time'. He said that a 'mirror' word was the initial idea. Yet since sound can't be seen, 'reflector' was used instead.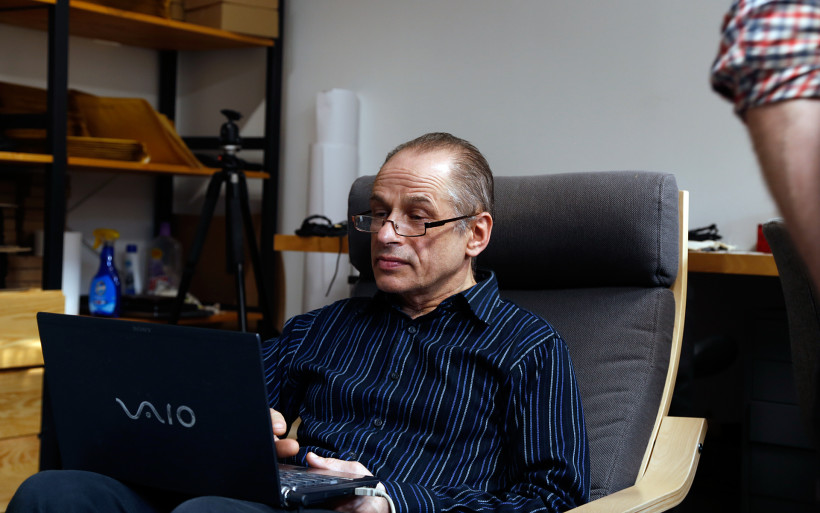 Let's get back to the team. Vladimir (53) is one well-educated man. He obtained PhD in English Linguistics (St. Petersburg University, Russia), finished marketing courses at Suffolk University (Boston) and Social Psychology courses (Berkeley). He's into rock music, ice hockey, anthropology and history. Roland you've already met. Next in line is Viesturs Balodis of age 33. He's the youngest member of the Reflector Audio team. He's the manager and his educational background is electronics, optics and business. In his free time he plays guitar, listens to music and reads books. And lastly, Evgeny Boguslavskiy (49) is the CEO. He's educated mechanical engineer and music aficionado in his free time. He's also into building new businesses.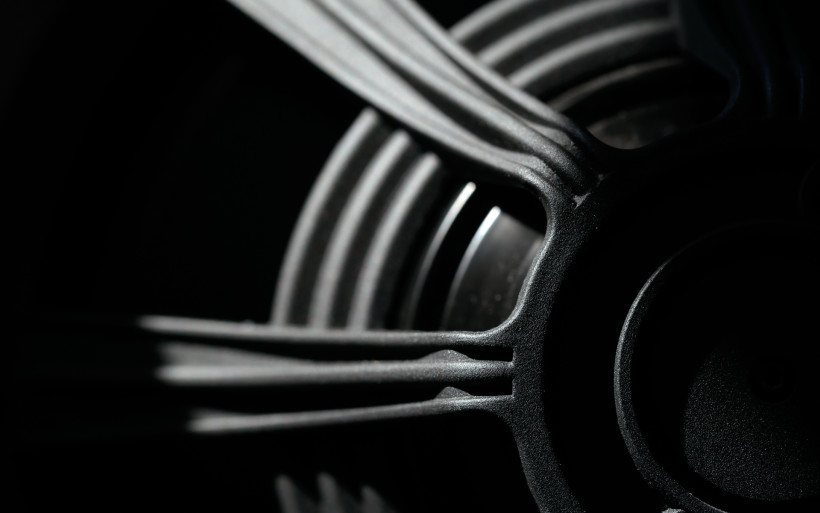 As a newcomer, Reflector Audio has to have a plan for the future. For now this manufacture is quite invisible among audio enthusiasts and in order to fix that to at least some degree, this review happened. According to Vladimir, their angle is to deliver totally unique and technically advanced sound reproduction systems, which can represent the musical material adequately in time and frequency domains, dynamic range and with significantly reduced all kinds of distortions. Fancy words? Perhaps, but there's more. In any case, Latvian company reinforced classical music events with its products in Vienna's Odeon concert hall and Latvian National Symphonic Orchestra HQ`s in Riga and there are plans to keep this thing going. Bespoke P15 was also installed in one of recording/post production studios in the USA. And said company's portfolio should expand soon, its R&D team has their hands full of work. Signal processing and transducer advancements are on the table, but shhh, you don't know this from me. To summarize, these guys are as busy as bees in the middle of summer, scheduled reviews are just a part of their grand plan.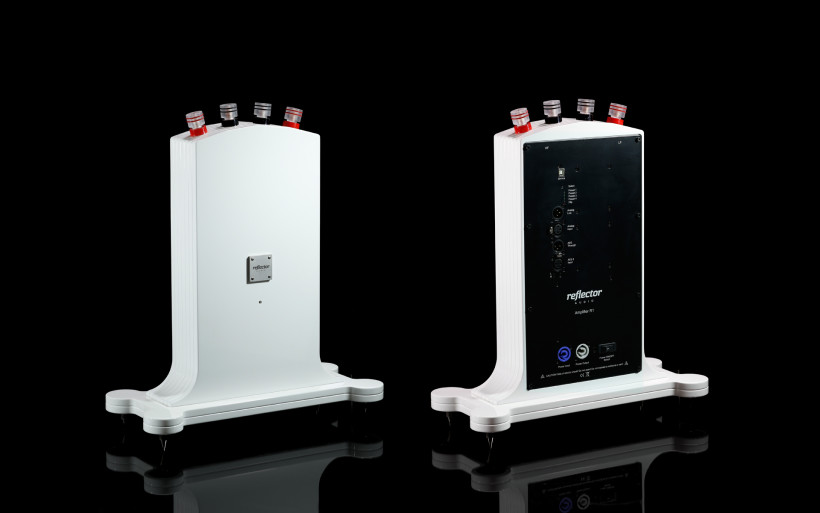 Let's take a look at Reflector Audio site first. This element alone can give one a decent picture of what to expect. It's clean, informative and posh, with very nice, surely professional photo work done. In short, it looks very serious, someone means business undoubtedly. If a manufacture into expensive, luxurious goods has a sub-par site, that's a major turn off right from the get-go. The package is what counts and here Reflector Audio doesn't fail. They know that – as newcomers – they can't. There's no room for cutting corners, everything has to be perfect. The same story is with communication, Viesturs and Vladimir were my contacts. They gave prompt replies and not a single question was evaded. That's surely a good start and now let's move to the product itself.
Build
Reflector Audio portfolio is odd to say the least and very surprising. It consists of three series of loudspeakers; Touch, Lite and Bespoke. It's safe to say that the first one sports regular products, namely two quite usually looking floorstanders and a monitor. Lite is actually just one model based on an OB topology, yet served in a very stylish fashion. Square alike shape connected to a massive stand surely looks nice and intriguing. But the Bespoke family is where one's focus will be. There are five products in total and each obviously expensive (€31'000/€35'000/€62'000/€65'000 for P15/P18/E12/E15 models respectively), visually odd and quite intimidating. This description can't be any different. I mean, how often do you see five transducers with no box whatsoever and all of that rested on three skinny legs? That's right, not often. Not ever in fact, at least not commercially as this visual awkwardness is protected by a patent. One might ask why on Earth someone would do such a thing. Yet rest assured that there's a number of perfectly valid reasons.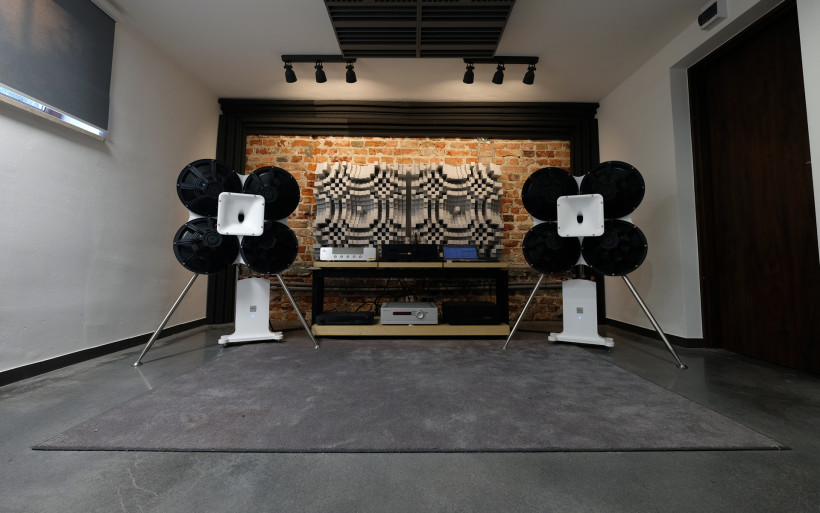 As Vladimir explains, in terms of absence of an enclosure, it is almost obvious. Internal standing waves, reflections which interfere with driver cones, resonances, energy storage, compression, time domain (phase) distortions and so on are gone when the box itself is gone. The sound is radiated solely with drivers and not with enclosure or its baffles. The other important feature of a loudspeaker without a baffle is lateral radiation absence of it. One doesn't have nearby walls, floor or ceiling radiation, which leads to less room resonances. Hence it's for the best to picture Bespoke P15 as a somewhat OB alike design, yet pushed even further in the box-free direction. The downside? Since there's no pressure built-up in a resonant chamber, bass drivers have to be big and there's no way around it.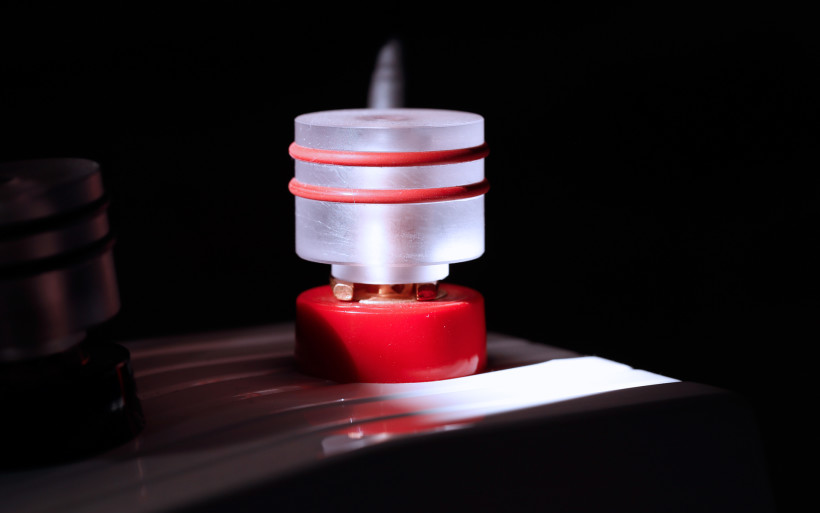 Reflector Audio Bespoke P15 is different from typical OB products not only because it doesn't sport a baffle at all. Its four 15″ long-throw (18 mm of excursion from peak to peak) paper cone woofers aligned in a four-leaved clover shape are inverted. Yes, their membranes fire directly on a wall in front of a listener and that's very unusual. Here Vladimir chimed in again. He explained that the inversion itself was done in order to more closely approximate all four big drivers' acoustic axis. The specific angles of said transducers were introduced to focus sound radiation in space at 1.2m in the Bespoke P15 case and from that point their coherence is achieved. These angles translate to increased sound efficiency radiation forward, which yields improved adaptation and an acoustic system performance in problematic listening rooms. This is what Roland Janevich's patented invention is all about exactly.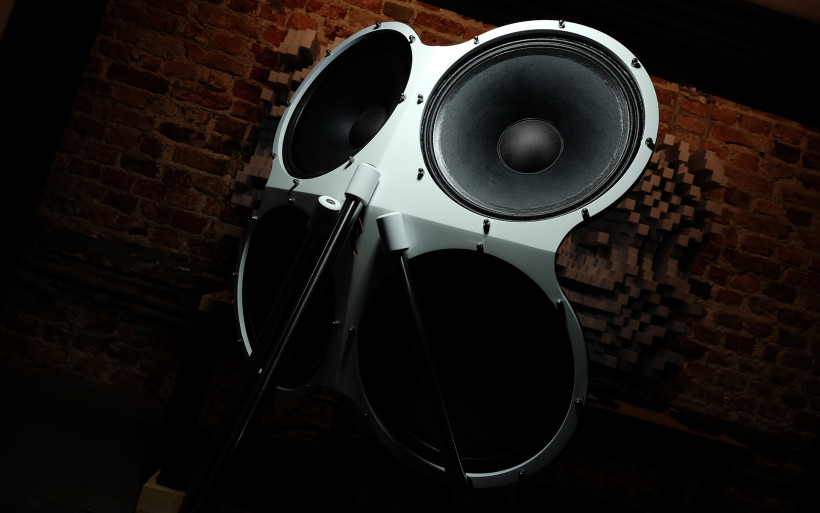 Reflector Audio Bespoke P15 is described on the manufacturer's site as a 2-way baffle-free horn loudspeaker. Hence mid and high frequencies are handled by a 3″ compression driver. Its titanium diaphragm is coated with titanium nitride. The product's specs are as follows; 30 Hz – 20 kHz of FR response, 100 Hz – 20 kHz (+/- 30 degrees) of acoustic phase response and max SPL of 105 and 127 dB @ 30 Hz and 60 Hz – 20 kHz respectively. Sensitivity of 98/112 dB (1W/1m) for LF/HF drivers seals the deal. Each speaker measures (W x H x D) 80 x 130 x 35 cm and weighs 40 kg. In other words, Bespoke P15 is a massive product to have. It won't hide in a corner not only because of its peculiar looks, but also size. It's plainly big. A manufacturer's suggestion is that a minimum distance from a speaker to a listening spot should be no less than 2.2 m. As far as space behind our Latvian dish goes, 0.5 m or more is advised.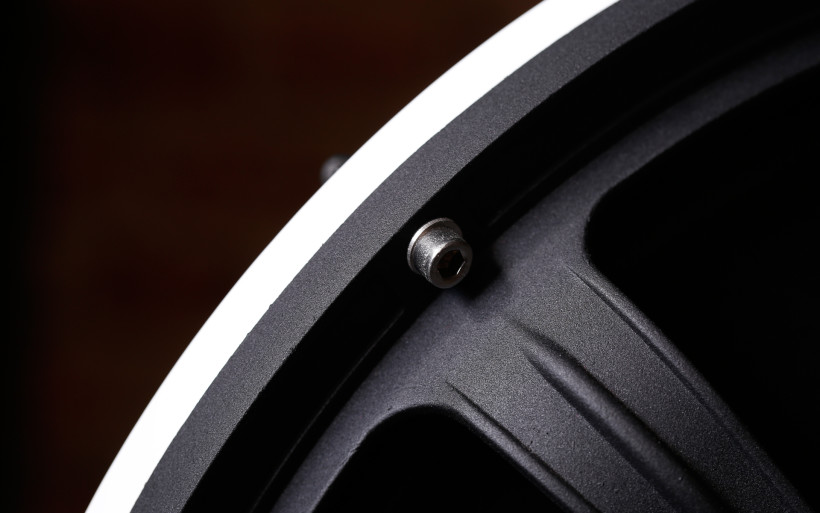 Reflector Audio Bespoke P15 is very well-made. Its design aside, this is one exceptionally solid product right there. Clover alike frame is made out of aluminium, so is reinforcement around its horn's mouth. But the horn itself is a composite affair, said to be stiffer than aluminium. Big bolts are seen everywhere, so are steel shapes here and there that keep this Latvian creature together. Although Bespoke P15 weighs 'mere' 40 kilograms, this mass is quite condensed. One really has to make an effort in order to move the product, even by a little bit. Steel feet with their thick and big washers surely help to keep it in one place. On the back of the frame, in the most pointy place, there's a small gap. Wiring (by Cardas) from transducers goes through there and doesn't spoil the view while doing so. Nicely done.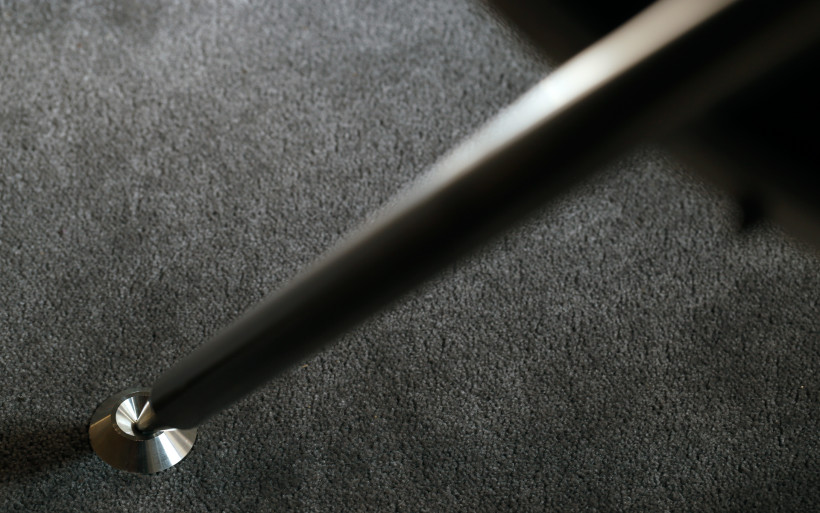 Transducers exploited in the Bespoke P15 case look like they were taken from pro audio and this might, yet doesn't have to be the case. Vladimir was helpful again. He told me that Roland has been inventing and creating loudspeaker systems for musicians, homes, cars, professional studio and sound reinforcement for more than 30 years. He's done it all, but pro parts aren't the key feature. For Reflector Audio it doesn't matter if a component X was meant to be used in consumer or professional applications. A perfect match of several parts in a specific design is of importance instead. Vladimir added that it often happens that pro parts are way more sophisticated in many aspects, for example because of their superior thermal compression or maximum SPL with minimum distortions to produce sound sources close to their real SPL. But what they aim for in general is the desired outcome and not labels on semi-products used. Fair enough.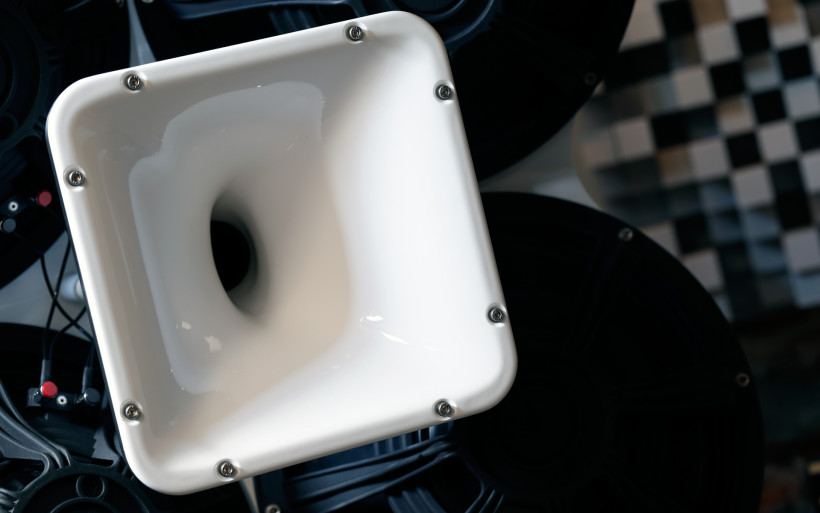 Viesturs informed me that both him and Roland will personally deliver the product to my room. This surely was a pleasant surprise, as it turned out that this is not an easy task to handle. Then I was informed that such service comes as a standard option. How so? Well, both gents drive all around Europe with their loudspeakers because that's the fastest and the most reliable way of handling their goods. I was told that several long hours drive from their place in Lithuania to Warsaw in Poland was literally nothing, they were perfectly happy that they started and finished their trip in just one day. But that's not the most important thing, setting up is. And here's where it gets really interesting.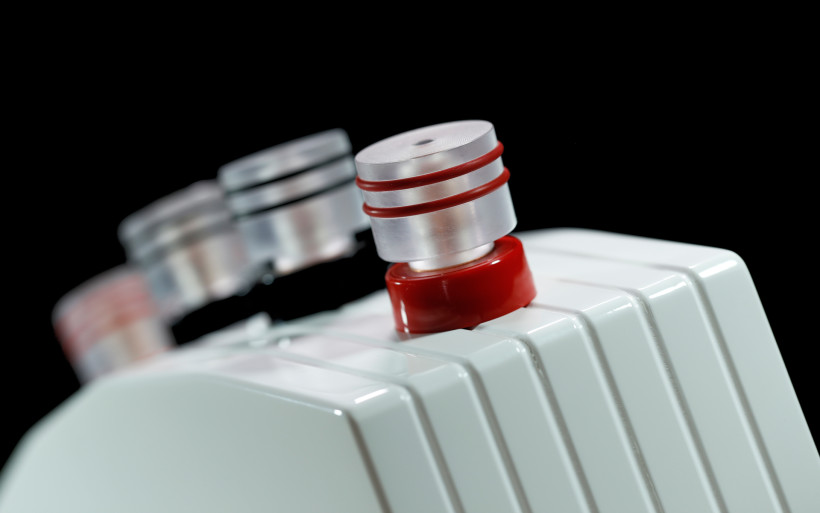 Each Bespoke series product arrives with a pair of matched mono amplifiers. Yes, you got this right. Bespoke P15 model cost is €31'000 (VAT included) and that's the asking for a complete package, namely a pair of speakers, proper amplifiers to run 'em, two power cords and two XLR interconnects of desired length. Personal delivery and tuning in a customer's room is included in the above-mentioned asking, so are customs duties if these apply. In other words, one pays hefty price, that's true, but is treated like a king and that's admirable. Let's get back to tuning. Roland had everything with him; a microphone, a laptop with needed software and lots of cables. It took said gent about three hours to calibrate Bespoke P15 within my own four walls. What initially was quite shredded FR response, in the end turned into a very linear one. There was a catch, though. Just one spot quite closely to the speakers was suitable for the job. I've found out several things about the room itself in the process. I was informed that there's a spike at around 220 Hz right behind listening point and yet another one (+/- 70 Hz) about 150 cm further. Roland's measurements confirmed what I observed several months ago. Boomines is the case in the former place and bass sucked-in in the latter. When asked about acoustical decency of this scribe's manly cave, Roland smiled and said that it's more or less average. Once questioned whether it was more or less, he smiled again and said nothing. Ouch.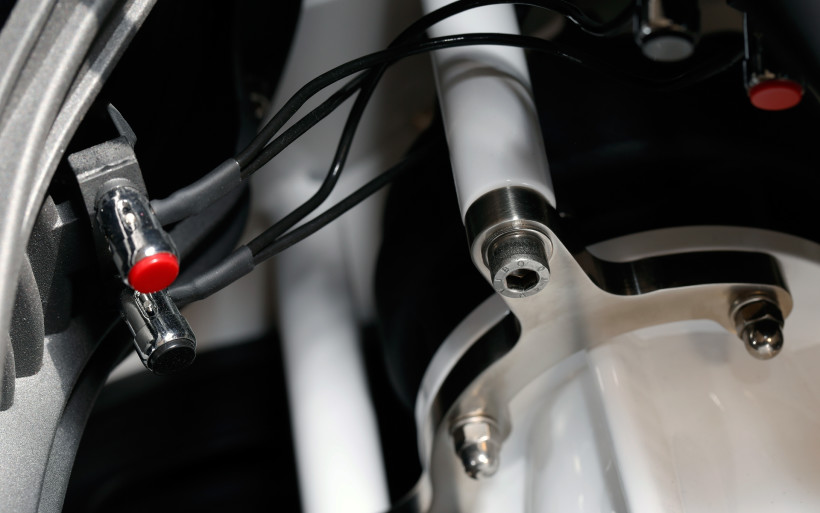 And lastly, amplifiers, one for each speaker. It's a class D affair, loaded with Bruno Putzey's Hypex modules. Actually there are two amps in each enclosure; one handles mid and high frequencies, whereas the other deals with bass. There are some heavy DSP and filtering plots inside, but that's a company's secret. Vladimir explained that conceptually Reflector Audio is against any drivers' cuts as these introduce phase shifts. He said that they developed their own crossover, yet different from classical solutions. Their custom filtering is done according to acoustical specifics introduced naturally by horn and angled bass transducers' array. And all that in order to achieve linear acoustical phase response, yet with other parameters on mind as well. But juicy technical details remain as Roland's sweet mystery.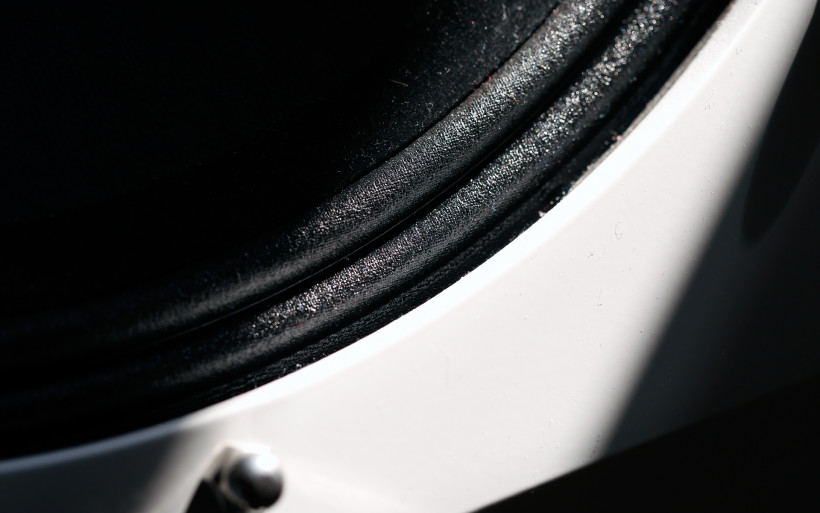 In any case, amps used in Bespoke P15 deliver 400W into 4 ohms load. They are light (class D, wink, wink) and quite compact, as design wise their place is between speakers' feet. The enclosure might seem as aluminium made via CNC-milling, but it's actually multi-layered ply coated with paint and finished in glossy fashion. Though here there's a room for changes here, ask away and you shall receive. For Bespoke P15 coin, the ability to personalize this feature is a must indeed. On the amplifier's front there's a blue LED, it indicates power on and clipping, though my very eyes never saw blinking that occurs in this scenario. A bit above there's a nice aluminium plate with Reflector Audio logo. The rear sports a large, presumably steel plate with multiple sockets. USB type B is for service purpose, Roland exploited it to conduct his calibration magic in my room. A bit below there are several LEDs, a user can have up to four DSP presets set-up in total. Next in line are Analog Link, Analog Input, AES Through and AES 3 Input. all of these are in XLR standard.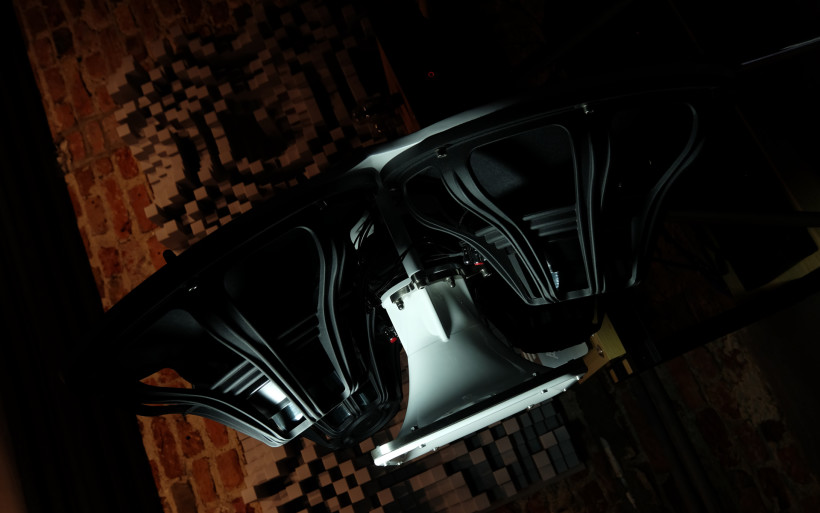 AES Through and Analog Link act as pass-through ports of digital and analog sort respectively. Hence unfiltered digital or analog signal can be sent further. If one would like to have i.e. additional subwoofer in his setup, that's possible. Analog Input is the main line-in, this is what I've used to feed Latvian monos directly from my source. And AES 3 Input is meant to be used if one would like to bypass stock ADC circuitry inside monos via external device of this type. PowerCon based power input to be found down below is quite self-explanatory. But the output in the same standard is very rarely seen. It's used to send the power to another device of any sort, it simply replaces mains. Although very rarely used in home environment, in pro audio it makes one's life much easier according to Viesturs. The power on/off switch next to two PowerCons is the very last thing on Bespoke P15 amp's rear. On its top there are two pairs of Mundorf speaker terminals. These are great; quite easy to work with and subjectively very nice looking.
Sound
As far as setup swaps go, not many things can be done with Reflector Audio Bespoke P15. The usage of any other amplifier (instead of the one provided by a manufacturer) clearly defeats the initial idea. Hence the only movable pieces of this puzzle are a source and a preamplifier. One can get away with a volume control built-in a DAC and that's what I did. The obvious pick was LampizatOr Golden Gate (Psvane WE101D-L + KR Audio 5U4G Ltd. + TAIV VC-03 attenuation) and AMR DP-777SE was used later on. Asus UX305LA served as a transport. At some point, Sanders Sound Systems preamplifier was exploited just for giggles, in order to see whether it'll change the outcome.
Lack of any ventilation equals to no pressure build-up that badly needs to escape. What naked woofers provide is very audible indeed and at the same time so different from what typical bass-reflex or transmission line based products have to offer. Or, to put it bluntly, no box means no box sound. This peculiar kind of bass can't be mistaken with anything else. And having said that, Bespoke P15 sports not even a fracture of an enclosure, hence its closest relative would be an OB design. Free-roaming and not pressurized woofers in both cases lead to bass usually free from any colorations, precise, punchy, agile, feisty, exceptionally present and simply kicking hard. That's the story with Latvian speakers exactly, yet not with one but many twists along the road. The box itself can inject some pleasant fat into downstairs department, whereas speakers without said vented element oftentimes have to have this delivered by a setup, otherwise the sound might be overly thin and contour. And here's where Bespoke P15 escapes this schematic; although it has a truly OB alike bass, it also is generously dense and texturally very complex. One gets the very best of both worlds, that's the outcome.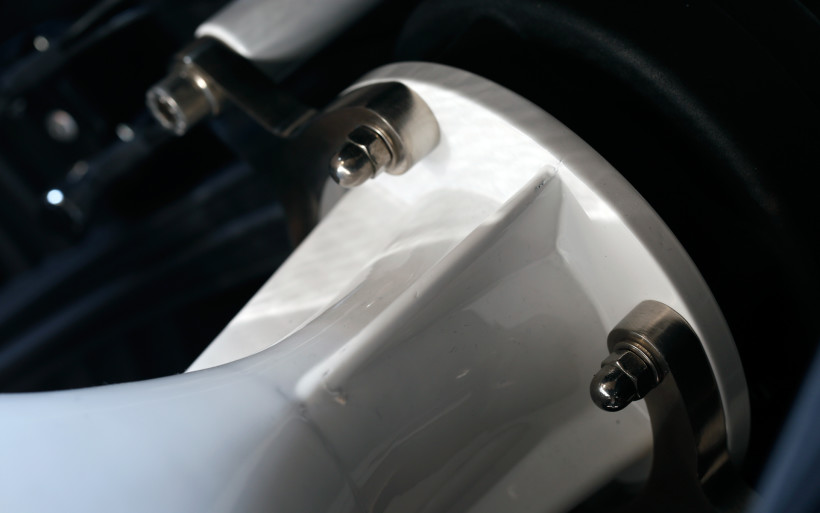 A separate article solely about Bespoke P15 downstairs performance could have been written easily. Said speakers have this aspect off the charts, I haven't heard anything like it in the past. The amount of sheer energy said product emits below 100 Hz is very respectable. To a point where a switch to my Boenicke W8 reference left me utterly unimpressed. The sense of scale simply wasn't there. This scribe's usual music routine to isolate this one aspect includes "The Might of Rome" by Hans Zimmer. This piece bears number nine on Gladiator OST and screams the 'epic' word loud and clear from about two minutes mark or so. That's when low roar enters. Bespoke P15 not only easily filled my audio cave with the lowest octaves, but the way these were delivered left me shocked. There was no boominess or any other excess whatsoever, everything checked out in terms of amount. But the most impressive part was that said explosion was not only omnipresent, but also felt. The whole room roared pleasantly, this was an exceptional feat of strength, yet served in a perfectly controlled, wonderfully dense and agile fashion. That's the outcome one gets with Bespoke P15 minimal room interaction, further reduced by Reflector Audio team's extensive measurements and calibration plots. It's said that big drivers make big sound and rightfully so. It's quality and not quantity that counts the most, yet with said speakers one can have both. Ain't it grand?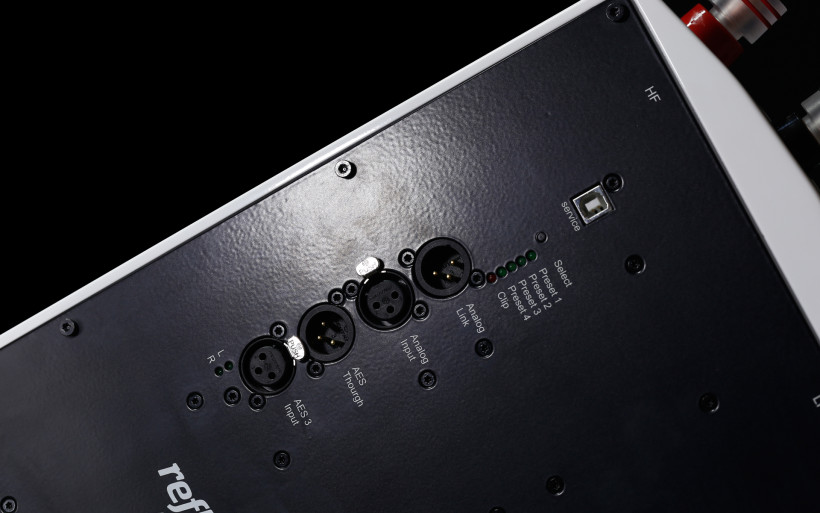 As far as bass goes, Bespoke P15 is like a chameleon. It's hard to shake off the feeling that it behaves in a very meticulous fashion and is heavily track dependent. To paint a somewhat broader picture, Japanese drums on the "Daraijin" track by Kodo are accurate; precise, feisty, very energetic and as punchy as it gets. It's audible that drummers don't spare their music tools, not at all. And that's the way how it should be as there's no cosiness about their performance, on the contrary to literal energy explosion, shove and crack. The same story is with early moments of "No Pussy Blues" by Nick Cave's Grinderman band. The way a bass guitar is pounded there is very effortless and present, yet at the same time it's not only agile and contour, but also properly muscular. Drums on Wardruna's "Isa" and "Ragnarok" pieces from "Runaljod – Ragnarok" latest LP resonate with proper grandness in the whole room and this is shown with such ease, yet everything else is in check as well.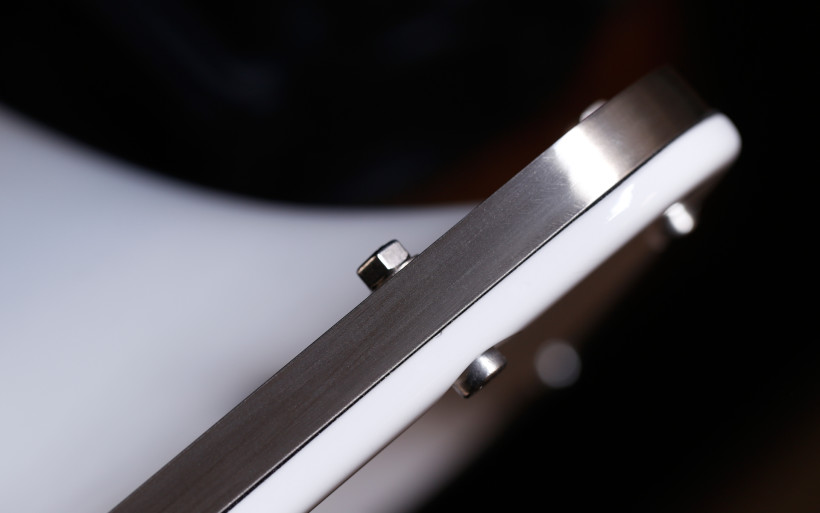 Something completely different is heard on one of single bass guitar based tracks by Gordian Knot. It's reaches very low, yet is on the slower and more musical side, it spots on in terms of stiffness, but much cosier attitude is the main focus point and that exactly is shown. Alan Silvestri's "Predator OST" is yet another case of much subtler and denser bass line. Piano keynotes struck with aplomb and proper heavyweight, not even a tiny bit hollow, yet perfectly sketched at the same time? Not an issue at all. There's not a shadow of doubt in my mind that Bespoke P15 is capable of playing even the most complex bass lines there are and in a marvelous fashion each and every time. Bloody hell.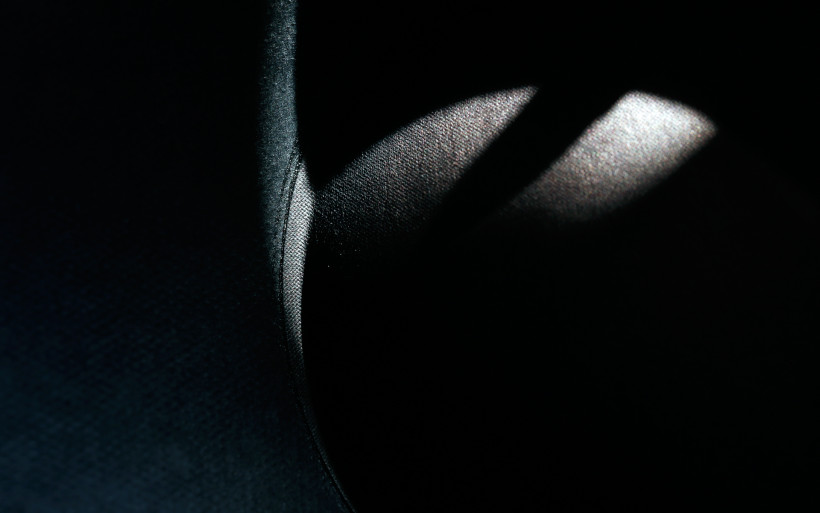 At this point, going upwards in the audible FR range descriptions should be in order, but there's no real point in doing so. Bespoke P15 measured very linear past Roman Janevich's calibration. Any bumps and holes there were, said gent reduced to a minimum at the very beginning. And this fact alone is presumably one of the reasons why said speakers are even performers all across the board. Hence let me just close this topic by saying that in Bespoke P15 case, there's no dominant FR part. And even if something along those lines is audible, this is due to a track recorded in such way. This review's hero won't add or subtract anything in this regard all by itself, which leads to an obvious remark; it'll show music in a way it's been recorded with no questions asked. But once this happens and the outcome is worse than expected, a track is the one to blame. Picture a boss, who has to let go one of his underperforming employees. Yet he does this with class, namely frankly and kindly enough for the latter to understand that he's the weak link here and there's no valid reason to be mad at his soon-to-be former employer. The point is that Bespoke P15 isn't cruel but honest, not misleading, full of false promises or evasive but firm and straightforward. It doesn't sugarcoat the outcome but shows it as is. Just as you would treat a good boss, do it so with Bespoke P15, namely with music of proper quality and you'll be rewarded back.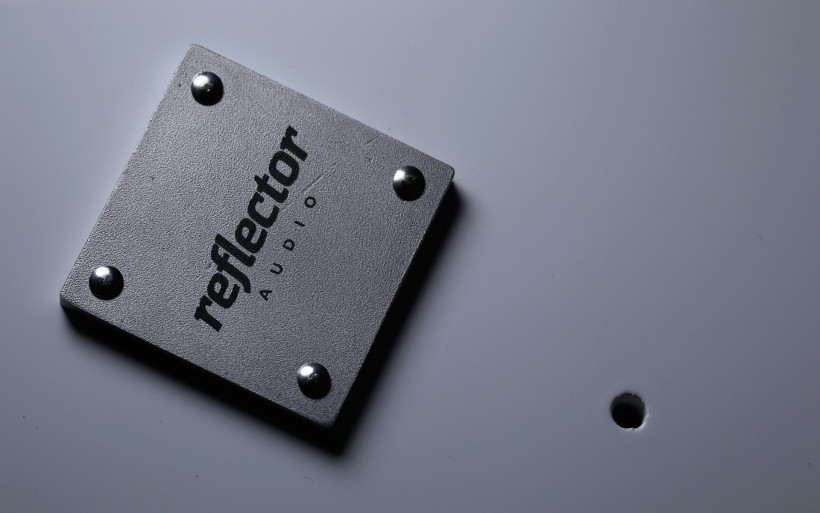 Any front horn-loaded driver has some audible successions and Reflector Audio Bespoke P15 is no different in this regard. It all revolves around midrange presentation, especially vocal parts. These are always precise and clear, regardless of how subtle or withdrawn a recording is. That's something one either likes or hates. Bespoke P15 bears this contour mark and there's no way around it, either one plays this horny game or moves along, that's up to him. But there are several things that need to be pointed out. First of all, Latvian speakers handle midrange in a very suave and smooth way. There's not a hint of sharpness or grain there, no garish attitude at all. A compression driver used in Bespoke P15 is unusually posh.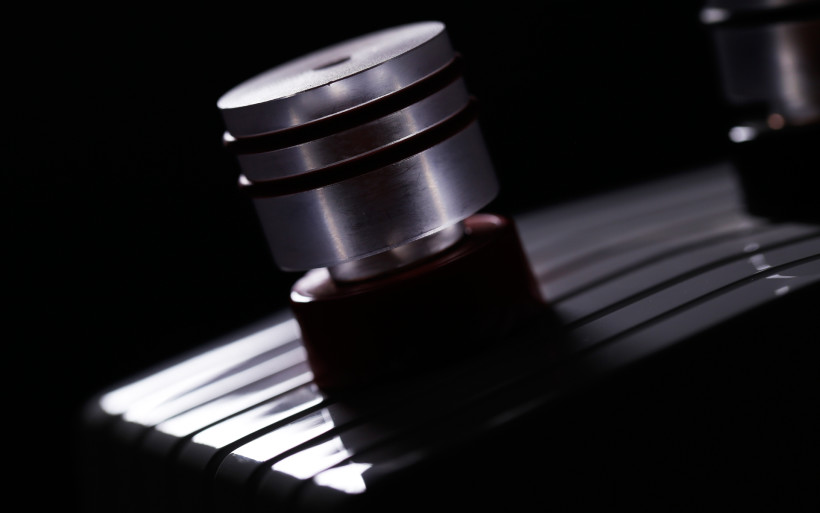 Bespoke P15's smallest transducer won't sound dull, thin and sharp all by itself, not a chance. Perhaps if this scribe had far worse source on hand, maybe then this would've been heard, it's hard to say. But what I do know is that vocal parts in general are superb; clean, very present, smooth, vivid and very engaging. If they're meant to be subtle and ethereal, Bespoke P15 will show this like it's nothing and the same story is with deeper, stronger male singing. For instance, there was a substantial difference between Peter Murphy's baritone and Fiona Apple's contralto. Yet each of these performers was of top notch quality and served in a very expressive fashion. That's one of the strongest Bespoke P15 virtues. Although it sounds truthful, the amount of emotions it delivers is enormous. Julee Cruise in "Floating" is so delicate and captivating, that it really makes one wonder how fabulous and enjoyable sound we can have these days under our roofs.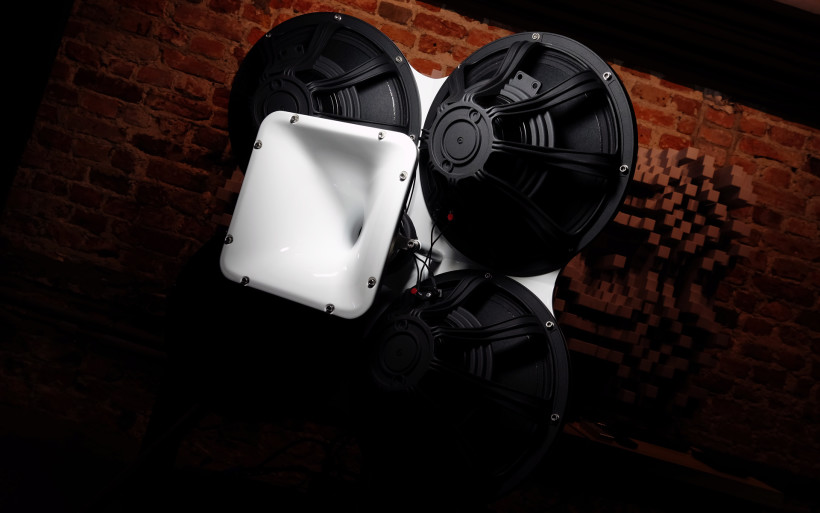 Johnny Cash's "Hurt" masterpiece is a real tearjerker and I'm confident to say that I haven't heard it better, namely more emotionally expressive; humble and sorrowful. Past this piece I knew that this isn't something I can keep for myself. Trent Reznor – the author of the original "Hurt", to be found on "The Downward Spiral" album by Nine Inch Nails – said in one of interviews that this track belongs to Johnny Cash and not him anymore. Reznor humbly mentioned that the latter gent simply did it much better. Past audition of this very song on Bespoke P15, I can only wholeheartedly concur. A dozen of similarly involving and emotionally loaded examples can be given, yet there's no reason to. Let me just say that Latvian speakers can sound exceptionally atmospheric and magical when needed. And if that's still not enough, this review's hero is a true champ in showing vast array of vocals and real instruments. Every string, resonant chamber and trumpet is heard with proper weight, decay, texture and ease, the outcome is nothing short but dandy. Yes, there are setups that can do it in even more euphonic and harmonically rich way, undoubtedly. But to yours truly, Bespoke P15 is a spot on in this regard, I personally wouldn't change anything here. Even said product's highs are very good quality wise. One will hear every sound there is to be heard and in greatly decayed, differentiated and rich fashion. To summarize my findings thus far, the closest sound aesthetic to Bespoke P15 was achieved with Blumenhofer Acoustics Genuin FS3 MK2 a good while ago. Although these German coffins sound terrific, this review's main dish impressed me incomparably more.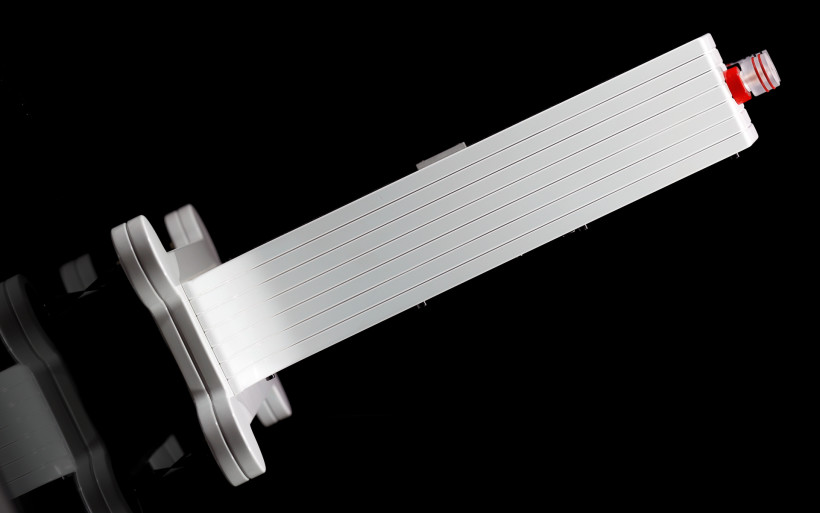 Another very pleasantly surprising aspect of Bespoke P15 is the soundstage. One of OB designs' shortcomings is this exactly, namely they never completely disappear from a room and the depth is not as complex in comparison to i.e. rear tweeter-loaded Boenicke W8. Open baffles paint the picture between 'em and not much on the sides, whereas my reference is a humongous beast in this regard in particular. And it vanishes like no other floorstander known to me. In order not to be groundless, that's my experience past Trio10 Timeless by PureAudioProject and Finnish Gradient Revolution gymnastics, to name just two models. In any case Bespoke P15 is different, better. It puts the emphasis on what's directly in front of a listener and in order to grasp that, his head should be in a rather tiny sweet spot constantly. That's the way it is with horns and that's fine. But the depth Latvian speakers show is remarkable. For instance, vocalists can be 'seen' very closely with ease. But at the same time to have them very deep and far is not an issue at all. Again, it all depends on a recording. Needless to say, it was a joyride to discover favourite tracks' mastering again and again.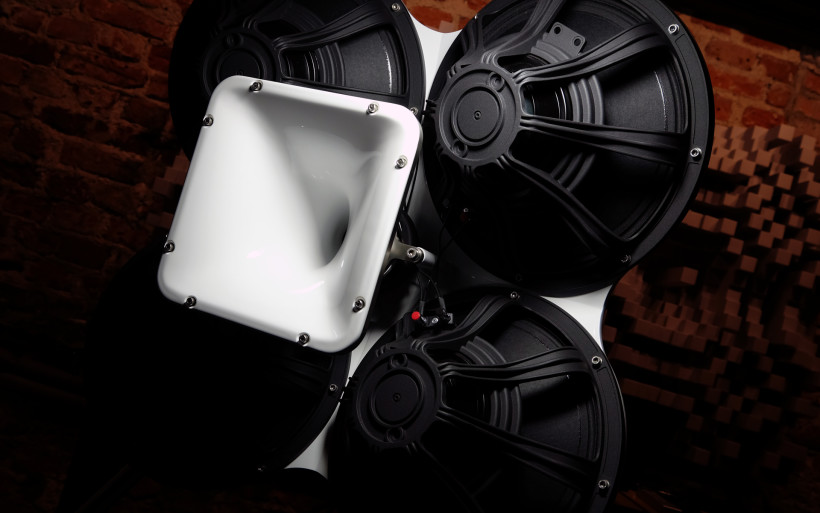 But the best part is that Bespoke P15 is somehow able to sketch instruments behind 'em and it does so almost as easily as my reference Swiss floorstanders. That's very admirable as the very last thing expected of the former model is to nail this trick exactly. To be perfectly fair, Boenicke W8 is completely invisible when properly set-up, Latvian product doesn't do that to such a degree. The former takes one to his place, whereas the latter can do not only that, but also create beautifully close images. And since everything it does has immense scale, the presence of music in comparison to my reference boxes is incomparable really. With Bespoke P15, the outcome might be utterly impressive in terms of width. On the "No Pussy Blues" piece by Nick Cave's band Grinderman, at about 80 seconds mark heavy distortion kicks in. It takes the lead, both bass and percussion lines hide far behind. With Bespoke P15 this was louder and more 'in your face' direct than ever before. This sound attacked from far left and right, yet even closer than the front row. I'm not sure whether Mr Cave wanted to have said noise emphasized to such a degree, but the point is that it was spectacular and at the same time served in a completely unknown way. On a side note, Latvian speakers can go incredibly loud and remain wonderfully clean. It's quite scary actually as there's a lot of well-recorded music which allows one to jump past 90+ dB SPL easily undistorted. That's unhealthy, yet so possible and jolly with P15's.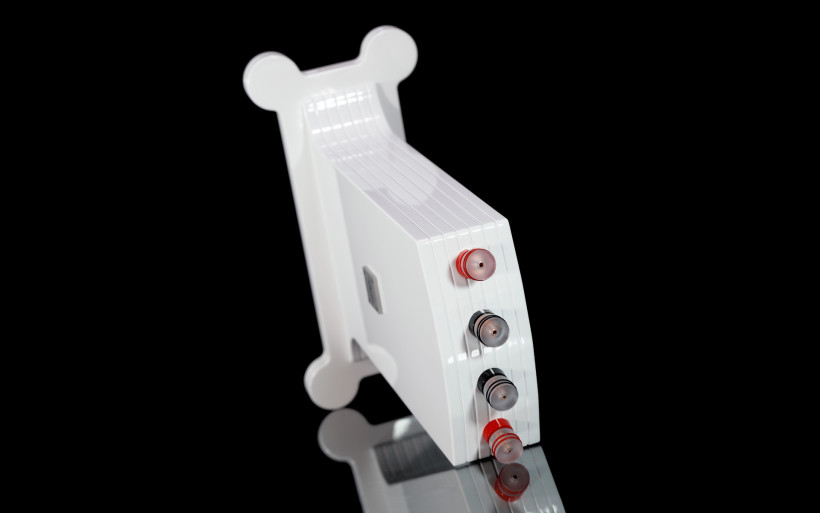 And lastly, it was high time to check whether any additional gear in the audio chain brings any changes or improvements. At first, Abbingdon Music Research DP-777SE jumped on-board instead of my daily reference source by Łukasz Fikus. More about audible differences between those two can be found in this article. DP-777SE's charming character was heard in an instant with Bespoke P15. The outcome was mellower and more airy, or ethereal if you will. The emphasis was put on joy and a bit more lit-up highs as well, but the sound also got slightly slimmer. The main takeaway here is that Latvian speakers showed this with such ease. The more sources' swaps were in the past, the more and more I thought that Bespoke P15 is a perfect product to evaluate this sort of devices. Weaker bass in the AMR case was to be expected as well, yet it only partially happened, in the 'slightly' and not 'obviously audible' realm. Here the speakers manifested their resilience to downstairs department tweaks. Beats me why, but it is what it is.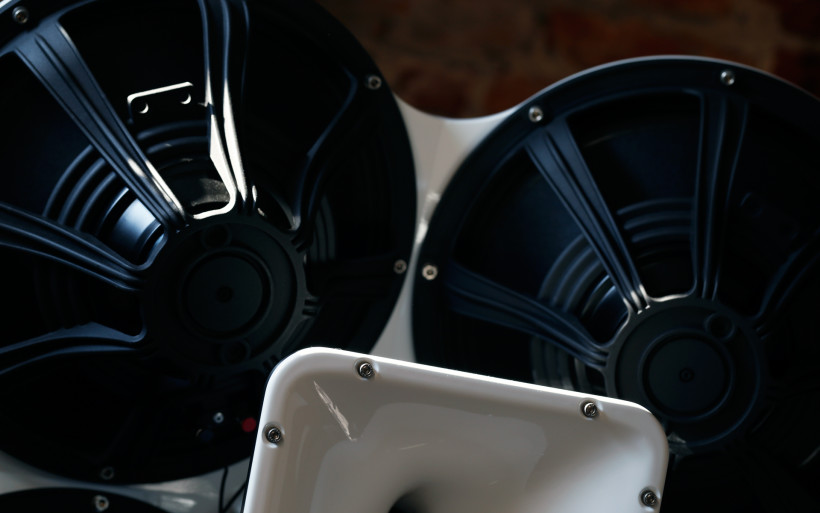 Past this exercise, Sanders Sound Systems preamplifier was included in the audio chain. It injects additional body tissue to music when matched with both sources used. There's no surprise here, it's heard loud and clear. But whether this is better, subjectively I'm not so sure. My point is that even fed by a volume control built-in both DACs, Bespoke P15 didn't sound thin at all, not even once. Because of its tuning, AMR DP-777SE would benefit from additional body more than my main source and it does in some scenarios indeed. Yet when said English DAC is matched with Latvian product and nothing else between them, my subjective pair of ears can't fully justify $5'000 spent on a Sanders Sound Systems preamplifier. Perhaps some other product of this kind would do so, yet that's not for me to say.
Summary
To say that I'm very impressed is a major understatement. Who'd have guessed that Reflector Audio Bespoke P15 will turn out to be a performer this grand? Heck, I'm sure that vast majority of people will think of it as yet another abnormality in the audio world and then simply move on towards much safer alternatives. And that's a grave mistake to make right there if one is interested in playing in the €30'000+ league. Those willing to get rid of prejudice towards said product's unusual design can get themselves ready for bliss. Stupendous experience this writing's five drivers loaded champ provides is the valid reason. Simple as that.
Reflector Audio Bespoke P15 not only isn't, but also doesn't look like an ordinary pair of speakers, that's a given. This aspect alone might be a rather hard pill to swallow for decor sensitive individuals wealthy enough to afford this product. Yet there's method in this visual madness, Roland Janevich's idea can't be done in any other way, a box or a baffle of any sort is off the table, that's the part of the game this time around. Hence it's for the best to either get used to Bespoke P15 visuals or neglect it. Do as you please early on, the sound is where your full attention will be anyway. And once this is done, there's a high chance that this review hero's looks will grow on you in the same exact way it grew on this scribe. Its performance is very rewarding. Past several weeks spent with said product, I subjectively think of it as a very unique piece of modern art. I'd gladly live with it with no questions asked whatsoever.
€31'000 asking is a huge pile of money, there's no question about it. Yet this is relative to what one gets in exchange. After taking into consideration that a pair of marvelous speakers, matched amplifiers, personal delivery and the input of well-trained Reflector Audio team at one's place is where all the money go, said price tag isn't that scary, is it? Add a transport and a source loaded with a volume control and boom, you're good to go and for good. Not only a setup of this minimalist sort delivers what's needed, but no corner is cut anywhere. Reflective people have figured this out already, they did their homework with the A+ score. The product they were able to pull off simply can't be a coincidence. They obviously know what's what and what is, is a fabulous performer indeed. Yours truly calls this a deep level engineering and a very well-executed initial idea. Class D agile yet utterly emotionless and this kind of an outcome? No, that's not the case this time around at all. Said stereotype should have been buried deep underground a good while ago. Bespoke P15 is way above that, it simply doesn't play in this league but much higher. This is a truly end-game product to have, period.
As far as sound goes, Bespoke P15 sports many OB topology virtues, but the list doesn't end here, oh no. It goes on and on and said model reaches far beyond what open baffle speakers known to me are capable of. It's able to show any complex plot there is to be shown in music in a very humane, tangible fashion, yet – on demand – with a blast powerful enough to make one just sit and wonder what just happened. Bespoke P15 is never dry or dull, yet always deeply involving, convincing, emotional and above inherent soundstage limitations of regular OB designs. Just pick your music, kick back and relax, memorable experience of very high quality will be served each and every time.
All things considered and subjectively speaking, Reflector Audio Bespoke P15 is the best speaker set I've had a pleasure of familiarizing myself with thus far. Said Latvian marvel not only rocks my boat in a way no other product of similar sort known to me is able to, but also is the very reason why awards are a part of the HiFiKnights.com site from this point onward. That's the outcome, yours truly was this impressed. Proper information will be revealed shortly past Munich event, hence in the not too distant future. Yet Reflector Audio Bespoke P15 leaves the battlefield with our highest 'Victor' award today. 'Till next time!

Associated equipment:
Sources: Lampizator Golden Gate (Psvane WE101D-L + KR Audio 5U4G Ltd. Ed.), AMR DP-777SE
Preamplifier: Sanders Sound Systems preamplifier
Speakers: Boenicke Audio W8
Transports: Asus UX305LA
Interconnects: Forza AudioWorks Noir, Audiomica Laboratory Erys Excellence
Power supply: Gigawatt PF-2 + Gigawatt LC-2 MK2 + Forza AudioWorks Noir Concept/Audiomica Laboratory Ness Excellence
Rack: Franc Audio Accessories Wood Block Rack
Music: NativeDSD
Retail prices of reviewed components in EU (incl. tax):
Reflector Audio Bespoke P15: €31'000