Kinki Studio EX-M1 reviewed several months back delivered top notch performance dressed in a nicely executed and utmost reasonably priced package. The investigation couldn't stop here and – after several short mails exchanged – the Kinki Studio EX-P7 and EX-B7 threesome became this review's main course. Enjoy!  
Introduction
Several months back Kinki Studio EX-M1 proved to be truly impressive machine for a number of perfectly valid reasons. Among more than two dozens of different amps auditioned over three years, this quick, feisty, fatigue-free, open and smooth sounding product on many counts turned out to be one of the best, if not the best match for Boenicke W8 I encountered thus far. For a bit more than my current speaker cables' ask, the EX-M1 sends just the right message; not only it's a very good integrated machine on its own, but also tremendously cost-effective audio hardware built like tank for those enthusiasts who want to remain in the lower four figures realm. If such criteria are yours, then this Kinki is nothing short of a winner and a perfect reality check tool from my perspective. That's why it wasn't sent back, I've been happily using it since the day it arrived.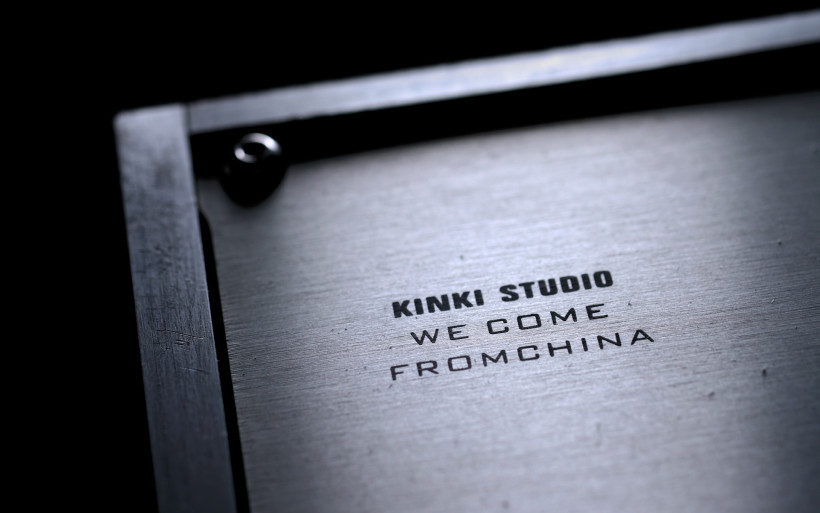 Although Kinki Studio EX-M1 gained a fair share of well-deserved worldwide recognition, it's not the only product out there by Liu the undisputedly talented engineer. There's more. In quite short time Srajan published five Kinki Studio reviews in total, two of which resulted in his Blue Moon Award. The man's not granting these left and right. On the contrary, one very selective reviewer he is and his prizes are utmost useful indicators of goods worth deeper investigation to me. Long story's short, no deerstalker hat and magnifying glass but a rack full of hardware, properly demanding Swiss load nearby and a pair of capable ears indicated my own readiness. The game was afoot.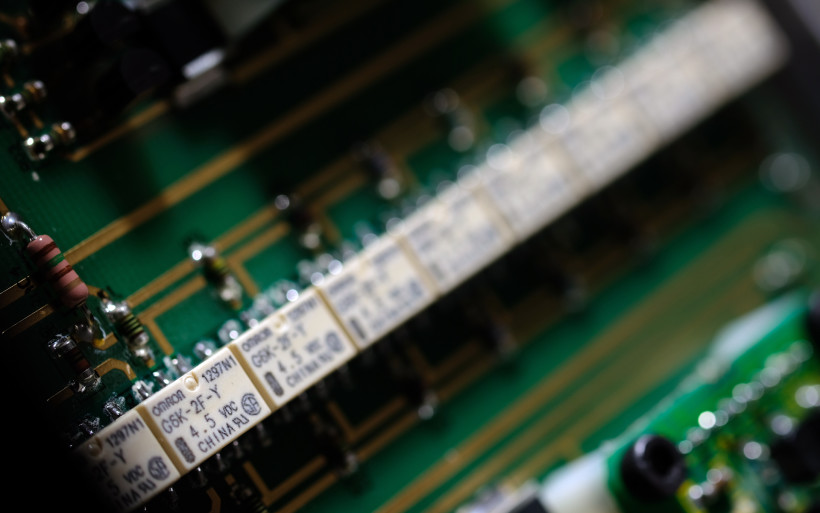 This reporter's own EX-M1 experience aside, Srajan's takes on Kinki's EX-B7 mono amplifiers and EX-P7 preamp were two valid reasons to contact Vinshine Audio's responsive Alvin Chee with ask about availability of these specific items clearly designed to work as a team. Three cardboards in total were sent from Ireland to my manly cave directly. Was my own EX-M1 prepared for the battle against its pricier and far heavier family, incidentally also higher on a purist's ladder due to being separated at birth? Now this remains to be seen…
Kinki Studio EX-P7
Kinki Studio EX-P7 found in a double cardboard was snug via translucent foil and then framed in-between foam forms. Dimensions of (WxHxD) 43×12.5x37cm made this deck anything but small, albeit light due to mass of 13 kilograms. Its integrated sibling arrived dressed in identically sized aluminium chassis, which repurposed to handle two products surely had to save manufacturing cost. That's smart.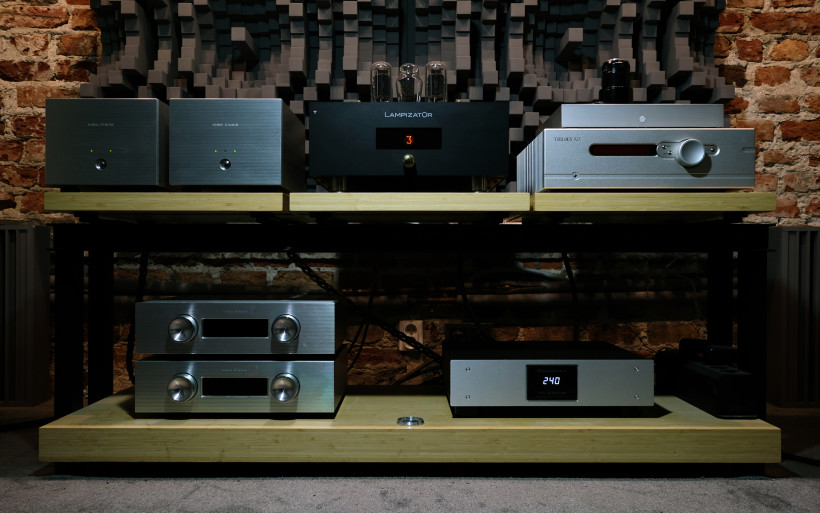 Kinki Studio EX-P7's frequency response is 0-150kHz (±1dB), THD+N is 0.003% (-80dB), SNR and channel separation are >90dB. Input and output impedance is 50kΩ/70Ω respectively and the 2.25-3.6Vrms range fits to both input sensitivity and output voltage. 2xRCA and 1xXLR inputs plus the same type and number of outputs were found on the product's rear wall, though aligned in one row instead of two, which improved connectivity. The EX-P7's IEC socket with the main on/off switch right below is located more strategically on the far right to now fully block any unwanted mechanical interactions with anything else nearby, which was not the case with the EX-M1's power inlet right under its RCA inputs. The former also has a low/high (-/+4dB) gain switch to provide more volume flexibility, whereas 256×0.25dB steps in total provide the very same super gradual attenuation my EX-M1 does.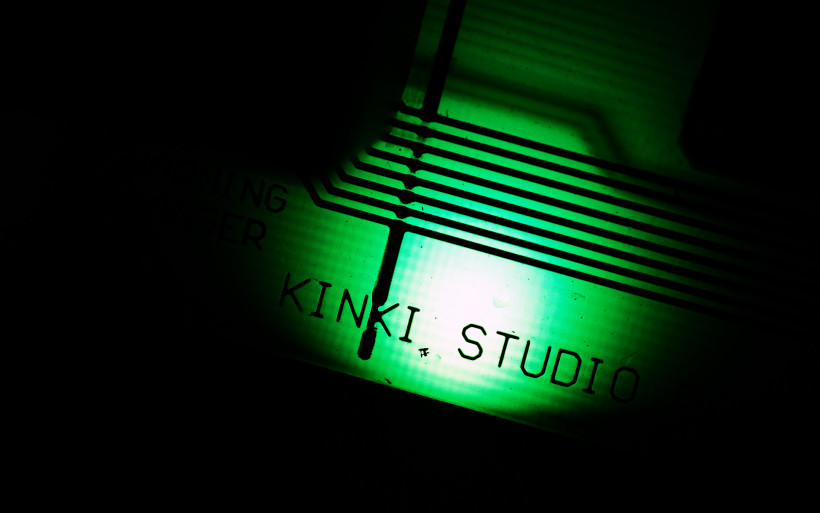 As far as visuals go, Kinki Studio EX-P7 is exactly alike this manufacturer's integrated deck. When stacked one on top of the other, these two machines are indistinguishable. The same are their finely rippled thick front panels, manufacturer's logos, endlessly rotating large shiny knobs (the input selector on the left doubles as the secondary power button when pressed), oversized LED dot matrix displays and all light blue digits shown on these. A single nice aluminium RC can operate both products at the same time; that of preamp's works for integrated and vice versa. That's the repurpose job in action yet again and with the same money saving benefit to customers. How thoughtful.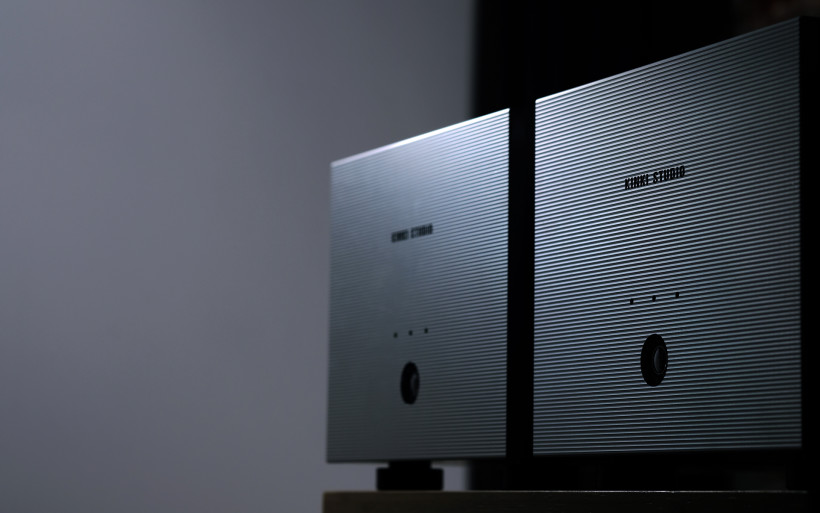 What separates the two very similar Kinki machines are of course their core functionalities, innards, hoods and sundry of connections on their buttocks. The EX-M1 up top sports two rows of bores which run all the way through internal radiators, whereas the EX-P7 doesn't need any of these. Other than this, the latter is as nicely assembled, easily operable and behaviourally predictable as its integrated kin. For the coin it scores as ridiculously high on these counts and not a single thing this reporter would change.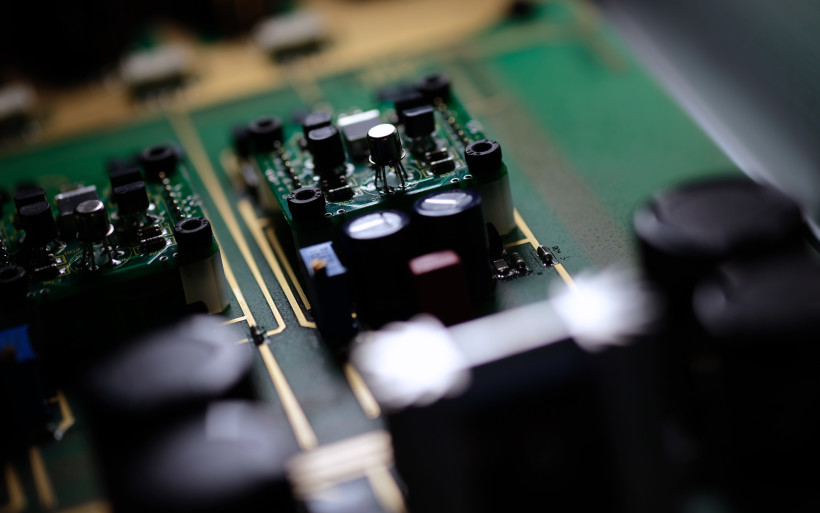 Kinki Studio EX-P7's innards are the view as equally nice as its outside. Its circuitry is fully analogue, based on the shortest signal routes possible and with gain stage biased in Class A. The two Amplimo toroidal transformers hid in their respective aluminium housings power each channel separately. The circuit is mounted on one large PCB with abnormally wide 0.2µm thick gold traces visible all over it. Four discrete key gain modules Liu made removable to have them easily swappable, which doesn't exclude upgrades in the future, whereas a row of relays in between these small boards is a part of kosher R2R attenuation ladder array. This fully analogue scheme is controlled via MCU located on the board fixed to the machine's front wall. Filtering and voltage regulation stages look solid as well. Overall execution of the EX-P7 is top notch.
Kinki Studio EX-B7
Two Kinki Studio EX-B7 mono amps required two separate boxes, which was hardly any surprise. Luckily their carrier didn't lost any and Liu's line stage arrived on time as well. Shortly past extraction from their cardboard housings, the two monos sat on the lower shelf of my rack right next to their third travel companion. This very competitively priced Chinese family looked posh and plainly good, dare I say far better than pictures found in the web might imply.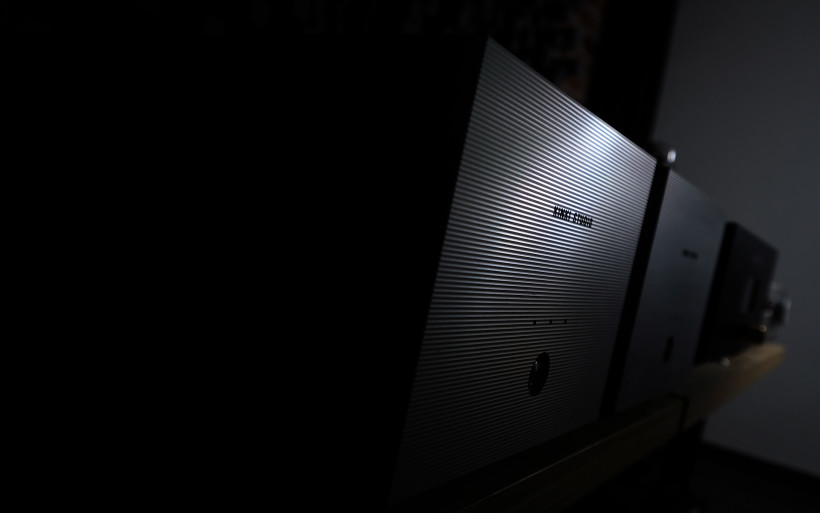 Each EX-B7 measures (WxHxD) 23x19x33cm and weighs 17 kilograms, which translates to pleasantly compact and movable affair. Specs left no room for guesswork, with FR range of 0-2.5MHz (+/-3dB) the two power amps delivered clearly were of wide bandwidth breed as well. THD+N below 0.05% (-80db), SNR greater than 110dB (0.01Hz-1MHz), 250w into 2-8Ω, twice that in burst, max output voltage and current of 84V/20A respectively and power draw of 30/600W in idle/max all looked dandy. The EX-B7 twosome was a proper muscle team and no less.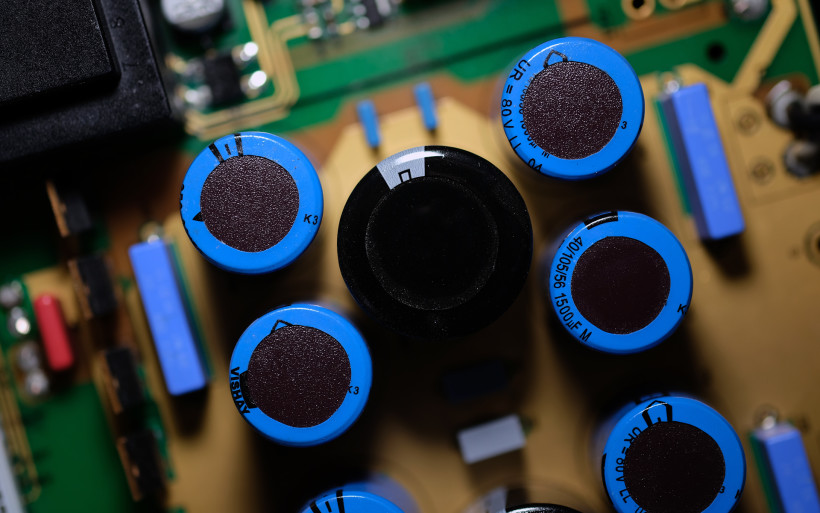 Each EX-B7's enclosure made of thick anodized aluminium plates finely bolted together is complimented via front as nicely rippled as those found in other Kinki's products. The manufacturer's logo up high, three small lights below and the main on/off button nearby are all in there. The red standby diode in the middle reports connection to the grid detected and goes off once the button below is pushed on. Then the the two green lights on the sides kick in to communicate product's readiness plus safety. Each amp's underbelly sports three aluminium pucks with foam washers to keep things properly motionless. On the back there's one XLR and one RCA input (input sensitivity/impedance is 1.45Vrms/10-52kΩ respectively), whereas single WBT alike speaker terminals a fair bit under neighbour with an IEC socket loaded with a self-replaceable fuse.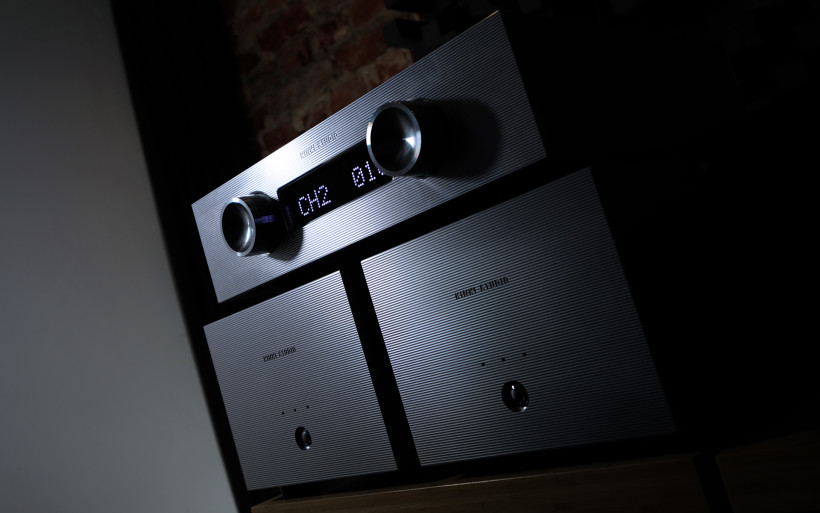 Kinki Studio's monos are as finely assembled as other EX machines. I'm quite sure that many audio establishments would like to have items executed this nicely in portfolio. After getting familiar with three of Liu's products thus far, I'm confident to write that his very high quality standards apply all across the board and each EX-B7's inside delivers additional evidence. One main PCB with unusually big golden routes. Massive aluminium inner frame. Dual toroidal transformers by Amplimo. Abnormally thick internal wiring. Generous bank of Vishay's reservoir caps. Eight Exicon's lateral Mosfets per channel. Exemplary assembly order. Wow.
Apart of two rather minimalist openings, internal/external radiators or any additional venting schemes were absent. With such a beefy aluminium enclosure, Liu didn't even bother. Why would he? His EX-B7 proved to be thermally stable as a rock as is, not a single dirty stunt it pulled on me during several weeks of rather extensive usage and rest asured that truly extensive it was. Both monos' enclosures not even once went beyond mildly warm regardless of how far pushed they were. I don't think I've ever reviewed an amp this cool. Heck, even my NuForse STA200 gets hotter at times.
Sound
This review's main goal was to establish how Kinki Studio's linestage and monos as a team would fare against the same company's integrated amp. In order to map their performance individually, I'd have to involve additional products, which I didn't have and perhaps this will be addressed in the future. But all things considered, to know where this threesome stands against its more affordable yet amazing brother is valuable nonetheless. On duty were fidata HFAS-S10U, then LampizatOr Pacific DAC (KR Audio T-100 + KR Audio 5U4G Ltd. Ed.) took over to pass the signal to either the EX-M1 or this writing's trio and then to the most suitable load I had nearby, my Boenicke W8. ICs used were Audiomica Laboratory Erys Excellence, the same company's Ness Excellence and LessLoss C-MARC were connected to Gigawatt PC-3 SE EVO+ and Louis Motek's C-MARC speaker cables ran from amps used in this report to my Swiss floorstanders.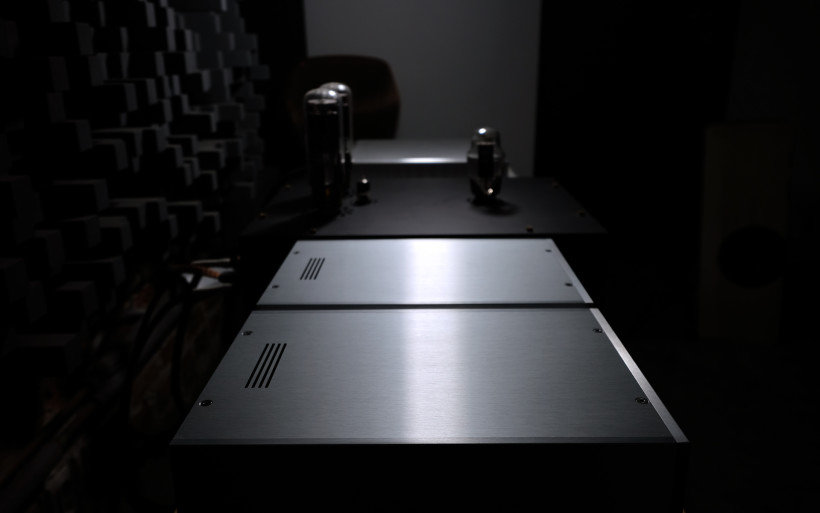 Kinki Studio EX-M1 has been a part of my daily hardware list since late September 2018, which is more than enough to familiarize with it rather well. It turned out in time that this machine isn't the end of the road, on many counts things can be pushed further. The recently reviewed and somewhat similarly voiced Bakoon AMP-13R played the upper sophistication game. In comparison to Liu's integrated deck, it scored higher on tangibility, delicacy, smoothness, insight, detail retrieval and refinement and proved to be of higher tier as far as sound quality goes. Nonetheless, that's a 25wpc deck of ask which would buy you three 215wpc EX-M1 products. The difference between these two integrated amps was clear, but the important bit is that past sending the Bakoon to its owner and getting back to my Kinki shortly after, there was no major hankering involved. The EX-M1 impressed yet again and rather quickly things got back to how they were, which proved me how good this machine is.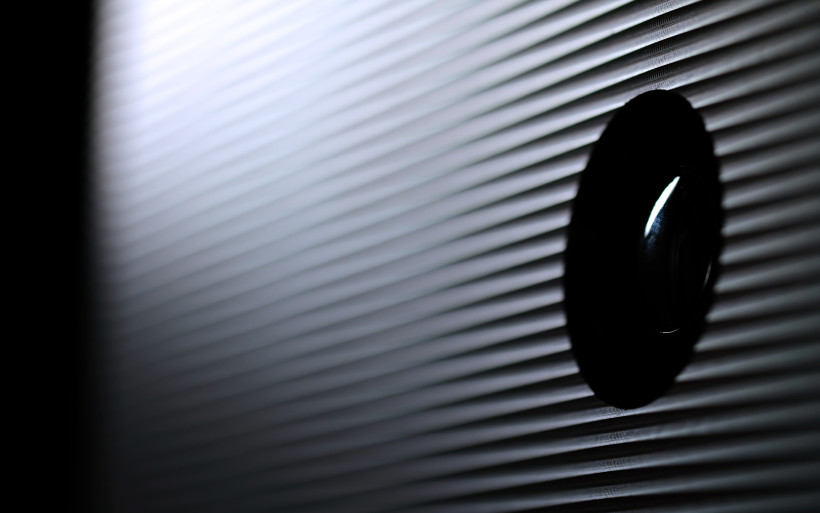 The AMP-13R experience helped me to understand better where all the EX-M1's limitations live and I started to appreciate this product even more in the process. Before the EX-B7+EX-P7 arrival there were some expectations. Could this threesome be capable of shortening the distance between the EX-M1 and AMP-13R for ask many enthusiasts would still consider as sane? Or was it voiced similarly to Liu's integrated yet demonstrably better due to not one box but three and extensive differences all across the board? Perhaps differently flavoured then? To find out which of these guesses was a bullseye, a rather short investigation was all it took. Kinki's monos and linestage on duty together quite explicitly introduced themselves at my place.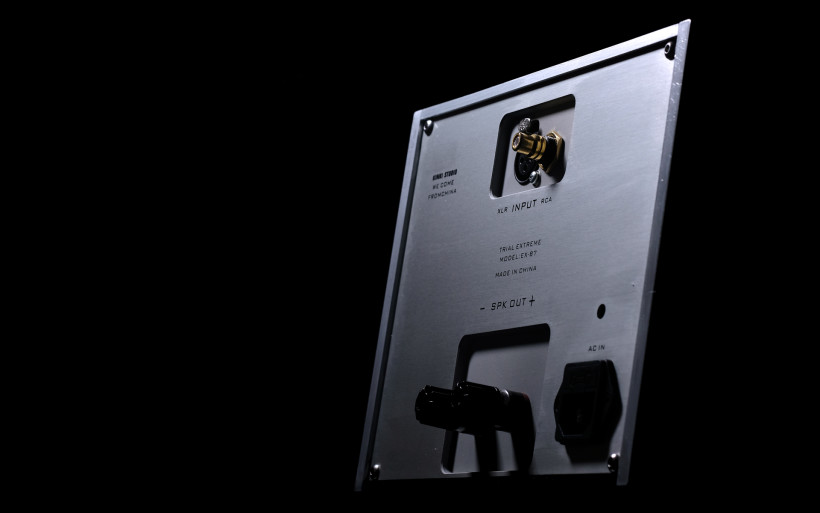 If bass crack, snappy attitude, effortlessness, cleanliness, openness and generous insight are top measures to describe the EX-M1, then all these fit to Kinki Studio's three-piece set as well. This team sounded familiar right from the get-go, the same unrestrained and feisty aroma additionally sprinkled with finely dosed substance, texturing and smoothness clearly was in the air, albeit enhanced. In spite of many similarities shared with the integrated, the trio was of different sort. It worked its own magic, shifted the meta audibly and it took me several days to figure whether its tailoring complimented my notorious speakers in more synergistic fashion.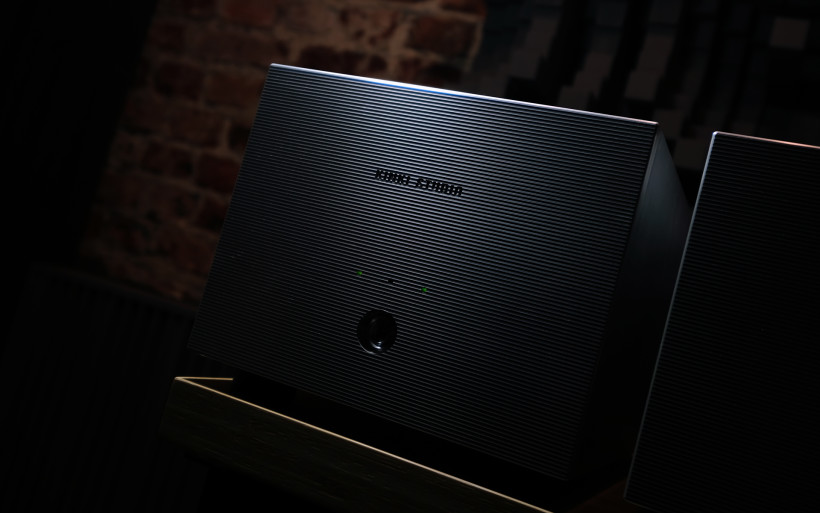 Kinki's linestage and monos as a team sounded beefier, more extended downstairs and rounder in comparison to the leaner, feistier and more pronounced EX-M1 and this flavor change alone was a major twist. But due to the fact that my floorstanders were grasped tightly in both scenarios, after days of comparisons I wasn't able to label one approach as the clear winner, it all came down to repertoire. The Chinese trio seemed to be more capable with instruments known for very low reach. Bloomier and fuller cellos and pianos charmed a fair bit more, but live recordings with these chiseled more precisely and quicker made them snappier and subjectively more appealing. Somewhat similar story was with upstairs department; the EX-M1 served it shinier and extended more yet shorter, whereas the threesome trimmed the very top and added substance to move tonal balance a bit lower in the process, though both setup variations I've found viable as far as low level listening went. In a nutshell, it was all about more shine and less charm or vice versa.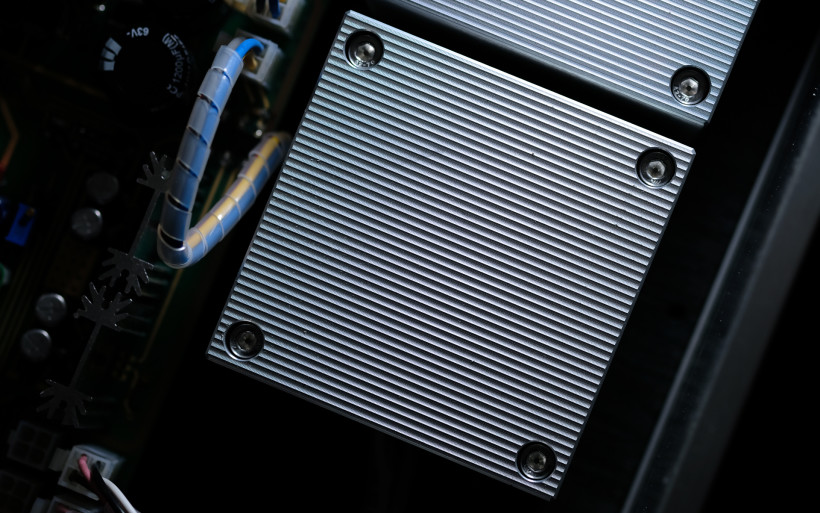 The more I listened to all options involved, the more obvious it became that this wasn't a battle of quality but two different yet similarly refined approaches. The Chinese trio was the more relaxed and – due to centre of gravity lowered plus bass emphasized and rounder – also tuneful, whereas the EX-M1 played the more excited, chiseled, direct and explicit though skinnier game. But I wouldn't go as far as labeling the threesome as slow or abnormally fluffy and the integrated as nervous, edgy or piercing. This was not the case, both combinations proved to be as equally refined to my ears.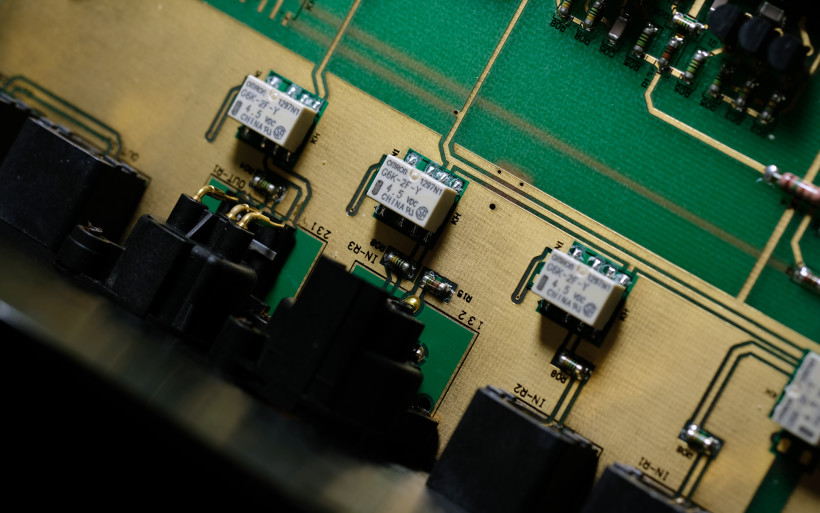 To my understanding, the EX-P7+EX-B7 team inherited the EX-M1's core profile. As I wrote, there were many similarities between these; fantastic elasticity, smoothness, clarity and my W8 speakers tamed utmost skillfully to be able to effortlessly dish out dynamic contrasts regardless of their scale, whereas sheer palpability of the view in front and the sensation of enormous and breathable on-stage act were the tasty icing on this Chinese cake. Both configurations allowed my speakers to move air as equally freely and orderly and I was utmost happy that this major feature wasn't lost somewhere while swapping from my integrated to its siblings. My guess was that bigger power supplies, workload distributed among more Exicon lateral Mosfets per channel and core duties spread across three boxes were the reasons why additional fat was injected, which obviously had to lead to a listener's perspective shift as well.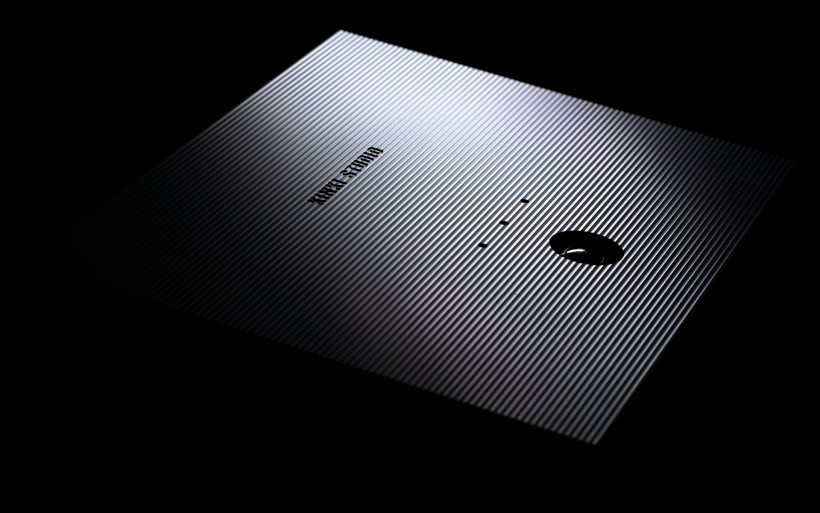 Once I became aware of all differences described above, repertoire came in handy more than ever and mood swings factored in too. When I was after raw, insightful and tightly served wall of sound, the single Kinki box on duty did it for me nicely. This was the case with Kodo, early Einstürzende Neubauten or Muse to name just few bands, whereas in case of mellow atmospheric music along the lines of Wardruna, Danheim, Dead Can Dance, Fuimadane or vocals by i.e. Mari Boine, I opted for tree machines to be granted with what I was after; a bit more romantic, charming and bloomier yet still perfectly present and informative result.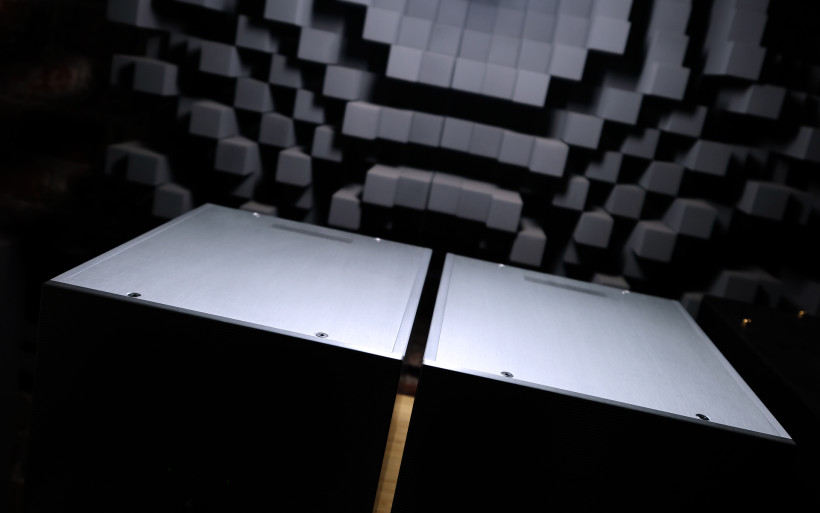 After several weeks of swapping all Chinese hardware I finally concluded that there was no clear winner and both setup combinations also scored similar usage time more or less. At some point power cable swaps came into play too. Audiomica Laboratory's leash tempered the EX-M1's zeal and added some downstairs heft to shorten the distance to Kinki's trio, whereas Lithuanian C-MARC snakes worked the opposite magic with EX-B7 monos to up the ante on clarity, tighten upper bass and inject even more air and background clarity. No boom, no veil and no life sucked out in each case. Let me stress again that this story is far from complete. In order to gain more insight about Kinki Studio's trio, it'd have to be separated and each of its components individually tested. That's beyond me currently but fear not, Srajan's work linked in the first chapter of this material sheds far more light on the subject.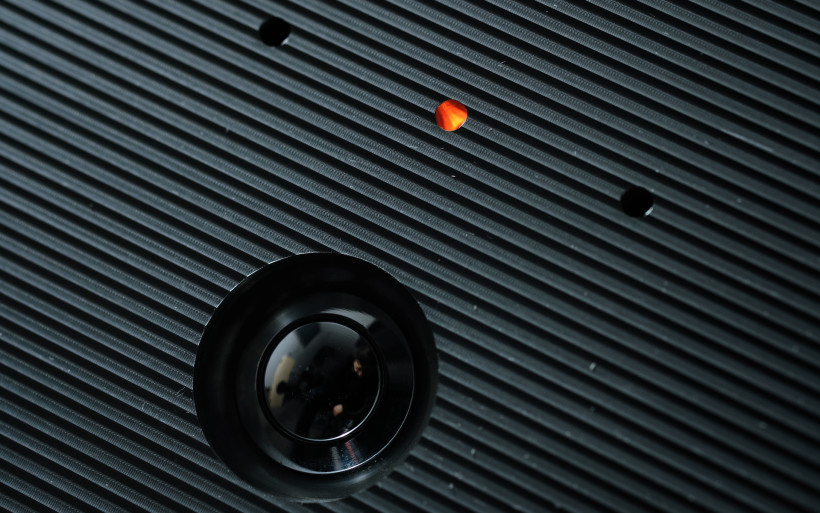 Perhaps with other and even more demanding speakers this writing's skirmish would've resulted differently, I can't say. Although voiced differently, the EX-M1 to my ears sits as high on the quality ladder as its kin. That's why a choice between these machines comes down to personal functionality and voicing needs. Each of the two Chinese combinations described will handle difficult loads with ease, though the EX-M1 seems to be a better fit for speakers on the slower and heftier side of the spectrum, whereas Kinki's monos and linestage should nicely compliment boxes neutral or those which emphasize agility, clarity, insight and the lot. A combination of the EX-P7 and EX-B7 monos also provides flexibility beyond any integrated machine's reach, which narrows down viable choices further.
Summary
The very impressive Kinki Studio EX-M1 introduced very high expectations for any of its future stablemates, hence the EX-P7+EX-B7 combo by the same company hadn't had it easy, on the contrary. Nonetheless, this threesome did a terrific job at my place, albeit with a major twist; in comparison to its integrated sibling it played audibly different game.
As well put together, visually appealing and hassle-free in use as the EX-M1, this review's trio scored similarly high and yours truly couldn't find any shortcomings. The three machines simply delivered, Liu's R&D and assembly proved to be top notch yet again. It's very likely that many manufacturers would require far more money for a high performance team dressed this nicely. Kinki's hardware proudly made in China is priced competitively to sell volume instead of single units. Needless to say, such a reasonable policy makes a customer its direct beneficiary.
Sonically the EX-P7+EX-B7 team turned out to be as spectacularly agile, smooth and seasoned as its integrated kin, which translates to plainly impressive performance and no less. But the former's audibly gutsier, bloomier, more relaxed and less lit up voicing my ears mapped as a sideways shift and not a move up or down on the quality ladder, hence the wholly Chinese battle above resulted in a draw. As a cost-effective quality integrated affair, the EX-M1 yet again proved to be as solid as it ever was, whereas Kinki Studio's three-piece set is the one to get acquainted with if you're after reaping all the benefits associated with multi-boxed affairs of the sort but are tight on cash. Stunning performance, broad functionality, nice visuals and grand execution are the reasons why this trio's very reasonable ask is fully justified in my book. Very nice work and 'till next time!
Associated equipment:
Retail prices of reviewed components in EU (excl. VAT):
Kinki Studio EX-P7: €1'375
Kinki Studio EX-B7: €2'540/pr