It's only been a few months since I prepared my review of the whole set of DL Custom Audio 3D and 3D-R Connect cables. These top-of-the-line, stunning-looking products turned out to offer an excellent, refined performance, and the differences between 3D and 3D-R versions were clear. This time I will focus on the two latest additions to the lineup, namely DL Custom Audio 3D-S-AC Connect and 3DR-S-AC Connect. The "S" in the name signifies that these models are intended primarily for source components, but it doesn't mean one con not use them with any other device. 
Introduction
Our regular readers should already be familiar with the David Laboga Custom Audio brand. I reviewed several of their products in the past – Expression Emerald USB cable (see HERE), Digital Soundwave Sapphire Ethernet (see HERE), top-of-the-line Expression Ruby USB (see HERE), and last but not least, analog interconnects, speaker and power cables from the top 3D Connect line (see HERE). All of them could be summed up as some of the best and most musical products in their respective categories and price ranges. I liked all of them a lot simply because there was no doubt in my mind that the designer's goal for each of them was to reproduce music in not only truthful, but also convincing, touching, and immersive ways.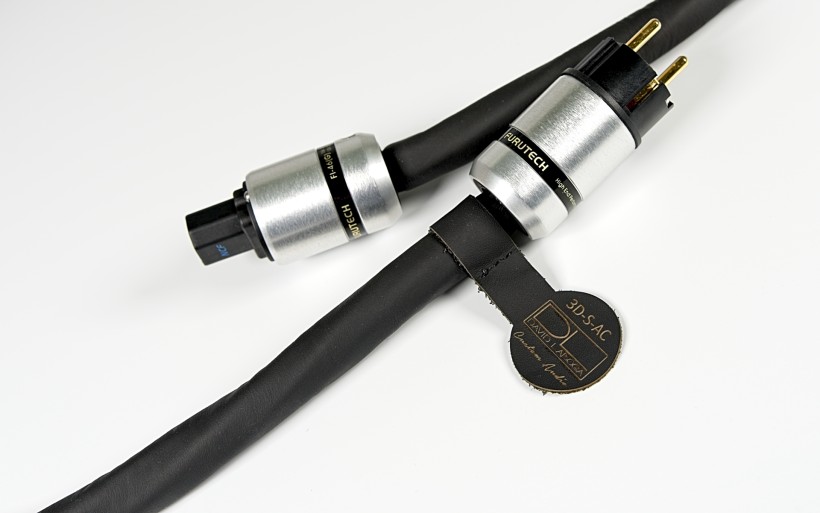 I do like this type of approach to designing audio products a lot as it usually results in the most musically involving components. That is exactly why, when Mr. David Laboga calls and proposes to send me his new product(s) for listening and/or testing, I don't really need to be persuaded. Actually, when I reviewed the whole 3D Connect set he told me that he was working on a different version of the 3D Connect power cable. The point was to achieve a similar in terms of class and general character performance but to make it lighter, easier to use, and somewhat less expensive too.
The "lighter" part was meant to make it easier to use these cables with source components. Considering the pricing of the series it is quite obvious that it is a proposition for the owners of top, expensive systems. Most of the latter feature huge, heavy power amplifiers, and using such a bulky power cable as 3D-AC Connect with them usually isn't a problem. But when it comes to sources, these are often smaller and in most cases lighter hence having the 3D-AC with its large diameter and big wooden pieces mounted on the cable hanging from power inlets and putting some stress on them may be in some cases problematic. Hence the idea for 3D-S-AC Connect.
When Mr. David called me to tell me he had samples ready for the test he offered to send both versions, 3D-S-AC and 3DR-S-AC (with, respectively, gold- and rhodium-plated plugs), plus the original 'large' 3DR-AC that I'd already known and appreciated so much so that I could assess whether the new cables actually offer a comparable performance. I agreed, and so three beautifully finished with black leather sleeves power cables landed at my doorstep and later in my setup.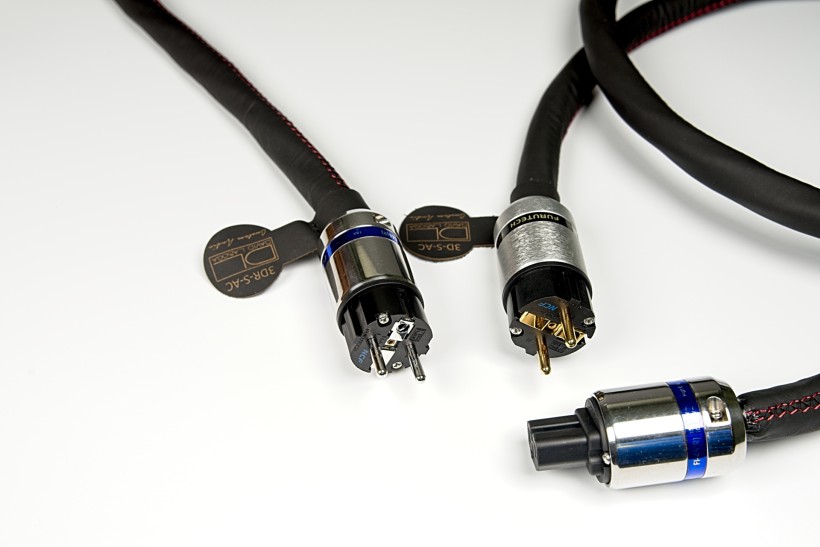 I have to confess – when they came I plugged them in, used them for DAC, preamplifier, and power amplifier and sort of forgot about them. I mean, I used them constantly without even trying to assess any differences between them. Why? I must have subconsciously accepted them as just the right ones for my setup and my taste, or as fitting like a glove. When the designer called because he wanted these sample units back for his preparation for the 2023 Warsaw Audio Video Show presentation I had to finally roll up my sleeves, so to speak, and start comparing them. Below you'll read about my findings.
Design and features
I have to repeat it in every DL Custom Audio review, but it was, is, and probably will be true in the future. The manufacturer doesn't provide much information regarding the design of his cables which is a path chosen by more and more manufacturers. The answer to the question of why they all do what they do is very simple – they don't want to offer a free recipe for those ready to copy the designs that took much time and effort to develop. On the one hand, these are DIY guys who believe they can make similar products for a fraction of the price. On the other, which is a much more serious issue, there are so many counterfeits on the market, that the manufacturers have to protect their intellectual property – hence no design details.
So what do we know about 3D-S-AC and 3DR-S-AC Connect cables? The distinction between the two is the same as it was in the case of the original "bigger" chords. The '3D' translates into a version with gold-plated plugs while the '3DR' into one featuring rhodium-plated ones. All these cables in the 3D line feature the same conductors – high-purity, oxygen-free copper. Mr. David Laboga considers copper to be a more 'musical' conductor than silver which is why he uses it in all his cables.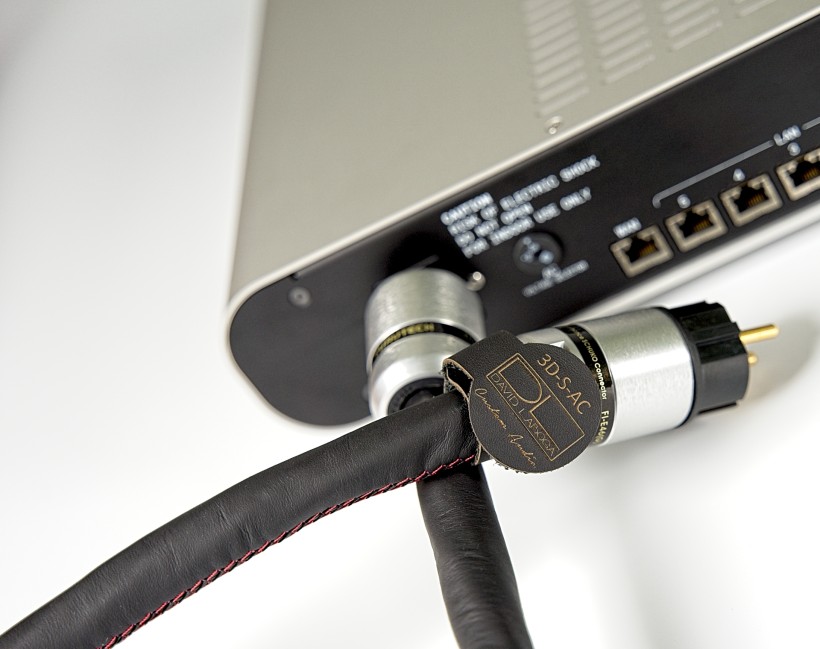 What he had shared with me when I was testing the 3D/3D-R series was that it took a completely new approach to develop this top-line based, obviously, on extensive experience not only from designing other home audio cables but also those meant for musicians and studio professionals. While the geometry of each cable and the materials used in them are very important, the finishing touches in each case are connectors. These were carefully selected (brands and models) to achieve the expected final result – a highly musical, immersive, not-fatiguing sound. To get to the result he was after David Laboga used copper, not silver plugs.
Same as the original version, 3D-S-AC, and 3DR-S-AC feature these stunning leather sleeves top DL Custom Audio series are known for. Such a luxurious finish not only looks and feels great, but also plays a role in reducing micro-vibrations of the conductors, which positively affects the sonic performance. One of the key differences one can spot with the naked eye between the "S" and original versions is the lack of hand-made wooden boxes installed on the cable and smaller ones fitted on both plugs. The diameter of the "S" versions is also smaller which makes them not only lighter (less stress on the power inlet in a device) but also more flexible (which makes installing it in the system easier). Source components need much less current than amplifiers, hence the smaller diameter and lack of wooden elements may not play such a big role as with a thicker version for power-hungry components. Only a direct comparison could tell me whether it is actually true.
Sound
As we've already established the "S" in the name suggests these two cables are intended for source components. The truth is, though, that it is more of a suggestion than the only allowed use for them. As the tests proved, when listened to used with a source and compared to the original version, the sonic differences are really small. When used with a power amplifier, the differences become more significant, but choosing one version or the other will be based rather on the specifics of a particular setup and its user's taste than the theoretical designation of each version. I'll get back to that later, but Mr. Laboga also confirmed in a conversation, that the "S" designation is there to make the lives of potential customers easier when choosing the proper model for them. Still, he encourages individual tests, particularly for those, who use more than one 3D Connect power cable in the system.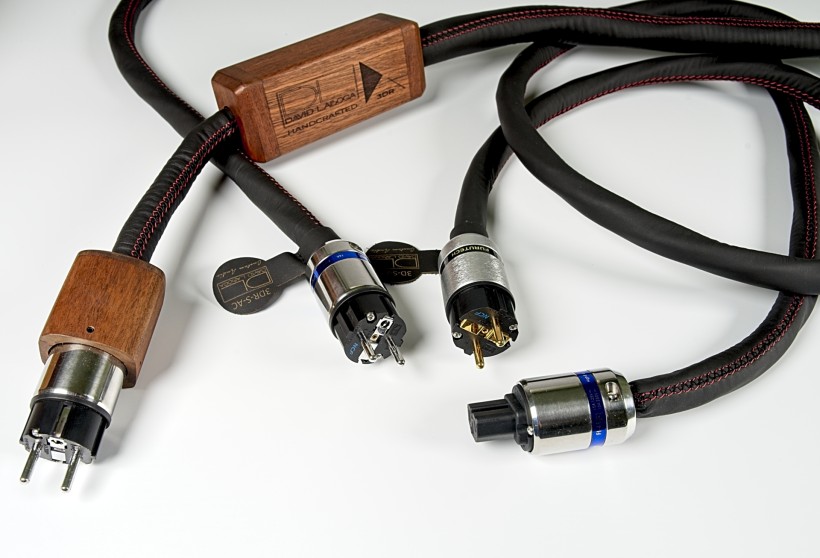 Still, since the "S" suggests using 3D-S-AC and 3DR-S-AC with source components and I already offered you my opinion on the original in the previous review, I decided to focus my review on a comparison between the two new models using two reference D/A Converters. One of them is my own LampizatOr Pacific 2, and the other one is Playback Design MPD-6 supported additionally with the same brand's digital interface, or MPD-X. As a source of signal, I use my custom server with Roon (via LAN), and JCAT XACT S1 (via USB). I use my standard LessLoss power cables for all other components, except for MPD-X which benefits from the excellent KBL Sound Extrema power chord. LAN cables used in the test are DL Custom Audio Sapphire and USB is this brand's Emerald Mk 2. Analog signal cables come from Soyaton Benchmark (see HERE) and Bastanis Imperial series (see HERE).
I start my listening session with the original DL Custom Audio 3D-R-AC Connect Power Cable to refresh my memory. It all comes back quite quickly to me – impressive resolution and clarity, great definition, and pitch-black background that causes an abundance of details, and subtleties to pop up but in an unobtrusive, natural way enriching the presentation. In other words, I can hear more music in music, as the sound becomes richer, more precise, and better pronounced. Also, the energy and the authority of the presentation are significantly enhanced and every sound source on the stage becomes more present with this power chord.
I can't help but love the way the dynamics of the presentation improve with it, how the tonality seems more natural, and richer, and sound is more open, and more spacious too. Objectively, the differences compared to LessLoss are significant, yet not huge, they do not compare to replacing DAC or amplifier with a higher class counterpart. Yet, since I consider the performance of my system to be really good, there is not that much room (I mean, sure there is, just not as much as there was, say, five years ago) to improve. That's why achieving even small improvements is hard and weighs a lot (for me). I can clearly remember now, how much more of the Pacific 2's immense potential is available to me when powering it using DL Custom Audio 3D-R-AC and how much I missed it after I had to send the cable back after the review.
DL Custom Audio 3D-S-AC Connect Power Cable with MPD-6
For an even bigger expected (based on my previous experiences) contrast, I start listening with the gold-plated version of the new cable or 3D-S-AC powering PBD MPD-6 DAC, which, unlike my LampizatOr, is a solid-state device. The conclusion from the previous test was that while both versions of the original cable were excellent I liked the rhodium-plated versions better with tube devices and the gold-plated with solid-state ones. It doesn't mean it will always, in each setup, prove right, but I accepted it as a sort of rule of thumb.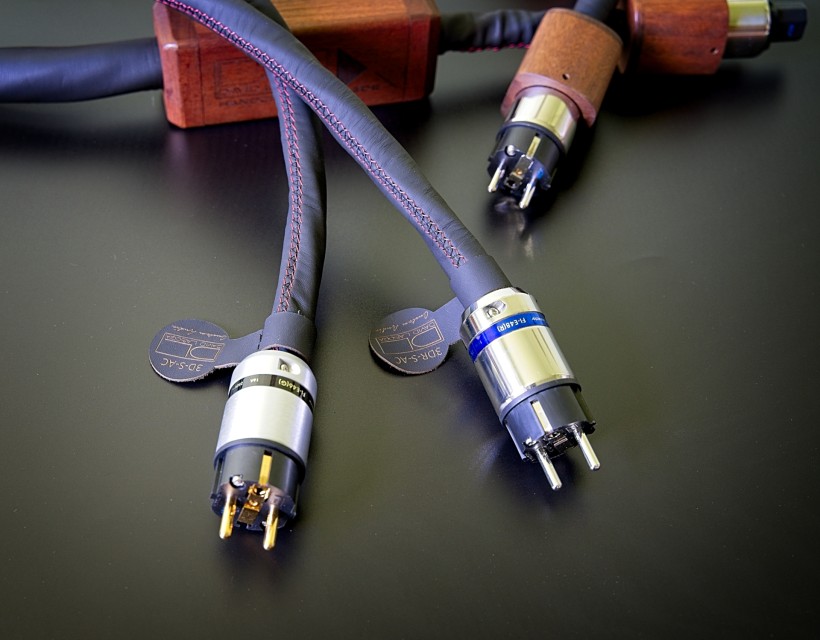 After switching to 3D-S-AC Connect from its "bigger" brother (or sister), the first impression is twofold. On the one hand, the sound is now a bit less energetic, and more laid back, it doesn't quite have the authority of the bigger sibling, although the differences are really small. On the other, it becomes even a touch richer, and denser, particularly in the midrange, and it happens without losing any of that incredible clarity and transparency MPD-6 offers. The general sonic signature may be on the slightly warmer side, but the transparency and purity of the presentation are not hindered. It's quite an achievement if you ask me.
Listening to the "Spirit of Chick Corea" I like both, drums' and vibes' sound that is deep yet sonorous, precise, yet naturally soft. The differentiation in both cases is excellent, although it seems to me that the sound (the attack) is not quite as immediate as with the original 3D-R-AC. On the other hand, it seems to me that instruments such as those already mentioned, that base their sound significantly on decay, may be presented in an even more convincing way as the last phase of the sound is richer and longer.
DL Custom Audio 3DR-S-AC Connect Power Cable with MPD-6
Switching to the 3DR-S-AC Connect again introduces some changes, particularly in the treble area which gains a bit of sparkle and freshness that I appreciate in the O-Zone Percussion Group's recording with strong metal percussion instruments presence. The general perception is of a more lively, more exciting, more 'electric' performance. On the other hand, the lower end of the band, so the drums, while tight and fast, don't have quite the same ultimate lowest punch as before. With the gold-plated version the lowest bass is slightly rounded in comparison, but not enough to blur it, it actually sounds very natural.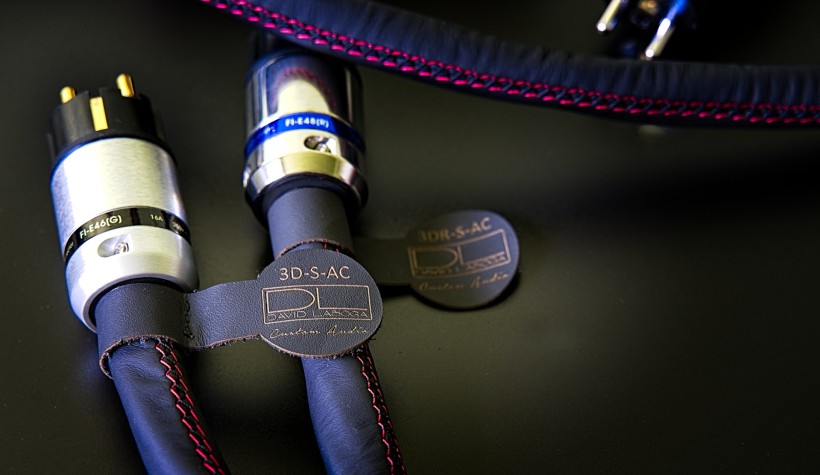 With the rhodium-plated power chord, the whole percussion performance is a little bit more about how fast, or even immediate it can be, about the rhythm being presented in an even more accurate, and 'contagious' way that forces me to tap my feet. The presentation with 3D-S-AC is a bit more relaxed, and with 3DR-S-AC it gets a touch more energetic, and more direct, but within certain boundaries so there is no exaggeration, and it still comes off as very natural. With the gold-plated version, the spatial aspects of several tracks seem to be presented in a more convincing way with a slightly wider stage, and with distances between instruments opening further up. Again, all these differences are rather small, yet I believe they are significant enough for every music lover to make a choice of the preferred version.
DL Custom Audio 3DR-S-AC Connect Power Cable with LampizatOr Pacific 2
I switch from MPD-6 to Pacific 2 as quickly as possible and this time I start with the 3DR-S-AC version. With it, all the metal percussion instruments become more prominent but in a good way – they are "more metal", more vibrant, and crisper. It also seems that the differentiation is a touch better and again, there is a lot of air surrounding instruments, and there is a glare or aura, if you will, there as if real sparks are ignited when sticks hit the metal. The performance is very 'electric' – if you know what I mean – despite the acoustic recording.
The next on the playlist is the new version of the old Victor Wooten's "Show of Hands". I love the drive and power of his electric bass, as well as the intricate details of his play. There is quite some reverb overlaid on his instrument, and Pacific 2 powered with 3DR-S-AC Connect conveys it perfectly creating an impression of a sound played in a large room with a lot of reflecting surfaces. While the spoken words, or the people behind them, in some tracks, are not as palpable, as warm as later with 3D-S-AC, they are still very natural, legible, and expressive. All the fast passages on the bass seem particularly immediate and tight, yet powerful and very well differentiated with the rhodium-plated 3D-S Connect power cable.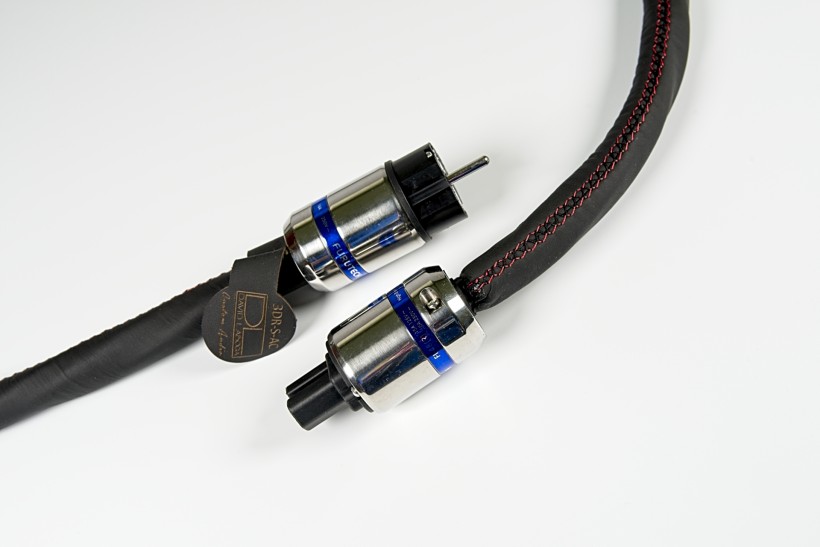 DL Custom Audio 3D-S-AC Connect Power Cable with LampizatOr Pacific 2
After switching to the gold-plated version I can immediately hear (again) the more laid-back performance. It is combined with an impression of an even more spacious soundstage. While there is this general impression of a bit warmer sound it doesn't blur anything in the presentation, it is still crisp and clear, impressing me with its richness and depth. These may seem contradictory features but once you hear it you realize that it is one of the key contributions that these cables bring into the performance making it sound even more natural and more realistic. With both versions of the "S" cable instruments have a lot of space to breathe freely, hence the sound seems open and it is delivered to the listener's ears in an impressively effortless, non-fatiguing way.
There are some instruments, like a violin for example, that I like with the gold-plated 3D-S Connect even better than with the rhodium-plated one, because they sound sweeter, more delicate, and the music played this way is even more touching. With electric music, on the other hand, I prefer the 3DR-S-AC as there is more authority with it, and it seems to improve the drive a little as well. In these regards, it is almost at the same level as the original 3D-R Connect. Yet, I wouldn't blame anyone for choosing the slightly more beautiful face of the presented music that can be achieved with the gold-plated "S" version. To be honest, after all these tests I am not so sure anymore that I prefer the rhodium version for my Pacific 2. Both have clear advantages and I like all… three of them, a lot!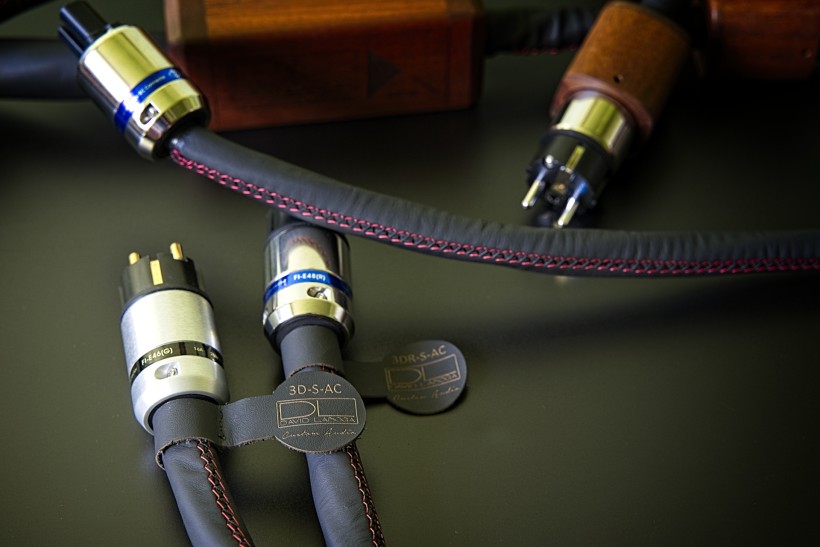 DL Custom Audio 3D-R Connect + 3D-S-AC Connect + 3DR-S-AC Connect
Ultimately, after I am done with all the comparisons for this test, I try to figure out the best use for all three DL Custom Audio 3D Connect AC cables I have at my disposal. I use them, in different configurations, for LampizatOr Pacific, (solid-state) Circle Labs P300 preamplifier, and (hybrid) Circle Labs M200 power amp. I could use one more for JCAT Xact S1, but since that's not a regular component in my setup (not because I don't like it, but because I can't afford it), I keep feeding it using the excellent KBL Sound Extrema.
The first option seems simple and most natural based on previous experiences. I use 3DR-S-AC Connect with Pacific 2, 3D-S-AC Connect with P300, and 3D-R Connect with M200. I can hear a blend of all the features I described before for each of those cables separately. There is a touch of sweetness and sophistication in the treble combined with quite a lot of energy, air, and some sparks when metal cymbals come into play. There is rich, dense, yet transparent and pure midrange, the phantom images are large and three-dimensional, bass goes deep, is punctual, powerful, dynamic, and very well differentiated. The music has its natural flow with the DC Custom 3D power cables set that makes the presented spectacle highly immersive.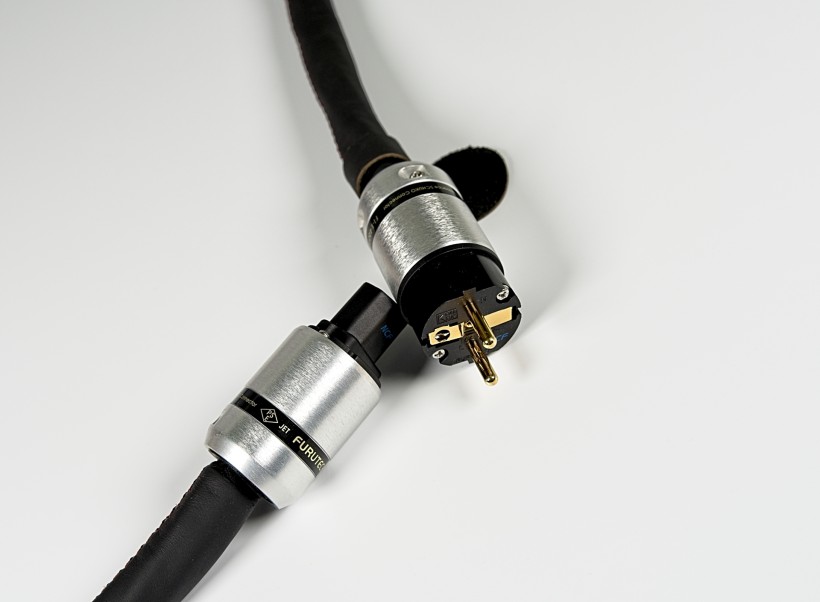 What happens if I try a less obvious application for each of these cables? First I switch "R" versions of the regular and "S" cables, meaning the original or big one is feeding Pacific 2 now, and the 3DR-S-AC connects the power amp to the electric outlet. I can't hear much of a difference. The latter obviously is as effective in feeding power amp as the former. If there is any loss in terms of how weighted, rich, and powerful the sound with 3DR-S is compared to 3D-R, it is well balanced by the latter feeding the source thus producing a touch richer, more powerful, more energetic source signal for the pre+amp combo. The final result is basically identical which means that the "S" designation is nothing more but a suggestion for application and you can get similar results using the two regardless of where you put them in the system. At least that's how it works in my setup.
As Mr. David told me, sometimes, in some systems using all original 3D Connect power cables can be a little bit too much for the setup, and replacing one (or more) of them with the "S" version can offer some ease or freedom to the reproduced sound. So even if money is no concern and you could buy a full set of the 3D Connect cables for your setup it is worth checking out whether using one or more "S" versions for selected components could result in a better performance. I found that in my system one original 3D-R and two "S" versions constitute a perfect blend of features and such a set would actually be a preferred one.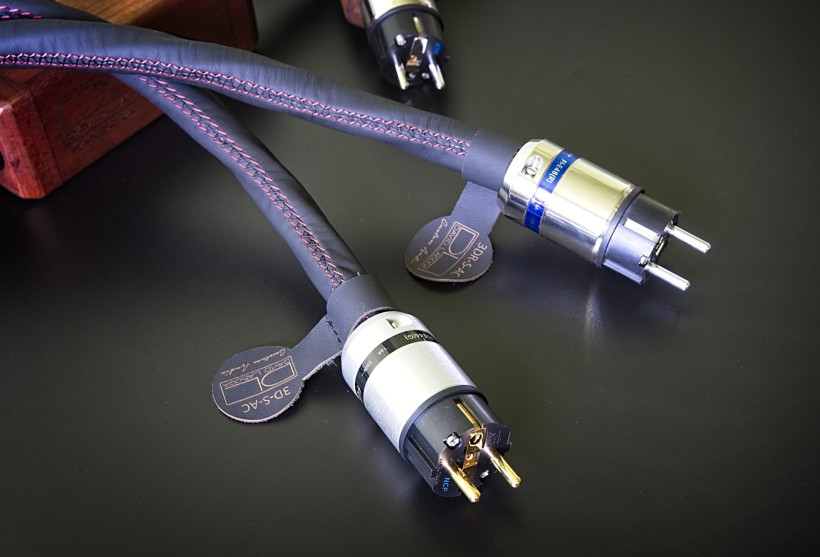 Summary
Looking at both, regular 3D (orR) and 3DR-S-AC and 3D-S-AC versions (or their respective prices) one could think that the former must be a way better cable. If you want to use just one in the system it is true, that in most cases the original 3D Connect will do a better job, or have the biggest impact on the performance of the whole setup, regardless of what device you use it with. If, however, you want to add more than one of DL Custom Audio 3D Connect power chords to your setup the choice is not that unequivocal. Having two models, each in two versions, offers you a chance to strike a perfect balance between their individual qualities. They all share a lot of the latter, yet each of them is slightly different.
The rule of thumb remains the same – if you need to add more energy, and more weight to the sound, if you need to emphasize a little bit of details and subtleties, the "R" version is one to go with. If, on the other hand, you need a touch of warmth, richness, or a tiny little bit sweeter treble, you should choose the gold-plated version. As for "S" and "non-S" versions – the latter in most cases will work best with amplifiers, and the former with sources and preamplifiers. Still, when you plan to use more than one it could be beneficial to the performance of the whole setup to use a mix of both types (S and non-S) and maybe also of rhodium as well as gold-plated versions. I am pretty confident that no matter how good/expensive your system is the right choice of DL Custom Audio 3D Connect power cables can do the job and provide you with refined, top-quality performance. The luxurious finish of these cables is a bonus making them very special in the audio cables world.
Prices (when reviewed):
DL Custom Audio 3D-S-AC Connect: 5.990 EUR / 1,8m
DL Custom Audio 3DR-S-AC Connect: 5.990 EUR / 1,8m
Manufacturer: DL Custom Audio ; David Laboga
Associated equipment:
Digital source:  a custom passive server with WIN10, Roon, Fidelizer Pro 7.10, JCAT NET XE, and JCAT USB XE cards with FERRUM HYPSOS Signature power supply, KECES P8 (mono) linear power supply for the server, JCAT USB Isolator
D/A Converter: LampizatOr Pacific 2 +Ideon Audio 3R Master Time (USB signal regenerator)
Analog front end: J.Sikora Standard MAX turntable, J.Sikora KV12 tonearm, J.Sikora KV12 MAX tonearm, AirTight PC-3, phono stages: Grandinote Celio MK IV, ESE Lab Nibiru V 5.
Power amplifiers: GrandiNote Shinai, Circle Labs M200, Art Audio Symphony II (modified)
Preamplifier: Circle Labs P300
Loudspeakers: GrandiNote MACH4, Ubiq Audio Model ONE Duelund Edition.
Interconnects: Bastanis Imperial x2, Soyaton Benchmark, Hijiri Million, Hijiri HCI-20, TelluriumQ Ultra Black, KBL Sound Zodiac XLR, David Laboga Expression Emerald USB, David Laboga Digital Sound Wave Sapphire Ethernet
Speaker cables: Soyaton Benchmark
Power cables: LessLoss DFPC Signature, Gigawatt LC-3
Power: Gigawatt PF-2 MK2 and Gigawatt PC-3 SE Evo+; a custom power line with Gigawatt LC-Y in-wall cable; Gigawatt G-044 Schuko and Furutech FT-SWS-D (R)
Network: Silent Angel Bonn N8 + Silent Angel Forester F1 + optical LAN isolator
Racks: Base VI, Rogoz Audio 3RP3/BBS
Anti-vibration accessories: ROGOZ-AUDIO SMO40 and CPPB16 platforms and ROGOZ AUDIO BW40MKII feet, Franc Accessories Ceramic Disc Slim Feet and Wood Block Platform, Graphite Audio CIS-35 and IC-35