Although the circumstances were not favorable, longing for audio shows we decided to meet with two high-end audio manufacturers, J.Sikora and SoundSpace Systems for a mini version of the High End Show… in Berlin.
Same as every year, also this January, I booked a hotel and bought a plane ticket to Munich for May. You already know it didn't do me any good. Same as thousands of exhibitors, journalists and audiophiles from around the world I stayed at home instead of going to the Munich's High End Show. If I am to be completely honest, every year before I leave, I tend to complain a bit about having three quite tiring days (as I always go for 3, not 4 days) ahead of me spent at the show that is more of a business event than a customer/music lovers one. But when I finally get there and I have an opportunity to meet many friends from many countries, some of them only this very once a year, an excitement replaces complaints. So when this year it turned out that I would not go to Munich at first I felt relieved. The closer it got to the original date of the event though, the more I regretted that I would not go. Obviously, the fact of being locked at home for many weeks only increased the desire to get away and spend time in the company of other positive audio freaks, or meet new ones. There was one more reason for some frustration, namely I was extremely curious to see and listen to a certain presentation. Which one, you ask?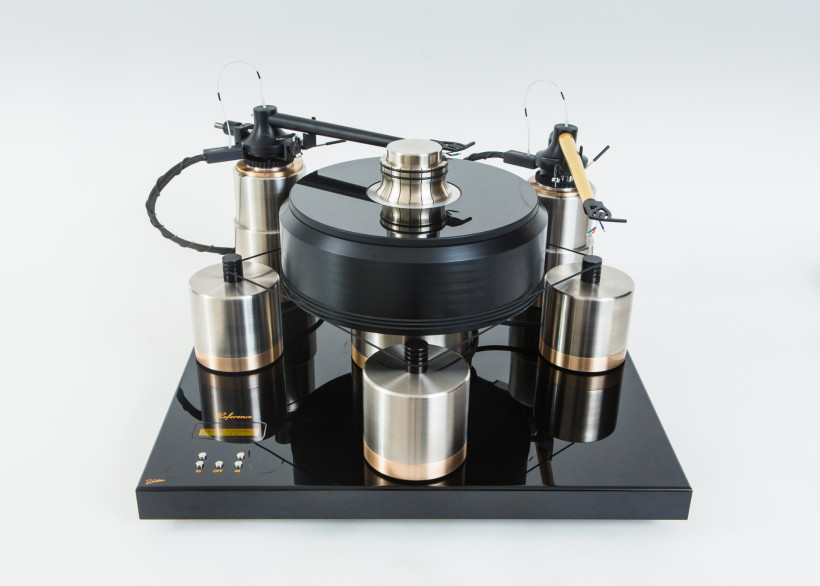 The number or location of the room are of no importance here. The thing is about brands that were supposed to join forces in this particular room. Two of them are run by people I consider friends, and I also know the man (and his son) behind the third, actually the most famous among these three. Let me come back to the latter in a moment. Among owners of these three brands I know Janusz Sikora – the designer of a line of fantastic turntables and a Kevlar tonearm – best and longest. You may know the brand as J. Sikora. I also know Janusz's son, Robert, the other key person in company's operation responsible, among other things, for building a global distribution network. I knew of Janusz Sikora for a long time, as more than 20 years ago he manufactured tube amplifiers under Burdjak-Sikora brand that made quite a splash on local market, but we only got to know each other personally when he introduced his first commercially available turntable a few years ago, namely the model today functioning under the name Standard.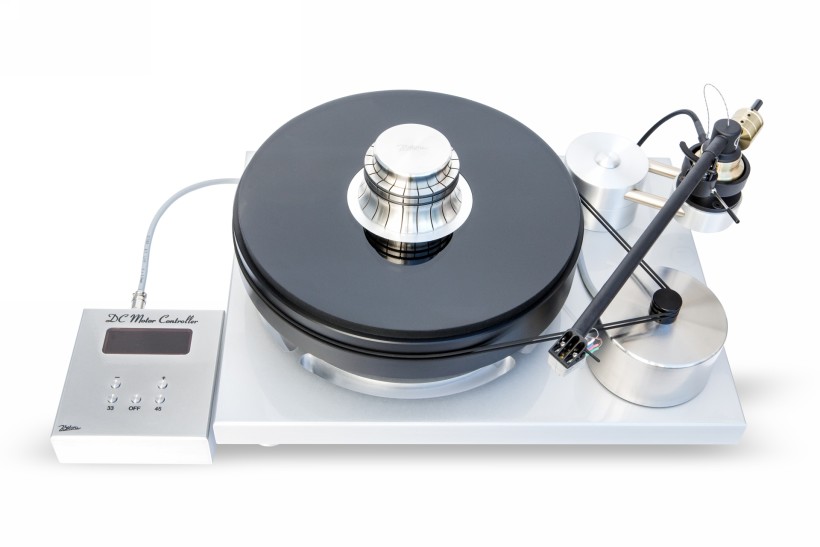 I had a pleasure to prepare, I believe, the first ever review of this product in 2015, and a bit later I became an owner of this model in the Max version. It is an excellent, well-thought-through, fantastically made and finished design, the name of which is a bit deceptive. The standard can be read as something ordinary, average. Nothing could be more wrong. In this case, it is more about a design that sets standards for others. The ability to manufacture almost all components of this turntable in-house as well as extensive knowledge and experience in the field of non-ferrous metals processing give the J. Sikora brand full control over the entire production process. The final result are simply remarkable, because each of the three models offered today (Initial, Standard and Reference) impresses with its appearance, quality of workmanship and finish, and, maybe even above all, with its top performance. I boldly count my Standard Max among the best turntables available on the market today, and the Reference has even more to offer. Even the cheapest Initial sets standards not only in its own price range, but even for a many far more expensive competitors.
A few months after the aforementioned Standard test, I became the proud owner of my own unit. Later I had an opportunity to test Initial as well, and finally, last year, the first ever tonearm made of Kevlar, named KV12. Prepared by no other than Janusz Sikora. I had a chance to listen to it in my system even before its premiere, and a little later, after the Audio Video Show in Warsaw, where it premiered, the final version arrived for a review – see HERE). After spending a few weeks with it I was so impressed that I simply had to keep it as my new reference. Combined with my Standard Max and Air Tight PC3 cartridge it created an absolutely synergistic setup that offers top-class performance, one that a reviewer needs as a reference.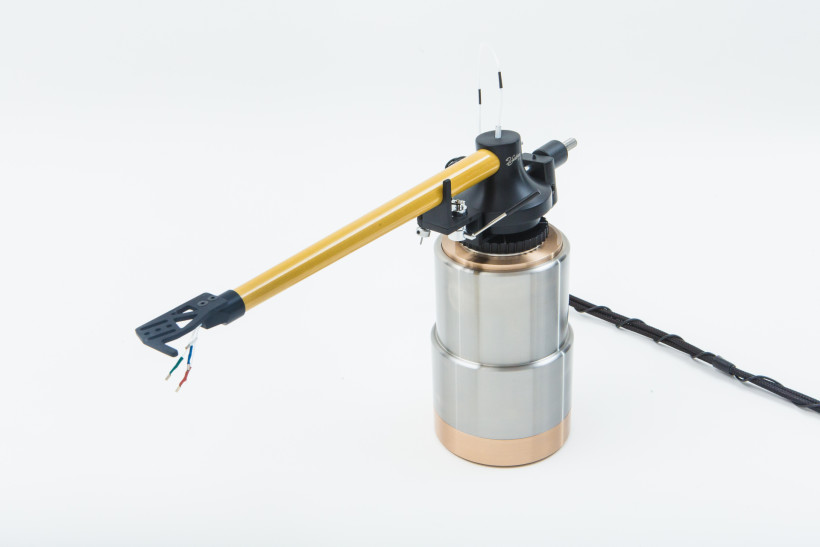 Let's stay in the year 2019. During the last High End Show in Munich, as I'd written already in the review of SoundSpace Systems loudspeakers aptly named Pirol (all the brand's models take their names after birds, and Pirol is simply an oriole), by lucky coincident I found myself in a room where these speakers were presented by the company's boss and chief designer, Dr. Michael Plessmann. Although it was one of those "booths" built on the ground floor of one of the halls, in a word, a place that completely contradicts an idea of ​​a room intended for listening to the music, the sound coming from large, semi-active loudspeakers – Aidoni (a nightingale) – caught my ears and so I spent a lot of time there. Also because Michael simply played music, including rock, classic, jazz, and not audiophile samplers as most exhibitors usually do. The sound was far from perfect, largely due to unwanted input from the room, but there was something something about it that attracted attention and evoked real emotions. So we spent a lot of time talking about music and the system, and after leaving the room I also met Ms Aneta and Mr Jacek, compatriots working in Berlin for Michael.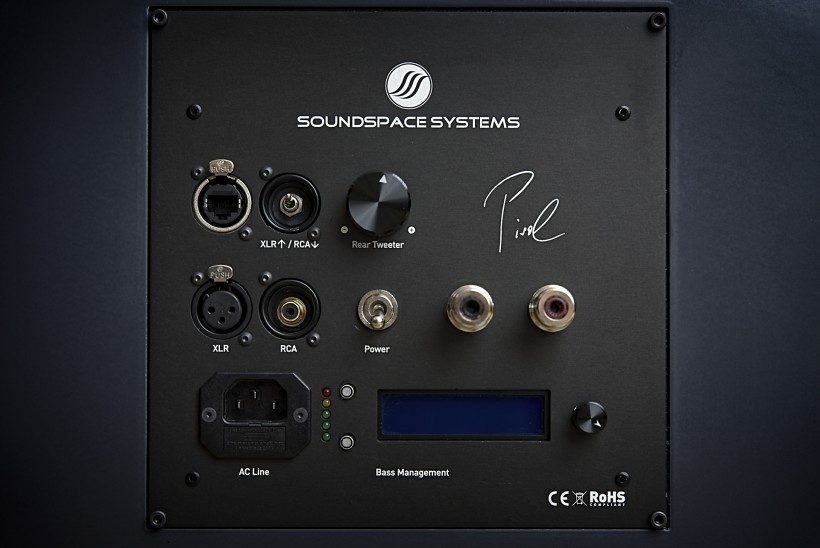 Some time after the Show Ms Aneta called me asking if I was interested in reviewing on of the SoundSpace Systems speakers and remembering a truly interesting experience from Munich I surely was. In September of the same year, I visited Michael in his home in Berlin to listen to the his speakers in his reference system to get a sense of how he wanted them to sound like, before I would get them for an assessment in my own system. Both, Aidoni and Pirol sounded great, much better than in Munich, and again I found that special something in their performance that I found so interesting in Munich despite poor acoustical conditions. It was clear that these are extremely musical and versatile loudspeakers capable of playing any music with ease, effortlessly thanks to their refined, semi-active design. We spent a great day listening to music and having fun. A few weeks later, Michael brought to me a pair of the slightly smaller, also semi-active Pirol. The loudspeakers stayed with me until the 2019 Audio Video Show in Warsaw, so that I could review them for the HiFiKnights readers (see HERE). I was honestly impressed with their effortless yet powerful, refined and highly enjoyable performance, even though that's something to be expected from a pair of speakers costing (in the reviewed version) 50 kEUR. Were it not for the fact that the semi-active design is not the best solution for a reviewer, I would start considering which organs to sell on the black market in order to be able to afford them…

Michael, who, after setting Pirols up in my room spent a few hours here listening to some music with me did not have an opportunity to check his speakers sound like with the J. Sikora turntable as a source because of a problem with the physical connection, so at the time we had to use digital source only. Yet, he used this opportunity to carefully check out the Standard Max and to politely listen to me praising it. What he saw, as evidenced by subsequent developments, clearly pleased him. At the Warsaw Show, he did not have a turntable with him, but he presented a pair of loudspeakers I tested, combined with electronics … by Hans-Ole Vitus. And it is him, the third partner of the would-be joint presentation in Munich, that I mentioned at the beginning.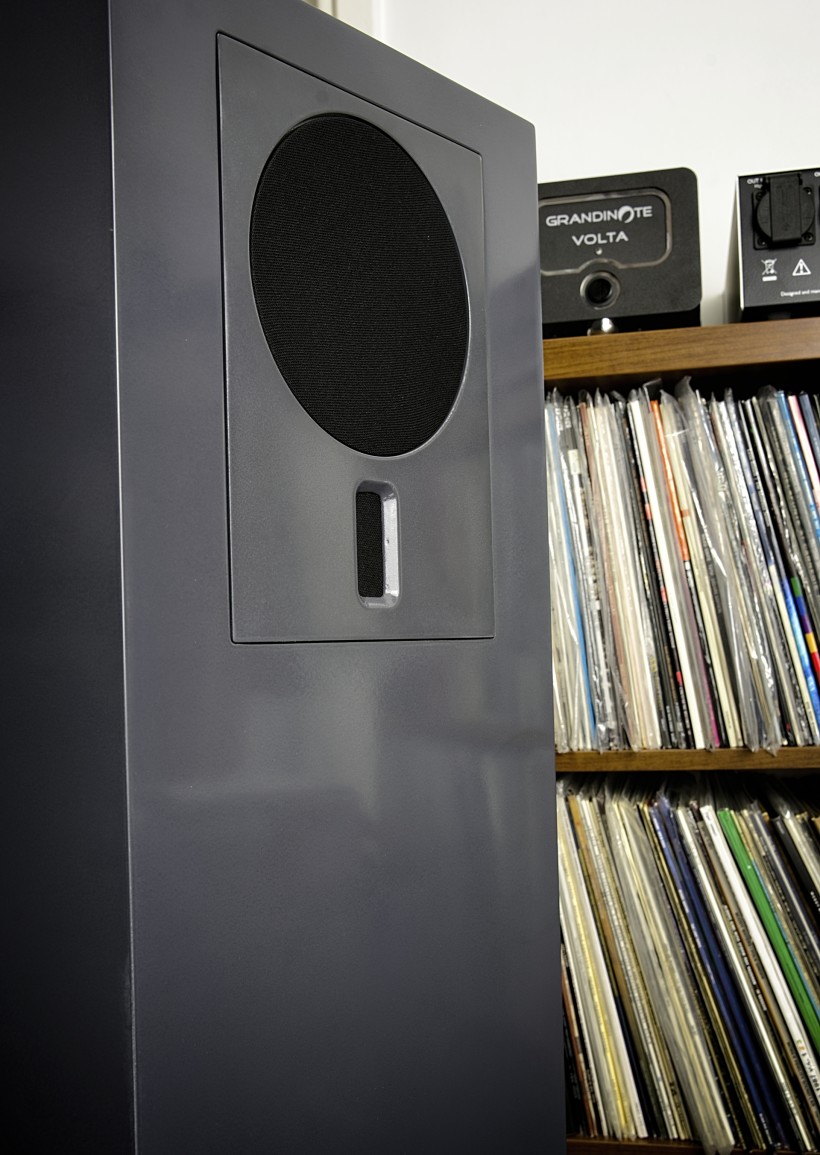 First things first. Probably in January this year, Michael called me to ask for phone number to a representative of the J. Sikora brand. As it turned out, in May 2020 in Munich he planned to exhibit with Vitus, but as a huge vinyl fan, he also wanted a top-class turntable in his room. So I contacted Robert Sikora and, although the Polish brand already had its plans, i.e. a room organized by their American distributor, the gentlemen agreed that another J. Sikora turntable would be a part of a setup the SoundSpace Systems and Vitus room. So I expected an unusual feast for the ears. Imagine, top Polish turntable, top German loudspeakers and top Danish electronics! Everything was agreed, hands were (virtually) shook and it was supposed to be a beautiful, interesting event. And then this goddamn virus hit and it all went to hell.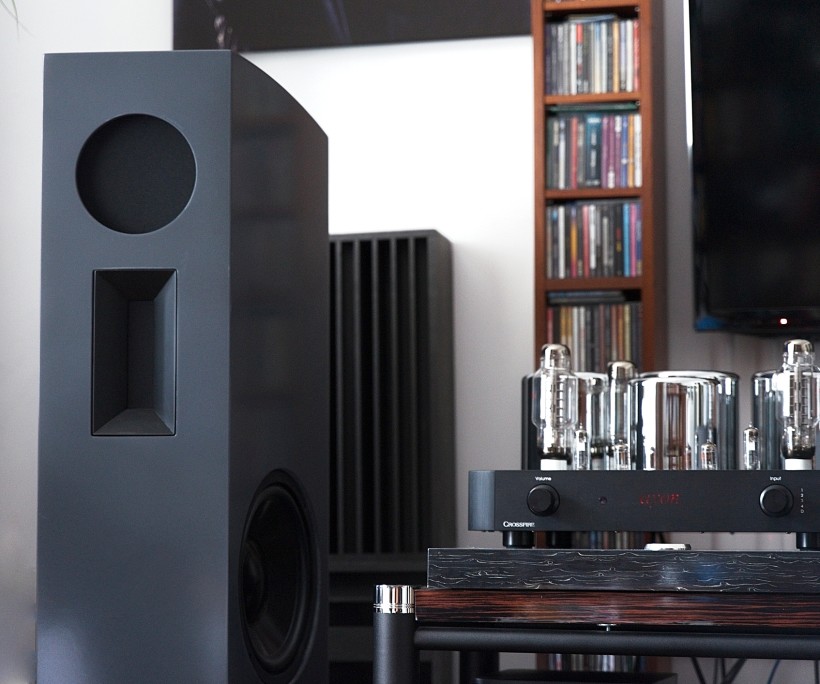 Let's fast forward to August. Probably on the same day Robert Sikora's and mine phones rang. In both cases, Michael called asking if we would be willing to visit him in Berlin. He offered to host a meeting to spend some nice time together, drink some good wine (his wine cellar is mighty impressive) and discuss audiophile as well as non-audiophile topics. It would be a perfect opportunity for Michael to present to us an improved version of the Pirols, plus the flagship Aidoni. The idea was for Sikoras to bring along one of their turntables. And this is how and why in September Janusz, Robert and I went on a road trip to the capital of Germany, carrying the Max version of the Standard record player in a trunk, along with the top power supply and, of course, the KV12 tonearm, armed with Janusz's favorite cartridge, i.e. the excellent AudioTechnica AT – ART 1000.
Assemblin the Standard Max requires some hard work; Michael's Verdier on the third photo
When we arrived to Michael's this time we found two systems ready to play music, plus a little surprise (I'll come back to it in a moment). The main system was waiting for us in the large living room, where I had spent the whole day listening to the music with Michael the year before. The flagship Aidoni in a version with unique cabinets made of rare African wood, driven by quite old, but excellent sounding FM Acoustics amplifiers paired with a preamplifier and phonostage by Dietrich Brakemeier, the man behind the Acoustical Systems brand. The source was, of course, a turntable used by Michael on a daily basis – good old Verdier with a Brakemeier's (slightly modified) top tonearm and cartridge. Fun fact – the amplifiers actually are placed one floor below, in the air-conditioned wine cellar. The second system, placed in a smaller room, was built around Pirols, finished in a modern blue lacquer, combined with Vitus electronics, including his CD player.
Aidoni in exotic African wood – beauties!
Janusz and Robert immediately started assembling the turntable they brought with, which was placed right next to the Verdier. Michael and I both admired how quickly and efficiently the entire operation was carried out. Also the cartridge setup was done quickly, yet precisely using Dr. Feickert software. The whole thing took about half an hour and a few liters of sweat (Standard Max is 85 kg, so unpacking and setting it up takes some heavy lifting). In less than an hour after reaching our destination, we were ready to play some music and later to compare both turntables. The fun consisted in listening to a several music pieces in Michael's system so that Janusz and Robert could get acquainted with it, and I could use it to refresh my memory of it, and we switched Verdier to the J. Sikora turntable. Even before we started the session, both Michael and his lovely wife Silke admitted that visually the Polish turntable beats Verdier, and actually is one of the best and most beautifully made record players available on the market. It just looks as a full-fledged high-end component. Both Sikora gentlemen, on the other hand, took a closer look at the Aidonis, asked a number of questions about their design, and although they didn't talk much (probably tired from the trip and setting the Standard Max up) they seemed fairly impressed with these large, powerful and extremely elegant designs.
This platter is really heavy!
Michael's system, set in a regular, large living room, featuring enormous glass surfaces, sounded (just like the year before) excellent. It was obvious almost immediately that this design does not require a dedicated acoustically treated listening room, but it performs remarkably well in a standard room with no acoustical treatment. Unless one considers shelves filled with thousands of vinyl records as such. The scale of this sound, the power of the (active) bass, the incredibly clean, crisp treble, full, rich, colorful, but uncolored midrange, and of course the very good overall coherence, which is not always the case when combining active bass module with passive mids and treble, made a great impression on all of us. We listened to some of the tracks at normal levels because it was more than enough to hear the full range of information from every recording. Several times however, Michael turned the volume knob hard up to show us that even then, at levels way beyond "normal" the sound is still perfectly well controlled, there is no distortion or compression. I was hard to resist the effortless, clean, powerful, huge in scale sound, the ability to resolve even tiniest details, build a huge soundstage filled with air and precisely located phantom images. Aidoni with every track, chosen either from Michael's or Janusz's (sample) collection, impressed us more. Even though I new more or less what to expect I still got wowed.
Turntable must be set up perfectly, but since it's a (mini) High End Show it needs to be properly cleaned too
In audio, it is often the case that a given system sounds great, so well that it is actually difficult to imagine or point out what could still be improved. That is, until one hears an actual improvement. It was also the case this time. The performance was so impressive that at least I didn't even think about what could be even further improved. But as it turned out some element still could which became clear quickly after we switched to the Standard Max (with the rest of the setup unchanged). We could immediately hear that the sound played now via the Aidoni benefited from an even higher resolution, more powerful, tighter attack, even higher dynamics and a tiny, but important improvement in terms of bass differentiation. The differences were like day and night, but with the J.Sikora record player also the drive, saturation, and presentation of the smallest details and subtleties seemed better.
Tonearm ready to be installed, level: check
To minimize potential differences between the two sources, a Acoustical Systems cartridge used with Verdier was moved to the KV12 on the J.Sikora deck. Even a short listening session proved that the German pickup had one advantage over the AudioTechnica, namely, when necessary, it was able to stop a sound faster. These are these moments in music when instead of having a proper decay phase note is quickly ended/stopped. It was the German cartridge that did this one part better than the Japanese one regardless of a turntable. The ART 1000 has a slightly less tight and bit rounder (although still tight and not round!) bass, so it has a hard time stopping the sound as instantly as its competitor. The point is, however, that in virtually all other aspects of the sound it was AudioTechnica that outperformed Acoustical Systems pickup. And the whole performance benefiting from it climbing to an even higher level and, with the whole system, impressing the hell out of us.
Final touches and… we're ready to play some music
We also spent some time in the second, smaller room. In there we listened to the smaller model, the Pirol, which, as Michael admitted, after my test was further improved via some small tweaks and adjustments. I will not elaborate on the sound, because I already did it in my review of these excellent loudspeakers, but to give an impression to those who haven't read the review let me point out some features of this sound. First of all, it was clear from the start that even in this relatively small room, the Pirols delivered effortlessly an open, dynamic, highly energetic sound, rich in details and subtleties. The sound was not "choking" there, there were no limitations related to the relatively small amount of space around speakers and short distance between them and the listening position.
So, which system sounds better?
Judging by clarity, smoothness and proper flow of music the Hans-Ole Vitus' electronics did a great job, which was to be expected. I had a chance to listen to Pirols at home, i.e. in a bit larger room than this one, as well as at the user's in Warsaw, where they played in a large living room and in each of these three rooms they were able to present their great potential and class. In a word, although it is already quite a large model, thanks to its semi-active smart design, it can be adapted to almost any acoustic conditions and still perform extremely well. Obviously those who have large rooms and bank accounts should go for Aidoni and be awarded for it with even more refined, more powerful performance and larger scale sound, but for most users (still with quite deep pockets, but one needs them if the top performance is what one wants) Pirols should be the right solution regardless of the size of the room and acoustical conditions in it.
Listening carefully, assessing, switching catridges and yes, that's where the oil goes in
I have already mentioned the surprise Michael prepared for us. Since the Pirol test, we talked several times, so I heard about several projects that our German designer was working on. One of them has reached the stage of an already (almost) finished product. Almost, because the cabinets, by the way, made in Poland, arrived in Berlin just a few days before our arrival. Hence, the newest, smallest model of semi-active loudspeakers that is to join the lineup was not quite ready yet for a presentation. However, I was able to take a look at it, and below you will find some photos. This model should be a perfect choice for owners of small to medium size rooms offering typical SoundSpace Systems performance level, huge, powerful, refined sound while its price tag should be more attractive (the final price was not set yet). We agreed with Michael that since he only had to finish the assembly and work on a few details to have the final version ready, if the (pandemic) situation allows, in October, maybe in early November he would ship them to me for a review. So in a month or two watch out for another review of a SoundSpace Systems loudspeaker. I'm looking forward to it!
A sneak peak at the upcoming new, smallest, but also semi-active model
We spent a day and a half with Michael, Janusz and Robert listening to music using two fantastic systems (well, mostly the bigger one, because it was just even better sounding), talking, drinking good wine and eating great food. Calling this event a mini-High-End was self-imposed, because this is what the Munich Shows look like every year …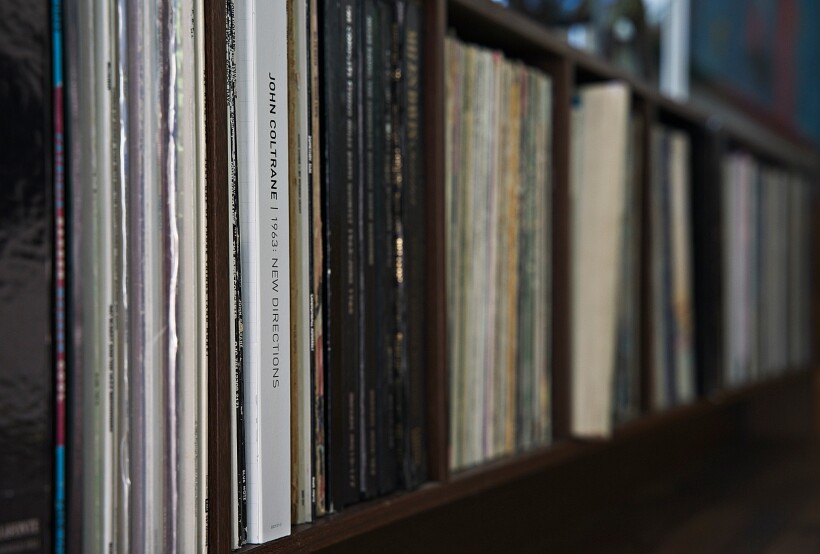 Experiencing a variety of music from dozens of albums with the help of one of the best systems that I had heard so far, I regretted even more that the Show (well, none of them) did not take place this year. I am glad that people behind these two brands, that I value very much, apparently appreciated each others designs. It seems that there is a chance that the J. Sikora turntable will become a part of the SoundSpace Systems reference setup, but also that the SoundSpace Systems speakers will play in the J.Sikora showroom. I really hope it will happen as I believe it will benefit both parties – these are top quality audio components, both in terms of make&finish and performance, and they do sound remarkably well together. And as for the Munich's High End – who knows? If it does take place next year (fingers crossed!), maybe we will see these two brands rocking the room together. Thank you to Michael and Silke for the hospitality, Janusz and Robert for the company and transport. I hope you had as much fun as I did.