Ever since its early days Nic Poulson's company ISOL-8 Teknologies Ltd. was exclusively known for products designed to provide clean AC, but in early March 2021 this portfolio had officially expanded. The man's latest effort baptized Prometheus by ISOL-8 is a linear power supply for components in demand of external DC lines, and also his first of this kind. Enjoy!
Introduction
Although the most recent ISOL-8 story published here dates back to July 2018, this brand's founder Nic Poulson is no stranger to this site. His second business – Trilogy Audio Systems – established in 1990 celebrates its 30th anniversary this year, which is time long enough to learn a thing or two about the fine art of audio engineering, subsequently follow with many richly voiced superbly dressed products and that's Trilogy's roster in a nutshell. As a full-time reviewer I'm familiar with eight its subjects and I own two. But more importantly, after peeking under all these bonnets I'd learnt that oversized overspec'd power supplies are Nic's signature move. Even his most affordable hardware fits that profile and for a good reason as it turns out.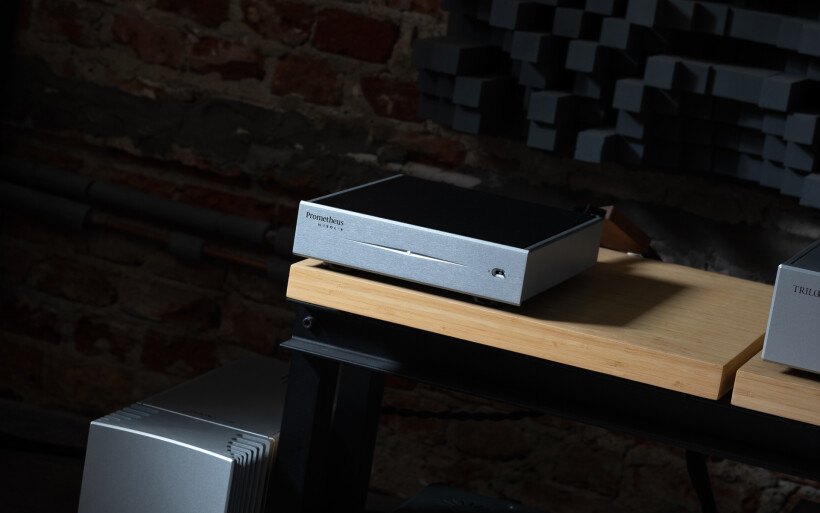 For many years Nic had operated within an industrial sector far away from the audio biz. His circuits designed to withstand harsh weather conditions were used for powering airfield runaway lighting all across the UK. Back then the man already had been an avid audiophile who fully understood foundational qualities of clean power feed in this wacky hobby, hence followed the decision to commercialize his developments on this front and that's how the company IsoTek came to be. It was a ship with two captains at its steering wheel and Nic's goal was to sail solo. After parting ways with his associate several springs later, the British engineer had established his own audio house ISOL-8 Teknologies Ltd.. The name itself is a clever word play that reads isolate, which means freedom from external influence and, given this operation's profile, it fits like a glove.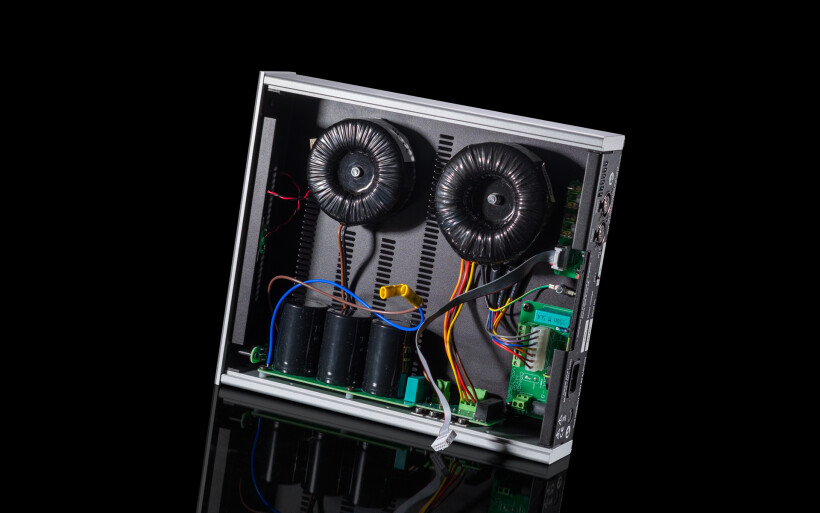 ISOL-8 brought Nic renown and generously developed distribution network to finance i.e. Trilogy's very costly R&D and move forward with its luxurious inhabitants; phono/line stages and various amps. The former brand lists only power cords/bars/conditioners and many other products designed specifically for custom/pro installations. Although that's quite the range, several things come to mind upon investigating its audiophile bits up close. Robust simple enclosures reign supreme, performance comes in above all else, there's no overlap on utilities with Trilogy's stuff but mutual compliance, and prices are kept at sane levels. Although ISOL-8 has been around for very long, even its dearest trooper sits way below top shelf specimens by GigaWatt, AudioQuest or Schunyata. I find this very unusual.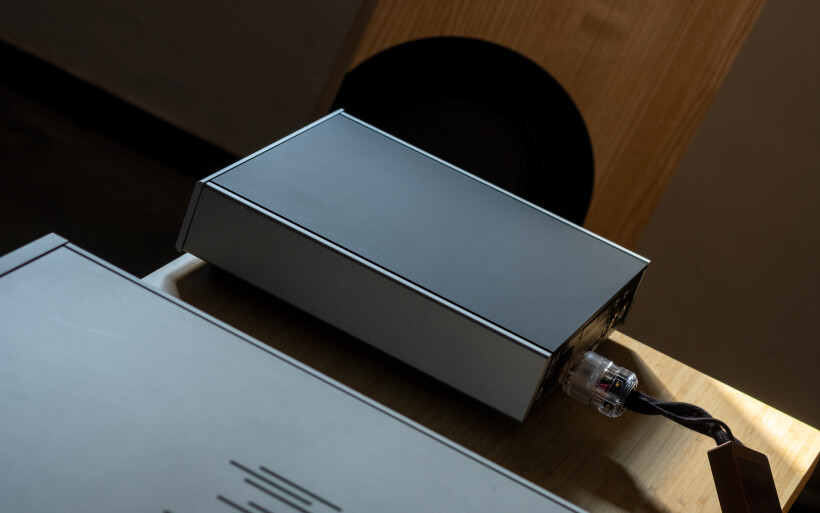 A Prometheus by ISOL-8 is a linear power supply so nothing unheard of, but it got me very curious nonetheless. The JCAT Optimo 3 Duo reviewed here already proved me how beneficial for sound quality this breed can be, and just now the opportunity to dig deeper into this subject revealed itself. However, linear PSUs often connect into digital components outside of Nic's menu. Today's newcomer thus took this fully-fledged vinyl enthusiast a fair bit outside his own engineering comfort zone, and also is unlike anything else he did before. But considering the man's track record and speciality in power, he had to come up with something. Now we're about to find out what that is exactly.
Build
A regular cardboard housed two internal supportive structures that locked into place the key ingredient inside its thick foil bag. A manual and regular power cord stored in a small compartment on the side were the only extras. Most linear PSUs feature DC cords but not today. Nic explained that there's too many plug types out there for him to keep up at this time, which is why for today's loaner to work I had to roll up my sleeves and DIY necessary cables. Although it was a fun little project for me, it might not be for paying customers not used to soldering fumes, so they should take this matter into account.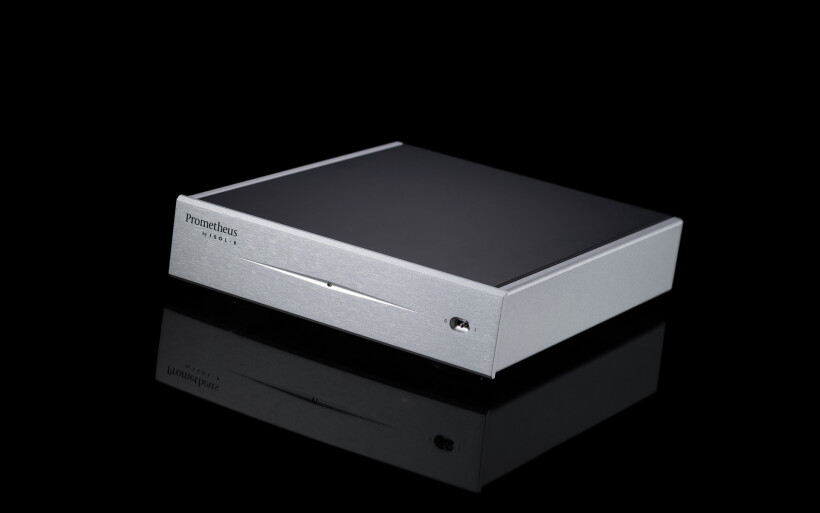 This report's Prometheus by ISOL-8 measures (W x D x H) 270 x 306 x 74mm and weighs 6.4kg, so is enjoyably compact though heavy. Its thick brushed silver aluminium front panel with trimmed top and bottom edges protrudes slightly over remaining walls, a LED in the middle of its horizontal recession goes white upon flipping a switch located a bit further to the right, and the model/manufacturer logo in the upper left corner seals the deal. The enclosure's cheeks and hood are machined aluminium plates to efficiently dissipate heat, and rubbery stealth black paint on top contributes here as well. ISOL-8's newcomer all silver has its ratings 20% lower, which is why today's two-color version with the same price tag would be my choice.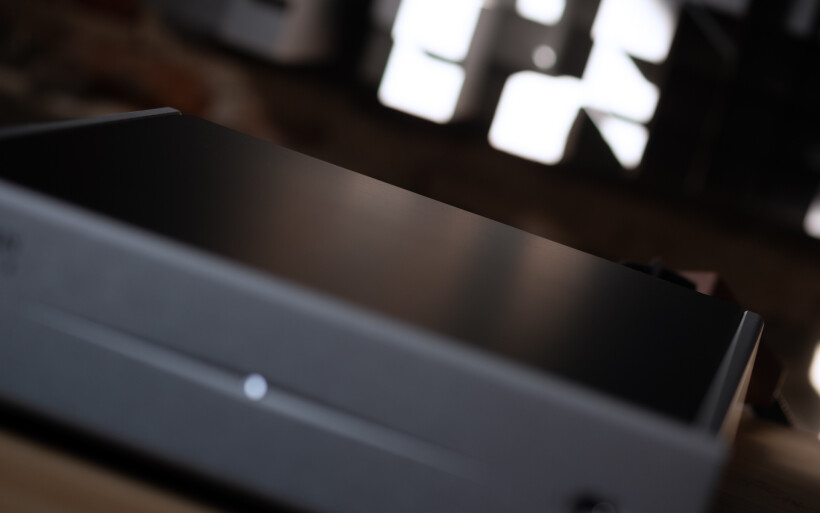 The Prometheus' locally perforated aluminium underbelly bent at a right angle also forms its rear panel occupied by a fuse compartment, IEC inlet, voltage selector switch and two Neutrik's gold-plated 4-pin male XLR DC outlets. My loaner arrived as a single-channel version with variable 5/9/12V lines respectively rated at 4.5/2.5/1.5A, so both its DC sockets output the same voltage selectable from this list. Product versions with any of these voltages fixed are available for £50 less and provide greater continuous current delivery. The empty space labeled 'CH 2' on my sample's business end implies that dual-channel specimens are in the works. Its four anti-vibration Krion footers add £105 extra to the bill, but accordingly to Nic they're worth it. For many years he's been using this composite i.e. under transformers in his Trilogy hardware.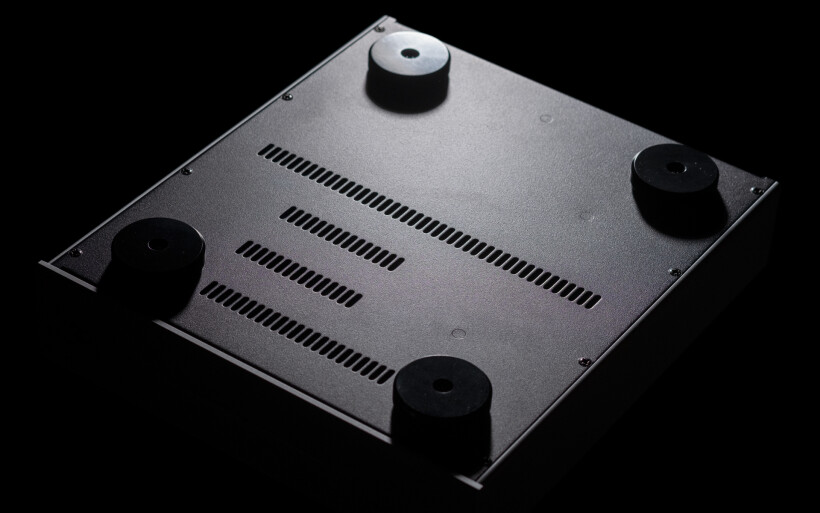 ISOL-8's newcomer is available as a standard fixed/variable (£1'200/1'250) version and this report's fixed/variable (£1'350/1'400) special edition (SE) that gets 50% more power supply capacitance (204,000uF versus 136,000uf), higher-tiered internal cabling and better quality components in its regulation stage. As a plug'n'play affair that needs no additives other that its main on/off switch, it's fully ready upon connecting to the mains and flipping that knob. It scores very high on assembly, used materials, robustness and stable mildly warm MO during usage. Such products are inherently modest lookers meant to work in the background and Nic's latest undoubtedly fits that description, but also feels above-average premium considering its type. Fancy Trilogy-like dress code surely helps with that, but Prometheus machines released under this brand would have to make their way to a regular distribution network and effectively sell for far more. Direct availability and the ISOL-8 badge on them prevented this.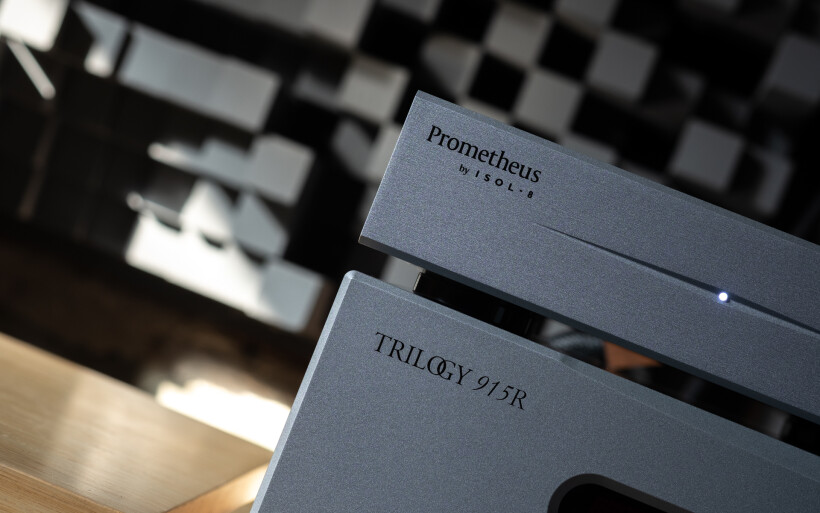 The Prometheus' quite unusual interior houses a fully discrete linear circuit, free from any switching power supplies and ICs to regulate voltages. It also features two nearly equally sized toroidal transformers; one used for the usual and the other as a choke input power supply that provides continual and sinusoidal current flow for caps, which results in lower noise and more constant energy flux. Four Schottky's diodes fixed to the enclosure's right panel are bridge rectifiers, three bulky filtering caps (68'000uF each) are made for Trilogy's specs and branded accordingly, and the main regulation board is married to the bonnet's underside. Output devices in that area are biased deep into class A for continual current flow and its instantaneous delivery. This PCB also includes an opto-isolator and several op-amps, here used for monitoring activities, as error amplifiers etc., so they're a part of the product's regulation stage outside of its key task. And lastly, each Prometheus is put together by Nic himself in the UK.
Sound
The Innuos Statement handled storage/transport, then a LampizatOr Pacific DAC (KR Audio T-100/Living Voice 300B + KR Audio 5U4G Ltd. Ed.) passed signal to a Trilogy 915R/995R set that connected via a Boenicke Audio S3 speaker cable to either sound|kaos Vox 3afw monitors or Boenicke W11 SE+ floorstanders. Interconnects used were Boenicke Audio IC3 CG and XLRs which I DIY-ed. All key hardware was powered by Boenicke Audio Power Gate distributor box plus its three captive M2 cords and two LessLoss C-MARCs. The USB chain included the full iFi audio stack; a micro iUSB3.0, nano iGalvanic3.0, three Mercury3.0 USB cables in-between plus one 9V iPower. A set of external LessLoss Firewall for Loudspeakers modules complimented both speaker sets, while a Fidelizer EtherStream was in-between my Linksys WRT160N router and Innuos Statement server. A GigaWatt PC-3 SE EVO+ power conditioner fronted by its own LC-3 EVO cable fed PSUs for the router, USB reclocker and network switch.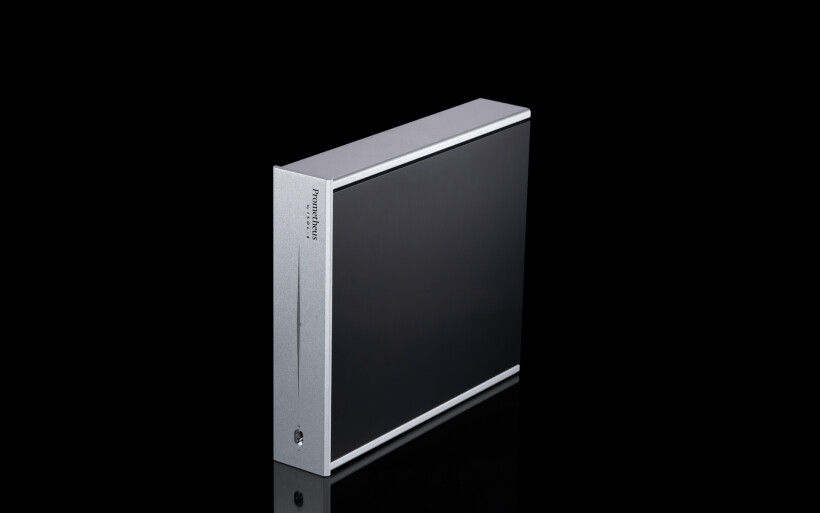 The Prometheus was a breeze to use in practice. Two its outputs accommodated my setup's two out of three DC-powered residents at once, luckily all geared for 9V. Past the JCAT experience I didn't have to think about what to connect. I already knew that iFi's reclocker was a dead cert and Fidelizer's switch was second best to reap linear benefits, so the Linksys router was left with iFi's switching iPower. The Prometheus connected to the Gigawatt PC-3 SE EVO+ power conditioner and sat on the bottom shelf of my rack. Naturally a micro iUSB3.0 and EtherStream were either powered exclusively by two iPowers or the Prometheus' DC lines, so two quick DC plug swaps were all I had to do map the latter's sonic action. To make iGalvanic3.0 and micro iUSB3.0 useful, I've used the Innuos' digital output other than its pre-conditioned USB DAC out.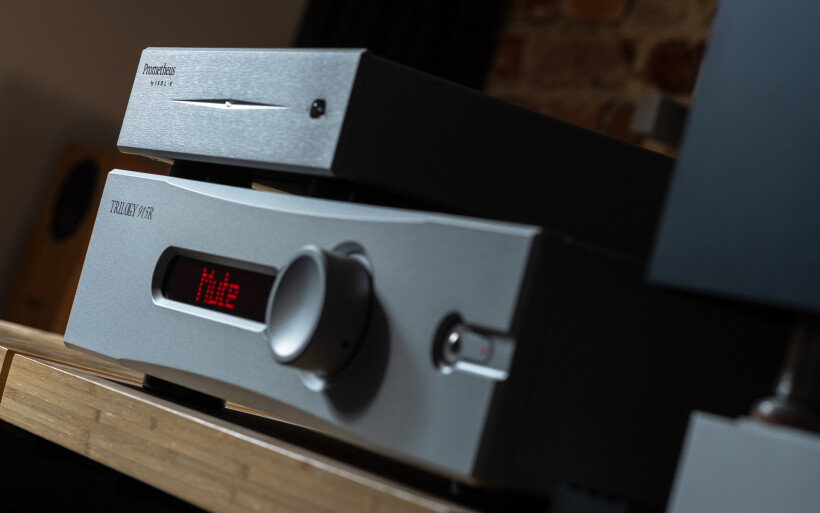 The Prometheus wasn't the first linear case under my roof, so naturally prior to its first sign of life I had firm expectations. Clean power feed results in increased backdrop blackness and removal of excess grain, and the key difference is in how thoroughly these two bases are covered. Although my setup at its current stage already is well-sorted on this groundwork, JCAT's linear PSU and Innuos' PhoenixUSB reclocker already proved me how much untapped performance reserve it still had. Both these products applied at their respective junctures went substantially beyond basic polishing touches to effectively present each track as noticeably improved all across the board. This wasn't a complete metamorphosis as everything on my playlist sounded just the way I remembered, but better. Put shortly, both the JCAT and Innuos increased my rig's performance at no sonic penalty of any kind, their price tags reflected this rather well and the Prometheus revealed itself as very much alike.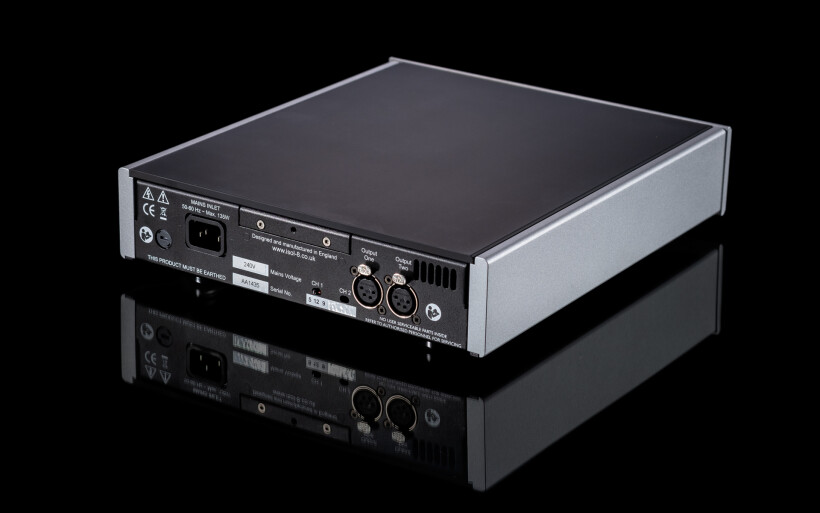 Even though my setup's USB line, power bar and cables already pronouncedly elevate its performance, past removing the Prometheus the same tracks instantly felt more bloated, lazier, less clear, rather hollow and duller. This transition was pronounced enough that merely one today's on/off rotation was all it took to understand what this box did. Its significant contribution was enjoyably familiar and that was very clear. Although the JCAT got me quite accustomed to this sort of useful highly potent action, the similarly geared Prometheus still had me surprised how important power for additives outside the signal path was, and how meaningful they truly are.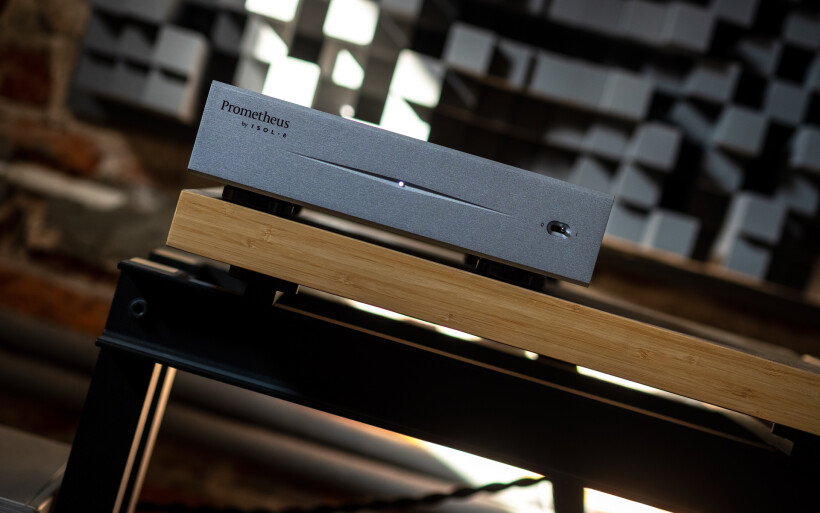 Although it doesn't really matter whether on my reviewer bench there's a linear power supply, reclocker, filters for loudspeakers or titanium decouplers, their efficacy does. My alarm with several in-built thresholds knows when to barely blink and tickle my senses, and when to ring loud and instantly point at what triggered it. In this context the Prometheus' action made it all red and crazy. Calm, dreamy and emotional repertoire this PSU made more subtle and delicate. Previously audible harshness and itch heard in high-pitched female vocals were gone. Percussion swings felt more substantial and longer on decay. Voices were now outlined finer so aurally more visible and rendered on darker, grander, more enveloping and spookier space. More vigorous heavier bits of my playlist had all virtual sound sources fleshier, more sensible, precise and direct but not moved either further or closer. Images way behind the first row were now far clearer, whilst the entire space now more generously oxygenated and breathing also highlighted more tiny particles suspended in air. Major reworks done to bass made it harder, tighter and quicker on short jabs. Wobble and hollowness were goners. Dynamic contrasts expanded to provide substantially more involving, energized and livelier ride.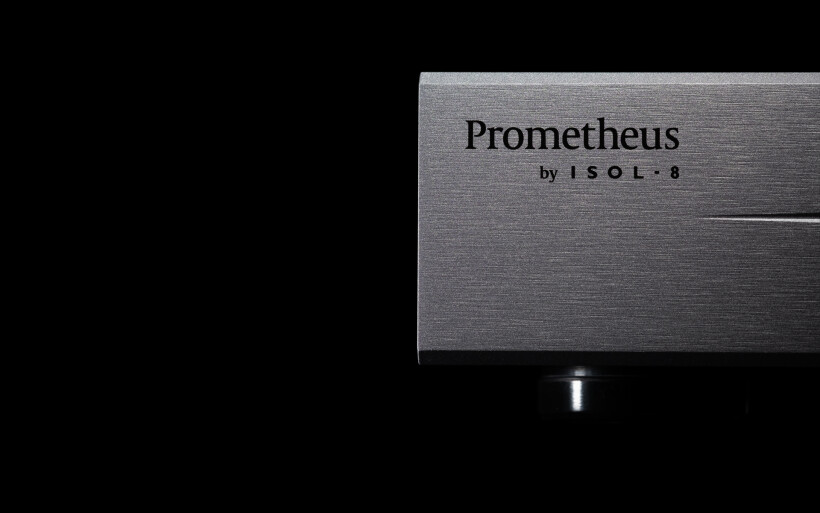 The Prometheus' extensive work as described emerged as a universally synergistic safe fit for any repertoire type. Although each auditioned track sounded better, their natural gestalt and core profile were left intact and that was key. But then again, so was the fact that upon disengaging the Prometheus everything pretty much collapsed to become handicapped on dynamics, shy on euphonic feel, nowhere near as sonorous, texturally flatter and coarser, and bass-wise dull and empty inside. I see no exaggeration in comparing this plain robbery to replacing any big setup ingredient, think DACs or amps, with its lower-tiered counterpart. As painful as this experience was, now I knew how not having the Prometheus nearby felt like and I didn't like the sensation. Not only this, in the past both the JCAT and PhoenixUSB managed to tame Boenicke W11 SE+'s boom in this space and now so did Nic's newcomer, which was highly useful from my perspective.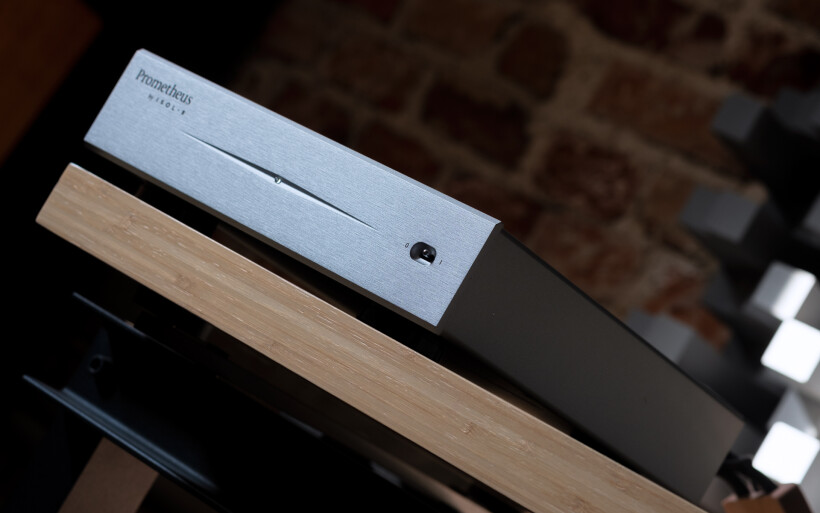 Although affordable, iFi's iPower switchers are noticeably better versus regular wall warts, so the Prometheus' substantial leap on performance over them was rather puzzling if not disturbing at first. Engage it and presto, spatial frames grow larger and virtual outlines become bolder and more distinctive. Top end is heftier, longer and less itchy. Accuracy jumps up, bass gets snappier, momentum and immediacy go wilder. Everything feels more coherent, oxygenated, connected, elastic, smoother and refined. Now take today's box away and insert back switching critters for a blurrier, more stale, grainier, smaller, nowhere near as composed and less detailed hit. Ouch indeed.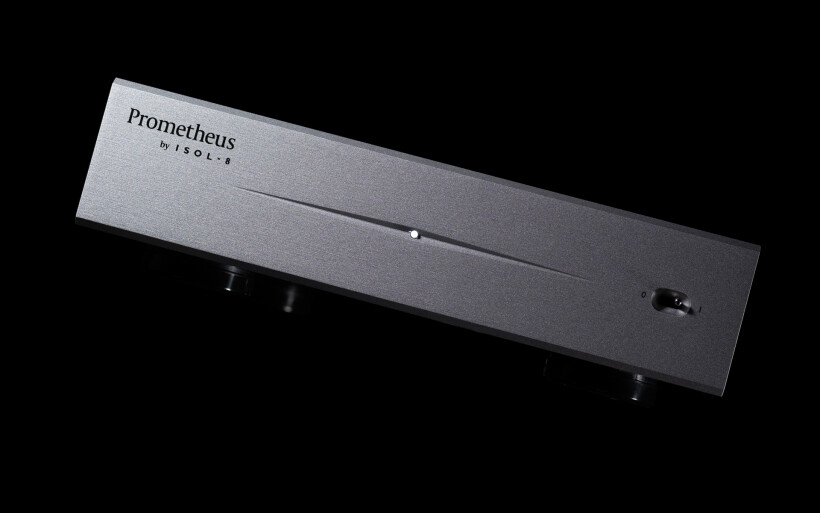 It was time to investigate which DC-powered component was the most fond of the Prometheus' feed. Long story short, all three were but spoke differently about its company. My USB reclocker landed larger more accurate images, sounded quicker, fleshier and benefited from the Brit the most. The Fidelizer on the other hand became beefier and tighter to slam larger harder blows and feel bolder all in all, but also more subtle and sensual on vocal jobs. The Linksys powered by the British PSU was less grainy, somewhat faster and not as stingy on colors as it was before. Although it underwent subtle touches rather than thorough makeover, they were still meaningful. All things considered, the Prometheus revealed itself as a highly potent performance injector that offers progress with no strings attached. Past changing i.e. my DAC, speakers or amps it will remain just as relevant and useful, so I see it as a safe purchase for years to come.
Summary
My previous exposure to JCAT's linear PSU and Nic Poulson's work were the primary reasons why I was confident about his successful debut on this front. Upon pouring his know-how into the Prometheus and sending it my way, this British engineer still wasn't quite sure about its sonic performance. Now he's about to find out that this fire-stealing Titan isn't going back home and I'll gladly cover the expense associated with its new one. Mine.
Although it sells under the ISOL-8 banner, the Prometheus struck me more as a bolder posher Trilogy type. Its visually modest fully aluminium dress and internals felt unusually premium and fair bit above all supportive audio boxes I'm familiar with. Useful voltage ranges either fixed or variable, two DC outs and lukewarm flawless operation should please vast majority of individuals after such hardware. Narrow financial spread that covers all available Prometheus versions is a smart move and today's overall execution is top notch. Lack of DC cables to use it right from the get-go is my only nit. But knowing Nic, he'll most likely come up with something suitable above regular throwaways rather soon.
Thus far I considered linear power supplies as non-essential niche-fi best tackled after sorting all fundamentals, but now I'm not so sure. Just as the JCAT before it, the Prometheus by ISOL-8 also brilliantly improved my system's core voice without altering it or demanding anything specific in return. One such an outcome could've been a coincidence. Two formed a sonic pattern clearly fit to universally boost any setup with DC-powered components I can think of. That's exactly why the Prometheus had to stay in mine, and now you know that it exists. 'Til next time!
Associated Equipment:
Retail prices of reviewed components in EU (excl. tax):
Prometheus by ISOL-8 as reviewed: £1'505
Prometheus by ISOL-8 SE fixed/variable: £1'350/1'400
Prometheus by ISOL-8 fixed/variable: £1'200/1'250
Krion footers (a set of four): £105
Manufacturer: ISOL-8