The recently founded local audio house Qualio has only one product in its current lineup. However, this introductory sanely priced speaker set named Qualio IQ is very unusual and promises a lot. Now it's time to take it for a spin. Enjoy!
Multi-faceted intelligence
Each time a manufacturer who greatly impressed me in the past is about to send my way something new, I get all excited. The company Cube Audio did that four times in a row without fail, so any upcoming developments under that banner instantly have my full attention. To recap, this well-established successful local audio house specializes in purist wideband loudspeakers infused with homebrewed drivers. Its head honchos – Grzegorz Rulka and Marek Kostrzyński – made a number of clever engineering decisions which got them there. Instead of extreme sensitivity they pursued maximum linearity and bandwidth, achieved via unusual low-loss phenolic spiders, cones armed with multiple whizzers and strong magnets comprised of tiny neodymium slugs locked inside large acrylic compartments. Cube Audio's passive lineup includes seven specimens efficient enough to work well with low-power amps thus true to the full-range breed. More importantly, those I had the pleasure of sampling were highly domesticated shout-free performers for masses and reasonably compliant with hardware their own inherently fussy inaccessible kind strictly forbids. Atop fabulous voicing across the board I've found that shared behavior a brilliant virtue. Ask a full-range aficionado about a class D amp with a speaker set like that and he'll brand you a blasphemer. Ask Grzegorz and Marek the same with one of their own designs and they'll only mischievously grin. This time around however we detour from Cube Audio towards their second brand named Qualio. Strap your seatbelts, it's going to be quite the ride.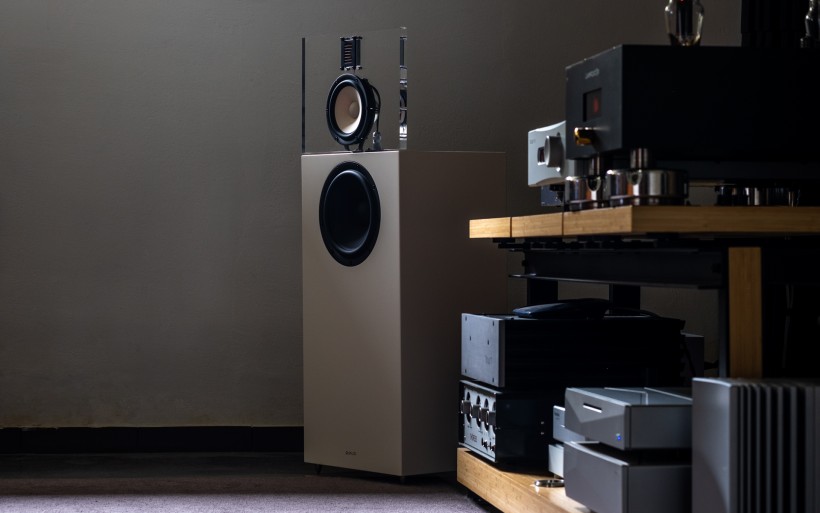 Prior to moving forward please take a look at this Srajan's article. There you'll learn how Qualio came to be. In short, Cube Audio products aren't exactly affordable, so its founders wanted to mint something less wallet-intense upon securing their position in the audio biz. To achieve this goal they moved from their own posh full-range transducers and associated niche topology towards OEM drivers, crossover networks and other more mainstream means. Their first such an effort in form of a compact 2-way monitor set was showcased in Munich in 2022. Although it sounded nothing like the usual Cube Audio suspects, the result was promising to say the least. Still, Grzegorz knew that they could do better on scale and intensity, so that project was scrapped. Several months later he called to ask whether he could drop by and show me something cool. My answer was obvious.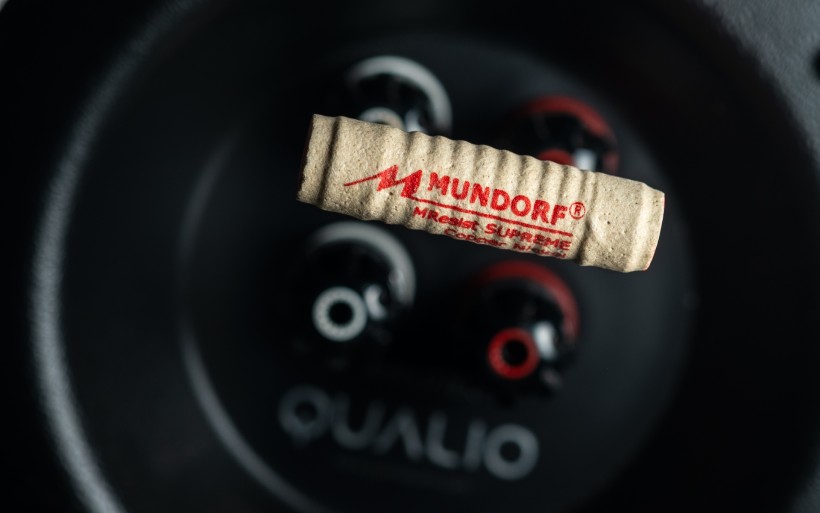 When Grzegorz and Marek land a design they both feel confident about, they visit friends to field-test it in conditions other than their own. As for my listening room with its unusually low ceiling, Grzegorz considered it a touch darkish and my setup's sound there quite polished. Several diffusers and multiple noise-killing products have this exact effect, so I couldn't agree more. In any case, the man had with him a rather large 3-way monitor set. Visible point-to-point soldering, basic wooden legs and utilitarian casework free from any veneering or paint implied an effort still in its infancy days. It mattered naught. That contraption in its early development stage already sounded enjoyably open, raw, snappy and big as is, especially given its small footprint. My guest who seemed more than happy with this design explained that it was destined to open up their new roster named Qualio. Fast forward to late 2022 and the local Audio Video Show, where the same speaker set baptized IQ had its official debut in one of Radisson Blu Sobieski's rooms. It had flourished into a proper floorstander type and most visitors found it truly spectacular there. In April 2023 the opportunity to accommodate this newcomer under my roof had finally presented itself.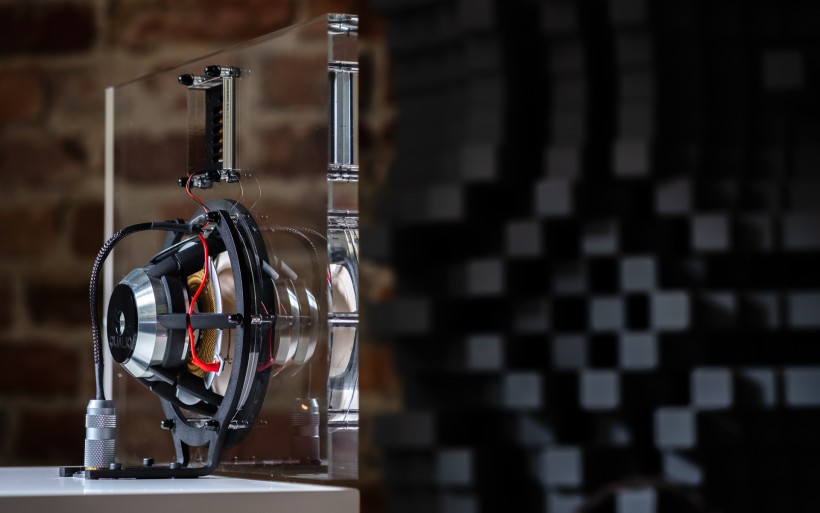 During his visit at my place Grzegorz also explained that all the street cred they amassed as Cube Audio meant a bit easier start for anything new they wanted to do, including cost-effective designs. He said that now they simply have ways and knowledge to make great sounding products for less. Just so we're clear, I'm aware that downscaling is a dirty word among enthusiasts obsessed with the very best, but in this review it simply doesn't apply. Qualio isn't Cube Audio's affordable offspring by any means. It's something else entirely. Both brands incorporate widebanders yet have very little in common otherwise. The latter is for purists who understand and cherish costly boutique full-rangers loaded with folded transmission lines inside voluminous enclosures. The former's firstborn based on OEM drivers cleverly blends vented bass with dipole drivers via crossovers. Apples and oranges. Most importantly, the same skilled engineering team of two is behind all of it. Grzegorz and Marek have been around long enough to give them some credit no matter what they decide to do, so let's.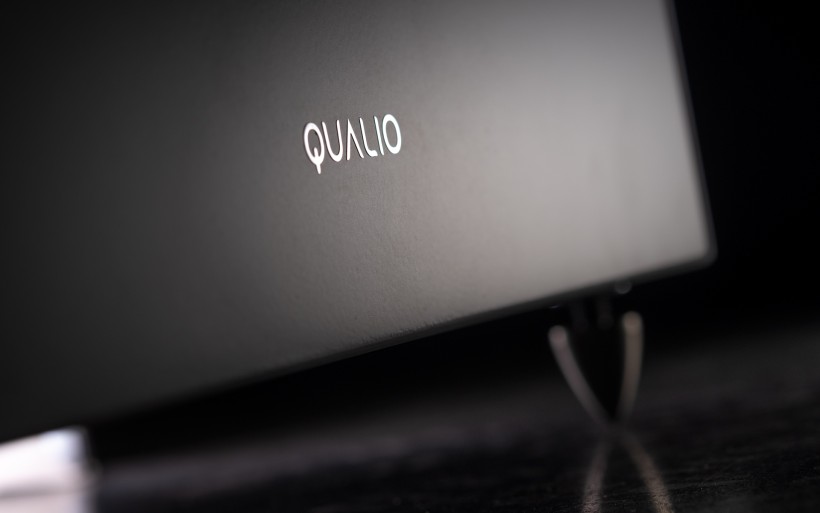 Cube Audio's founders had everything well thought out. Full-range fans have plenty to choose from this lineup, while Qualio is for those who don't hold a grudge against multi-driver speakers and want results without bleeding out their bank accounts. Since most parents don't want to see their kids fighting to the death, the two listed brands don't compete on topology and coin as well. To quickly get financial matters out of the way, it may seem that Cube Audio products are more upscale due to their higher retail prices, but this is misleading. They're available through the usual channels based on distributors and their resellers, while Qualio sells direct to avoid their significant margins. If these dots still don't connect, today's IQ would've sold for roughly thrice its current sticker via regular distribution pipelines. Then it would've also shared space i.e. with the big Nenuphar, which would've been a rather iffy marketing decision I reckon. This simple math applies nonetheless. It's also a brilliant reminder for those who consider Qualio IQ too pedestrian for their wallets that widening this narrow scope every now and then is the smart play. Lesser retail price doesn't always translate into lesser luxury and performance.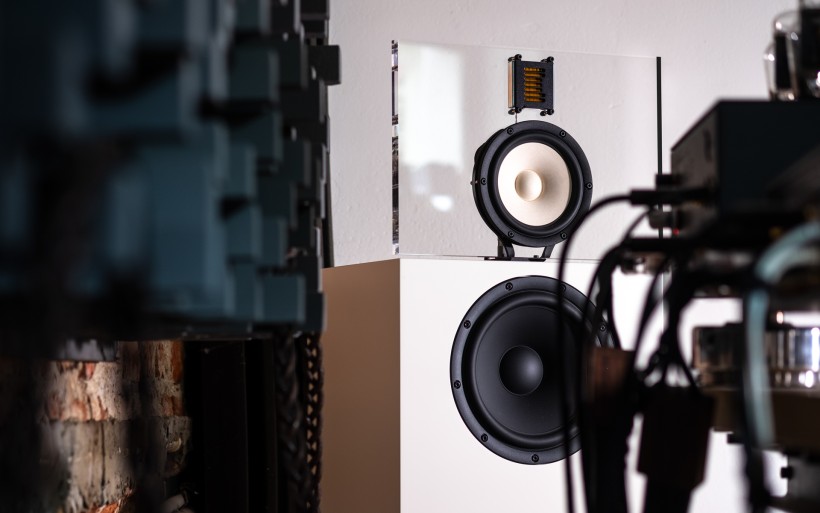 Grzegorz delivered the loaner set in person to make sure that it was in flawless shape. His curiosity about its performance in my listening room also factored in. Each IQ nested between two large foamy walls wrapped in foil inside a cloth bag. Acrylic baffles with pre-installed drivers, bolts and extra resistors were stored in separate boxes. I was told that paying customers can expect all listed contents inside two robust coffins. Past unpacking a quick assembly was in order. Each cabinet accommodated four footers on the bottom, while as many hex bolts on its top locked a translucent acrylic baffle into position. Short cables terminated with nice XLR plugs connected dipole drivers with their respective enclosures. The entire procedure from start to finish took the two of us maybe 10 minutes tops and was a very intuitive breeze all in all.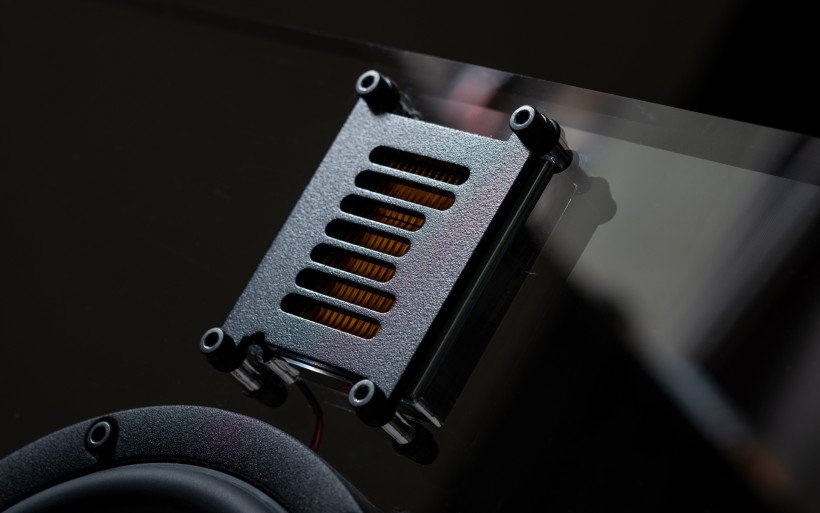 Each Qualio IQ speaker measures (H x W x D) 102 x 38.5 x 31.5cm and weighs 32kg, so most adults will manage without any extra helping hands. Further specs list a 3-way design, 4Ω nominal impedance, 89dB sensitivity and 30Hz – 31kHz frequency response. Although these numbers don't suggest a dastardly load, in his own review Srajan named Qualio IQ a current cunt, which is a spot on nickname indeed and we'll get to that part in a bit. Moving on, this speaker set of a rarely seen hybrid sort combines vented bass with dipole drivers to achieve a particular sound aesthetic its makers were after. Means used to voice this product that way simply dictated its final visual form, which I think also brilliantly sets it apart from the industry's usual speaker sets. Grzegorz knew all too well that playing it conservative on looks won't cut it.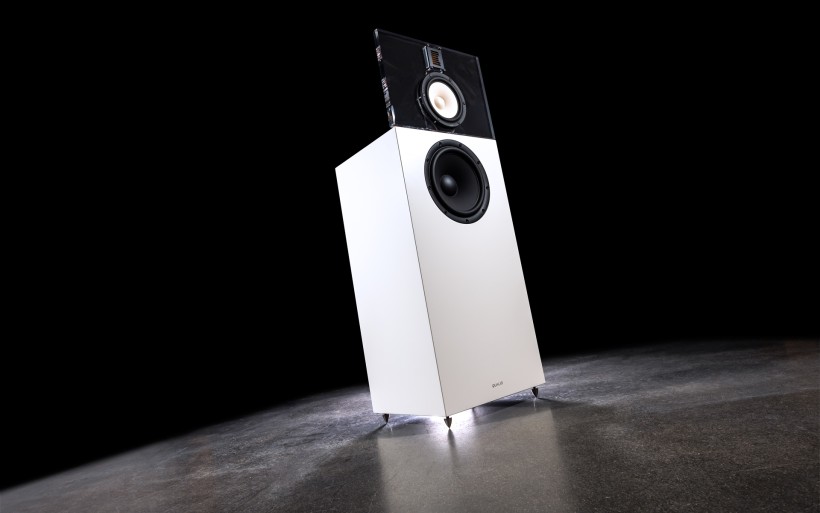 Qualio IQ incorporates a 9.5″ Satori woofer that goes up to 600Hz via a shallow yet high 2nd-order slope, while its neighbor 6.5" Satori transducer with a cellulose cone is subject to a 1st-order network on both ends. Although the manufacturer markets the latter as mid/woofer, Grzegorz explained that it proved excellent on full-range duties without a box. Mundorf AMT ribbon tweeter also used as a dipole type takes over at 8kHz on a 2nd-order filter. Qualio IQ's crossover comprises Mundorf EVO/EVO-oil caps for the AMT and 6.5-incher that also got wax ribbon coils, while the woofer sees Mundorf electrolytic capacitors and Jantzen copper air coils. Internal wiring is copper litz exclusively.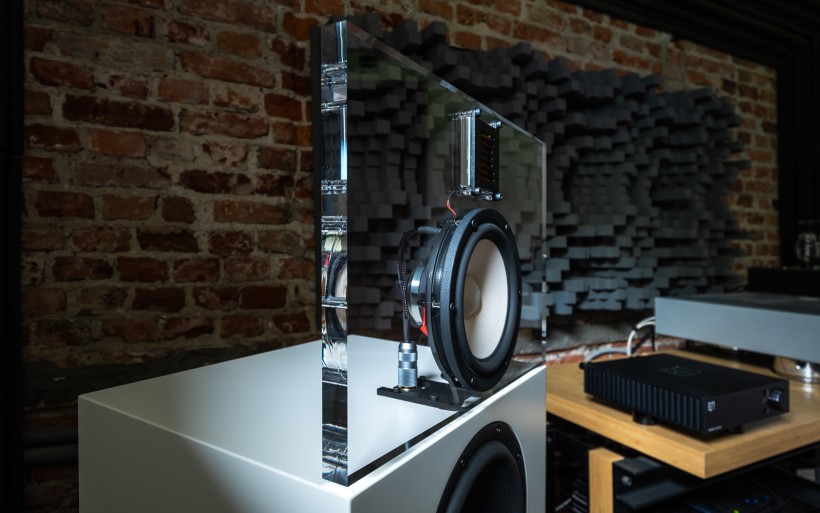 Each IQ's rear end just above the floor level features a large round concave speaker terminal plate, thermo-formed from a 7mm-thick acrylonitrile butadiene styrene aka ABS. Twin WBT binding posts inside it don't protrude beyond the cabinet at all, so the risk of their damage during transportation is non-existent. I've found that thoughtful. Speaker cables connect to lower terminals, while the pair above wants to see a resistor that engages the tweeter. Interestingly it's a customer's call how it does it. My loaner set arrived with five Mundorf pairs to experiment with; a 1R bullet boosts the AMT by 1dB and 1R8 keeps it at 0dB, while 2R7/3R9/4R7 types trim its output by -1/-2/-3dB respectively. These handy accessories feature BFA plugs and are color-coded, so matching and using them is a child's play. They make a noticeable difference and 1R8 was the one that suited me the most.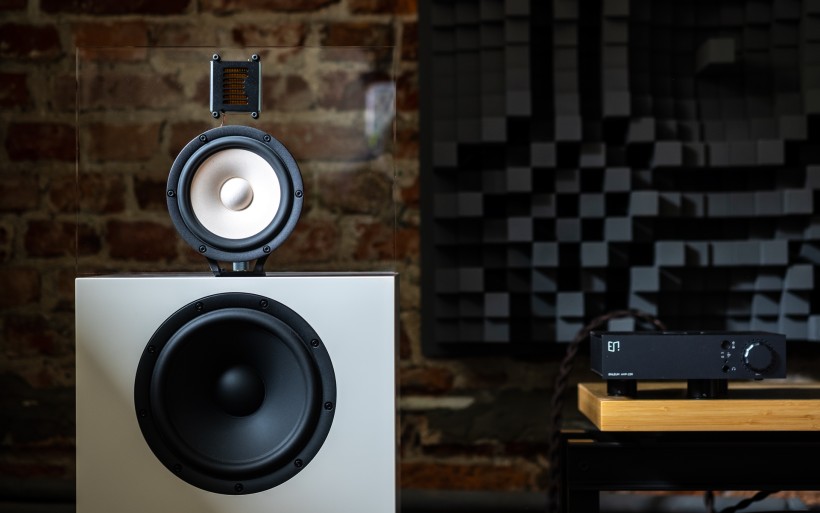 Most shoppers used to the industry's usual speaker residents won't consider OB/vented hybrids any stylish. There's nothing wrong with seeing their thin upper walls atop far deeper boxes too irregular and out of place. When I spend coin on audio stuff, I want something nice to look at too. That said, Qualio IQ's nice thick translucent window adds personality to its host box and makes the entire frame visibly shorter than it really is. I've found this view interesting and appealing rather than weird and/or silly, but you be the judge. As far as build quality goes, I can't fault the local newcomer for anything either. Solid paint job, precisely cut upper baffles and evenly fitted drivers communicate a speaker affair well past its early days. Boutique x-over parts, recessed binding posts, minimal hassle during assembly and resistors to play with make it thoughtfully planned and smart. A satin white/black version priced at €5'500/pr includes two resistor values, while three more for a set of five in total add €140 to the bill. Gloss finish is €400 extra and your color of choice is €200. Natural/exotic veneers (oak/walnut/ash and Indian maple/rosewood) are €300/650 respectively. The most kitted out Qualio IQ thus wants €7'090/pr, which is still a bargain given its pedigree and performance.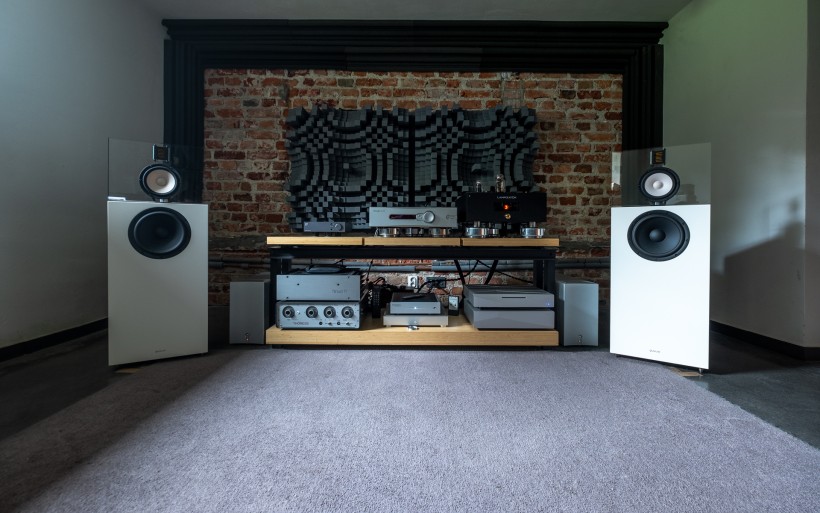 Qualio IQ proved as easy to work with as all Cube Audio types before it. Barely toed in and distanced from the front wall by about a meter, it already produced sound as spatially focused as it was sorted on bass. Very. This introductory result was in fact solid enough to not even bother with plugging the local's rear tunnels. The positioning as described was also in line with my preferences. If only speakers allow, I move them as far away from my listening room's brick surface busy with large QRDs as I can. The two critical upshots are maximized imaging depth and sound waves incoming primarily from drivers rather than their reflections bouncing off walls, which prevents aural blur and makes  key virtual shapes enjoyably present. The IQ was all about that sort of action and then some.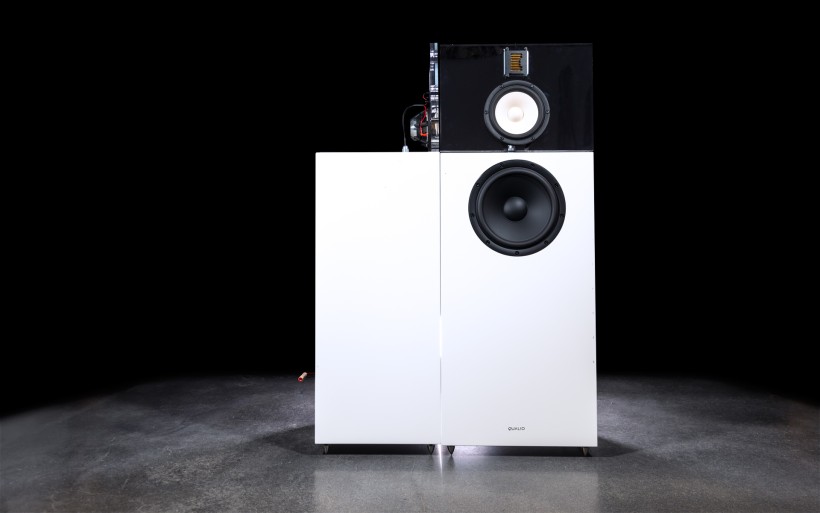 I'm a sucker for dipoles. Their boxless kind inherently free from internal compression moves air in a particularly direct snappy effortless fashion that to my ears is quite unrivaled. Portless drive a'la OB style translates into bonkers momentum, wide dynamic span and aural liberation aka unrestrained openness, while the type's dispersion pattern based on counter-phase cancellation means trouble-free interaction with one's listening room. That's why most open-baffle designs have no clue what aural confusion and restraint are. They're also fiendish on sheer imaging size, impact and contrast ratio. Now, full-range transducers are ace on articulation, expressiveness and clarity, while virtual frames rendered by them possess fetching sensual qualities nigh impossible to find elsewhere. Qualio IQ is silly high on IQ largely because it combines these two speaker breeds with all their associated virtues into one. To simplify, it behaves like a full-bloodied full-ranger infused with spatial grandeur, immediacy and many other perks specific only to the dipole kind… yet is more compact than most. In that sense Qualio's portfolio opener is actually ingenious. Although it's not the first such a product, they're rare nonetheless and nowhere near this pretty.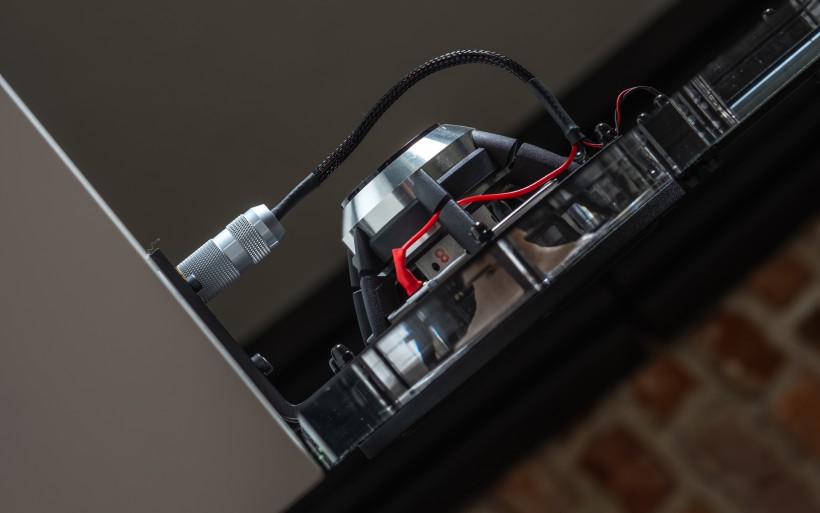 Manufacturers who opt for vented enclosures can get away with small woofers because air compressed inside increases their output. Since full-fledged dipole speakers work without this assistance, their bass cones have to grow inches to land solid LF response. Large panels capable of accommodating that artillery are the necessity that makes them either big or very big. Qualio's founders however pursued a product sized to fit living rooms without upsetting anyone, which explains their detour towards bass-reflex. Here one could mistakenly think that this route was just an afterthought slapped onto an otherwise intriguing project, but that's not the case at all. Wideband drivers unsupported via a matched amp are known for prickly thin glassy sound. Today's woofer reinforces its 6.5-incher companion via a high yet shallow filter that contributes to juicy fully developed mids. That's what makes the IQ's sound as open, majestic, articulated and radiant as it's meaty and enjoyably saturated in that critical band. There's more still. Its front-firing bass drivers far above the floor level dug remarkably deep in my room and pulled one of the very best overall performances I've heard there to date. The sensation was tectonic at times yet the IQ remained perfectly collected and controlling no matter the SPL. More importantly, its bass output was squeaky-clean and my crib's well-mapped turbulent zones remained silent. Although vented, it sounded more like a highly capable sealed type; utmost elastic, nimble, texturally infused, powerful, spot on contoured and visceral. Its largest cones roared to please with guttural massage whenever I wanted yet not for a second overstayed their welcome to introduce blur, bloat or any other unpleasantness. I hadn't seen all that coming, not from a vented speaker set. Color me thoroughly impressed, damn!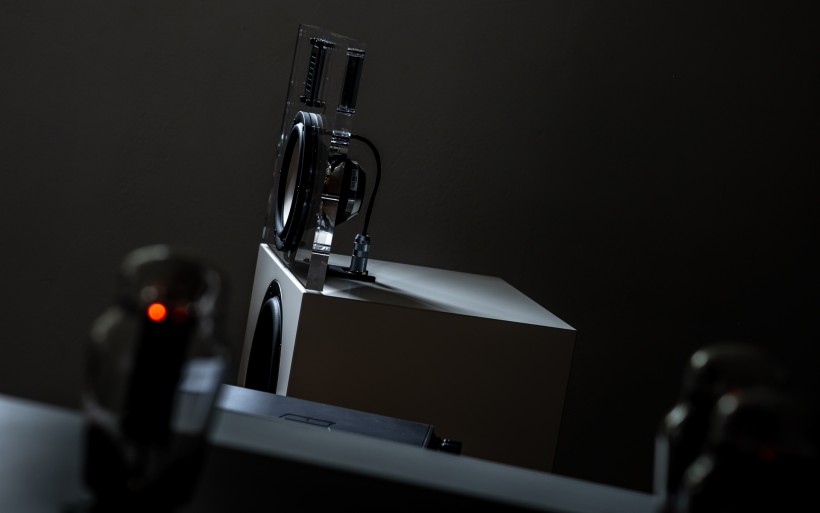 Qualio IQ proved very easy to enjoy and rather sooner than later also adore. Simply put, it did everything across the board without question; outstanding bass, saturated midrange, acres of landfill in all directions, loads of air, intensity, energy, quickness, sensible heft, precision, boldness, easy detail provision, illumination, textural generosity, finely sketched instrumental and vocal outlines, the sensation of here and now… this list honestly goes on and on. The IQ trivialized every single challenge on my playlist and had me constantly smiling from ear to ear. For the price I honestly couldn't ask for more or fault this €5'500 specimen for anything in particular. Yes, it performed in a carefully curated dialed in system worth significantly more. The thing is, not for a second I felt that it didn't belong there, quite the contrary. As a high-tiered transparent type the IQ brilliantly presented my platform's core voice and its own list of demands followed. High current and damping is all it wants to perform at its very best, so not a tall order by any stretch. It's also the very first speaker set that sounded far better with Trilogy 995R monos used as class AB devices. It wasn't even a contest. Upon using these amps as class A types all the shove, grip, traction, impact, contour, radiance and snap essentially halved to make room for a fair bit lazier, bloomier, more hooded, warmer and significantly less exciting sound profile. Although this meta shift wasn't shocking by any means, no other speaker set I've guested in recent years made it this obvious. I truly appreciated how willingly the IQ showed me that difference. Either way, this time around class AB/D amps are the ticket to bliss, simple as that. The manufacturer also recommends IsoAcoustics decoupler pucks. Upon using three Carbide Audio sorters underneath the IQ's each cabinet it was apparent why. More body, higher spatial accuracy and tighter bass were sufficient reasons. Since the difference with/without this accessory type was clearly demonstrable, I can only agree that Qualio IQ deserves that extra expense. Let's wrap.
One year ago Cube Audio Jazzon fronted by Enleum AMP-23R fared so well that I saw these as my ideal retirement kit. Now Qualio IQ with a muscular class AB/D amp would've made me even happier and most likely for noticeably lesser coin. Make no mistake however, this modestly dressed directly sold hybrid stunner offers far more than meets the eye. It's a performance fiend with just the arsenal of clever means to effortlessly compete in leagues significantly above its price bracket and feel very comfortable there, which makes it a terrific bargain to boot that's worth every penny. I sincerely recommend it to everyone and kudos to Grzegorz and Marek for landing such a monster.
Associated Equipment:
Amplifier: Trilogy 995R, FirstWatt F7, Enleum AMP-23R
Speakers: Boenicke Audio W11 SE+, sound|kaos Vox 3afw
Transport: Innuos Statement
Preamplifier: Trilogy 915R, Thöress DFP
Speaker cables: Boenicke Audio S3, LessLoss C-MARC
Headphones: HifiMan Susvara
Speaker signal conditioning: LessLoss Firewall for Loudspeakers, Boenicke ComDev
Anti-vibration conditioning: 12x Carbide Audio Carbide Bases (under DAC, preamp and speakers), 3x Bindbreakers (under LessLoss power bar)
Interconnects: LessLoss Entropic Process C-MARC, Boenicke Audio IC3 CG
Power components: LessLoss Power Distributor -> Boenicke Audio Power Gate, LessLoss C-MARC, LessLoss Entropic Process C-MARC, ISOL-8 Prometheus
USB components: iFi audio Mercury3.0
Network: Fidelizer EtherStream, Linksys WRT160N
Music: NativeDSD
Retail prices of reviewed components in EU (incl. tax):
Qualio IQ (satin white/black): €5'500/pr
Qualio IQ (satin oak/walnut/ash): €5'800/pr
Qualio IQ (satin Indian maple/rosewood): €6'150/pr
Your color of choice: +€200
Gloss finish: +€400
A set of five resistor types: +€140
Manufacturer: Qualio