It's not every day that a renowned manufacturer of exclusive audio components based in Poland opens doors to its own showroom. That's exactly what happened recently in Lublin, at J.Sikora's headquarters. I was lucky to be there to bear witness.
For me, it all started in November 2014 when I visited the room at Sobieski Hotel during Audio Video Show in Warsaw. I'd known the name Sikora before, as several years back tube amplifiers under the Burdiak-Sikora brand had made some noise on our market. This project was rather short-lived as the cooperation between the two gentlemen was not ideal. Then, the name Sikora disappeared from the audio market and its bearer returned to his regular business with no regrets. It was his regular business, love for music, and turntables that got him back into the audio business. The story behind his comeback suggests he wasn't really willing to do that. Disappointed with a turntable he bought for himself Janusz Sikora decided he would try to build his own record player. And he did use his vast experience with various metals and metalworking. It would have probably ended there if he didn't have friends who loved his design and wanted it for themselves. As the story goes, it was them who 'forced' him to participate in the Audio Video Show in 2014. Once he did, there was no turning back.
That's a system our hosts prepared for the grand opening
For the said Show Janusz Sikora prepared two turntables – ones that today are known as Reference and Standard. Back then he presented them with Kuzma tonearms. A few months later I got a J.Sikora (then Basic) Standard turntable for a review. It didn't take me long to realize it was sort of my dream come true, as I'd always wanted a Polish high-end system, one that would have included also a turntable. It was it! It looked fantastic, it was perfectly made and finished, and sounded remarkably well. No bias was needed on my side to acknowledge it was one of the best record players available on the market. So not that long after the review I purchased my own unit, the Max version, and I have been using it ever since. After some time a third turntable model was added to the pool, the Initial, and all three decks were perfected over time, in some cases also upgraded, and offered in regular and Max versions. Recently, the Polish manufacturer prepared even some custom units perfectly finished in non-standard colors upon customers' special requests.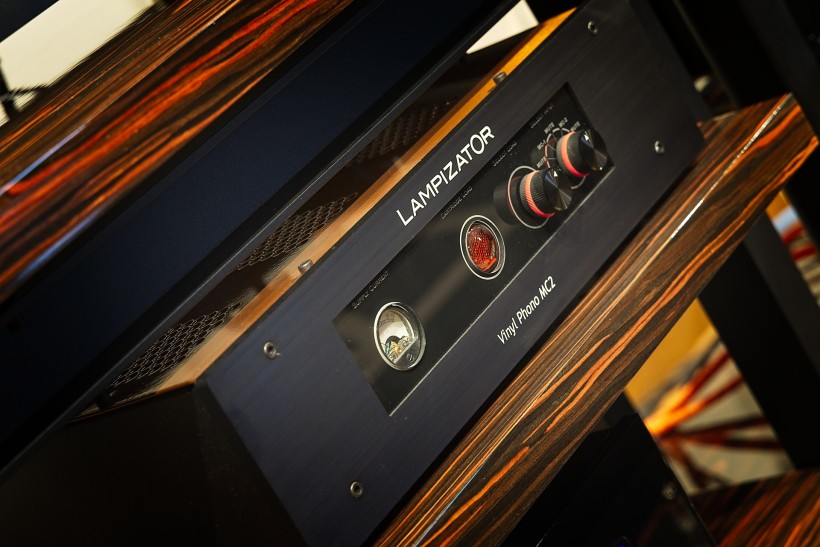 Another great vinyl-related product from Poland
It was no surprise to me that the excellent turntables by J.Sikora quickly gained recognition around the world. New distributors and growing demand forced Janusz Sikora's company to firstly partially, and finally, completely turn its focus towards turntables production. One of the key factors contributing to the company's success was almost complete control over the production process. From the start, many key elements, particularly the metal ones, were made in-house, benefiting from the company's and its workers' experience, and over time production of more and more of them was moved from subcontractors to the brand's own workshop. It's true that on the one hand, there are a few components that most likely will never be made in-house, such as motors that are sourced from a renowned specialist. On the other, it happened more than once, and the lifts for tonearms are a good example, that when a supplier failed, J.Sikora's creative team quickly reacted by designing and manufacturing the component themselves. One way or the other almost all components today are made in-house also due to significant investments including CNC machines, paint shops, and so on.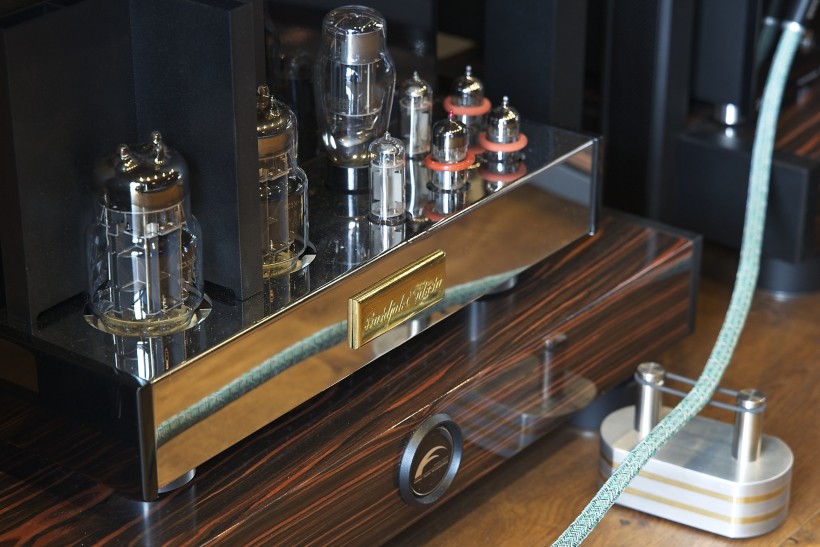 The legendary Burdiak Sikora amp and a cable stand made from waste material from turntable production
The next great breakthrough came with the introduction of J.Sikora's own tonearm. The KV12 was a unique design, as its tube was made of Kevlar. I was lucky enough to review one of the first units (see HERE) only to find out that it was a must-have, not only a fantastic performer but also offered at a highly competitive price. The 12-inch unipivot with VTA on-the-fly turned out to be a true killer, so to speak, especially when combined with the outstanding J.Sikora Standard Max. It delivered a performance far beyond my expectations. At this point, the company closed down its regular metal-related business and focused completely on record players and tonearms production. That allowed Janusz Sikora's son, Robert, to engage full-time in this part of the company's activities, and later he convinced another long-time friend to join this venture, Mr. Adam Niezbecki. That in turn freed the chief designer, Janusz Sikora, from business-related duties and allowed him to focus on what he loves most, designing new products and improving the existing ones.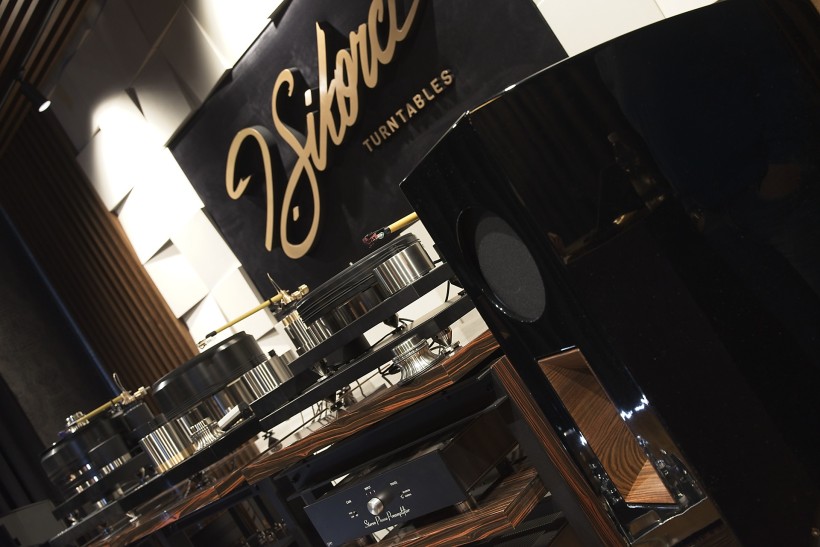 All three decks from current lineup with beautiful KV and KV Max yellow tonearm
That's the story behind the development of the new KV9 and KV12 Max Zirconium Series tonearms that premiered end of last year at the Audio Video Show in Warsaw and Capital AudioFest in the USA a few weeks later. I have already reviewed the former and you can find the test HERE and HERE. You will have a chance to read a premiere review of the KV12 Max Zirconium Series soon here at HiFiKnights, but before it happens let me show you what the J.Sikora team has been cooking at their headquarters for more than a year, namely the brand new showroom. The grand opening took place beginning this month, on February the 3rd, and I was one of the lucky ones invited to it.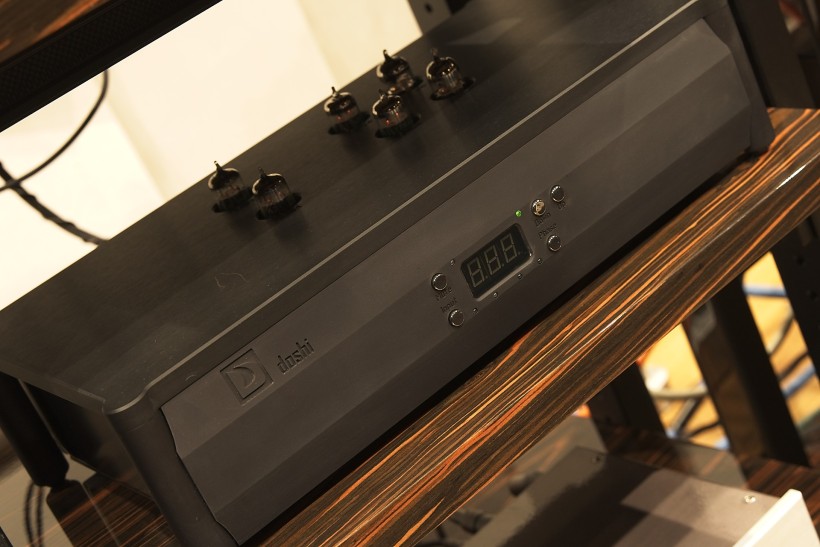 An excellent Doshi Audio phonostage – a real beast!
Some of you may remember that I visited J.Sikora headquarters in December 2021 (see HERE). Already back then the work in the space that today hosts the showroom began but it was in the very early stages at the time. The project had to overcome some hurdles so it took a bit more time than expected but at the beginning of February, it was finally ready for the first guests. For the great unveiling, J.Sikora's team invited some business partners/friends and me to witness the event and report on it for you.
Some discussions were quite… dynamic
My adventure that day started with picking up two event guests from Warsaw Airport. The first one to come was Adam Czerwiński, one of the best Polish jazz drummers, and the man behind the "Jazz w lesie" festival (see HERE and HERE) and a premium audiophile record label AC Records (see HERE). I probably don't even have to add that he's a proud owner of a J.Sikora turntable and you can find AC records releases in J.Sikora's showroom. Since we had a few hours before the other guest, Mr. Michael Plessmann, the boss of Soundspace Systems (see HERE, and HERE) was to arrive Adam took me to XDisc Group (see HERE) headquarters to listen to a test press of the next AC Records release. Let me just say that it sounded amazing, and if you like guitar music in this case performed by one of the most talented Polish jazz musicians, this next release is a must-have! The short trip turned out to be particularly rewarding for me, as the XDisc crew was kind enough to take me on a short tour of their pressing plant which turned out to be both, very interesting and educational.
A satisfied publisher
After that, we got back to the airport to pick up Michael and started out less than a two-hour drive to Lublin. When we arrived we were joined by another J.Sikora's business partner, Julian Soja, the man behind the excellent Soyaton cables (see HERE). You may already know this, if not let me tell you that Soyaton's gold-plated copper wiring is used in the new KV Max tonearms. As soon as we arrived our hosts gave us first a short tour of the workshop and then the festivities began.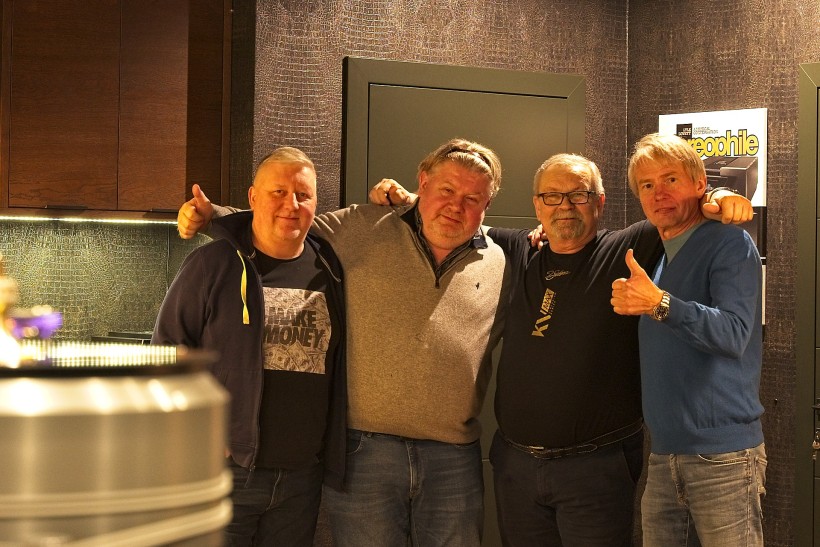 Four amigos
The showroom is, simply put, impressive – you may not quite see it in my photos, but trust me, it is! You can clearly see how much effort and thinking was put into planning this space as a whole, as well as every tiniest detail to make it a comfortable place for enjoying music, and company, and, when needed, to assess what J.Sikora and their partners have to offer. It is something that you can feel from the moment you enter the door – it is more than just another showroom, and believe me, I'd seen many, it's a friendly place that was intended to feel like home, like a place you want to relax and spend a lot of time in. Warm colors, elegant, comfortable chairs, and even lighting were all planned to achieve that effect. On the other hand, the whole setup and room's acoustic treatment are of top quality, so it is clear, that the listening part of the showroom's job is also taken care of. Rows of LP records and shelves with quality whiskey and wines also play their role in providing comfort and joy for the guests :).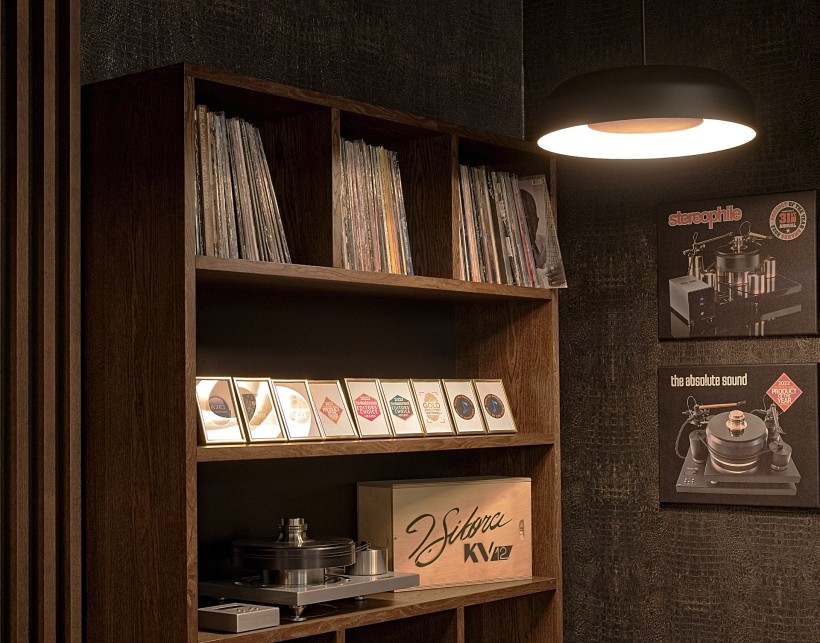 J.Sikora is a multi-award winner brand, no wonder they brag about it a little bit 
As for the setup, the Polish manufacturer obviously chose to present all three record players from its lineup in it. Each of them was fitted either with KV 12 Max or 9 Max or KV12 (Initial). As J.Sikora is also the Polish distributor of Aidas Cartridges, their products were installed in all tonearms, including the top Mammoth Gold (see HERE). The speakers came from SoundSpace Systems – a pair of the semi-active Pirol (see HERE) was on duty. There were two phonostages at our disposal. One from another very successful Polish manufacturer, LampizatOr – the latest version of the Vinyl Phono MC2 (you can find my review of the previous version HERE). The other one was the remarkable product of Doshi Audio.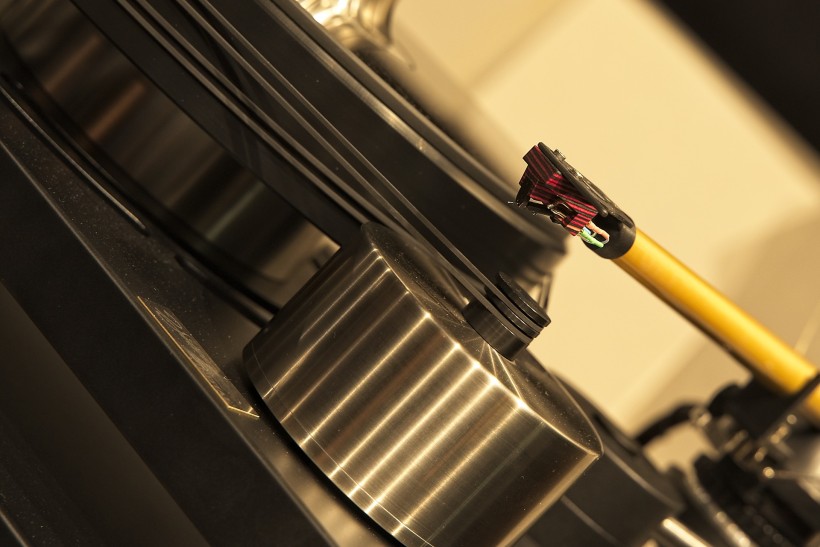 One of the beautiful Aidas cartridges, a great performer as well
The preamplifier and tube monoblocks driving Pirols were the famous Burdiak-Sikora products, that Janusz Sikora has been using for several years. These are not commercial products, and Janusz really wants them back in his private system, hence as soon as a worthy replacement can be found they will go back to Maestro's private den. All the electronic devices were placed on beautiful racks and platforms by Franc Audio Accessories and most cables in the system came from Soyaton's lineup. The only thing missing was a proper power supply product. Usually, it's the top Gigawatt conditioner, but … it sold shortly before opening and a new one didn't arrive yet.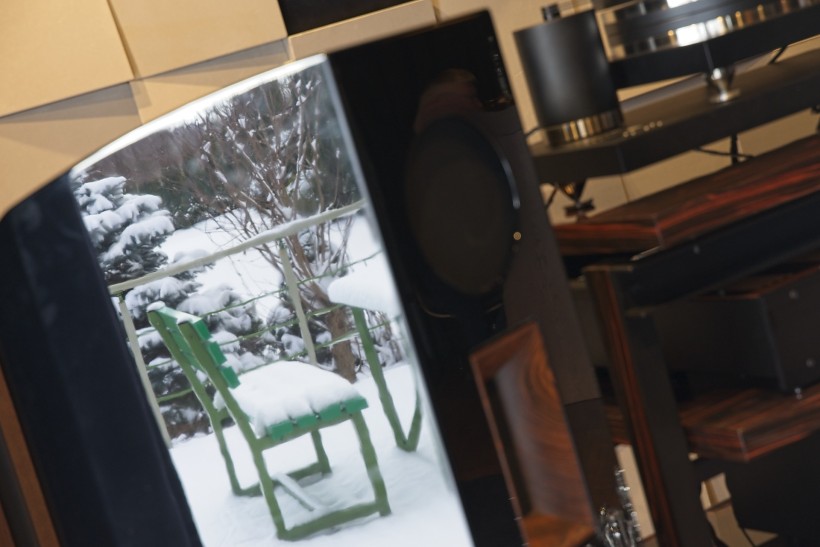 Yup, our hosts chose the only snowy day in February for our meeting

Let's be honest, the meeting wasn't really about the setup's performance. It wasn't about the sound but rather about enjoying the company and the new, so friendly, eye-catching space. Yet, with so many professional ears, musicians, manufacturers, and yours truly, we couldn't resist tweaking and tuning the setup. Michael brought with him his new anti-vibration feet for the speakers, so we could witness the improvement of the performance after they were placed under Pirols. Maestro also tweaked their positioning a bit to achieve even better stereo imaging. Using the test press Adam brought with him we looked for optimal phonostage settings. Surprisingly, most of us agreed on the preferred setup: the Standard Max with KV12 Max tonearm and Aidas Gala Gold pickup, not the Reference with Mammoth Gold. Julian and I set out to find a tiny little irritating "bug" in the sound, and we finally found it when we reversed the position of a Schuko plug of the power cable connecting the Doshi Audio phonostage. Don't worry, our hosts weren't offended. They admitted that due to the need to move up the date of the grand opening (to find a date that suited us all), they realized that the setup still needed some final touches.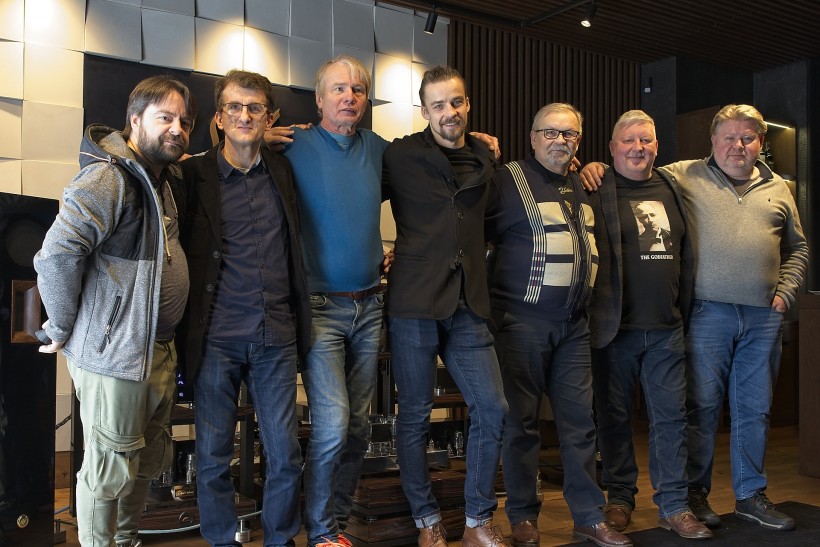 It's time to say goodbye, at least until the next time
So it is worth the trip to Lublin, you may ask? J.Sikora's turntables and tonearms belong to the very best in the world and are made in Poland, so they are definitely worth getting to know. If that's not a good enough reason for you then consider also that the accompanying components are of top quality, hence the performance of the system as a whole is amazingly good. Plus, at least some of the brands represented there, including J.Sikora, can't really be found in any other place in Poland, so it gives you a unique opportunity to experience their performance firsthand. And since now J.Sikora has a beautiful, carefully designed showroom to present their own products in, I don't see how could you regret making such a trip. So, call or email ahead, make an appointment, and enjoy the fantastic system, presented by the friendly crew in a comfortable environment. I am pretty sure I will go back there many times and enjoy it every time immensely.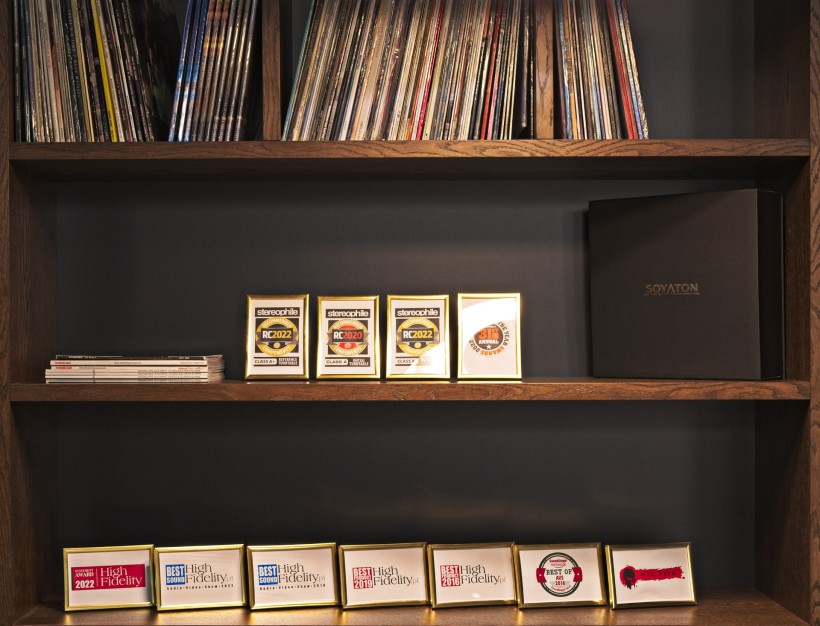 And the well-deserved bragging continues…

LINKS: