The whole concept of perfectionist audio is based on a premise of building upon knowledge and experience from previous achievements, in order to develop new, even better-performing components. While the JSikora KV12 earned its position among the best tonearms money can buy, its creator, Janusz Sikora, worked hard to make it even better. Did he succeed? Let's find out. He's a review of the JSikora KV12 Max Zirconium Series. 
Introduction
I am lucky to know Mr. Janusz Sikora personally and live not that far from his hometown Lublin. Why lucky? Because there is always a chance, I would be the one to test his new developments first. We talk on the phone from time to time and even meet to listen to some records or live music. This kind of relationship gives me access to early information regarding new products hence the premiere of the Max Zirconium Series tonearms at the Audio Video Show in Warsaw was not a surprise for me. I'd known these two were in development for months and even got some progress reports from Janusz. Still, like everyone else, I had to wait until the Warsaw AVS for a hands-on experience – a chance to see, touch, and listen to the new KV12 Max Zirconium Series.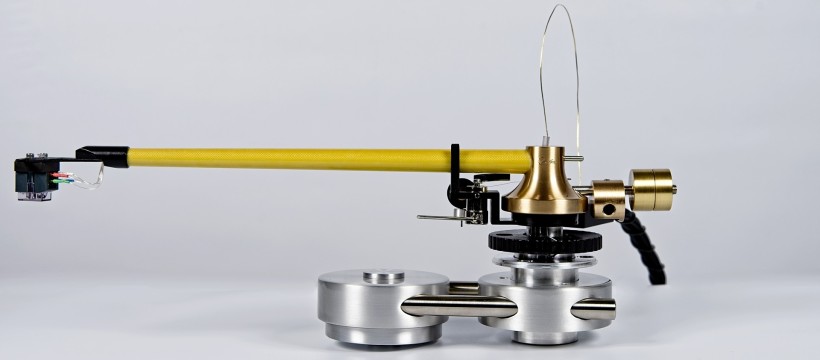 As we all know from experience, the longer one has to wait for something, the bigger the expectations and, if we are lucky, the reward. I'd known how excited Janusz Sikora was when telling me about his new developments even before they were ready, hence my expectations regarding the looks and performance of the Zirconium line were enormous. While shows are never a good place to realistically assess the performance of an audio component or a whole system, JSikora's tonearms made quite an impression on both me and numerous visitors from around the world. From what I hear, feedback after CapitalFest was similar – people were delighted.
Even back then, end of October 2022, it was known, that both new tonearms were to start selling only in February 2023. Hence, as you may imagine, at the time of both shows there were only a handful of units ready (most likely just one of each model). That is exactly why I had to wait for my chance to listen to them in my system for almost a month after the AVS 2022 in Warsaw, as they traveled to the USA and back. Yet finally, they got here, or to be exact, Janusz Sikora himself came to my place and installed both, the KV9 and KV12 Max Zirconium Series on my JSikora Standard Max deck. The deal was that I'd prepare a world premiere review of the "9" for HighFidelity.pl and of the "12 Max" for HiFiKnights.com. In both cases, reviews would be available in both, Polish and English, but at HighFidelity the Polish version came first (you can find it HERE) and the English one a few weeks later (you can find it also HERE).
In the meantime, the Polish manufacturer opened his own showroom in Lublin, and as I attended the grand opening I was able to report on it – you can find it HERE.
Design and features
The JSikora KV12 Max Zirconium Series is still a 12-inch oil-dampened unipivot tonearm with an effective length of 304,8 mm and a slightly smaller effective mass of 12,5g (vs 13g of the original). One of the key features of the KV12, an arm's tube made of Kevlar, or polyparaphenylene terephthalamide, hasn't changed. The original model was the first one, at least that I know of, ever made of this material. It had been used in audio before – let me remind you, for example, the famous yellow drivers used by B&W and later also by others. But no one before Janusz Sikora ever tried (or at least succeeded) to use it as a building material for a tonearm. He dared to take a risk hoping it would pay off, and it did. It is Kevlar that gives the arm its yellow color, although customers can opt for one painted black as well. Anyway, while the tonearm has the same effective length as the original it is much thinner (the diameter of the arm's tube is smaller). Yet, due to the design and filling it with special foam, according to the manufacturer, it is even more rigid and hence should do an even better job ensuring optimal operating conditions for any cartridge.
The thinner arm tube (of conical shape) was the first step aimed at achieving an even better performance. Another one was the new wiring. I actually was lucky enough to get to know this cabling before the KV Max series was even introduced. Mr. Sikora prepared a custom version of his KV12 arm for me, one with a detachable interconnect (so that I could test phono cables) and instead of mono-crystalline silver from Albedo, used as a standard for the KV12s, he went for the gold-plated 6N OCC copper wires sourced from Soyaton. The tonearm wire ultimately turns into a thick but quite flexible interconnect wrapped with a ground wire and terminated with high-quality RCA plugs. I have been told, that in the future, JSikora will probably offer an option (paid extra) to order custom KV12 MAX tonearms with detachable interconnects.
Our readers should already be familiar with this Polish brand, Soyaton, as they offer analog cables, interconnects, speaker cables, and AC power cables (see my test HERE). Janusz also got to know the IC and speaker cable first, then asked Julian Soja, the head of Soyaton, for some of the conductors he uses in his products, and tried it out as the wiring for a tonearm. As far as I know, it has been his private ever since (meaning he's been using it in his private system) and he offered it also to me knowing my sonic preferences. He was right, I liked it a lot too (not that there was something wrong with Albedo wires, I just liked Soyaton even better).
So, internal wiring is another new feature of the KV Max series. Now, the name of the series reveals yet another key improvement – a main bearing based on Zirconium. Our designer while testing several options found multiple advantages of this solution over previously used one and had no doubt the Zirconium was the way to go in order to develop a bearing with less noise and even higher precision of operation which translates directly into a better performance of the tonearm. Using this material though added another small issue (or a challenge, as one of my former bosses used to say) that needed to be addressed or solved. Zirconium does not conduct electricity which required additional effort to ground the whole arm. The only option was to run one more wire in a super-small-diameter Teflon tube through the arm, but that meant adding another, fifth one inside the already much smaller in terms of diameter arm's tube. Due to the ingenuity of the JSikora team, they resolved this issue too.
Since the arm's tube is smaller in diameter manufacturer had to design new flat, aluminum headshells for both, KV9 and KV12 Max tonearms. Each of them had to be slightly different to achieve proper balance for each of them. As you should be able to clearly see in some photos, not only does the arm's tube seems thinner, and visually smaller, but also the whole bearing housing has "shrank". Not only that but there are several more elements in it made of bronze, including the new counterweights. The Kv12 Max set includes several of these counterweights of various masses, allowing any user to set proper VTF for any cartridge. Same as in the original design, the tonearm wire exits atop the bearing housing creating a sort of arch. It is an important element of the design and if you're installing the arm in any deck yourself you have to make sure the arch is straightened and make sure it stays lateral. It does in fact, act as the anti-skating or the arm, hence the importance of its positioning. There is also an anti-skating mechanism with a very small, very lightweight on a thread, but it is there more for the show than to actually do anything.
Now, the KV12 Max Zirconium Series offers all the settings and adjustments you may want and need to optimize its performance including the on-the-fly, precise VTA. The latter in the original arm was available as an option, one had to pay extra for it. This time it is a standard feature of the KV12 Max. Several counterweights make it easy to set up proper VTF for any pickup, and even azimuth adjustment is made easy with a simple screw in the body of the main counterweight. The whole design is, in my humble opinion, even more eye-catching than the original. While that may not be the key feature of any audio component, most of us appreciate beauty right after the performance. There is beauty in it, there is an ingenious design, there are well-proven and exotic materials involved, and solutions sourced from the predecessor as well as some completely new ones. And there is a promise of an even better, further refined performance. It's time to move on to checking out if it does actually translate into (hopefully even much) better performance.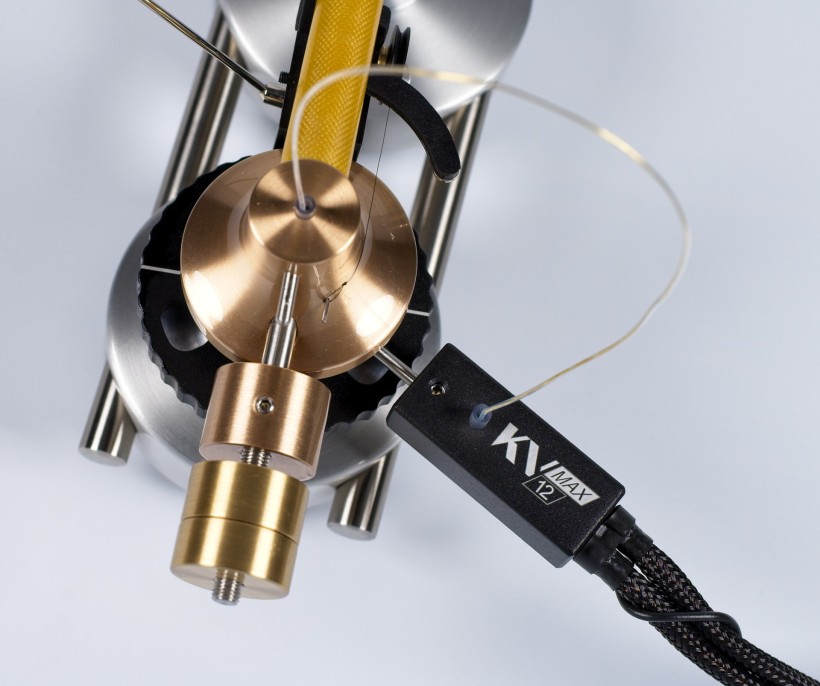 Sound
Since the deadline for the HighFidelity review was to come first, I listened to and assessed the KV9 Max first, and only after finishing this review moved on to the KV12 Max. In both cases, I used my trusted Air Tight PC3 cartridge feeding signal into, interchangeably, ESE Lab Nibiru (see HERE and GrandiNote Celio MK IV (see HERE). Then, the signal was forwarded to my GrandiNote Shinai amplifier using Bastanis Imperial interconnect (see HERE), and the amp drove GrandiNote MACH4 speakers via Soyaton Benchmark speaker cables (see HERE. Obviously, my basic point of reference was the original JSikora KV12 (see HERE), which I added to my reference system shortly after reviewing it and never looked back (or for anything else). After reviewing the KV9 Max I realized that some potential buyers may wonder which one of the new arms to purchase, so I tried to answer whether adding another 2,5 kEUR on top of the price of the shorter version is worth it.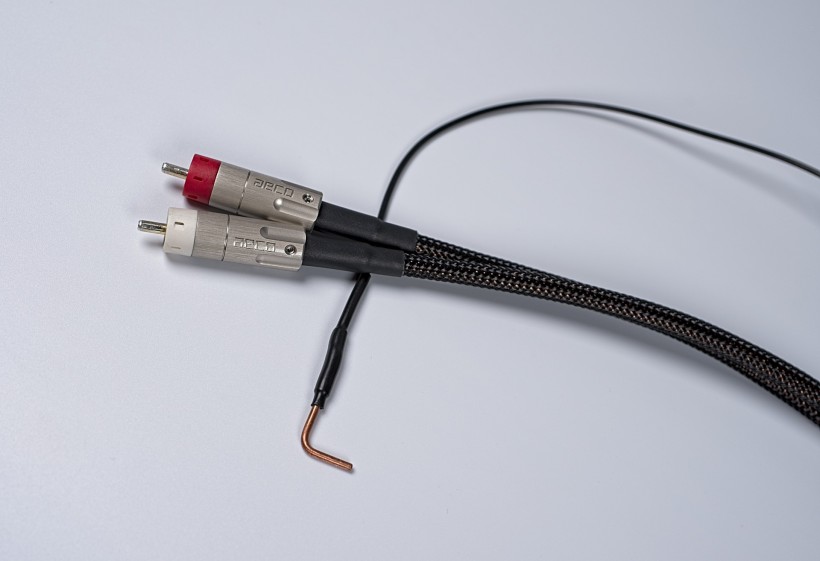 As I've mentioned, the KV9 Max was the first one I assessed. Long story short – even though shorter, the latest addition to JSikora's lineup, despite all my love for the original arm and the fact, that it too used Soyaton wiring, it turned out to be not only an objectively remarkable, but also an even better, more refined performer, and not by a small margin. There was actually only one area where the older arm still held its ground firmly against the newer one, namely the very lowest end of the range where it was able to produce an even more powerful, more weighted, and slightly better-controlled slam. Everything else was simply better with the KV9 Max. Let me emphasize once more, that my own KV12 features the same gold-plated wiring from Soyaton as both new Max arms, which means that all the advantages of the "9" were the results of other differences in the design. The conclusion was simple – one has to pay more for the KV9 Max but it simply outperforms the superb original KV12. So let's move on to the new top-of-the-line 12-inch Max Zirconium Line tonearm.
Same as with the "9" I started listening to KV12 Max with Ray Brown Trio, although this time from the "The Red Hot" live album (45 r.p.m. from Concord Jazz). Despite being prepared by the KV9 Max for what was about to happen, I was still surprised hearing the music coming from my speakers and my first reaction was again very passionate and… I can't really quote it here. I've been doing it for quite a long time already (I mean reviewing) and tested probably (I am not really counting) more than a thousand components so far, including many from what's called today the 'top-high-end' level (as the term 'high-end' has been used so commonly, and so loosely that the actual best performers needed a separate category).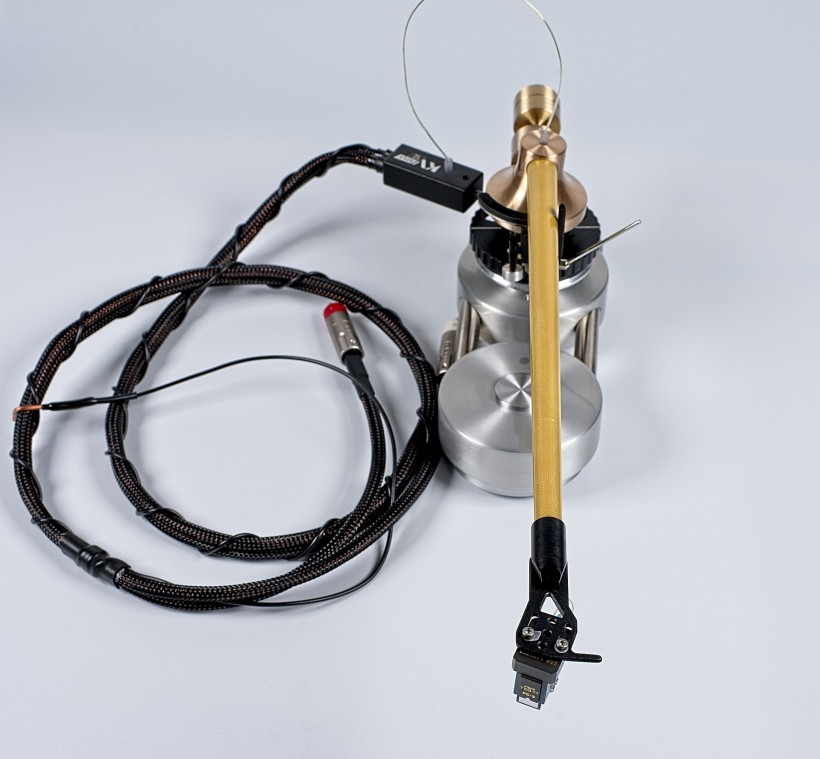 On the one hand, the experience taught me that above a certain performance level, I should not expect too much of a difference or progress, if you will. Usually, an advantage of one high-end component over the other is in detail. On the other hand, though, there was a handful of components that prompted a similar WOW response on my side as the KV12 Max did this time. Importantly, not all of them wowed me right away, from the very first seconds of listening. With some of the best of the best products it actually took me hours, sometimes days to fully understand and appreciate what they did for the sound and music. All of them were extraordinary representatives of their respective species – Kondo Souga and Kagura tube amplifiers, Tenor Phono 1 solid-state phonostage, or Murasakino Sumile cartridge, not to mention JSikora Standard Max and KV12 – these are some of those, that left the biggest, quite unforgettable impressions on me. So if you're done reading this review, what you can take away from it (spoiler alert!) is that the JSikora KV12 Max joins my private super-exclusive club of the most impressive and best components I've ever reviewed. And I knew it within minutes of listening to it (or I should say, after tweaking the settings and achieving the optimal performance).
Obviously, the question is why? What makes it THAT good? Let's start with a feature that I probably attributed to most if not all of those best of the best components on my list. What is the element of the sound that the recording process fails to capture properly most, or where the biggest losses appear? It is the inherent energy of each sound and the music as a whole that is never fully captured in the recording. Whatever setup, no matter how expensive and big, you use you can always tell that the music you listen to with it is "just" a re-play of a recording and not a live performance taking place in the room you're in. Why? Because the sound recorded, processed, and finally played from whatever medium never has the same level of energy as live music. It is just not possible.
It's not about the dynamics, about how loud you play it, but about the 'internal' or 'physical' energy of each sound. It's just that some of it is lost in every stage of the process from recording it in a studio (or live) to playing it from whatever medium in one's system. Still, some components/setups come closer to that real-life level than others. Most of these "overachievers" I had a chance to listen to became members of the aforementioned exclusive club of mine whether I realized this particular quality from the start, or a bit later. And so did the KV12, KV9 Max, and now also KV12 Max, each of them representing another step towards the "live-like" energy level with the latter one being the best, and the other two still outperforming most of the competitors I know.
As you may already suspect, JSikora KV12 Max Zirconium Series joined the club immediately as it delivered Ray Brown Trio's performance in a particularly dazzling, highly energetic, lively, and captivating way. To be clear, the original KV12 still stands out in this regard among most tonearms I know – it hasn't changed. It's just that KV12 Max is even better in this regard. Hence, when listening to Ray Brown playing his double bass in the live recording I could feel the energy of each string pluck, I heard the power and weight of the huge wooden body of this instrument. Everything was just right about this presentation – positioning of the musicians on the stage, the size of the stage, imaging, timbre of each instrument, fantastic dynamics – all that delivered in a very coherent, and irresistible way that invited me to join this unique experience and share it with the rest of the audience (the one in the recording, to be clear).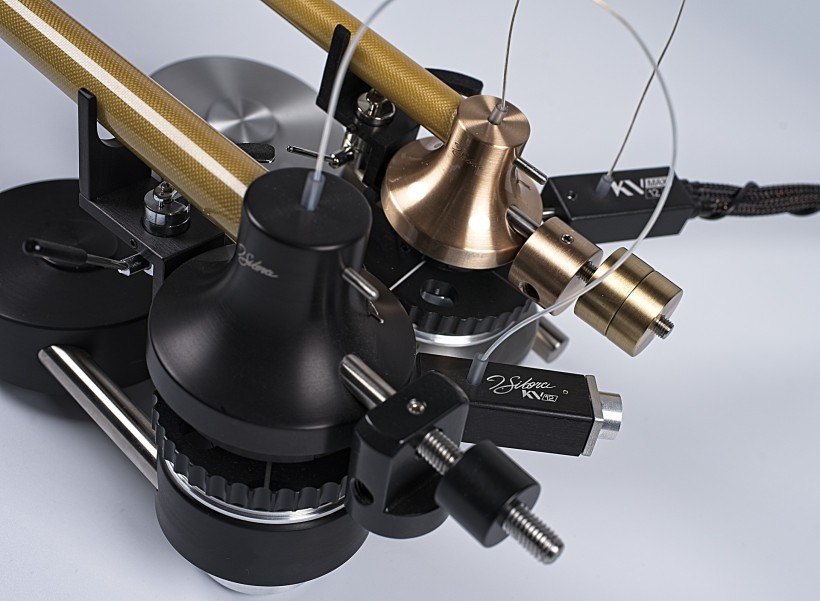 All that was presented in an even more realistic, more physical, more bodily, if you will, way than with my older arm. Just a quick reminder – same deck, same cartridge, same wiring, same everything except for the tonearm so it was easy to give credit to the reviewed component. Yes, I realize I am sort of obsessed with this aspect of the music reproduction as it is my experience from many live performances that for me is the ultimate reference for any audio component/system. But once you hear one of these devices that are able to deliver such a deeply energetic performance all the others start to seem a bit flat, lifeless, and boring, even though they are really not (!), it's all about the comparison. Again, I am not belittling the original KV12 or any other great sounding tonearms, but the new Max series (as this is a feature shared also by KV9 Max), simply put, mastered this aspect of sound reproduction and, to me, is a step forward compared to any competitor I know.
With such a high, almost live-like, level of energy came more welcomed features, such as the incredible easiness, freedom, or effortlessness of music reproduction. That's another element of live performances – there is no rush, no nervousness but rather confidence, and… well, ease of playing the music that results in its beautiful flow. The JSikora KV12 Max displayed the same "confidence" as all those master musicians on the stage. It played every music with enthusiasm, in a highly expressive, and yet remarkably well-controlled way. That's yet another superb feature of this new arm – together with JSikora's deck it provides a cartridge with an optimal working environment, and the result is the aforementioned perfect control over every aspect of the music reproduction. Not only the resolution, depending obviously largely on the cartridge/stylus, was outstanding with the abundance of even the tiniest details and subtleties perfectly read from the groove, but also the remarkably rich, yet pure and transparent sound was so incredibly, yet seemingly effortlessly, well-organized, so insightful, that it was not possible not to get drowned into the music, not to get involved in the events presented in front of me.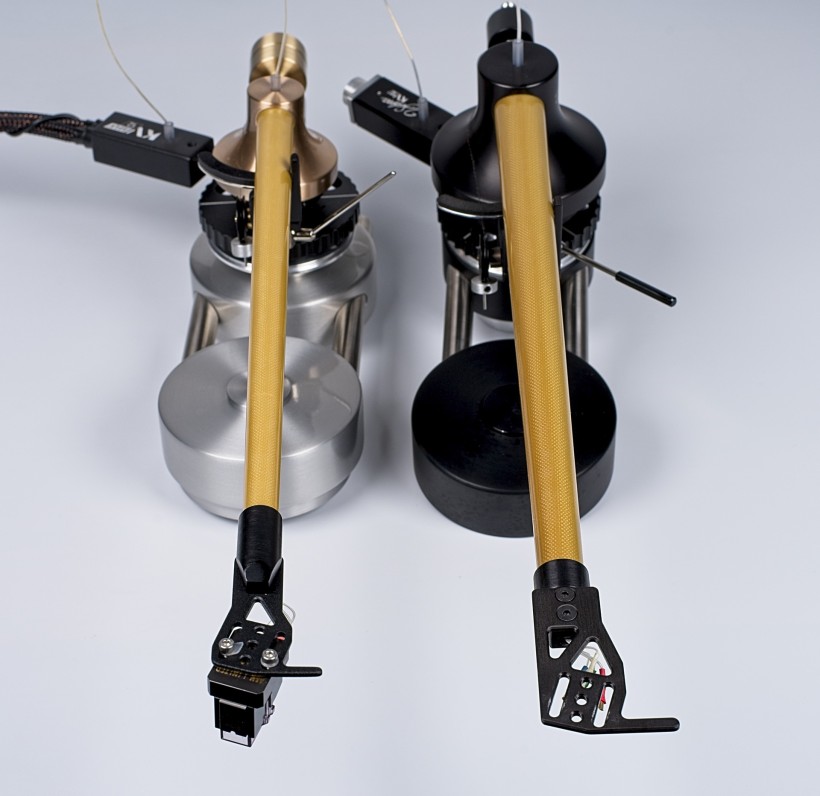 Yes, the JSikora decks, each of them (!), share some features including explosive dynamics, tight, yet deep bass, and the high energy of presentation. Still, depending on the tonearm (and to a lesser extent cartridge) these features can be further developed and enhanced. And that's what the KV12 Max did compared to the original KV12 but also the KV9 Max. The latter outperformed the older arm in most aspects of the performance and the tested top-of-the-line built upon it and raised the bar even a bit higher up. Maybe, just maybe, the shorter version is just a touch faster (in responding to impulses), but even if it is (I wouldn't bet my money on it) the difference is negligible. On the other hand, the KV12 Max goes even deeper down into the lowest bass area and delivers it saturated with even more energy than any of the other two JSikora arms or any arm I've ever dealt with, for that matter.
All these features, and lots of others, smoothly blended together to deliver this brilliantly coherent, fluid, dynamic, highly resolving, insightful, crisp, spatial, and immersive whole. And it worked for any music. Yes, the recording and pressing quality mattered. The KV12 Max with my Air Tight pickup differentiated these two extremely well making it sometimes painfully clear that a 40+ years old record, poorly released to start with, that I'd played in my youth on some crappy deck using an even worse stylus, shouldn't really be played anymore. Having said that, I have to admit that apart from those extremely poorly pressed/worn-off records, the others, if at least of a decent quality, sounded better than ever. By 'better' I don't mean technically, as their flaws were still present, but in each and every case it was the music that was presented in the foreground, so to speak, with all technical imperfections placed sort of behind it. All the technical details, good or bad, were nothing more but a background, they were pushed back there allowing me to fully focus on and enjoy the music.
The music genre didn't matter much either. Sure, all those great recordings of live (mainly) jazz performances sounded incredibly well because of how skillfully they had been recorded, produced, pressed, and now replayed. Yet, I enjoyed equally classical music, blues, and even rock, and electronic music due to exactly the same advantages of the tested arm. Depending on the genre each time other qualities of the JSikora KV12 Max seemed to take the lead. The live recordings shined due to the excellent imaging, deep, wide, perfectly layered soundstage, convincing presentation of the venue's acoustics, beautifully conveyed lively reactions from the audiences, and ability to project the presence of the performers into my room. When it came to large classical music the remarkable resolution and ability to differentiate instruments both in terms of dynamics (also on a micro level) and timbre, the abundance of details, and the ability to deliver the performance with seemingly unrestricted dynamics while conveying the grand scale of the whole performance – all these features were effortlessly provided by the KV12 Max.
With rock music, it was all about the explosive dynamics, untamed energy, rich midrange that allowed electric guitars to shine, and very deep but excellently controlled, thunderous when needed bass, and outstanding rhythmic performance. Blues, based primarily on pace&rhythm and emotions was another genre that I got stuck with for several hours after discovering how well I connected with Steve Ray Vaughan, Dżem, Muddy Waters, Blues Brothers, and others with the tested arm in the setup. The Blues Brothers band ultimately convinced me to go back to my jazz collection this time focusing on the recordings with brass instruments. The latter with KV12 Max sounded crisp, amazingly pure, and powerful and yet never too aggressive or too bright. In most recordings, meaning unless a recording itself was a limiting factor, there was a lot of air, and the sound was impressively open and effortless. All that you will also get with the original KV12, even more so with the KV9 Max, but it is the KV12 Max that is the ultimate beast delivering incredible performance with the best records, and still impressive with those with some technical imperfections, and even the latter sound very musical, engaging, and simply put irresistible.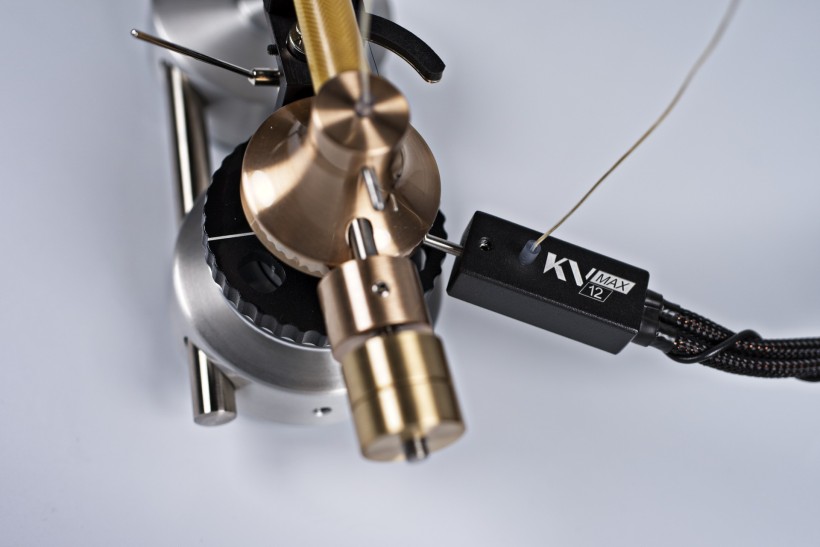 Summary
The short version would look like that: JSikora KV12 Max Zirconium Series tonearm is the best one I know! The longer one would have to emphasize again that it does everything even better than the fantastic original KV12, and few things even better than the outstanding KV9 Max. The highly expressive, so dynamic and energetic, so resolving, so precise, spatial, musical, natural performance of this arm is just addictive. Especially considering that KV12 Max will deliver totally immersive experience with the best pressings you have. Yet, you will also be able to take a deep dive into the wonderful music you love even if the technical qualities of a release don't quite match the ingenuity of the recorded music and performers.
Yes, the KV 12 Max is twice as expensive as the original JSikora arm but if money is not an issue you should upgrade your setup or purchase this one instead of the older model. There is obviously one more choice, the KV9 Max, that also outperforms the original and comes really close to the top-of-the-line KV12 Max. It will allow you to save some money and get almost the same performance. 'Almost' doesn't matter for some, others will be willing to pay extra or the tiny advantage the longer arm offers – after all our hobby is about the perpetual search for (unachievable) perfection. The JSikora KV12 Max will bring you another step closer to it. The choice is yours but if you are in the market for the top tonearm you can't afford not to consider the Max Zirconium Series by JSikora. It is just too damn good to pass on it! It is hopefully obvious by now, that I have no other choice but to proudly award JSikora KV12 Max Zirconium Series with a well-deserved award.

Technical specifications (according to the manufacturer):
Available finishes: natural yellow and lacquered black matte
Oil-dampedunipivot
Mass: 250g
VTA mass: 225g
Effective length: 12" / 8mm
Mounting distance: 11.5" / 291 mm
Effective mass: 0.42 oz / 12.5 g
Wiring: 24K Goldplated 6N OCC Copper
Price (when reviewed):
JSikora KV12 Max Zirconium Series: 12.000 EUR
Manufacturer: J.SIKORA
Associated equipment:
Digital source:  a custom passive server with WIN10, Roon, Fidelizer Pro 7.10, JCAT NET XE, and JCAT USB XE cards with FERRUM HYPSOS Signature power supply, KECES P8 (mono) linear power supply for the server, JCAT USB Isolator
D/A Converter: LampizatOr Pacific +Ideon Audio 3R Master Time (USB signal regenerator)
Analog front end: J.Sikora Standard MAX turntable, J.Sikora KV12 tonearm, AirTight PC-3, phono stages: Grandinote Celio MK IV, ESE Lab Nibiru V 5.
Power amplifiers: GrandiNote Shinai, Circle Labs M200
Preamplifier: Circle Labs P300
Loudspeakers: GrandiNote MACH4, Ubiq Audio Model ONE Duelund Edition.
Interconnects: Bastanis Imperial x2, Soyaton Benchmark, Hijiri Million, Hijiri HCI-20, TelluriumQ Ultra Black, KBL Sound Zodiac XLR, David Laboga Expression Emerald USB, David Laboga Digital Sound Wave Sapphire Ethernet
Speaker cables: Soyaton Benchmark
Power cables: LessLoss DFPC Signature, Gigawatt LC-3
Power: Gigawatt PF-2 MK2 and Gigawatt PC-3 SE Evo+; a custom power line with Gigawatt LC-Y in-wall cable; Gigawatt G-044 Schuko and Furutech FT-SWS-D (R)
Network: Silent Angel Bonn N8 + Silent Angel Forester F1 + optical LAN isolator
Racks: Base VI, Rogoz Audio 3RP3/BBS
Anti-vibration accessories: ROGOZ-AUDIO SMO40 and CPPB16 platforms and ROGOZ AUDIO BW40MKII feet, Franc Accessories Ceramic Disc Slim Feet and Wood Block Platform, Graphite Audio CIS-35 and IC-35