Sound of Eden Crescendo Duo is a 2.5-way floorstander set dressed to impress, augmented with passive radiators and competitively priced on top of that. As such it promises a lot, and now we're about to find out whether it's any good. Enjoy!  
Introduction
Although it shouldn't be any issue, shamefully I admit that until recently I couldn't name a single Latvian audio manufacturer. In early August that changed along with a mail from Andis Ožets who founded his company Audiomotiv in Riga. One quick glimpse at his appealing minimalist site revealed two fine floorstanders under the brand Sound of Eden. At first I thought that these were his, but upon sending the usual set of questions it turned out that they weren't. Andis explained that he's been an audio passionate for some two decades or so, and Audiomotiv is in fact his demo room established to showcase, market and directly sell Sound of Eden speakers and entire setups built around them. Since this assignment originated as a distributor's effort to gain some coverage of a product he believes in, it was only natural to ask about an individual who put it together.
The company Sound of Eden is a fairly recently established audio endeavor with Edijs Apenītis at its steering wheel, who also is the sole engineering brain and craftsman behind all its in-house made products. From Andis' brief description I've learned that Edijs has been into sound since his teenage years, and over a decade he restored and DIY-ed many speakers. Finally he reached a point where his developments had to be contained within a proper audio business, and that would be Sound of Eden. The two gents who operate under their own banners decided to join forces and finally take a step outside their domestic turf towards the unknown.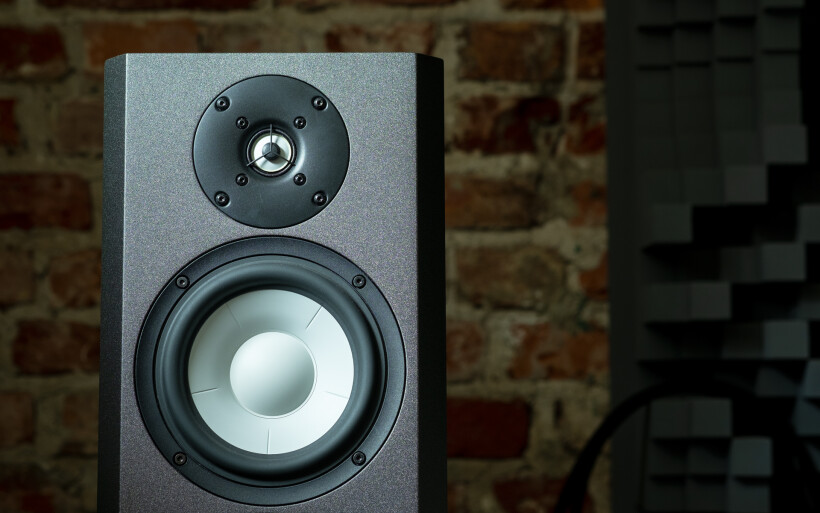 One never knows what to expect from a new audio operation, but early impressions are just enough to know whether its key people are serious about it or not. A peek at Audiomotiv's and Sound of Eden's sites was enough to know that their founders were indeed. These places share clean buttoned up look with key details, lovely photos and feedback from Latvian musicians, sound engineers, record producers etc., but not reviewers or regular customers. Today's story thus opens up this chapter. Andis offered to send over Sound of Eden Crescendo Duo model infused with passive radiators, familiar drivers and not extortionate €3'500 on its tag. If anything, that price struck me as suspiciously low considering what one gets in return.
Build
Two large cardboards delivered to my doorstep had their top and bottom floors reinforced with wooden frames, and were heavy enough to demand two adults to comfortably manage them. Each box housed one speaker inside a cloth bag and in-between several big foamy cushions that tightly locked it into place. Although cardboards are prone to punctures during transport, internal fillers surrounded today's key ingredients securely enough to leave any reasons to worry at the door. Crescendo Duo's cabinets arrived with easily detachable regularly threaded spikes already mounted on them, and eight substantial round pucks with cloth undersides were provided as well.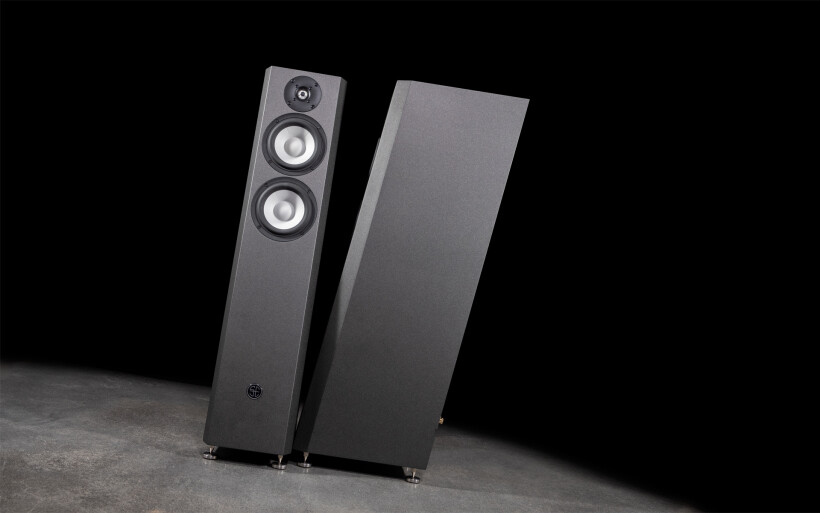 Sound of Eden Crescendo Duo is a passive 2.5-way floorstander design. Each speaker measures (W x H x D) 225 x 1190 x 346mm and weighs about 23kg, and as such was light and compact enough to handle on my own. Further specs include frequency response of 28 – 30'000Hz, 88dB sensitivity, nominal impedance of 4Ω and 250W power handling. These numbers inform us that today's specimen is not exactly easy to drive, which the manufacturer confirmed by suggesting class D amps. In fact, Hypex NC1200 model that packs 700wpc into 4Ω loads is Edijs' weapon of choice used for tuning all his speakers.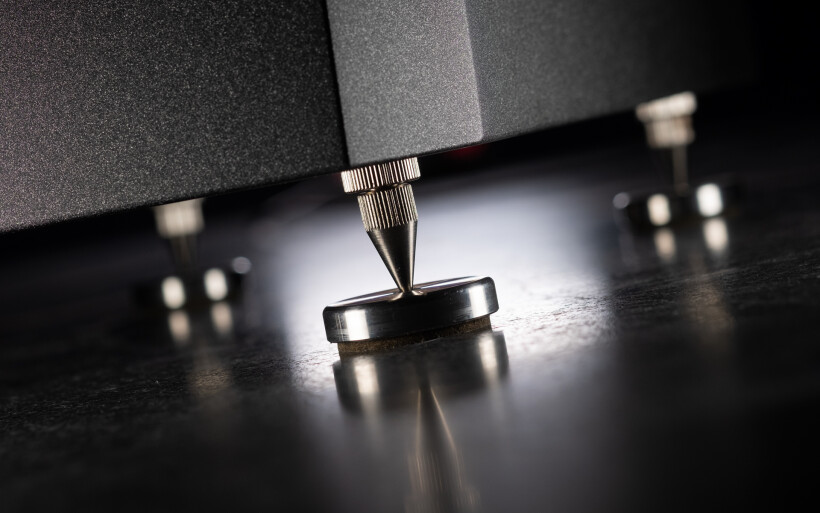 As far as fit'n'finish goes, each Crescendo Duo speaker unpeeled from its box and cloth shroud was a fully adult subject that communicated its maker's DIY days long behind him. Today's gently sloped slim enclosures with vertically trimmed foreheads keep all drivers in phase and up the ante on aesthetics to net agile appealing visuals. We see this look in products by i.e. Boenicke Audio and Audio Physic, but the list of manufacturers who tilt their speakers for the same reason is far longer. Although Edijs remained silent about his cabinet material of choice, MDF would be my guess. Crescendo Duo can be had either in glossy white/champagne or anthracite black/gray, but upon demand that list can also stretch to include polished walnut or mahogany veneers.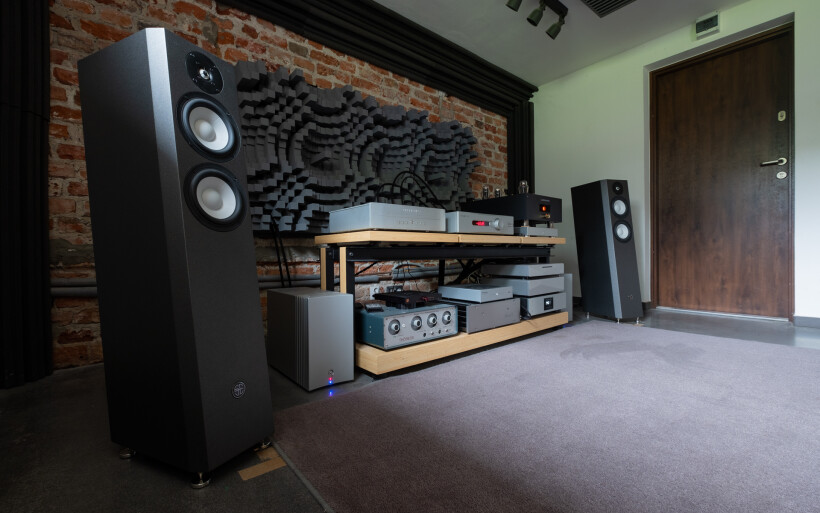 Each speaker's front baffle houses one tweeter and two identical though differently filtered drivers: one handles only bass while the other is a mid/woofer. The on-site description doesn't specify which exact transducers are those, but it's no secrecy that SB Acoustics makes them. Upon conducting some investigative work online, Crescendo Duo's 1" tweeters crossed at 2200Hz seem to be units with aluminium/ceramic hard domes, CCAW voice coils, non-reflective rear chambers and upper reflector discs for wide propagation. Edijs' 6" drivers of choice feature geometrically reinforced ceramic cones, soft long-throw rubber surrounds, CCAW voice coils, non-conductive fibre glass formers and cast baskets. X-overs comprise of Mundorf's components that form 3rd– and 4th-order filters, but nothing else is known about these networks, and the same story is with internal compartments and damping material. Since my loner came from a shop, opening it was off the table.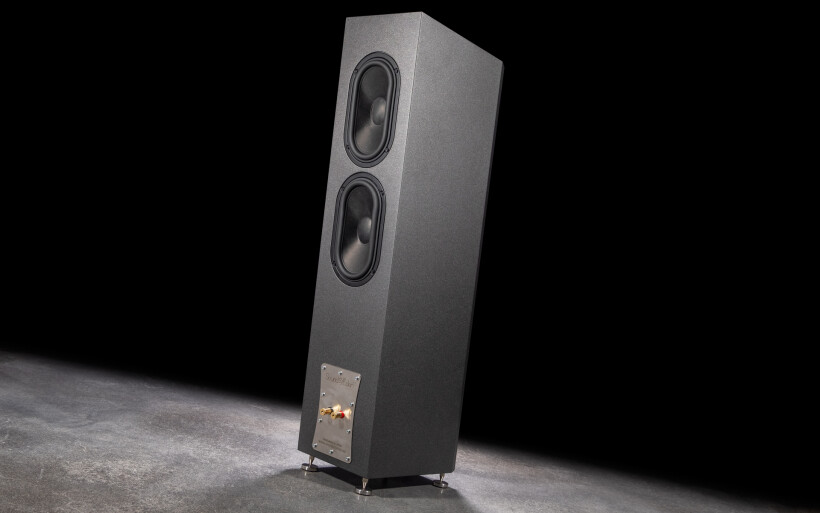 Twin passive radiators on each Crescendo Duo's rear to me were its trademark feature, and a smart move considering how troublesome regular ports can be. Edijs took this design approach to tame standing waves and land well-pronounced deep bass from a rather compact box. Not only this, passive membranes and sealed enclosures usually score far higher on room compliance than vented affairs. Crescendo Duo priced to sell is thus destined for living rooms more than acoustically treated audio bunkers without windows, or at least I think that the former will be its most common habitat. The higher the odds of its success in there the better, while passive twists in form of rear oval cones surely help in achieving that goal.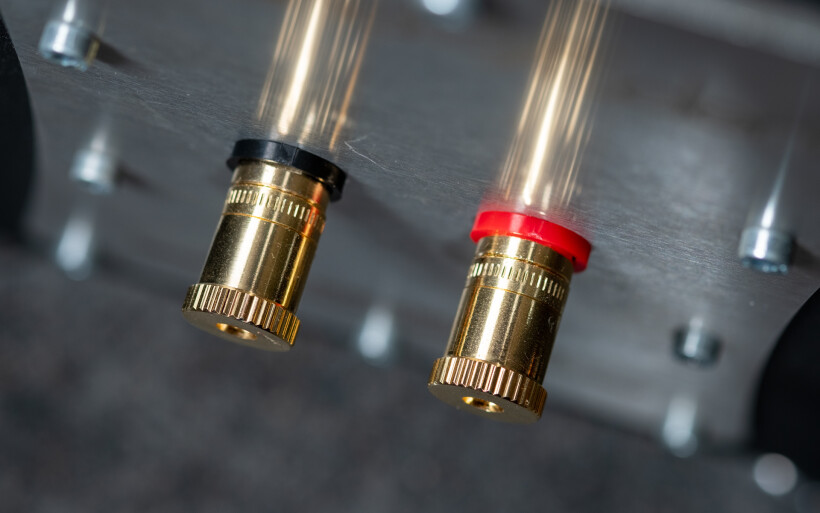 Sound of Eden Crescendo Duo impressed me for many reasons, but photos don't quite grasp them all. For that one would have to admire this Latvian effort up close; knock on its dead-silent walls, see how well it was put together, how evenly each driver sits in place, and how Edijs thought about small things. Two differently shaped grills per box that protect all transducers mount via strong magnets, which I'll always gladly take over regular bolts and matched openings. Although they remain unseen on the back, Jantzen's binding posts occupy a massive brushed aluminium plate. There's no glue anywhere in sight, and paint job is expertly executed. Crescendo Duo's on-site photos already gave a reason to think of it as a professional affair, whilst its presence under my roof quickly confirmed this initial impression. Now let's find out whether this Latvian's performance keeps up with everything else already covered.
Sound
Innuos Statement handled storage/transport, then LampizatOr Pacific DAC (KR Audio T-100/Living Voice 300B + KR Audio 5U4G Ltd. Ed.) passed signal to a Trilogy 915R/995R set. From there Boenicke S3 speaker cable connected either to Crescendo Duo or Boenicke Audio W11 SE+ speakers. Interconnects used were Boenicke Audio IC3 CG and XLRs which I DIY-ed. All key hardware was powered by Boenicke Audio Power Gate distributor box plus its three captive M2 cords and two LessLoss C-MARCs. The USB chain included only one Mercury3.0 USB cable. A set of external LessLoss Firewall for Loudspeakers modules complimented both speaker sets, while a Fidelizer EtherStream was in-between my Linksys WRT160N router and Innuos Statement server. ISOL-8's Prometheus PSU connected to the router and network switch.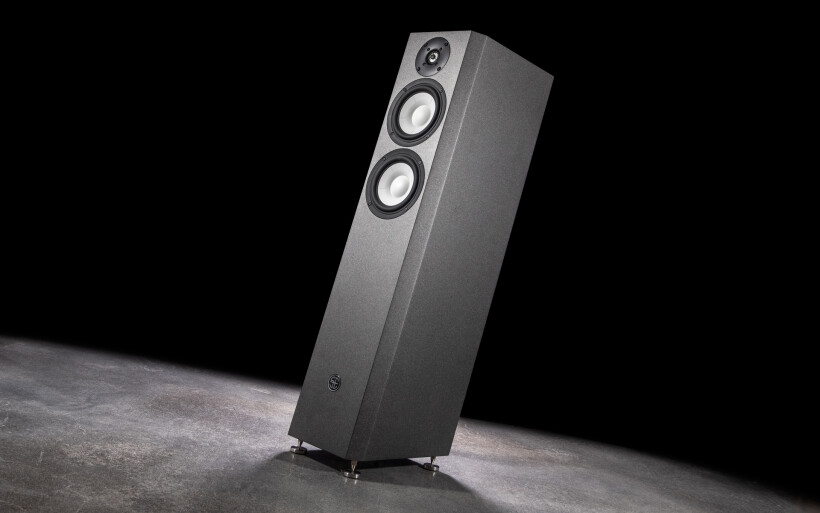 As per usual with speakers, finding optimal positioning for any such a product is the first order of business. Crescendo Duo's both towers separated by at least 2.5m with 75cm to adjacent walls or more was Edijs' recommendation. My fairly small room allowed to meet these criteria and increase speakers' distance to the front wall by about 45cm extra for higher imaging depth, but that was it. Upon positioning both towers as described and crossing a fair bit behind my seat, they were fully ready for action. I had no class D amp at my disposal, but Trilogy 995R monos biased into class A/AB respectively pull 100/350wpc into 4Ω loads, and that power output made Crescendo Duo very happy as it turned out.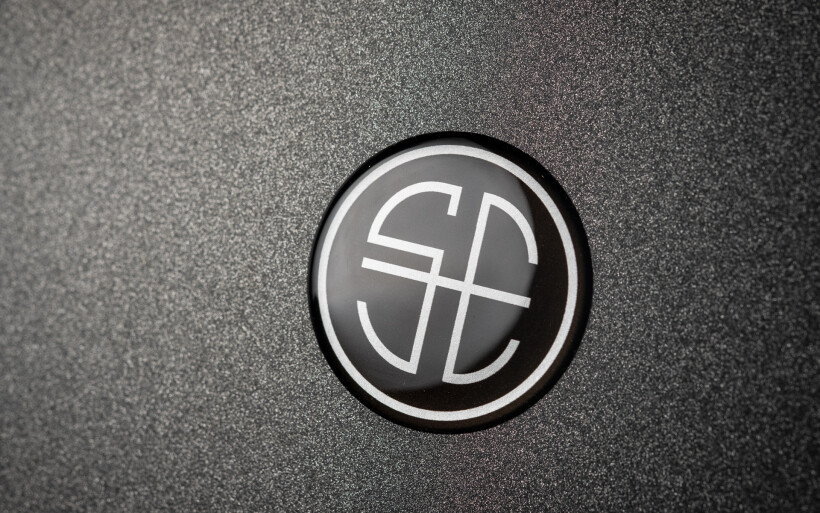 Although my monos' class AB provided extra horsepower that translated into greater bass slams and control, sonic trade-offs elsewhere were too significant to not take them into account, so after two days of auditions class A was back on. Perhaps in rooms say twice as large as mine I'd leave the former bias engaged, but that was of no importance. Space I had available dictated what I could comfortably do in there, and I enjoy my setup a fair bit more when its two monos are proper hot.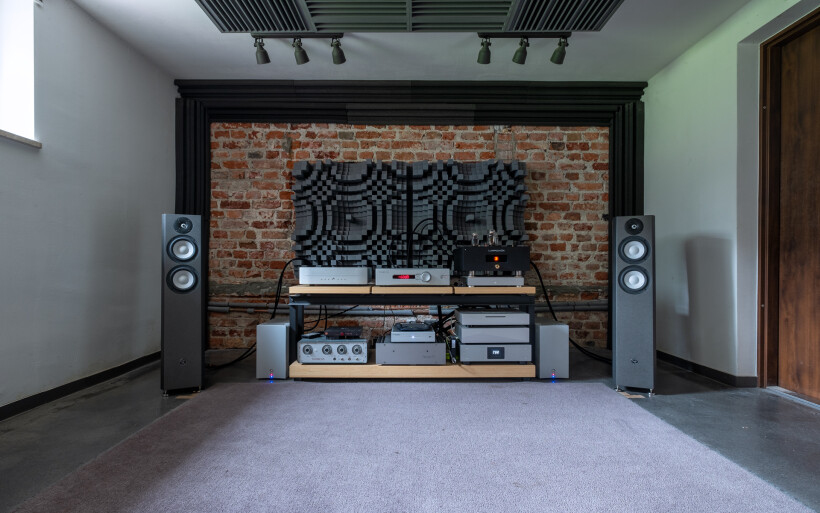 Crescendo Duo's stiff 6″ cones and twin rear ovals gave a way to think that it was designed to effortlessly sing loud, bold and controlling even at SPL far above comfort zone, and I had just the plan how to find out whether my guesses were correct or not. Passive membranes coupled with a wall promise clean powerful tectonic bass, and all alike equipped speakers I've auditioned in recent years truly benefited from that 6dB boost it provides. Upon trying this with Edijs' product its lows became monstrous on slams as predicted, but on quantity grew so massive that I had to capitulate. Here I can't know what would've happened in a roomier space preferably with a higher ceiling, but the key takeaway from this exercise was obvious. Crescendo Duo positioned a good meter from my cave's front wall did far better than an arm's length away. Given its type this was new and quite unexpected.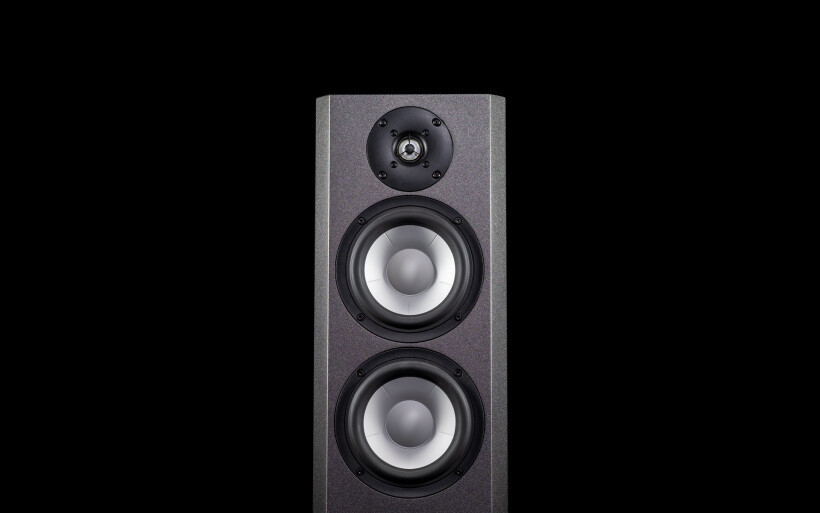 Here it's fair to elaborate a bit about what slamming bass actually means to me. Think of it as held in iron grasp so well that it hits very hard and goes low enough to be felt in one's chest. As such this frequency range emphasizes power, quickness, effortlessness, precision and outlines that steal some points from roundness, thickness, textures and politeness. In this specific context Crescendo Duo packed a properly powerful punch downstairs just as it should, but its fat content was higher versus other similarly augmented speakers I recall. Their kind puts more hours into cardio workout than lifting weights, while today's subject divided its time at a gym more equally. It was agile indeed, but also very muscular at the same time.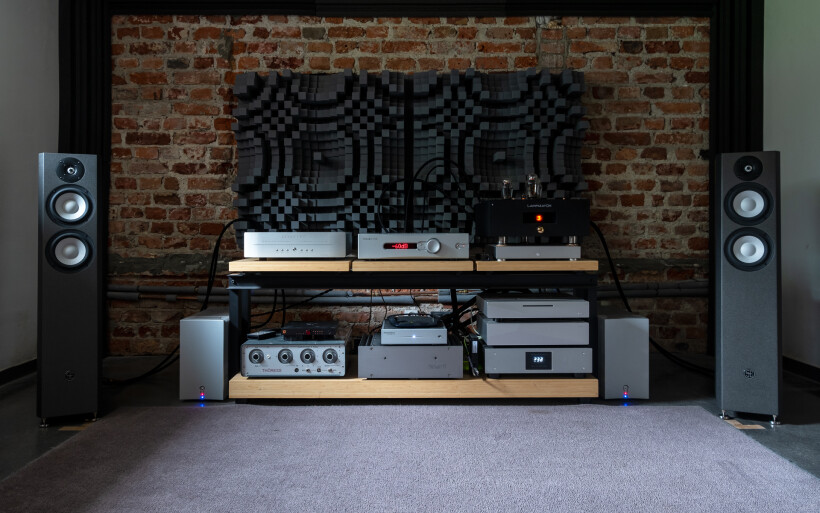 Crescendo Duo was a perfect reminder to myself that familiar cone material, transducer type and topology in general needn't match my expectations. Given today's arsenal I was ready for quick lean performance with stout energetic bass above all else, but luckily I didn't put any money on that. Latvian speakers had their downstairs nicely developed and gutsy, but also were pleasantly hefty above to portray vivid majestic landscapes filled with nicely rounded big key sound sources. Nothing about this sound was ethereal, anemic or itchy, and its general profile stuck me as geared for ease of delivery, tangibility and substance, which keep nervousness at bay and will make many casual listeners very happy.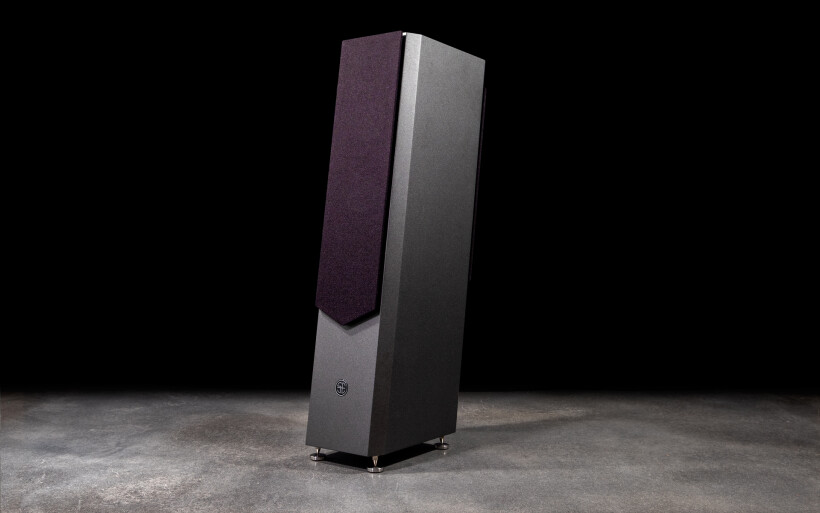 Although Crescendo Duo's tuning as described I consider as safe and meant to please with music instead of dissecting it, its sealed box and rear-firing oval reinforcements make it also properly articulate, open, informative and fresh. Most vented products can't maintain this ratio, but this one could. It also wasn't veiled, fuzzy or diluted, and I appreciate nicely grounded speakers which know how to stay clear from that area. Considering all this, I'd thus categorize today's psych profile as groomed for sheer fun, nicely balanced and generous enough on sweet spot to accommodate more than one listener. Still, Boenicke Audio W11 SE+ had to step in to confirm these findings and know where Crescendo Duo's place truly was.
The Swiss versus Crescendo Duo naturally felt noticeably more light-footed if not ethereal at first, but also quicker and tailored for greater insight and sensibly harder yet optically smaller bass blows. Although the former's higher resolution and overall hi-res disposition during that comparison was evident, the Latvian didn't emerge as unclear and stuffy, not at all. After each swap from the W11 SE+ to it the view wasn't inferior but rather significantly changed to have my attention on features beyond my daily driver's priority list. During that fight Crescendo Duo emerged as more earthy, grounded, darker and massive, and in that sense also grand. That's what happens upon providing well-controlled heft and commensurably tall full key sound sources, and this speaker set was all about that.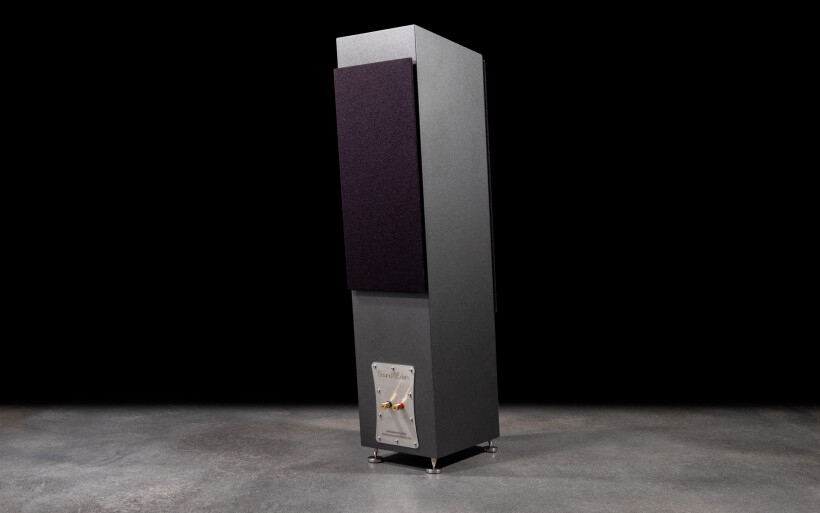 Boenicke Audio's products are known imaging fiends that stage off-charts deep and wide, and not many products are capable of going with them toe to toe on that specific front. Although Crescendo Duo wasn't either, but had its own agenda how to tackle all spatial challenges I had in store. Instead of racing its rival on canvas sizing and depth, this report's loaner had me primarily focused on well-pronounced grand first plan, and by filling that space with large bold nicely sculptured sound sources it didn't feel small in comparison. In that sense it felt like a far bigger specimen with larger cones that didn't struggle at all. Think a 2.5-way on steroids versus the W11 SE+ that decompressed into my room more like a stiffer sportier open-baffle type. The latter's its positioning in there some 70cm closer to the listening chair naturally netted greater depth, far higher oxygenation, more potent vanishing acts and wider structurally more complex landscapes, but the key disparity was in what my ears saw. Crescendo Duo rendered easefully served images stretched wide from left to right mainly in front of me, while the Swiss put me in them and surrounded by extra space, and that one aspect had a major impact on how I perceived both contestants. Needless to say, they weren't alike at all.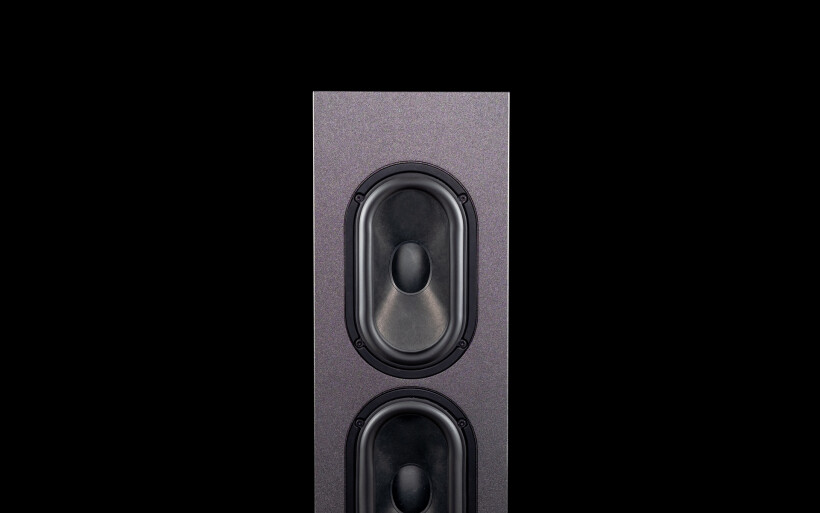 As a sucker for imaging illusions I truly enjoy what Sven Boenicke's second best speaker set regularly pulls at my place, but many non-audiophiles would see Crescendo Duo's voicing as more approachable and fun-oriented. The latter thrives on tasks that demand this exact approach, is well-sorted on domestication and tastefully voiced in general, so its lesser score on several counts versus my five times dearer daily driver honestly is of no importance. Here it should be also said that by not having a twice as powerful amp with a lower output impedance I feel that I've missed something important. My gut tells me that such a companion would stiffen Crescendo Duo's suspension and make it even more visceral, but what this speaker set did already was mighty impressive.
Summary
Shortly after setting up and briefly auditioning Sound of Eden Crescendo Duo in our room, my colleague Matt thought its retail price was about €7'000 or so. If I were in the man's position my estimation would've been be quite similar, because that's how this floorstander type looked, felt and sounded like.
Although Sound of Eden is a fairly new audio business, its founder Edijs Apenītis is no freshman and that's clear. From afar his Crescendo Duo looks rather regular, but up close stands tall as a well-sorted polished effort free from manufacturing infancy or DIY. Tilted cabinets with vertically trimmed fronts make it visually speedy and attractive, while its rear-firing passive augmentations translate into high room compliance and proper elastic bass free from wobble, smear or boom. A high-powered amp capable of keeping control over Crescendo Duo's artillery is mandatory, but that's a reasonable demand given its specs, fairly compact frame and sealed topology. I also appreciate the fact that Edijs is vocal on this count instead of maiming us with puny valve decks any fit for this job. They aren't, not even close.
Affordable floorstander types aren't frequent guests at this site, the most recent a such review penned by yours truly dates back to… mid 2017. Considering this, Sound of Eden Crescendo Duo above all else emerged as a perfect reminder that big-bore engaging sonics from a compact yet serious and finely executed box is no fantasy. This 2.5-way affair is anything but and priced to sell, which makes it this much more appealing and accessible. I look forward to what's next in Edijs Apenītis' pipeline and 'til next time!
Associated Equipment:
Retail prices of reviewed components in EU (incl. tax):
Sound of Eden Crescendo Duo: €3'499/pr