Audio Group Denmark's brand Aavik focused on electronic components recently developed a streamer branch that incorporates three products. A while ago the most affordable model from this lot – Aavik S-180 – was sent my way and now it's time to tell its story. Enjoy!
Post-Munich streaming
Since this year's HighEnd event felt different than usual, it's fitting to start today's story on that note. Shortly prior to such exhibitions I used to plan my routes, make appointments and double-check all the necessary photo hardware, but this time around I purposely went to Munich without all that. It turned out that a smartphone and the ad hoc cooperation of two well-organized chaps can really go a long way. Srajan made that point very clear in his no-show report. Our MO was simple; my phone shots sent his way throughout the exhibition were the base he then described and updated in real time as he saw fit. That way from his crib the man could do what he enjoys the most – that would be writing – while I had fun providing such content casually for once and way quicker versus my daily photo flexing. This sniper-spotter collaboration of ours also fleshed out a rather clever report form that doesn't have to but might stick, we'll see. Moving on, three years is time long enough to develop wild appetite for the usual show routine and attractions, but rooms, setups inside them and their sonics were entirely off my priority list that included only talks to the industry's people I haven't seen since 2019. If missing familiar faces far more than spaces full of fancy boxes, cables and accessories is a crime, then by all means color me guilty.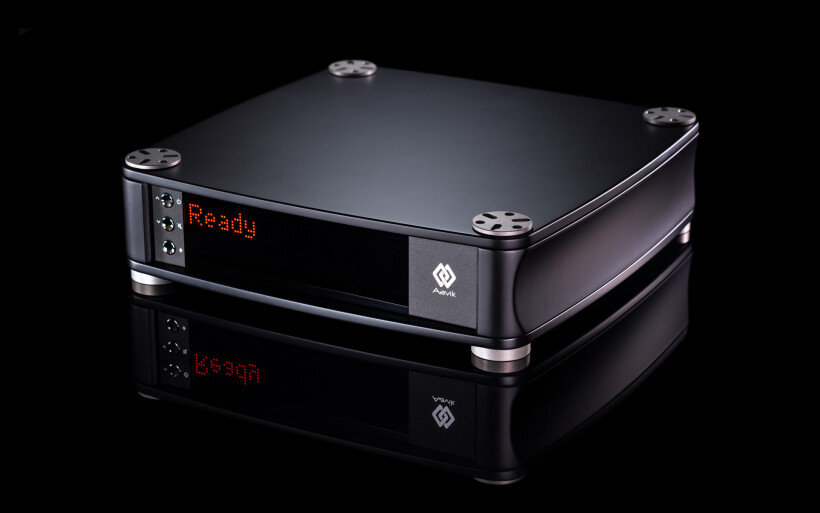 Although the MOC's halls were a touch less busy than they used to and with some extra leisure zones here and there to fill empty spaces, I didn't hear any complaints about traffic. Everyone seemed really happy to finally be there after the pandemic hiatus, but the omnipresent sensation of unity, relief and appreciation for being on that soil again felt particularly awesome to me. Suffice it to say, Covid-19 and war not too far off from where I live are reminders to not whine about silly things and be grateful for what I have. "Lucky bastard" is what I now often say upon looking at the mirror and during my stay at the MOC's premises I felt lucky indeed. Its hall 4 greeted me with a twin room that housed two systems comprised of Audio Group Denmark's brands Aavik, Ansuz and Børresen. An entire army of new entry-level and top tier components that spanned across these three rosters included D-TC Gold Signature cables based on a new copper/gold/silver alloy, a 200wpc class A push-pull integrated amp baptized 880 plus M and X series speakers. Needless to say, their designers had to be extremely pleased that this year's HighEnd event actually took place.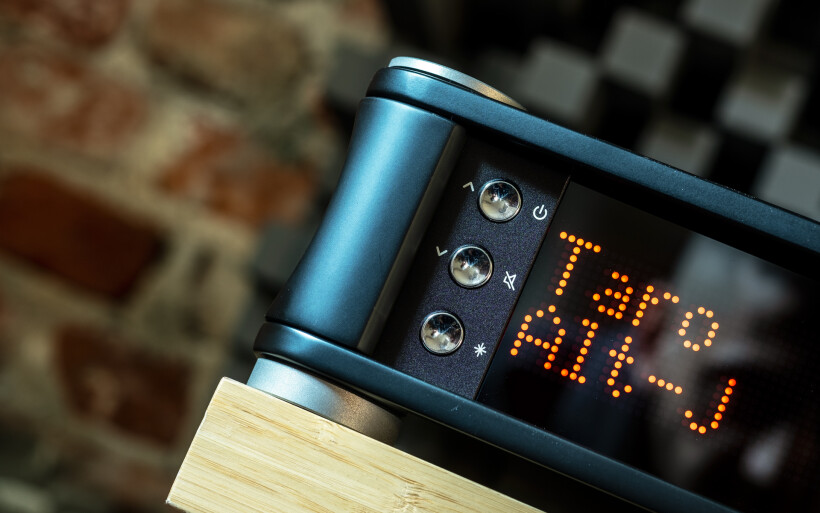 Børresen's latest X monitor model features 3D-printed zirconium baskets, silver rings, titanium-infused Nomex cones and €100'000 sticker. Ansuz' each gold-plated power cord demands €60'000+ and Aavik's 880 integrated amp styled by none other than Flemming Rasmussen shapes up to be even pricier. By stretching their offers primarily on the very pinnacle Danes communicate how much untapped performance reserves they still have in store for customers willing to spend upper five or six figures per product. Although reaching for anything from this dear lot is tempting, it remains to be seen whether I'll follow. In the meantime in Warsaw two boxes with the Aavik logo on them still awaited their turn. Since I skip Audio Group Denmark's products already covered by Srajan who also keeps away from streaming, that specific base demanded my attention at some point. Today's that day. Although Aavik's streamer family is fairly new, its designers' relentless pursuit of performance had me intrigued nonetheless. The two Ansuz types recently reviewed at this site were very costly, so for a change I wanted this story to be less wallet-intense. Aavik S-180 streamer priced at €6'000 was the perfect fit.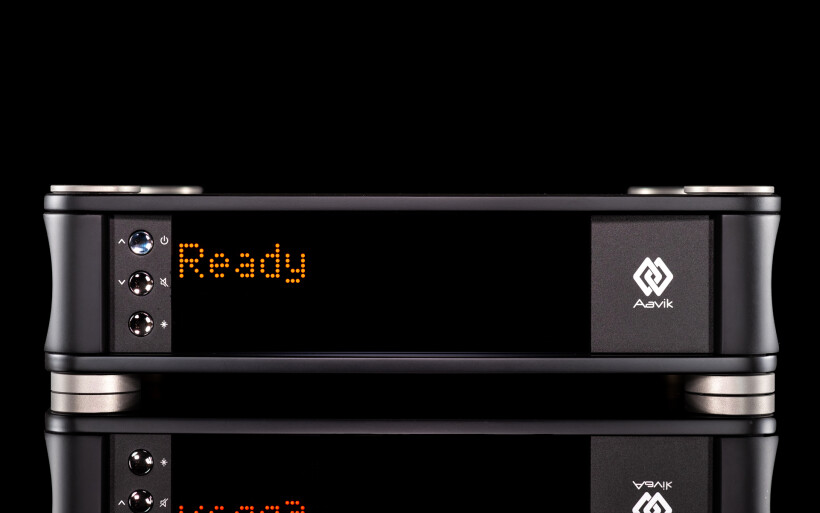 A standard issue external cardboard housed Aavik's signature semi-matte black box with a large red brand logo on its top cover. Two dense precisely cut foam inserts inside it secured the main ingredient in a cloth bag and had small compartments for accessories; a manual and Apple's sleek silver remote wand that regulates volume, changes inputs, engages the standby mode, pauses playback and activates the main menu. Although that RC is functional and works brilliantly, I wouldn't say no to its equivalent i.e. all black with red buttons to match Aavik's well-established color scheme, but that's just a personal preference not a con. The absence of a regular power cord in the box wasn't a surprise in the slightest. Customers into products such as today's affair consider these cables as throwaways and Danes know it.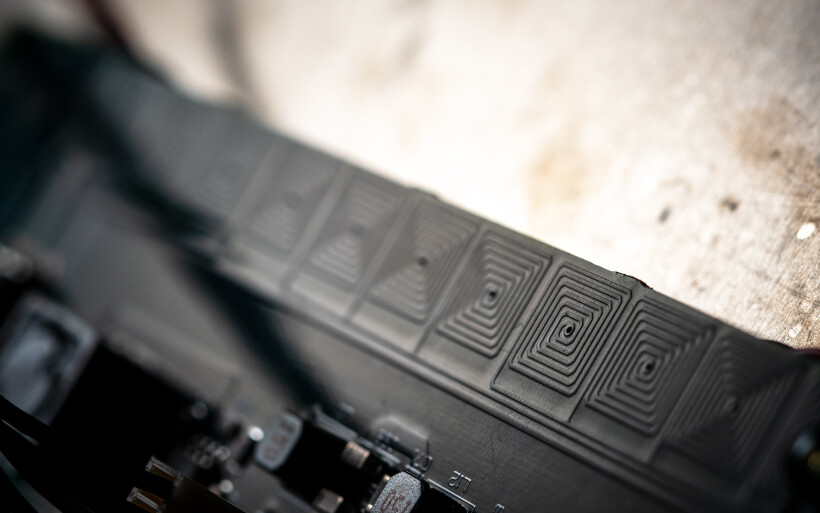 Aavik's new arrivals aside, all the remaining products in that lineup share 102 x 384 x 400mm (H x W x D) satin black wood-composite enclosures that feature anti-resonance properties and are free from the hysteresis effects of paramagnetic aluminium. That also explains why the S-180 loaner looks and measures exactly like the I-280 integrated amp and the latter's substantial volume knob is the only thing that sets them apart. Aavik's introductory streamer can be used as a MQA decoder and Roon's endpoint and is compliant with DLNA 1.5 and UPnP AV 1.0. Its enjoyably light 5.2kg mass and compact footprint make it a breeze to lift and move around. Its digital outputs go up to 24-bit/192kHz. Power draw is <0.5W on standby and <20W in use.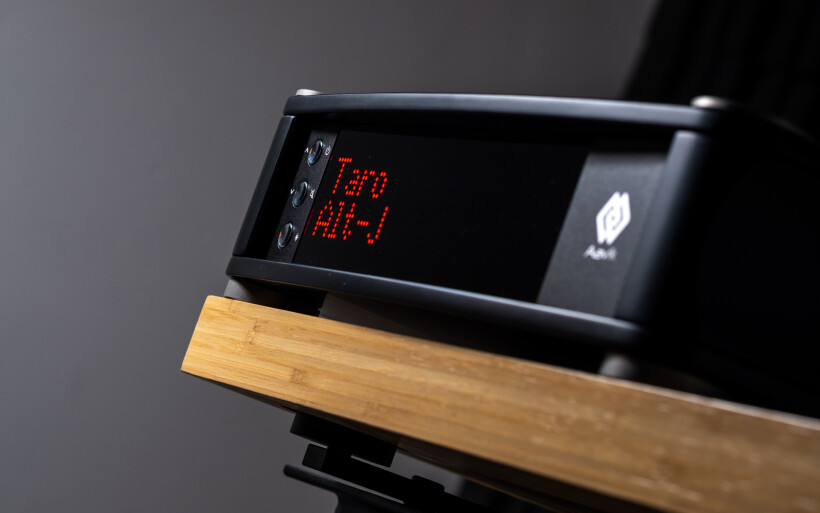 Aavik S-180's exterior comprised of two concave cheeks in-between upper and lower plates is held in place via four long bolts under as many dimpled discs on its underside. These round inserts mirrored upstairs allow one to either directly stack Aavik's components, or incorporate Ansuz' decoupler footers of choice in-between. Three titanium balls per disc are all that's required. Considering this, the S-180's minimalist Scandinavian dress was designed to strike the perfect balance between damping, mechanical stability and sharp looks. Three multi-functional buttons on its forehead's left side engage the standby mode, mute playback, pair RCs, access the menu, regulate volume and switch outputs. A glossy red dot matrix screen displays letters large and perfectly readable from afar. A single LED visible either in its lower left or right corner cleverly indicates whether the product is respectively on standby, or is it fully operational yet with its display dimmed.
The S-180's business end from left to right features a fused IEC inlet, RS-232 port for firmware updates, two DC trigger connectors and as many USB type A sockets that accept thumb drives with music and WiFi dongles to effectively turn the product into a wireless streamer. Its single RJ45 input a bit further to the right connects to a router and the adjacent RCA outs inform us about a DAC inside, though the manufacturer doesn't market this feature and shortly I'll explain why. And lastly, the S-180's digital outputs include only optical and coaxial S/PDIF on BNC. Upon asking about the reason for ditching a USB out I was told that this interface was inferior enough versus the other two to not bother. Popular or not, it simply didn't matter. My DAC features a BNC input and my music diet includes mainly Redbooks, which is why I didn't miss USB, but you might.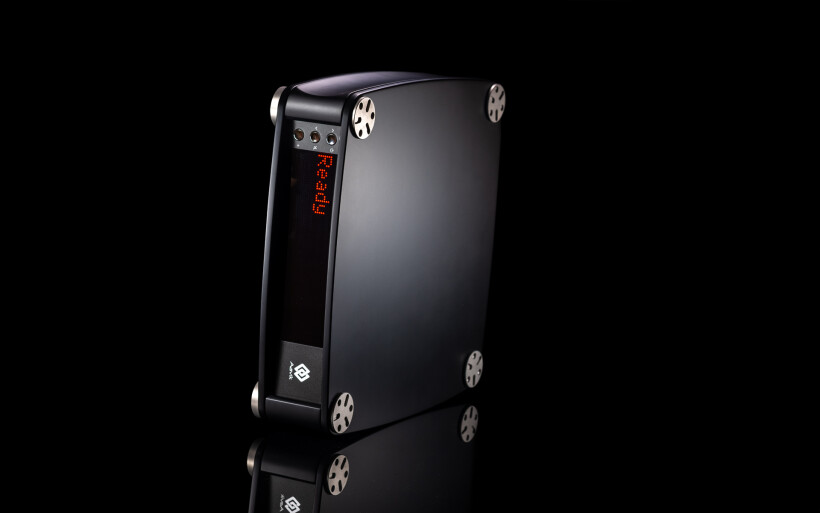 Upon unbolting all discs and screws on the Aavik S-180's underbelly I was able to easily remove its bonnet and take a peek inside. The small customized PCB piggybacked on a larger one is Conversdigital's streaming module based on the same company's customized software and managed via its mconnect app. The main board with switching power supplies, regulators, clocks and transceivers was Aavik's own job made from scratch. Although the most affordable in the offer, the S-180 was packed with Audio Group Denmark's signature noise-suppressing tech; 3x dither circuits, 36x active Tesla coils and 92x active square Tesla coils. These components spread across two boards took forms of small ICs, spiralled squares and oppositely twisted black wires, all designed to combat incoming noise. The more of them there are, the more potent their action is and that's the manufacturer's method for scaling performance. Aavik's S-280 model priced at €10'000 ramps listed numbers respectively to 6x/72x/164x, while the €20'000 top dog S-580 goes even higher to 9x/108x/236x and gets a copper internal compartment plus a large anti-resonance titanium X-shaped insert on its hood. Moving on, a standalone DAC chip inside the S-180 loaner was nowhere to be found since it embeds inside one of its many ICs. I imagine that some individuals might not find that approach kosher enough, but if Audio Group Denmark's engineers were able to unlock the DAC utility without crippling the product's performance and/or increasing its price, why wouldn't they? Besides, even though it technically is a streaming DAC, it was introduced to me and advertised as a streamer and that's where my focus was.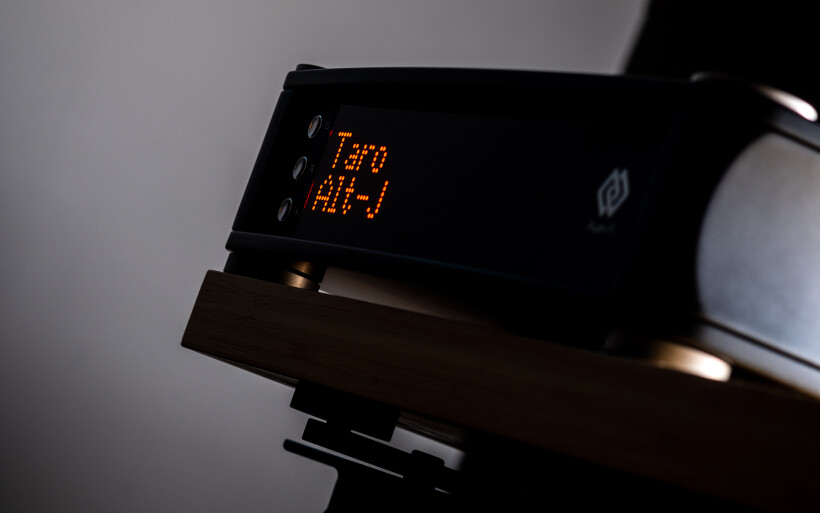 Although Aavik S-180 is its makers' first streaming effort, it was stable as a rock, very responsive, nicely executed and with its infancy days well in the past. Once turned on the machine first engaged its startup sequence that lasted about a minute and ended when a horizontal line progressed all the way throughout the screen's width. Then the self-explanatory word 'Ready' showed up and from there I could access the main menu to view and change several things; update firmware, scan for nearby WiFi networks and connect to them, check wireless signal strength, display LAN status and software/firmware versions, set DSD output (DoP/PCM) and MQA unfolding (in streamer/in DAC/off), turn gapless playback on/off, set digital volume control (fixed/variable), dim display after five seconds, change its brightness (10/40/70/100%) and show playback info (active source, codec and sample rate).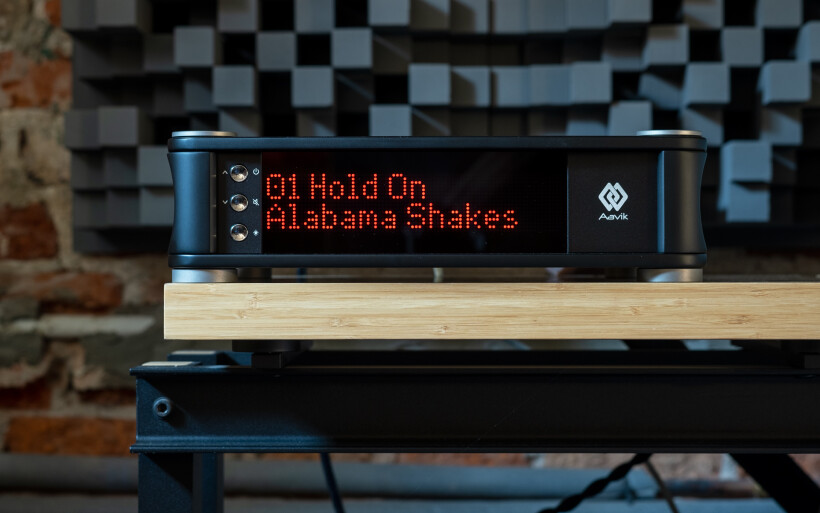 The Aavik app is essentially Conversdigital's own mconnect software visually customized to match the brand's main colors. It integrates Tidal, Qobuz, Spotify and vTuner and allows for multi-room control plus streams from local servers and external storage devices. All that was beyond my interest, with the exception of a thumb drive loaded with music that proved handy during comparative auditions. After several weeks of using the Aavik app all I can say is that this mature software kit was as stable as it was easy to use. However, my streaming needs are very basic and it doesn't take much to keep me happy, so I'd take these impressions with a grain of salt. That app also demanded an iPad to work and I had to borrow one to proceed with this assignment, but that's not Danes' fault considering that they rely on outsourced code. Interestingly, AirPlay and Chromecast originally included in that package were rejected for the same reason as USB.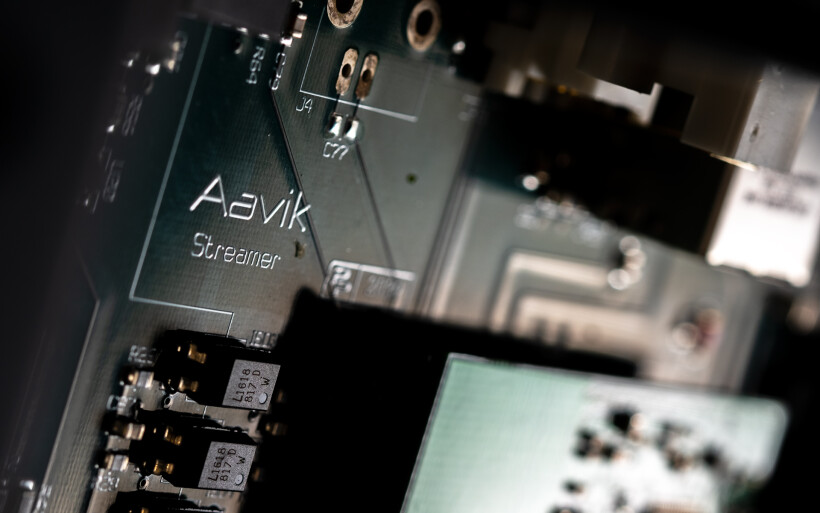 Aavik S-180 naturally had to fight with my reference Innuos Statement. Their power inlets saw Boenicke Audio Power Gate's captive M2 cords, but the former streamer talked to my DAC via BNC, while the latter sent out data to its USB input. That's why two different digital cables and receivers were engaged and I had no way of mapping how much all that factored in. Just to make this review possible my contact at Aavik – Morten – also sent over Ansuz Digitalz C2 BNC cable priced at €2'500, so 8.3x costlier than iFi audio's €299 Mercury3.0 USB equivalent I've been using for a while. Both streamers simultaneously controlled via two different devices (my iPhone and iPad loaner) were connected to the Fidelizer EtherStream switch and my DAC at the same time, so just by turning its input knob I could instantly and very conveniently make the necessary swaps. Since the S-180 didn't feature a storage of its own, its USB port accommodated a 32GB Kingston drive loaded with a selection of music taken from the Innuos' warehouse.
Many amps, DACs and speakers are built in a way that tells me a thing or two about their sound, but streamers always leave me puzzled. Who knows, perhaps I haven't yet inspected and heard enough such devices to discover any firm patterns that would allow me to profile them to at least some extent. Since their internals, enclosures and software still don't form anything concrete I can hold on to, their designers' sonic MO is the only indicator of what I might possibly hear. Speaking of, Audio Group Denmark's team cherishes voicing fast, quick, open, spatially big and feisty, but also meticulously stripped from noise and that boosts colors, increases smoothness, adds extra mass and darkens backdrop. Here the guideline is simple; the more expensive their hardware gets regardless of its type, the more pronounced all these traits become. By Danes' standards this story's subject is an entry-level specimen for customers with limited funds and familiarity with the brand, which in theory should keep any high expectations at bay. It doesn't. The company's sales director – Frits Dalmose – once told me that they suck at downscaling and even their most affordable goods are infused with the same sonic DNA. After hearing quite a few their products I can only agree and by acting accordingly Aavik's S-180 loaner proved that point once more.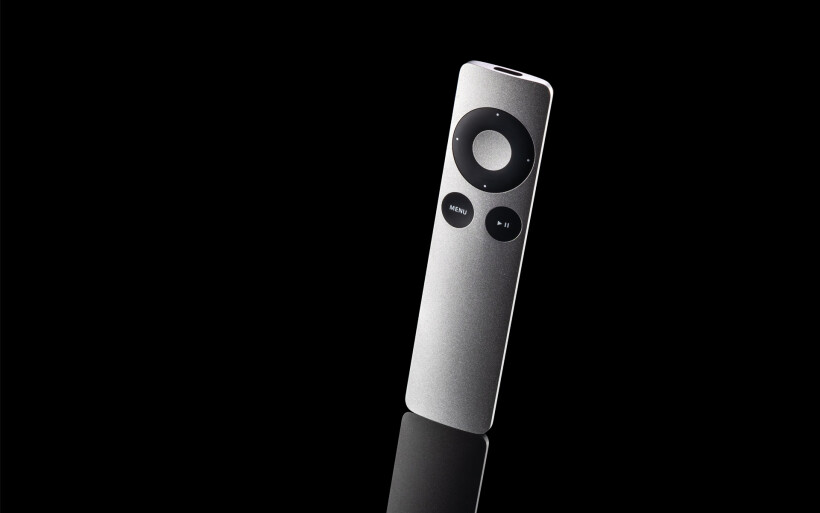 As per usual I started by connecting the product in my system and leaving it there for several days. Then I had a brief listen to see where things were and at this stage I'd normally carry on with my life to return later on, but didn't have to. Aavik's streamer sounded suspiciously seasoned and free from any digital grit, which was a good sign that the time was right for its key evaluation phase. At first I wanted to frame its performance into a safe context based on backbones either quick, open and lean, or gutsy, round and calm, to then possibly expand from there. None was just the right fit, however. The more hours the S-180 was on duty, the more firmly its voicing secured the spot right in-between the two opposite profiles without leaning towards one or the other. That attitude effectively communicated aural versatility, appealing completeness and contempt for any firm biases.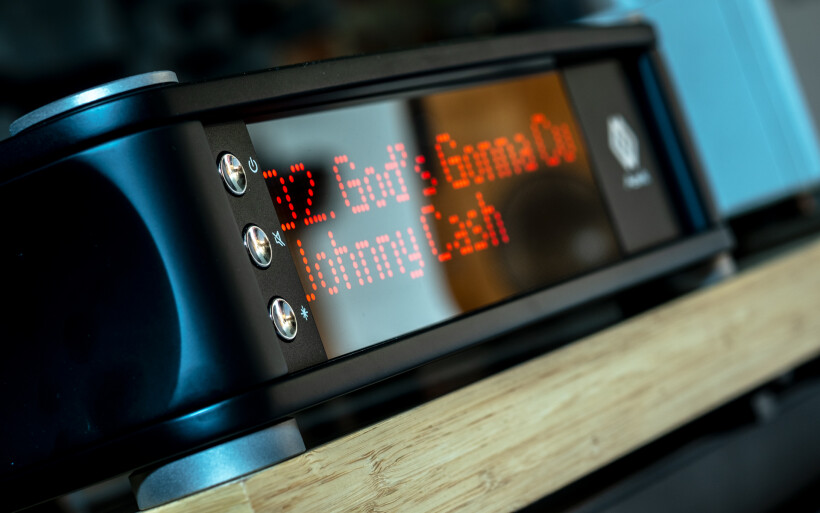 As much as I was curious about the Aavik's audible weaknesses, further auditions yielded no such results. It sounded too complex, powerful, juicy, outlined, investigative, spatially open, tonally loaded and all in all alive to nitpick. That wholesome evenly executed voicing was very much up my alley, but most interestingly its particularly inviting snap, vigor, directness and overall might were not financed at the expense of decreased color, muscle tissue, specificity, sensuality and intimacy. All these virtues were a part of the same meticulously prepped sonic package. Speaking metaphors, the S-180 was no skinny weakling or clumsy brute, but a well-dressed elaborate athletic gent who knew equally well how to charm in a restaurant and land hard quick jabs capable of breaking ribs in a bar fight. That broad skill set spelled out its full readiness for meeting all challenges on my playlist head on. The Aavik handled proper every single such a task with unconcealed ease to not feel any limited on any specific count. It just stormed through all that content without complaints no matter what was on the menu; rock, metal, minimalist acoustic string bits, large drums, synth beats, soothing vocals, orchestral pieces… it didn't make any difference at all. The way I see it, each audio component as texturally gifted, sensibly substantial, agile, resolving and spatially liberated as today's Aavik I'll always categorize as tailored for audible completeness and simply put awesome. That's exactly how this streamer sounded like, and it also remained relevant throughout its entire stay at my place because of that.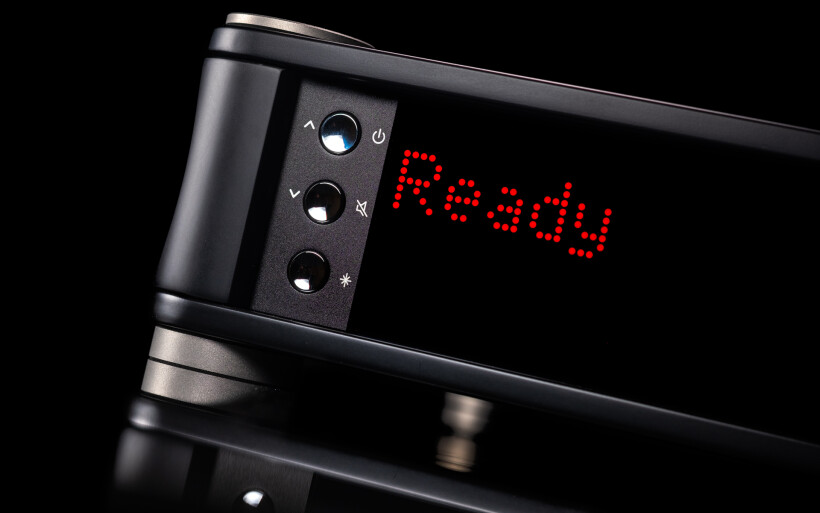 After mapping the Aavik's profile it didn't really matter whether it was able to withstand the 2.5x dearer Innuos' offensive or not, at least not to me. The former clearly was no mere lineup extender, but a very capable high-tiered machine profiled to not shy away from any such fights and that was the main takeaway. Even if this sleek black box was destined to land below my reference platform, it sounded grand enough to see myself very happy with it, which is quite the achievement considering that it opens up Aavik's streamer lineup. For the sake of keeping things simple, fidata HFAS1-S10U I still have and routinely use represents sound warm, fluffy, round, thick, calm, intimate and tonally rich, while the quite oppositely voiced Innuos is a monster on resolution, quickness, openness, raw power and wild directly served spatial stunts. The S-180's own aesthetic fits right in-between these two core tunings; it draws as much from both and carefully blends all their ingredients into one evenly balanced mixture that's free from any major downsides and highlights. Although it doesn't excel in any regard in particular, it also doesn't dive below very good notes across the board. I've found that very comforting.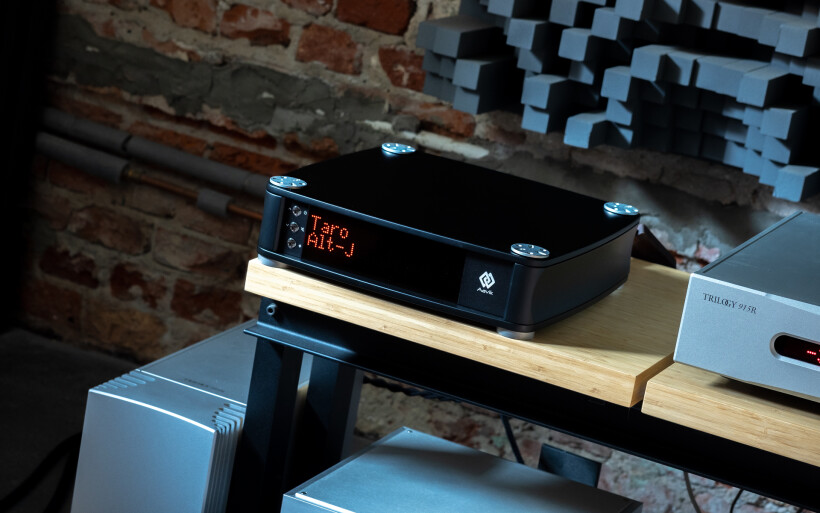 Although the Aavik and Innuos scored as many points on background blackness, sensibly slamming disposition, generous smoothness, imaging width and height plus overall wholesomeness and fully ripe tone, their voicings were different still. Some would ask about the one that was superior, but when two audibly great products clash that's irrelevant. When such a fight happens I'm primarily interested in finding out which one does more and on where exactly, but that doesn't render one as inferior. As a hi-rez ride built upon a stiff suspension and silly horsepower the Innuos felt noticeably more energetic, wiry, immediate, direct, contoured, open, investigative, somewhat leaner, sunnier and spatially more enveloping, while its bass dug deeper and jabbed harder. The S-180's sound in that context was more hooded, calmer, a touch distant, less elastic, thicker, rounder, shallower on imaging depth so not quite as surrounding and with shorter less shimmery upstairs. The difference was audible enough to know which one was a higher-tiered streamer, but upon getting back to the Aavik there was no pain at all.
The more I thought about that brawl, the more it seemed fundamentally similar to the fairly recent fight between Ansuz D-TC Supreme and Boenicke Audio M3 power cords. The far costlier former cable came on top then just as the Innuos now, but Sven Boenicke's product still struck me as a stunner and so did the S-180. Without my ongoing exposure to the Statement's gearing for fast laps I would've easily labeled Aavik's introductory streamer as exceptionally speedy, slamming and enjoyably brutal. I'm also certain that most listeners will perceive it as such. A massive comfy SUV with a 6.4l engine that pulls 500hp to the wheels still is an impressive ride outside the track and today's hardware in a nutshell. This accomplished effort ain't no family hauler meant for cruising speeds, not any close. It did truly well on all fronts, was a joy to use and punched above its retail price that rather conservatively reflects what it is. Considering how sorted it turned out to be, it's exciting to think what its makers did higher up, but that's a story for another time.
Associated Equipment:
Amplifier: Trilogy 995R, FirstWatt F7, Enleum AMP-23R
Speakers: Boenicke Audio W11 SE+, sound|kaos Vox 3afw
Transport: Innuos Statement, fidata HFAS1-S10U
Preamplifier: Trilogy 915R, Thöress DFP
Speaker cables: Boenicke Audio S3, LessLoss C-MARC
Headphones: HifiMan Susvara
Speaker signal conditioning: LessLoss Firewall for Loudspeakers
Anti-vibration conditioning: 12x Carbide Audio Carbide Bases (under DAC, preamp and speakers)
Interconnects: LessLoss Entropic Process C-MARC, Boenicke Audio IC3 CG
Power components: Gigawatt PC-3 SE EVO+/LC-3 EVO, LessLoss C-MARC, LessLoss Entropic Process C-MARC, Boenicke Audio Power Gate, ISOL-8 Prometheus
USB components: iFi audio Mercury3.0
Network: Fidelizer EtherStream, Linksys WRT160N
Music: NativeDSD
Retail prices of reviewed components in EU (incl. tax):
Manufacturer: Aavik