Although FirstWatt J2 released in 2009 is considered this brand's most popular design to date, its successor FirstWatt F8 emerged after six years on the backburner and is this report's main course. Enjoy!
Introduction
If you're familiar with the company Pass Labs and its founder Nelson Pass, the odds are that you might've heard about his subsidiary enterprise FirstWatt. The former commercial venture is mainly known for big costly class A/AB amps and linestages, whereas the other establishment is Nelson's 'kitchen table' as he put it. There he pursues unique elegantly simple circuits designed with sound quality as top priority and not exactly fit for the Pass Labs roster. Products released under the FirstWatt banner share power transformers and basic enclosures not just to keep prices sane, but also for their maker to conveniently test and compare his designs. But most importantly, over the years this intriguing workbench spawned quite a few audio machines unlike anything else on the market. That's what happens when probably the most renown transistor amp engineer on our planet can freely do what he does best.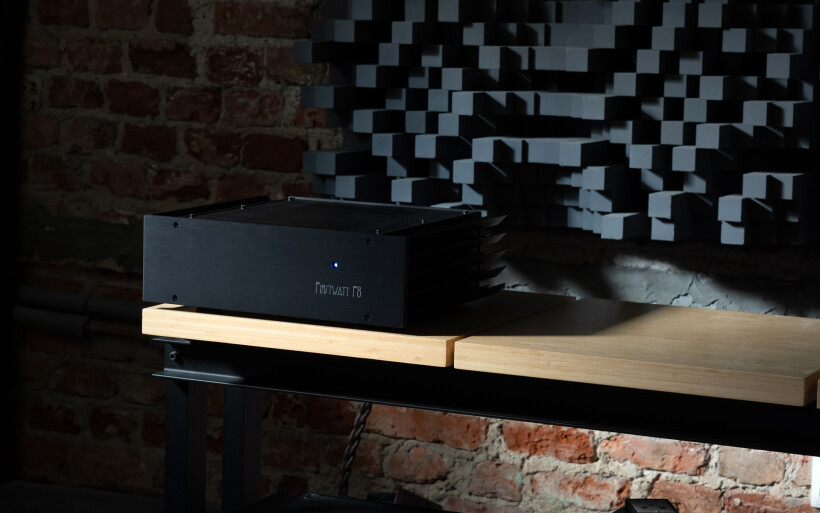 I'm keen to think that many successful audio designers have secretive drawers where they keep their craziest most ambitious projects. You know, personal hardware that not necessarily has to make sense to everyone and too unorthodox/impractical/niche to flourish into a commercial product. Although FirstWatt is Nelson Pass' own department with such hobbyist developments, many eventually see daylight instead of being kept from prying eyes. These days FirstWatt amps are manufactured at the Pass Labs plant, but for years Nelson personally assembled them. Let's not forget about his support for DIY communities and willingness to share schematics once in a while as that's also what he's known for. I can't name one other designer who'd contribute as much as he does.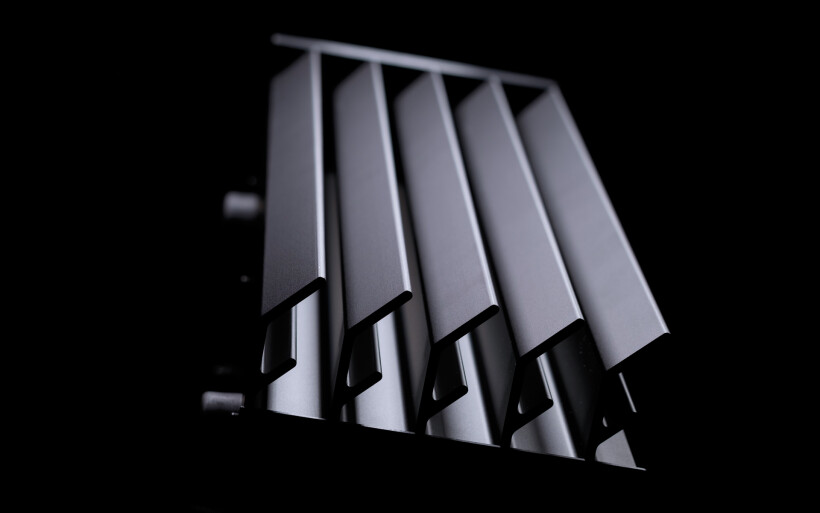 Each FirstWatt model is limited to 100 units in total and discontinued once its entire production run sells out, but the J2 amplifier stands tall as the only exception received so well that it's been available ever since its launch more than a decade ago. However, FirstWatt designs incorporate exotic no longer manufactured transistors only Nelson has in stock, including critical components his J2 requires. Although a similar yet even simpler design that features fewer of them originated in 2015, it wasn't released while its predecessor was still in demand and Nelson's supply of unobtanium parts for it looked good. Several years later this changed however and the secret project baptized FirstWatt F8 eventually emerged in the process. Still, knowing its maker and his previous work there's far more to this amp than meets the eye. Just as it's been the case with several previous Pass Labs/FirstWatt assignments, this one also is a double effort so please take a look at Srajan's own FirstWatt F8 story published here.
Build
Just as any other product by the same audio house, this report's FirstWatt arrived dressed in an externally reinforced cardboard. The key component wrapped in a thick foil bag was found in-between several foam inserts. Sundry accessories included a spare fuse and regular power cord. Neither anything beyond just these basics was expected nor today's power amp had any special needs.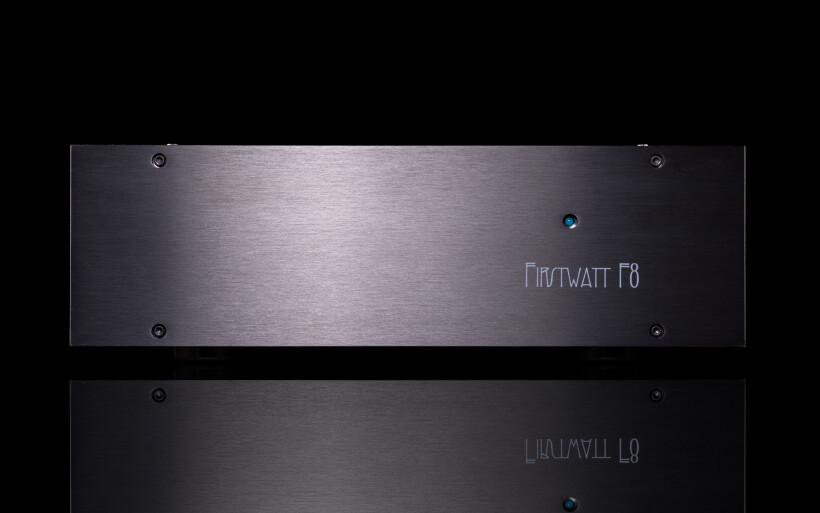 FirstWatt F8 is a single-ended class A transistor stereo power amp. Its power output of 25/15wpc into 8/4Ω loads (@1% THD, 1KHz) respectively is followed by 100KΩ input impedance, 12dB gain, 2.6V input sensitivity at full output, unweighted noise lesser than 100uV (20-20KHz), 10Hz-200KHz frequency response at -0.5 dB and 0.2Ω output impedance for damping factor of 40. These figures already inform us about the F8's rather specialist pedigree and fondness towards efficient speakers. Power consumption of 170 watts under full load and at idle doesn't shock considering it's a proper class A design. It measures (W x H x D) 43 x 14 x 38cm and weighs about 10kg, so it's a regularly shaped and sized machine that's also enjoyably light to carry around.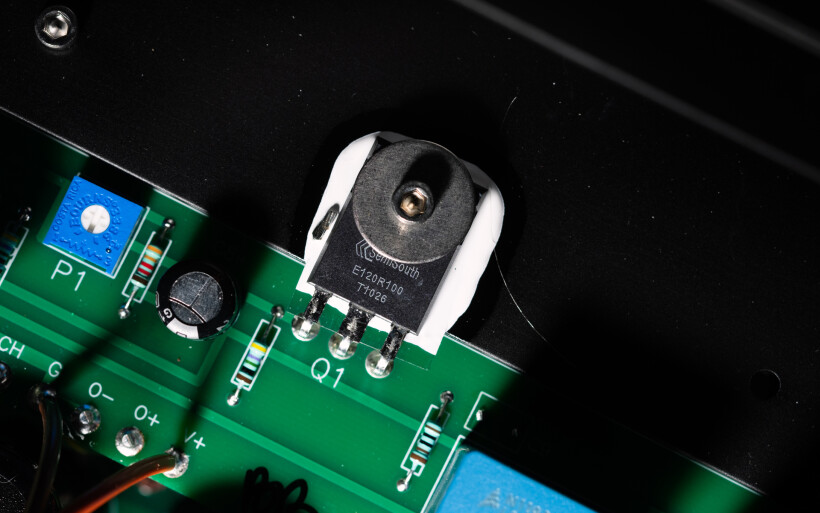 Small details in a model or two aside, all FirstWatt amps are alike lookers including today's loaner. Its thick black brushed aluminium forehead held in place via four visible bolts features only two things; a single on/off LED to the right and the model name a bit below, that's it. This utilitarian visual is of course by design to focus one's attention on performance rather than exterior made to be functional above all else. The FirstWatt homepage features one spot on sentence on the subject: "Looking for tomorrow's faceplate with yesterday's circuits? You're in the wrong place." But if sound quality is what you're after, then I can tell you as early as now that you're in just the right one.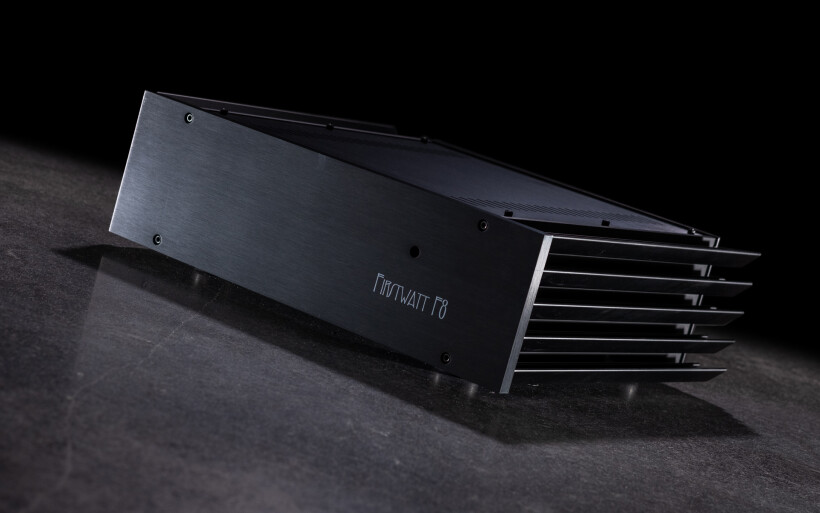 FirstWatt F8's aluminium chassis sports several mirrored radiator fins on each its side and multiple openings on top and underbelly, which is also loaded with four rubber footers. The business end's middle features the on/off switch, fuse compartment and an IEC inlet plus the product's nameplate located a bit above these. One small gold-plated speaker terminal and RCA input per channel seal the deal. They're nicely separated so there's easily enough room even for very bulky cables. The F8 is meticulously put together and its entire enclosure is a radiator that dissipates significant (45-55°C) heat generated via fully open transistor gates. Suffice to say, my loaner was constantly hot but also very stable. On the upside, class A bias is what keeps us audiophiles warm during winter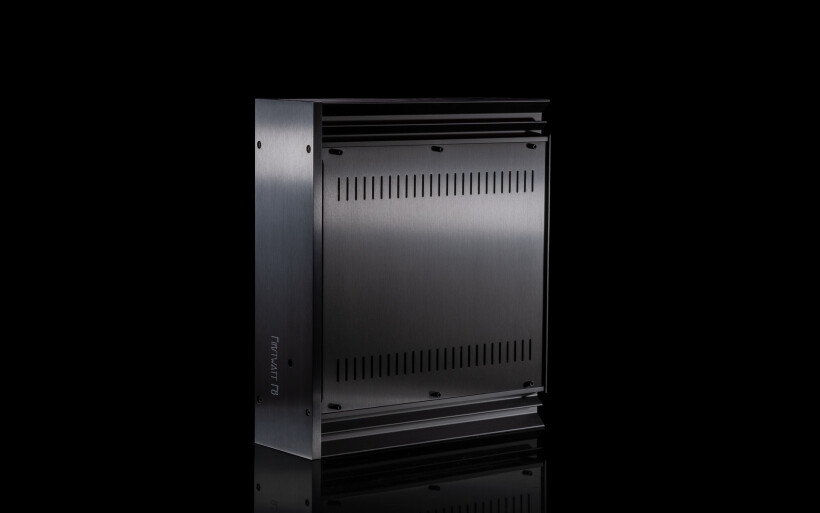 If this report's amp strikes you as externally too simple, you might think the same upon taking a look under its bonnet. A large toroidal transformer, filtering/rectification module and two PCB rails with their transistors fixed to the enclosure aren't much at first glance. However, FirstWatt has always been all about engineering simplicity and cleverness unlocked via bare minimum of very specific components only Nelson has in stock, that's key. If for some reason you're still not sold on FirstWatt's approach, Pass Labs would be my go-to audio house for stuff topologically similar but more powerful, dressed fancier and internally more crowded.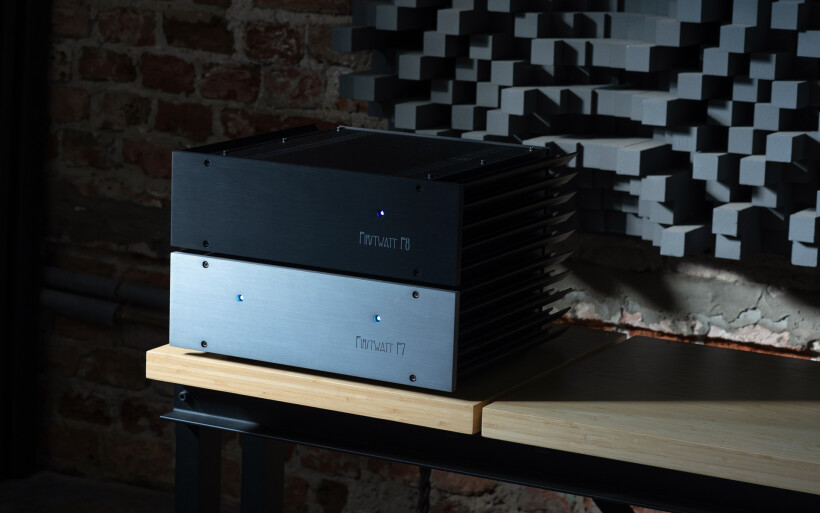 The F8's circuit comprises of two stages that incorporate three devices per channel; NOS Toshiba 2SJ74 P channel Jfets, SemiSouth R100 silicon-carbide power Jfets for signal gain and International Rectifier FP240 Mosfet mu-follower current sources. This machine features only one front end transistor instead of the J2's six and it operateas as a current feedback amp (CFA) as opposed to its predecessor's voltage feedback (VFA) differential input. FirstWatt's bestseller had XLR inputs and today's product doesn't, but it scores higher on purer second harmonic character, lesser distortion, lower negative feedback plus twice as high damping factor and HF range. One needn't be an engineer to call this a progress achieved with fewer parts.
Sound
My fidata HFAS1-S10U handled storage/transport, then a LampizatOr Pacific DAC (KR Audio T-100/Living Voice 300B + KR Audio 5U4G Ltd. Ed.) passed signal to a Thöress DFP connected to today's amp. From there a Boenicke Audio S3 speaker cable went to sound|kaos Vox 3afw monitors. Interconnects used were Boenicke Audio IC3 CG and all key hardware was powered by Boenicke Audio Power Gate distributor box plus its three captive M2 cords. The USB chain included the full iFi audio stack; a micro iUSB3.0, nano iGalvanic3.0, three Mercury3.0 USB cables in-between plus one 9V iPower. One set of LessLoss Firewall for Loudspeakers modules complimented sound|kaos Vox 3afw, while a Fidelizer EtherStream was in-between my Linksys WRT160N router and fidata server. A GigaWatt PC-3 SE EVO+ power conditioner fronted by its own LC-3 EVO cable fed PSUs for a reclocker, router and network switch.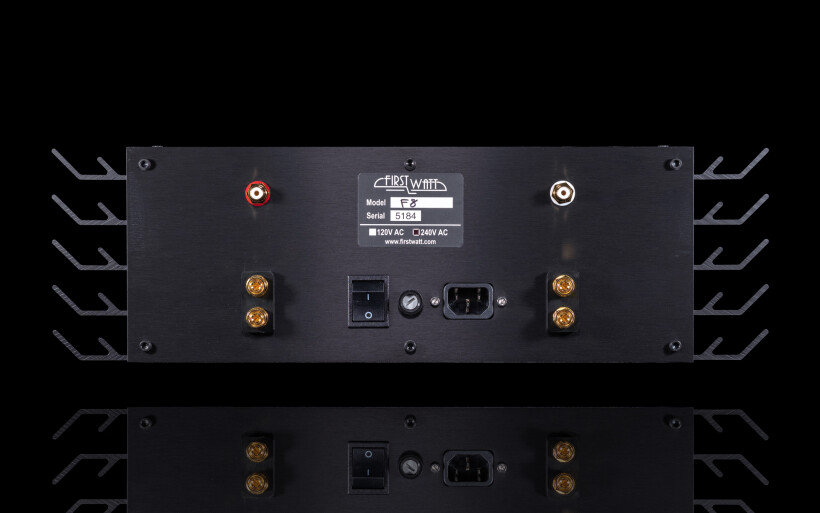 The F8 is no regular case so required a suitable load. Børresen's 01 monitors and Boenicke's W11 SE+ weren't ideal for this job, on the contrary to Martin Gateley's sound|kaos Vox 3afw with its high efficiency and inherently resolving sonic profile. These two qualities had already proven very useful during the Pass Labs INT-250 assignment published here. A FirstWatt F7 at my disposal was topologically closest so an excellent sparring partner. The Thöress DFP's two analog outs connected to both amps fed from the same power bar. Two C-MARC power cords and Audiomica Laboratory's interconnects made today's battleground as even as it could be. Just one quick speaker cable swap was all it took to hear my amp of choice. A/B this easy are rare.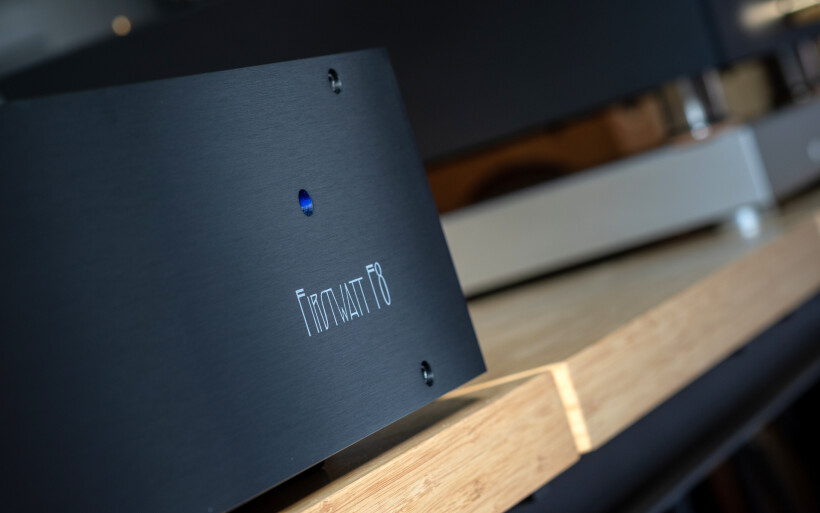 I'd been living with the F7 since early 2016. Although this specialty amp doesn't play often, it flourished into a keeper just like the AMR DP-777SE, Boenicke W5 and Bakoon AMP-13R. In time I might change every component I own including the most expensive, but none of these four. Each has something special which to my knowledge isn't achievable for less and/or available in a more compact frame. The F7's uniqueness is in its sonic elegance. It allowed me to understand that, if matched to a fitting load, low-power amplifiers geared towards richness and generous harmonic content can also be fast, spacious and resolving. By finely combining traits I deemed mutually exclusive, the FirstWatt not only went beyond but taught me a valuable lesson. It opened my ears.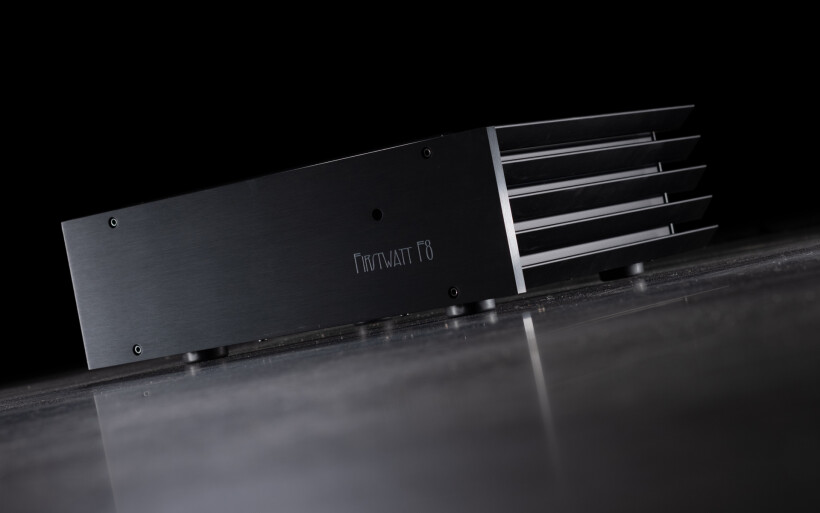 The FirstWatt F7 was the first product by Nelson Pass I was lucky to audition. Since then this list grew bigger to include Pass Labs HPA-1, XP-12 and INT-25 reviewed just recently. They all featured the same unmistakable sonic backbone; a fully mature voice tailored meticulously and tastefully to avoid excess. This sound doesn't shock by extreme chunkiness or zinginess. It prioritizes complex tonality. It's vivid, expressive, sensual and sophisticated, and is completely free from shoutiness, grain or any harshness. These qualities imply deep class A bias, but there's still an execution that's very much organic, moisturized, breathing and open eschew any stuffiness. Images occur naturally from within a black canvas instead of being irradiated by extra shine from above. Such fine blend is a rare treat but its relaxed quite casual feel is the specific feature that never ceases to impress me most about the Pass Labs sound. There's no need to focus on anything specific, things just happen all at once. Unsurprisingly the F8 fit that profile to perfection.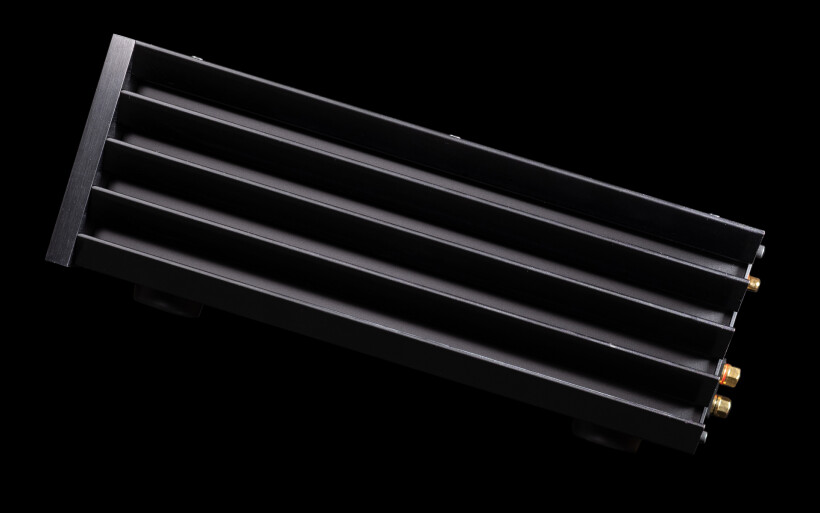 Uniform sonic results regardless of product type or price implied next-level engineering know-how especially with performance as described but also raised my expectations. Prior to the F8's delivery I had suspected that unmistakable Pass aroma to effectively go beyond the usual class A charms. I wasn't wrong. The newcomer too was admirably smooth, tonally loaded, spacious, soothing, euphonic and very coherent. Just as the companion models I'd heard before, it scored very high on tonal complexity, pleasant heft, articulation, insight and pristine backdrop from which everything blossomed without effort. Images outlined and separated with inviting moisture but also served music as a whole instead of dissecting individual sounds suspended in air. The F8's grand clarity poured down into my ears without stealing the thunder of other aspects.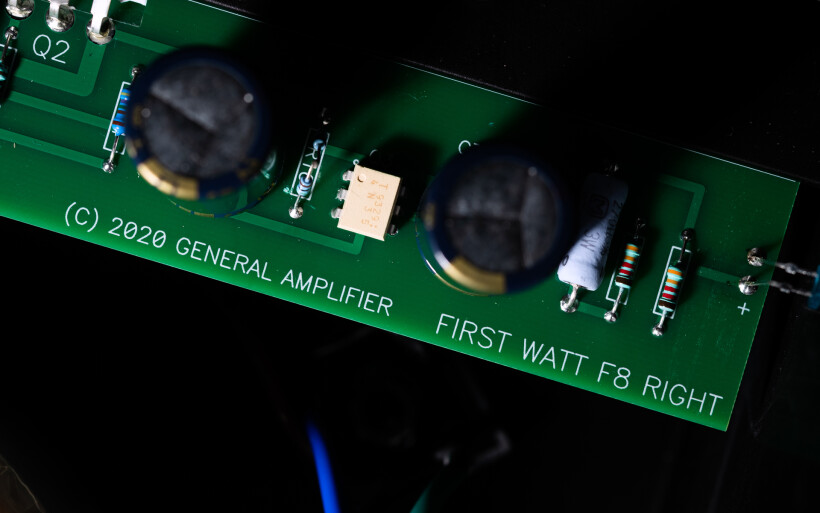 Although both FirstWatt amps felt voiced similarly elegant and more alike than not, I was also certain that the F8 had to set itself apart in one way or another. It didn't take long to notice that it did but its most interesting feature took me a while to grasp. It sounded more athletic, muscular, potent and contoured than the chunkier, lazier, denser and more relaxed F7. The difference wasn't night and day but substantial enough to map the F8 as more mainstream so more universal versus its stablemate's mellower thicker sonic footprint. To simplify, the F8 showed some extra bite, snap and articulation at a small cost of roundness and gravity. Let's just say that I know a very good class A amp when I hear one which is why at this point I intended to wrap it. Then a previously unnoticed quality revealed itself to change my overall take on the F8.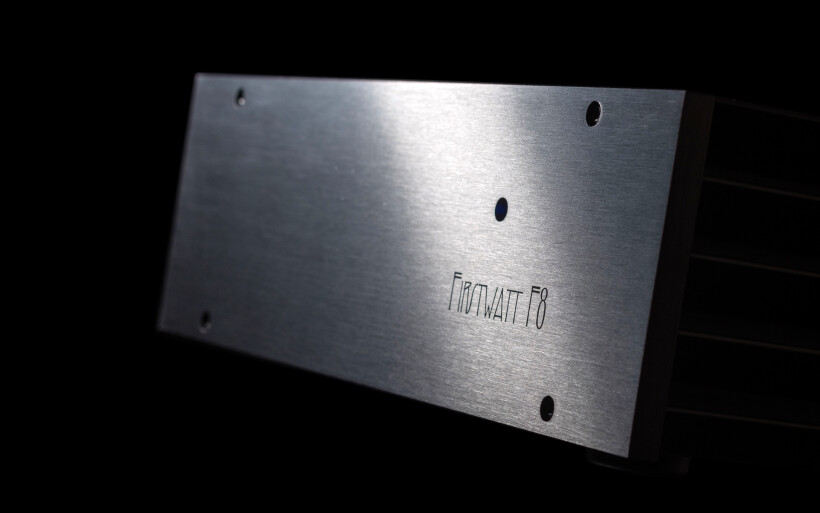 Just as an obese person can't possibly outrun an athlete, it's only natural to expect warmer denser amps to be slower than specimens groomed for fittness and articulation. That's why the F7's bloomier softer bass response should have been looser/slower than the sensibly tighter more powerful F8. Although I'm far from labeling them fat and ripped respectively – they're far more complex than that – it was reasonable to assume the newcomer FirstWatt would've been the quicker of the two. It wasn't. The F8's unusual behavior caught me off guard.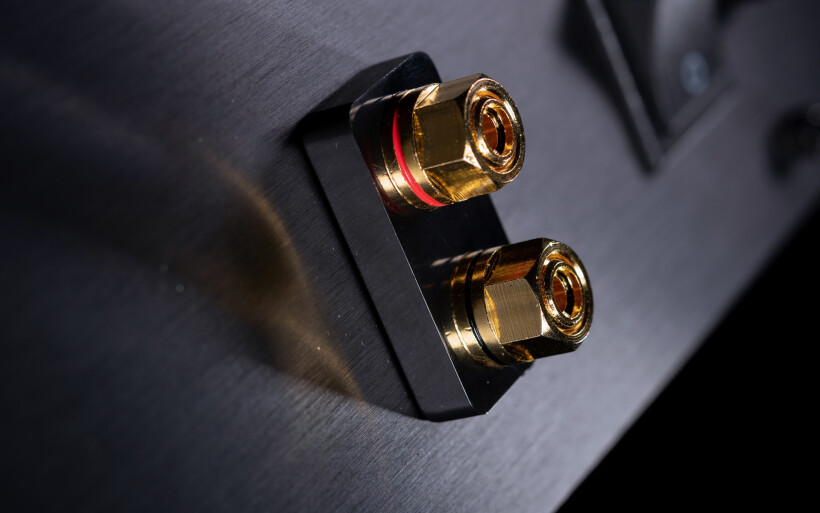 To be perfectly clear, neither the F7 was lightning-quick nor the F8 slow and bloated. These amps weren't voiced to sound flashy but civilized and wholesome. The F8's sportier and intense profile was true regardless of the music. However, for quick short bass jabs the F7 projected as more impulsive whereas the F8 played it more relaxed as though it engaged softer suspension and cruise control. At first it was odd to question what I'd heard. Was this by design? Or was I delusional? Then it struck me.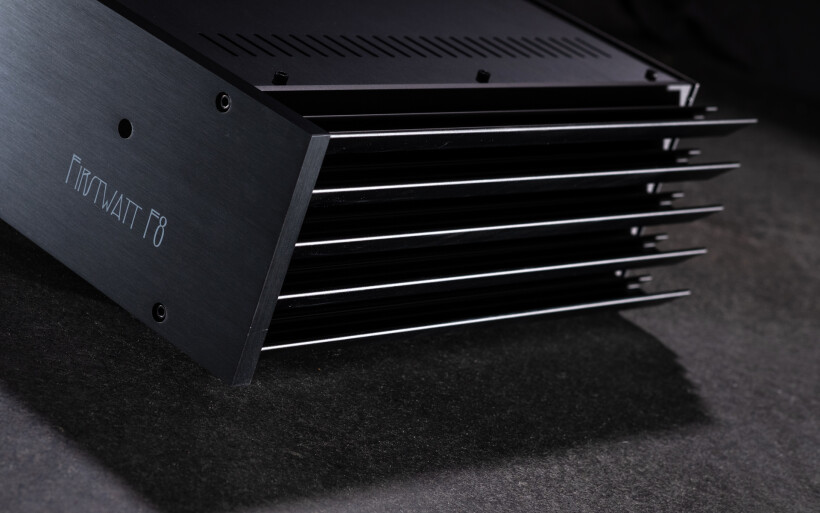 The F8/F7's output impedance respectively of 0.2/0.08Ω mean damping factors of 40/100 into 8Ω. Higher damping promises more woofer control, less damping looser bloomier bass. Of the two FirstWatt at my disposal, today's loaner expressed lesser stopping power over the Vox 3's twin woofers. Was impedance the reason?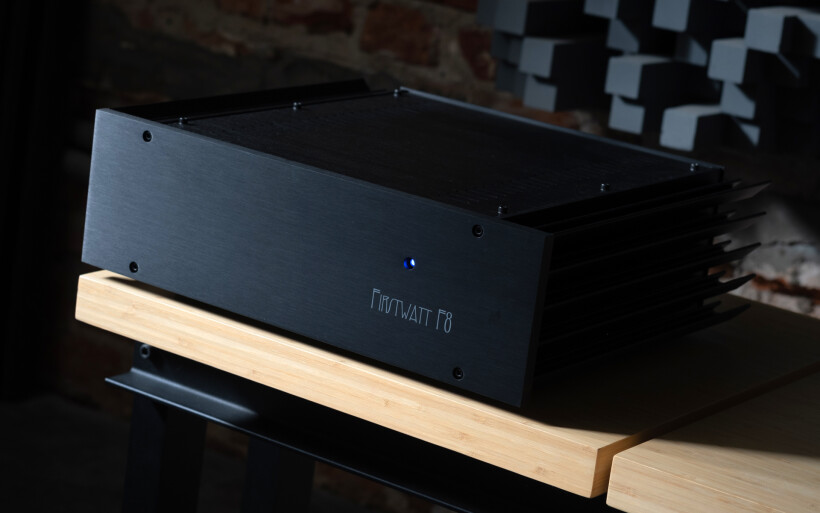 The F8 wasn't lazy, bloated, dull or boomy. To my ears its bass was very civilized, enjoyable and complete to feel refined, seasoned and authoritative even with this twist. Or perhaps was this a deliberate part of its personality profile and not just a function of how it interacted with my speakers? If so, this amp really does have a personality that is very charming and unique. Here's where my part ends.
Summary
Although I haven't heard FirstWatt's most popular J2 model, after spending some time with its successor I have no regrets. Just as any other known to me amp designed by Nelson Pass, his F8 is as addictive to listen to as it's uniquely voiced. Considering its stout sonics, overall refinement and asking price, I fail to see what type of a discerning audiophile wouldn't appreciate it. I also think that one could spend a lot more and get far less in return.
FirstWatt F8 is built to last, stable as a rock and deadly silent whereas its look reflects prioritized utility and performance reliability. It's a robust no-frills class A power amp that constantly eats up about 170W to generate lots of heat dissipated via its entire enclosure. As such it's a specialist machine designed to work with efficient speakers perfectly happy with 20wpc or less, so a proposition mainly for enthusiasts already into its topology and clever elegantly simple circuits that make wonderful sound. On these counts Nelson Pass' work honestly needs no introduction and today's product clearly fits that profile.
Although FirstWatt F8 is a non-mainstream affair aimed at a particular audience just as any of its kin, it doesn't take a seasoned aficionado to appreciate what this amp does with matched speakers. I think that its fully adult thoroughly enjoyable sound is universal enough to please various tastes more than well. As for pleasing my own, suffice to say the F8 loaner during its stay at my place was in use far more than its older sibling and any other amp I had nearby. That's how much I enjoyed its engaging personality and now I'll miss it. 'Til next time!
Associated Equipment:
Retail prices of reviewed components in EU (excl. tax):