The Aida Acoustics, a Polish brand our Readers should already be familiar with, has recently prepared a new proposal for fans of high quality sound. The Aida Acoustics Attyla is a 2-way bookshelf model featuring an integrated stand. I was curious whether they managed to keep up with a brilliant performance, make and finish their products offered from the very first model ever released that I knew from previous reviews.
Introduction
Almost four years have already passed (really?! it's been that long?!) since I came across speakers from the Polish brand Aida Acoustics for the first time. I fell in love with them at first sight because the design and top quality of workmanship and finish being on pair with the level offered even by the biggest tycoons of the loudspeaker world. Plus, to be honest, the particular appearance of all these models truly appealed to me. The combination of natural materials – wood and leather, a specific choice of drivers, the unusual form of each model – all these features combined meant that virtually every one of them was (at least for me) a true beauty. At that time, the company already offered four various, refined models that were (although not formally) divided into two families. One included large 2-way floor-standing speakers with large woofers, high efficiency and impedance characteristics friendly to tube amplifiers regardless of their output. Back then I tested the smaller one called Thaisis (the bigger one is Nabucco) and I definitely enjoyed listening to it (see HERE).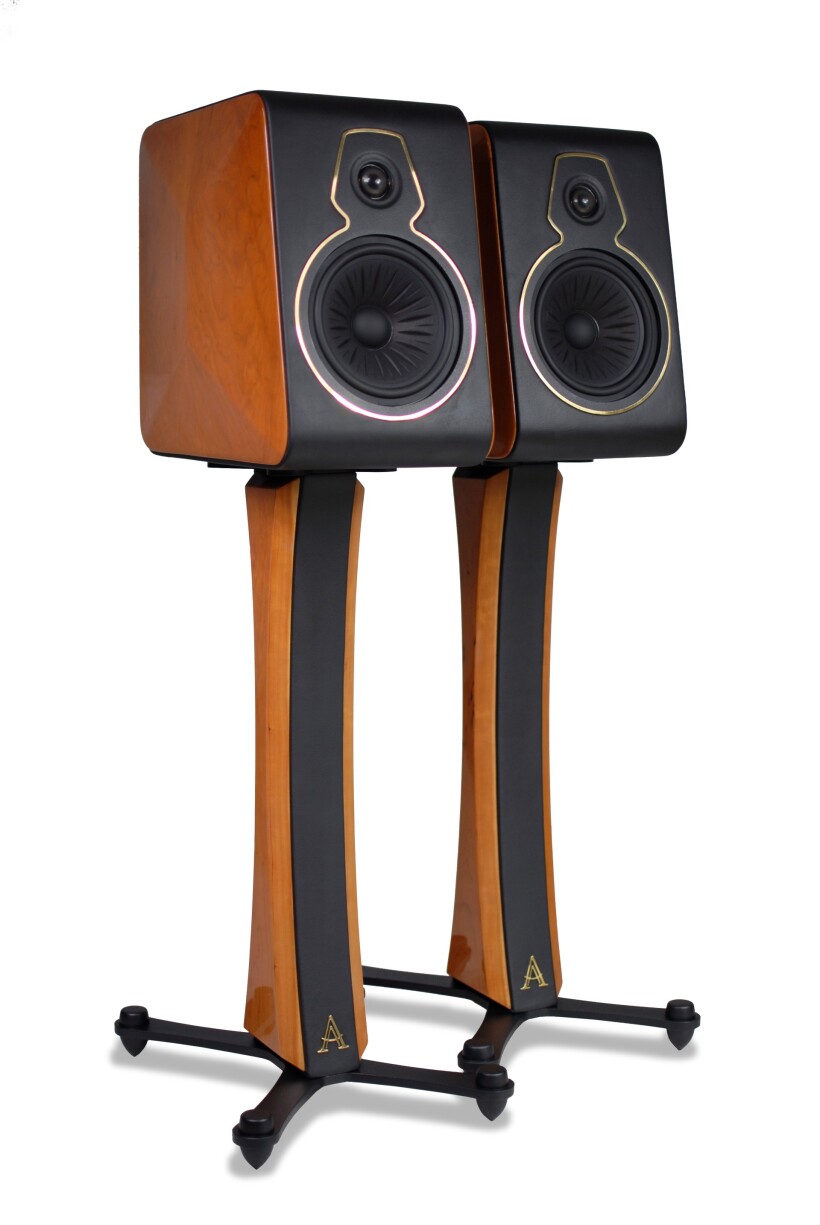 For the second (unofficial) series, which included another large floor-standing and a smaller stand-mounted (with an integrated stand) speakers, the designer decided to use Accuton ceramic drivers (the larger Orpheus featured additionally an Eton bass woofer). Again, I tested one of these, the smaller Galatea (see HERE). These designs, due to ceramic drivers, required more power from amplifier and offered a significantly different sound character. The latter, obviously, made sense – they were simply intended for different customers, but also ones appreciating the aesthetics of Aida Acoustics products. Generally speaking, (apart from the few outstanding applications – like in Marten speakers!) I am not a fan of ceramic drivers, but Aida Acoustics team, as it turned out, was able to apply them in such a way, that while using their advantages, they managed to avoid the dangers of dry, technical, dispassionate sound, which many other brands using Accutons (to my ears, of course) fail to do. For me, the conclusion was simple – since the designer behind this brand was able to make these speakers play music (not just sound), he had to be really good at what he did.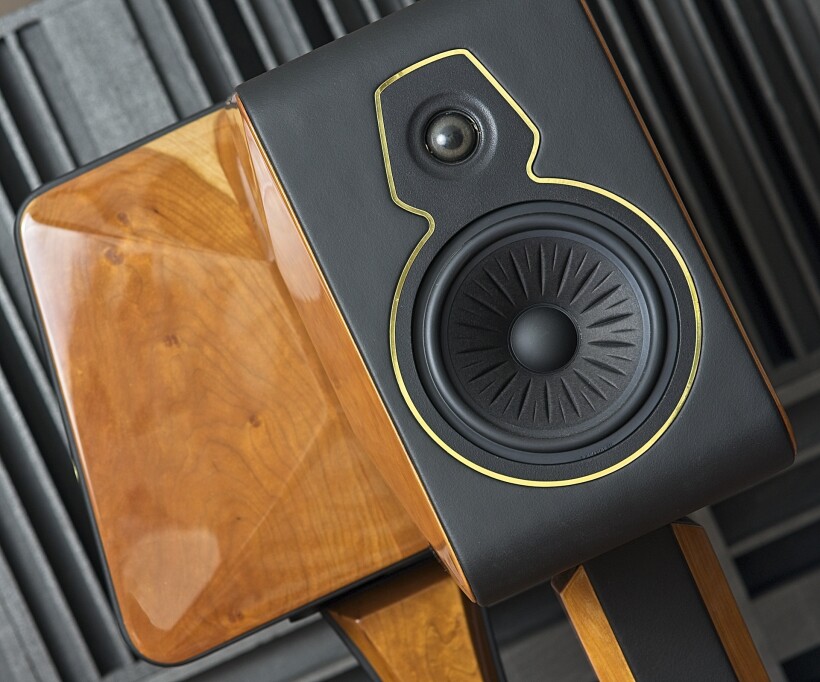 As always, when it comes to components designed for audio systems, especially the key ones, i.e. speakers, the aesthetics may be less important for some than for others (though, consciously or not, most of us are really after not only great sounding but also good looking audio products). The key feature is, or at least should be, the performance/sound and both, Thaisis and Galatea, proved that the exceptional aesthetics was accompanied by high-end performance. The new product, Attyla, on the outside differs significantly compared to older models, yet having quite a lot in common with them even if it's not that obvious, and yet its aesthetics is still a big advantage that will make a purchase decision much easier for many potential buyers. My experience with the other models allowed me to expect that the performance of the Attyla will, at least, match the looks.
Design
When the first photos of this model were released on the social media, they provoked a wide, mostly very positive response, arousing keen interest not only of audiophiles, but also a number of industry professionals who lined up for testing. Despite a design differing significantly from previous models, no one accused the Attyla of any aesthetic shortcomings, but some saw an inspiration in products of other renown designers. The truth is that when developing a product, one that had previously being made in a thousand different ways, it is difficult to forget about all of them and come out with something complete new, different. Especially when the product has a very specific function, as speakers do, and the form must serve the function to achieve proper level of performance. So I doubt any speaker designer is able to avoid some inspiration completely. Let me, however, note that comparing Attyla to previous models of this brand, one can clearly see that stylistic continuity, if you will, has been maintained, although the form is definitely a more traditional one. The cabinets and stands are made of wood and beautifully finished with high-gloss transparent varnish. This material was again, like in previous models, combined with black leather and the final result is (again) a product that feels like a luxurious one. Compared to the Galatea, which was also a small monitor integrated with a stand, the surfaces finished with wood and leather were switched here. Now the leather is used for the front and the back of the stand, which perfectly matches the speaker itself, that is finished identically. Also, have a look at the base of the stand – it is also exactly the same, solid, stable, heavy and great looking solution as used before. So while your brain will surely find some potential inspirations in this design, you should notice that aesthetic continuity Aida Acoustics follows from the start.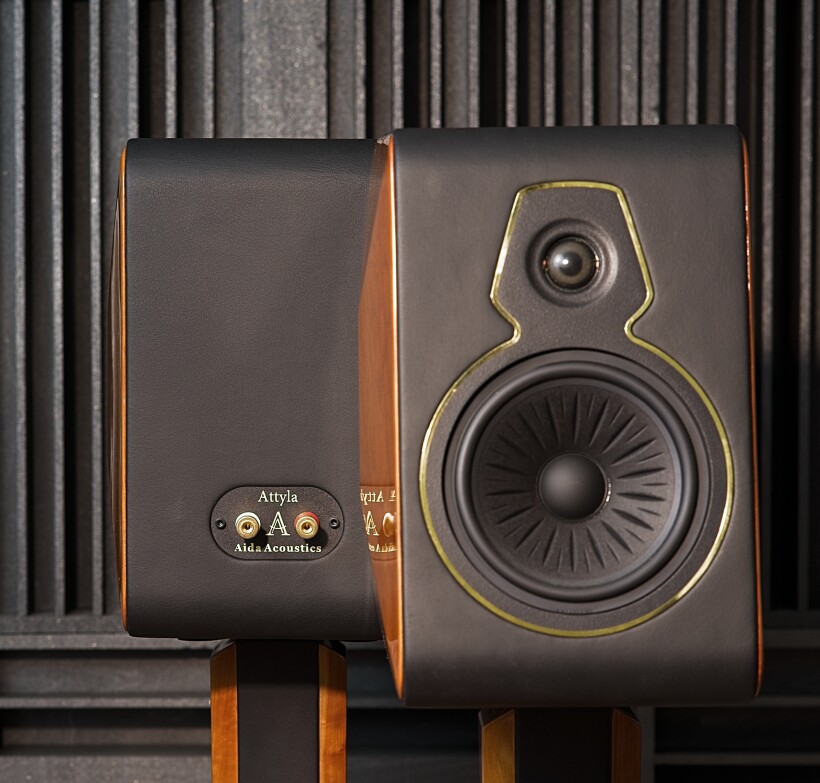 This time Polish manufacturer decided to create a model that is significantly different from the older ones in many respects. The treble is reproduced by Morel dome tweeter and it is supported by the mid-low range woofer made by Eton. The cabinet, that features no parallel walls, which minimizes the risk of formation of standing waves inside it, is of a vented type with bass-reflex, but this time firing down. This particular solution makes placing the speakers in the room easier, because the distance from the wall behind them doesn't matter as much. The front panel is slightly tilted back so that the acoustic centers of both drivers are at the same distance from the listener (which results in a better time and phase alignment). The drivers are surrounded by a sort of decorative borderline. Its shape reminded me of a Russian doll. The side baffles are slightly convex, and each consists of several planes. The cabinets feature internal bracing in the form of long bolts terminated with nuts, which pull all the baffles together thus increasing a rigidity of the whole construction. A number of high quality components have been selected for the crossover, such as Mundorf air coils, Jantzen and Miflex capacitors. The woofer is cut with a 1st order filter, while the tweeter uses a 2nd order one. The speakers sport a single pair of solid, gold-plated speaker terminals. There are no grills available for the Attyla. The craftsmanship and finish are exceptionally good – in this respect Aida Acoustics Attyla could easily competed with any speakers by any renown manufacturer.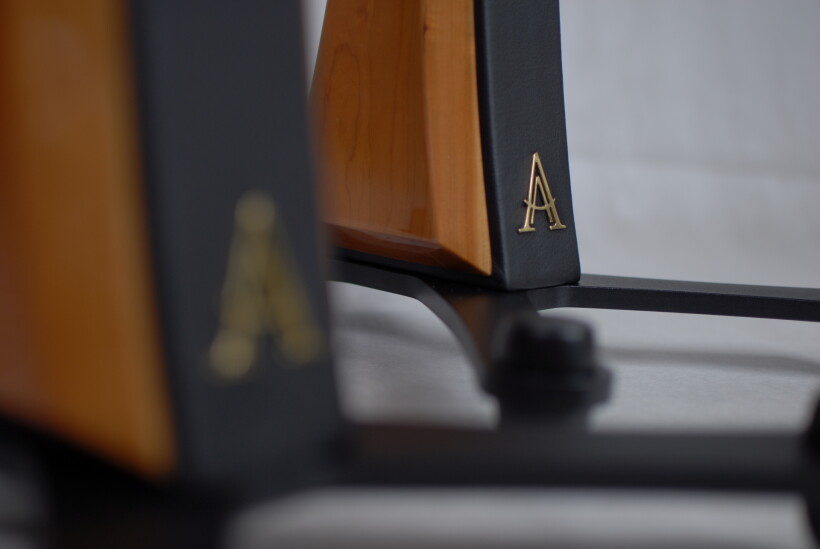 Sound
Mr. Mateusz, who personally brought his latest creation to my place, told me that due to Attyla's low efficiency they should be paired with an amplifier being capable of delivering an output of at least 50W per channel. Yet, seeing a few tube amplifiers in my room, he also said that he would like to know if and how his monitors perform with such a, theoretically, mismatched (due to low output) partners. As I am a bit lazy by nature, and my backbone often strongly reminds me of its existence when I have to carry and move some heavy audio components, I decided not to bring out my own 300B SET amp. However, I took an advantage of an opportunity that presented itself when a team of masked and gloved (is that o word?) guys from the Nautilus Warsaw audio shop delivered an (even heavier) 20W SE tube amplifier for another test. The contender in question was the remarkable, outstanding, brilliant, fantastic… OK, I'll stop, Audio Reveal Second.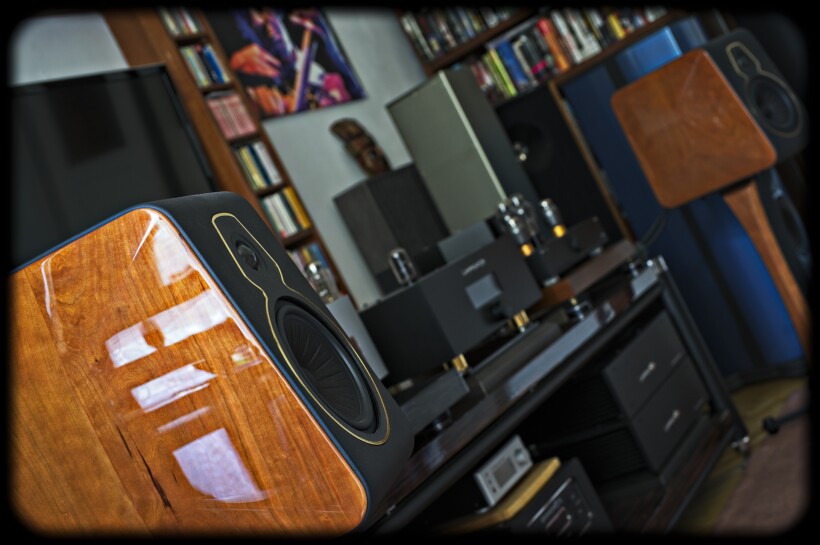 This is a single ended amplifier with one KT150 beam tetrode per channel in the output, which offers up to 20 W per channel. For a SE integrated it is quite a lot, yet still quite far away from the 50 watts recommended for the Aida Acoustics Attyla speakers. However, to satisfy my and Mr. Mateusz's curiosity, I paired Aida with the Second after listening to the latter for a few days with another brilliant, but easy to drive, Living Voice R25 Anniversary floor-standing speakers. By the way – the combination of the two turned out to be excellent. The Audio Reveal amplifier itself, after all the listening sessions with various speakers, made it to my quite exclusive list (with a long name of) "those amps I could easily spend the rest of my life with simply enjoying the music and not thinking about whether it is worth to look for another, even better ones". So since I came across such an excellent Polish amplifier, I just had to try to use it with potentially very good Polish speakers. The procedure of speakers switch was simple – I stopped playback at some point, turned off the amplifier, disconnected one pair of loudspeakers, connected the other one (Attyla), turned the amplifier on, waited a bit (it features a soft start circuit, so it takes a while) and finally I pressed "Play" in Roon. The most important thing you should notice in this story is that I did not touch the volume knob and as a result after listening to LV speakers on "normal" level after the switch the Attyla played really quietly and the sound was pretty "thin", so to speak.
After a moment of such not particularly satisfying listening experience I got very close to switching the amplifier off again and finding a better match for the reviewed speakers. However, before I put this thought into action, I finally drank my first coffee of the day which resulted in an absolutely ingenious idea (it is said that the simplest ideas are the most genius ones, aren't they?) – how about I crank up the volume? And so I did – the volume control knob moved a lot further up the scale (i.e. from the, say, 1/10 of the scale, which was enough for normal listening with Living Voices, to, say, 1/4 of the scale, which was still far from the maximum, hence I didn't risk any significant distortion). And… this brilliant idea of mine literally brought the Attyla speakers back to life. The sound became beautifully rich, open, vivid, filled with air, and a moment later I found myself on the edge of my seat completely immersed in beautifully rendered music. And yes, I admit that I have a soft spot for SE amplifiers (not as soft as for SETs, but still), because their way of presenting music truly appeals to me. So maybe I was not completely objective regarding my assessment of the performance of this system. Yet, trying to be, as much as it is even possible in audio, objective I should say that the bass performance belonged to the "soft and bit round" category, but at the same time it was dense, with a surprisingly impressive punch (considering the small size of Attyla) and nicely extended. But still soft, not as fast and compact as with, say, my GrandiNote MACH4. Obviously, when I say: nicely extended, it doesn't mean you can count on Attyla going down to 20 or 30 Hertz, but first of all, there are relatively few of those in music (unless you're into organ music, or some sub-genres of electronic), and secondly it wouldn't be realistic to expect it from not particularly big, stand-mounted speakers.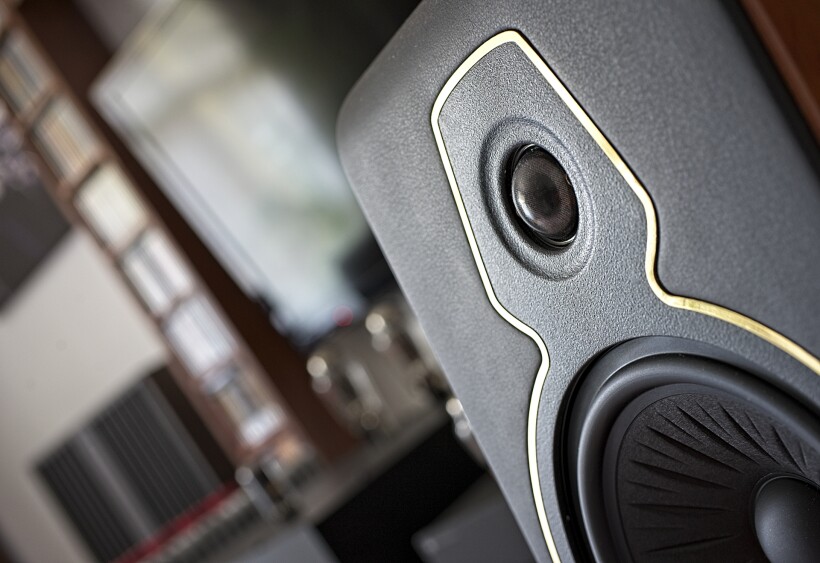 Importantly, while being on the softer, rounder side of thing, the bass not not boomy, slow, or poorly differentiated. None of these were actually true. The album I was playing during the aforementioned procedure of switching from LV speakers to Aida Acoustics ones was the excellent "Contra la indecision" by Bobo Stenson Trio. It features musician playing a double bass, piano and percussion, or, in a word, instruments who's performance features a lot of bass notes, that are big and heavy and so is their sound. I know this album (almost) by heart as I often listen to it during the tests and for pleasure, because both the music, performance and the quality of the recording are top notch. Listening to it now for the "n-th" time, I truly enjoyed it and not even for a second did I think about downsides of using the Aida Acoustics speakers and 20W Audio Reveal amplifier for it. I really missed nothing in this presentation, despite the fact that the analytical part of my brain noticed that the performance didn't quite have the same mass and scale as I'd known it to have from listening using my Ubiq Audio Model One Duelund Edition or even MACH 4.
What delighted me in this presentation was the feeling of a presence of musicians on the stage, that began just behind the line joining both loudspeakers, but with the sound of the instruments boldly expanding into the room. It was difficult to resist the charm of this natural, even organic sound, the crispness and vividness of the well-differentiated cymbals, the surprisingly full, rich sound of the piano and double bass's strings strongly supported by a large wooden box. It sounded as convincing and engaging with Attyla as it did with the Living Voice floor-standers that are designed with tube amplifiers in mind. So is the 20-watt SE amplifier the perfect partner for the tested speakers? If you listen to a lot of acoustic and vocal music, this is a system that you should seriously consider. It will not be easy to build another one offering such a musical, organic, emotionally involving setup at a similar price level. You can add some high quality Polish source/s (such as LampizatOr DAC and the J. Sikora turntable in my case, but on the digital front one could use less expensive, yet still excellent RT Project DAC, see HERE or HERE) and some decent cables and you will have an excellent Polish system that many will envy you.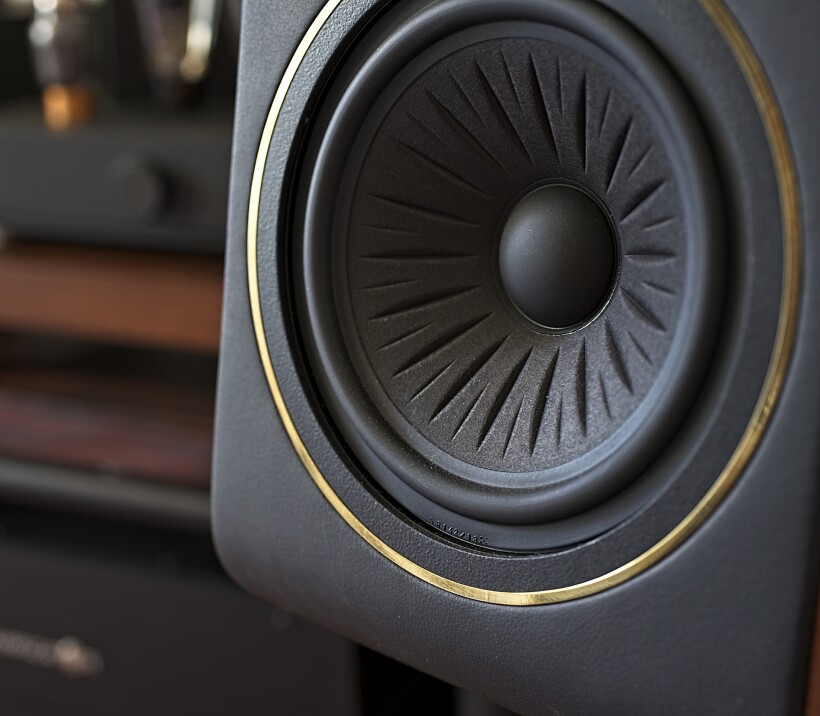 However, if you listen to a lot of electric music – rock, blues and so on, electronics or large classics ensembles, than you should look for a higher output amplifier. It was obvious to me after listening to the John Scofield's "Combo 66" album, which is a rock madness, but an electric guitar plays a key role. It still sounded good, warm, smooth and listening to it in this setup was fun, but it lacked a bit of "rawness", a bit better control of the bottom of the band, greater bass tightness and stronger punch (even taking into consideration the size of the Attyla and adjusting expectations to it). So I decided to move on to my excellent GrandiNote Shinai, a class A solid-state integrated offering 2 x 30W. Even this not so big upgrade (in terms of output value) made a difference despite the fact that the character of the sound did not change so much compared to the Second. Max Magri's amplifiers feature transistors, but their design is very similar to one of tube amplifiers, which translates into a performance with a lot of "tube-like" features. Still, while the character was somewhat similar, the control over the speakers was audibly better. The drive, timing, punch, pace and rhythm aspects of the performance clearly improved. The point is not that with the Audio Reveal Second these sonic features were somehow poorly presented. Not at all. They were already quite good, but Shinai further improved them. While achieving that, it, not by much, but still, lost a bit of this incredibly attractive spaciousness and palpability of the sound, the impression of performers being present in a room, but to be fair no transistor-based amplifier can match a high quality tube competitor in this respect. The Attyla smoothly adapted to the amplifier's character.
So already with the 37W Italian integrated all the elements necessary for proper rock, electric blues and some types of electronic music presentation significantly improved. Listening to Steve Ray Vaughan, Genesis or Dead Can Dance, I could clearly hear or feel a better drive, higher energy level, better macro-dynamics (since on the micro level it had already been excellent with the Second). With the Shinai driving Attyla, not only the lower end of the range sounded better, but the midrange as well, as it also gained some weight (in this particular case it's a good thing) while maintaining high purity, transparency and good resolution, once again confirming the class of the latest child of the Aida Acoustics engineers. If I really had to be picky and point something out that I wished was even better, I'd say that Attyla still lacked a bit more of this sort of "rawness" and controlled aggressiveness that are inherent features of electric, and even more so, rock music. So, I moved on again reaching for additional wattage in the form of a reviewed hybrid integrated by a French driver and speaker specialist – the Supravox Vouvrey (see HERE).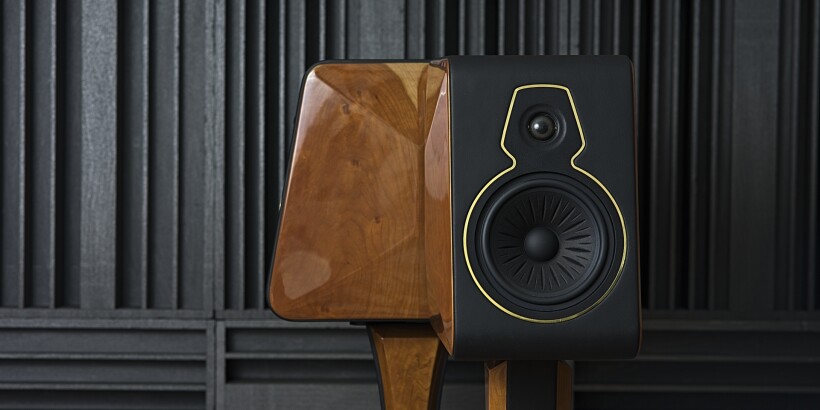 The output of 2 x 70W and a good current efficiency offered by this amplifier finally met the parameters recommended by Aida Acoustics for Attyla. This is an amplifier that delivers very natural, rather smooth performance, so it was difficult to expect that it introduced this "edge" rock music needs, but I was hoping that significantly higher output would have its advantages. Even compared to Shinai, the center of gravity of the performance slightly lowered, creating an impression of an even more solid, more present bass foundation for the whole performance. It was dense, but with good resolution and purity, although in turn the other band's extreme, the treble, was slightly rounded at the very top (that's Vouvrey's feature). Additional watts resulted also in a slightly larger scale and momentum of the sound, that seemed to carry even more energy, and all that translated in a more realistic perception of rock and other electric genres. Attyla in this setup were already capable of playing virtually any music I threw at them in a relaxed, well-structured, extremely pleasant way, that seemed effortless even in hottest moments of the craziest tracks. I personally highly value such an engaging, emotional, coherent and well-balanced performance. Therefore, considering the Vouvrey's price and higher output than in the case of (almost twice as expensive) Second (and even more expensive Shinai), this combination seemed to be the most versatile one offering a really good value for the money.
However, before I finished this text, another integrated amplifier arrived for a review. Also a hybrid design, but a much more powerful one, capable of delivering up to 2x200W power @ 8Ω, the beautiful Pathos Kratos. So I started to get to know it by combining its power with the Attyla to verify whether or not even higher output would translate into further progress in the sound quality or character of these speakers. The Kratos is a large, heavy, quite expensive beast, which, as one expects from this renown Italian brand, is also extremely musical and engaging. The performance of Attyla driven by Pathos did not lose anything in this respect compared to the previously used amplifiers, so I could direct my attention towards the advantages of having a significantly larger power headroom. Because when it comes to 85 dB speakers, even small ones, even with a very friendly impedance curve, one can expect that a powerful amplifier would make a difference in some areas of the performance. While earlier in almost every setup I'd listened to Aida Acoustics speakers in, in the blind listening test, most people would have probably said they were listening to stand-mount speakers, Kratos "transformed" Attyla into small floor-standers (not literally, obviously). The sound, already rich and weighted in previous setups, got even bigger, heavier, filled the room even better. Importantly, it all still sounded very natural.
Larger, quite precisely localized, three-dimensional phantom images became even more present due to a larger, more tangible mass. The loudspeakers did not lose the ability to completely disappear from the room and leave the listener alone with the music, which is an inherent feature of many good monitors. When playing rock music, on Marillion or Perfect albums, I finally heard more of that aggressiveness and rock dirt/harshness, which made the presentation even more authentic and more fun to listen to. The Pathos, which does not belong to sharp sounding, contour-enhancing amplifiers, used its high output to perfectly control Attyla's drivers and deliver impeccable timing, proper clarity and pace that in this regard put it on pair with many expensive solid-state competitors. Even with such a strict control of their movement, the Eton woofers didn't sound hard or dry. The bass was fast and quite taut and yet on the slightly softer, hence quite natural side.
Importantly, when I listened to such recordings, primarily with the double bass, that featured (inherently) a bit too soft or even slightly dragged/boomy bass, the Attyla faithfully reproduced it in a way it was recorded without trying to correct it in any way. In large orchestral music, also in my beloved operas, Attyla, driven by Kratos, sounded effortless, as if their physical dimensions were not a limiting factor. Of course, let me say it again, it does not mean that they were able to deliver such a big-scale sound as my large floor-standing speakers. What I mean is that by focusing on music the physical limitations of these speakers did not hinter the way I perceived or experienced it. To achieve that with all music genres they did need the 200W output from Kratos, but the important information is that it can be done. So if you place them in a small to mid-size room (in my case we are talking about roughly 24 sq m, bit over 3m high) and drive them with a powerful amplifier, they will fill such a room with a large, effortless presentation regardless of the preferred type of music. And at the same time they will nicely show you the differences in the recordings quality and will impress you with how much information (assuming the recording, source and amplifier deliver on this front) the Aida Acoustics Attyla are able to deliver in an orderly and highly enjoyable manner.
Summary
The Attyla model is yet another step on the development path of the still young brand Aida Acoustics. And I dare to say that it is a step in the right direction. A more classic, well-associated and beautifully executed form will certainly appeal to many people, although the more exotic shapes of previous models will certainly also have their fans. The small size and bass-reflex firing down will allow the Attyla fit really well into many different rooms, including the most popular ones, with a dozen up to 20 sq m, which is actually what many people have at their disposal (I mean those, who can't afford large dedicated listening rooms). These are very musical, refined, coherent, highly enjoyable speakers if you pair them with a tube or a class A solid-state amplifier, but will show more "teeth" when driven using some high-output one. They beautifully disappear from the room leaving listener alone with the music, allowing them to experience it intimately.
They are really good in presenting the acoustics of the recordings, which translates into how real and engaging the performance is. They can also perfectly build an atmosphere saturated with emotions, expressive, with music displayed on a large, well-arranged stage, which will be particularly enjoyable when listening to live recordings. With a powerful amplifier, they shall clearly grow, i.e. their sound will seems as if they were bigger than they are, creating a convincing illusion of communing with a small, or even mid-size floor-stander. But even with a 20W tube amplifier, single ended at that, after pushing the volume up the scale high enough (not too far though) the Attyla come alive offering a lively, smooth, refined, spacious and very present performance. I don't know if the Attyla is a step towards a new direction for the Aida Acoustics brand, but if so, I'm looking forward to the next ones along that line.
Technical specifications (according to the manufacturer):
System: 2 way
Nominal impedance [Ohm]: 8
Minimum impedance [Ohm]: 7,3
Recommended power amplifier [W]: >50W
Frequency response (-6dB) [Hz]: 40-23000
Band division [Hz]: 3100
Woofer filter: first order
Tweeter filter: second order
Maximum SPL [dB]: 100
Dimensions: 19.5x38x99cm (width x depth x height)
Weight: 30 kg
Price (when reviewed):
Aida Acoustics Attyla: 4.900 EUR
Manufacturer: AIDA ACOUSTICS
Associated equipment:
Analogue front end: J.Sikora Standard MAX turntable, J.Sikora KV12 tonearm, AirTight PC-3, phonostages: Grandinote Celio mk IV, ESE Lab Nibiru V 5.
Digital source:  a passive, custom server with WIN10, Roon, Fidelizer Pro 7.10, JCat USB Femto card with iFi power supply, Hdplex linear power supply for PC, JCAT USB Isolator
D/A Converter: LampizatOr Pacific +Ideon Audio 3R Master Time (USB signal regenerator)
Power amplifiers: GrandiNote Shinai, Audio Reveal Second, Supravox Vouvrey, Pathos KRATOS
Preamplifier: Audia Flight FLS1
Loudspeakers: GrandiNote MACH4, Ubiq Audio Model ONE Duelund Edition.
Interconnects: Hijiri Million, Hijiri HCI-20, TelluriumQ Ultra Black, KBL Sound Zodiac XLR, David Laboga Expression Emerald USB, TelluriumQ Silver USB
Speaker cables: LessLoss Anchorwave
Power cables: LessLoss DFPC Signature, Gigawatt LC-3
Power: Gigawatt PF-2 MK2 and Gigawatt PC-3 SE Evo+; a custom power line with Gigawatt LC-Y in-wall cable; Gigawatt G-044 Schuko and Furutech FT-SWS-D (R)
Racks: Base VI, Rogoz Audio 3RP3/BBS
Anti-vibration accessories: ROGOZ-AUDIO SMO40 and CPPB16 platforms and ROGOZ AUDIO BW40MKII feet, Franc Accessories Ceramic Disc Slim Feet and Wood Block Platform