Audio Phonique DAC DHT was the most expensive digital component I've ever reviewed. Now it's time for its as wallet-intense sibling, Audio Phonique PRE DHT line stage. Enjoy!
Shiny drive
Dipping your toes in an ocean prior to swimming in it seems reasonable, especially if you're not much of a swimmer. That early playful interaction gets one used to these waters and gives some idea whether they're likable or not. That's what most newcomer audio houses do. They start with one or two projects fully ready for public consumption and in time possibly expand from there. I see this as going barely ankle-deep and returning to the beach for more sun to show up. Some audio houses will go halfway in and drown to never be seen again, while others will rush straight into high waves and instantly manage. The newcomer company Audio Phonique didn't do either. Its founders Wojciech Murawiec and Maciej Lenar are after thrills far away from the shore. They're not recreational swimmers but hunters on a boat loaded with pointy harpoons firmly aimed at the largest animals of the audio biz.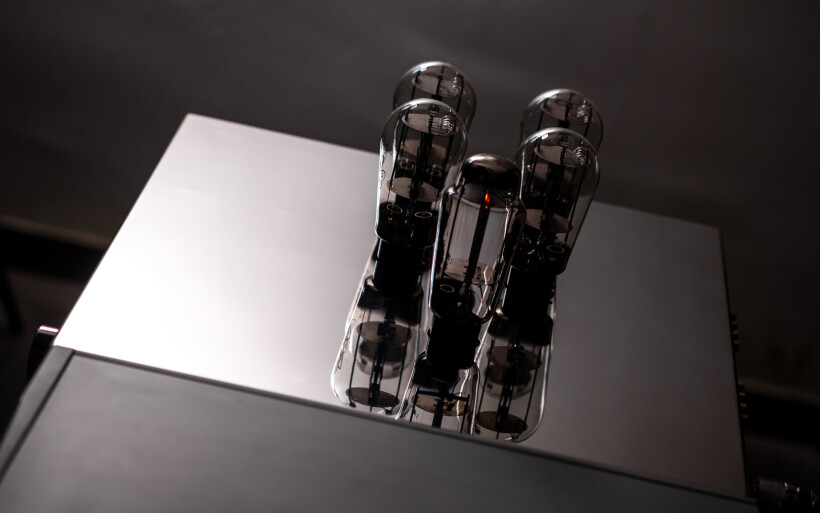 If the above sounds a touch too thick, that's on purpose. I can't name a single industry debut any comparable to the way how the Audio Phonique team of two did it. To say that Wojtek and Maciek entered that stage boldly is to put it mildly. They had been preparing for that launch day for years and spared no expenses to do so. Their own financing allowed them to spend as much time as it was necessary to execute tiniest details without compromises. That partially explains why Audio Phonique gates opened up with a dozen products spread across four branches; Statement, Classic, Power and cables. The other reason is Maciek's engineering versatility. He's equally proficient in digital and analog and has his very own methods of making cables and power components. The man also knows how to scale performance to match specific price points. He relies solely on his own know-how and avoids OEM work wherever he can. Unsurprisingly all Audio Phonique products feature circuit boards designed by none other than him. Considering the company's twelve-strong roster, he's a highly prolific designer as well.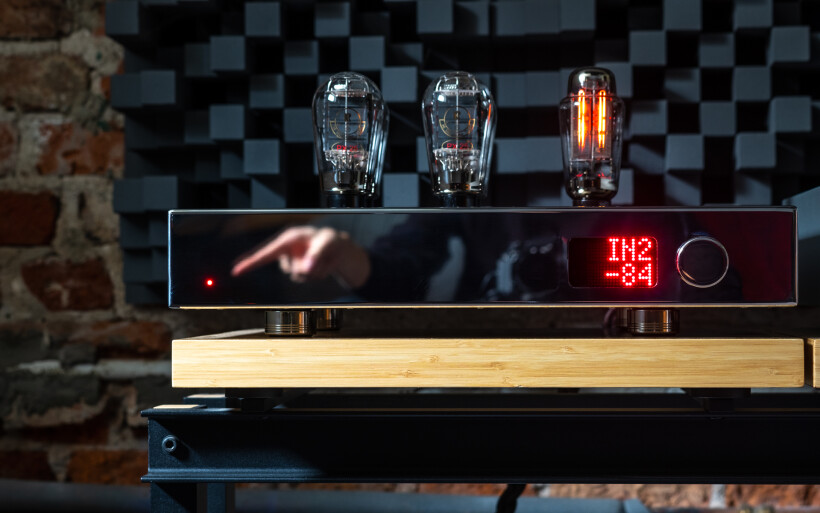 The top shelf Audio Phonique DAC already covered here was my primary target for two reasons. It reminded me of the LampizatOr Golden Gate I used to own and its logistics within the Warsaw area were easy for all parties involved. From Maciej's perspective auditioning that product in a room different that his own was valuable, so he delivered it in person. Since this first assignment was crossed off the bucket list without hiccups and the usual packaging hassle was avoided later on, Maciej and Wojtek were willing to send their next Statement trooper several weeks before the local Audio Video Show. That time is now, so I've asked for Audio Phonique PRE DHT line stage, again provided by Maciej himself. A massive custom-made flight case with that machine inside was a 45kg workout for the two of us. This robust box put together to withstand pretty much every transportation damage I can think of will set you back some €500 or so. Then again, today's very expensive device demands such measures and anything less is not acceptable.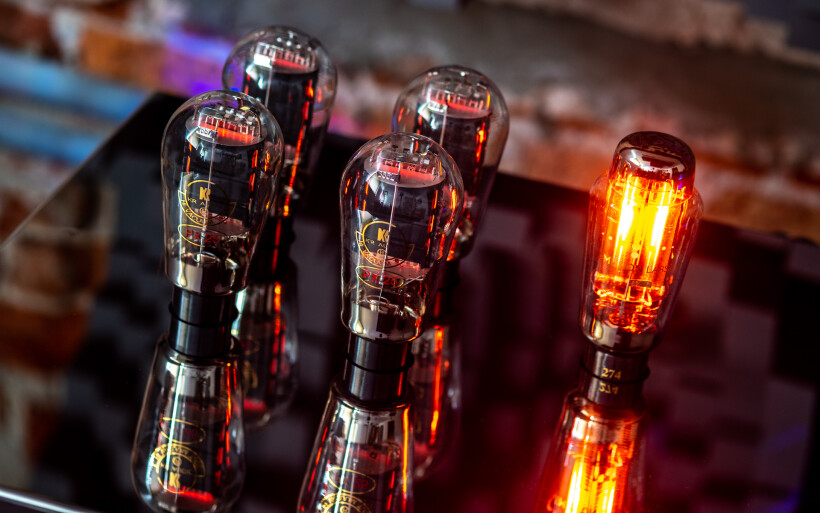 The easily removable upper felt-lined Ply deck of the case housed a handy black aluminium RC, woolen gloves and three Emission Labs boxes with five KR Audio tubes inside; one 274B rectifier and quad PX25 DHTs, so roughly €2'500 of glass in total. The included custom-made aluminium remote wand's small clicky round buttons select inputs, regulate volume, mute playback and turn the product on/off. Several extra pushbuttons clearly for a CD player were inactive. Either way, I was able to comfortably operate PRE DHT from afar and that's all that mattered. The key ingredient in a foil bag nested between dense foamy liners below the wooden compartment. Tube rectification, directly heated triodes on outputs and fully differential topology self-biased into class A are Maciej's take on the state-of-the-art line stage that had flourished into today's PRE DHT. It measures (W x D x H) 500 x 500 x 250/80mm with/without tubes and weighs 20kg, so isn't exactly easy to lift and move around yet still manageable by one adult. The on-site specs list 100kΩ/400Ω i/o impedance, 5Vrms input sensitivity, 24dB gain, 115-230V compliance and 100W constant power draw. Maciej's flagship pre arrives with pre-selected KR Audio 274B rectifier and PX25 DHTs because it was designed and tuned specifically with these in mind. Paying customers are free to experiment on their own, as long as their tubes of choice are happy about 4V filament voltage. As for rectification, this time around only 274B types are allowed. Maciej explained that i.e. 5U4Gs would require a far larger capacitor the product's enclosure wouldn't accommodate.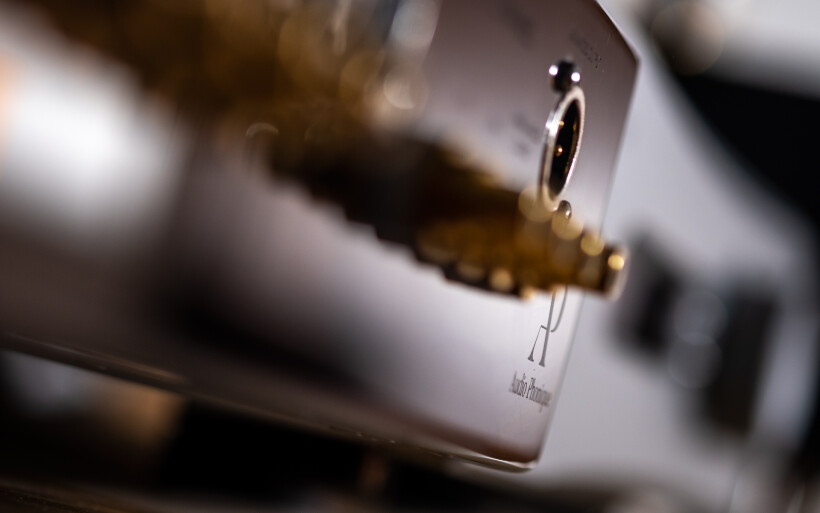 Just to state the obvious, Audio Phonique PRE DHT shares its minimalist highly reflective chassis with the manufacturer's Statement series DAC, so is as shiny and nice to look at especially among diversified nearby surroundings. The product's gently rounded uniform frame may look like it's been cast or machined yet wasn't. This far more labor-intense effort was built upon 2mm 316L stainless steel sheets first cut to size, then bent, welded and finally hand-polished for a flawless mirror-like effect that's quite spectacular by my standards. Means to achieve it were painfully costly and finding just the right manufacture capable of getting the job done took a while. Maciej explained that his non-corrosive non-magnetic steel of choice does what a 5x thicker aluminium equivalent would yet still is far harder and heavier, thus better in damping micro-vibrations via mass. Since it's also three times the expense and bastard to work on, the PRE DHT's price tag has to reflect that too.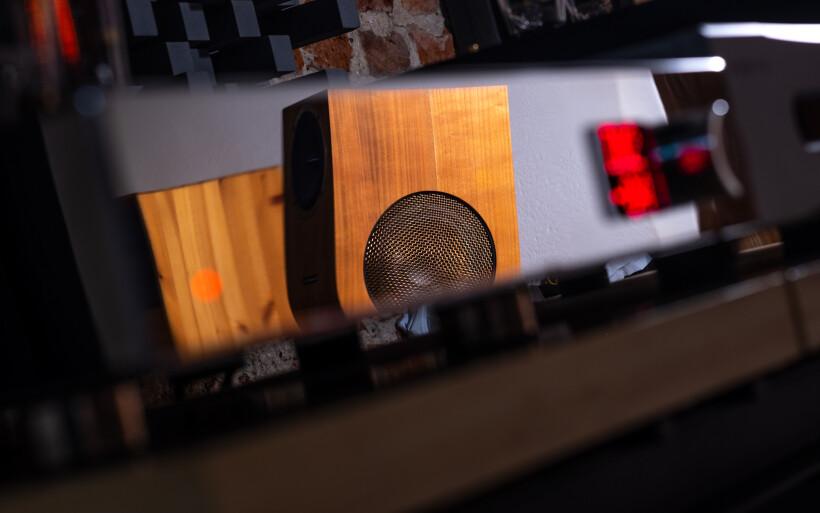 Four 316L pucks with O-rings on the product's underside locate between two slotted rows that vent internal heat, while bolts purposely used only in that area contribute to its minimalist superbly clean aesthetic. One tiny red LED in the front lower left corner engages after a minute from startup to indicate readiness for duty. A gloss-red dot matrix on the other end shows large letters perfectly readable from afar. The compact smooth master knob just next to that display regulates volume and upon 1/2/3 quick presses it respectively mutes playback, cycles through inputs and engages the menu. Therein one can adjust brightness (9 steps from 10 to 100%), check usage time and engage remote teaching. These basic utilities don't cover naming inputs and dimming display, while the menu can't be accessed via RC yet should. The rear end is busy with a fused IEC inlet with the main on/off rocker, one of each XLR/RCA outputs plus XLR/3x RCA inputs. Although this i/o is more than I personally might need, as a paying customer I'd appreciate DC trigger ports. The manufacturer's Statement line also lists PSE1605 monos, but by the looks of it PRE DHT has no control over them, so the entire set can't be conveniently powered on via just one button press. Let me also stress that today's shiny chassis is a potent fingerprint attractor that gets very hot near tubes. On the upside, this review's subject proved very stable. During two weeks of at my place it remained enjoyably predictable and didn't surprise with anything unpleasant.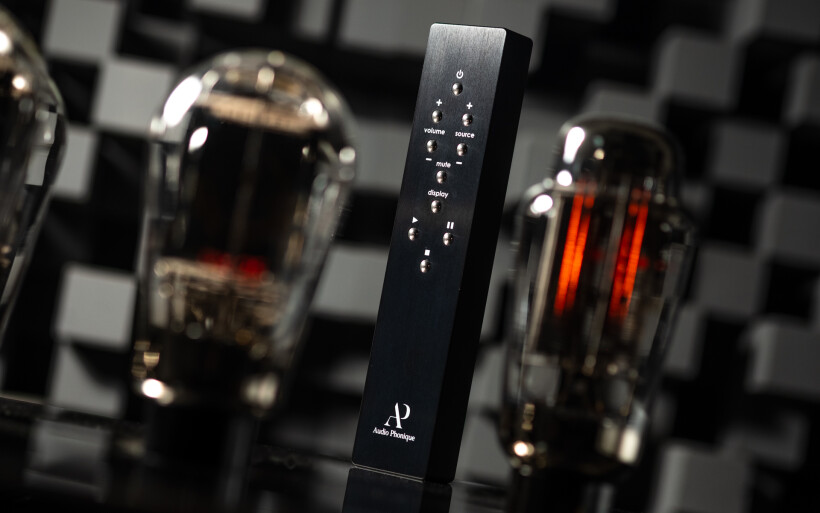 Audio Phonique PRE DHT looks as good on the inside as its DAC sibling. In fact, the two have a lot in common. The large 3mm board with gold-plated OFC traces houses the entire analog stage with power supplies. A 200W toroidal transformer outsourced from the local Toroidy.pl company powers the analog circuit, while voltage stabilizers are twin low-noise discrete types managed by op-amps. Filter caps are Elna Silmic II, Vishay's black MKPs and Mundorf M-Lytic AGs also used with these voltage stabilizers. The anode voltage section incorporates a rectifier tube, 5x Mundorf MCap® Supreme Classic oil-filled silver/gold coupling caps, Audio Phonique's own power supply choke and one large Mundorf M-Lytic HV cap. A stabilized discrete PSU is filtered by smaller M-Lytic HVs and TubeCAP MKPs, followed by Lundahl's anode choke and finally the DHT. Each inside a gold-plated Teflon socket enjoys its own cathode current source based on a transistor Maciek is secretive about. The PRE DHT's rotary connects to a digitally managed shaft encoder coupled with a matrix of 64 resistors, which tells us that signal attenuation (128 x 0.5dB steps) is executed in the analog domain. This entire engine is powered from a separate small transformer and does its job after the tube stage. Lundahl input transformers are used as baluns/pass-through devices respectively for RCA/XLRs. DHTs feature choke loading and their fixed bias is stabilized by silicone and choke, while cathodes connected to ground operate without resistors and caps. Mundorf MCap® Supreme Classic caps couple tubes with outputs.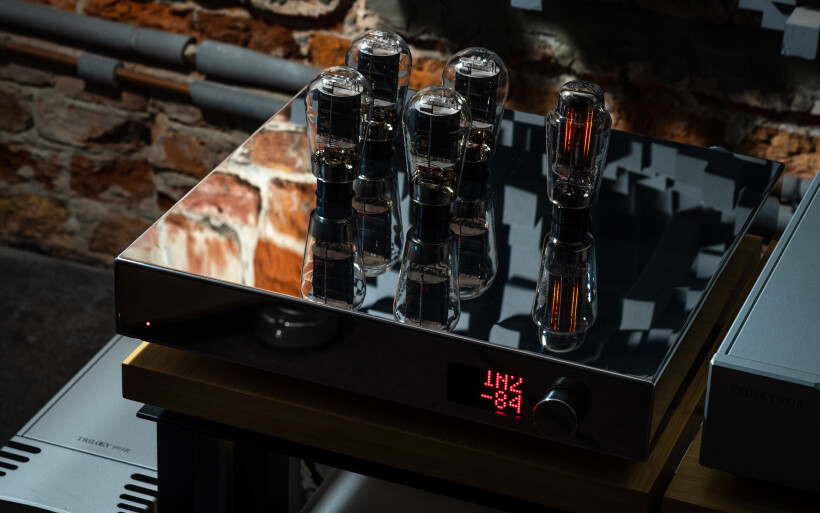 Audio Phonique DAC DHT was roughly €10'000 ahead of my daily driver, which didn't make too much of a difference at their level. Its sibling sells for twice as much as my 915R line stage however and ideally a balanced d/a converter should support them both. Alas, my Pacific is a single-ended device that connected to these preamps via RCAs. From there each powered by Boenicke Audio Power Gate's captive M2 cord sent signal to Trilogy 995R monos over XLRs. The battleground was nicely leveled and swaps between the two contestants demanded reconnecting two interconnect sets, which was fairly quick and easy to do.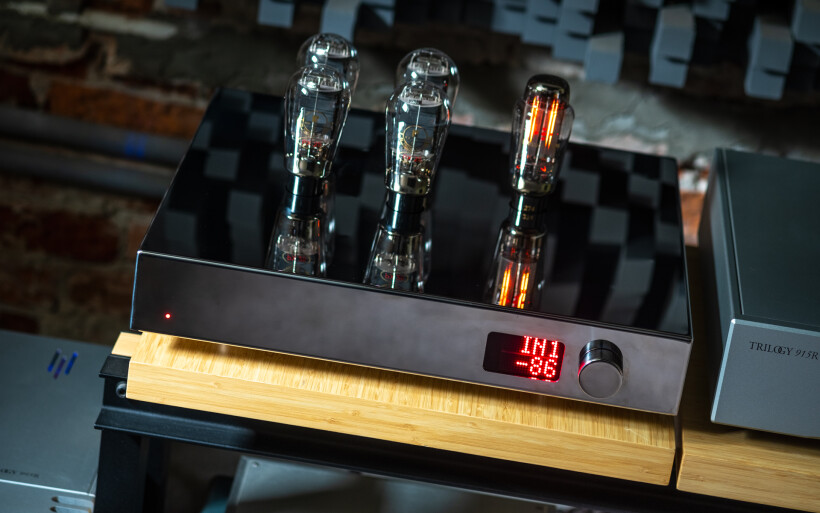 Some info about the Trilogy reference set won't hurt prior to moving forward. This three-piece analog kit biased deep into class A has its own strongly pronounced flavor built upon richness, textural generosity, gravity, well-developed muscle tissue and off-the-charts openness, insight, articulation, speed and overall might. That's why it doesn't feel any slow or fuzzy against quick precise opponents and it also goes toe to toe with those geared primarily for color, charm and sensuality. This high-tiered versatility without any obvious shortcomings explains why Nic Poulson charges a lot for his reference stack. Here the 915R greatly contributes to its sensible impact, immediacy, imaging size, feistiness, elasticity, oxygenation and spatial moisture. That said, these specific assets make this top shelf line stage a highly synergistic support for 995R monos.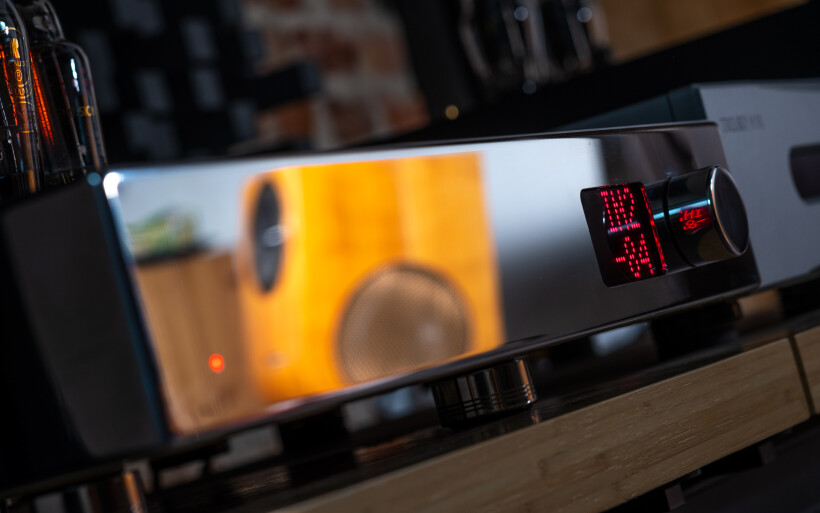 Thus far the 915R was put up against opponents sold for a fracture of its price. It bested Kinki Studio EX-P7 on on-stage presence and the associated intensity; larger more voluminous landscapes, higher oxygenation, greater openness, superior imaging specificity, dynamic eagerness and more alive overall feel. Needless to say, that fight rendered the 915R the clear winner, but its brawl with the icOn 4PRO resulted in a draw. The autoformer-inufused latter emphasized radiance, illumination, directness, precise outlines, energy, excitement and quick reflexes even more. That's why in spite of its inherent snappy demeanor my reference pre emerged as bloomier on bass, rounder, meatier and spatially a touch diffused, so more atmospheric, massive, relaxed and voluptuous. Interestingly, prior to the icOn's arrival I wouldn't have considered the 915R as any dark or romantic per se, but during that memorable comparison it was to a degree. This was a nice reminder that our interpretation of everything we hear is just a matter of perspective. Although I still consider the 915R a true ace on snap, openness, gargantuan imaging, directness, pronunciation, color and contrast pop, now I simply know that it doesn't reach the ceiling on these fronts. With that in mind, now let's move to the Audio Phonique PRE DHT.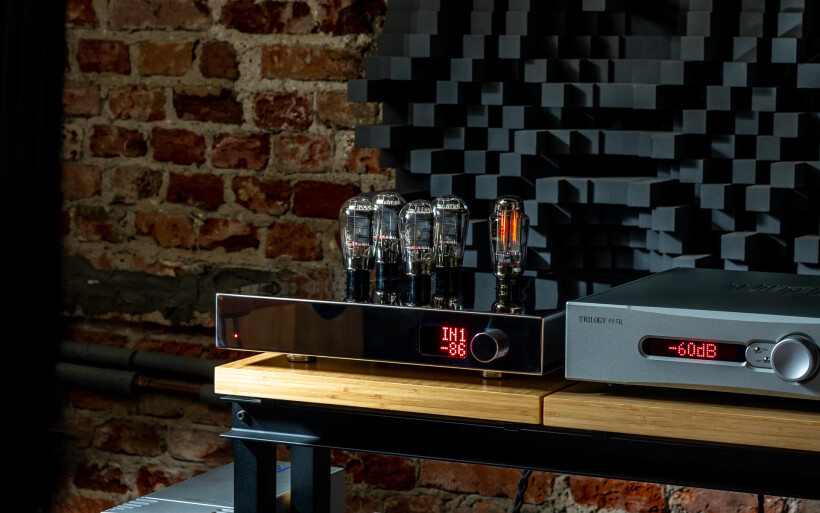 Audio products with large tubes on top of their bonnets are usually considered as focused on charm, tone, color, euphony and the lot. Although I think that this profiling holds true to some extent, my experience with directly-heated triodes used as output devices in DACs and preamps is a fair bit different. Many these products make sound predominantly fast, open, immediate and slamming to my ears. Upon installing WE-101D DHTs in my first tube DAC (a two-box LampizatOr Level7) I had hoped for warm fluffy sonics yet got the exact opposite. Back then a fellow reviewer with far more experience on the matter explained that this is how that hardware ought to behave. That's the reason why today my guesses about Audio Phonique PRE DHT's performance were roughly in that ballpark. Long story short, I wasn't wrong.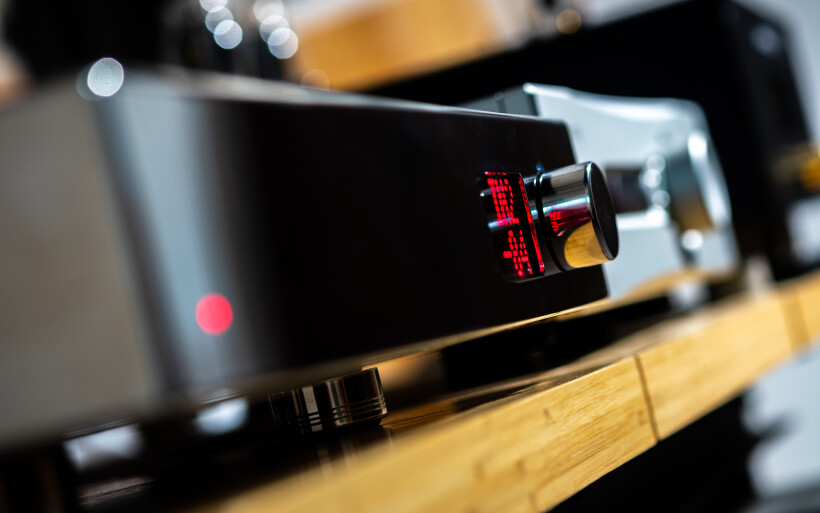 If I were hard-pressed to compactly describe that preamp's metaphorical look strictly based on its performance, a fiend in a tuxedo would be it. That sharp dress code stands for utmost romantic sound profile built upon somewhat elevated tonal temperature, round edges, remarkable smoothness, sensible heft, spatial humidity and all other assets that make music enjoyable to listen to. Audio Phonique PRE DHT's utterly posh elegant behavior was in fact the very first thing my ears registered. There wasn't a hint of sharpness, grit or any particular excess in its sound. Although that was a splendid start already and partially similar to the introductory experience I had with Maciej's Statement DAC, from there his preamp took a firm 180 turn towards opposite features that turned it into a high-RPM devil.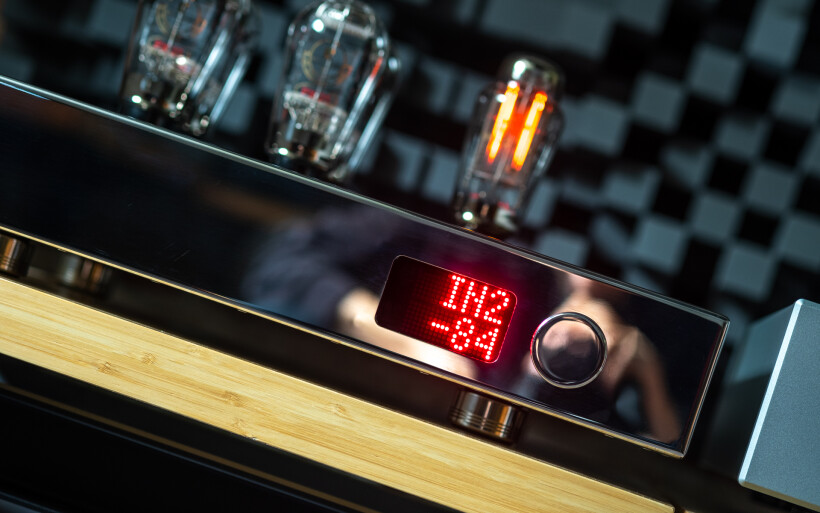 The PRE DHT's inherently rich dense disposition was particularly useful with minimalist music based on real instruments and delicate vocal lines. Although I enjoy these, rather sooner than later I develop appetite for impact, momentum and power only rock, metal, orchestral and tribal bits on my playlist can satiate. Once that was on, I had my first 'aha' moment. The PRE DHT didn't break a drop of sweat during any such challenges. An inherently enchanting type it was indeed, or so I still thought back then, but on sheer slams, quickness, spatial might and control it proved very much relentless and I truly hadn't seen that coming. Just to clarify, the PRE DHT wasn't just an a-okay hardware on these counts, but a proper powerhouse that actually thrived on tasks in high demand of grand imaging, air, excitement, momentum, elasticity and the sensation of music being very much alive. After several days the PRE DHT's voicing struck me as equally gifted on romance and tone as it was on crack, snap and vigor, so as such it was fabulously balanced.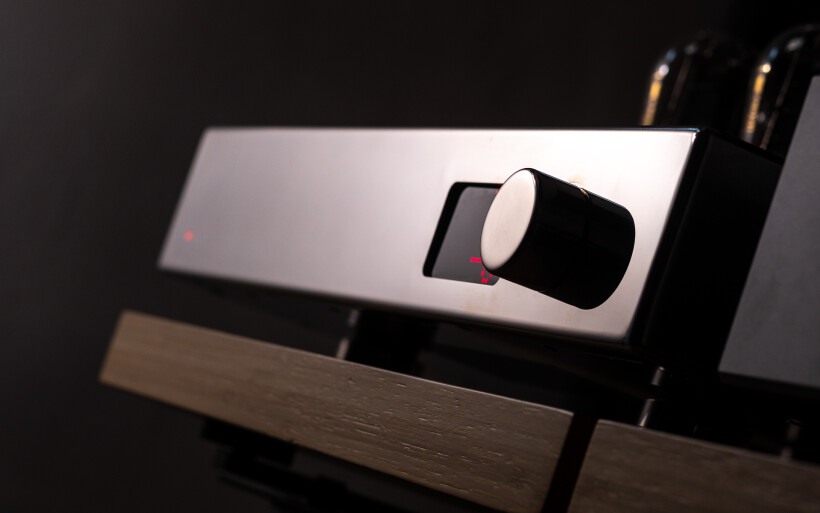 After some leisurely time spent with the PRE DHT I still felt safe about the 915R's ability to hold its ground. Several introductory comparisons later that security was no more, whilst a week later I was confident that these weren't products from the same performance bracket. The fundamental difference between my preamp and the twice as dear local newcomer narrowed down to their different proportions of tone, muscularity, roundness and euphony to imaging size, illumination, top extension, quickness and control downstairs. The 915R leaned towards the former trait group, whilst the PRE DHT artfully combined them both and emerged as the more sorted wholesome product. It staged even deeper than my reference and it enveloped key sound sources by more air to make them even more distinctive in the process. Its more shimmery weightier upper registers lingered in air for longer and heftier bass that dug deeper was still held in as tight of a grasp. The 915R felt glossier, shinier, leaner, more mechanical, stiffer and a touch nervous. These differences weren't big yet easily traceable and there were quite a few of them.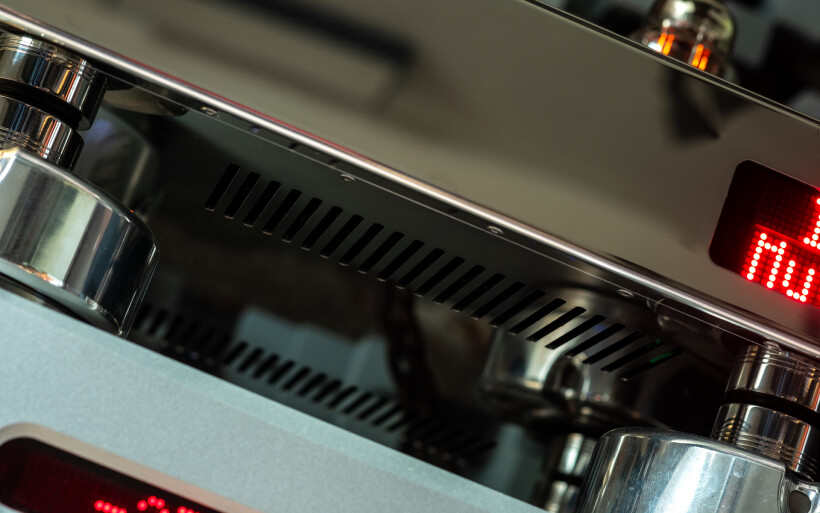 The 915R's projections served up close naturally were a bit larger than those rendered by the PRE DHT, so initially I thought that the former had the upper hand in this regard. The more relaxed newcomer however still portrayed these shapes as more visible, sensual and soothing, while its background felt darker. Let me stress that in spite of its easygoing if not casual presentation it didn't skip a beat on any rapid musical taks. We've already established that it was a fully developed monstrous type on that score and its comparison to the 915R merely confirmed these observations. In simple terms, the PRE DHT did everything the 915R did, but in several regards it also was the audibly more evolved high-tiered type. I also think that after their direct comparison most folks would've quickly mapped which one was the more gifted and accomplished device. I've thoroughly enjoyed my time spent with Maciej's design not just because it superbly handled all the guilty pleasures on my playlist. The way how it went about its business marked the clear progress over my daily driver, which was enough to understand what sort of a product it truly was.
To me peak performance always translates into freedom from obvious cons and the entire audible spectrum fully covered. Here my line stage granted me access to all that until I've auditioned the PRE DHT. This brilliantly voiced luxuriously executed marvel didn't just offer an alternate sonic aesthetic sprinkled with subtle polishing here and there, but the advancement over my daily pre sensible enough to not have me shocked about the retail price listed below. Audio Phonique PRE DHT is a painfully expensive product only lucky few will be able to take into serious account, but also a superbly voiced ambitious affair that now defines the pinnacle of its kind in my roster. This story ends without our red award only because I haven't yet sampled any other line stage even remotely as dear as this one, but the takeaway is clear.
Associated Equipment:
Amplifier: Trilogy 995R, FirstWatt F7, Enleum AMP-23R
Speakers: Boenicke Audio W11 SE+, sound|kaos Vox 3afw
Transport: Innuos Statement, fidata HFAS1-S10U
Preamplifier: Trilogy 915R, Thöress DFP
Speaker cables: Boenicke Audio S3, LessLoss C-MARC
Headphones: HifiMan Susvara
Speaker signal conditioning: LessLoss Firewall for Loudspeakers, Boenicke ComDev
Anti-vibration conditioning: 12x Carbide Audio Carbide Bases (under DAC, preamp and speakers)
Interconnects: LessLoss Entropic Process C-MARC, Boenicke Audio IC3 CG
Power components: Gigawatt PC-3 SE EVO+/LC-3 EVO, LessLoss C-MARC, LessLoss Entropic Process C-MARC, Boenicke Audio Power Gate, ISOL-8 Prometheus
USB components: iFi audio Mercury3.0
Network: Fidelizer EtherStream, Linksys WRT160N
Music: NativeDSD
Retail prices of reviewed components in EU (excl. VAT):
Audio Phonique PRE DHT: €40'000