Although high-performance passive products priced to sell have been Buchardt Audio's bread and butter for years, just recently this operation detoured towards fully domesticated active speakers. Its first such effort named Buchardt Audio A500 is this report's main dish. Enjoy!
Introduction
Mads Buchardt and his company Buchardt Audio are no strangers to this site. Although the Danish entrepreneur had established his business in 2013 hence not too long ago, its commercial success is no secret either. At first glance one could rightfully ask how was it possible that this particular operation's visually regular standmount speakers made it this known, but upon deeper investigation it becomes clear that this was no accident. The audio industry is as complex as it's ruthless. Each year hundreds of manufactures start full of high hopes as local DIY workshops, just to close their door a year or two later due to lack of revenue and funds to keep going. Mads played this differently by going big from the get-go, prioritizing generous price-to-performance ratio and knowing just the right people to land according products. It also goes without saying that several critical decisions he made along the road were very smart from the business perspective and beneficial for customers.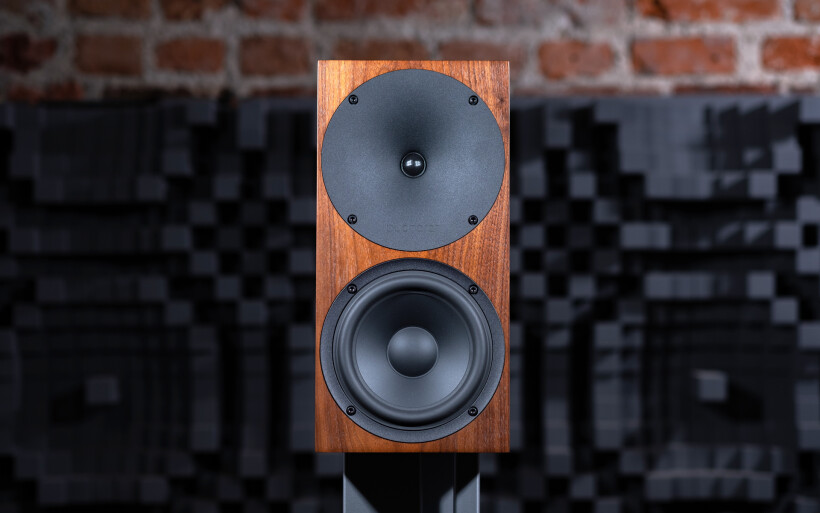 Many enthusiasts are after affordable performers capable of going toe to toe with pricier competitors. In order to compete, Mads eliminated middle-men with their margins to sell directly from his warehouse at significantly trimmed retail prices. His childhood friend Kasper Raun is Buchardt Audio's engineering brain known for previous work at Dynaudio and specialist Chinese Hansong plant, where now the former company's products are made. If this rubs you the wrong way, multiple brands even into very costly stuff also rely on OEM subcontractors from the Far East. The last piece of the puzzle was the SB Acoustics facility under the same address as the Dane's, which led to his acquaintance with Ulrik Schmidt who designed ScanSpeak's worldwide famous Revelator range years back. All Buchardt Audio products feature SB Acoustics transducers tailored specifically for them.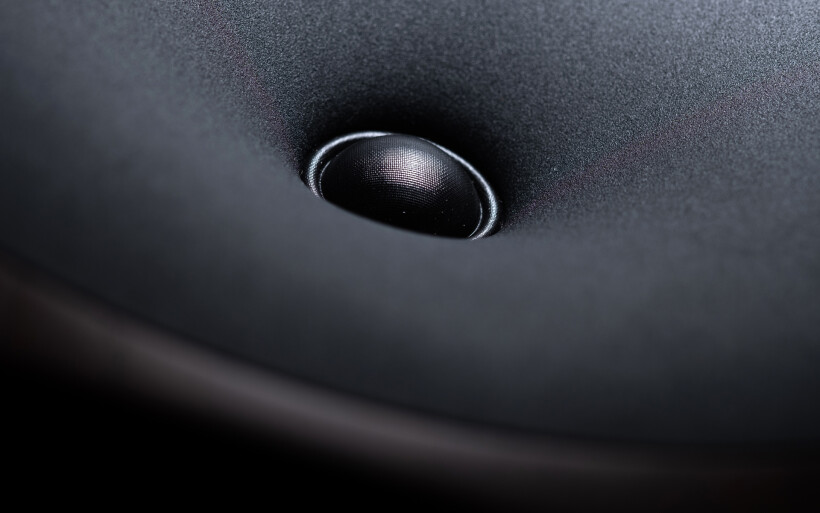 The Buchardt Audio S400 already reviewed here was no ordinary audio product and certainly not of the DIY sort. Past spending several weeks with it I wondered what else its makers could possibly launch in the future and today's the day. Although their portfolio didn't grow massive since my S400 story, their new direction is very clear. What Mads sent my way is his fully active effort baptized Buchardt Audio A500. Along with its digital hub it forms an all-in-one wireless turnkey setup, for which you don't need anything else, ever. Enjoy.
Build
Buchardt Audio A500 arrived inside a double cardboard filled with two foam forms precisely cut to accommodate two speakers wrapped in their linen bags. Several differently terminated power cords, four grills with embedded magnets and Platin's Stereo Hub plus a quality remote controller for it were found in the box too. This report's product to quite an extent resembles its passive S400 sibling and even measures identically. The former's each gently tilted (HxWxD) 365x180x240mm enclosure weighs about 12 kilograms, which translates to a speaker as compact as it is easy to carry around. Its active bits imply no need for regular components and that's the most significant rework versus the S400 model. Let's add unseen for the breed frequency response of 25Hz – 40kHz +/-1dB, adjustable 2.5-way operation and x-over cut at 150Hz via a low pass filter and at 2.8kHz with a 24dB/octave slope. A quad-core CPU and dual CS4398 chips inside each box handle DSP jobs and D/A conversion respectively, and each driver gets its own class D amp (150/300 watts RMS/peak) by Texas Instruments. 450wpc output power per channel is quite the artillery, especially given the A500's domestic frame.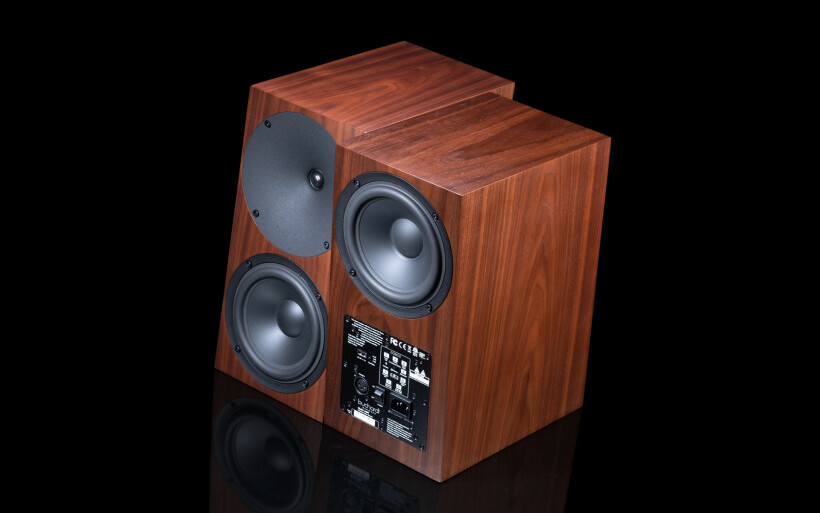 Buchardt Audio A500's cabs are made of MDF and available in either matte black/white finishes or Walnut veneer as in my loaner. Each box houses a 0.74" textile dome tweeter inside a deep grainy aluminium CDC (aka Constant Directivity Control) waveguide, which allows for its propagation not beam-alike but far wider to result in impressive on-/off-axis characteristics. This heavily engineered plot already field-tested in the S400 was located below its mid/woofer to have both drivers time aligned. The  A500 reverses this order by having its long-throw 6" transducer with a paper cone underneath the tweeter and their phase now controlled via internal DSP, whereas the same former unit on the rear promises us whooping 25Hz reach from a very small cab. Buchardt Audio S400's passive membranes already went remarkably low upon coupling them with a wall, so I looked forward to finding out what the A500's fully active drive and freedom from ports could do on this count. Its 6-inchers inside their own sealed compartments further reinforce enclosures.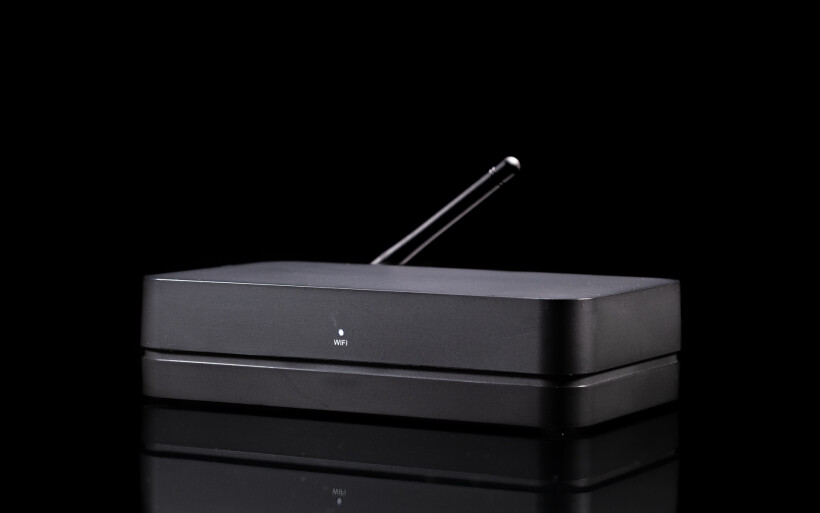 SB Acoustics' latest 6" woofer installed up high on each A500's business end neighbours with an interesting aluminium panel located a bit below. It houses a regular 3-pin IEC inlet next to the power on/off switch and 3-pin XLR analog input to connect i.e. an external line stage or DAC with its own volume regulation. Although possible, the wired route isn't ideal as the A500 fed with analog signal will first convert it to digital data, apply DSP and then pass it on to its internal DAC. Instead it's far more convenient to exploit this product as a fully wireless affair and here's where a handy rectangle just above its IEC on the same plate comes into play. This shape depicts eight (7.1) self-explanatory channels each with its own LED, whereas the pairing button near the middle allows one to cycle between them and wirelessly connect each speaker to Platin's Stereo Hub. The loaner's both boxes thus had to be first set as front left/right channels, so I pressed their buttons several times to see a desired LED engaged and that was it. From this point onwards there was no need for me to do anything else. The bond between the A500 and its command center didn't break even once throughout their entire stay at my place.
Each speaker's rear plate also features a sensitivity switch (-6, 0 and +6dB gain) next to a USB Type-A port usually used for service duties in the event of i.e. a product's failure or firmware upgrade, but this report's hero is quite special on this count. Out of the box it's a 2.5-way design, which means that its front 6-incher handles mids and bass, whereas the same driver on the rear reinforces the former band. However, the A500's crossover controlled by internal DSP is subject to changes and team Buchardt had released several Master Tuning .bin files for this purpose. At the moment there are four available; stock/optimized 2.5-way configurations and 2.5/3-way nearfield variants. The DSP reprogramming procedure itself is straightforward. A desired file downloaded from the manufacturer's site has to go onto a FAT32-formatted pen drive, which then connects to each turned off speaker's USB port. Upon powering it on, a quick clockwise illumination of all its LEDs indicates DSP successfully uploaded. The sonic shift past going from i.e. a stock 2.5-way to 3-way (…where each front 6" driver is responsible only for mids) configuration is anything but small. The former tuning got my vote by a hair, however that's subjective and specific to my personal biases hence of no importance. More importantly, the A500's voicing easily adjustable not via hardware swaps but quick and easy DSP updates is a major plus and great feature.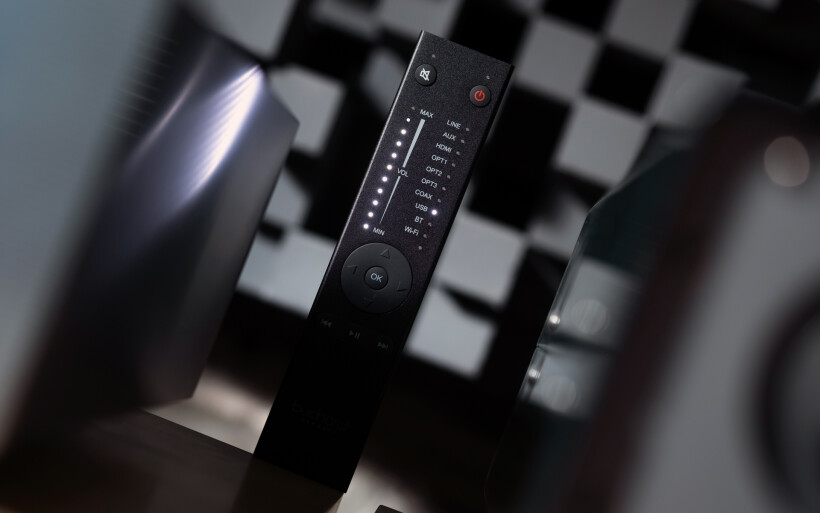 Prior to its upcoming official launch in early 2021, white/black and Walnut Buchardt Audio A500 within EU sell respectively for €3'550/pr and €3'700/pr with Platin's Stereo Hub and its remote included. This pre-launch promo is limited to 100 sets and ends on the December 1st 2020. Although listed A500 versions can be purchased without specified additives for €50 less in total, I'd seriously take them into consideration if you don't already own a WiSA-certified wireless transmitter. Buchardt Audio's active newcomer partnered with Platin's platform is the full-care package functionally way too attractive to not pursue it. The transmitter itself is a small plastic box with just one blue WiFi LED on the front and multiple connections on the rear; one of each analog RCA and 3.5mm auxiliary line input plus digital HDMI ARC, USB Type-B, 3x optical and one coaxial S/PDIF. All this lot neighbours with a reset button, USB Type-A service input, WiSA on/off LED indicator, pairing button, 5V/3A DC inlet and mini-BNC socket for its antenna included in the box.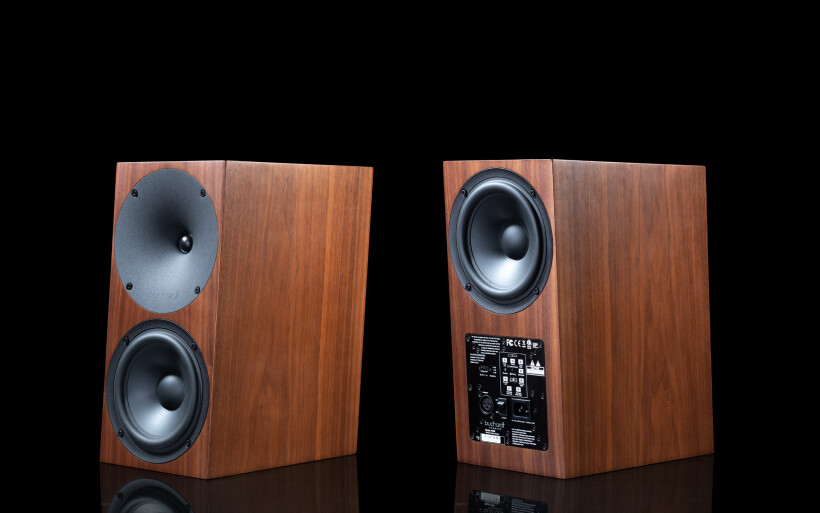 Platin's Stereo Hub accepts digital and analog signal via any of its inputs, internally converts it to digital if necessary and then wirelessly sends it as WiSA compliant 24-bit/96kHz PCM to a device it's paired with, that would be the A500. Music can be streamed to this tiny unit via Bluetooth or WiFi, or sent from a CD player, turntable fronted by a phono pre, TV, PC, laptop and pretty much everything else. Spotify, Google Chromecast, Apple AirPlay and Tidal are allowed and Roon Ready certification is at works. Let me stress again that during my time spent with Platin's box married to the A500 I experienced no drop-offs, not even once. I left both speakers constantly powered to on/off the entire setup via one button press on a hub's RC, which spelled out convenience at its finest. I expected this wand to be plastic and tacky, but was pleasantly surprised. It's a substantial aluminium remote with two rows of white LED indicators for input and volume plus buttons for their change, play/pause, skipping tracks and on/off function. The controller's lights engage upon picking it up, otherwise they're dim to preserve battery life. The Stereo Hub talks with it via RF instead of IR so can land in a drawer and will work, but the RC itself is mandatory to do anything, which is why it honestly can't get lost.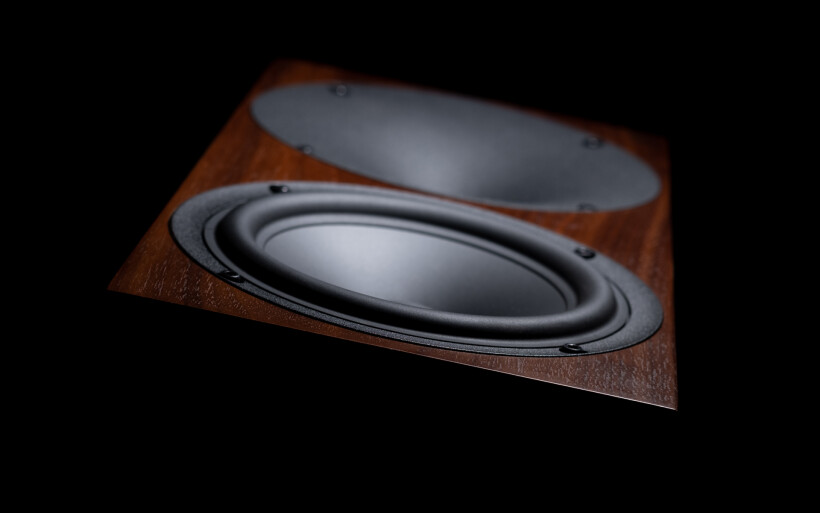 The Stereo Hub included in my loaner set can connect to 16 speakers in total. Two sent my way were enough to form a regular stereo system, however I can imagine extra four or six A500s in i.e. a surround home cinema setup. One of the most interesting features of the hub was its in-built room correction available via Buchardt's app (installed on my iOS device). Upon engaging it a fairly loud white noise was sent to both A500s and I had to maintain 1.5m distance to them at minimum. Then with my smartphone up high I had moved around my room for a minute so the app could map its acoustics and produce a correction curve I could instantly turn on/off to hear audible and immediate change in the A500's behavior. But most interestingly, my smartphone's own mic was used to execute this highly impressive and effective job instead of specialist tools.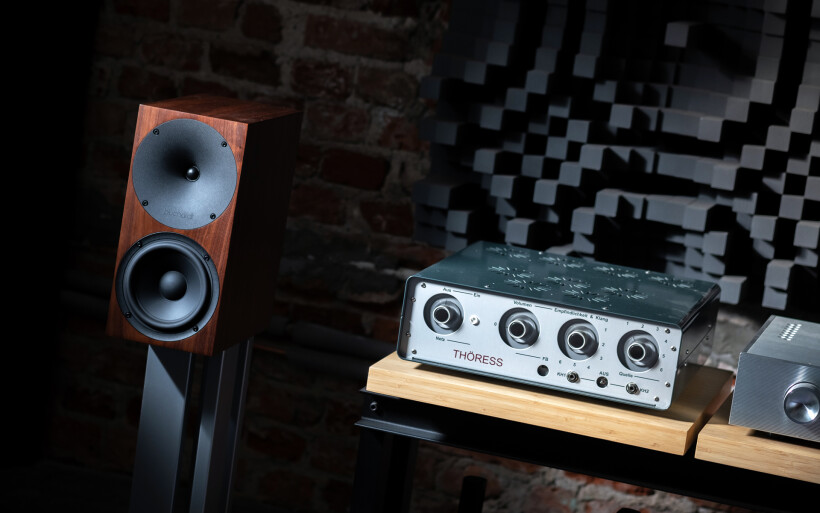 Buchardt Audio's warranty is 10 years on speakers and two years on electronics. All its products are DDP (Delivered Duty Paid) shipments, which means that all responsibilities, risks, insurance and logistic costs are on the manufacturer's shoulders, including import/export duties regardless of your local tax tariffs and country. The 45-day trial period adds extra icing on this already tasty cake. If a product doesn't meet your expectations, €25 is the fixed sum total for sending it back from any part of the planet. All things considered, Buchardt Audio's policy is generous to say the least.
Sound
This chapter always starts from listing sundry hardware used to conduct a given review, but this time around my regular equipment wasn't necessary. The Buchard Audio A500 loaner required nothing specific other than a pair of stands (in my case Soundstyle Z1) and smartphone. Both speakers connected to a Boenicke PowerGate power bar via LessLoss C-MARCs. I imagine that most potential customers interested in today's set wouldn't go this far, but these were components I had nearby. Once this base was covered, next I had to find the most convenient way of sending music to today's Stereo Hub. At first I set it as a Bluetooth receiver and streamed content from i.e. YouTube or Spotify, which worked perfectly in the sense of ease of use and early convenience, but streaming from cloud wasn't my ideal scenario.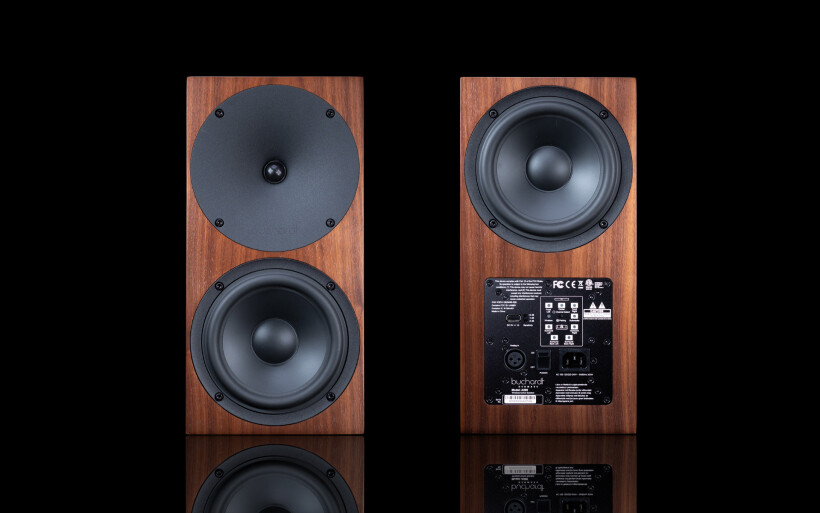 Shortly past the introductory experience with Bluetooth transmission I thought about using the Google Home software next and moving from there via WiFi. But prior to going this route I had to at least try and incorporate fidata's server/streamer into the mix. It already had everything I listen to on its internal SSD. Upon connecting this machine to the Platin Streo Hub's USB input Lumin's app instantly saw both devices. Although this report's loaner effectively replaced pretty much my entire rig, the way how I've been handling it for more than a year remained exactly the same. Needless to say, there was no going back from this near perfect situation. Access to all my music and its playback control as per usual were a splendid start, that left any other streaming methods at the door. The only thing I had to keep in mind was Lumin's volume level maxed out by default. Naturally it had to be reduced by good 75% prior to any auditions, otherwise I could potentially end up deaf.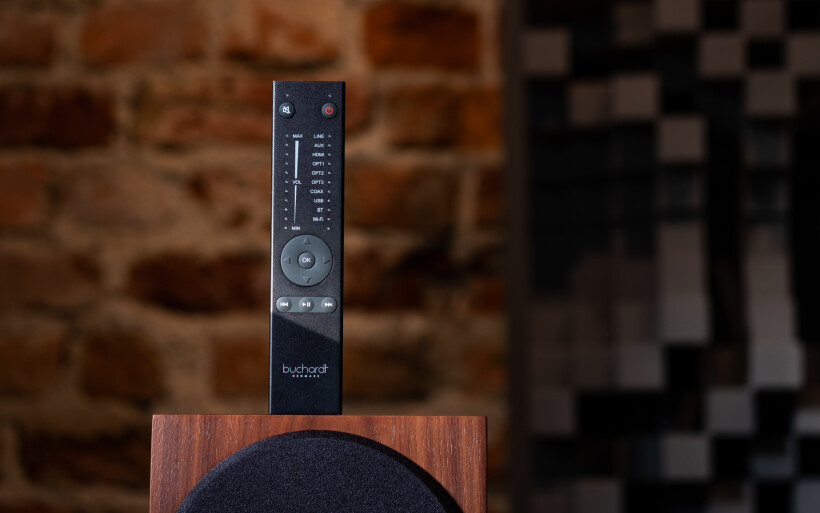 The A500's positioning in my room was the next stop. Having the S400 experience in mind, I coupled the former's each box with the front wall fully convinced that this was needed yet again. Unsurprisingly the loaner's bass response was nothing short but wicked, however soundstage depth took a dive to become rather flat in effect. Then each box was distanced from my crib's brick surface by 150cm and toed in a bit. I expected leaner, quicker and shallower lows, but it quickly became clear that the S400's passive radiators and the A500's active rear-firing woofers didn't follow the same rulebook. Several experiments later the conclusion was that this report's product wasn't shy on bass at all regardless of its in-room placement, but quite shocking instead. Let me clarify what this stands for.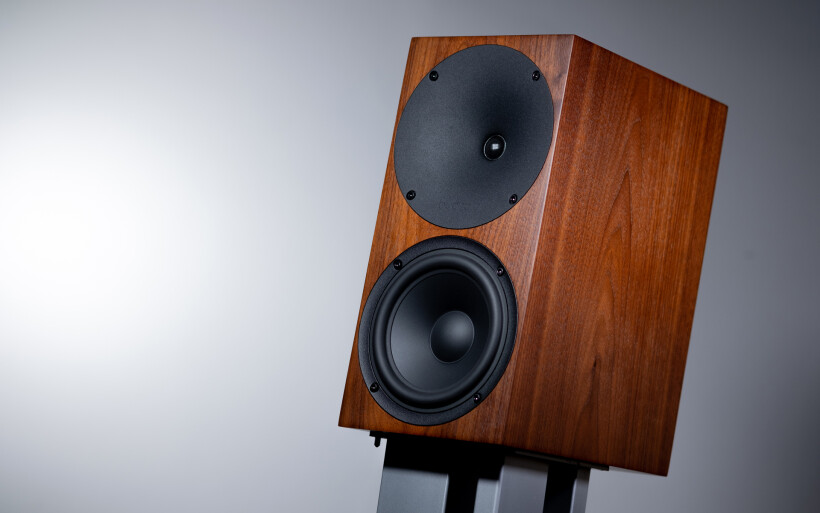 I encourage you to listen to the "Arsis" track from Gordian Knot's Emergent LP. Its key instrument in form of bass guitar is naturally calm but opens up with a bomb. With the A500 it invoked significant pressure in my chest and surrounding walls resonated as if they wanted to collapse. Whilst standing and gently putting my foot up, it quite steel-alike was attracted by magnet floor. Lower bits of my trousers moved a bit and clearly wanted to party. My point is that if a speaker goes very low, a listener feels its infrasonic barely audible reach and it's a very rare treat. Today no large floorstanders or beefy subs but two small active speakers pulled all these potent physical effects utmost cleanly. On sheer bass power and its guttural nature, nothing similarly sized I'd heard in recent months comes any close to the A500.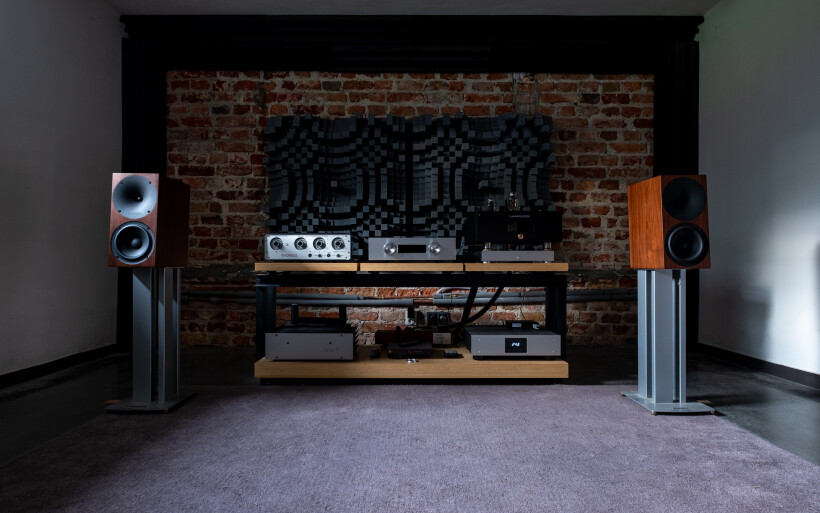 Although today's product introduced itself via visceral lows more than soft talk, its sealed topology led to completely boom-free attitude, which effectively amplified its raw output downstairs and allowed everything above this range to remain nicely pronounced. Bass from sealed enclosures often is texturally dry and chiseled to favor crack and impact over filler and tone, but the A500 did well on both these counts. Its ratio of contour to colour was a spot on by my standards. Other far costlier products reviewed at this site had their bass even more saturated and complex, however given the latest Buchardt's price and very much fearless behavior I didn't dare to ask for more. What caught me off guard the most was the fact that it did in the middle of my crib what its sibling S400 could pull only upon coupling its passive radiators with a wall. As such, the A500 emerged as yet another fine example of a revvy high-performance monitor that honestly shouldn't be underestimated or judged by its petite frame.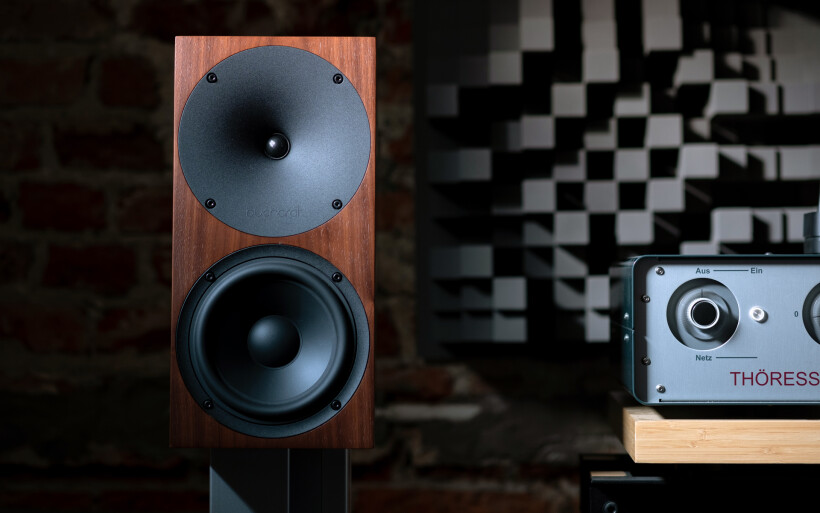 The A500's bass response best described as thunderous, tectonic, tight and nimble was unquestionably one of its strongest cards, however everything above this range was tastefully executed, which can't be said about many monitors. Many often flex more than their compact boxes allow to land spicy V-shaped sound characteristic. Some build their sonic profile around midrange to hide shortages on both audible ends. Today's effort did none of these things to instead aim at coherency, textural provision and evenness all across its entire spectrum. The Buchardt Audio S400 already pursued this flavor and relaxation more than outlines and precision and the A500 was geared like so as well. Exceptionally potent grand bass aside, the latter stayed away from any particular extremes or strong biases. Neither it elevated top end to make it shinier than it should be, nor it overstretched the realm below it. I fairly quickly noticed that Buchardt's newcomer didn't emphasize anything specific and had all its drivers finely sewn together. Such well-thought voicing not only requires capable ears and skill, but also isn't accidental work.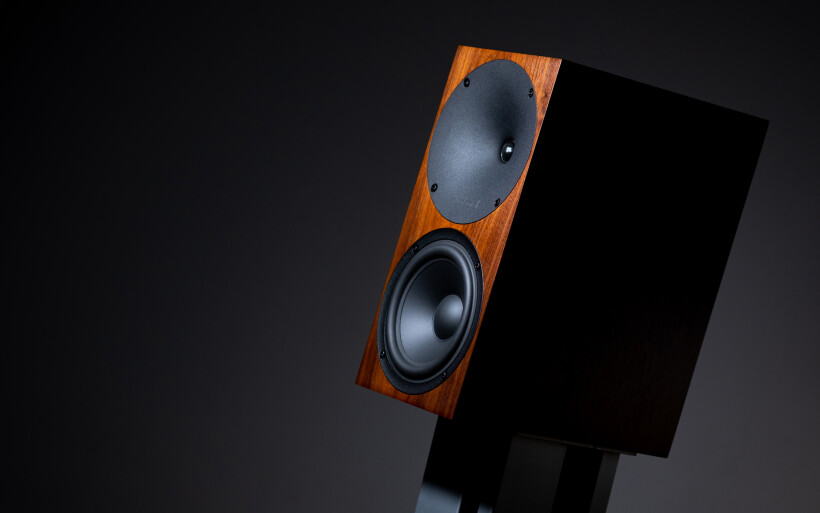 The A500's active bass augmentation and lack of boom resulted in its muscle tissue developed naturally, quite casually even. Think healthy diet plus years of calisthenics to gain ripped physique and power whilst remaining visually still human and as agile as ever. This approach stands the exact opposite of steroids, crazy muscle mass and resulting cumbersome moves plus shortness of breath. It spells out admirable elasticity, ease and the ability to push far more air than the A500's drivers' diameter could possibly imply. It portrayed sonic images typical for speakers loaded with far larger cone surface, handled even the most difficult dynamic passages without sweat and not even once struck me as hollow, fuzzy, slow, bloated or hulking in any way. Put shortly, the A500 clearly behaved like a big box even though its frame suggested otherwise. Upon asking myself about any price to pay for this particularly engaging spatial grandeur, torque and overall might, I couldn't find it.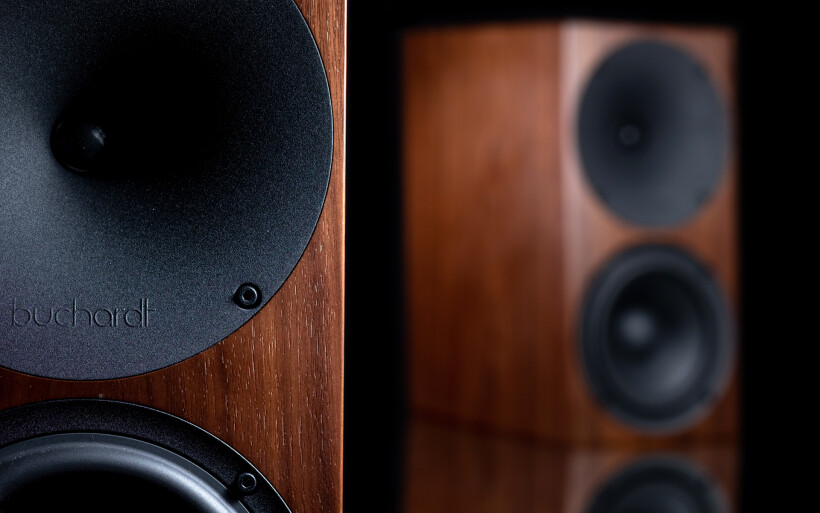 It's clear that extraordinary measures have to be involved to achieve results similar to the A500 on bass. Ø Audio Icon is the only passive speaker I'd reviewed in recent time that would match it. Still, the Dane has its own limitations. Although its paper cones and textile domes worked with internal class D amps well enough to score high on moisture, tone and overall sensuality, i.e. sound|kaos Vox 3afw shows how much more can still be achieved on these counts and the same story is with expressiveness, accuracy and outlines. The Børresen 01 on the other hand reveals extra layer of micro detail versus the A500, has its brilliance region posher and midrange substantially more complex and seasoned. My Boenicke W11 SE+ finely amplified score higher notes on scale, virtual sound sources' sizing, tangibility and pronunciation. Although these sonic shifts aren't small, they take away nothing from today's effort considering its price, ease of use and sonic profile. What this performer did at my place was plenty already to justify its sticker, and just about right to now label it as a major overachiever.
Summary
The Buchardt Audio S400 reviewed at this site one year ago left me impressed for a number of perfectly valid reasons. It sounded great, looked good, was nicely put together and competitively priced on top of that. But above all else, its clever passive membranes pushed the S400 far beyond what its tiny frame could possibly imply. Now its makers' DSP-infused active take on the same idea – Buchardt Audio A500 – upped the ante on every count I could think of and brilliantly showed how much more can be achieved via non-passive means.
At first glance a Buchardt Audio A500's compact size and visual modesty don't separate it from its passive kin. The no less universal former is as equally fit for a living room's décor, but its fully active twist translates to a substantially higher score on overall domestication. A smartphone and two power cords are all this turnkey system requires. It liberates us from everything else thus saves a lot of space and gladly accepts music in any way we like. It provides tool-free in-room correction to effectively turn combat with the key threat in there, that would be acoustics, into a breeze. It allows for significant sonic tailoring via a simple quick USB injection and works with regular components if you so choose to incorporate them anyway. Given its realistic sticker, grand utility and ease of use, I see no flaws in this report's effort. Even the fact that you really need to take care of its critical RC isn't one per se but rather a commonsensical advice.
As a typical enthusiast I understand why like-minded individuals don't pursue active products. Most of us enjoy our racks full of amassed hardware as much as the option to change something in there once in a while. Although today's case doesn't belong to this lot, there's not a shred of doubt in my mind that it stands tall as easily able to compete with far costlier regular setups. Its agile tectonic bass was its own insanity already, but everything above it had tastefully executed to elegantly emphasize music as a whole rather than dissecting it. The Buchardt Audio A500 sounded in relaxed, coherent and engaging manner, whereas ridiculous torque and clever avoidance of any venting schemes made it all click. If now I had to pick a simple versatile turnkey setup for my living room, Mads Buchardt's newcomer would be my choice. Considering everything this monster in a tiny minimalist dress did and how, I honestly would look no further. 'Til next time!
Associated Equipment:
Retail prices of reviewed components in EU (excl. tax):
Buchardt Audio A500 Walnut (+hub and RC): €3'700/pr
Buchardt Audio A500 matte blcak/white (+hub and RC) : €3'550/pr
Buchardt Audio A500 Walnut: €3'650/pr
Buchardt Audio A500 matte blcak/white: €3'500/pr