For this test, I received the latest product from Closer Acoustics' lineup and the first stand-mounted speaker in the company's history. These are lovely, 'smiling' loudspeakers of a rarely seen design and high sensitivity which makes them a perfect match for almost any amplifier. Let's explore the beautiful world of Closer Acoustics OGY together.
Introduction
Our readers should be already familiar with the Jastrzębie-Zdrój-based Closer Acoustics brand. It is a boutique company run by brothers, Jacek and Andrzej Grodecki, who share common passions – music, good sound, plus a dedication and drive that allow them to develop high-quality products for music playback. What's more, they tend to avoid solutions used by most companies, but rather look for original, harder to implement but offering great result solutions. As a result of this approach, their lineup consists of devices that one may call "niche" ones. After all, the very first product I had a chance to review was an excellent 300B SET integrated amplifier Closer Acoustics 300B Provocateur Signature (you can find the review HERE). I reviewed the Signature version, but a standard, a bit less costly, is available. Regardless of the version they both look and sound great, plus, which is an advantage of such small, customer-oriented companies, one may order a custom finish according to one's taste or to match one's speakers.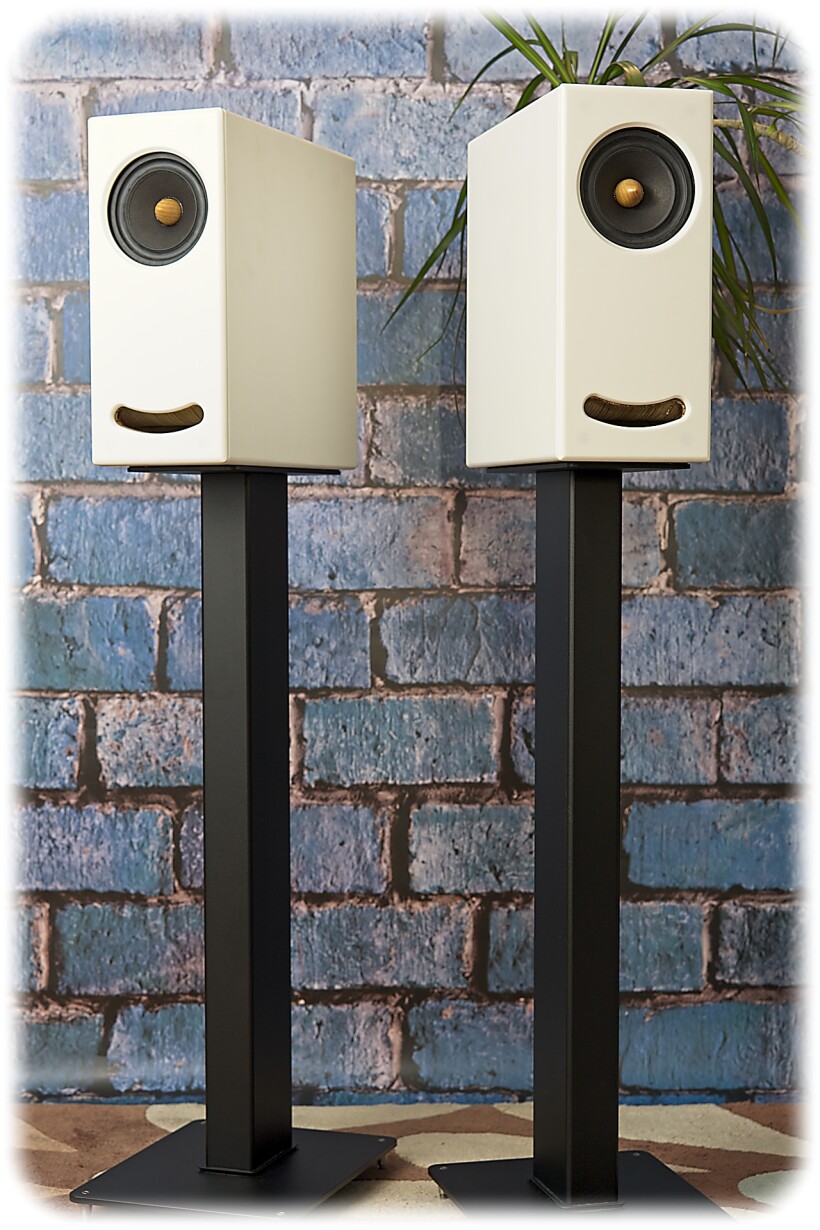 Closer Acoustics Flō (see the review HERE) MM/MC phonostage offered me yet another exciting adventure. It does not feature any tubes on board but it was designed by one of the greatest phonostage specialists in Poland, Mr. Robert Rolof, and truly impressed me both solo in my system, and paired with Provocateur. It offered a beautiful, refined performance that I not only appreciated but also liked (an objective assessment of reviewed item's class and my personal preferences don't have to go hand in hand, but this time they did). An additional bonus of this review was a chance to see two Closer Acoustics products with the same luxury, custom finish side by side, and they did look great in my room.
Yet, the truth is that the original specialty of Closer Acoustics was always loudspeakers, and the electronic components came later so that the company could offer almost complete setups to their customers. While at first the Polish brand developed and sold only speakers they changed their approach later and decided to make the lives of their customers easier and offer them a sort of complete sound – electronics and speakers that work together very well offering excellent sound. The speakers the Grodecki brothers developed did not follow popular or mainstream solutions. Instead, the gentlemen chose a much harder and original path to 'their' sound – full/wide-range drivers. They based their designs on EMS drivers developed by the Electro Magnet Speaker France. It is a well-established brand famous for its unique hand-made drivers that over the years has built the reputation of one of the best in the world in their specialty. Their products, as you might have already guessed, wowed Jacek Grodecki at some point and that is why he chose to build loudspeakers featuring these particular EMS drivers.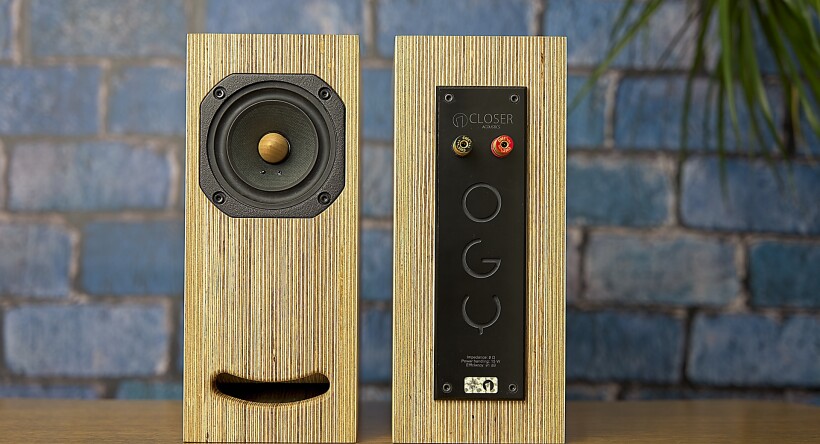 The two top Closer Acoustics models, Vigo and Allegra, are offered in two versions. Apart from the standard ones featuring EMS full-range drivers, they also developed versions with Electro Magnet Speaker France field coil drivers. It is a more expensive solution requiring custom power supplies (developed and built by Closer Acoustics) for these drivers, but using them offers certain sonic benefits. The point is not even in field coil drivers being clearly better but definitely sounding different which offers a choice to potential customers allowing them to choose loudspeakers that even better answer to their needs and expectations.
I had a chance, and to be honest, a pleasure, to test one of these models, the second from the top Allegra EX (you can find the review HERE), and truly enjoyed its performance. The lineup also includes the aforementioned top model Vigo and smaller, yet floor-standing Adam and Eva, which you could have listened to at the Warsaw Audio Video Show. Let me add, that Mr. Jacek is also a Lenco turntables aficionado. You will find these decks with beautifully crafted (by Closer Acoustics) plinths in listening rooms at the company's headquarters. While all the speaker models so far were floor-standers, an introduction of a new, exciting driver by EMS allowed Closer Acoustics engineers to develop something completely new, the tiny, stand-mounted OGY. To my surprise, for this test, the manufacturer delivered (ultimately as you will soon learn) not one, but two versions of these speakers. Let's see what they have to offer.
Design and features
As already mentioned, OGY is the first stand-mount (or bookshelf) model in Closer Acoustics' history. Like all speakers of this brand, it features wide-range drivers developed and manufactured by EMS. OGY is a truly tiny speaker measuring just 31x31x13 cm. It features the 100mm wide-range driver, the EMS LB5, supported by a transmission line 6l cabinet. The latter, to minimize resonances, is built of two layers. The internal one is made of wood and the outer shell of Corian. The latter, due to its excellent properties, is often used by Closer Acoustics in both, electronics (as elements of the chassis) and speakers' cabinets, for example in the above-mentioned Allegra EX. The less expensive version that was also delivered for the test is almost identical. Almost, as it lacks the outer Corian layer. It allowed the manufacturer to offer this model at an even lower price (Corian is not cheap), but it also changes the appearance of OGY. The Corian versions look really attractive and modern (in white and black finish), but still, so a wood finish above all. They may be happy having a chance to buy the Corian-less version.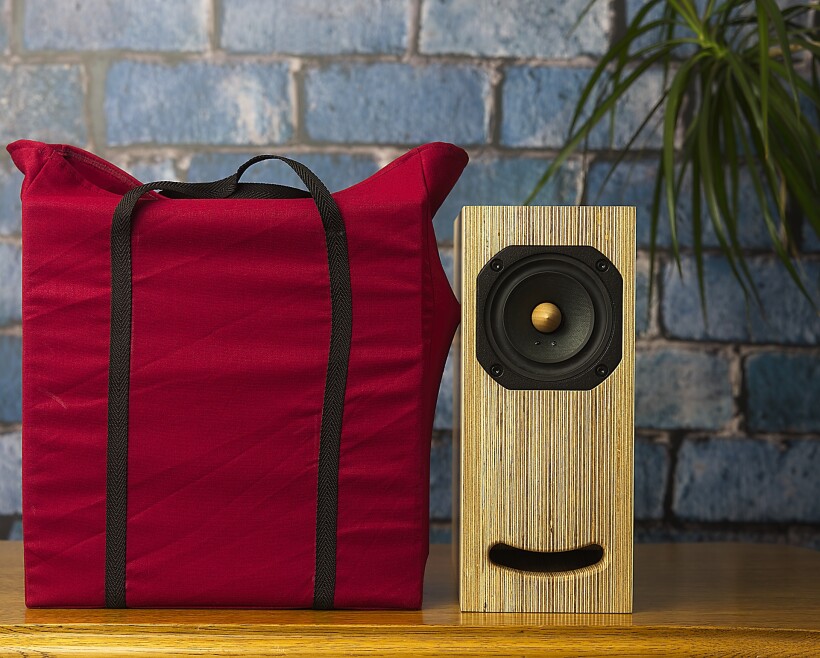 The transmission line in OGY features a very original outlet placed near the lower edge of the front panel of the speaker. What's so original about it? Well, it… smiles at you, or at least that was my first impression when I saw them on initial renders and photos. When these lovely tiny speakers arrived at my place nothing changed in this regard, if anything they made me smile and I kept smiling each time I looked at them. It seems they are not only tools to reproduce music but they are capable of enhancing listeners' moods in more than one way…

And while you're smiling it is hard not to like what makes you smile, right? I don't know about you, but I don't mind smiling even before playing music – it sets a good mood and enhances the whole musical experience.
The idea for this model was a direct result of Mr. Jacek's appreciation for the unique EMS LB5 driver that, as the designer says, asked for the smallest possible cabinet. This driver has a resonance frequency of 50 Hz (!), and its range extends up to 18 kHz. The cabinet developed by Closer Acoustics for this driver allows it to extend the range down to 40Hz without a boomy effect. According to the manufacturer, the driver offers quite a flat frequency curve, there are no significant peaks or any weaknesses that would require filtering. That in turn allows it to keep its efficiency at a high level. The cabinet does not feature any damping elements but its internal surfaces are impregnated.
Currently, the manufacturer offers also custom stands for OGY. They are simple, black, metal designs that perfectly execute their function. Holes in the upper board and screws one finds in the set allow the user to fix speakers and stands together using a single screw thus achieving a more stable whole. It is important because neither the speakers nor the stands are heavy so improving stability is an important safety factor. The stands feature four adjustable spikes. Closer Acoustics OGY is currently offered with three finishes – two using Corian, white (mat), and black (gloss), and one in wood.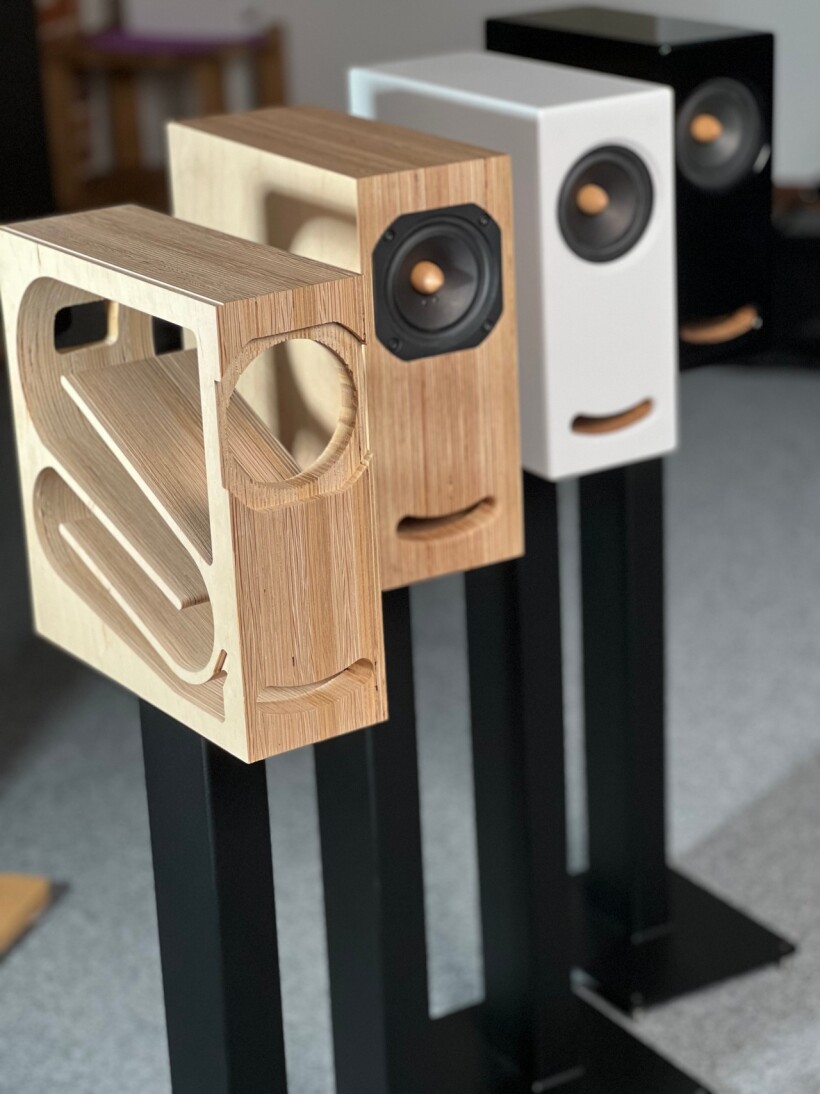 Three finishes and the inside of complex cabinet
The latter is a bit cheaper because Corian and its finishing (it has to be polished several times) are quite expensive. Is there a difference in performance? Corian has been used by Closer Acoustics in chassis and cabinets of their products for a reason, hence models featuring it should benefit from it. It so happened that while testing the Corian model the long-coming visit to the company's headquarters in Jastrzębie Zdrój finally happened and I left there with a second version, the Corian-less, in the trunk of my car. It allowed me to compare the two versions and you will find my conclusion below. Additionally, the visit gave me a chance to listen to Closer Acoustics OGY in two setups prepared by the manufacturer in controlled (unlike those during various shows) conditions of their showrooms.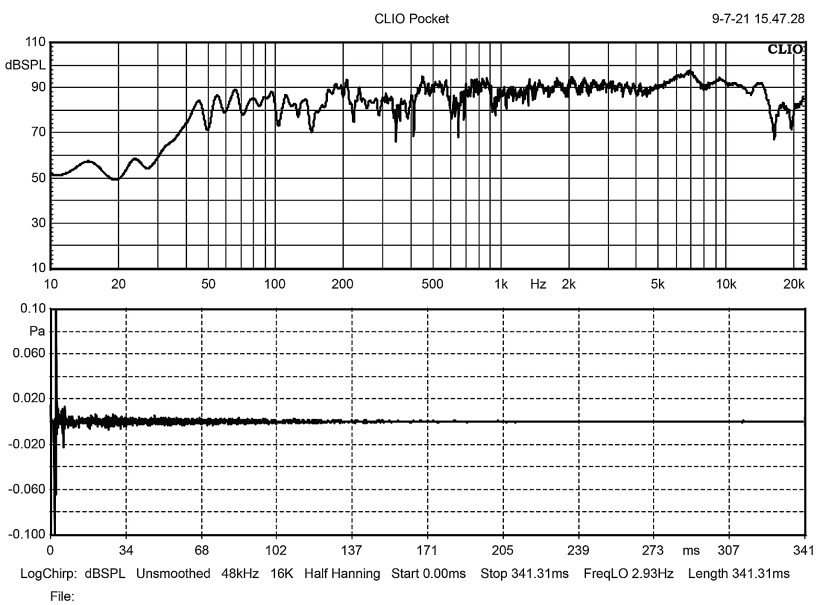 Measurements provided by the manufacturer
Sound
As I've already mentioned, the first pair of Closer Acoustics OGY I received for this test featured a white Corian finish. These Polish speakers delighted me already during unpacking. The carton box is nothing special – a solid one, common for both speakers – after all, they are neither big nor heavy. The ingenuous, yet simple and practical solution of how the speakers were packed inside the carton and how it made taking them out very easy, was the thing to impress me. The speakers are tightly placed in properly shaped foam elements inside the box. The packaging as a whole seems to truly well protect the speakers for the shipment. It would not be easy to take the speakers out if not for (nice looking) bags with handles they are placed inside of. You just grab the handles and pull the speakers out not only easily but also without any risk of scratching the surface. The solution is simple, elegant, and effective – impressed me enough to mention it in the review, which I usually don't do. And it looks and feels great too (yes, I realize I am repeating myself).
As I've already mentioned, later, when visiting the company's headquarters, I was offered also the wooden version for comparison. Why? First of all, I love wood finish (not just for speakers), secondly, it was a chance to assess whether the Corian layer does make a difference one can hear. The white Corian OGY spent a few months with me which gave me a chance to pair them with several amplifiers. The wood version stayed with me maybe for two weeks and I listened to them interchangeably with the Corian version. As you can see, I had less time with them but it wasn't about general assessment anymore but only a comparison between the by that time very well know version and the cheaper one. I will get into that later but (spoiler alert) I can already tell you that while the general sonic character of both versions, which was to be expected, is similar, there are some differences in the performance.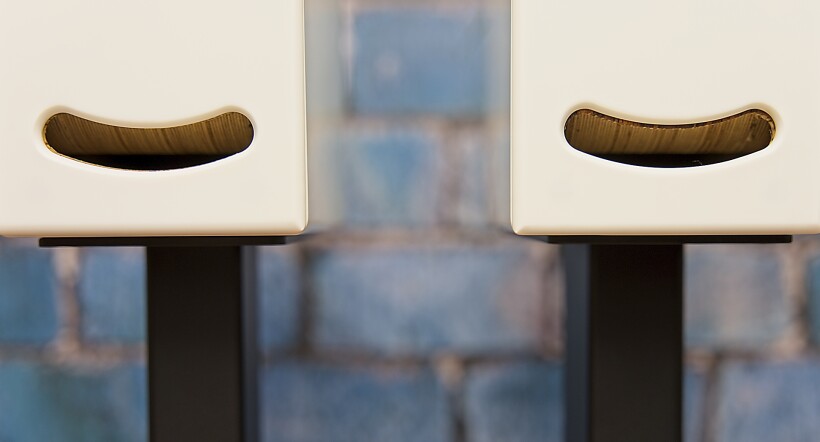 During the long time OGY spent with me I paired them mostly with my Class A solid-state GrandiNote Shinai integrated and my 300B SET (a modified Art Audio Symphony II). Having so much time I couldn't resist checking out their performance with numerous other amplifiers including another outstanding SET (Allnic Audio T-1500 MKII, see the review HERE), the amazing solid-state (relatively low-output) Enleum AMP-23R, but also with some excellent high output solid-state and hybrid designs such as Accuphase P-7500, Kora 200, or Circle Labs M200 (see the review HERE). I liked some of the setups more than others based on my preferences, yet the review will include a general assessment and conclusions from my time spent with Closer Acoustics OGY without splitting the text into individual pairings.
As I've mentioned, the two basic amplifiers used for this review were my own GrandiNote Shinai and Art Audio Symphony II. The signal was provided to them by my trusted sources, LampizatOr Pacific DAC and J.Sikora Standard Max deck with J.Sikora KV12 tonearm (see HERE and HERE) and Air Tight PC3 cartridge and GrandiNote Celio mk IV phonostage (see HERE). The speakers were screwed to the Closer Acoustics stands and placed closer to the listening spot than most speakers in my room. In this way, they had a lot of open space around them and the distance between the driver and my ears (speakers were toed-in so that they played directly towards my ears) was around 2m. The signal from the amplifiers to the speakers was sent using Soyaton Benchmark cables (see HERE) resting on Graphite Audio CIS-35 supports (see HERE).
All right, it's time for initial impressions. Switching from my quite large and easy-to-drive floor-standing GrandiNote MACH4 to the tiny OGY had to result in a significant change and a need to adapt to a different type of presentation. To put things plainly, the scale and "weight" of the presentation were not as big. The Italian speakers may not be huge, but they are quite tall, feature five drivers, and weigh almost 50 kg each. According to the measurement Mr. Jacek provided, the Closer Acoustics OGY's frequency range is surprisingly wide, yet it does not ensure that the weight and scale of the sound are comparable with those offered by way larger, floor-standing speakers. I hope it is clear by now, that if you compare these tiny speakers with some floor-standers you will, particularly at first, miss these elements particularly when listening to some "large" music – classical, rock, and so on.
Yet, all it took was a few hours to get used to this type of presentation, and what followed was a realization that while the scale was smaller, objectively it was not small at all. Considering the size of OGY, the scale was even surprisingly big! The "mass" of sound coming from these speakers did not quite correlate with the small, smiling boxes my eyes enjoyed. And the frequency range seemed wider than the size of cabinets and the 100m diameter of the single small wide-range driver suggested. After this initial accommodation to a different type of presentation OGY offered I was ready to assess their actual performance although, to be honest, they did not make it easy. OGY belongs to this particular category of audio components that offer such a natural, relaxing, engaging way of music reproduction that it is very easy to get lost in it. It is a highly welcome feature for a music-loving owner of such a component, but it makes it more challenging to stay focused on its assessment for a reviewer.
After this initial phase of being honestly surprised by the capabilities and character of the new Closer Acoustics speakers I could start to finally go through the checklist of all the features required from speakers to properly play the music. The first OGY qualities that, at least for me, were not surprising, were how open their sound was, how much energy (I mean the internal one of music itself) it carried, how fast, and coherent the presentation was, and, sort of direct (I don't mean particularly forward, but rather a direct connection between performers and listeners). Combined, these features created an impression of very close, intimate even, contact with music and performers, particularly, although not limited to, in acoustic and vocal recordings. All these qualities are something one can count on always when listening to (good!) single, wide-range driver speakers. It is them, this incredible coherency, and fast, highly energetic sound, not limited by (even the best) crossovers that wow many people and convince them to choose this type of speaker over the others. In this regard, they simply outperform most other types of speakers.
With Closer Acoustics OGY, regardless of music genre, there were no "holes" in the presentation, nothing in the range extremes, or at least not in a way that would be obvious and prevent the listener from enjoying the music. It was guaranteed by this amazing coherence of the presentation throughout the whole range starting from tight, fast, nicely extended (for the speaker of this size!) bass, through the rich, saturated, tuneful, natural, highly expressive midrange, to the rather sweet, yet crisp enough, fast and open, and sort of "safe" treble. "Safe", meaning quite accurate, but one that won't become an issue with prominent sibilants or recordings that are a bit too bright or grainy. These (unwanted) elements will still be there, but in most cases, they won't bother listeners, they won't attract attention. It is one of the features of the components often described as "highly musical". Not only do they play music in a very natural way but it is the music that attracts the listener's attention and not the sound as such (and its technical weaknesses), as the former is pushed to the front, and the latter to the background (so to speak). Long story short, Closer Acoustics OGY are, no doubt, highly musical, natural-sounding speakers.
I hope it is clear by now that OGY won't bring you to your knees with the deepest, most powerful bass, they won't cause walls in your room to crack, and they won't be the first choice for a dance party. They also won't bother bats living nearby with ultrasounds. Yes, it also means that they can't offer absolute fidelity to every recording, but no one, including their designers, claim that these are studio monitors allowing one to find every tiny little "error" in the recording. As all loudspeakers based on wide-range drivers OGY are intended to provide a highly enjoyable, natural, relaxing presentation, and they are so good in it that the limitations resulting from their size, ones that won't even be obvious in all recordings but only in some of them, are easily acceptable and won't stop anyone from enjoying the music. I would even say, that many music lovers, even if (which is unlikely) they decide to analyze the band's extremes, may find them to their liking. At least if what they like and are looking for in music playback is similar to my taste.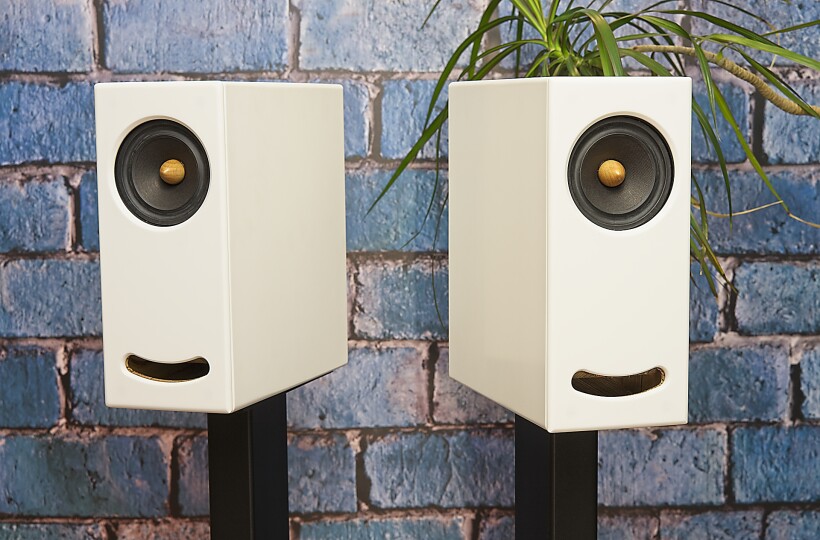 The bass is fast and tight. Most of its energy is focused obviously in its mid and upper range, but the lower bass is also present if not so prominent. Due to the excellent PRAT, you will find yourself more than once tapping the rhythm with your hands and feet. The differentiation is good enough to enjoy the performances of excellent bass and drums players, which I did listening to the mastery of Steve Gadd or Adam Czerwiński. To my surprise, I enjoyed listening to the low-sounding instruments with OGY enough, to add a lot of albums with double bass and grand piano to the playlist. Why, you may ask. Because of this exquisite fluidity and coherence of the sound that pushed the only downside of this presentation, the slightly diminished scale of the instruments' images and their sound, to the background allowing me to simply enjoy the music.
Yet, realizing that for some music lovers, this limitation of the lowest part of the range may be an issue, Mr. Grodecki in his showroom has also a small REL subwoofer. So when I visited Closer Acoustics, after long sessions with OGY in two setups paired with Provocateur in Standard and Signature versions, Mr. Jacek supplemented the system with the sub. That is the simplest solution, after all, to add more bass to the system without replacing several components in it. As my, admittedly limited, experience with adding a subwoofer to a stereo system shows, the difficulty and the key to proper performance, is finding the right settings for a sub so that it smoothly supports the main speakers without dominating them. With REL at Closer Acoustics the lowest, most powerful bass was present (yet not dominating), the sound gained mass and power with it, but at the expense of some of this incredible coherency.
I preferred the recommended (by many subwoofer manufacturers) setting with the subwoofer being barely audible at all. The sound gained some (less than before) mass with it, midrange got richer and fuller, but all that happened without almost any loss in terms of coherence. So if I were an owner of OGY would I add a subwoofer to the mix? After such a short session at Closer Acoustics', it is hard to make an ultimate decision, but if I had to I would probably chose not to add a sub. This is my subjective point of view, one of a man who values the incredible coherency of OGY (almost) above all. Still, if you become a (proud, no doubt) owner of OGY you should remember that adding a subwoofer is an option in case you'll find yourself in need of more bass.
Photos from Closer Acoustics showroom at their headquarters
To test the performance of OGY in terms of higher frequencies that, according to many, when it comes to wide-range drivers, are either aggressive ("shouty") or limited (both, in my experience, happens mostly with poorly designed speakers or in poorly chosen setups) I listened to several albums with a large presence of percussion instruments, both metal and wooden ones. Among them were a few (I enjoyed listening to them so much) recorded by John Kaizan Neptun with huge, and sometimes even exclusive, presence of instruments made of bamboo (it's not really wood, know). OGY played this music in an exciting, joyful way nicely differentiating all these percussion instruments, placing them within a large space filled with air, with lots of full, long reverb.
On the other hand, when listening to the aforementioned Steve Gadd, I truly enjoyed the sound of his drums and cymbals responding to being hit hard with the sticks. The metal cymbals were also nicely differentiated which was a result of the good resolution offered by OGY. The sound was crisp, vibrant, energetic, open, and lively. Have I heard these drums sounding even better? Sure, the best tweeters are even more resolving and more precise, but they are usually used in multi-way designs, and even though their coherence may be very good it will never be as good as from a single driver. A quid pro quo – you get something at the expense of something else. It is an individual choice every music lover makes while completing their setups.
I brought from Closer Acoustics the wooden (or Corian-less) version of OGY for the last two weeks of the test. For the first time, I switched the speakers almost on-the-fly – I pushed Pause in Roon, unplugged white OGY, plugged the "wooden" ones instead, and pushed Play. It so happened that I was in the middle of listening to Al di Meola's "Cielo e Terra" album. Was there any and if so how big a change in the sound? Objectively, the change was not big. To define it I had to focus on the sound coming from speakers. Let me emphasize – on sound – not on the music because the latter was still presented in an equally "friendly", relaxing, yet exciting and involving way. However, approaching the presentation with an audiophile's attitude, or in other words searching for the best possible sound, I felt that the difference in sound quality was significant enough to consider the purchase of the more expensive version, even with a limited budget, as justified.
More photos from Closer Acoustics showroom at their headquarters
Let me start with what did not change compared to the Corian version, which was this unique coherence, purity, and sort of directness of the sound, or in other words the qualities of all good wide-range drivers. The Closer Acoustics speakers in the cheaper version disappeared from the room equally well as the more expensive one. It is, on the other hand, one of the features of small, stand-mounted speakers that many people so love. When it comes to OGY they do disappear completely from the equation leaving listeners with a very convincing impression of communing with the music directly. The very first impression, (you need to remember that replacing one version with another took me a few minutes) suggested that the wooden version played… a bit louder. The difference was rather small, but I couldn't resist the feeling, as if they were just a touch more sensitive.
Defining other differences took me much longer. The sound with the wooden version seemed a little "lighter" as if it was not quite as rich and had a bit less weight – perhaps there is some connection with the lesser weight of the speakers (cabinets) themselves. This version also wasn't quite on the same level (although very close) as the Corian one in terms of differentiation and precision of the sound and the access to the tiniest details and subtleties deep in the mix which was easier with the more expensive version. If I were to guess I would say that the outer Corian shell (as the manufacturer claims) deals with even more harmful vibration and it is the lack of the latter that is responsible for an even clearer, more transparent presentation resulting in easier access to the tiniest information in a recording. More information, in turn, equals "better", richer, fuller sound.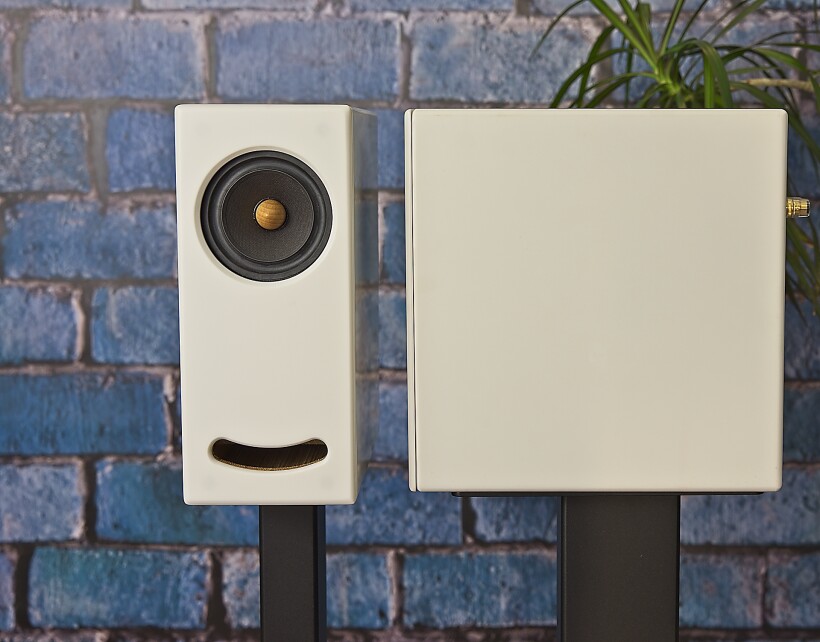 So what improves with the more expensive version is not only how detailed the sound is, but also its differentiation in terms of both, dynamics and tonality. All in all, the presentation seems richer, more realistic, and more natural. Let me emphasize once more, that these are not big differences. I will even risk claiming that in an inexpensive setup even with a quality amplifier and source(s) it won't be easy to point them out, and even if so, they may be even smaller than in my system. After all, with OGY I used amplifiers and sources (and even cables) way more expensive than the tested speakers. It allowed me to push OGY to their limits thus making the differences clearer.
In reasonable (in terms of price relations between all components and similar performance levels avoiding any bottlenecks in the system) setups, meaning ones that feature basic components (source, amp, speakers) from similar (price and performance) levels, the less expensive Closer Acoustics OGY may be as good a choice as of the more expensive one. They will deliver an equally natural, lively, coherent performance that allows you to enjoy the music in a way you never had before.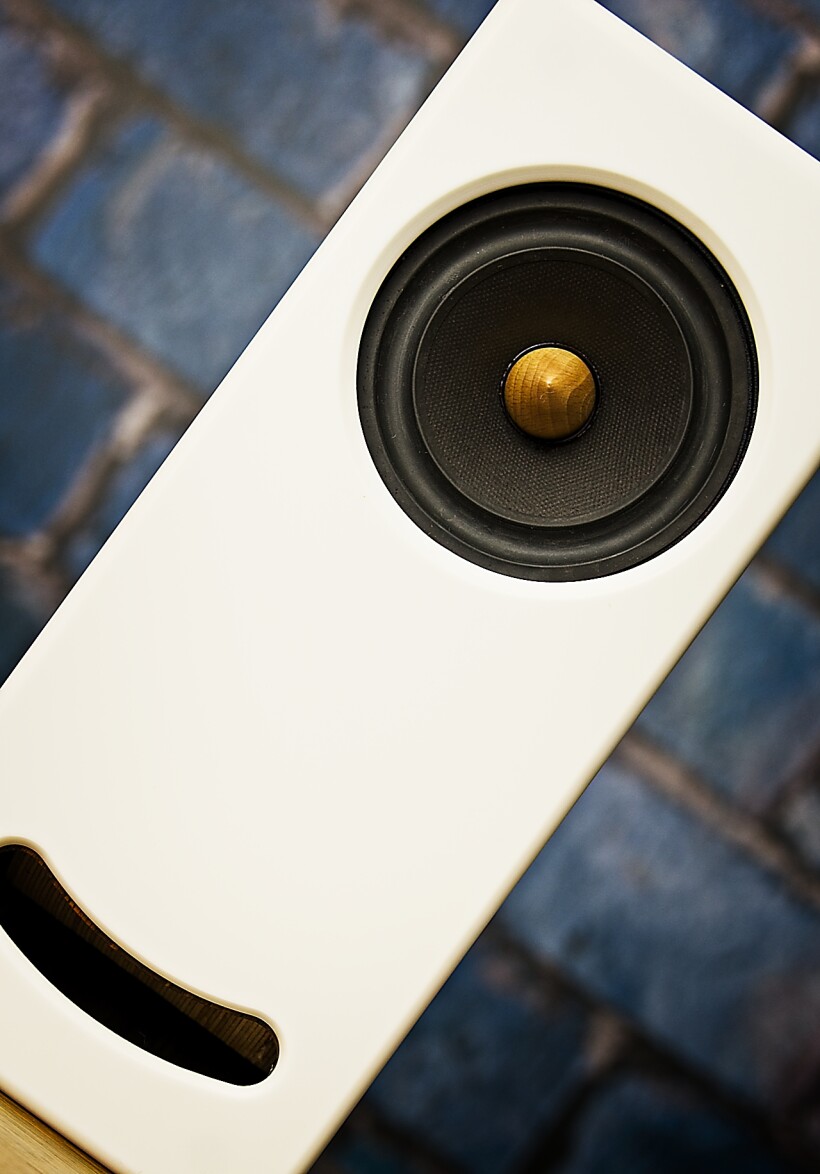 Summary
Closer Acoustics OGY are unique speakers in more than one way. They are tiny, and in my opinion look lovely, hence they will fit into any room, although they will be the best match for smaller rooms (mine is 24 sqm and it was fine, a smaller room would be even better). Small rooms can be tricky in terms of acoustics, and OGY may help you solve some issues that are unavoidable with larger speakers. They are quite sensitive and have a friendly impedance load for an amplifier, hence can be paired even with a low-power tube amp, such as 8W 300B SET. I mentioned at the beginning that I had my favorite partners for OGY among several amplifiers I used for this test and 300B SETs were among them. They offered a beautiful performance also driven with A Class solid-state, or the other 'tiny miracle' by Enleum. Each of these amplifiers costs several times more than Closer Acoustics' smallest speakers, and yet not even once have I felt that OGY were a clear bottleneck for the setup.
The sound Closer Acoustics OGY provide is amazingly coherent, fluid, open, and natural. You can't complain about the presentation's dynamics, and their ability to completely disappear from the room leaves you with spatial sound filling the room. These Polish speakers can be a dream partner for long relaxing listening sessions, and the smile on your face with be as much a response to the speakers 'smiling' at you, as to the expressive, open, immersive, beautifully musical presentation. Let me highly recommend a listening session either at Closer Acoustics headquarters or in your own systems. It may easily turn out that you don't need any bigger, more expensive speakers to truly enjoy listening to your favorite music and discovering new tracks and albums.
Technical specifications (according to the manufacturer):
Wideband driver: EMS LB5 by Electro Magnet Speaker France
Nominal impedance: 8 Ω
Sensitivity: 91 dB
Frequency range: 40 Hz – 18 kHz
Power handling: 15 W
Dimensions (W x H x D): 132 x 312 x 306 mm
Weight: 7 kg/pc.
Prices (when reviewed):
Closer Acoustics OGY Birch plywood finish: 1.490 EUR / pair
Closer Acoustics OGY Oak veneer: 1.550 EUR / pair
Closer Acoustics OGY Wenge veneer: 1.550 EUR / pair
Closer Acoustics OGY piano black acrylic stone: 2.013 EUR / pair
Closer Acoustics OGY white acrylic stone: 1.753 EUR / pair
Stands ER650 (65 cm high): 249 EUR
Stands ER700 (70 cm high): 279 EUR
Manufacturer: Closer Acoustics ; Stereopolis
Associated equipment:
Digital source:  a custom passive server with WIN10, Roon, Fidelizer Pro 7.10, JCAT NET XE, and JCAT USB XE cards with FERRUM HYPSOS Signature power supply, KECES P8 (mono) linear power supply for the server, JCAT USB Isolator
D/A Converter: LampizatOr Pacific +Ideon Audio 3R Master Time (USB signal regenerator)
Analog front end: J.Sikora Standard MAX turntable, J.Sikora KV12 tonearm, J.Sikora KV12 MAX tonearm, AirTight PC-3, phono stages: Grandinote Celio MK IV, ESE Lab Nibiru V 5.
Power amplifiers: GrandiNote Shinai, Circle Labs M200, Art Audio Symphony II (modified)
Preamplifier: Circle Labs P300
Loudspeakers: GrandiNote MACH4, Ubiq Audio Model ONE Duelund Edition.
Interconnects: Bastanis Imperial x2, Soyaton Benchmark, Hijiri Million, Hijiri HCI-20, TelluriumQ Ultra Black, KBL Sound Zodiac XLR, David Laboga Expression Emerald USB, David Laboga Digital Sound Wave Sapphire Ethernet
Speaker cables: Soyaton Benchmark
Power cables: LessLoss DFPC Signature, Gigawatt LC-3
Power: Gigawatt PF-2 MK2 and Gigawatt PC-3 SE Evo+; a custom power line with Gigawatt LC-Y in-wall cable; Gigawatt G-044 Schuko and Furutech FT-SWS-D (R)
Network: Silent Angel Bonn N8 + Silent Angel Forester F1 + optical LAN isolator
Racks: Base VI, Rogoz Audio 3RP3/BBS
Anti-vibration accessories: ROGOZ-AUDIO SMO40 and CPPB16 platforms and ROGOZ AUDIO BW40MKII feet, Franc Accessories Ceramic Disc Slim Feet and Wood Block Platform, Graphite Audio CIS-35 and IC-35