After hearing Alberto Guerra's Vivace mono amps and Andante pre/DAC/streamer combo, the time has come to tell the story of his most compact and affordable effort to date. AGD Productions Audion is this report's main dish. Enjoy!
Introduction
This report continues the story of Alberto Guerra and his USA-based audio operation AGD Productions. To recap, this talented engineer of Italian origin worked at International Rectifier long before its acquisition by Infineon in 2015, then at Vishay and Semtech. He was involved in development of many power applications, semiconductor types and integrated circuits. He has a degree in Nuclear Engineering and owns ten patents. Undoubtedly that's quite the track record and CV. But most importantly, Alberto based his audio work on novel GaN Mosfets instead of the usual silicon suspects, which resulted in a very unique class D amplifier that completely caught me off guard and emerged as the very best of its kind I came across. Not only AGD Productions Vivace reviewed here left my place with the Victor award, but it was the first its maker sent my way. Now, if you were an audio reporter that stumbled upon such a whale, wouldn't you be intrigued what else the same audio shop had to offer? Because I surely was.
Individuals such as myself can't ever know what's in store for them prior to contacting an audio manufacturer for the first time. Although a product that connects both ends is the foundational aspect, solid communication and timely logistics are just as important to become quite frankly critical if a company is new and features technical solutions unseen anywhere else. Alberto Guerra's audio business was one such a case, but the man knew well how to turn this around. He didn't spare any details about his designs and struck me as an individual who puts action before talk. A separate cargo with AGD Productions Andante pre/DAC/streamer was dispatched my way whilst his Vivace monos were still at my place, so I could investigate for myself how these two products worked as a team. The Italian's holistic approach was as evident as it was effective.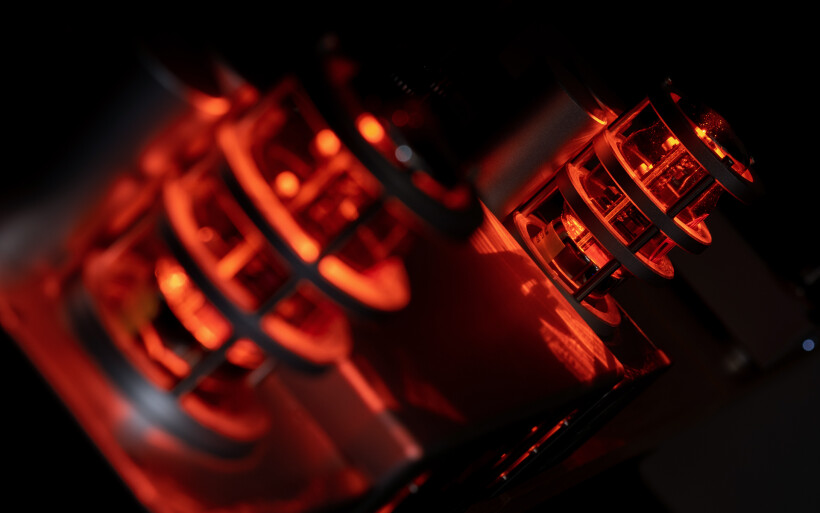 I can't recall whether prior to its arrival I saw AGD Productions Andante as just a convenient portfolio extender or not. Even if so, the sensation faded very quickly. This finely dressed multitasker not only rendered all my DACs as useless, but it also formed the perfect match with Vivace amps, was visually pure sexiness and sheer joy to use. These two assignments were also more than enough to fully grasp that Alberto aimed high and had the necessary know-how to get there without fail. Although loaners sent back shortly after my job's done is the standard MO, the man had a different idea and all his lot remained with me for a while longer. Several weeks after the Andante publication his entry-level mono amps – AGD Productions Audion – joined their kin. This effectively granted me access to this operation's entire lineup and allowed for taking Alberto's downscaling skills under a scope.
Build
Just as it was the case with his Vivace and Andante models, Alberto went the extra mile on the Audion's packaging too. Considering the product's sticker it would be fair to expect a double cardboard at best, but both amplifiers were delivered inside one easy to carry around compact flight case. It featured the manufacturer's logo on top and was solid enough to withstand pretty much everything. Nicely organized foamy interior was precisely cut to accommodate a linen envelope with leaflets and manual, woolen gloves, two monos and quality power cords for them. Alberto included robust enclosure for his goods not only to up the ante on luxury, but to reduce the risk of damage to minimum during shipping.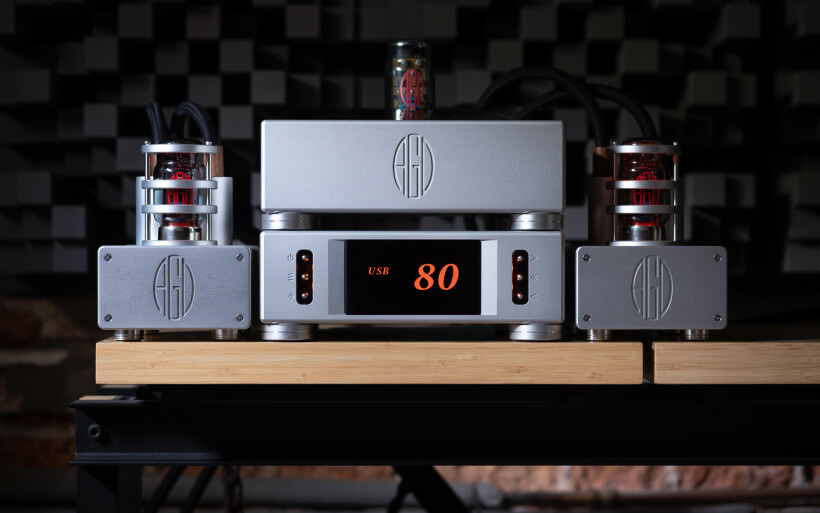 $7'500 spent on AGD Productions Audion buys you two mono amplifiers. Each measures (W x D x H) 139 x 219 x 179mm and weighs 2.5kg, which is next to nothing. It's actually quite unreal how small and light these devices are, but their on-site specs spell out seriousness regardless. Nominal and maximum power output is respectively 85W into 8Ω (0.01% THD+N, 20Hz÷20KHz) and 170W into 4Ω (0.1% THD+N@1KHz). Then there's THD+N of <0.005% at 10W/1KHz and 5Hz-100kHz bandwidth (+/-3dB). Efficiency is above 94% and 40KΩ input impedance can be set to 600Ω upon request. Noise (A-weighted) of 130dB, standard 400kHz PWM frequency and user-selectable 110-240V input voltage range seal the deal. All listed figures imply class D and similarity to AGD Productions Vivace… at half its cost.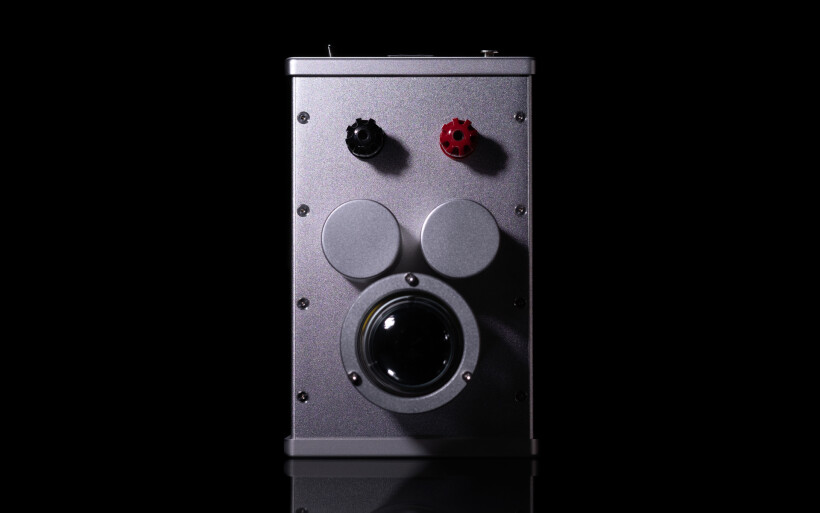 AGD Productions Vivace's distinctive enclosures CNC-milled from aluminium billets had to be expensive. Unsurprisingly the only way for Alberto to offer his signature GaNTubeTM tech at a significantly lower price was in a more humble dressing and this report's effort is the result. Although visually less kosher, Audion's exterior is also nicely put together and interesting to say the least. Each mono's chassis comprises of several sandblasted aluminium plates bolted together. Its front features a large AGD logo, whereas on the business end there's one of each XLR and RCA input, their selector knob and the main IEC with a self-replaceable global voltage card and fuse. Each Audion's underbelly sports four aluminium pucks with rubber washers, but its top is what truly tells that this is no ordinary class D affair.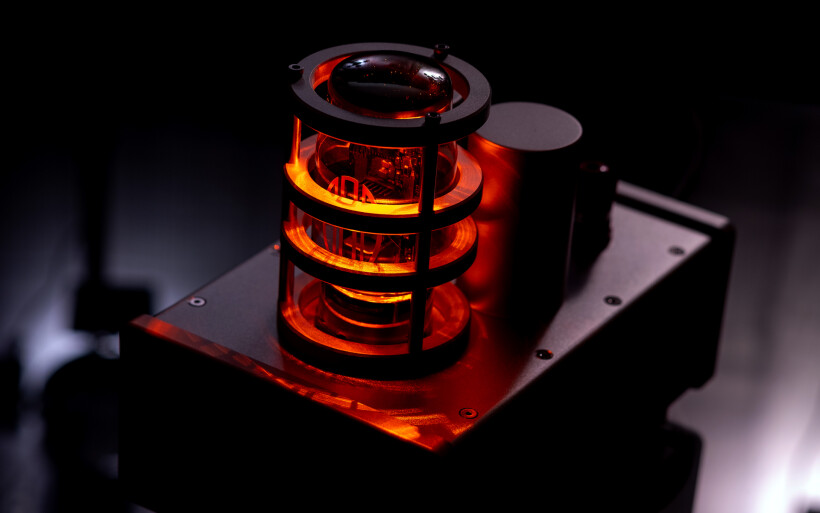 AGD Productions Andante is the smallest such product I came across and by far. Trilogy's no longer manufactured 992 class A/B monos would be the closest to it but still substantially bigger. Alberto's own take on class D circuitry allowed him to land a truly compact frame for his Audion, but the key ingredient he put outside. Each tiny mono amp's top features a fairly tall cage built upon several aluminium rings separated via supportive steel pillars. This prison accommodates one unusual tube that looks like a typical 8-pin KT88 specimen, but in reality is the man's in-house developed and patented GaNTube™ output module, exactly the same one as used in the Vivace. Although this critical component stripped from glass would most likely fit inside the product to land its bonnet flat and clean, by having it outside Alberto achieved several things.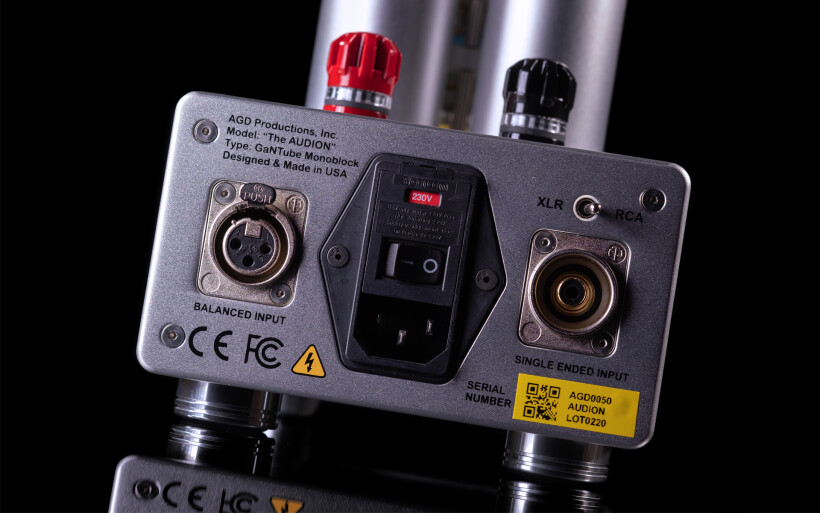 Externally mounted tubes up the ante on visual seriousness, contribute to overall aesthetic and introduce modularity, which is nothing out of ordinary in case of regular valve hardware. However, today's product is not even a hybrid but a full-fledged solid-state device. The option to roll its output modules is something the audio industry hasn't yet seen as far as I can tell. Each Audion mono amp is in fact so small that its two key filtering caps had to be installed externally inside aluminium barrel-shaped compartments just behind a faux KT88. Quality WBT binding posts in that area effectively made the product's hood even busier and sportier, but my personal upshot stretched beyond its intriguing hot-rodded look. My daily job at times demands for multiple speaker cable swaps per day. Needless to say, exceptionally easy access to Audion's speaker terminals turned this task into a breeze.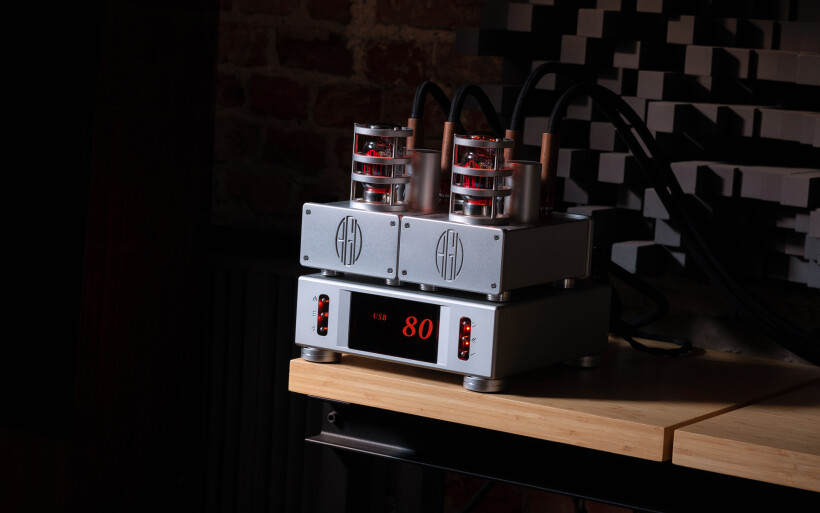 Alberto's GaNTube™ devices operate without vacuum and feature only glass housing and base of regular KT88 valves, here perforated on their bottom for better airflow. Inside each there's a small board with all caps, ICs, LEDs and the critical GaN module hid under a black radiator. This dual depletion-mode Mosfet of low I/O capacitance is set in the cascade configuration as a half-bridge to have connections in-between switches as short as possible, whereas their frequency set at 400kHz was determined by a power stage's own switching. Alberto aimed at a transfer between both without spikes/delays to avoid distortion. It goes without saying that the entire circuit had to be optimized; internal PSU, PWM block responsible for voltage/current conversion and the output stage within the KT88 body. AGD Productions Audion's topology is symmetrical and its inputs operate independently, which means that signal can be sent to each at the same time, whereas the XLR-RCA commutation at the output stage of the unity gain buffer prevents any interference between them. The key differences between AGD Productions' Vivace and Audion narrow down to fancier exterior and a bit more power output of the former, but both share the same crucial GaN technology locked in KT88 bulbs.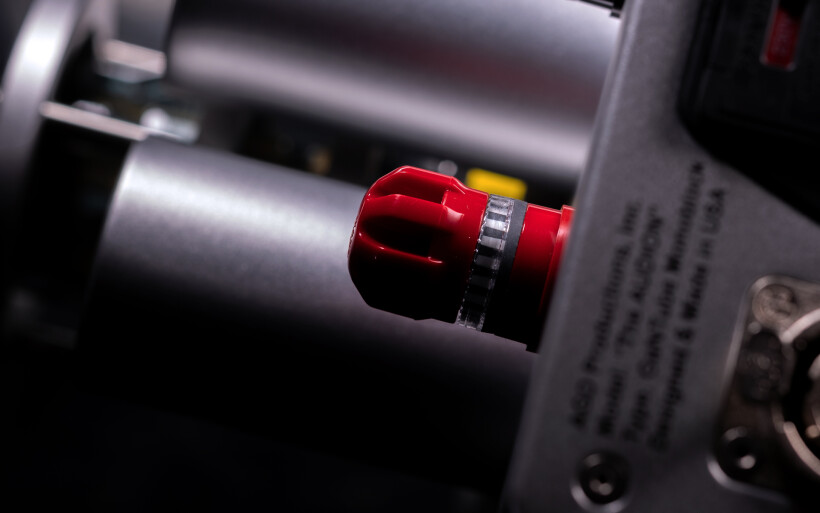 Although externally less posh versus AGD Productions Vivace, this report's Audion is also built like a tank and as cool, silent and instantly ready for action as its beefier kin. Just flip a switch on its rear and a second later you're good to go, simple as that. As far as pure practicality goes I honestly have nothing bad to say about it either. If anything, tiny footprint and mass made Audion monos even easier to use than the already manageable Vivace. Seeing the former perfectly comfy on top of my Boenicke W11 SE+ or sound|kaos Vox 3afw was a sight to be seen and quite funny at that. And lastly, its name derives from Lee de Forest's invention of the first triode baptized Audion, this was in 1906.
Sound
My fidata HFAS1-S10U handled storage/transport, then LampizatOr Pacific DAC (KR Audio T-100/Living Voice 300B + KR Audio 5U4G Ltd. Ed.) took over to pass the signal to a Thöress DFP connected to AGD Productions Audion monos. From there a Boenicke Audio S3 speaker cable went to a Børresen 01, sound|kaos Vox 3afw, Boenicke W11 SE+ or Ø Audio Icon. Interconnects used were Boenicke Audio IC3 CG and Audiomica Laboratory Erys Excellence where needed. All key hardware was powered by Boenicke Audio Power Gate distributor box with three captive M2s and supportively also LessLoss C-MARCs. The USB chain included the full iFi audio stack; a micro iUSB3.0, nano iGalvanic3.0, three Mercury3.0 USB cables in-between plus one 9V iPower. One set of LessLoss Firewall for Loudspeakers modules complimented all loads in this review, whereas Fidelizer EtherStream was in-between my Linksys WRT160N router and fidata server. A GigaWatt PC-3 SE EVO+ power conditioner fronted by its own LC-3 EVO cable housed PSUs for a USB reclocker, router and network switch.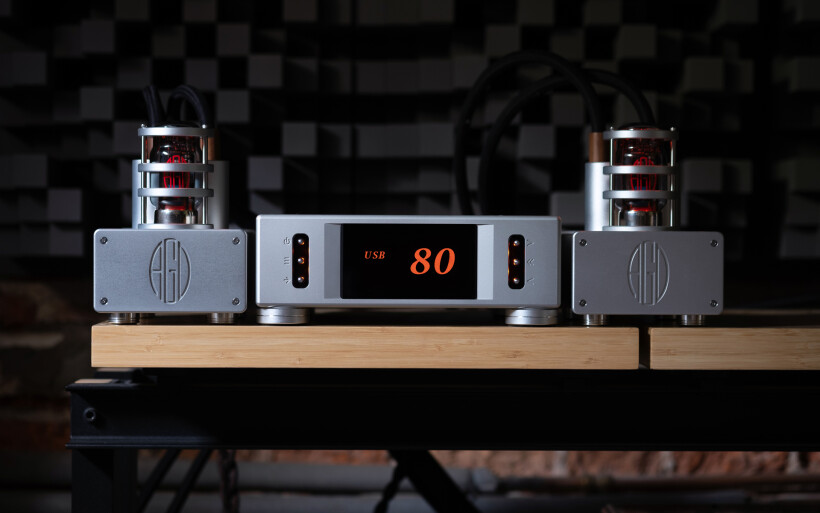 Prior to going any deeper, I encourage you to take a look at Srajan's story and my own AGD Productions Vivace review, but just to make it extra easy let me cut'n'paste the key bit of what this specimen did: "It nearly instantly impressed with illumination, torque, openness, dynamic willingness, shove and lucid attitude in general (…). Its sound greatly elevated insight and boosted on-stage air to finely highlight tiny dust particles suspended in virtual space, and net aural landscapes big and liberated from any veil. Still, what had me nailed to my seat was that particularly rare omnipresent smoothness and vividness. Instead of being coarse, dry, pale or chiseled, the lively Italian went beyond what its type of voicing usually delivers. Naturally sporty, sunny and direct attitude oftentimes is burdened with two signs of seasoning not fully flourished; outlines sculpted too roughly and nervousness. Calm minimalist music tends to uncover this, but the Vivace sounded outstandingly liquid and thoroughly refined regardless. Although Alberto's two-box team unequivocally introduced itself as insightful, speedy, effortless, airy and immediate, its complete freedom from harshness, dryness and twitchy upstairs spelled out top tier maturity. Products naturally aspirated like so tend to be also light on bass, ethereal and somewhat hollow, but not today. The Vivace's jabs were as quick as they were full and grounded."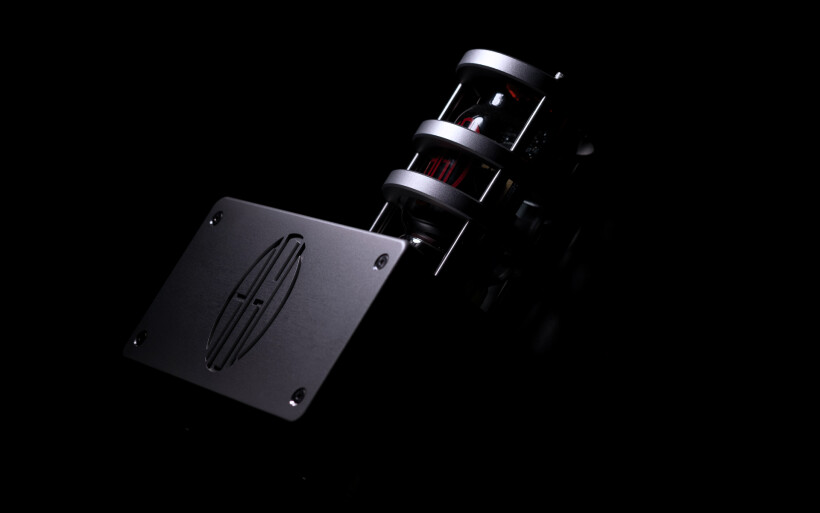 The description above fits the AGD Productions Audion like a glove. It was very clear that it also sent into oblivion all stereotypes associated with class D as potently as the Vivace and there was no question about it, on the contrary to its performance versus the latter. It's fair to say that from the performance perspective their power output difference of 15/30wpc into 8/4Ω loads is negligible and so are substantially different enclosures. The key disparity between Alberto's both amp models thus had to narrow down to sonics and, even in spite of their similarly voiced cores, it in fact did.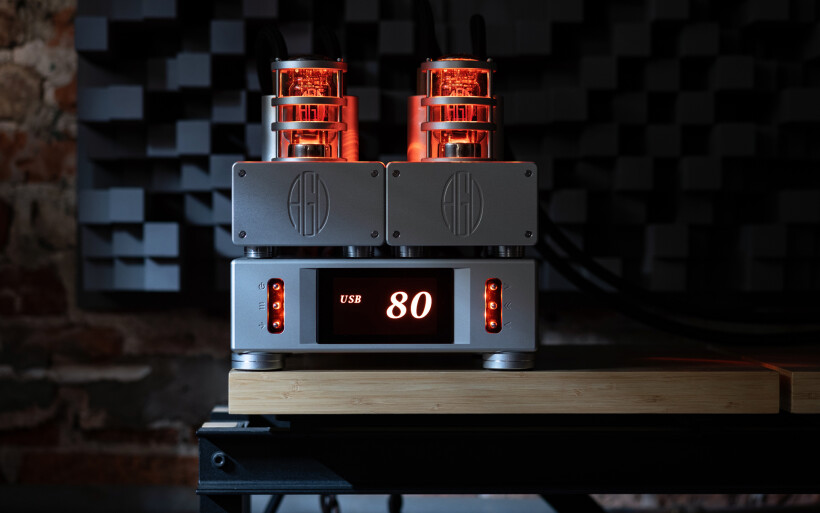 Everything listed above would imply that the Audion already did a lot and behaved like a proper muscle amp even though technically it wasn't. Torque, control and ease are the effect of beefy power output and high damping factor typical for the class D breed. That's why the difference between the Audion and Vivace was beyond tight/loose or fast/slow attributes and ratios. On these counts and overall agility both products scored as equally high. The key disparity was in their distinct provision of tone and filler versus outlines and leanness. The Audion was texturally more matte, skinnier, lighter and crisp, the Vivace bolder, denser, darker and rounder. At first this stuck me as a brotherly battle of articulation and speed versus earthlier, richer and more extended tonal palette, so all in all apples and oranges. But in the grand scheme of things this comparison didn't label Alberto's big monos as fuzzy or bloated and his smaller creations as edgy or nervous. Each had foundational qualities licked and their finely seasoned distinctive flavors didn't go extreme, which all by itself also implied top shelf sonic refinement. The obvious question to ask now would be about the Vivace's twice as hefty sticker, or rather whether it's justified considering the Audion's performance.
Different voicings aside, the Vivace's darker, rounder and more grounded profile implied lower noise floor, which had to be somehow connected with its power supply. The quieter this circuit is, the blacker sonic backdrop and more moist sound sources become. On these specific counts the Vivace socred higher than the Audion and that's why my ears mapped it as a higher-tiered performer, or alternately as the same posh flavor audibly pushed further to grow earthlier and cleaner. Although the former's greater refinement was pronounced well enough to easily notice it, this report's case wasn't too far off still, both were apart but clearly neighbors. Ultimately I viewed Alberto's bigger power amp as worth its ask considering what it did and how, which effectively labeled his substantially easier on a wallet Audion as a major overachiever, but my full understanding that it truly was one took a while.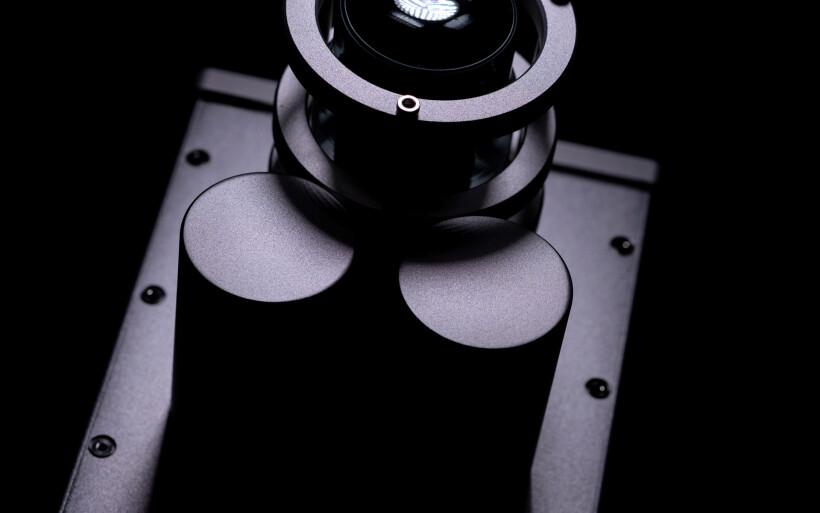 AGD Productions Audion was so tiny that it became far more convenient for me to use versus anything else I had available. It took some two weeks or so to promote it to my primary amp, but most interestingly this happened casually and quite frankly all by itself. My Kinki Studio EX-M1 and Trilogy 925 were too big and heavy to bother, whereas the FirstWatt F7 and Bakoon AMP-13R were tools used for special ops due to their low power output. The Audion had just enough juice to handle my Boenicke W11 SE+ with ease, and way more than any other load recently reviewed at this site really needed. It's fair to admit that my laziness contributed, but this wouldn't have happened if Alberto's tiny monos weren't as good on sonics as they were. This was key.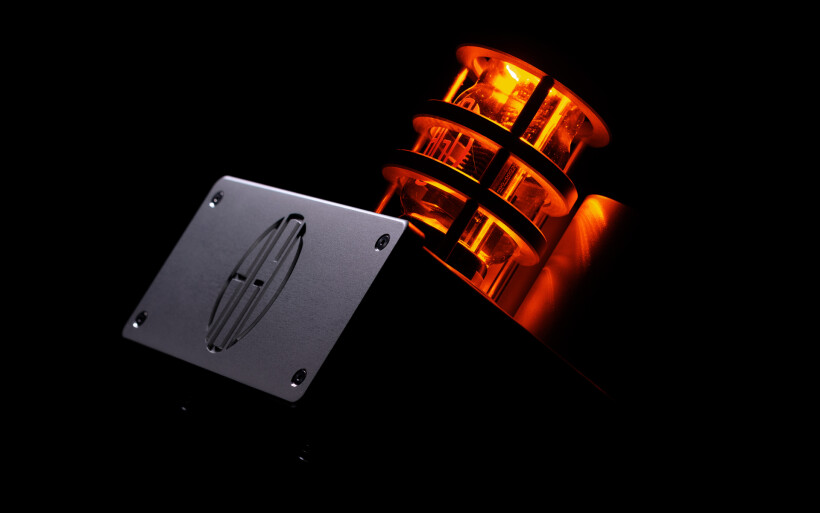 If I had to pick between AGD Productions' Vivace and Audion, I'd go with the former. Its rounder, more moist and gravitational tailoring on top of all core aspects down pat, subjectively worked for me better than the Audion's leaner, somewheat spicier though still perfectly elegant behavior. The Vivace/Audion team I'd easily put as high as Trilogy's 995R/915R set, even though I have no idea how these would fare in direct comparison. However, the former package left my place as it eventually had to and Audion monos were all that was left. At first I naturally thought that fond memories of Alberto's top of the line stuff won't let go easily, but they did. The critical component that allowed me to quickly forget about this set and shift focus to Audion was my Thöress DFP line stage.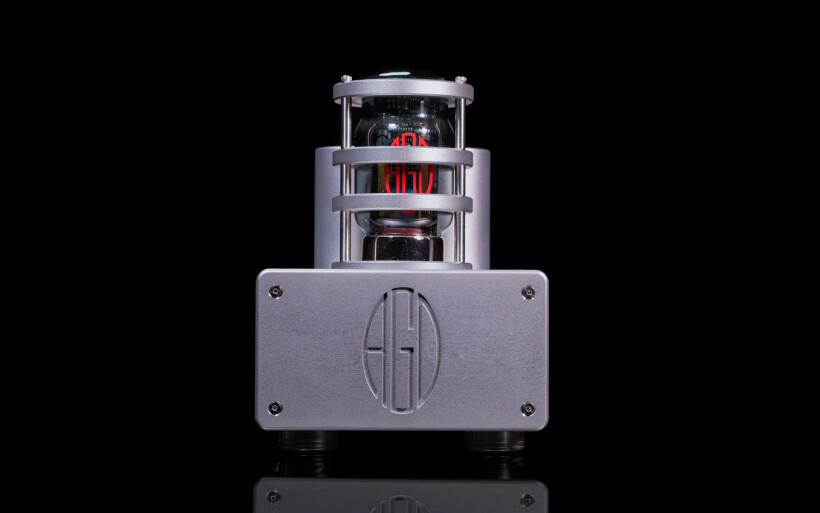 Although it was already mentioned multiple times in other reviews, the Thöress DFP's own voice is very powerful in the sense of bass reach, crack and shove, followed by inherent humidity, grand connective tissue, lots of air in-between virtual sound sources and their outlines rendered big and up close to gain extra points on intimacy. In other words, the DFP made the Audion more substantial and rich without truncating any of its foundational features or making it any darker. If there were any sonic trade-offs, I didn't hear them, but most importantly this highly synergistic match effectively liberated me from the sensation left by the Vivace/Andante set.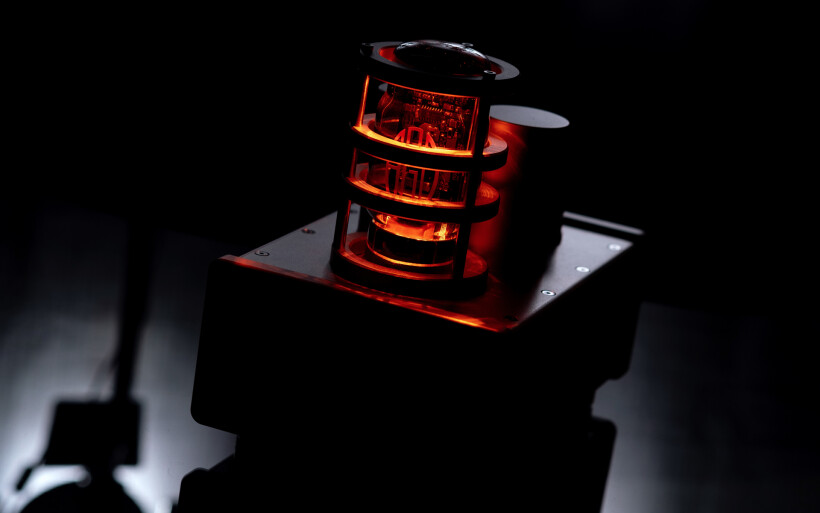 It didn't matter whether sensitive sound|kaos Vox 3afw and Ø Audio Icon were on duty, or more challenging Børresen 01 and my Boenicke W11 SE+. The team Audion/DFP was so good with all these very different speakers that I honestly felt no need to engage anything else. With each not only it provided experience as informative as it was enjoyable, but also left private craves for more at the door. Although originally I didn't plan to use it as extensively and long as I did, it was powered on pretty much constantly. I strongly believe that this is far more important than the Audion's position versus its bolder costlier sibling and everything else. If such a compact externally incospicuous performer can effectively grow this tall and useful, this tells quite accurately how much it has to offer and how good it is in reality.
Summary
Two previous experiences with Alberto Guerra's products had me fully convinced about his engineering talent and versatility. AGD Productions Vivace emerged on top of its kind to effectively land this site's 'Victor' award, whereas the Andante pre/DAC/streamer scored very high on overall polish and integration cleverness. Now the Italian's petite Audion monos inform us that he also had perfected the fine art of downscaling.
AGD Productions Audion's petite footprint and puny mass are desirable virtues when limited space comes into play. If it strikes you as too compact to consider it any serious, I'd rethink this stance. Class D has always been all about efficiency, stout power delivery and small form factor, however this report's monos educate us how tiny can it actually get and put performance grand enough to make substantially larger costlier amps blush on top of that. AGD Productions Audion worked flawlessly for months, ran pleasantly cool, was deadly silent and scored high on assembly. I'm clueless what else this unusual specimen should do better or differently for its asking price.
Here's where I should list all AGD Productions Audion's sonic virtues and call it a day, but instead let me just point out again that this was my go-to amp ever since its arrival in early July. During several months spent with it fronted by the Thöress DFP line stage, I simply felt no need to engage anything else unless I had to. That speaks volumes, but most other amplification hardware nearby gathered dust for just the right reason. Alberto's Audion would've been awarded with this site's red badge if it had made it to my crib before his Vivace, that's how good I think it is. 'Til next time!
Associated Equipment:
Retail prices of reviewed components in EU (excl. tax):
AGD Productions Audion: $7'500/pr