Sveda Audio Blipo active speaker set that made its maker Arek Szweda locally famous got significantly improved over the years. Although not exactly affordable, its latest version – Sveda Audio Blipo Home U22+ – promises a lot and now is the time to find out whether it delivers. Enjoy!
Introduction
Time goes by so fast. Although my take on Sveda Audio Blipo was published here more than three years ago, I still remember well how off-charts this speaker set was on price-to-performance ratio and how accomplished in general. Its maker and Sveda Audio's founder – Arek Szweda – had his hands full since then, but prior to going any further let's recap who this Polish engineer is. Before joining the audio wagon he worked as an IT specialist into corporate LAN infrastructures and sound has been his hobby ever since he can remember. His first speaker set Arek put together at the age of 14 and many other DIY efforts in form of valve decks, CD transport mods and speakers came afterwards. At some point he steered towards active monitors and has been designing these for more than two decades now. That's time long enough not only to learn a thing or two about such products, but also to become quite the expert in the process.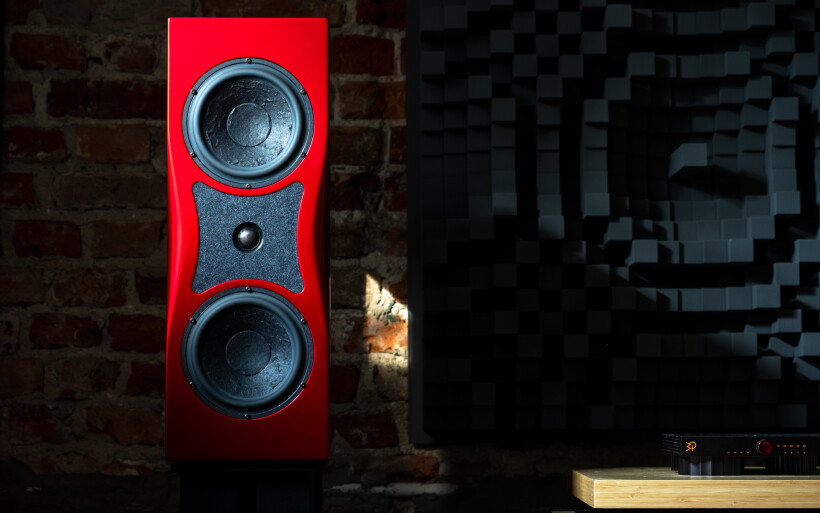 From the IT industry Arek moved to Tonsil's autonomous three-men strong R&D team baptized TLC, which was focused solely on audiophile projects and directly supervised by the company's CEO. There the man honed his designer skills and had access to top shelf measuring tools and anechoic chamber considered as the very best in Europe at the time. The reality wasn't all sweet, however. Only Tonsil's proprietary tech was allowed and stale post-PRL environment didn't help in progressing beyond this limiting factor either. After two years TLC's three engineers parted ways with the firm to establish their own business into active hardware for the pro audio sector. Eight springs later Arek wanted to pursue ambitious domestic designs, flying solo was the only way to make that detour and that's how Sveda Audio came to be in December 2012.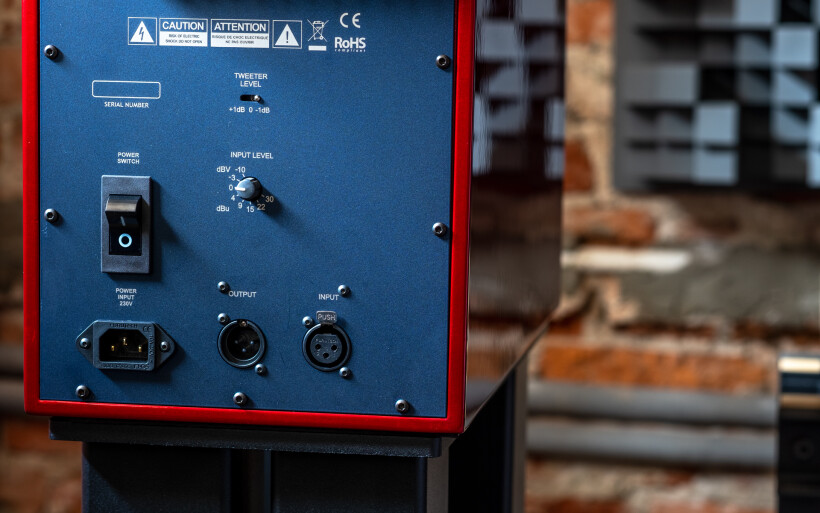 Sveda Audio's portfolio isn't crowded, but it features just the stuff that turned Arek into a well-known respected local audio manufacturer. Domestic recording studios, bands and composers who rely on his products are too numerous to list them here. More importantly, Sveda Audio D'Appo active monitor set introduced in 2013 is the one that made its maker famous among artists. Many used it at work and home, which incentivized Arek to develop a similar product tailored for living room duties and that would be his Blipo model released in 2015. Now let's fast forward to 2018's High End Munich event where its upper echelon version – Sveda Audio Blipo Home – had its debut alongside LampizatOr Pacific showcased in the same open space. The latter was reviewed several months earlier and I looked forward to guesting newcomer Svedas in my listening room shortly after. Although it took three years for that to happen, good things come to those who wait. The speaker set the man delivered just recently wasn't the one I saw in Munich, but so much more.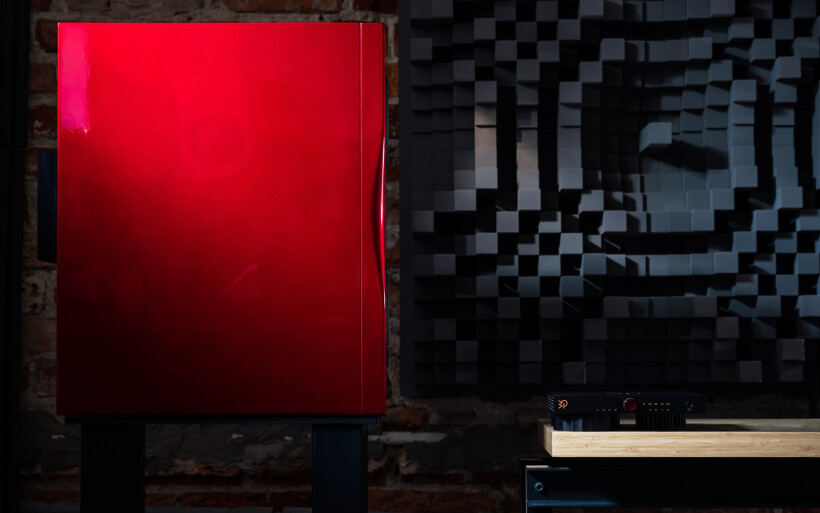 To properly introduce today's specimen let's now return to Polish soil and Warsaw's now defunct Studio U22 Sound, Vision & Pleasure. Many artists had concerts there, press sampled their upcoming albums prior to official releases and Sveda Audio Blipo Home speakers reinforced with Chupacabra subs were used for these auditions. Visitors created the demand for an even better version of that speaker set and two years ago Arek happily obliged by releasing its extensively tweaked Blipo Home U22 sibling. Since then it underwent further improvements to flourish into this report's main course, Sveda Audio Blipo Home U22+. Bon appétit!
Build
I expected the usual courier routine, but Sveda Audio's founder wanted to deliver the loaner sample in person. Upon seeing his car's trunk packed to the roof it was apparent why. Two monitors and stands were a cargo that showed nearly 150kg on the scale. First we had to bolt each stand's top and bottom plates to four internally hollow legs ready for extra ballast to become even heftier. Even without additional mass a single fully assembled steel matte black pillar was 49kg, so plenty already and very monolithic at that. Moving them with speakers on top and rubber inserts in-between for extra grip was no joke. This pairing was as functional as it was visually serious, so if I were after this report's product I'd certainly have it with those stands. They sell for €700/pr and that's not extortionate by any means given their robust matched look, premium feel and overall usefulness.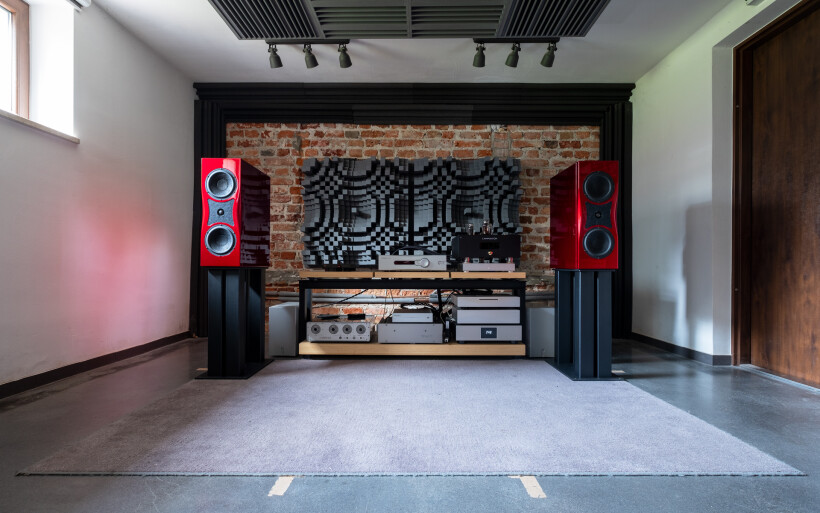 Each Sveda Audio Blipo Home U22+ speaker measures (W x H x D) 22 x 600 x 500mm and weighs 28kg. Needless to say, many floorstander types are lighter, but there's a good reason why Arek's top dog is this big and unapologetically heavy. Its enclosures house drivers, x-over networks, amps and linear power supplies for them. This effectively means that a transport and balanced DAC with volume control plus XLR ICs and two power cords are all that's required this time around. The active route also saves rack space and crosses off the shopping list expenses associated with regular amps and cables necessary for them, but at a cost of limited hardware shifts. In that context premium active speakers should be particularly appealing for enthusiasts with all their audio itches already scratched and ready to settle down with minimalist setups not subject to any major changes. If I weren't an audio reporter for a living, that's the exact route I'd gladly take. Hey, last time I checked keeping things simple was no crime.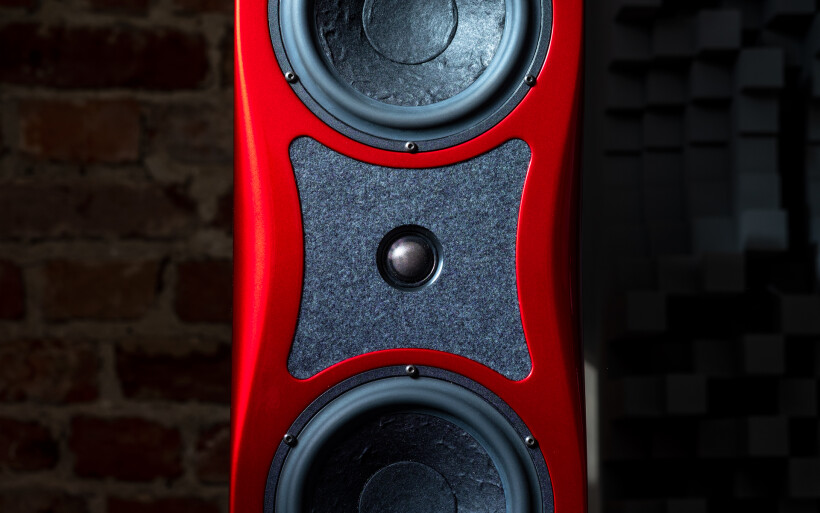 The basic Blipo with all its right angles and standard veneering was a rather modest industrial looker, whereas Blipo Home U22+ is a proper luxurious affair clearly dressed to impress. Smooth round edges and vertical trimmings on its front panels make it visually interesting and very pretty to look at.  Here an outstanding paint job contributes as well. I've always considered Mazda's signature 46V Soul Red lacquer as spectacular and today's loner features 12 layers of that expertly applied. I don't think that my photos fully showcase how deep and juicy this red finish truly is in sunlight. On this front Blipo Home U22+ scores as high as fabulous Camerton Binom-1 reviewed here, and it also impresses by meticulous assembly and borderline fanatical attention to details. Sveda Audio is a one-man company so its founder relies on an army of subcontractors, but he clearly takes no prisoners as far as tight tolerances and meticulous assembly go.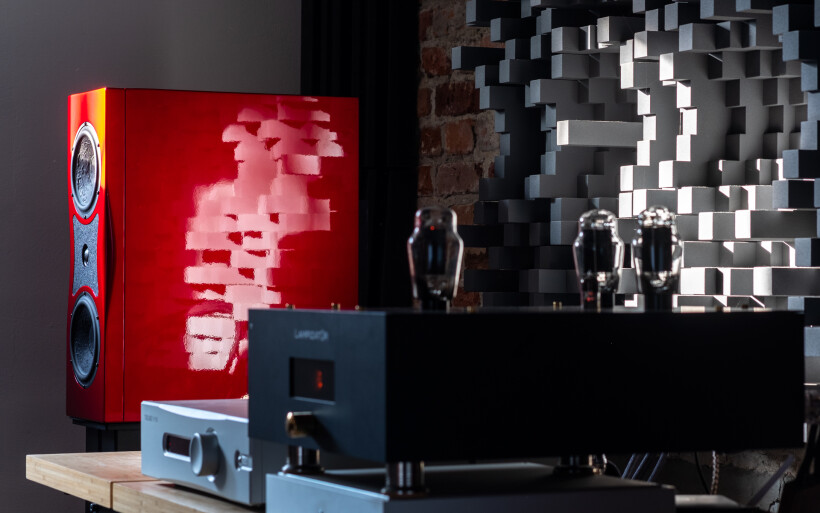 Blipo Home U22+ is undeniably big upon inspecting it from the side, though its narrow tall foreheads don't make the view any chunky or intimidating. Each cabinet's thick aluminium rear plate features IGP's proprietary highly weather/temperature-proof DURA®xal powder coat usually found on skyscrapers and very costly. In the lower left corner there's Furutech's pure copper FI-06 IEC inlet and Shurter's thermionic breaker with the main on/off just above it gets by without fuses. One of each Furutech's FT-786M XLR input and FT-786F output i.e. for a sub sit a bit further to the right. The knob above them allows for adjusting input level from -10 to 30dBV, while a switch higher up sets the tweeter level (+1/0/-1dB). A compact radiator above these locates in-between two rows of tiny venting openings. All silkscreen was applied twice just to make it this much more resilient to scratches.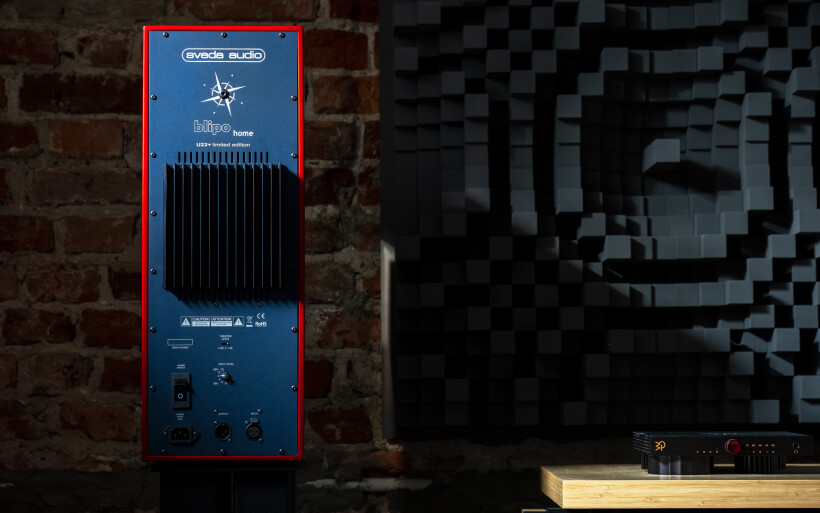 Blipo Home U22+ is a sealed two-way D'Appolito design that houses one D2905/9700 tweeter in-between two 18W/8535-1 7″ mid-woofers. These transducers belong to Scan-Speak's Classic range and have been in constant production since the early '90s. The former also known as baby Revelator features a textile dome, SD-2 motor and 28mm voice coil that allows it to withstand high loads without distortions. The latter suspects have air-dried carbon-fiber/cellulose cones, SBR rubber surrounds, cast aluminium baskets and SD motors. But most importantly, Arek is a highly trained audio engineer who also listens to music a lot, so his choice of these components was due to their specs as much as tone. The man sees his speakers as tools that have to be pointy and sharp, but also enjoyable to use.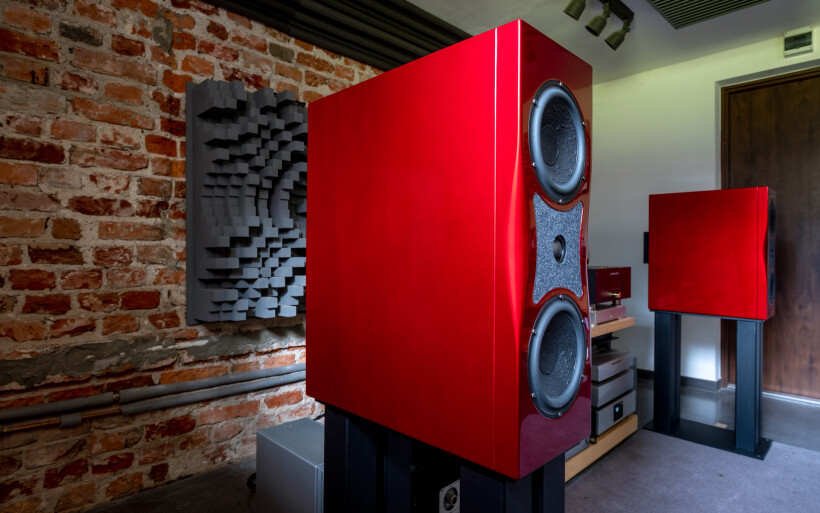 Blipo Home U22+'s 33-litre capacious enclosures comprise of 40mm HDF fronts and 20mm HDF boards everywhere else. Their unusually thick foreheads allowed for removing material around mid-woofers' baskets to optimize their internal loading and airflow, while felt inserts that surround tweeters eliminate their reflections, which we've already seen in speakers by i.e. Rockport and Wilson. Internal damping materials are a mixture of foam, synthetic fibers and costly angel hair wadding. Blipo Home U22+ is a fully analog type free from any DSP. From its XLR inputs signal goes into an input buffer where it's desymmetrized in active crossover networks based on operational amplifiers by Analog Devices and TI Burr-Brown. There kick in two cascade 12dB/octave filters supplemented by extra filtering circuits to maintain speakers' linear characteristics. A resistor ladder executes optional level adjustments.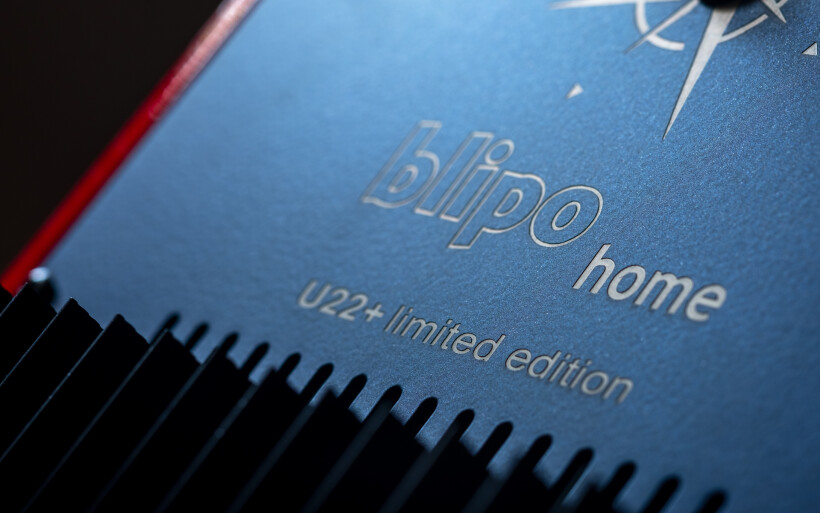 Three identical push-pull power amps inside Blipo Home U22+ mean one per driver and those for mid-woofers bridged for 300wpc into these loads, while a tweeter gets 80wpc. Each amplifier features a pair of costly LSK389 JFETs and Exicons ECW20N20/ECW20P20 used as output devices. Siemens Styroflex 1% NOS film caps are applied in filters, then there are Ohmite resistors, Mundorf's signal and power capacitors plus internal wiring by Duelund. Arek's linear PSU incorporates a large custom-made 300W toroidal transformer shielded in-between its windings and made by the well-known local company Toroidy.pl. This report's version demands €3'500 extra versus its sibling one notch below due to the following improvements; gold-plated filtering PCBs, shorter signal path, fewer caps, Dieter Ennemoser's C37 lacquer on mid-woofers, internal changes to enclosures and several other reworks that are Arek's sweet secret.
Sound
Innuos Statement handled storage/transport, then either Terminator Plus or LampizatOr Pacific went into a Trilogy 915R preamp that directly connected to Sveda Audio Blipo Home U22+ via Furutech XLRs provided by Arek. All key hardware was powered by Boenicke Audio Power Gate distributor box plus its three captive M2 cords, two standard LessLoss C-MARCs and one higher-tiered Entropic C-MARC. The USB chain included only one Mercury3.0 USB cable. Fidelizer EtherStream was in-between my Linksys WRT160N router and Innuos Statement server. ISOL-8's Prometheus PSU connected to the router and network switch. The passive route included Trilogy 995R monos, Boenicke S3 speaker cable and external LessLoss Firewall for Loudspeakers modules that complimented either sound|kaos Vox 3afw or Boenicke Audio W11 SE+ speakers.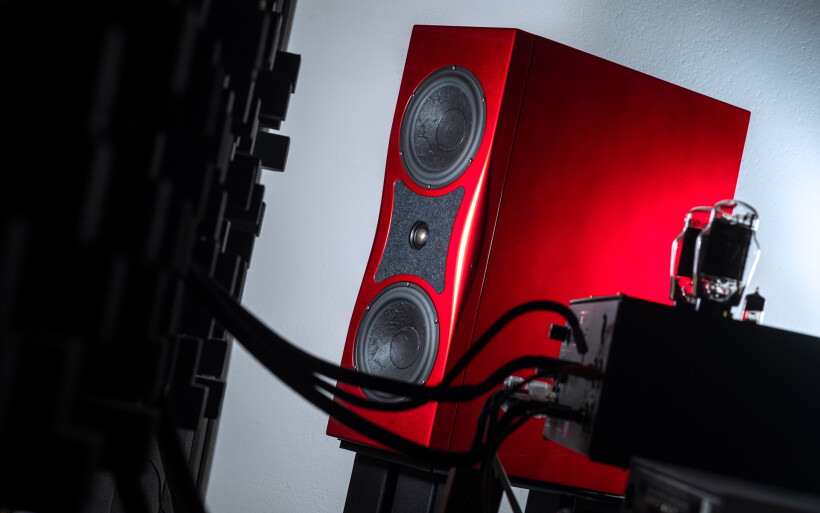 Finding optimal positioning for Svedas was the first order of business that I managed to solve in a jiffy. Latest Svedas weren't fussy at all in this regard, but I expected nothing less given how their quite similar predecessor behaved in the same space. Blipo Home U22+ (from here on shortened to U22+) was as happy one meter from the front wall as it was at half that distance. The difference was in its respectively weaker/stronger bass response that was free from any boom regardless. Both boxes set 75cm away from my cave's brick surface, gently toed in and with tweeters at -1dB were free from shout, had bass in perfect check and pulled proper vanishing acts so were fully ready for action.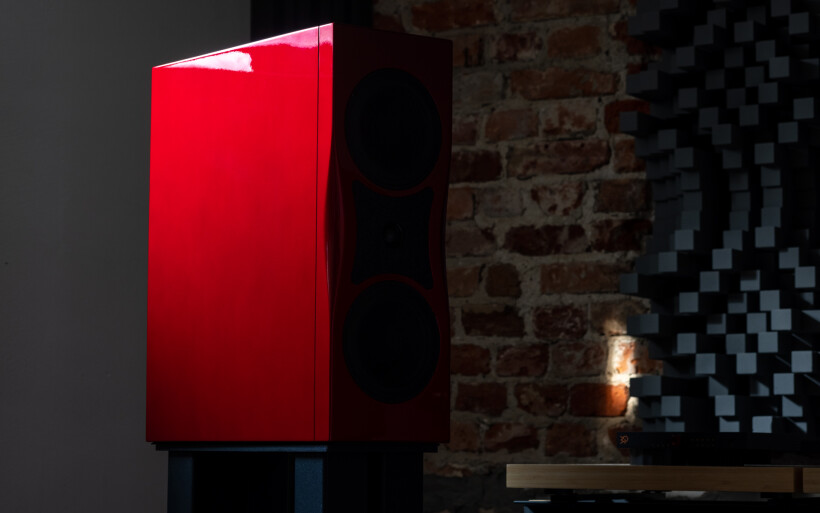 Means used to make speaker sets in most cases determine their personality infused with distinctive traits and trade-offs. Compact ported two-ways a'la LS3/5a emphasize midrange that effectively turns everything above and below it into supplementary measures, so one shouldn't expect crazy bass performance or gargantuan imaging from such products. Open baffle types are known for their quick direct delivery, hard slams and effortlessly pushed air, but not generous roundness and filler. Full-range drivers project virtual outlines like no other transducer type but most won't go big and bold without voluminous boxes or auxiliary membranes. Petite long-throw woofers can flex beyond what their small cabinets with clever escape plots suggest, but they lack inches to truly go toe to toe with counterparts twice their size housed in beefier boxes. Ports inject fat into bass while their lack makes it more firm yet leaner, aluminium cones sound different than cellulose, soft textile domes aren't ribbons, big sound demands big cone surface, widebanders achieve top shelf vocal sexiness and intimacy beyond other drivers and so on so forth. Trademark features typical for components and topologies aren't a bad thing unless overdone, and so aren't compromises associated with them. It's only natural that we can't have it all.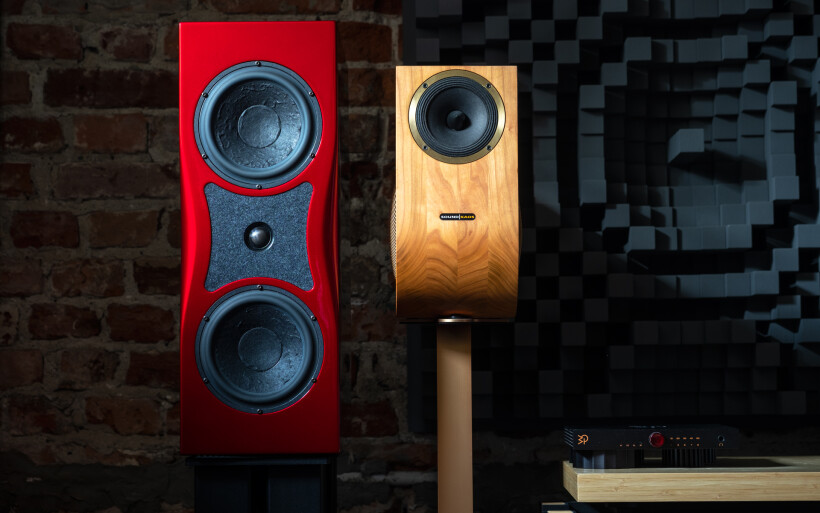 For many years I deemed active studio monitors as soulless cases designed for insight, even bandwidth and specific flatness useful primarily for musicians and recording engineers who have to hear everything in their work. Although the value of those traits for audio professionals was understandable to me, I imagined that it had to come at a cost paid in less pronounced features that make music enjoyable to listen to; vividness, muscle tissue, roundness, color and the lot. Prior to our first assignment Arek who's been deeply associated with the pro audio industry explained that all these aspects often considered as mutually exclusive could in fact evenly combine. His introductory Blipo model showed just that by scoring very high on detail retrieval and not being shy on tone at all. Its sealed boxes produced tight quick bass that wasn't smeared in the slightest, largely due to their limited interaction with my room. Exposure to sound coming primarily from the man's speakers and less so bouncing off walls was one of his key design goals after all. Needless to say, my expectations towards the U22+ loaner were in that ballpark.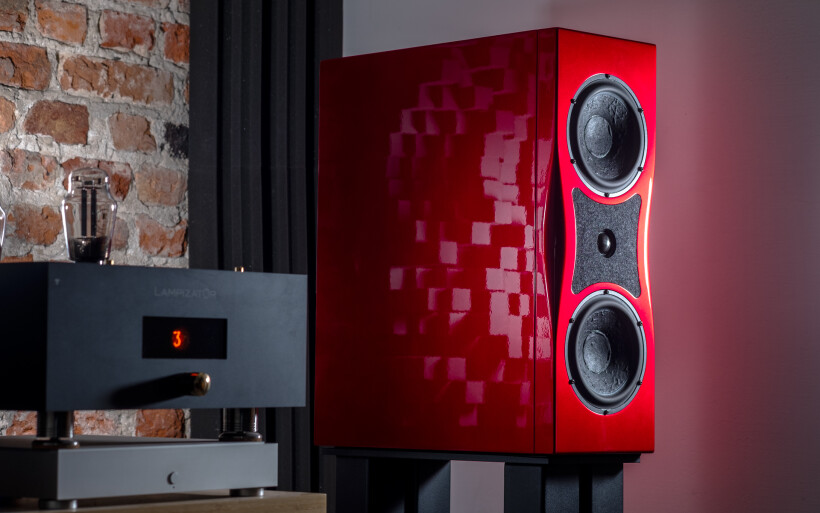 Considering the above, freedom from any clear drawbacks and flashy stunts on top of U22+'s linear tailoring resulted in its exceptional high-tiered aural completeness that reminded me of HiFiMan Susvara headphones. Among top level competitor cans some hit harder and go deeper, some project more radiant finer upstairs and some are airier and spatially even grander, but none as sorted all across the board as HiFiMan's planar top dog. Instead of occasional A+ in-between mainly B marks Susvara's roster shows straight A grades that make it the most accomplished student I've heard. Sonic evenness is its sharpest suit, U22+ also wears it and that's in fact its key specialty. Boenicke W11 SE+'s larger stiffer cones land zippier blows and soundkaos Vox 3afw's full-range transducers outline even more intimate and fetching virtual frames, but that's only natural given their sort and not particularly relevant. Active artillery inside U22+ actives allowed for covering more bases with greater ease versus the two Swiss passive models I had nearby, that's the key takeaway.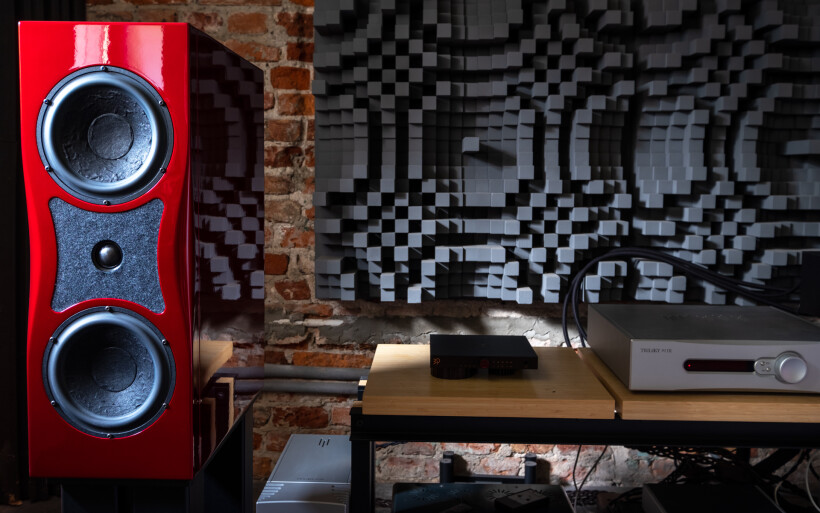 Prior to accepting today's loaner my senses were attuned to the two Swiss specimens I've been happily using for months. Here I mean outline specificity and directness of full-range drivers plus top propulsion and ease of stiff flat fiberglass cones. U22+ was a different animal that did neither to at first feel somewhat conservative and cloudier, but I didn't expect anything else. Arek's basic Blipo version and Susvara cans educated me well that such casual introductory behavior without anything fancy or striking going on can be a specialty on its own right. It just takes a while to grasp and fully appreciate it. Some products that instantly impress often emerge as tiresome in the long run, while U22+'s aural potency revealed itself gradually over time to grow on me more and more each day, so it worked in reverse in that sense. The true class isn't flashy, quite the contrary. It's subtle and as such it wants to be savored.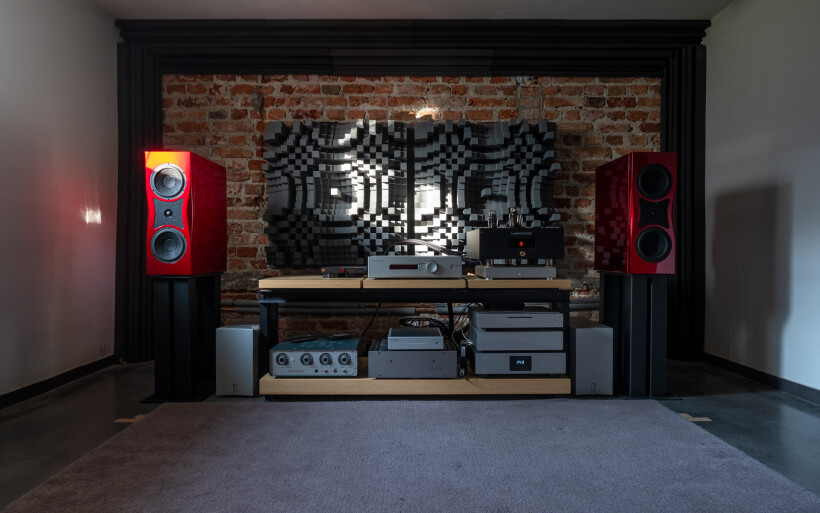 U22+'s admirably linear disposition meant sound that was neither V-shaped nor built around midrange or boosted in any way in particular. Each its audible sub-range worked in unison with  neighbors for enjoyably coherent results, while high feedback about my playlist and hardware was the natural upshot. This was the very foundation upon which today's other virtues were built. Here I mean performance that kept craves for anything specific at bay and felt as calm and composed as it was pleasantly substantial, meticulous and wholesome overall. U22+ was free from any abnormal tension, friction, gloss, itch, shout or hollowness. If anything of the sort was audible, a recording had to have it embedded. Arek's red devils also weren't lazy, bloated or unclear, but on bass quite spectacular and visceral upon demand. Sealed enclosures prevented any boom and said aye to wickedness best experienced at high SPL, while in-built amps made their mid-woofers remarkably impactful, quick, elastic and far bolder than what their diameter could possibly imply. These traits were finely blended with admirable juiciness and organic texturing that stretched all the way to the very top of the audible range.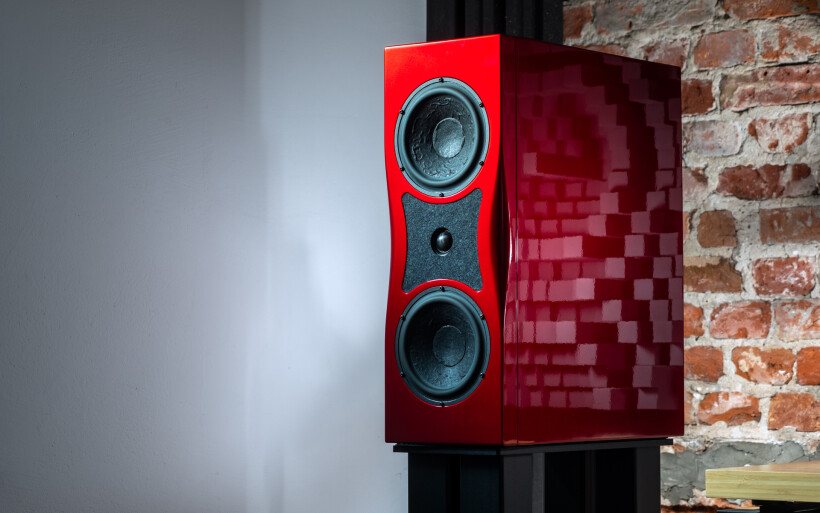 Hearing a speaker set that would be as equally great on speed, power, color and resolution is a rare feast, but U22+ truly did everything on the same very high level just as Susvara headphones four years ago. It produced an exceptionally balanced sound that was as texturally alive and multi-layered  as it was direct, powerful and mighty. It was ready for all challenges on my playlist regardless of how structurally intricate they were. Wild roars and immediacy had me at the edge of my seat during metal/rock auditions, while finely shaped soothing smooth gentle female vocals calmed me down one song later. But above all else, U22+'s voice was fabulously elaborate, natural and to my taste artful on all music jobs that involved unamplified instruments and had color and mood in the spotlight. Several days after noticing that trait I had to ask Arek about sonic improvements his latest creation had that were beyond reach of the original Blipo. It didn't take him long to list a far higher-tiered textural fruitiness and instrumental naturalness heard particularly well on vocals, guitars, drums, celli and the lot, so real sound sources.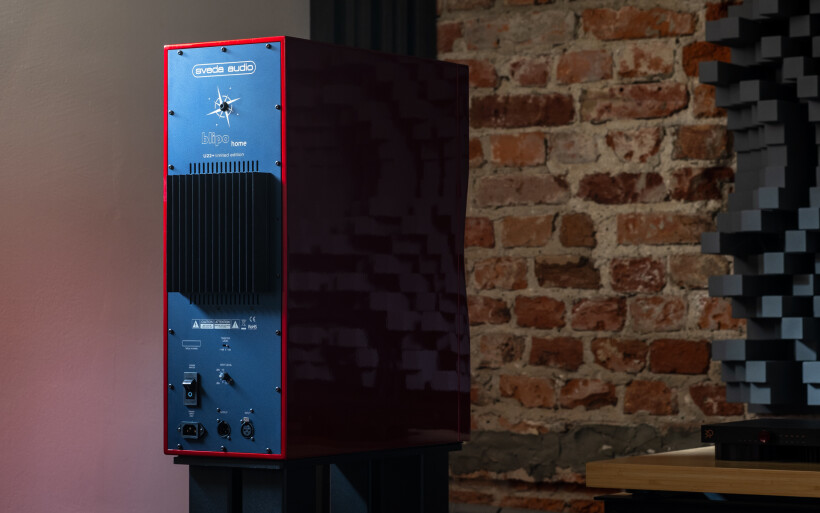 Spot on tonality, generous saturation, top overall seasoning, even bandwidth, grand in-room integration and powerful rich bass free from any wobble formed an impressive skillset that U22+'s price tag had to reflect. But just to know where this active set truly was, its comparison to my crib's passive residents came in handy. It didn't take long to notice that its active bass reached the lowest and was the most round to score the highest on sensible feel versus W11 SE+'s leaner, stiffer, harder and a touch quicker hits. Given its size Vox 3afw naturally was the most compact and shallow on this count yet had its revenge on vanishing ease, imaging finesse and the most direct present virtual outlines. Here U22+ projections were more distant, softer and optically the heaviest though perfectly clear, while Boenicks' outlines located even deeper in front for the least touchable effect. On radiance the two Swiss types struck me as similarly hi-res and sunny against today's earthier though as informative flavor. U22+ emerged as the most balanced, hefty and formidable overall. W11 SE+ revved the highest and landed the hardest blows for extra points on snap and impact. sound|kaos projected the prettiest most intimate shapes in the most complex and surrounding space. Ease of delivery without flexing muscles naturally had U22+ on top, Vox 3afw was the most delicate and investigative and W11 SE+ felt the most propulsive. On spatial scale there was a draw, or at least my room's 24m2 weren't enough to show any noticeable differences.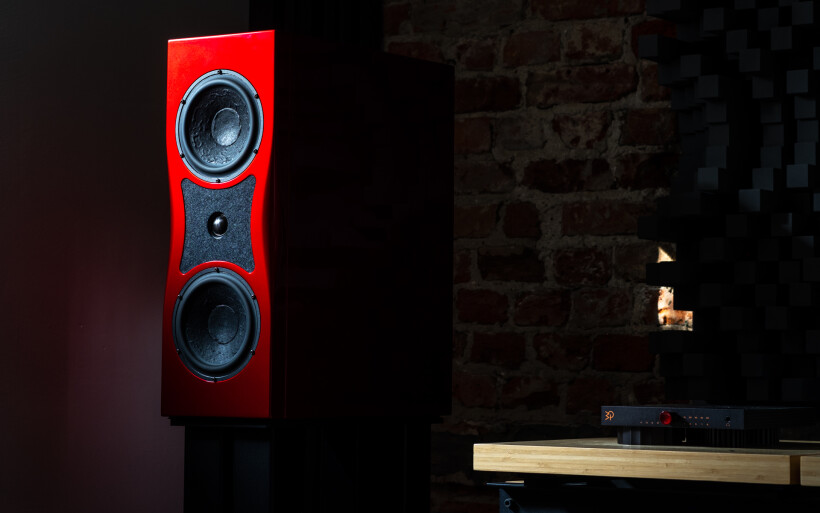 Suffice it to say, each performer offered traits and voicing unique only to its design, so beyond reach of competitors and that was hardly a shock. This skirmish was in order just to map where on the posh ladder U22+ was and above its sticker turned out to be just the place. But more importantly, this turnkey overachiever type realistically demands little to get going and doesn't care about its surroundings, so will work where many passives won't. It'll handle every music genre I can think of on a commensurably high even level and as such is spectacular where it matters most. That's quite the package.
Summary
My familiarity with active speaker sets narrows down to just five such products so isn't extensive by any stretch, but that's about enough to see their kind as the perfect retirement hardware or key components in a second setup, whichever comes first. Having said that, at this time there's no other active type I'd want more than Sveda Audio Blipo Home U22+. If its maker isn't aware already, now he's about to find out that he outdid himself big time.
Arek's basic Blipo model purposely was a modest utilitarian specimen primarily geared for a specific sonic effect, but his Blipo Home U22+ does it far better and looks far hotter infused with rounder edges, subtle trimmings and all dressed in that gorgeous Mazda red. Although the beauty is in the eye of the beholder, this Sveda struck me as visually stunning, fabulously put together and on sheer luxurious feel alone priced accurately for what it is. It had to be very expensive to make, while its sealed topology and wide propagation translate into high living room friendliness and savings on amps and cables for less crowded shelf space. There's nothing to dislike here. Even Blipo Home U22+'s substantial frame is hardly a con considering what's inside this monster and how it goes about its business.
It's quite clear that Sveda Audio Blipo Home U22+ is for financially capable individuals who pursue tastefully served sonic correctness, top shelf versatility and overall suchness, and are ready to empty their audio racks to get there. For them transitioning to this fully adult marvel won't be a sacrifice in the slightest, but a smart move and pure gains. I'm also certain that Blipo Home U22+ will leave many seasoned enthusiasts just as impressed as it had left me. It's silly good and has what it takes to stomp on many dearer regular setups with disturbing ease. To match its red color I was about to finish this story accordingly, but Arek spilled the beans that he's nearly done with something substantially bolder that I'd like I have to hear first. Stay tuned and 'til next time!
Associated Equipment:
Retail prices of reviewed components in EU (incl. tax):
Sveda Audio Blipo Home U22+: €14'500/pr
Sveda Audio Blipo stands: €700/pr